Planning a trip to the Canyonlands and want to explore the park on foot? Discover all the best hikes in Canyonlands National Park, from the Needles District to the remote region of the Maze.
There's nothing better than the feeling of crisp desert air hitting your lungs as you trek up toward a stunning viewpoint. Well, that's exactly what you can expect through the Canyonlands' best hikes.
What's the best way to explore the top attractions of the Canyonlands? Without a doubt, it's hiking. And whether you're a newbie looking for an easy adventure or a pro wanting a challenge, we've got you covered.
Best Hikes in Canyonlands
Mesa Arch Trail
Length: 0.6 miles
Time: 20 minutes
Difficulty: Easy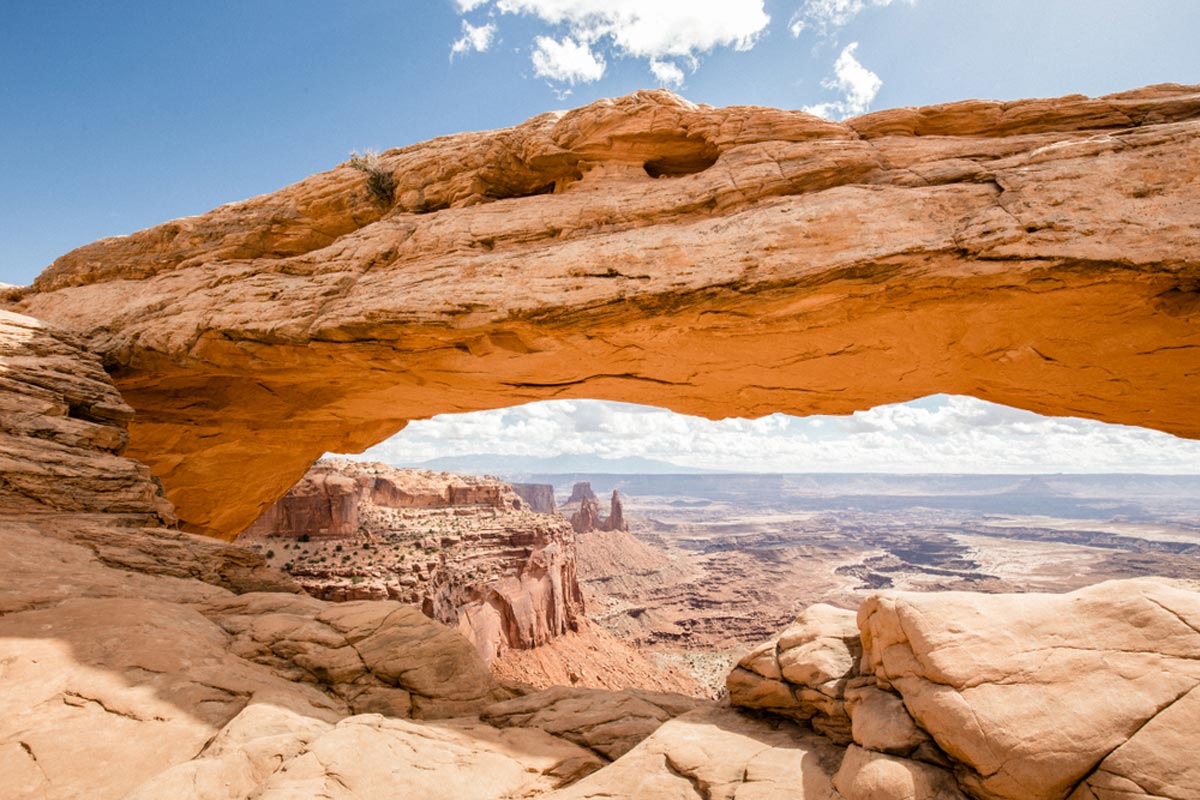 Let's kick off this guide with a brilliant option: The iconic Mesa Arch.
It's an easy loop trail that begins at Grand View Point Road and meanders along a sandy path before reaching the star of the show.
At the midway point, you'll be treated to the mesmerizing views of Mesa Arch. This natural formation perfectly frames Buck Canyon and the distant La Sal Mountains.
It creates a window into a whole new world. Especially when you visit at sunrise as the light drapes the landscape in a golden hue.
Just remember that it's a super popular tourist destination due to its easy access and overall appeal. In other words, prepare for crowds or visit in the off-season months.
White Rim Overlook Trail
Length: 1.8 miles
Time: 45 minutes
Difficulty: Easy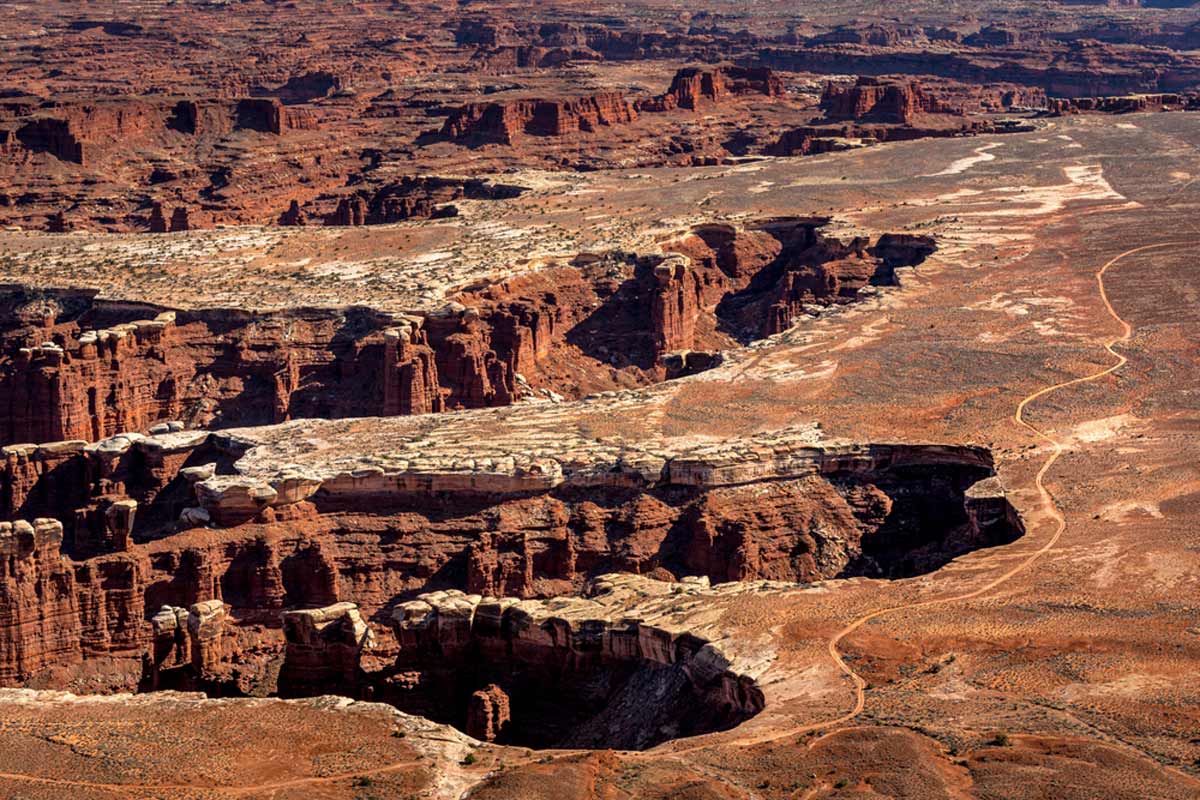 Put simply; the out-and-back White Rim Overlook Trail won't disappoint. Picture sprawling views of the Colorado River and Monument Basin.
Do you see it? Now, picture the La Sal Mountains in the distance as you approach a unique perspective of White Rim Road.
The White Rim Road is a legendary scenic drive along the Island in the Sky canyon floor. For such a short hike, it squeezes in a lot of breathtaking sites. And that's exactly why it's on this list.
And from the White Rim Overlook, you can see how impressive this landscape is. As the viewpoint is east facing, it's best to hike this route at sunset, when the canyon has beautiful shades of red and orange.
Grand View Point Trail
Length: 1.8 miles
Time: 45 minutes
Difficulty: Easy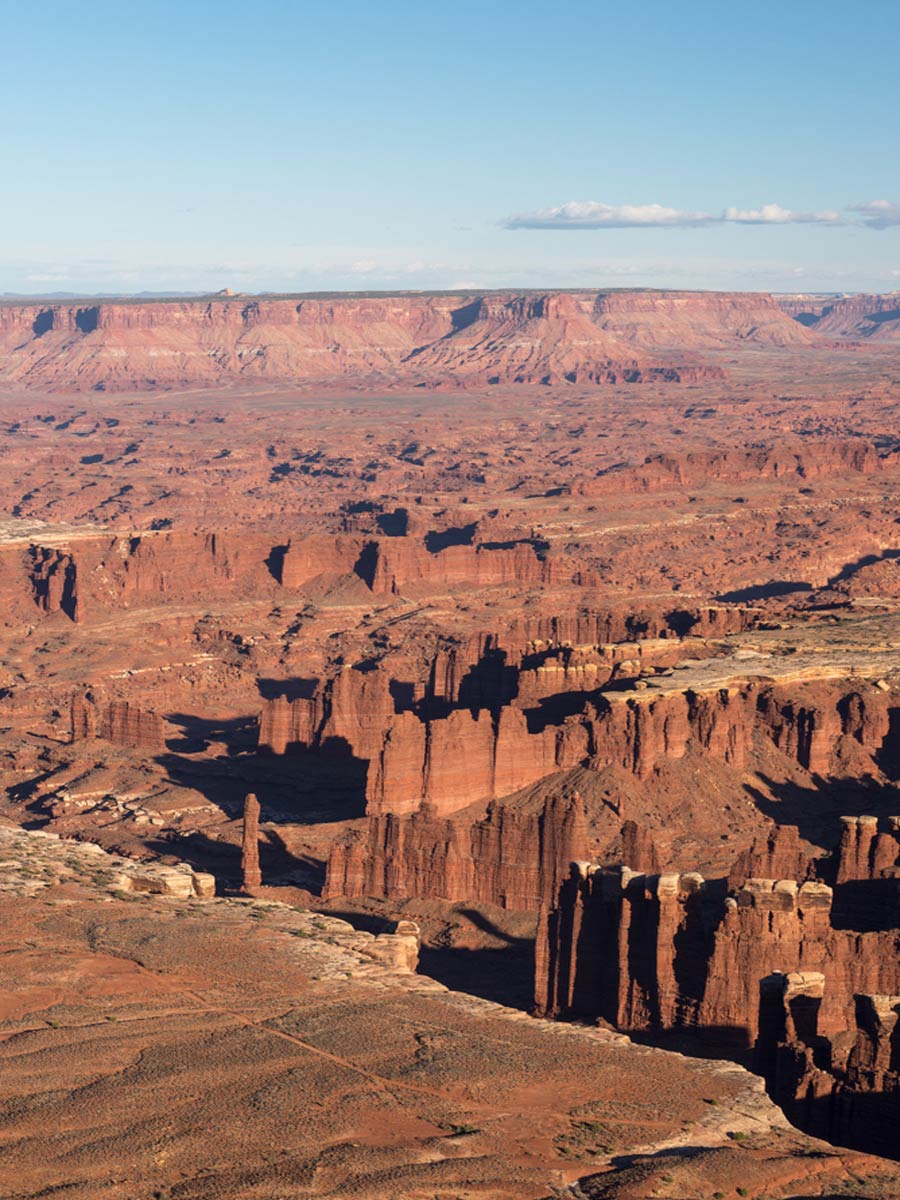 When hiking in Canyonlands National Park, what you want are some stunning panoramic views of the surrounding landscape. So why not hit up this out-and-back trail?
As you hike along the canyon top, you'll see the Colorado River and Green River slithering along either side of you. The Great View Point Overlook marks the start of the trail, which many visitors just stop at along the road.
But the overlook point is just one perspective on a trail with many gorgeous views of this Vermillion landscape.
We're saying don't follow the crowd and just visit the overlook because the 1.9-mile hike is well worth the effort.
Murphy Point Trail
Length: 3.4 miles
Time: 1 hour 15 minutes
Difficulty: Easy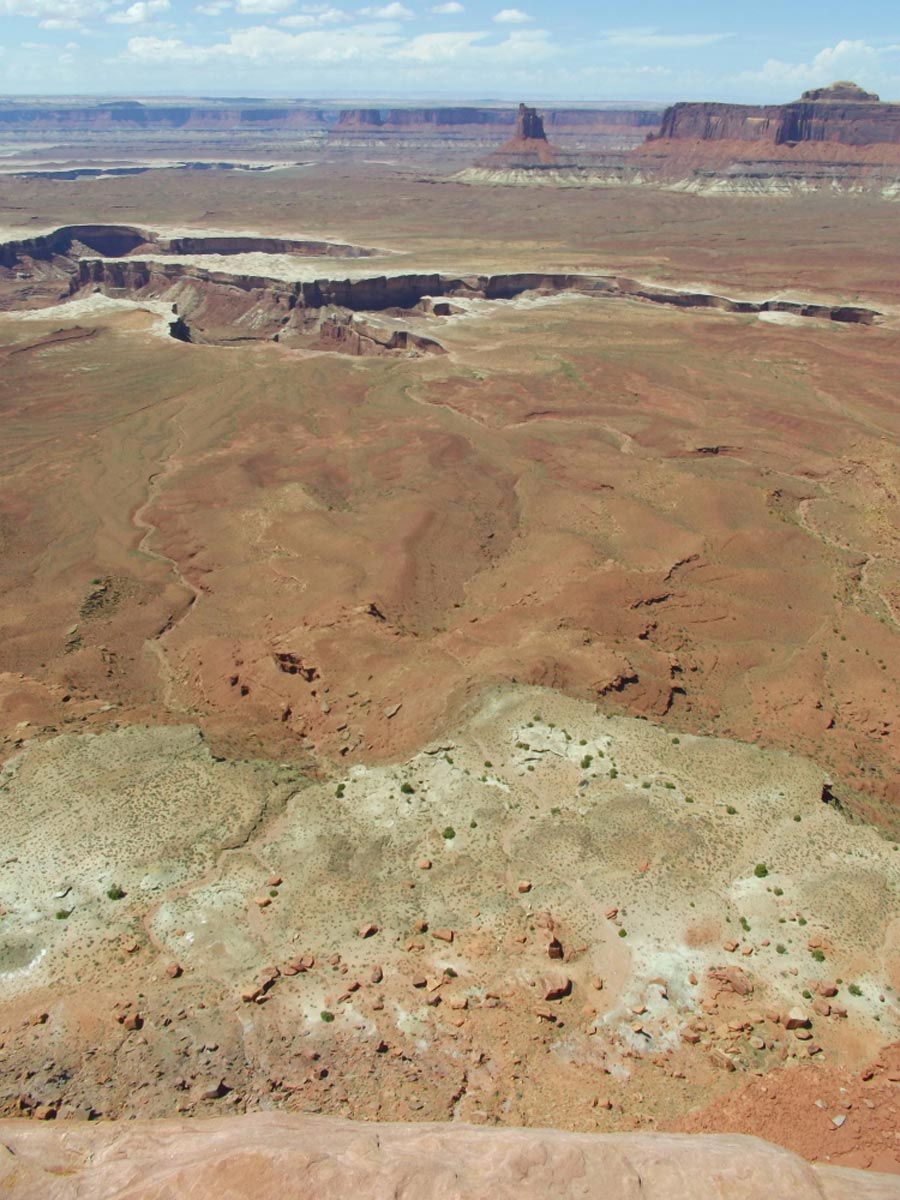 Take on this out-and-back trek with an elevation gain of 147 feet for a longer, yet relatively easy hike. The trail follows the top of one of the mesas on the Island in the Sky district. You'll even pass some fantastic landmarks along the way.
This includes spotting the 450-foot tall Sandstone Butte, Candlestick Tower. The vibrant waters of the Green River glisten at the base of the canyon while the White Rim Road snakes through the landscape.
With all this beauty in your sights, you'll almost forget about the hordes of tourists back on Grand View Point Road. Although Murphy Point's views are west facing, visiting just before sunset is a must-do.
Upheaval Dome Via Crater View Trail
Length: 1.3 miles
Time: 45 minutes
Difficulty: Medium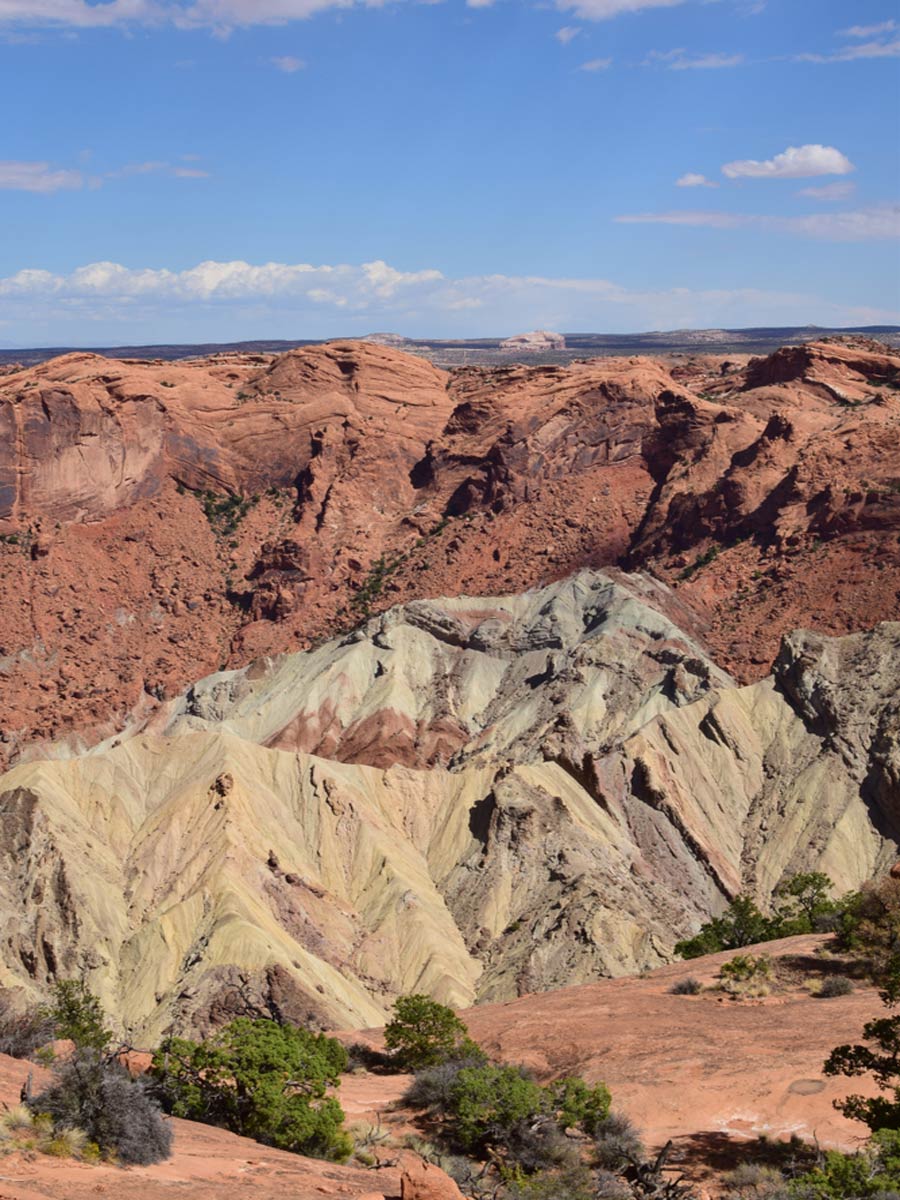 We know what you're thinking. Where are all the strenuous trails? To answer this, we'll throw in this out-and-back trail with an elevation gain of 226 feet.
Although short, it's slightly steeper than the easier treks, so your calves will burn by the end – we're speaking from experience here.
There's an overlook of Upheaval Dome halfway through the trail, with another at its summit. Upheaval dome has been a part of debates for many years, as scientists argue that it's either a meteorite crater or a salt dome.
After admiring the massive landmark up close, we'll let you decide what it is. Who knows, maybe you'll be the one to answer this puzzling question.
Maze Overlook Trail
Length: 8 miles
Time: 3 hours 30 minutes
Difficulty: Medium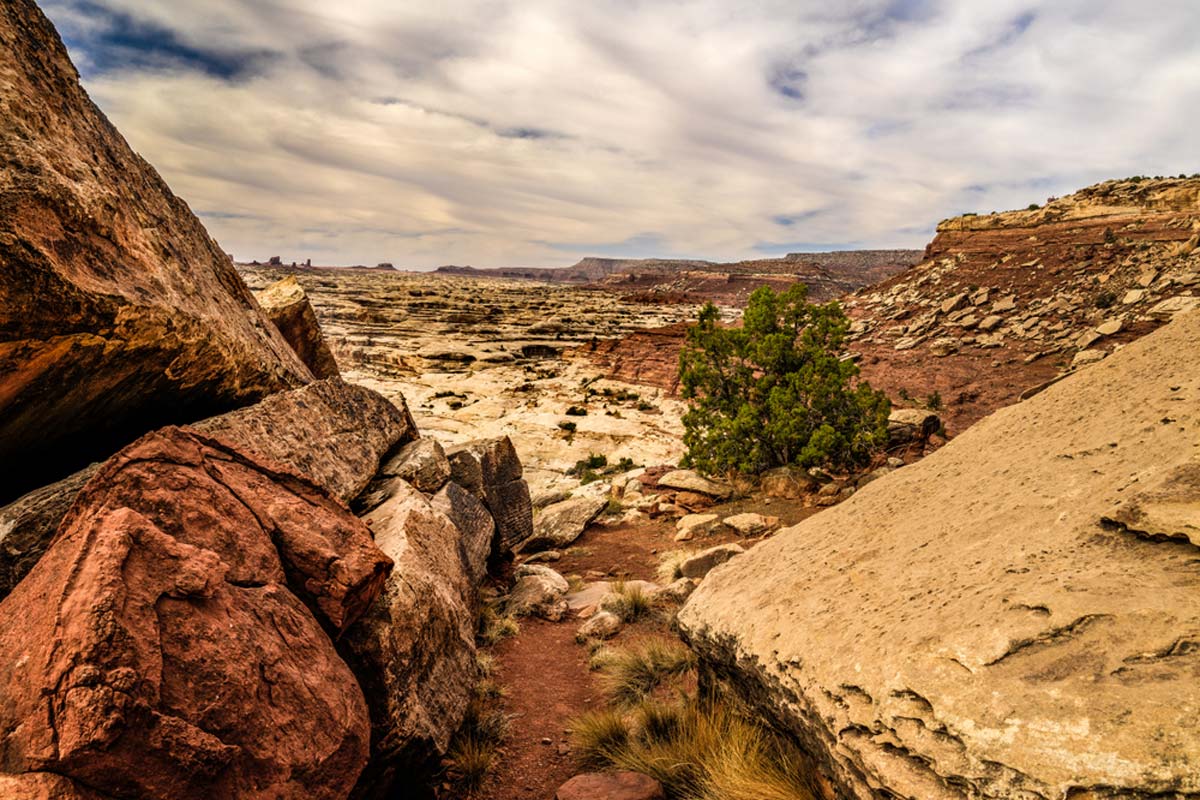 If you fancy exploring the rustic scenery of The Maze, then the out-and-back Maze Overlook Trail is for you.
It has a hefty elevation gain of 964 feet spread across 8 miles. But don't let that put you off – it's one of the best day hikes in Canyonlands, as it explores a region few visit.
In other words, you'll likely have the entire trail all to yourself, so you can spend as long as you like admiring the views. Along the way, you'll come across landmarks like the mushroom-shaped Nuts and Bolts and breathtaking views of Horse Canyon.
You'll also see the Harvest Scene – prehistoric rock art at Pictograph Fork Canyon – before taking in mesmerizing views of The Maze. It's a hike you'll never forget.
Top Tip: You will need a 4×4 high clearance vehicle to access this Canyonlands trail.
Aztec Butte Trail
Length: 1.6miles
Time: 45 minutes
Difficulty: Medium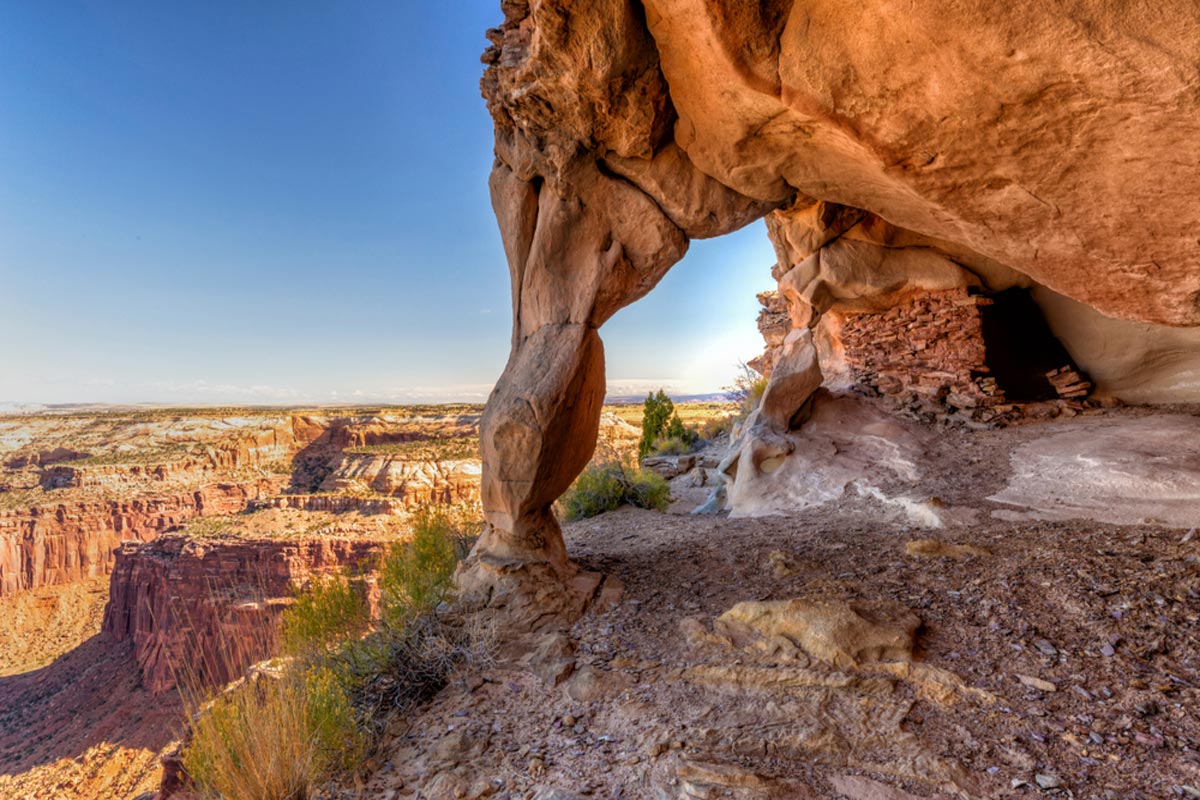 The Aztec Butte is another short but moderately challenging trail with an elevation gain of 249 feet.
Your thighs will be on fire as you make your way along this sandy path. And it's safe to say sand will not be your best friend when hiking.
Midway through the hike, there's a left fork towards the ancient ancestral granaries of the Puebloan tribe. After snapping some photos, head back onto the trail. Now the hard part begins, as you'll need to shuffle up the butte until you reach the summit.
From the top of Aztec Butte, you'll have fantastic views of the Island in the Sky District.
Chesler Park Loop Trail
Length: 10.3 miles
Time: 5 hours
Difficulty: Hard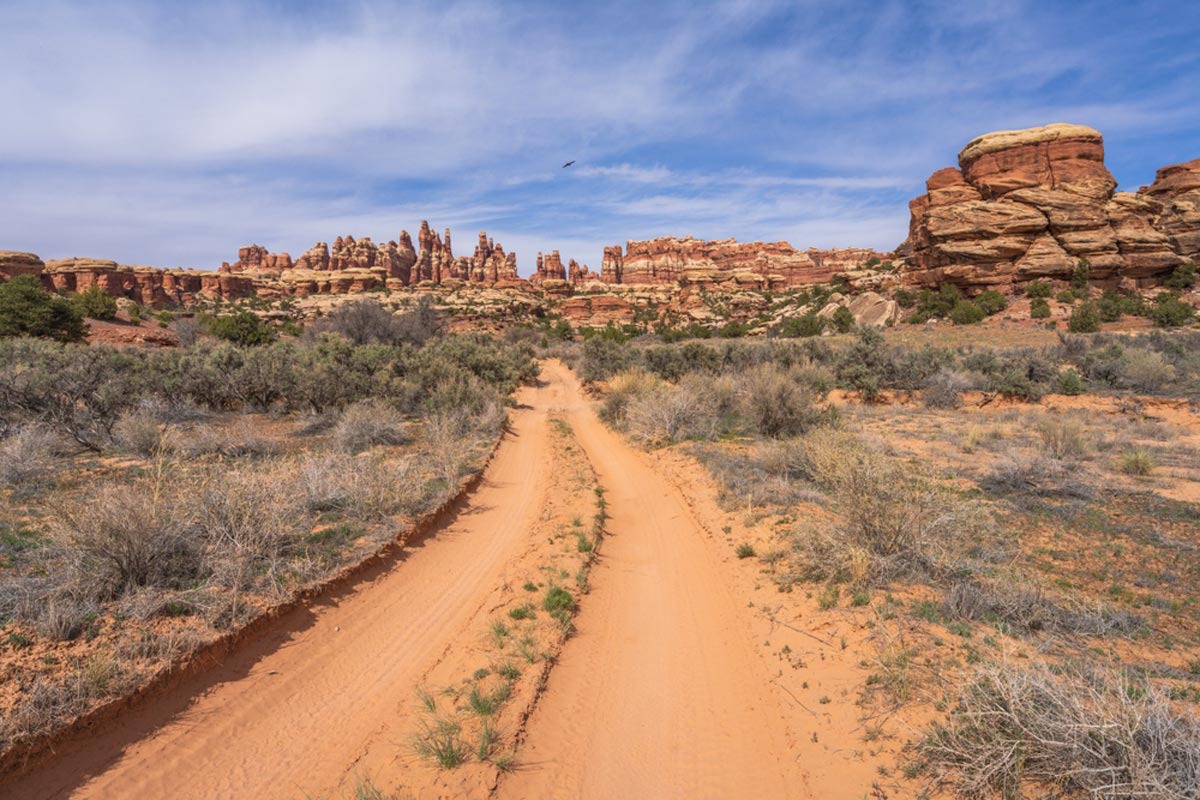 This loop trail is one of the most difficult Canyonlands hikes. It's easy to see why when you hear about its whopping elevation gain of 1820 feet.
But at the same time, its panoramic views of The Needles are well worth the effort.
You'll meander between Elephant Hill, with slick rocks and slot canyons that'll leave you in awe. After 2.7 miles, you'll reach a split, where you can go either left or right. We recommend going left, as it has a slightly easier gradient to hike.
From here, you'll pass landmarks like the Joint and viewpoints of the sprawling Needles District.
Top Tip: You can also cut this hike into two days if you spend the night at Chesler Campground.
Great Gallery in Horseshoe Canyon
Length: 10.6 miles
Time: 4 hours 45 minutes
Difficulty: Hard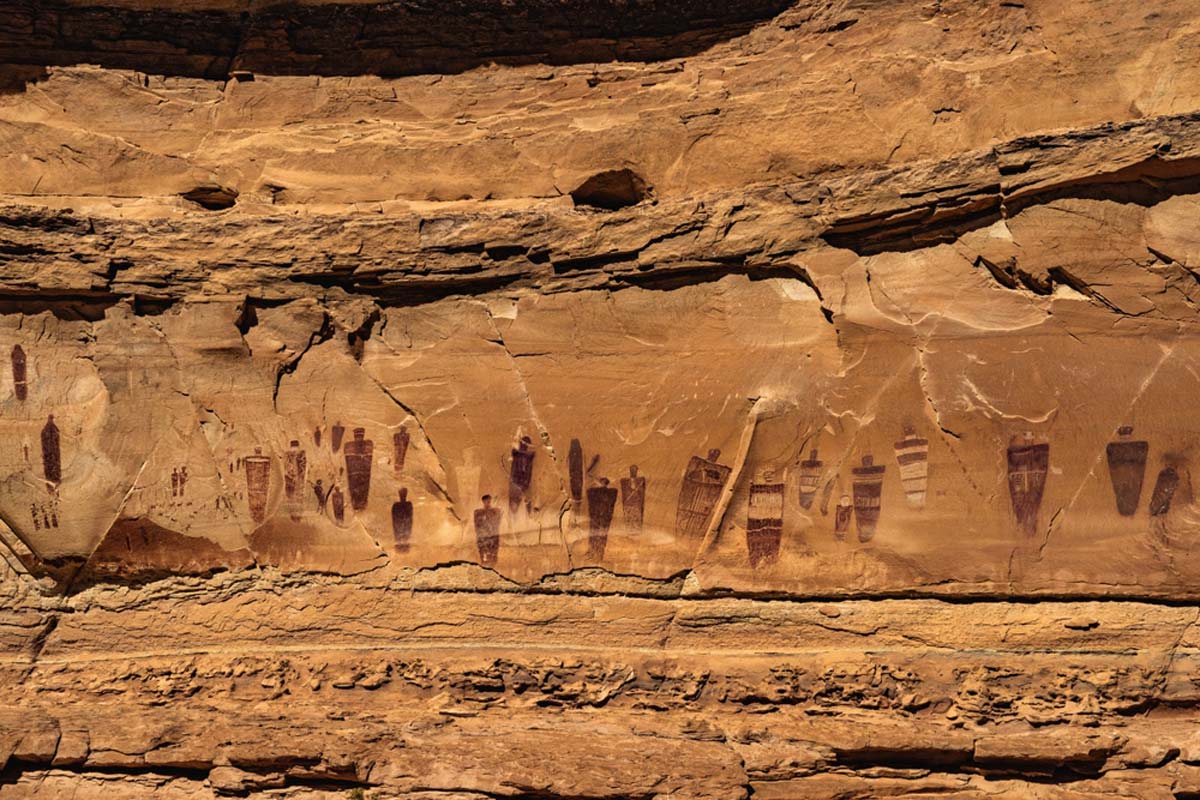 Feeling brave? For a challenging but equally stunning hike, tackle this out-and-back trail with an elevation gain of 1,646 feet.
The track is situated along Highway 24, a notoriously tricky road to drive, so using a 4×4 vehicle to get to the trailhead is a good idea.
The elevation gain is difficult enough without the sandy trail – it almost feels like walking through water. Despite its difficulty, the lifesize rock paintings you'll find along the way are well worth the effort.
Unlike most of the hikes on this list, you'll travel between the canyon walls. Fear not, though – there is a stream for most of the trail, so you'll get a refreshing breeze along the way.
Druid Arch Trail
Length: 10.3 miles
Time: 4 hours 45 minutes
Difficulty: Hard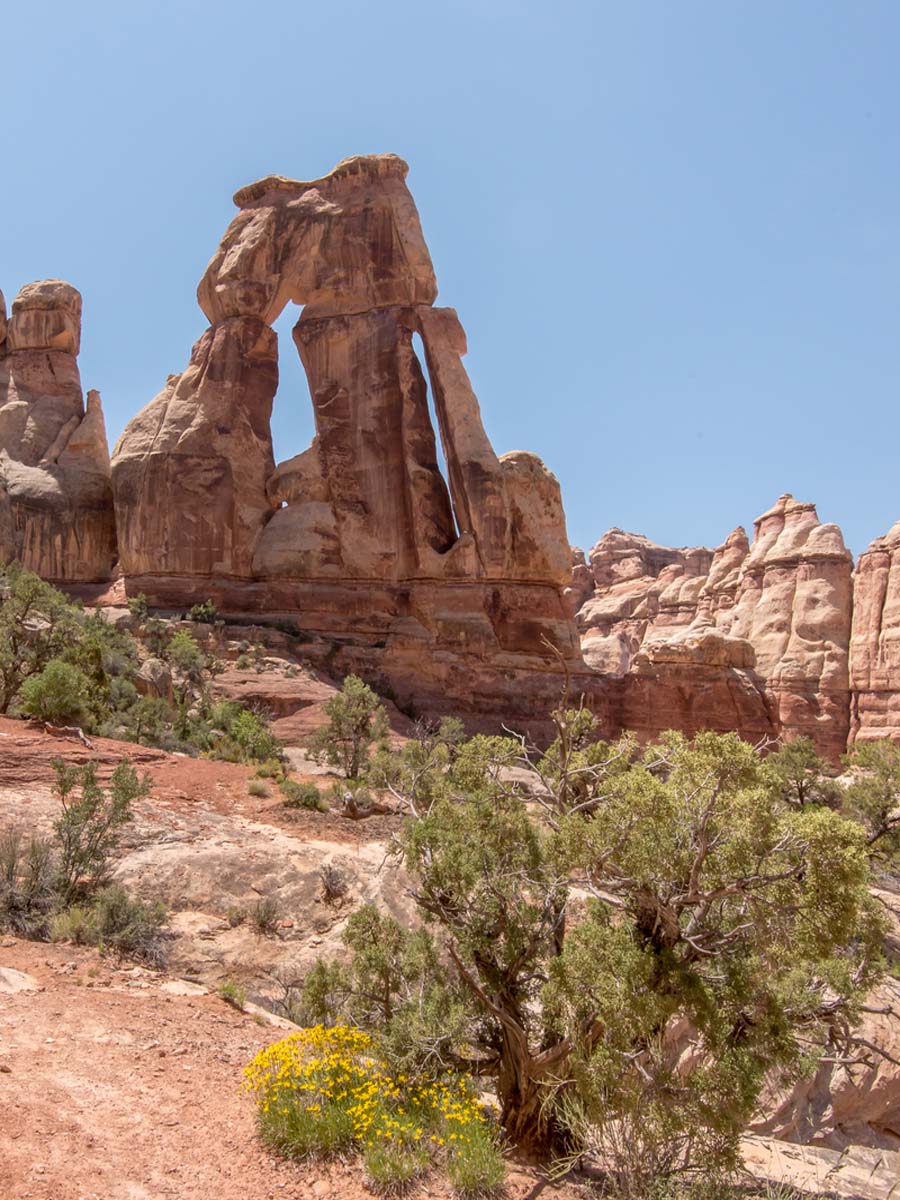 Much like the Chesler Loop Trail, this out-and-back hike begins at Elephant Hill. It has an elevation gain of 1,614 feet as you traverse loose rocks, sandy paths, and a ladder.
Yes, that's right, this trek is for the adventurous type. You'll pass slit rocks and slot canyons before reaching the base of Elephant Canyon. You'll take in breathtaking views of The Needles in Canyonlands along the way before reaching the showstopper.
Druid Arch is an unusual rock formation, so it's hard to miss as you won't see anything like it ever again.
Canyonlands National Park Hikes: Practical Tips
We don't want to scare you, but it is important that you keep an eye out for bears and rattlesnakes. When walking by a rock with a lip, always step on the rock and never around it; snakes often hide under them. If you see a bear and it begins to approach you, use bear spray to protect yourself.
Make sure you're prepared – wear hiking boots, high quality sunscreen, and a wide-brim hat. Also, remember to bring a stainless steel water bottle.
Know your limits and only take on hikes that are within your fitness level.
Aim to hike in the early morning or late afternoon to avoid the hottest time of the day and large crowds at popular trails.
Best Canyonlands Hikes: Map
Read More Canyonlands Guides