Planning a visit to Zion National Park in the Winter? Here's a look at what to do and where to stay in Utah's most famous national park.
Zion is quickly becoming one of the busiest national parks in the country. Last year, it was more crowded than Rocky Mountain National Park, Yosemite, or Yellowstone. Really.

Because Zion National Park is so popular, a trip to this well-known member of Utah's Mighty Five requires planning and patience for the long lines to the shuttles, bathrooms, and hiking trails.

But visiting in the winter is a great way to skip the queues, drive straight into the park (no shuttle needed), and see the sights with far fewer people around.

So, how do you plan a visit to Zion in the winter? Here's a look at everything you need to know about planning a trip.
Why You Should Visit Zion National Park in the Winter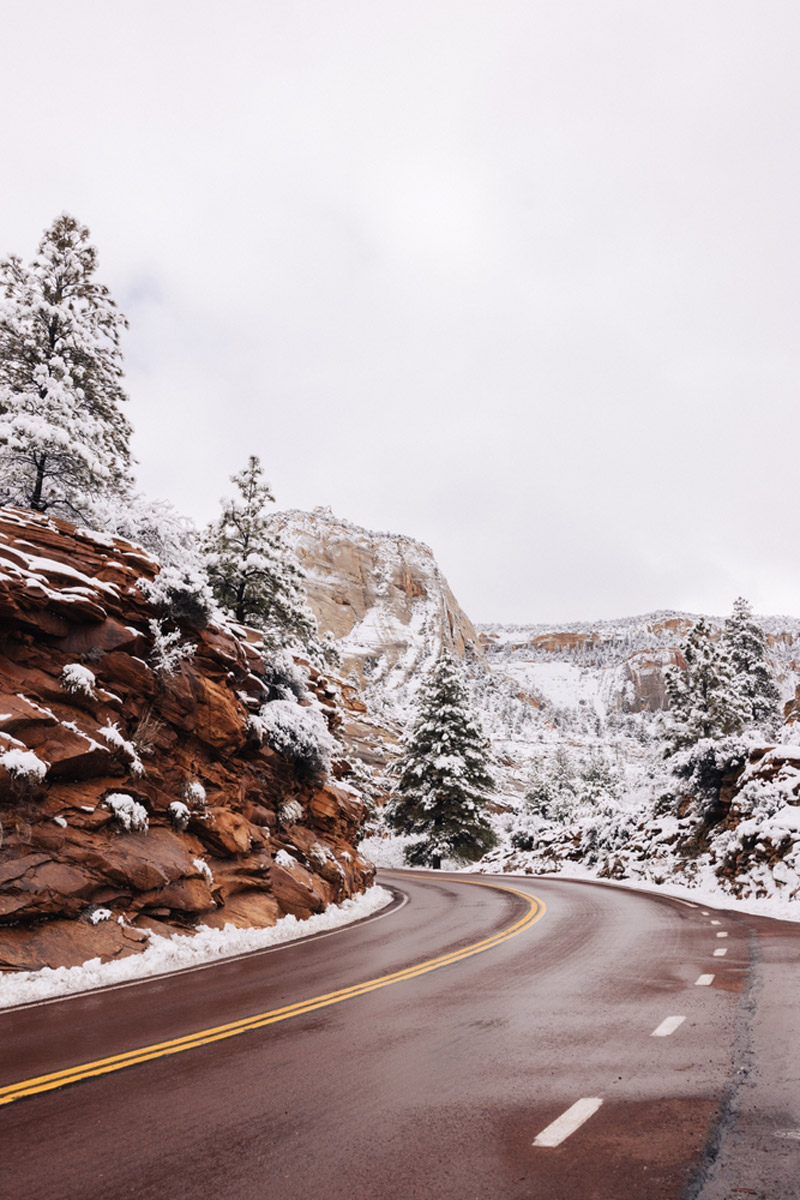 Scheduling a trip to Zion National Park in the winter lets you see many of the 229.1 square miles of canyons, rock formations, and wildlife without the crowds or the heat of the lowland desert areas.
You can score great deals on hotels or Airbnb and won't need to take the shuttle to reach the park. Here's a look at visiting Zion during the winter months.
Zion National Park in December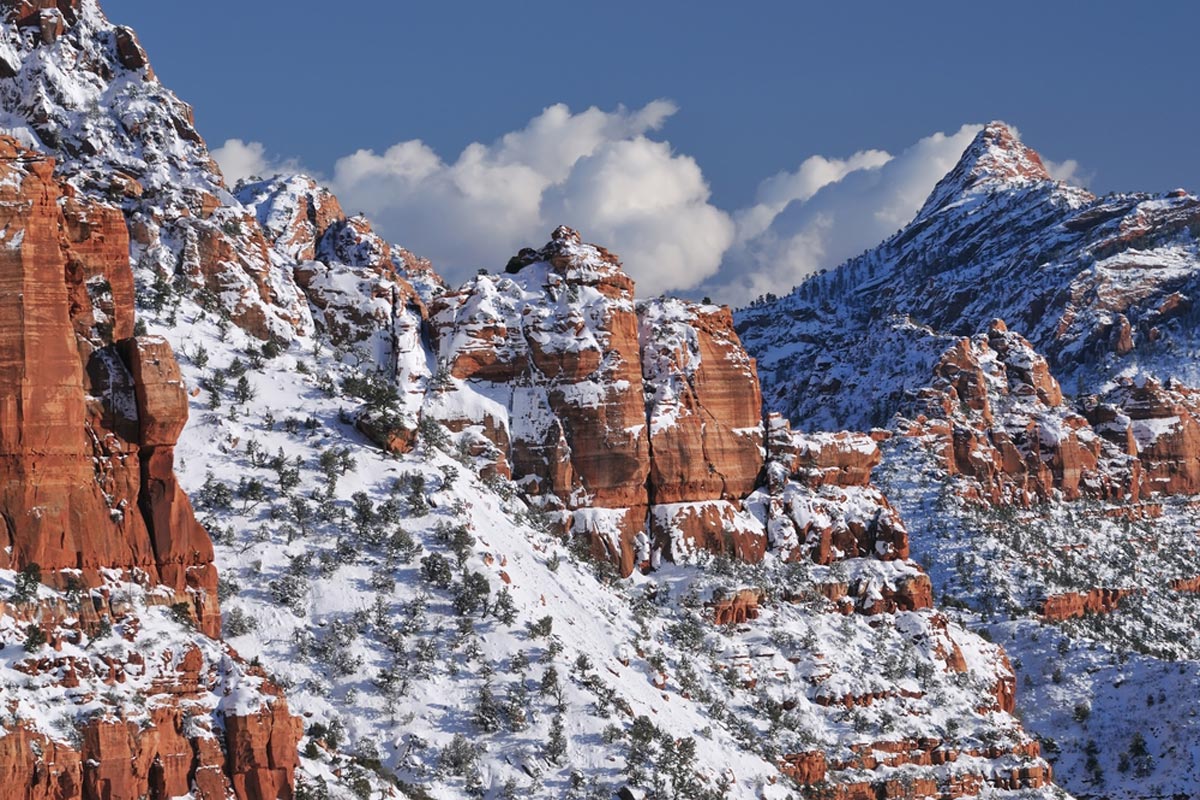 Traveling to Zion National Park in December is a lovely time of year. Just keep in mind that the holiday season does get much busier than other times in the winter, and you'll need to take a shuttle in.
But if you stick to the first few weeks of the month, you'll enjoy fewer crowds on the trails and generally less rain or snow than other winter months – meaning fewer trail closures.

Pack your warm clothes. Temperatures are at their coldest, with highs sometimes below 50°F (10°C).
Zion National Park in January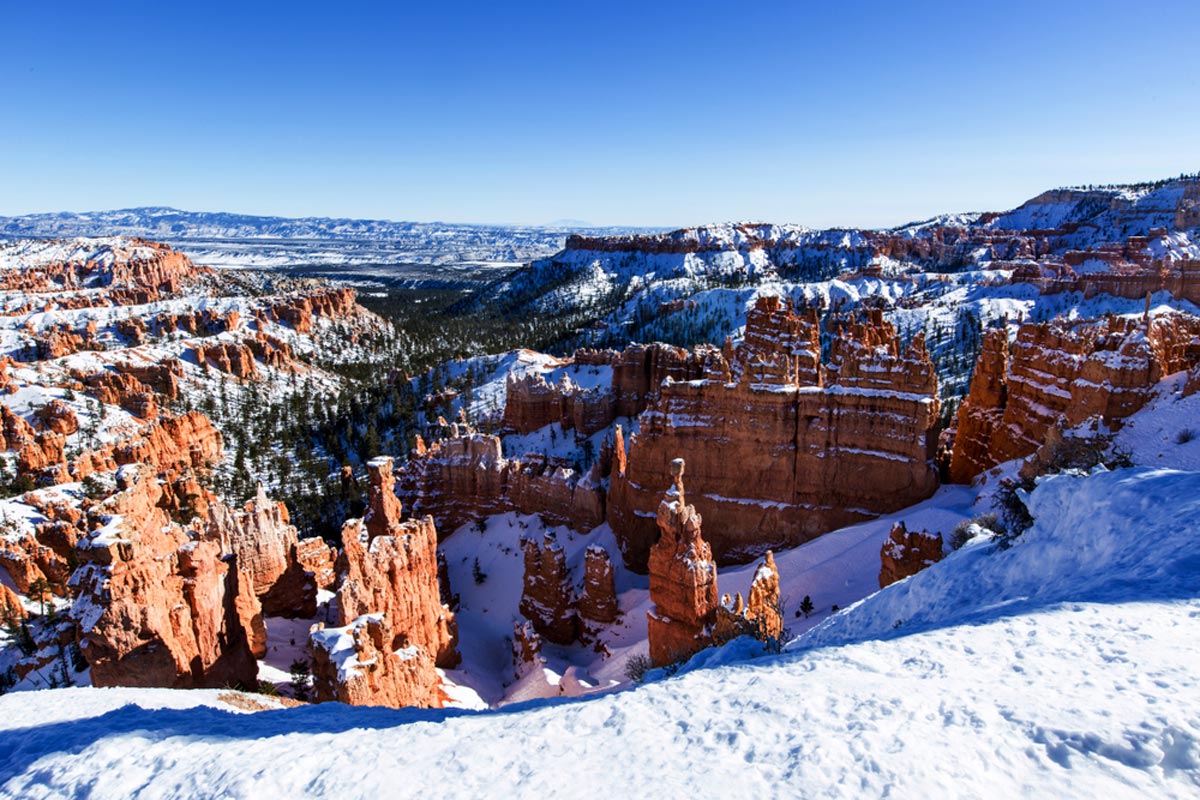 January is slightly warmer than in December or February, with an average high temperature of 50°F. Rain and snow start to pick up as January progresses.

Celebrating the first weeks of the New Year is special in Zion. However, you won't need to compete with large crowds at some of the more famous landmarks like Angel's Landing.

Watch for icy trails when hiking Zion National Park in January.
Zion National Park in February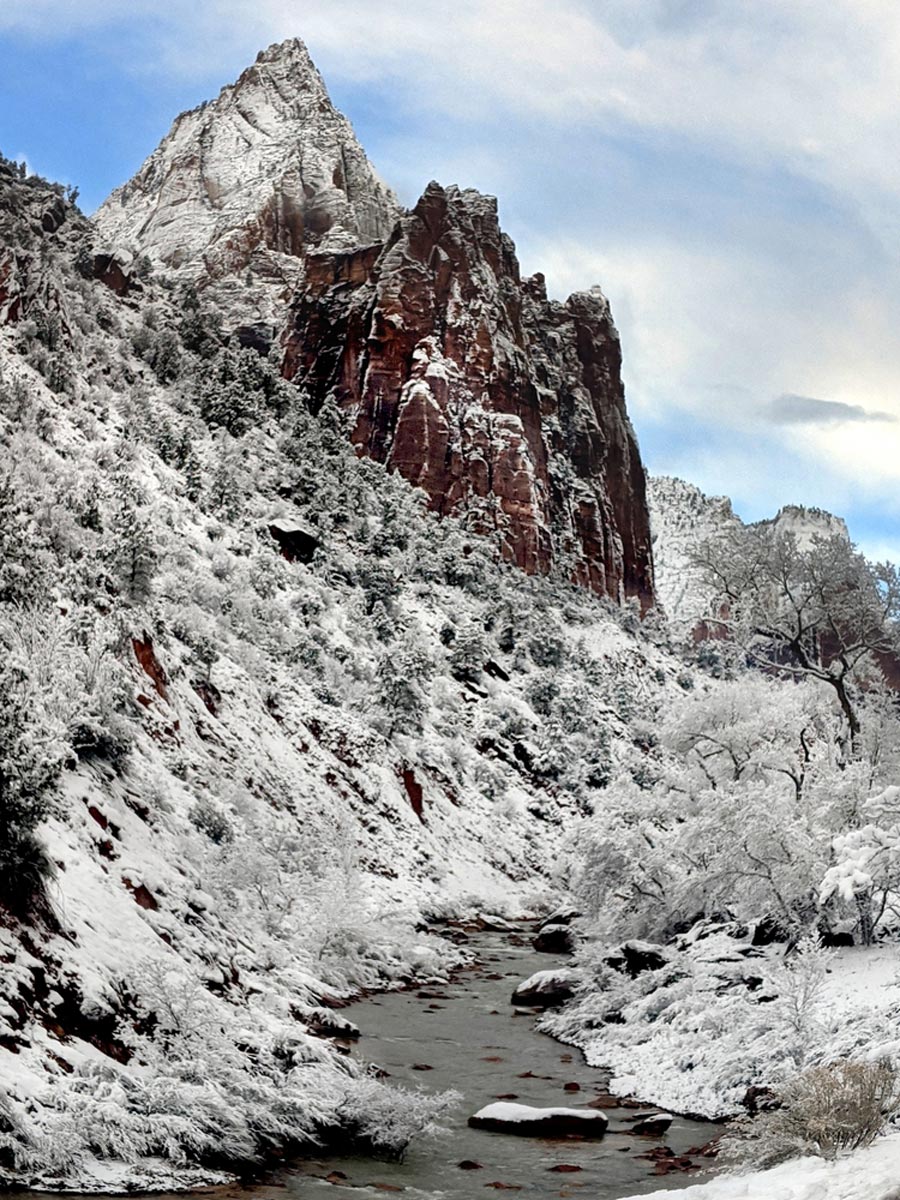 Zion National Park in February is when you'll experience the biggest chance of rain or snowfall. Expect between 1-2 inches of total precipitation throughout the month.

It's still drier than many locations in the USA, so you'll likely find ideal days for hiking and sightseeing and temperatures between 25°F and 50°F.
Top Things to Do in Zion National Park in the Winter
Visiting the Desert Lowlands
Some of our favorite ideas for a hike in Zion are in the lesser-visited section known as the Desert Lowlands. You'll find miles of trails with picturesque views of the mountains nearby.

Because it's in the desert, there isn't much cover from the sun and temperatures are sweltering in the summer. Winter is the perfect time to hike the very challenging Chinle Trail, a 16.1-mile trek with nearly 2,000 feet of elevation change through the desert and headlands.
Wilderness Photography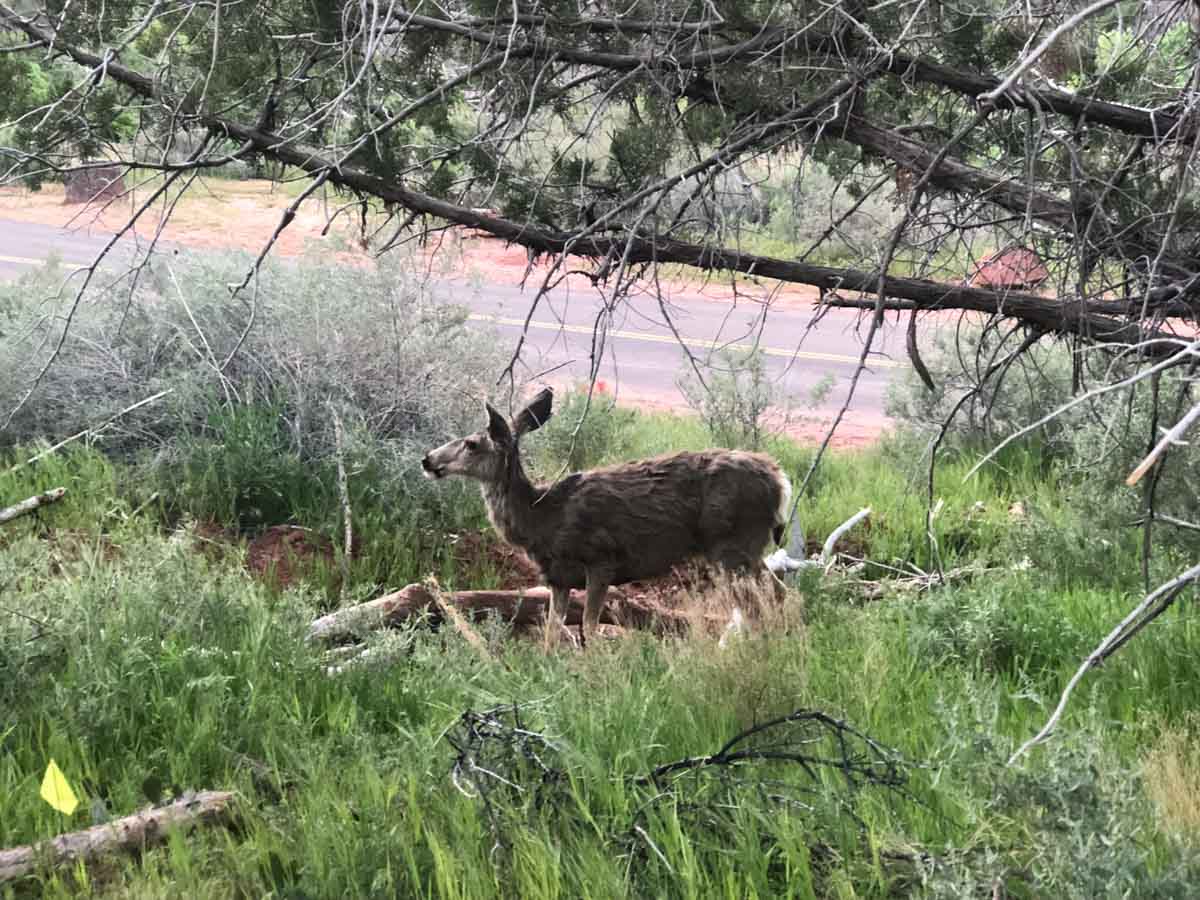 Want to know the best time to see wildlife in this popular national park? Head to Zion National Park in the winter, and bring your camera.

Wildlife begins to come out of the woodwork, and you'll have a good chance at capturing bald eagles soaring through the chilly skies or bighorn sheep and turkeys trekking through the snowy bluffs.
Top Tip: Sunrise and sunset are usually great times to capture wildlife on the trails.
Angel's Landing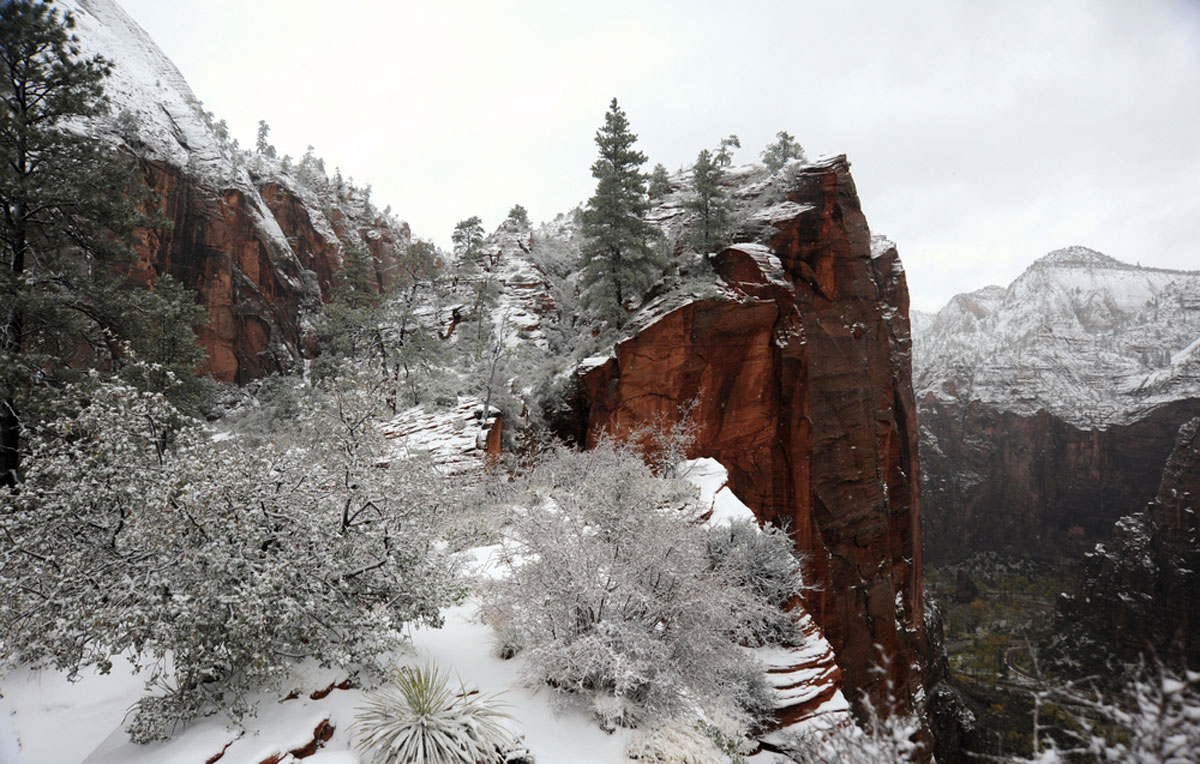 You've probably heard of this famous hike or seen it on IG. The views from the top of the nearly 5,800-foot Angel's Landing are stunning.
But if you are one of the lucky permit winners (we like your chances in the winter), you'll experience the most famous hike in Zion.

You'll pass through the chilly Refrigerator Canyon before trekking up the steep switchbacks at Walter's Wiggles – so be sure to bring your best hiking gear. Be careful though, the trail can be dangerous in icy conditions.
Top Tip: The views from the top of Angel's Landing are as good as it gets in Zion. Bring your best camera and go early in the day to catch epic lighting (as long as the trails aren't icy).
The Watchman Trail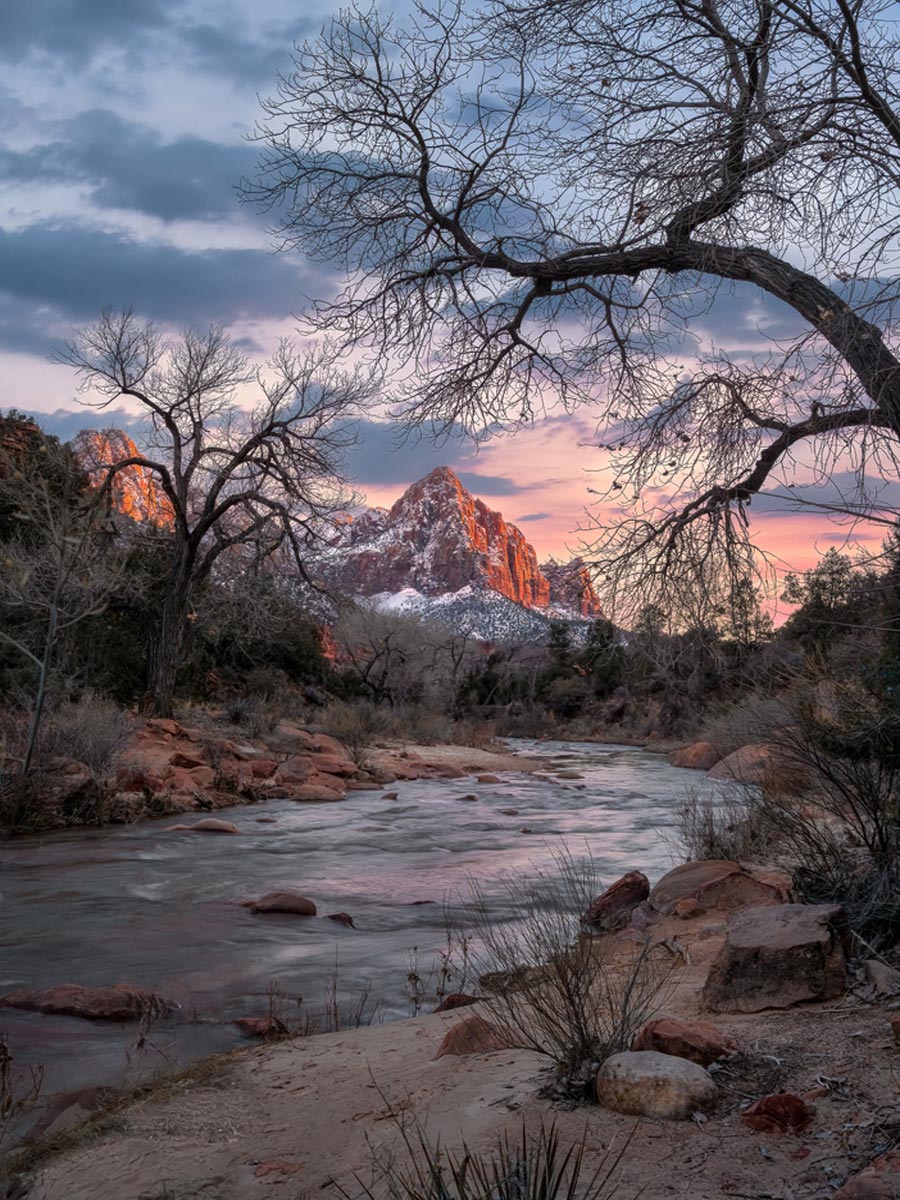 Another one of our favorite hikes is the criminally slept-on The Watchman Trail.

Even though it's only steps from the visitor's center, this hike somehow goes under the radar of many people visiting the park. Don't make the same mistake.
One of the best winter hikes in Zion; you only need to climb around 600 feet, and the trails aren't crowded, making it a great option for hiking or backpacking Zion in the winter.
Top Tip: Don't skip the Watchman Loop at the end of the first plateau. The views of the valleys, canyons, and snowy mountain peaks (if you're lucky) are worth the climb.
Zion-Mount Carmel Scenic Drive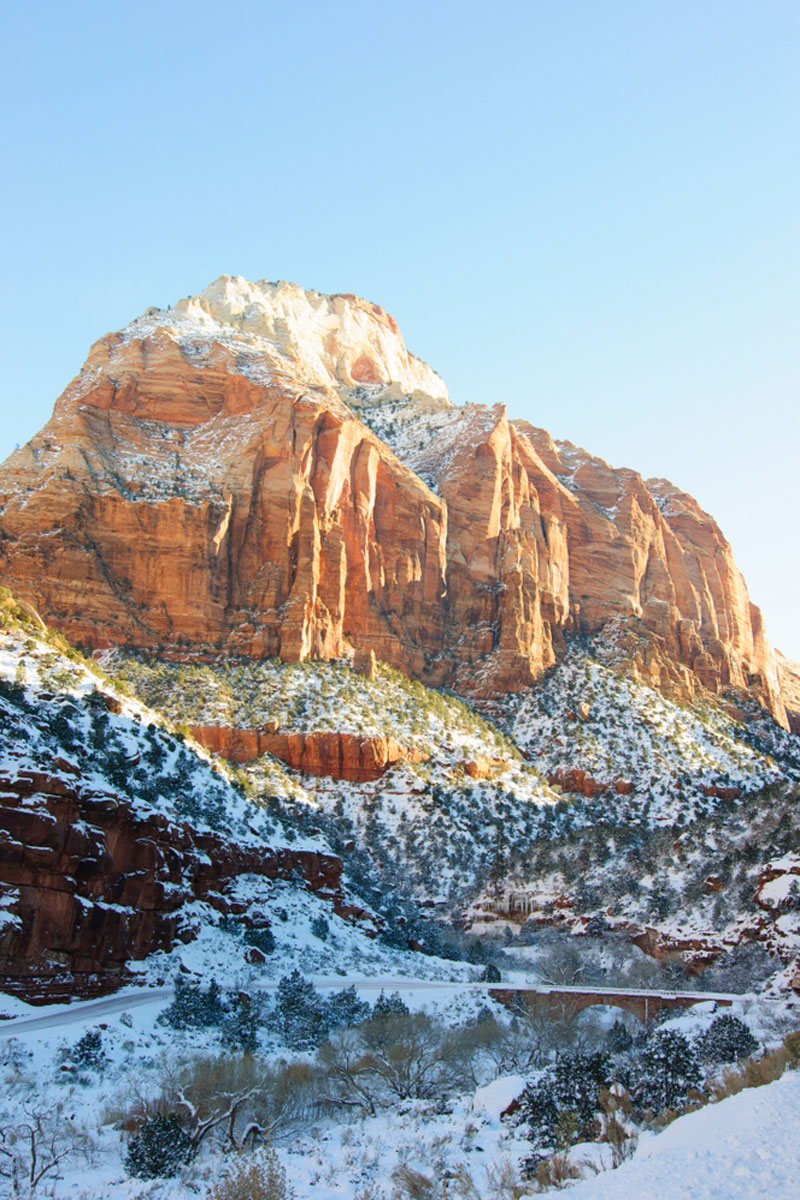 Taking a scenic 1.5 to 2-hour drive through Zion Canyon is one of our favorite ideas for things to do in Zion in the winter.

You can take in many of the epic views you see from the hiking trails in Zion but from the warm confines of your 4WD vehicle. Look for wildlife on the hills and mountains, as bighorn sheep and deer are familiar residents.
Top Tip: Sections close when the weather is bad, so check the forecast ahead.
Hiking the Narrows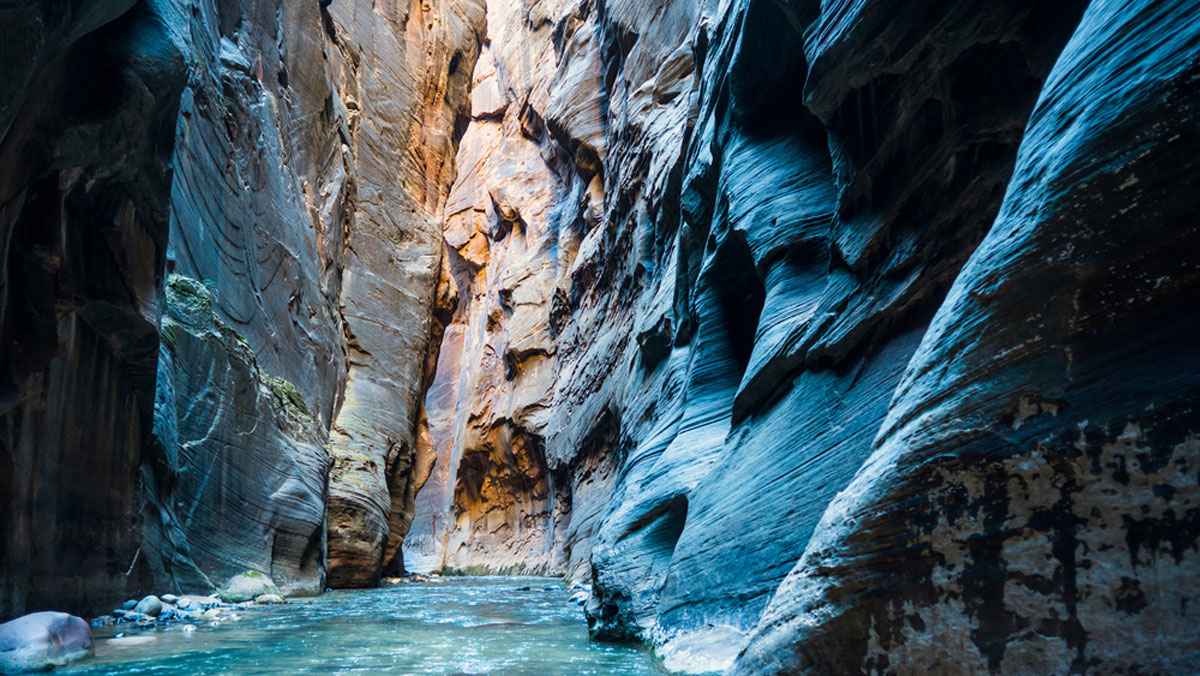 Trekking through The Narrows when visiting Zion in February (or other winter months) might sound like a risky proposition, but if you plan ahead it can be the perfect time to visit.

Hear us out. Zion narrows in the winter are one of the only times you can walk through the steep 100-foot slot canyons and Virgin River without dozens of tourists alongside you.
Top Tip: Plan ahead and bring your best gear. The trails are generally open in the winter, but you'll want a dry suit, hiking poles, and waterproof hiking boots.
Unique Things to See & Do in Zion National Park in Winter: Hidden Gems That Are Off the Beaten Track
Scout Lookout Trail Via West Rim Trail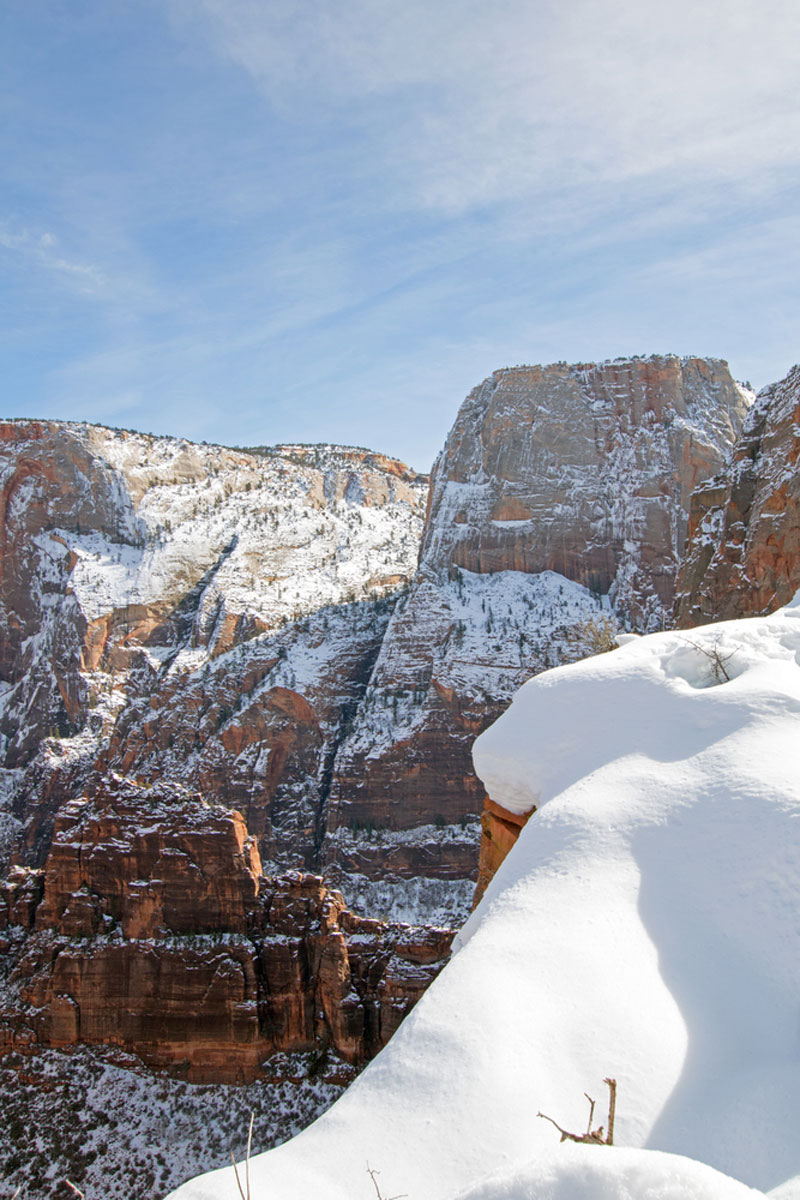 Want a low-key amazing way to see Angel's Landing? Take this 3.6-mile hike to Scout Lookout for some of the most epic views of Angel's Landing, no permit needed.

You shouldn't run into too much traffic in the winter months, but the hills are steep, so you'll need your poles and traction devices for your boots. But the views from the top are almost as epic as Angel's Landing itself.
Top Tip: Check the forecast and try to wait until another day on your trip if there's been recent rain or snow.
Snowshoeing
Does Zion close in the winter? Yes and no. There are lots of trails open 24/7, some of which you may need to have the right gear and time to access.
Want to access parts of the upper canyon? If you're camping in Zion, rent a pair of snowshoes in Springdale and check out areas Like Checkerboard Mesa and the East Rim Trail.
Top Tip: Most of the snowshoeing trails require at least some level of experience and skill.
Snowboarding (or Skiing) in Brian Head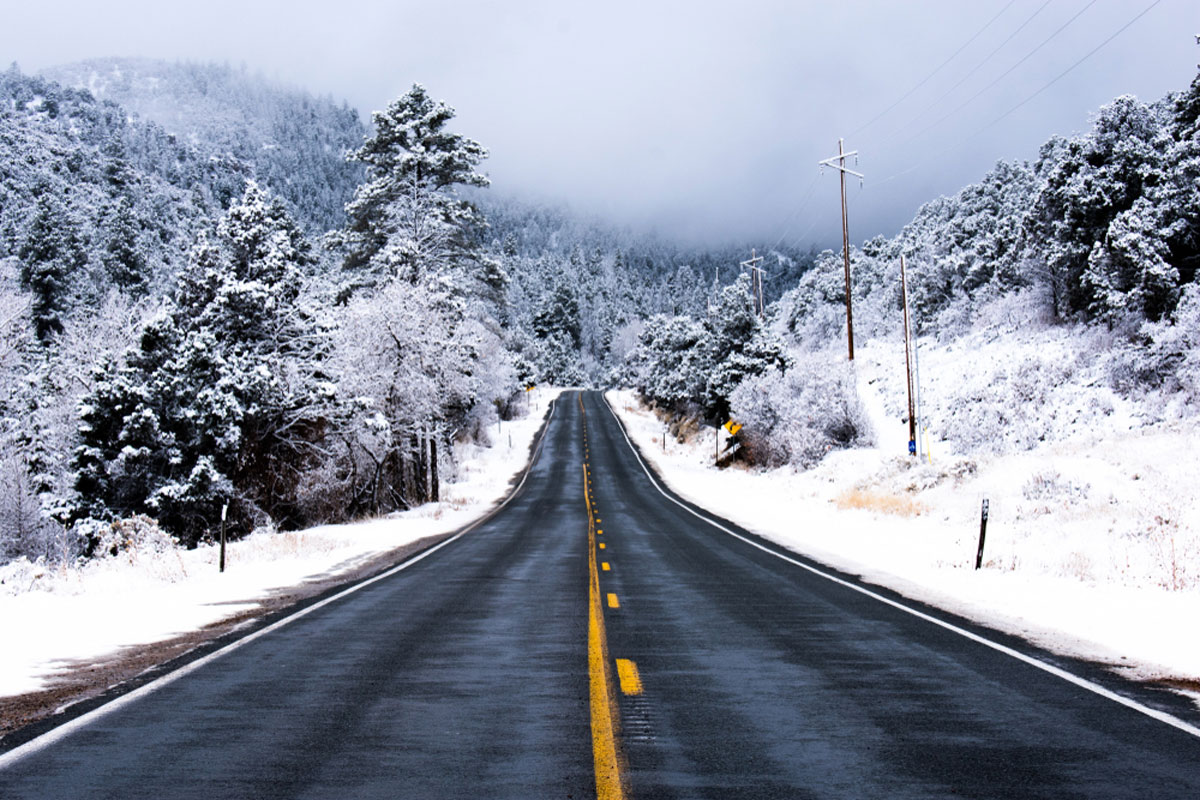 Does Zion get snow? Sure it does.

And for those of you who want to experience more than a light dusting, if you visit Zion National Park in the winter, you can check out some of the best snowboarding and ski resorts in Utah nearby.

One of our favorite options is Brian Head, which you can reach in about 1.5 hours from Zion. It's a wonderful mountain for beginners, but there's also a black diamond run if that's more your speed.
Top Tip: The resort is open until 9 pm and sells discounted tickets, which is perfect if you're looking for cheap things to do.
Take Your Holiday Photos
Head to Zion National Park in December and capture some festive Zion in the winter pictures.

Capturing photos of you and your loved ones under the towering canyons and alongside the Virgin River in your best winter sweater makes the best holiday photos.
Go on a Riverside Bike Ride
Biking is one of our favorite ways to explore Zion National Park. But during the warmer months, the trails can get very busy.

Heading out to bike Zion in December through February is perfect for biking, as long as you don't get caught in rain or snow.

Pa'rus Trail is a mellow trail along the Virgin River's edges where you'll bike below the iconic 6,500-foot sandstone cliffs of The Watchman.
Top Tip: Don't forget to check the weather. Rain and snow can make biking dangerous.
Stargazing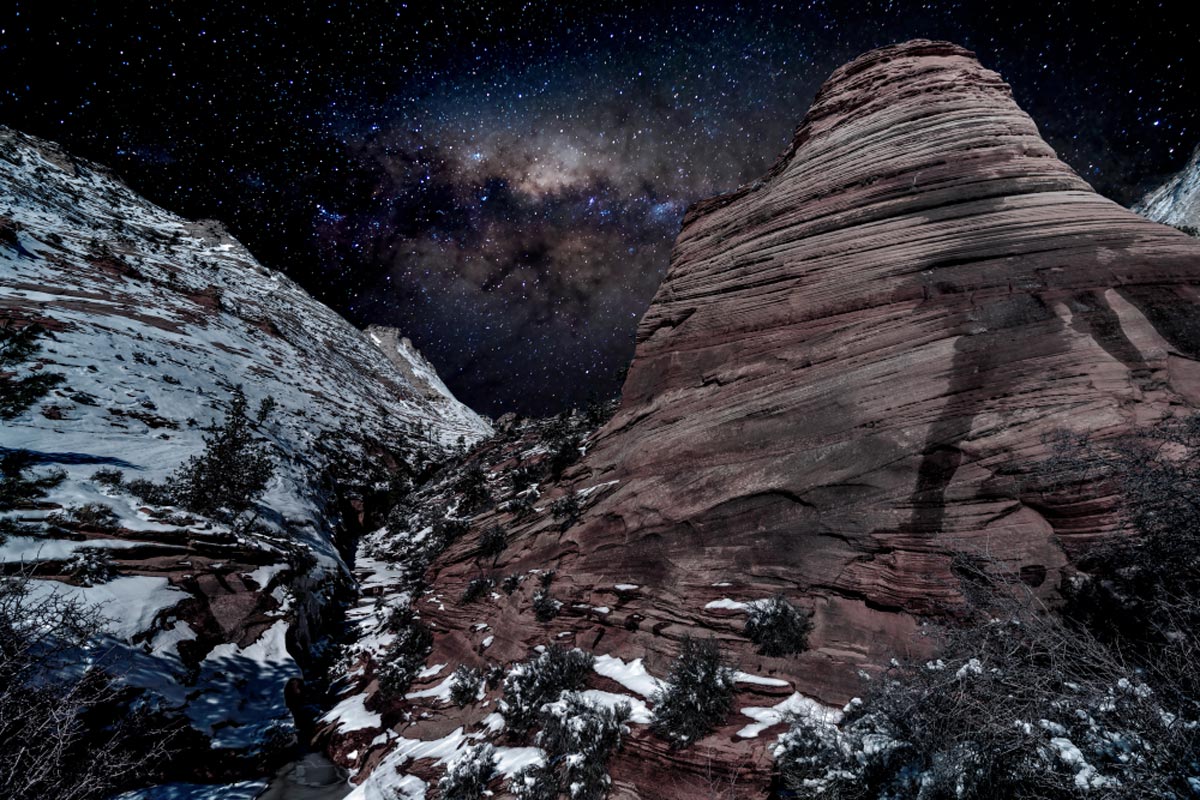 You can't go to Zion National Park and not go stargazing, right? Winter brings clouds, rain, and snow, but there are still plenty of clear evenings to see the constellations, planets, and galaxies.

We like the idea of camping out in Zion to give yourself the best chance at seeing the stars at this International Dark Sky Park.
Top Tip: Zion campgrounds fill up, even in the winter. Make your reservations as early as possible, especially if you want a spot for your RV.
Practical Tips for Exploring Zion in the Winter
Where to Stay Near Zion National Park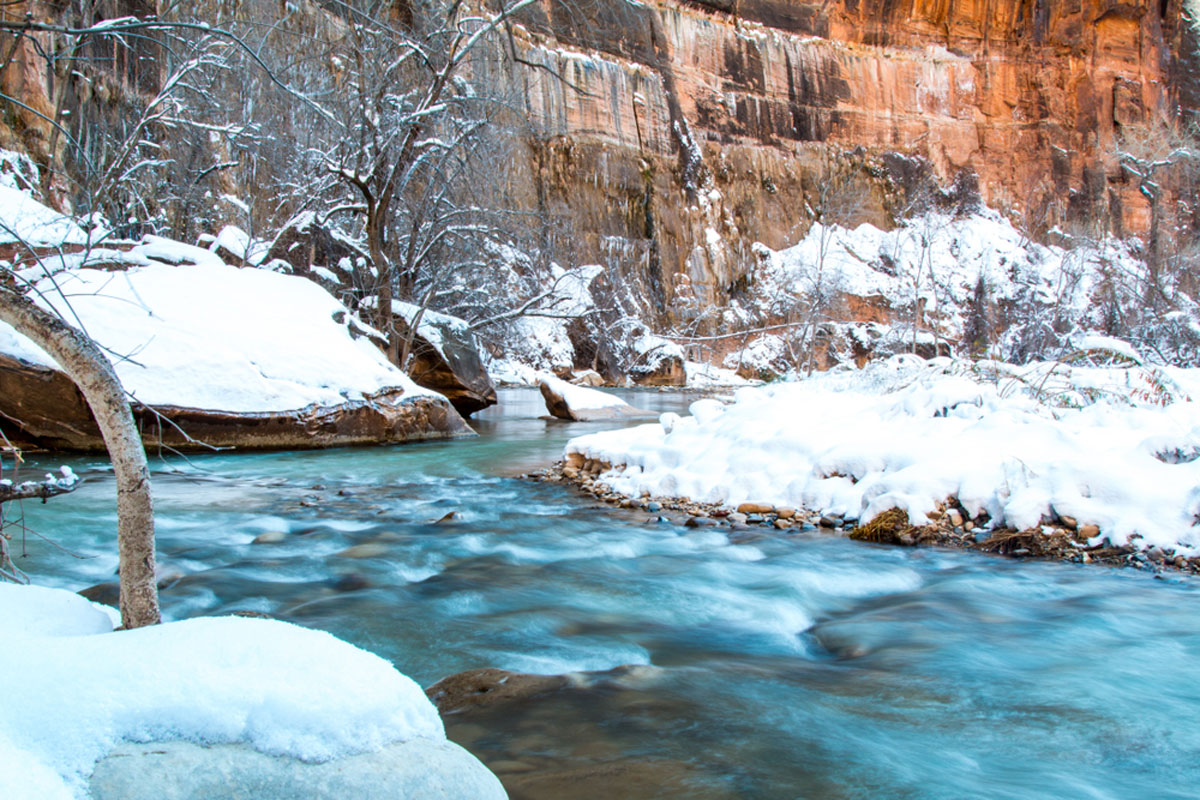 Some of our favorite winter hikes in Zion are near the Watchman Campground. You can also stay in the South Campground, but it's partially closed.

If camping sounds a bit too chilly, there are plenty of hotels in and near Zion.
Flanigan's Resort & Spa
Our favorite hotel near Zion is Flanigan's Resort & Spa in Springdale. It's only about 10-15 minutes from the park and offers luxury accommodations where you can pamper yourself at the spa after long days of hiking.
Expect the Unexpected Visiting Zion in the Winter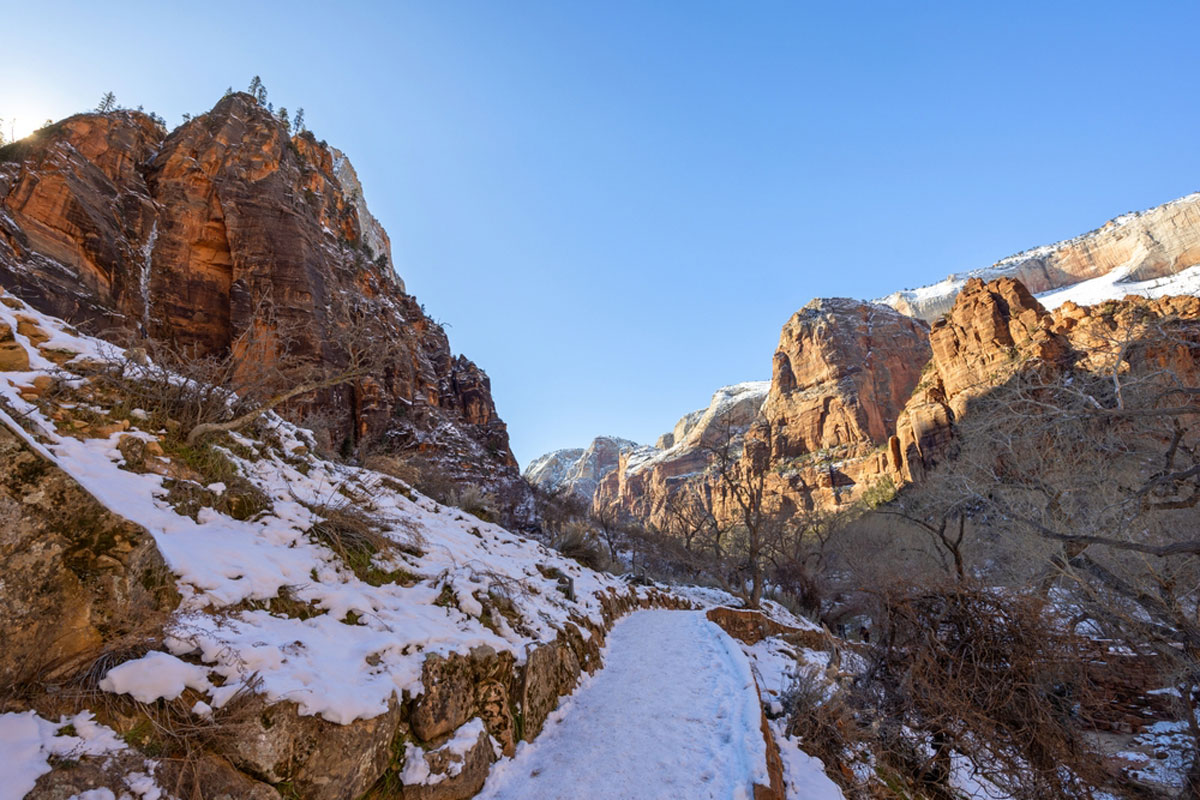 According to the National Park Service, Zion sees almost half of its rain or snow from December through February.
You may experience icy roads and trails, and closures to both aren't uncommon. You'll also want to arrive early. The park closes access once the lot is full.
Pack for the Winter Weather in Zion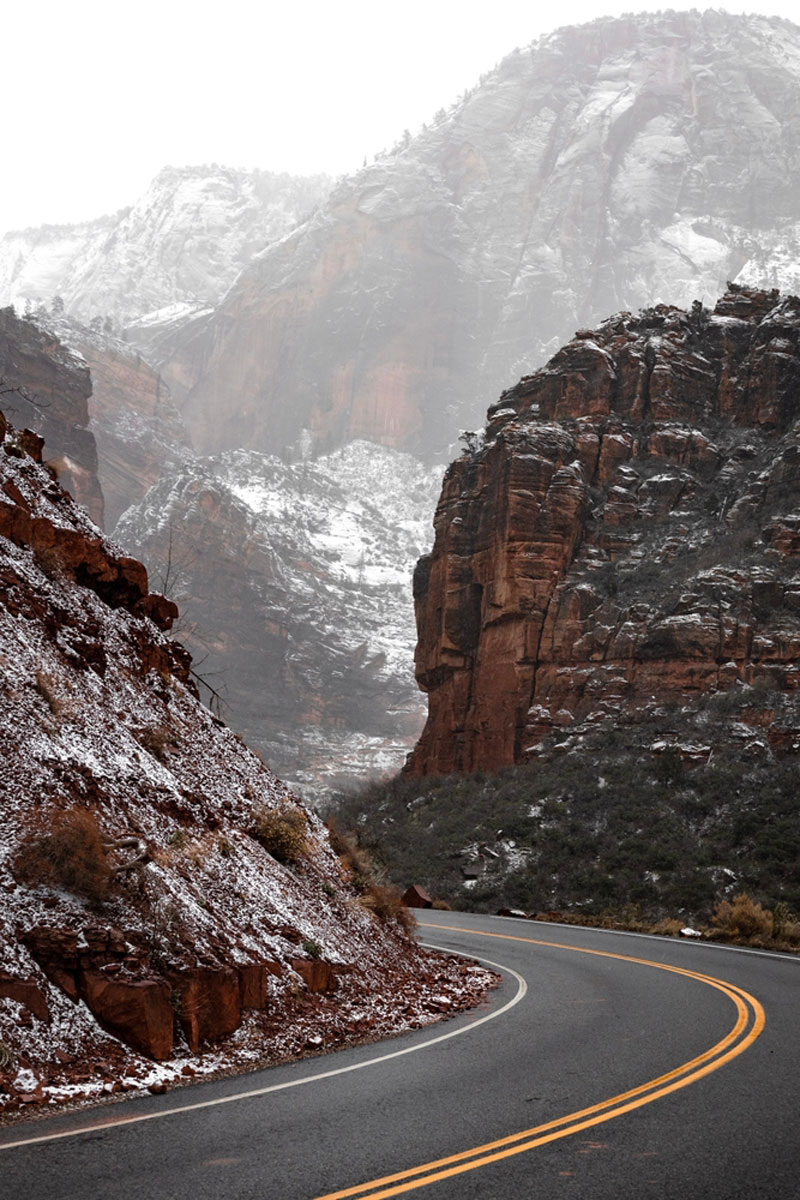 Of course, you'll need to pack warm clothes, thermal undergarments, a hat, and gloves. But there are some other things you'll want to consider when traveling to Zion National Park in the winter months.
Hiking poles, a dry suit, waterproof footwear, a headlamp, and traction devices for your shoes are all necessary if you want to hike.
Visit the Park Website for Updates
Visiting Zion National Park in December through February?

Stay informed of any announcements about trail closures and weather made by the NPS on the park website.
Winter Activities in Zion: Map
Need More Inspiration for Zion National Park?
Love This? Save and Share on Pinterest