Planning a trip to Moab? These are the best Airbnbs in Moab to book for a brilliant stay.
Moab might be a small city, but it's filled with big attractions. No wonder then that more than 2 million people from around the world come to visit its iconic national parks, hiking trails, and impressive landscape.
It's true – Moab is a natural playground for adventure seekers. The area is known for hiking, biking, rock climbing, river rafting, and star gazing.
And, after all that, you're going to need somewhere cozy to sleep. That's where this guide to the best Moab Airbnbs comes in clutch.
Pssst… When looking for Moab Airbnbs, it's also a good idea to check Booking.com as there are plenty of private rentals on that site, too.
Best Airbnbs in Moab: At a Glance
Best Airbnbs in Moab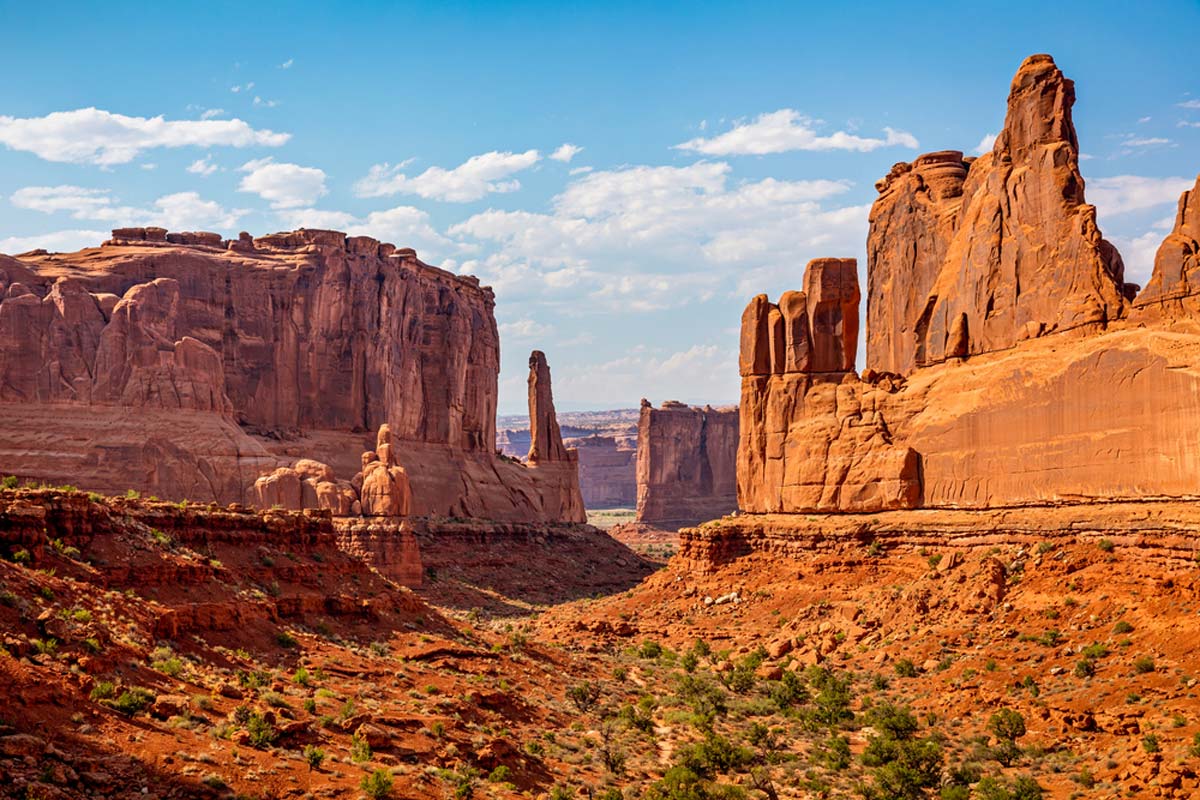 Finding the right accommodation can make or break your trip. What better way to end your day than by returning to a private home or apartment with space and tranquility to unwind as you let the day sink in?
We've written about our favorites below…
Red Rock Rendevouz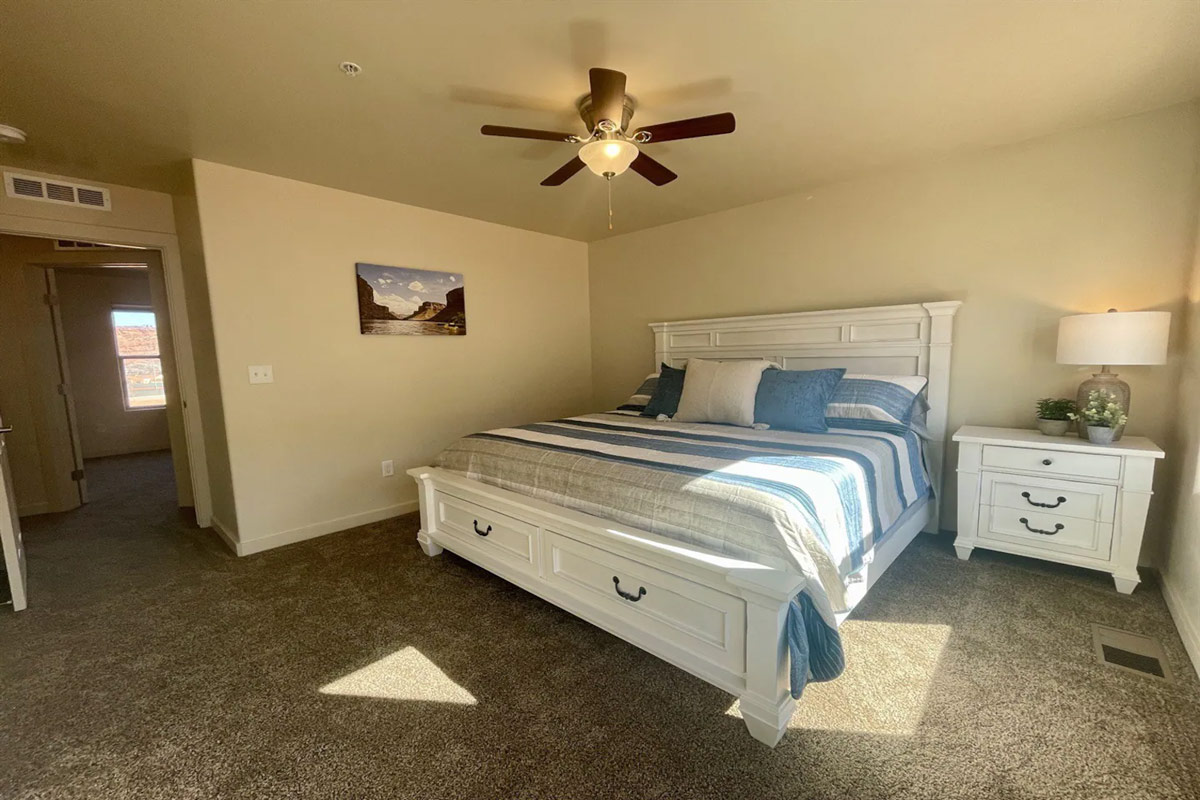 This adorable Airbnb in Moab seamlessly blends into its surroundings thanks to its dusty red exterior.
And, inside, things are equally rustic and cute – we're talking about an open-plan kitchen/living room space, with plenty of seating and homely touches.
Sleeping up to six guests, this Airbnb has ample space, and the outdoor pool and hot tub are both winning features.
Location: Rim Vista
Situated just five miles from Downtown Moab, the location of this Airbnb is ideal if you're looking for easy access to town and the abundance of shops, bars, and restaurants that you'll find there.
Luxury Condo at Sage Creek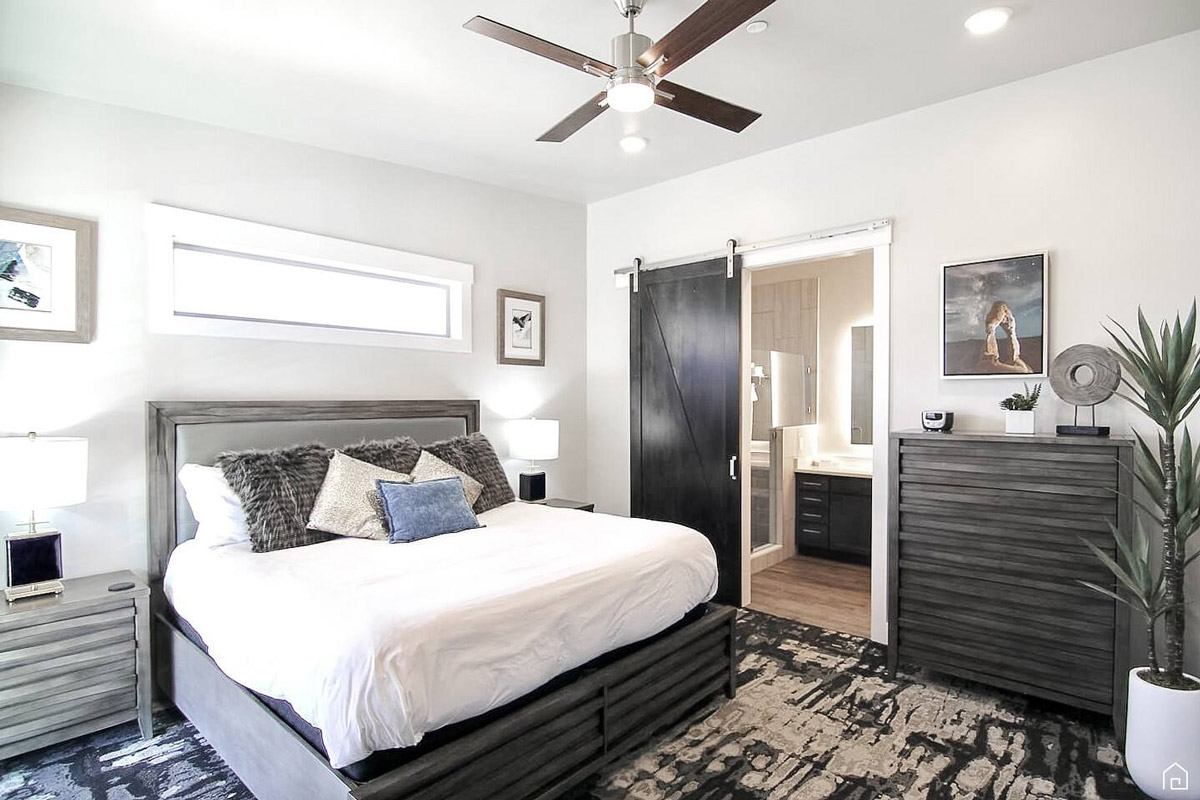 Now, this is a ridiculously special home. First of all, it's absolutely huge (sleeping 14), but the price works out at around $20 per head per night if you manage to gather up 13 pals to visit Moab with you.
When you consider that you've got three huge bedrooms (with multiple beds in each, don't worry), an epic outdoor heated pool, and beautifully rocky backdrop, it's no wonder this place is usually booked up. Be quick!
Location: Sage Creek
You're just south of Moab at this dazzling property, which means you've got uninterrupted desert views (and the night-time views of the city's twinkling lights are equally magical).
Redrock & River Views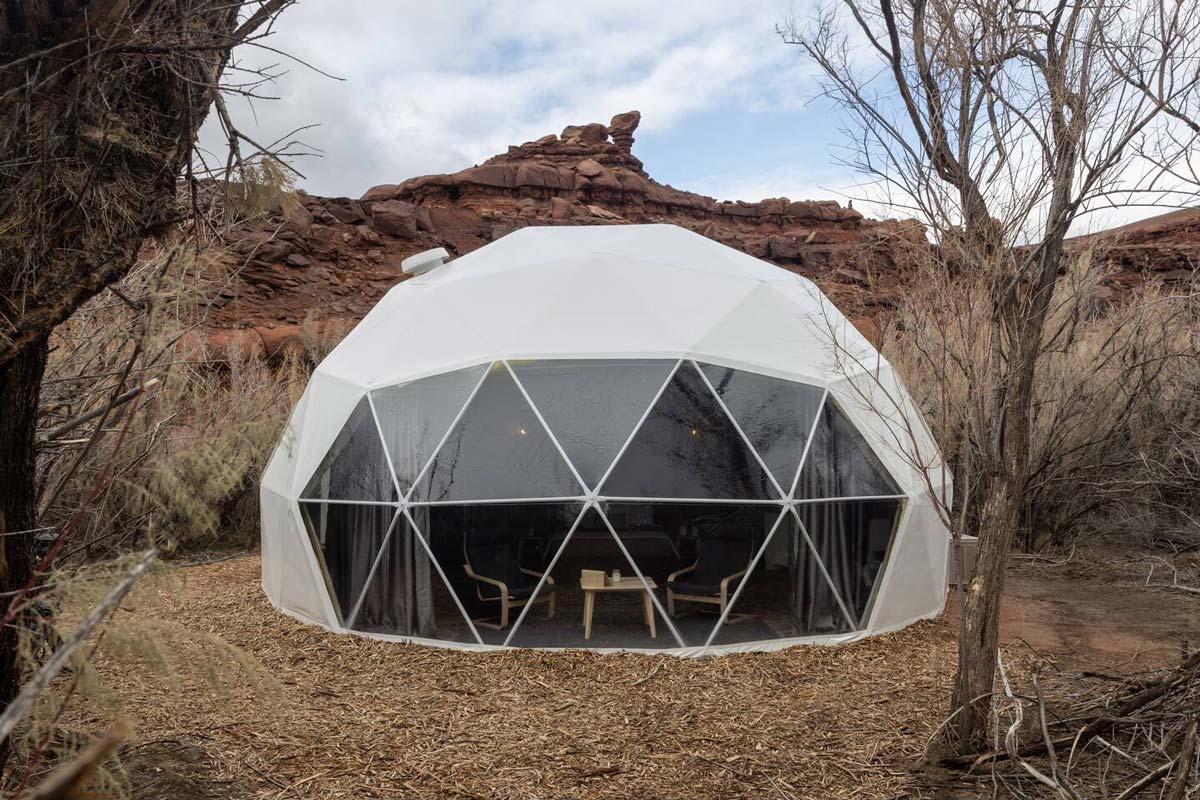 Looking for somewhere seriously cool? We've found it – this dome Airbnb in Moab is the perfect place to stay if romantic evenings under the stars are on your itinerary.
We're not kidding, this glamping experience is about as luxurious as they come. A fluffy double bed, a nook where you can stare out at the stars, and a kitchenette so you can grab a hot cocoa and admire the sky.
Location: Colorado River
Tucked away just outside of Moab, this Airbnb is perfect for those seeking some privacy.
429 Williams Way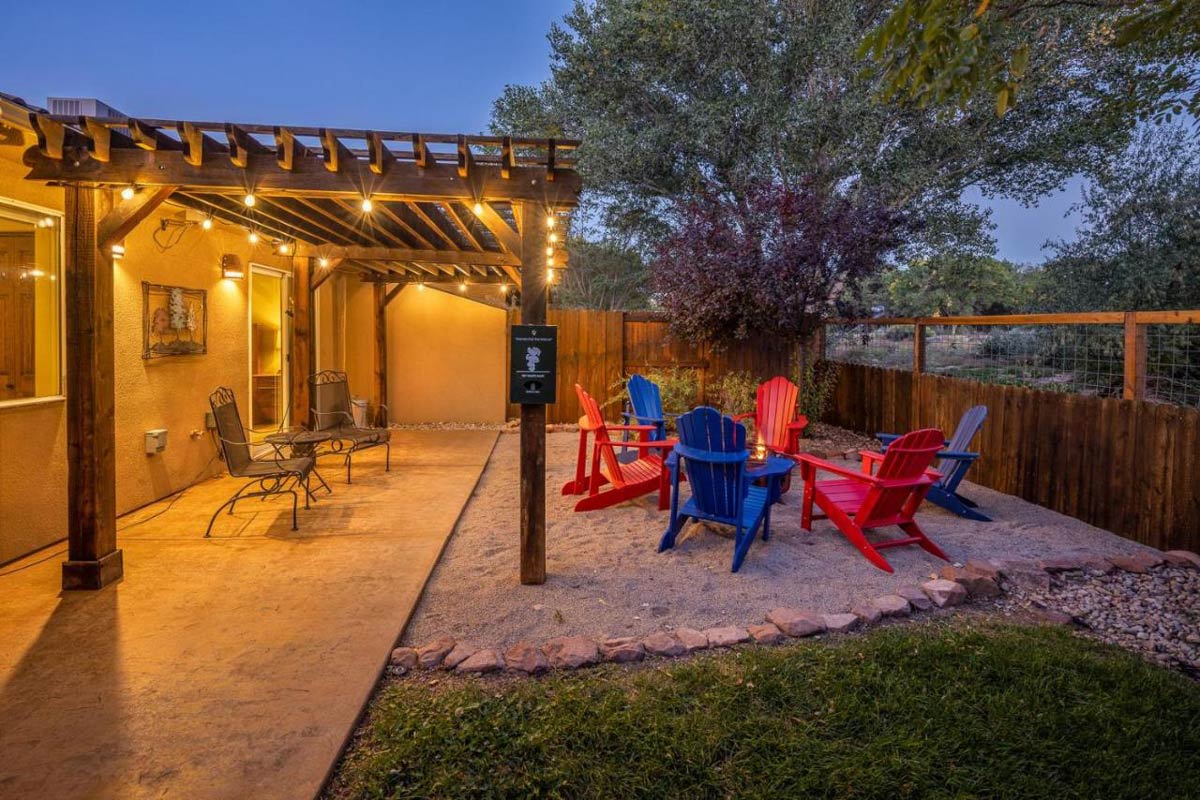 One of the best and top-rated Airbnbs in Moab is 429 Williams Way. This 3 bedroom, 2 bathroom home has a fully equipped kitchen.
Better yet, towels and linens are provided for you and there is a washer and dryer, so you can pack lighter.
For cozy evenings, there's a fireplace with cable and satellite channels. While Wifi is also available throughout the home.
There are 2 swimming pools within the development, 1 indoor and 1 outdoor, as well as a fitness center. Oh, and there are restaurants nearby along with supermarkets if you want to stock the kitchen.
Location: Downtown Moab
Downtown Moab is known for its diverse cuisine, museums dedicated to the preservation and history of the area, fun nightlife and bars, shops, art galleries and more. We think that Downtown Moab is also a great starting point to see all the national and state parks nearby.
FunStays Glamping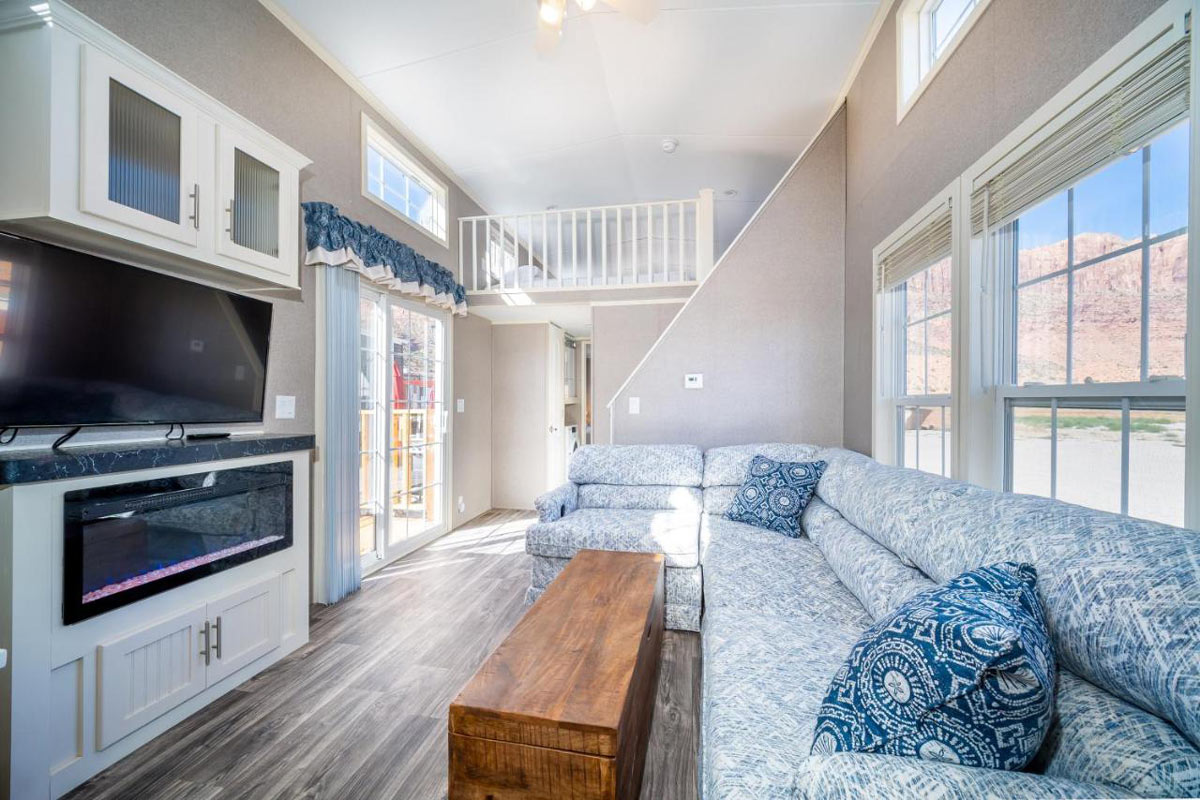 If you're looking for a unique Moab, Utah Airbnb, look no further than this tiny house that features a loft and comfortably sleeps 4 adults.
This property features a fully functioning kitchen, linens, and toiletries, a private toilet and shower, washer and dryer.
Within the RV park, there are common areas to meet other travelers to exchange travel tips and stories, shared showers and bathrooms, fire pits, and grills.
Location: South Valley
South Valley is an ideal location if you want to stay close to downtown. It is also close to all the popular attractions; Dead Horse State Park, Green River Overlook, and the Mesa Arch are located nearby.
Pack Creek Ranch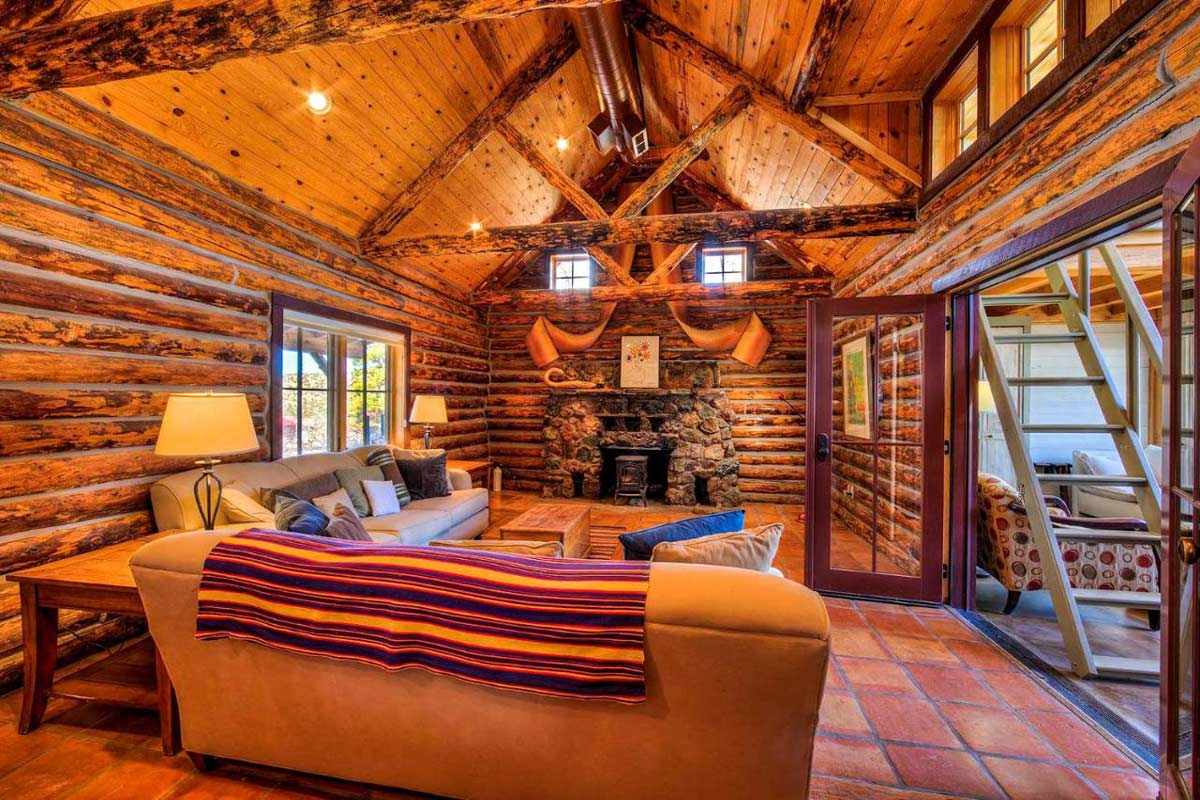 These stunning private cabins sleep up to 6 people and boast 2 bedrooms, 2 bathrooms, and a full kitchen with all the essentials.
If you're looking for a Moab Airbnb with a hot tub, then this is the spot for you. There is a patio and outdoor dining area that overlooks the bubbling river. You can also find a swimming pool and a sauna.
And when it comes to the essential deets, there is plenty of parking, laundry facilities, and even a concierge on site.
Location: Pack Creek
Pack Creek Ranch is just outside of Downtown Moab. It is also located close to the Sand Flats Recreation area where you can go mountain biking and off-roading.
St Danes Big Horn Cabin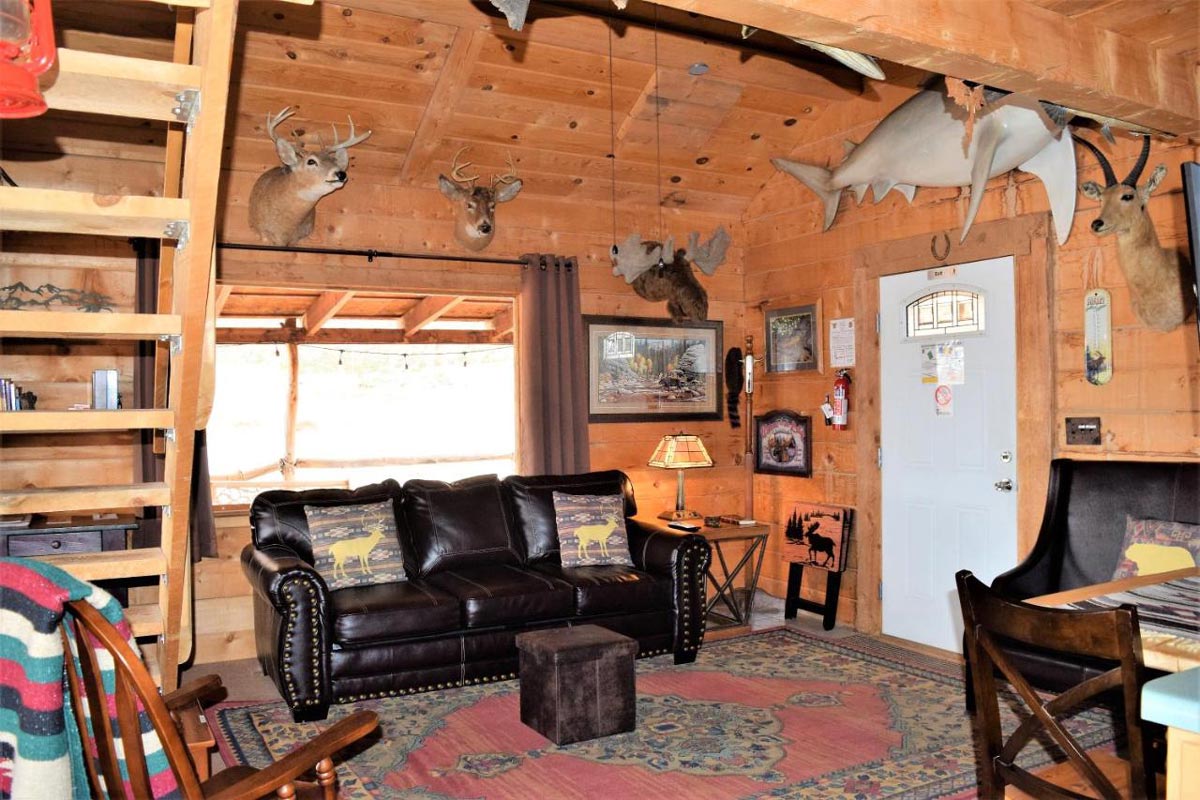 One of the highest-rated properties for the Moab region is St Danes Cabin. They are within view of Moab Rim and the La Sal Mountains creating a peaceful and stunning location.
The cabins feature a loft, living room, full bathroom, stocked kitchen, washer, dryer and hot tub – you won't need anything else during your stay, we guarantee.
This cabin is located near a golf course and is committed to sustainable travel; no wonder it's a popular spot all year round.
Location: Spanish Valley
This property is close to the iconic Arches National Park, Ken's Lake, and Hole in the Rock. It is also close to downtown where you can find restaurants, bars, and cafes. It is a popular base camp for adventure seekers.
Vista Cabin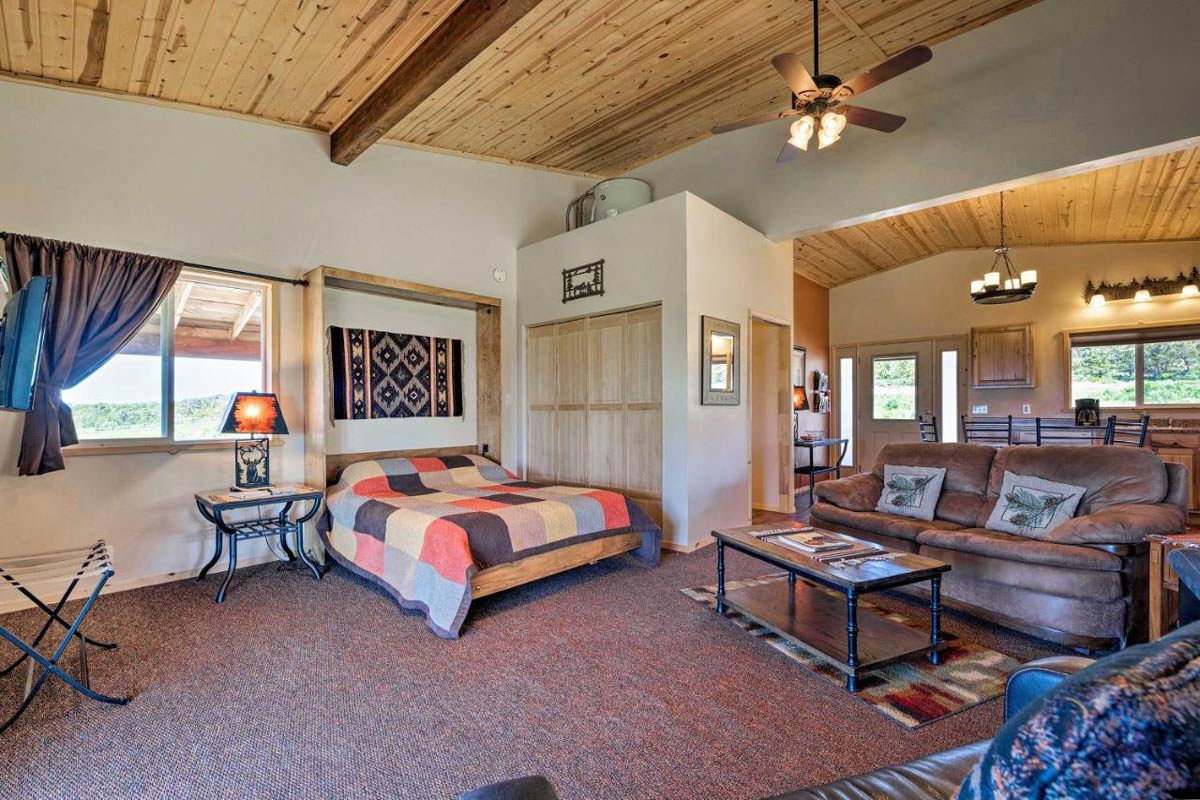 Looking for an Airbnb in Moab that has more of a remote feel? This studio could be just the place for you.
Sitting on 5 acres of stunning land, you'll be treated to undisturbed mountain views, a covered patio, BBQ, and free wifi.
The bedroom features two large double beds and a sofa bed, so you can comfortably fit up to 6 adults in this Moab Airbnb.
Location: Spanish Valley
This remote cabin is still within a 30-minute drive to downtown Moab, so you can stock up on groceries and enjoy a night on the town without having to go too far. Arches National Park and Canyonlands National Park, Moab's biggest attractions, are nearby.
Creekside Juanita's Place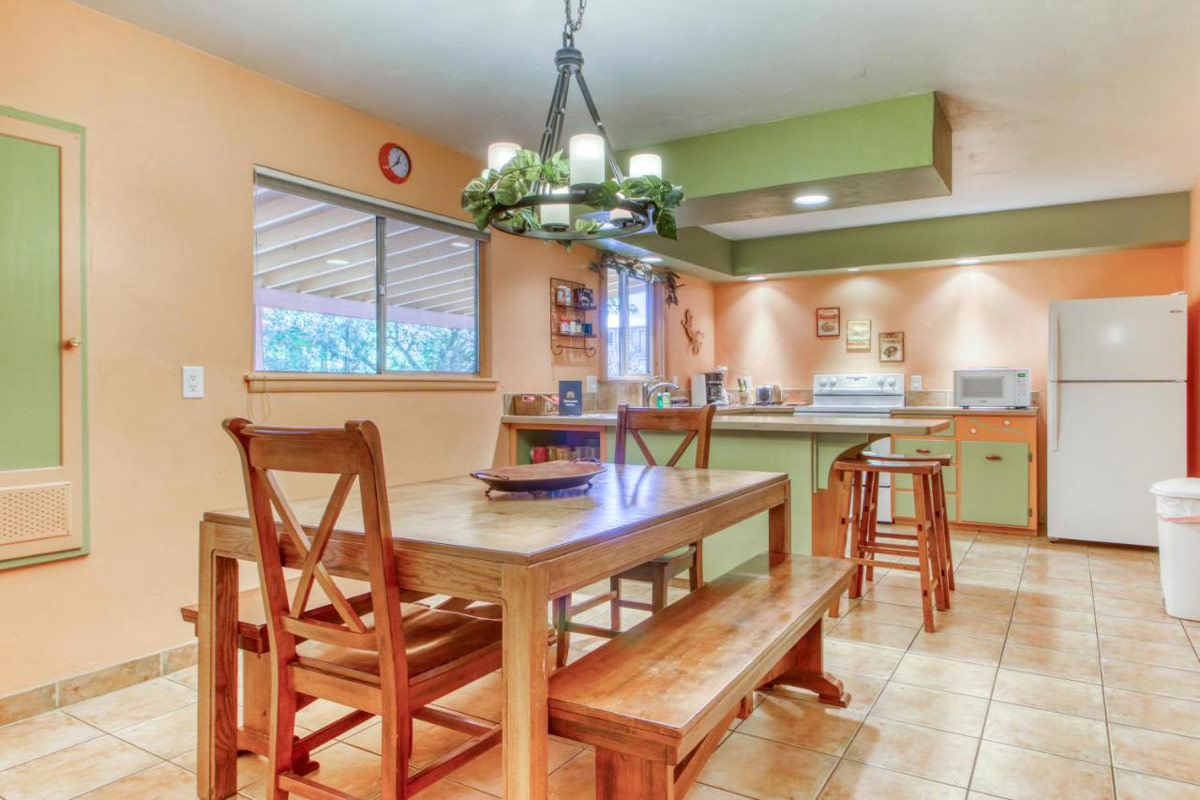 This stunning property features 3 bedrooms and 3 bathrooms, so it's plenty big enough for a family or group of friends.
The entertainment facilities here are what we really love about this Moab Airbnb – there's a patio, a hot tub, a fully equipped kitchen, a washer and dryer, BBQ equipment, and parking.
Even better, this cabin is pet friendly with a spacious yard. What more could you need?
Location: Downtown Moab
Conveniently located in Downtown Moab, there are loads of things to do nearby. Hiking, biking, windsurfing, fishing, and horseback riding are just a few examples. There are restaurants and bars nearby, a dog park, and Dead Horse Point State Park.
Wildhorse Canyon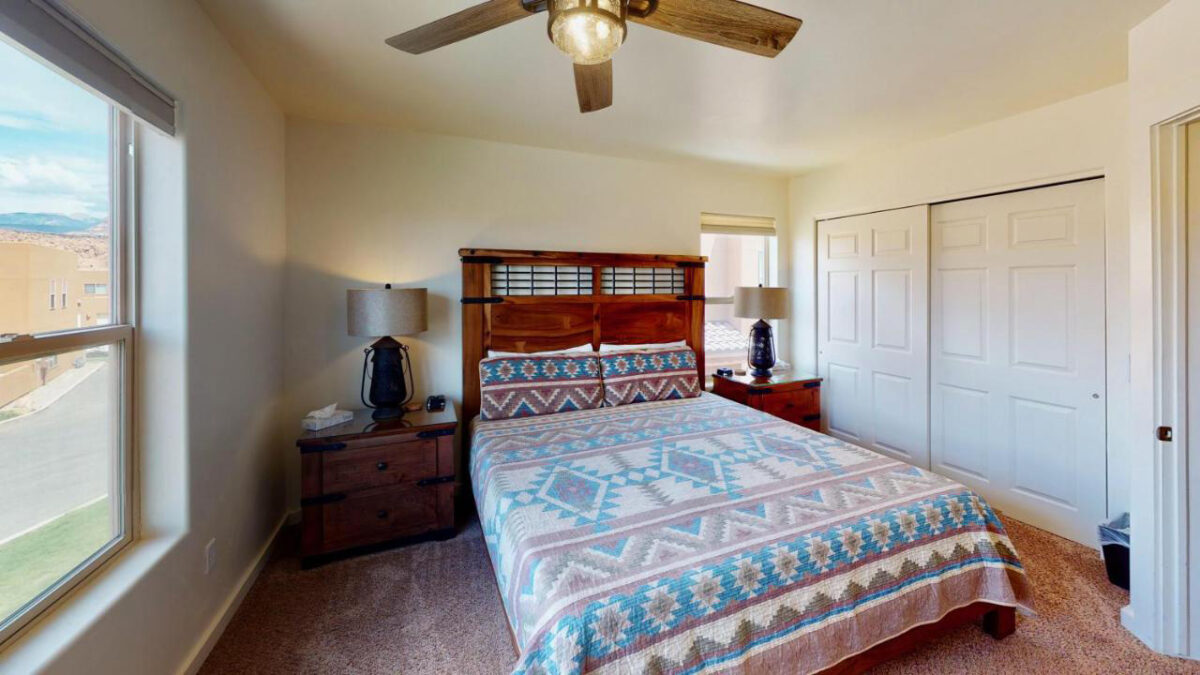 Another Moab property featuring a pool and hot tub, BBQ facilities, full kitchen, laundry room, and a living area with cable tv is Wildhorse Canyon.
There are 2 bedrooms (again, with multiple beds) that comfortably sleep up to 10 people. The unit is spacious, and perfect for a big group of friends or a small family reunion.
The house has a western theme – not quite to everyone's taste but it's certainly rather fun.
Location: Spanish Valley
Nearby attractions include La Sal Mountain Loop, Mesa Arch, and Wilson Arch. Scenic drives, hiking, biking, and photography are all popular activities in the area.
Practical Tips to Consider Before Booking Your Airbnb in Moab
Bring with you a variety of clothes to suit any type of weather, good hiking shoes, and sun protection.
Most accommodations are pet friendly in Moab but make sure the parks or hiking trails you are visiting are as well.
When you're in the area, make sure to follow ALL the park rules. Respect the beautiful landscape you're on!
Airbnb Moab: Map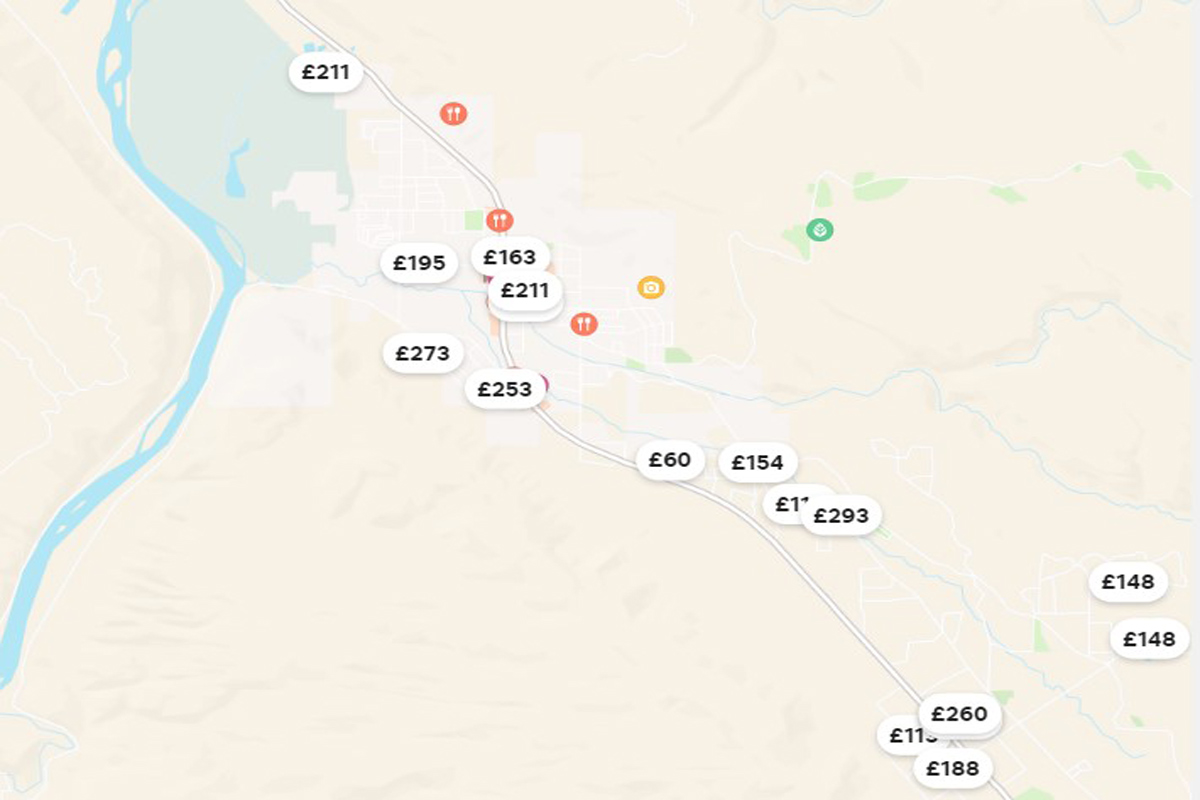 Read More Moab Guides