Ready to explore the petroglyphs in Moab? We'll show you the most famous locations and some not-so-well-known sites with ancient petroglyphs for your next trip.
If you're heading to Moab, there's a good chance you'll see Arches or Canyonlands National Park. We have good news for you – these two members of Utah's Mighty Five are packed with fun things to see and do.

But what if we told you that the area around Moab is also home to one of the oldest art galleries in the world? Check out gorgeous depictions of Indigenous people, animals, and aliens (?) etched into the red rocks and desert cliffs near Moab.

What are they? Petroglyphs. Because of the dry weather, Moab petroglyphs are in great shape, allowing visitors to tap into a piece of history from thousands of years back.
Ready to discover where to find them? We made a list of the best petroglyphs in Moab for you to explore. Let's go.
What You Need to Know About Moab's Petroglyphs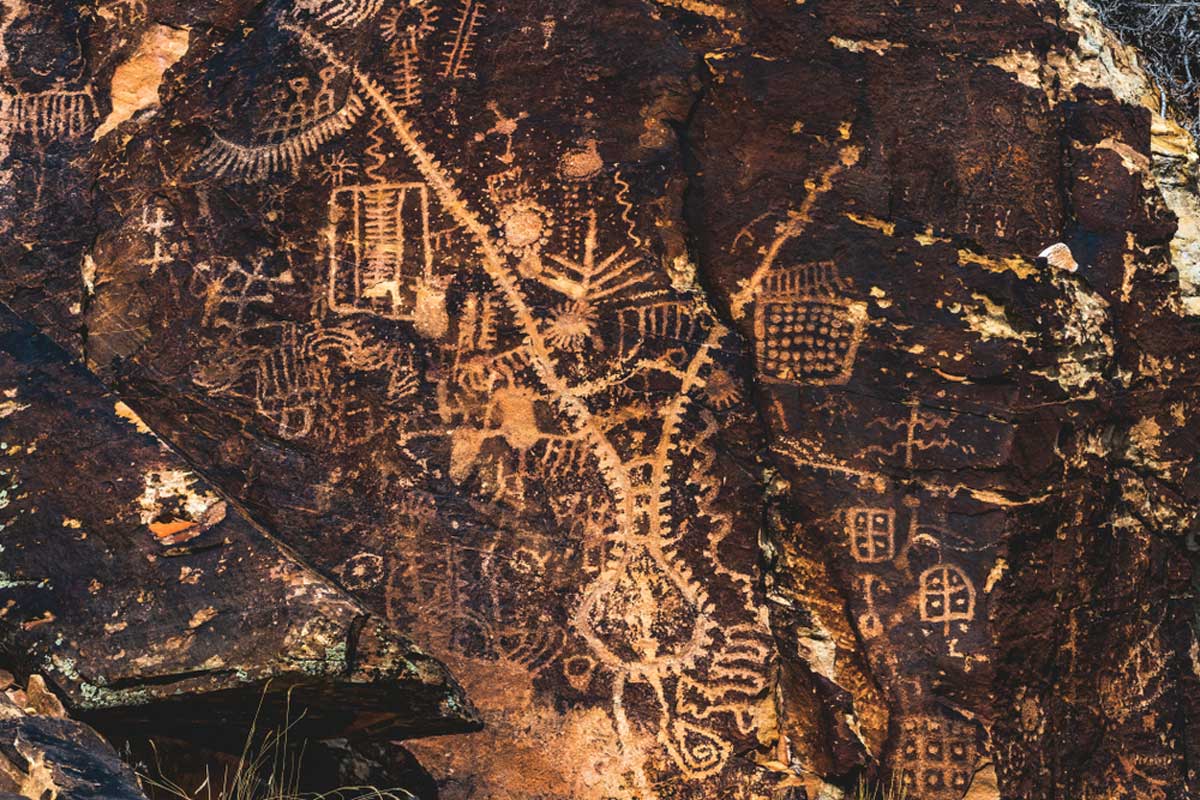 Ok, so you may or may not be familiar with all the petroglyphs Moab features in and around Canyonlands National Park.

But what exactly are they? Petroglyphs are drawings etched into stone, generally depicting events, animals, and spiritual messages. Experts believe many petroglyphs told stories, predicted future events, and warned visitors not to enter certain areas.
Petroglyphs are a form of artwork dating back to 3,500 BC. Who made them? Experts think most are from the Pueblo, Freemont, and Ute cultures.

Experts think Native American cultures predating the Ute and Freemont people made the older petroglyphs, though they know little about the cultures dating back thousands of years.
The images tell stories of Indigenous cultures, the animals, and the landscape around them, and they give a glimpse into what life was like along the Colorado Plateau thousands of years ago.
Top Moab Petroglyphs
Intestine Man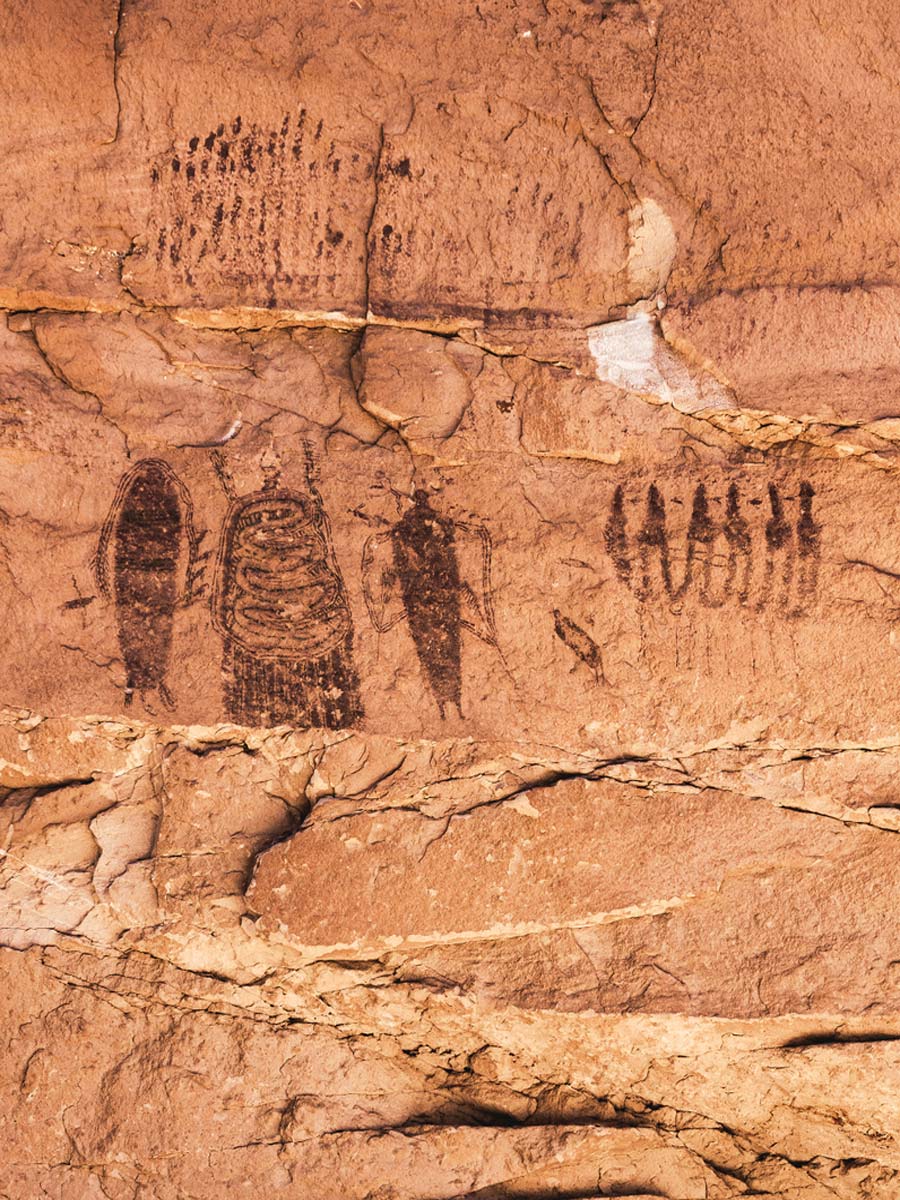 Perhaps one of the most iconic Moab, Utah petroglyph sites, Intestine Man, is one you'll want to see yourself. However, this landmark is actually a pictograph– which is slightly different in that it's painted onto the red rocks rather than carved in.
Nonetheless, Moab's most famous pictograph is the well-preserved image of a man standing next to two other figures with what appears to be his intestines showing (or maybe a snake?). But you'll also find some really interesting petroglyphs of giant bighorn sheep nearby.
To reach Intestine Man, take Highway 191 from Moab to Highway 313 and drive 2.7 miles to the pull-off. From here, you'll take a short hike to Intestine Man on the left and the petroglyphs on the right.
Ute Indian Petroglyphs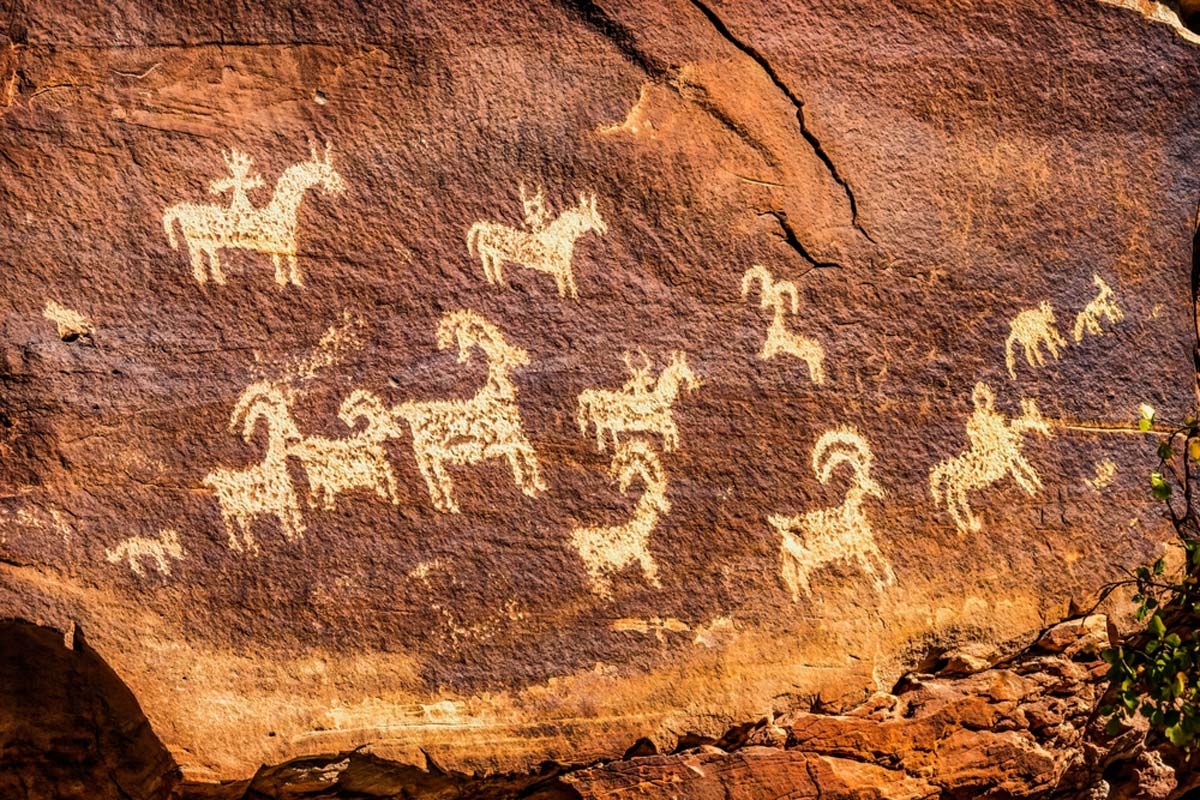 If you're looking at a Moab petroglyph map, you may notice that Arches National Park is home to one of our favorite sites for ancient artwork.

The Ute Indian Petroglyphs are near the famous Delicate Arch trailhead and Wolf Ranch, making it a perfect stop for seeing one of the top landmarks in Utah.
The large rock shows humans and well-preserved images of bighorn sheep.

But what makes this landmark interesting is what it looks like people riding horses. Historians attribute the drawings to the Ute culture, who frequently rode horses after Spanish explorers brought the animals from Europe in the 1600s.
Courthouse Wash Rock Art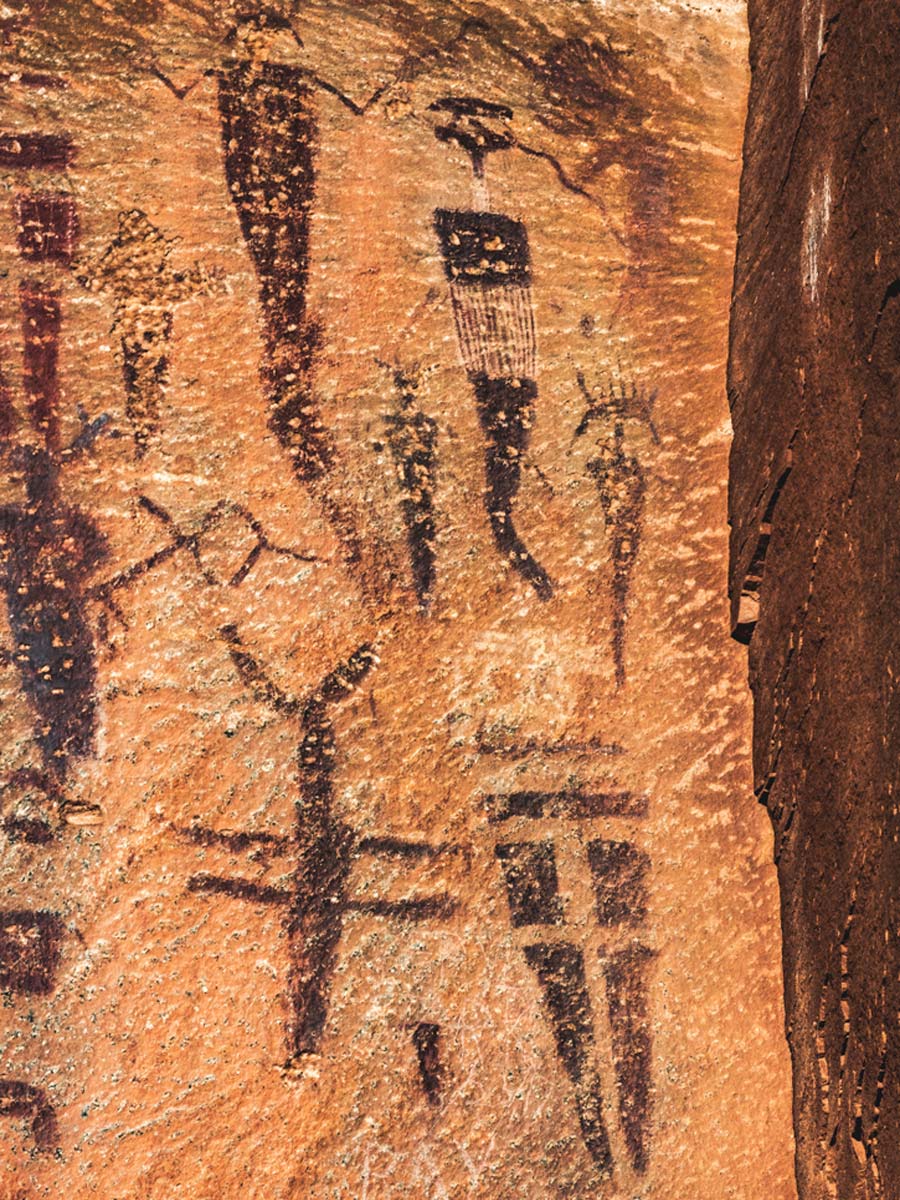 Another of the most famous petroglyphs in Moab, Courthouse Wash Rock Art, is one of the oldest petroglyph sites in Utah.
Though the exact age is unknown, experts think the artwork could be up to 4,000 years old.

It's easy to reach from Moab if you drive up Highway 191 across the Colorado River, about .5 miles. Park and then walk past Courthouse Wash on the paved trail until you reach a short hiking trail to the panel.

The gorgeous petroglyphs show animals and human-like figures and offer excellent examples of petroglyphs and pictographs. Historians think the paintings are from around 1,000 years after the original carvings.

And if you want to see some really interesting art, this is one of the best areas to see the alien petroglyphs that Moab is known for.
Golf Course Rock Art Site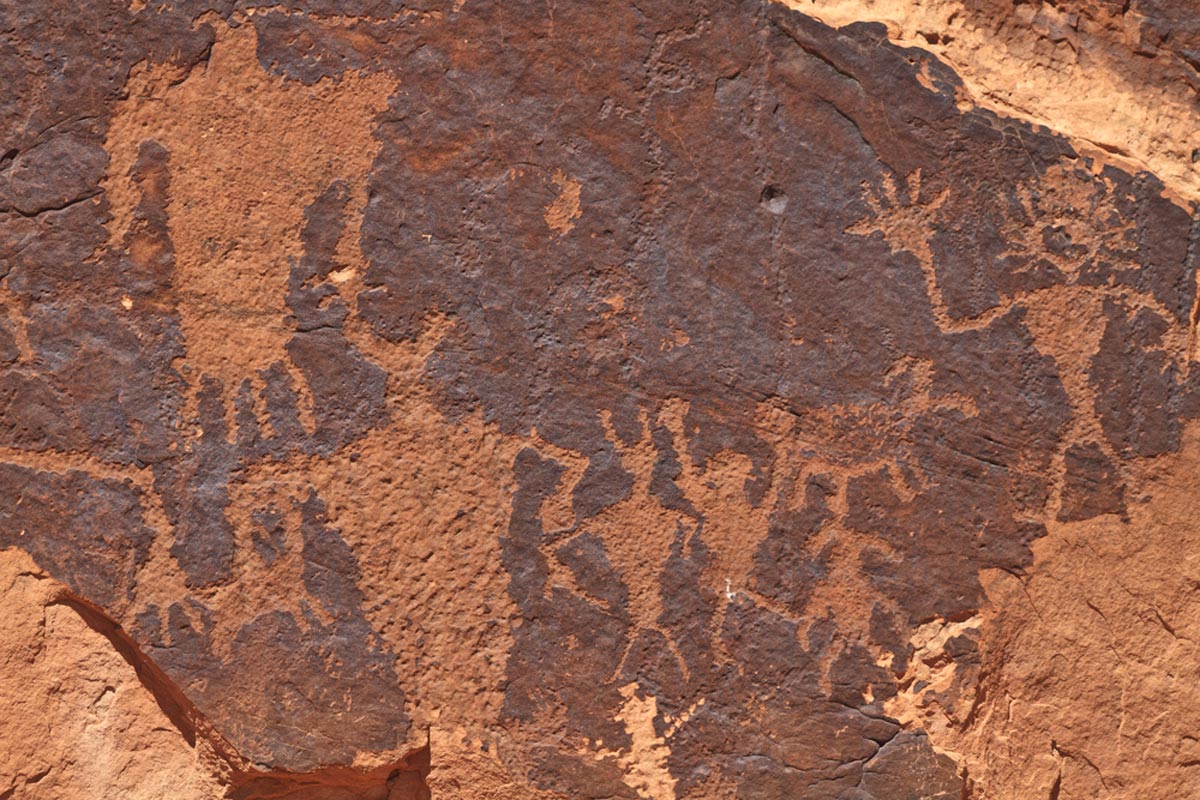 Golf Course Rock Art Site is where you'll find the famous Moab Man petroglyph.
There are actually a few different petroglyphs on this rock near Moab Golf Course, but the large antlers, earrings, and oblong body make Moab Man stand out the most.
Once you snap some photos of Moab Man, look closely, and you'll see a couple of other human-like figures alongside animals etched into the ancient rock. Historians can't pinpoint the exact year they were carved in, but they were sometime before 1 AD and perhaps as far back as 1300 AD.
You won't need to hike far to find this Moab petroglyph site. Just drive down Spanish Trail Road until you reach Westwater Drive. Be respectful and stay behind the fence.
Birthing Scene Petroglyph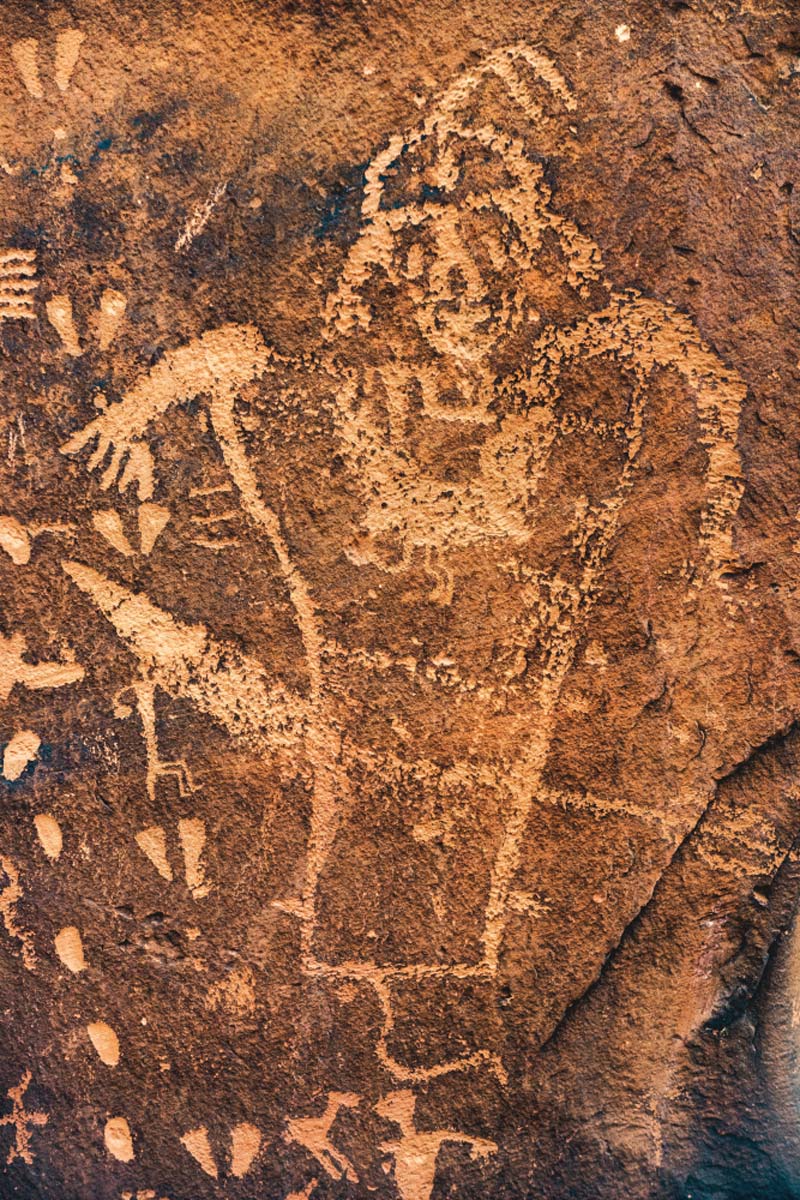 How old are the petroglyphs in Moab? While it's hard to track the exact origin of each example, scientists estimate that many date back as far as 1 AD and continue until the 1800s.

One of the oldest petroglyph sites, Birthing Rock, features numerous animals and people, but the most famous feature is the birthing scene. The carvings span centuries, and scientists think the Anasazi, Fremont, and Ute cultures all contributed to the artwork.

It was one of the best-preserved landmarks of its kind but sadly was defaced in 2021. But you can still see a lot of the original images on this historic site just outside downtown Moab on Kane Springs Road.
Potash Road Dinosaur Tracks and Petroglyphs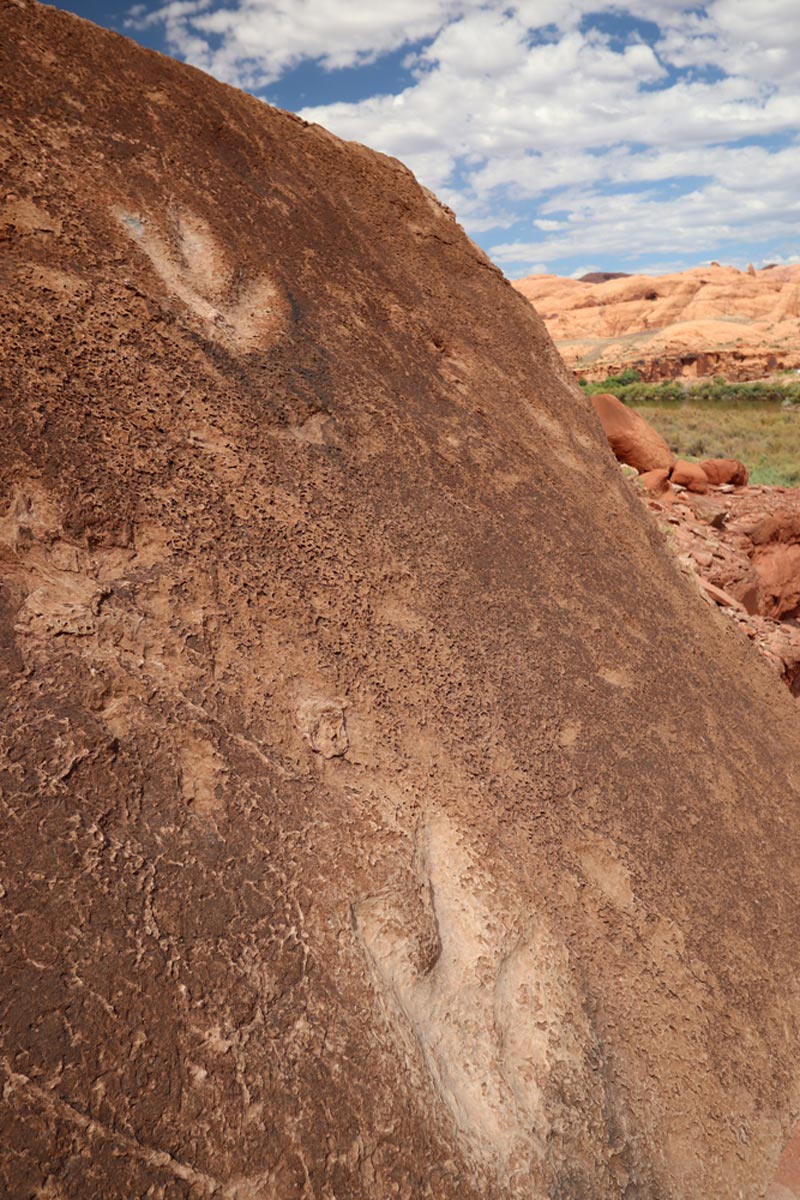 Dinosaur tracks and petroglyphs on the same trail? Sign us up.

If you're looking for where to see petroglyphs in Moab, drive to the trailhead of Poison Spider Mesa, and you'll reach the famous landscape with well-preserved dinosaur tracks and petroglyphs further up.

Many of the images here are from the Freemont culture, but experts believe they may date back even further.
Roadside Petroglyphs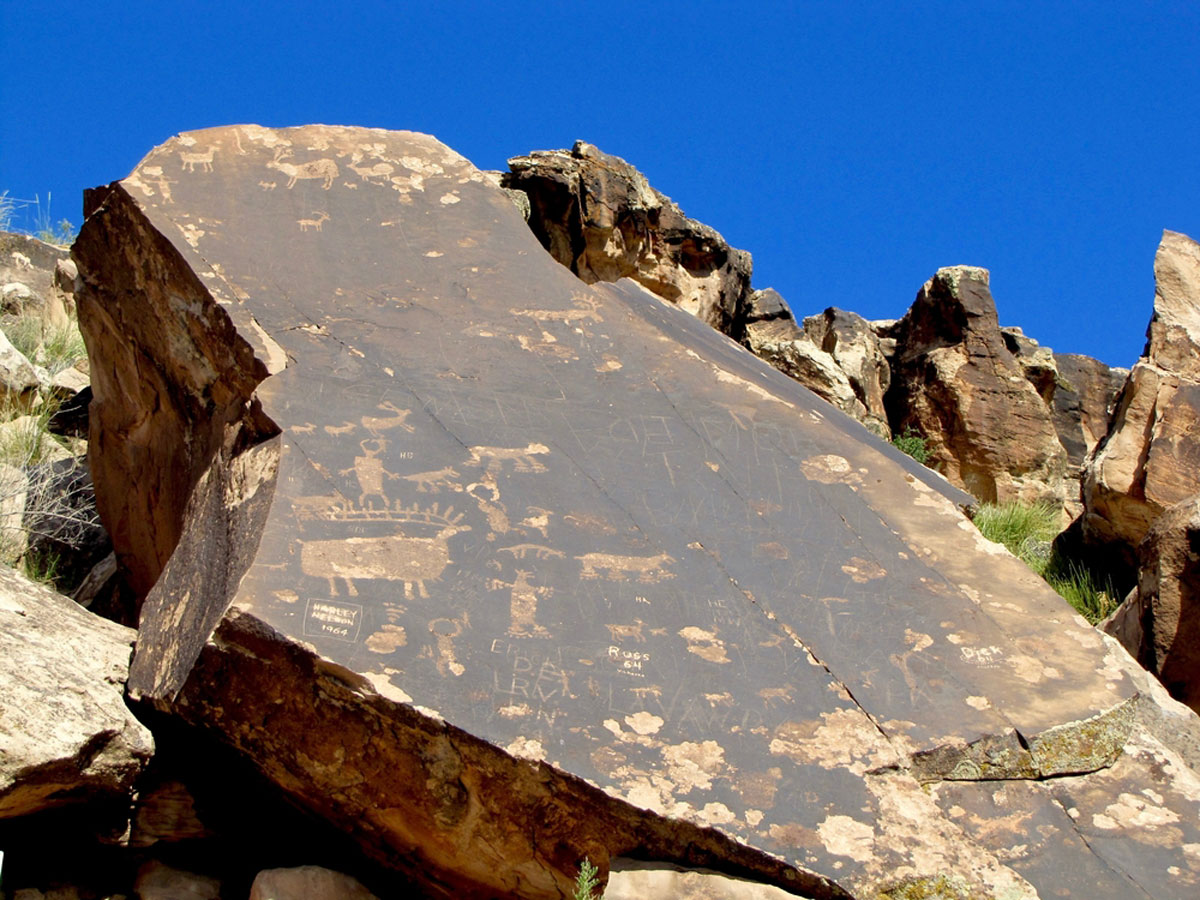 Just 1 mile up Highway 279, you'll find more famous petroglyphs near Moab, the Roadside Petroglyphs.

Look closely along the scenic route across from the Colorado River, and you may see anthropomorphic figures and various animals in many different places alongside Potash Road.
Many of the petroglyphs are high up on the cliffs, so you won't be able to hike directly up to them and instead need to take photos from the ground.
Moonflower Canyon
Another of the most well-known areas to see petroglyphs is near Moonflower Canyon. You can see a lot of familiar imagery here, including human figures, animals, and what some people describe as aliens.

But this site is particularly unique because it has some of the older petroglyphs you'll find. Many of the images date back to the Archaic era and are probably over 2,000 years old.

It's easy to reach Moonflower Canyon from Moab, and there's plenty of parking past the camping area.

You won't need to venture far (the petroglyphs are close to the parking lot), but if you want to stretch out your legs, you can pair it with a short hike along the Moonflower Canyon Trail.
Newspaper Rock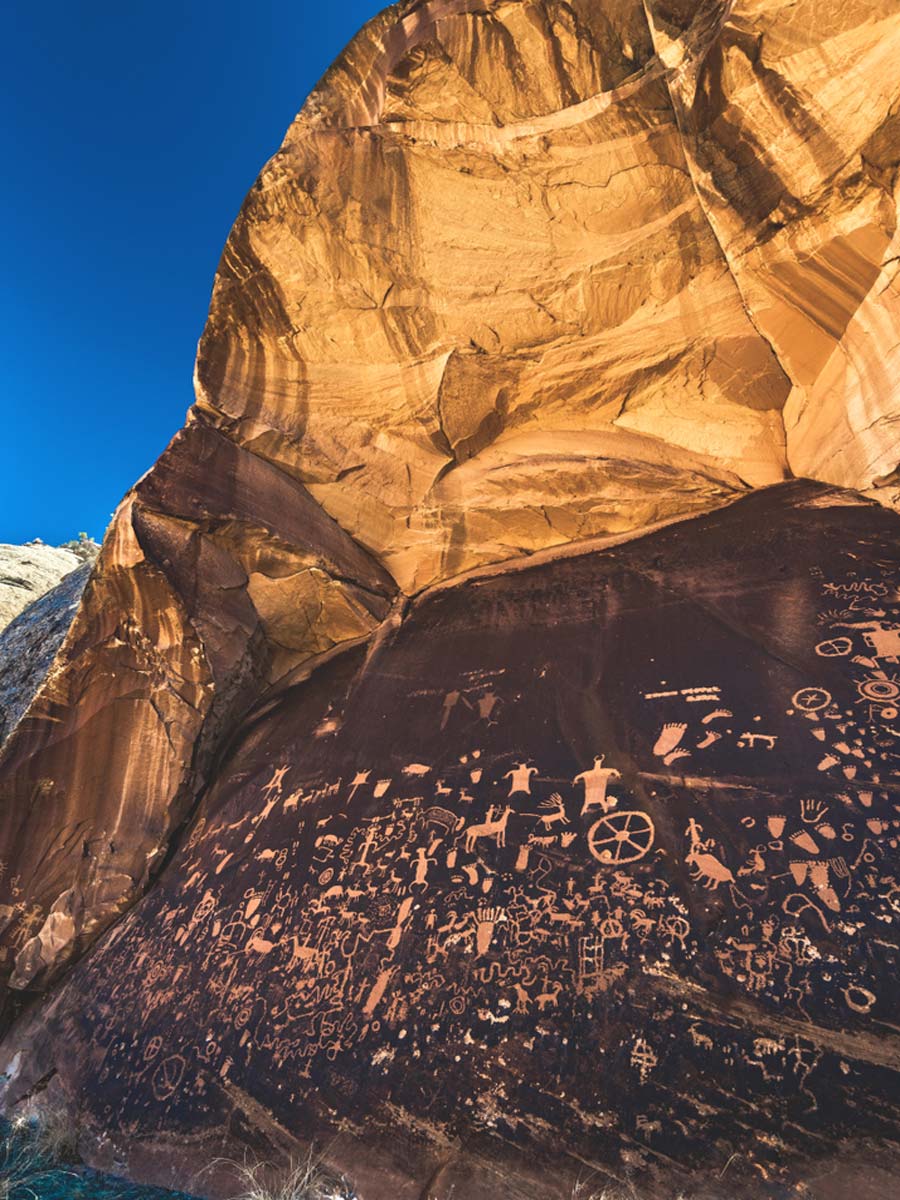 One of our favorite ideas for seeing petroglyphs near Moab is to head towards Canyonlands. You'll see some stunning artwork around the roads and trails, and Newspaper Rock is one of the most impressive.

Scientists believe this set of well-preserved petroglyphs was etched into stone as far back as 2,000 years ago by ancient Pueblo cultures.

As the name indicates, there is a lot to see on this rock. There are hundreds of images, with figures representing people and animals and telling stories about potential historical events.

How do you get there? You can follow the well-marked signs from Highway 211 to reach Newspaper Rock.
Hidden Valley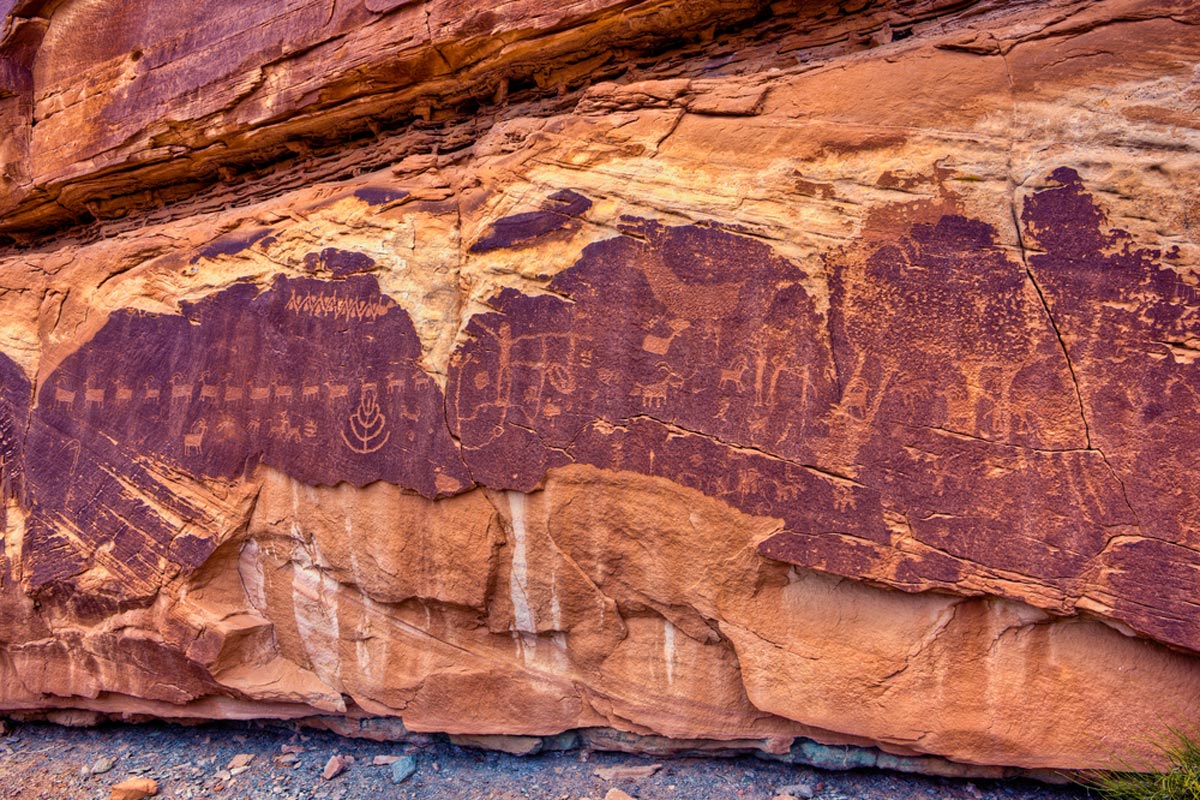 Take the challenging 7.5-mile Hidden Valley Trail to find some ancient petroglyphs etched into the red rocks at this lesser-known location.

We don't recommend this trail if you're not a confident hiker. But if you are, the short scramble to the hiking path provides a good look at one of the smaller but no less impressive petroglyphs near Moab.

Beautiful depictions of bighorn sheep, deer, and anthropomorphic characters line the rocks in Hidden Valley once you get close to the Moab Rim.

There are many unique images here, with art depicting humans wearing different animal heads and a large circle with a human figure inside.
How to Visit Petroglyphs in Moab
Visiting the Moab Petroglyphs Independently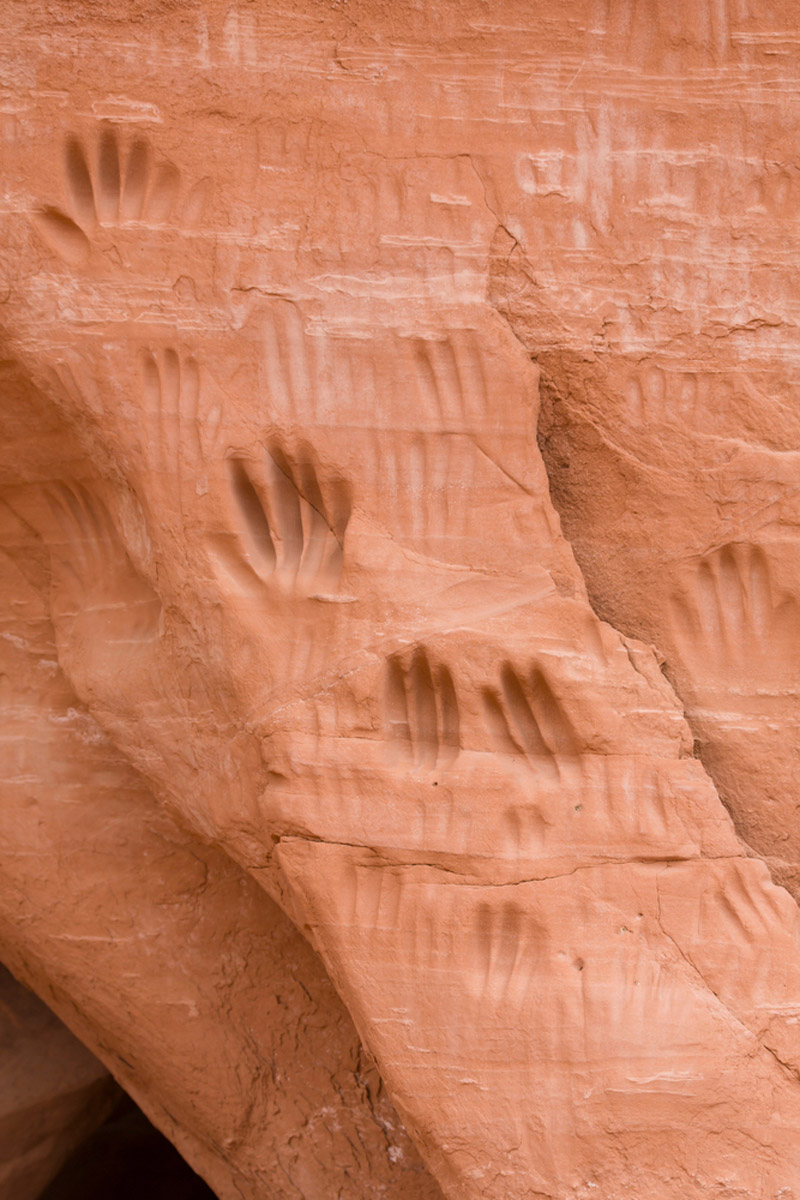 Getting to most of the well-known petroglyphs is easy enough if you have a car and hiking gear.

Stay on marked trails, park as far from the petroglyphs as possible, and try not to kick up dust when hiking near the artwork.
Get Your Guide Tour for Moab Petroglyphs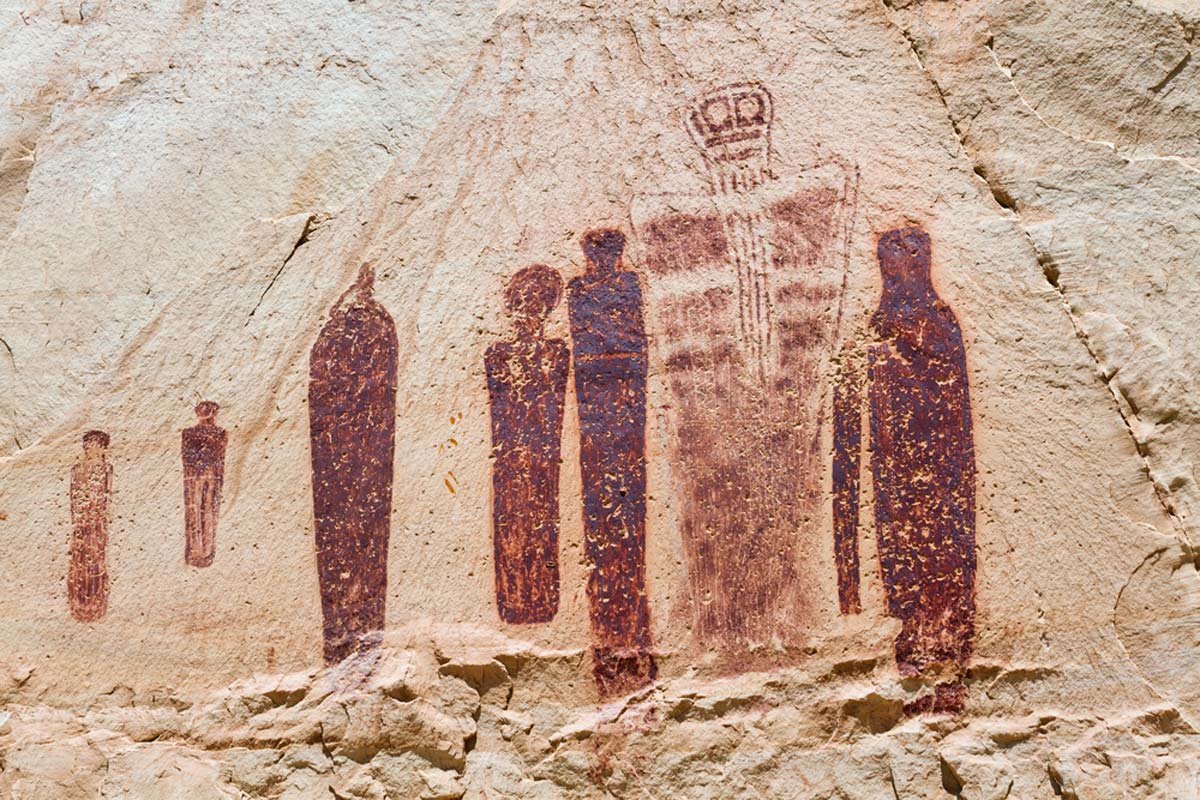 If you want to learn more about the area's history and see some ancient artwork with a local expert, try this guided tour on a 4×4. You'll see quite a few petroglyphs and explore some areas outside of Canyonlands.
Practical Tips for Exploring Moab, Utah Petroglyphs
Respect the artwork from a distance. Be sure not to lean up against the rocks or touch them with your hands, as you can cause them to fade away.
You may find some petroglyphs in remote areas when you're least expecting it. Keep an eye out when hiking near well-known sites for others nearby.
Never remove any rocks or artifacts from the sites under any circumstance.
Don't camp out near the petroglyphs. Allow ample space when pitching a tent or building a campfire.
Many petroglyph sites are in the desert – pack sunscreen, a hat, and lots of water.
Moab Petroglyphs: Map
Read More Moab Guides
Love This? Save and Share on Pinterest