Planning a visit to Canyonlands National Park? Discover everything you need to know – from what to pack to where to stay – when exploring The Maze, Canyonlands.
Canyonlands National Park is a sprawling part of the country that never ceases to amaze us. From the magical Golden Staircase to the Land of Standing Rocks, it's easy to see why so many people want to (and do!) visit.
But, as pretty as it is, it's not all sunshine and rainbows; The Maze is a rugged and harsh landscape that's no easy feat to get to. So, before you go venturing into Canyonlands National Park, let us tell you all the essentials you need to know about The Maze.
Excited? You should be! Grab those hiking boots, and let's jump straight in.
Why Visit Canyonlands the Maze?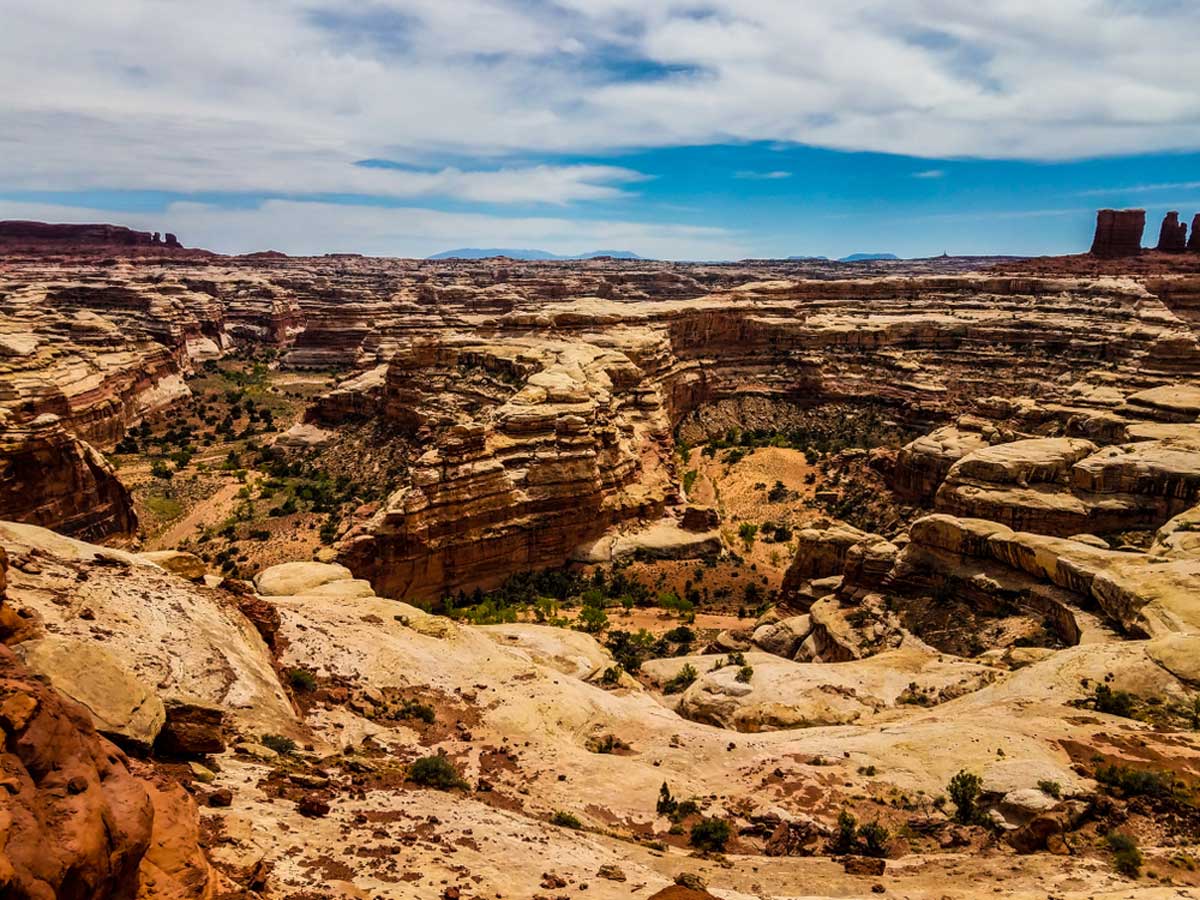 Let's face it… Everybody wants to admire the glowing red sun as it casts dancing shadows over a labyrinth of ridges and valleys – right?
Although this is a fairly remote part of the park — take our word, it's not easy to get to — it does boast unforgettable sites like the Orange Cliffs.
Another iconic feature of The Maze is the scale-like tops that appear to shoot out from the canyon top. Add to this glorious hiking trails and an awe-inspiring display of stars, and it's no wonder that the Maze is a must-visit.
Background and Information for the Maze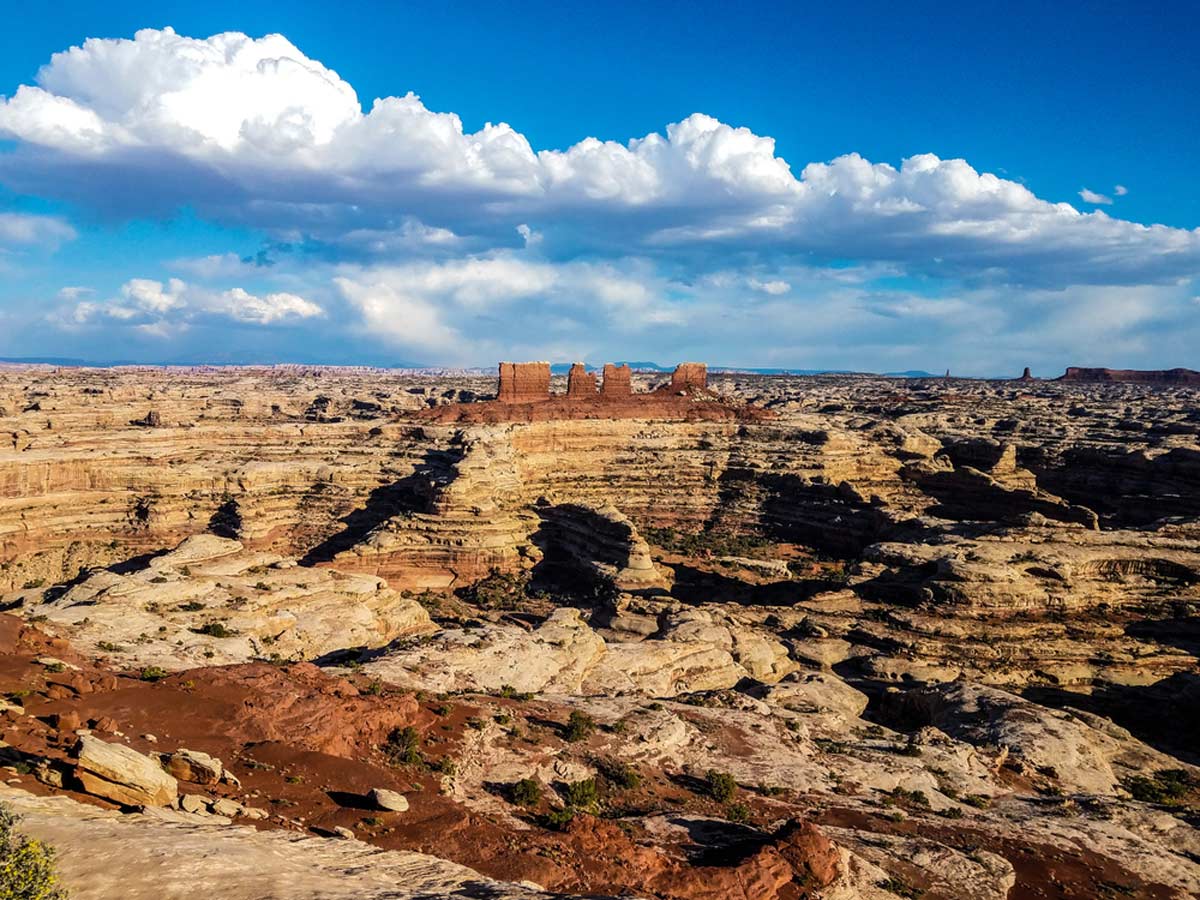 Designated a national park in 1964, Canyonlands is a sprawling area of breathtaking canyons and cultural landmarks. If you want the exact deets, it takes up 136,621 hectares of Utah's Southeastern desert, but it's so much more than just sand and pretty hills.
The Maze is west of the Colorado River and is the most challenging region of the park. As it's difficult to reach, you'll want to ensure you pack everything you need for your stay.
The closest towns with amenities are Green River (37 miles) and Hanksville (20 miles) from the road's intersection of The Maze and UT route 24.
Hiking in The Maze, Canyonlands
Okay, we'll cut to the chase: The Maze has some of the best hikes in Utah. So here are three of the top treks to enjoy when backpacking the Maze Canyonlands.
Chocolate Drops Trail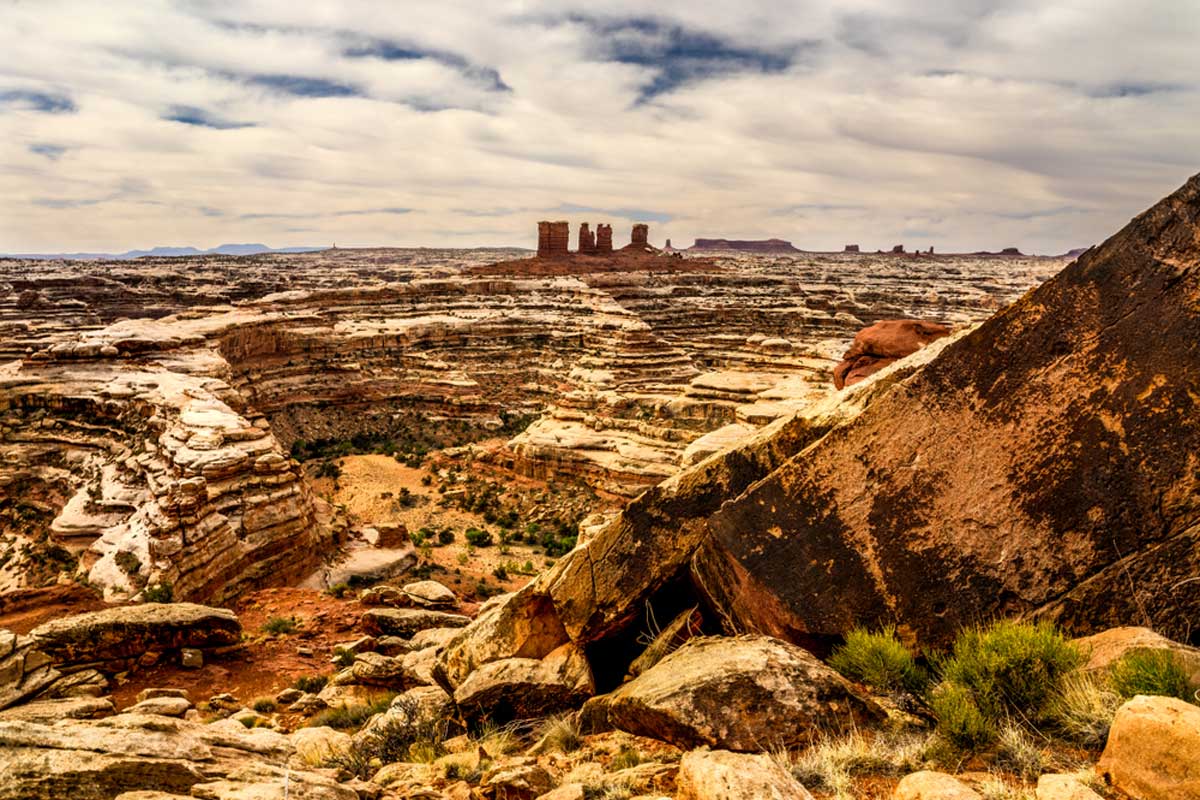 This 8.3-mile out-and-back hike might be one of the easiest in the district, but don't let that put you off – it offers some of the most majestic views. The trailhead is 36 miles from the Hans Flat Ranger Station and will take roughly 3 hours and 30 minutes to complete if you're in (moderately) tip top condition.
Aside from the orange and red walls of the canyons, you'll also be able to see the iconic fin-shaped mesas that make this canyon region so memorable.
Maze Overlook Trail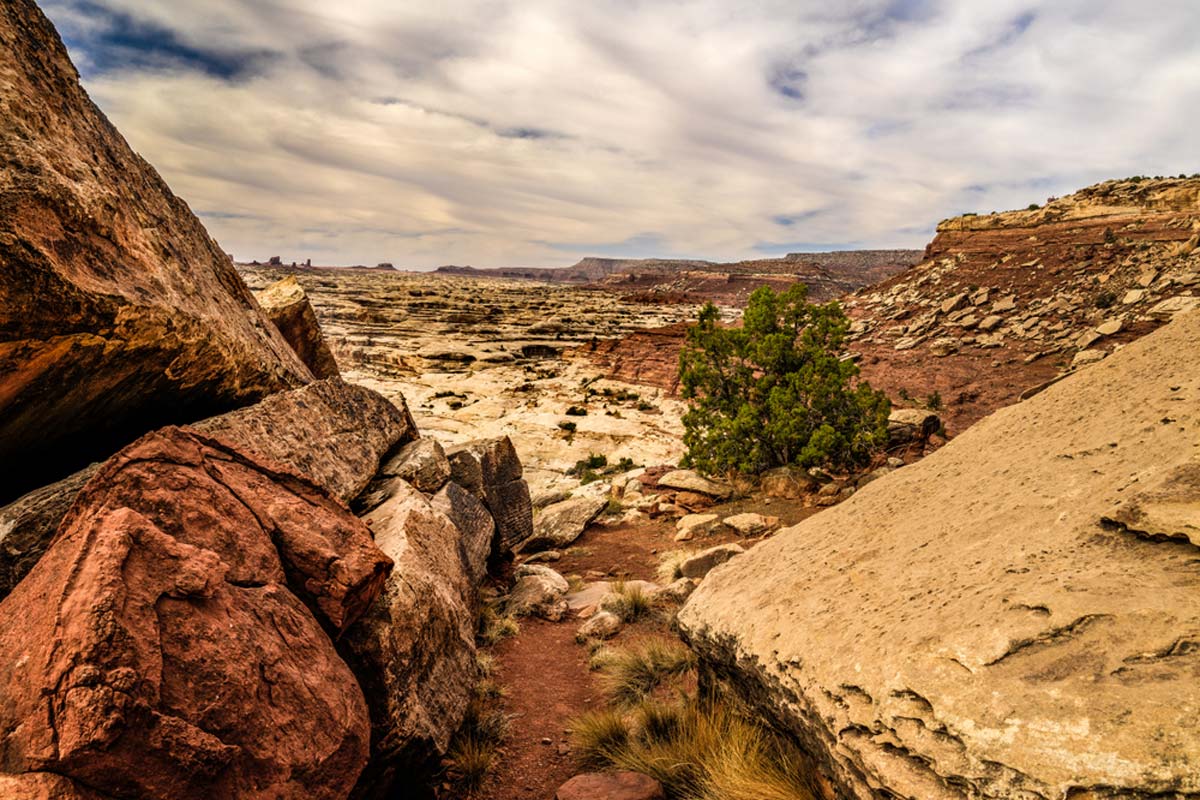 Looking for something slightly more challenging? This 8-mile out-and-back trail takes you past the Vermillion and Orange cliffs before leading to the best views in the district.
It'll take roughly 3 hours and 30 minutes to complete and is moderate (though we reckon even novice hikers could manage it). Once you reach the summit — after a tiring elevation gain of 964 feet — you'll come across breathtaking panoramic views of the Maze.
Harvest Scene
If you're a well seasoned hiker, you might be interested in the next offering. The most challenging trek in the area is this 9.3-mile loop trail set amongst the sprawling sandstone cliffs. You'll need to travel 27.7 miles from the Hans Flat Ranger Station to get to the start of this hike.
It's a long trek, lasting roughly 4 hours and 30 minutes, but the effort is well worth the reward. You'll get to experience a plethora of magnificent sites, from the refreshing Colorado River banks to the high-rising canyon walls.
Driving The Maze, Canyonlands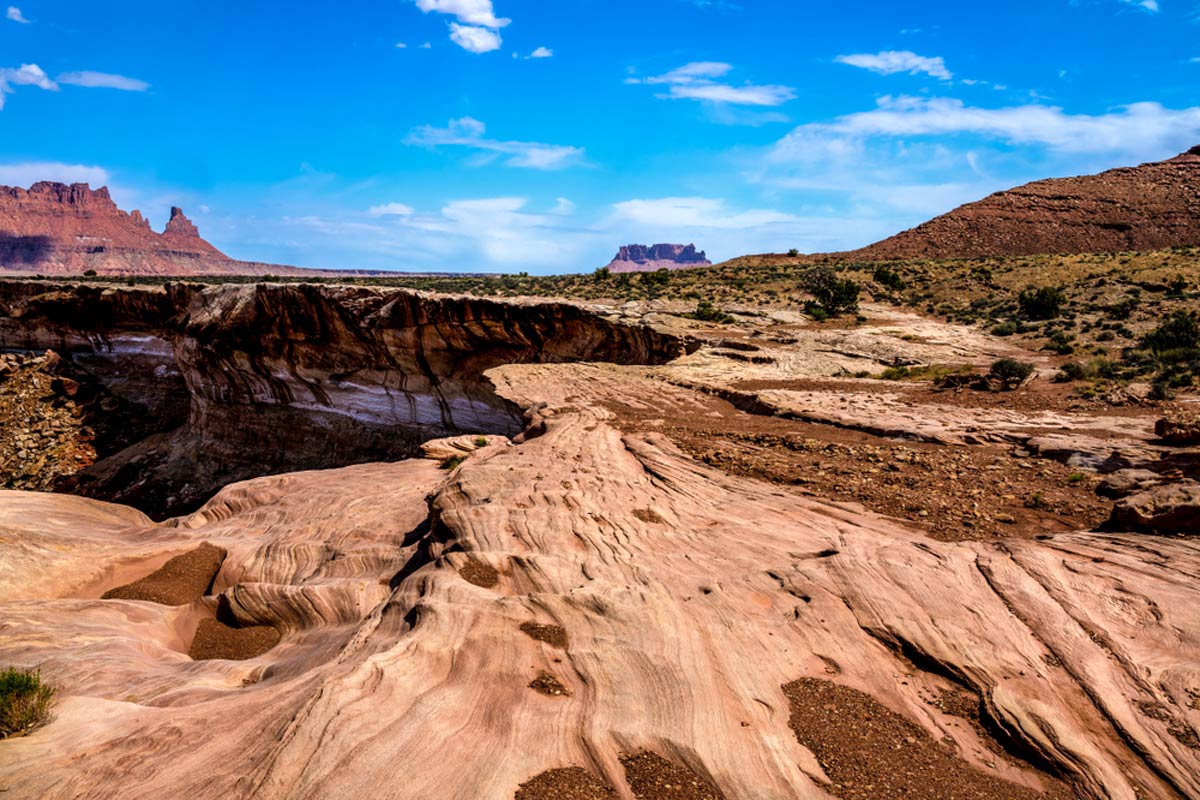 Okay, this is super important, so it's essential you pay close attention. You'll need a high-clearance 4×4 vehicle to drive through The Maze. We're not kidding – it's just impossible to travel through this region in a standard car.
This is crucial as some sections of the roads — if we can even call them that — have deep dips and grooves.
If you have good experience driving, The Maze is like a playground, and you'll have a field day. The farthest distance you can go from the Hans Flats Ranger Station is to the DollHouse, which takes over 6 hours to complete.
It's a hefty drive with some rough sections in the road. And seeing as there are no gas stations in the park, you'll need to bring a full jerry can as a backup.
Planning Your Visit to the Maze, Canyonlands
The Maze Canyonlands Address
Hans Flats Ranger Station: Recreation Rd 777, Hanksville, UT 84734
The Maze, Canyonlands Opening Times
The Maze is open 24 hours a day all year round. However, the Ranger Station is open daily from 8 am to 4:30 pm.
Visiting The Maze District in Canyonlands Independently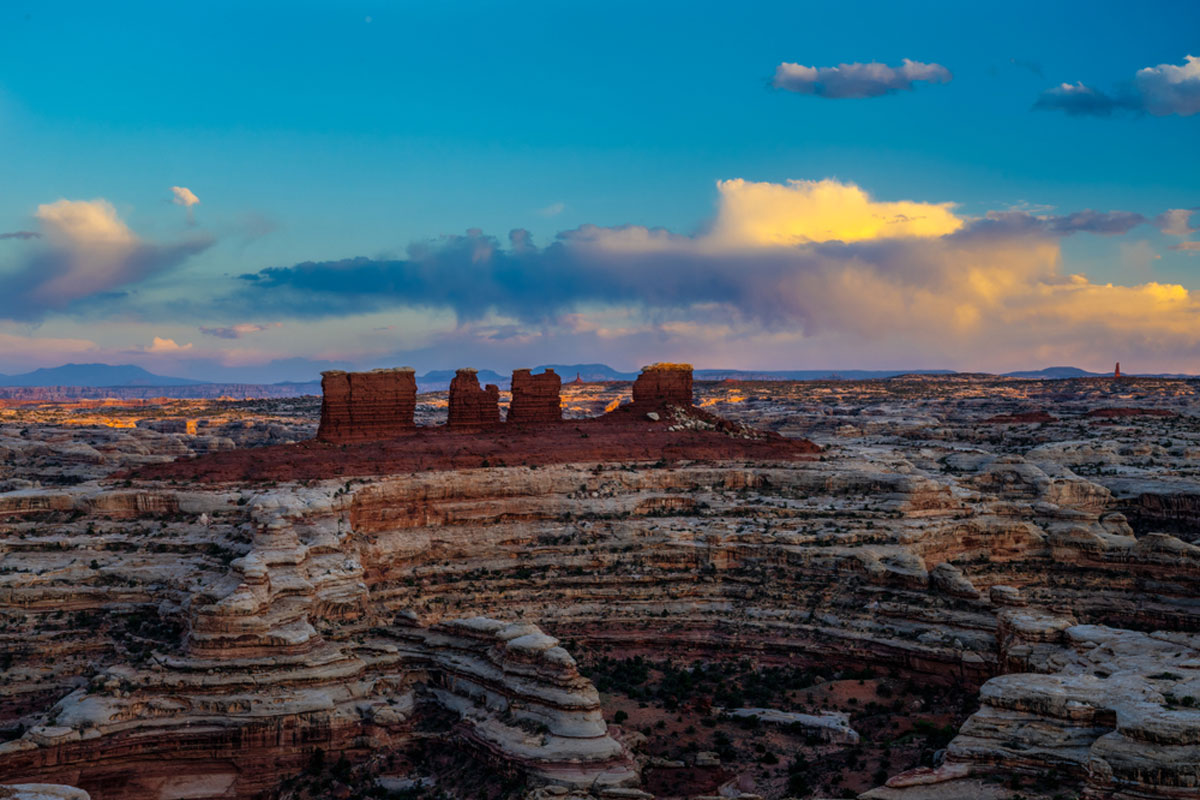 Planning on visiting The Maze solo? Listen up…
The only way to travel to The Maze is by driving with a 4×4 high clearance vehicle or by backpacking. You'll also need to secure a visiting pass.
It costs $30 (£27.7) per private vehicle and covers up to 15 travelers in the car. Another option is to pay $15 (£13.8) per person if you enter without a car; this mainly applies to hikers and cyclists.
You'll also most likely be camping in The Maze, Canyonlands. Prices range from $15 (£13.8) to $225 (£208) per night, depending on the site and the number of people.
You can find more information and book your passes or campsites on the recreation.gov website.
Going to The Maze on a Tour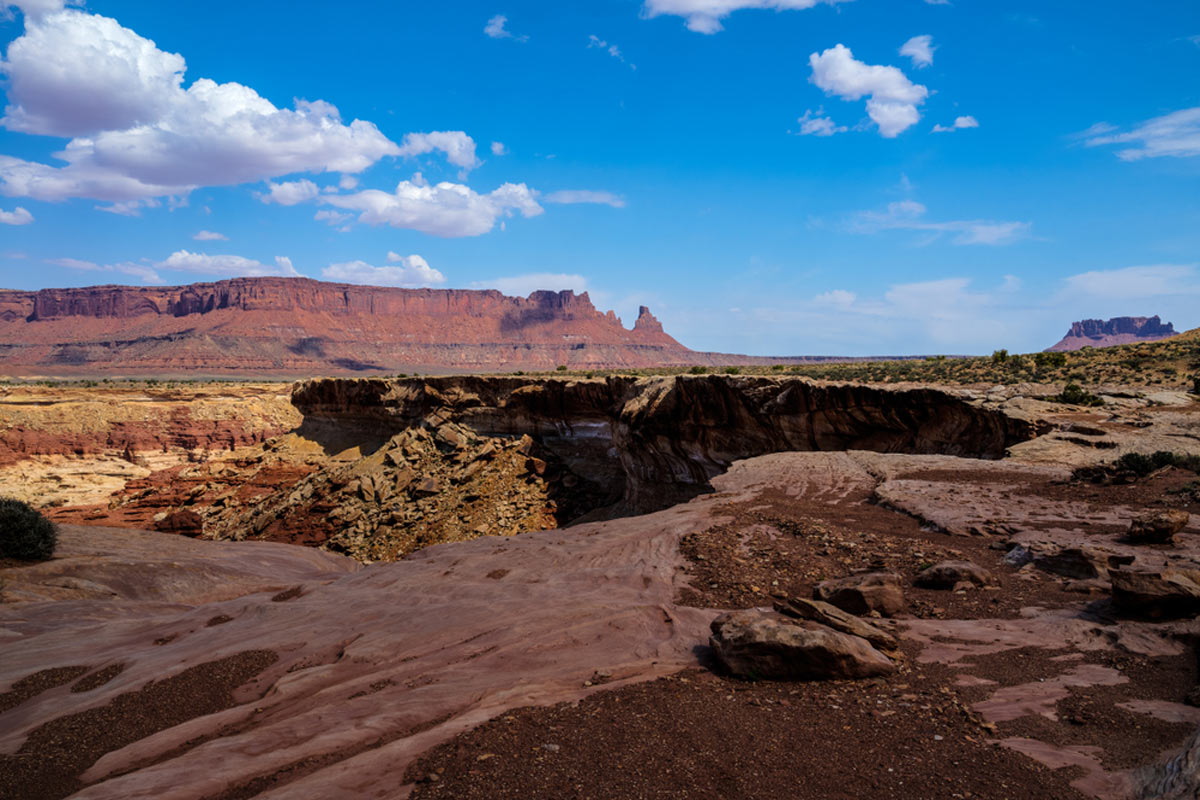 The Maze can be a tricky place to get to and explore, and there aren't many options in terms of tours. That said, there are a few ways to explore the Canyonlands without worrying about a challenging drive or spending hours on end hiking.
We think the top option is this scenic airplane tour, which will take you on an adventure over Canyonlands and Arches National Park. Sure, it's a bit of a splurge, but imagine the incredible views from above. One word? Dreamy.
Your tour guide will point out all the top landmarks, like Elaterite Butte, while you snap some unforgettable memories from the skies.
Where to Stay for The Maze, Canyonlands
Comfort Inn Green River National Park Area
For a relaxing stay in one of the closest accommodations to The Maze, look no further than the Comfort Inn – it's our top choice. It might be a no-frills spot that's situated 68 miles from the Hans Flats Ranger Station, but it offers incredible bang for your buck.
Start your day on the right note with the complimentary breakfast. And, after a long day of exploring, you can always relax in the indoor swimming pool.
Check Rates and Availability
Alternatively, Check All Accommodation Near The Maze.
What to Pack for The Maze
For those taking on dirt roads, grab a 5-gallon steel gas can so you don't have to worry about being stuck in the middle of nowhere.
We can't stress this enough, bringing good quality sunscreen is a must, especially with the harsh Utah weather. Bring plenty of water along with you, too.
For all backpackers, it's a great idea to grab an easy pop-up tent to make your life much easier.
The Maze is all about exploring, and that's best done in some comfortable hiking boots.
The Maze, Canyonlands Map
The Maze, Canyonlands: Read Next