It might be the smallest national park in Utah, but Bryce Canyon packs a punch. Gaze out at the strangely beautiful sandstone structures we know as hoodoos, and it's hard not to pick a favorite member of Utah's Mighty Five.
It's no wonder over 2 million visitors drive over from nearby Zion, St. George, and other parts of the country.

But while most visitors plan their trip between May and October, we'll let you in on a little secret. Bryce Canyon isn't just open year-round; we think it's one of the best times to visit.

Are you on the fence about visiting Bryce Canyon National Park in the winter? We'll break the ice and tell you everything you need to know about why you should visit Bryce Canyon National Park from December through February.
Why You Should Visit Bryce Canyon National Park in the Winter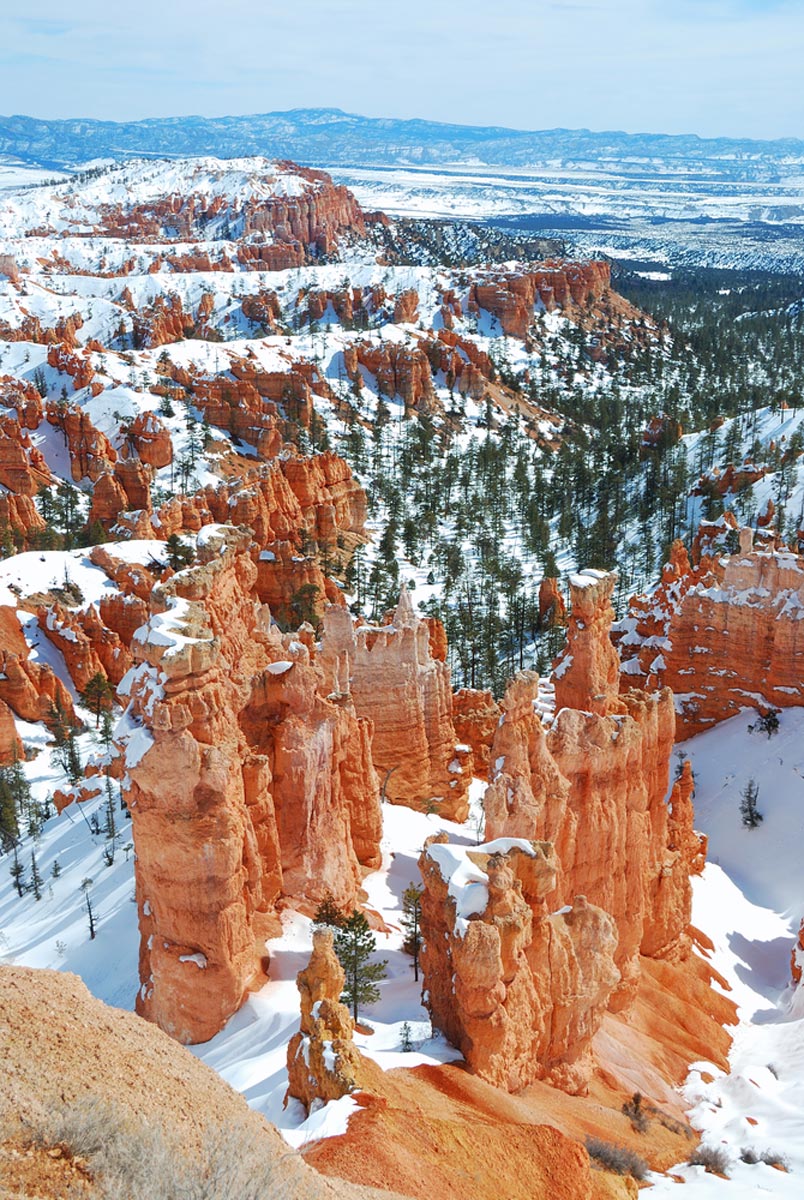 Which Utah National Park gets the most snow? Yes, it's Bryce Canyon National Park. The trails and scenic drive through the canyon and above the amphitheaters see up to 82 inches of snow each year.

What does that mean for your visit? Bryce Canyon in the winter is a photographer's dream when snow falls on landmarks like Thor's Hammer, Queen's Garden, and Silent City – adding a pillowy white layer to the dramatic sandstone structures.
But outdoor activities like hiking and snowshoeing are also alive and well at Bryce Canyon in the winter.
Bryce Canyon National Park in December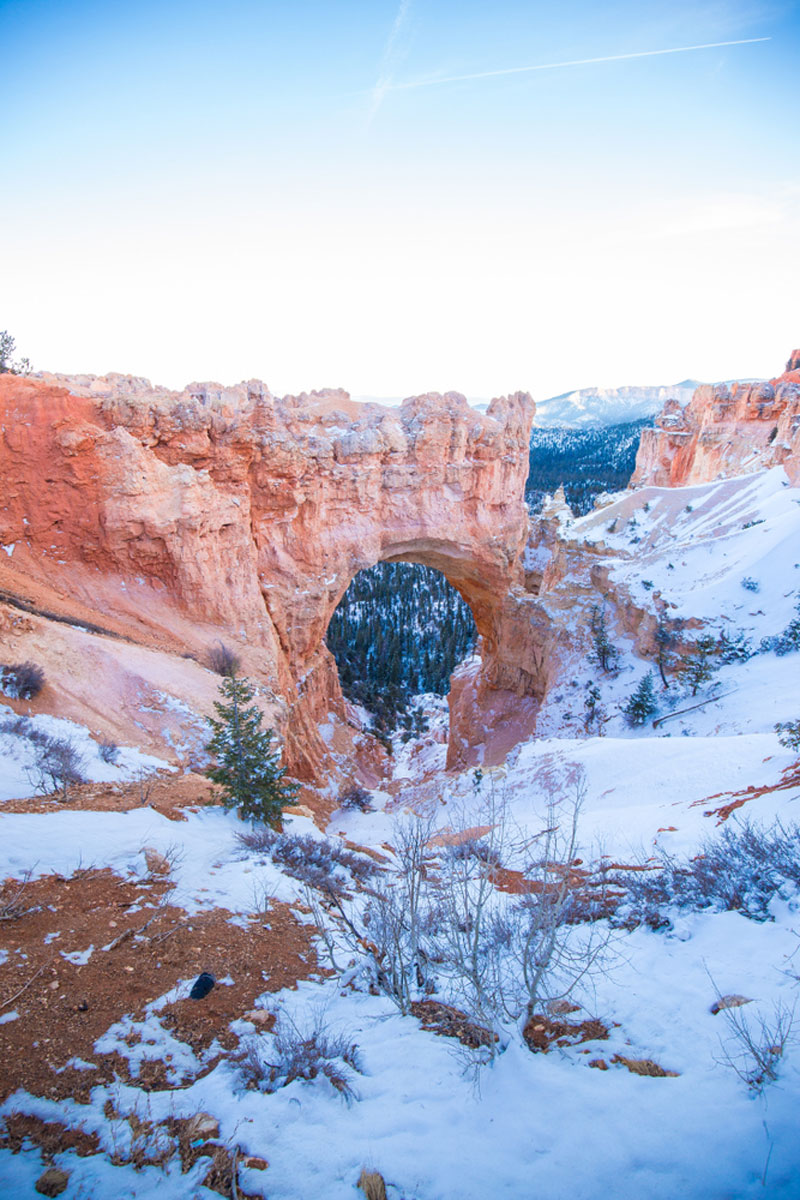 December is usually the coldest month in Bryce Canyon, with temperatures falling to lows of 12°F (-11.1°C) and highs around 36°F (2.2°C).

But with about 2 inches less average snowfall than January and February, you'll have the best chance to enjoy the Bryce Canyon Scenic Drive. Unlike Zion, you can drive year-round to Bryce Canyon, and the lookout points off Hwy 63 offer stunning perspectives of the park's main attractions.
Bryce Canyon National Park in January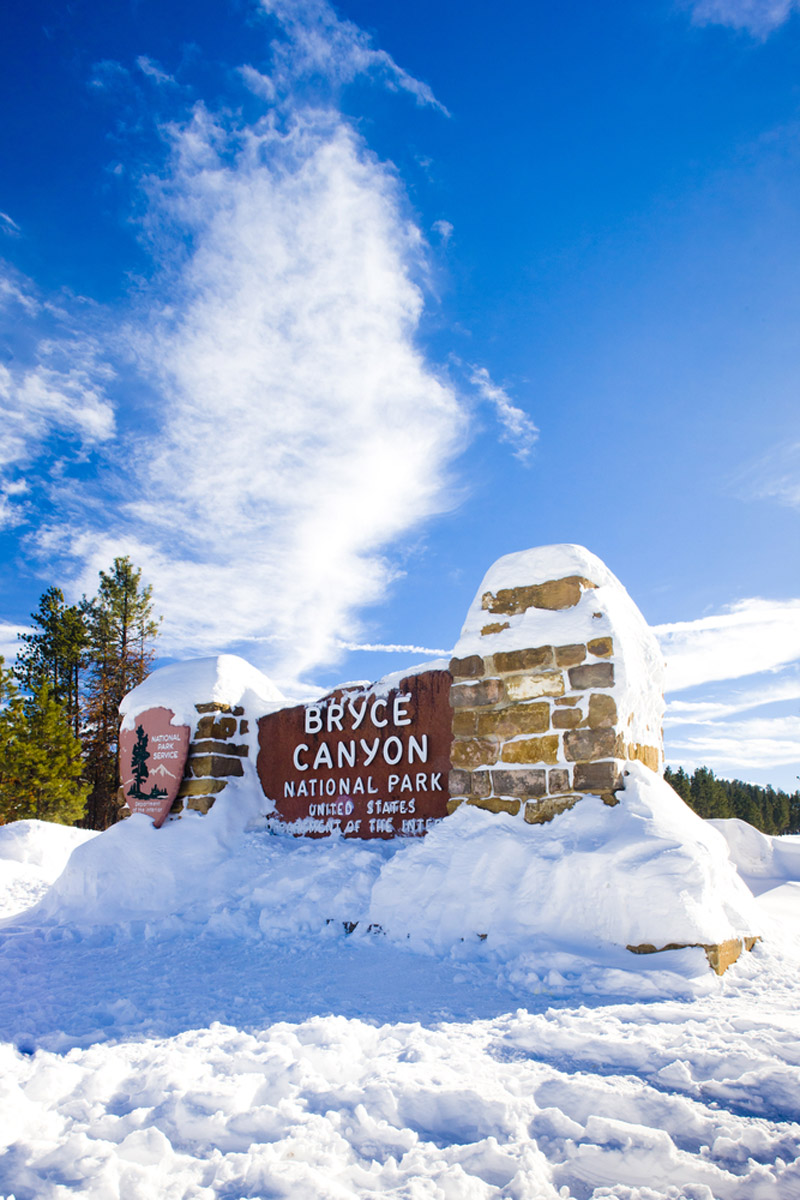 While precipitation picks up later in the winter, it's not unheard of for the canyon walls and towering hoodoos to sport a nice new coat of white snow.

That said, January usually offers nice enough weather for a hike down the canyon, especially if you can time it between snowfalls.

The average high temperature in January is still only 36°F (2.2°C), but you may see a few warmer days throughout the month.
Bryce Canyon National Park in February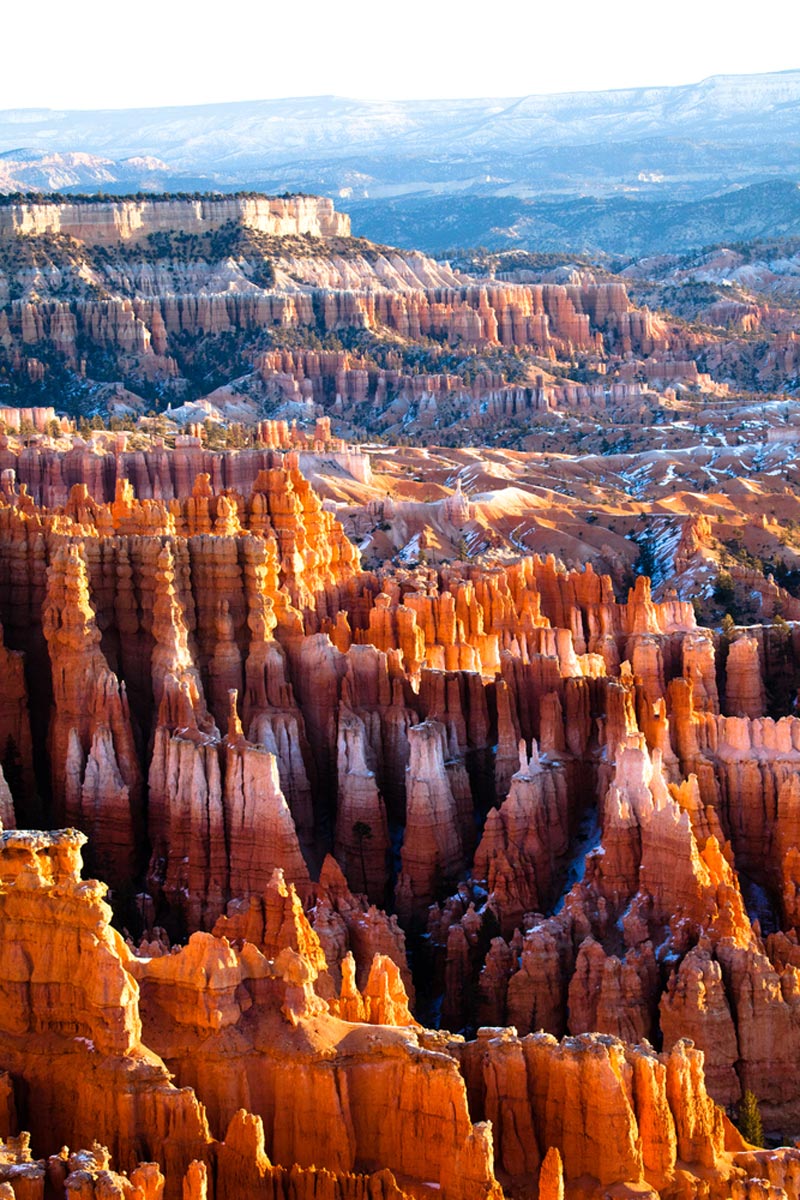 February in Bryce Canyon is a bit unpredictable, but it can be one of the most exciting times to visit the park.

With the holiday season long gone, crowds are usually scarce, and temperatures are warming up with an average high and low temperature range of 38°F to 13°F (3.3°C to -10.5°C).

February might just be the best time to get your winter wonderland photos of Bryce Canyon Snow.
Top 10 Things to Do in Bryce Canyon National Park in the Winter
Photograph Thor's Hammer in the Snow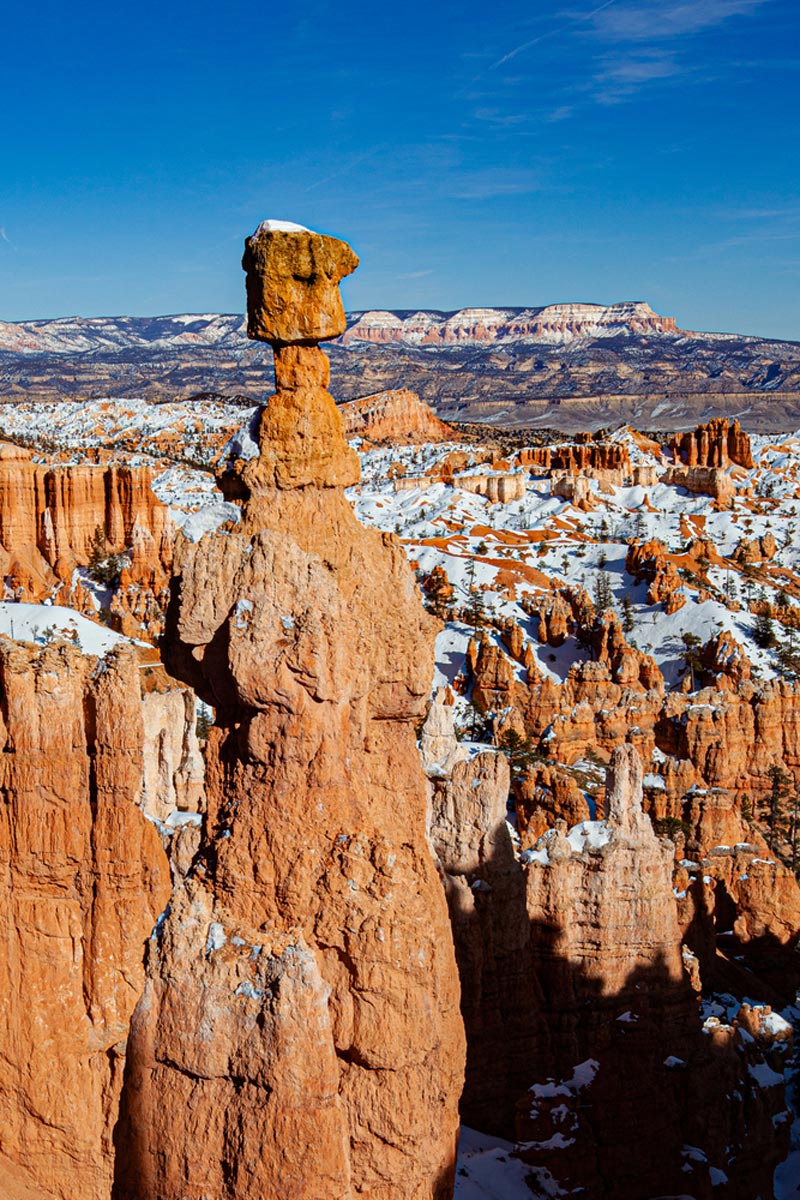 A big reason why you want to visit Bryce Canyon in the winter is to get those perfect photographs around the park.

There are a few places you can do it, but Thor's Hammer is probably the most iconic shot you can take in the park, and it's only that much more dramatic after it snows.

Located in Bryce Amphitheater, you can get wonderful shots from Sunset Point. A sunrise over the snow-covered canyon below Thor's hammer is a shot of a lifetime.
Top Tip: Hiking down the Two Bridge section of Navajo Loop gives you a unique perspective, and you can also hit Queens Garden.
Bryce Canyon Scenic Drive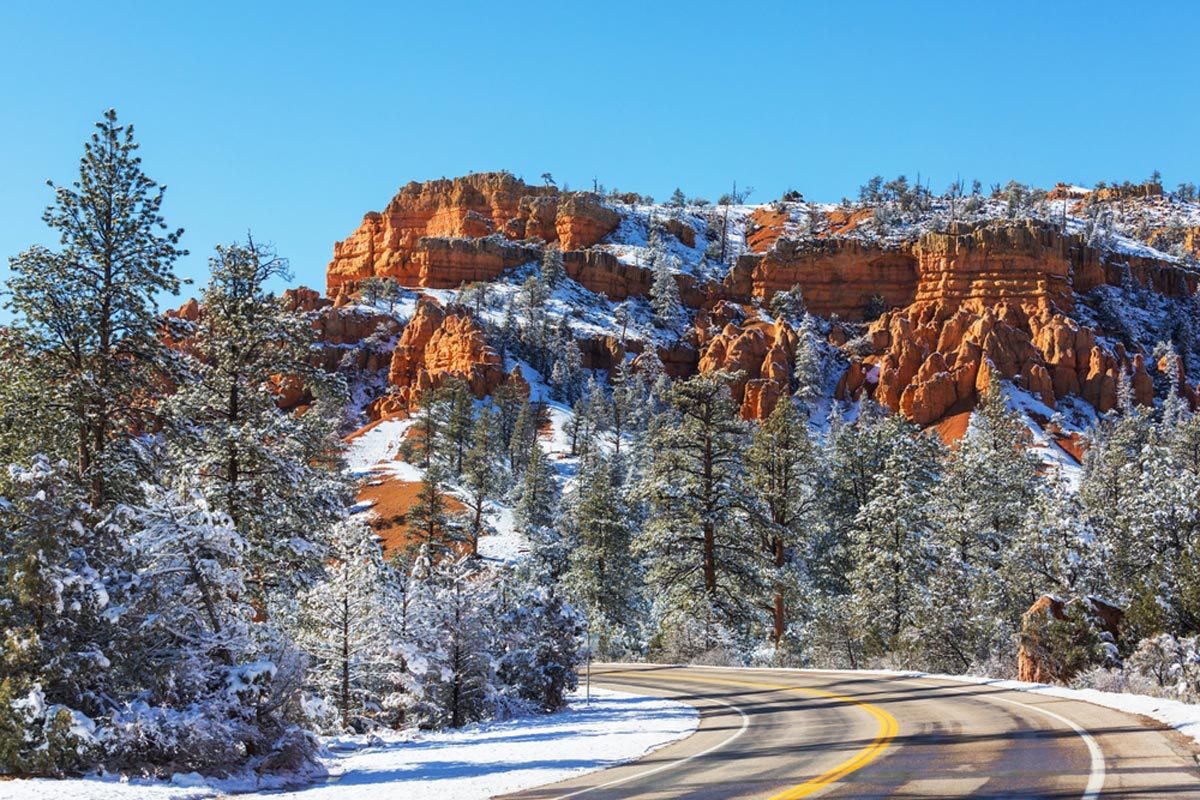 Getting all bundled up, grabbing a cup of coffee or hot chocolate, and hitting the road is one of our favorite ideas when visiting Bryce Canyon during the colder months.

Luckily, you can access the park for most of the winter, so long as there isn't a heavy snowfall the day you visit. You don't need to make reservations, so if the roads are open, you can take the 18-mile drive on Highway 63.

There is so much to see along the way, including some of our favorite lookout points. The kaleidoscope of colors on Rainbow Point and the pine-lined floors of Swamp Canyon contrast beautifully with the snow.
Top Tip: Going on a family road trip to Bryce in the winter is one of our favorite things to do in Utah with kids.
Scenic Lookout at Ponderosa Point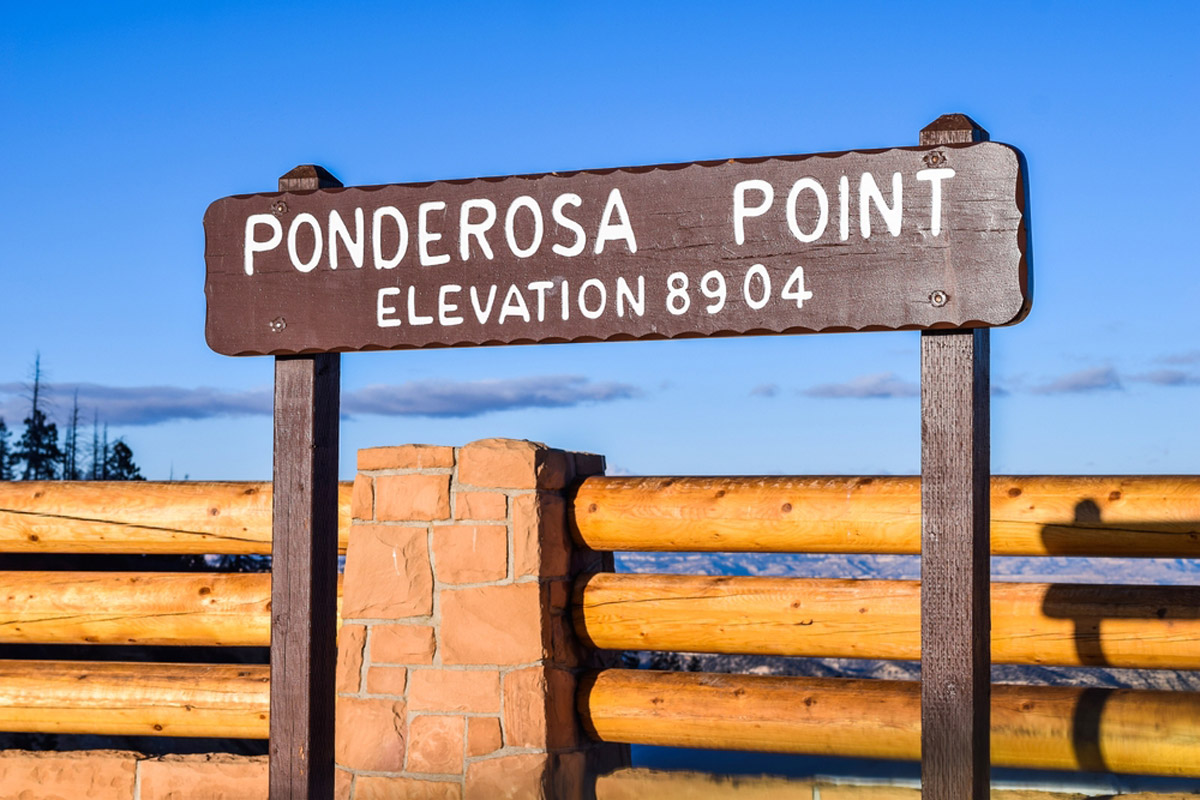 Another one of our favorite lookout points along the scenic drive is Ponderosa Point. Why? Because of the high elevation (nearly 9,000 feet), the vegetation is a bit different than other parts of the park.
So what can you expect to see when you're here? You can capture some of our favorite holiday photos, with several types of pine trees popping up from the sandstone rock formations, looking down at Ponderosa Canyon below.
Top Tip: Look for a few species of pine trees, including Douglas Fir and Blue Spruce.
Watch the Sunset Over the Snow-Covered Hoodoos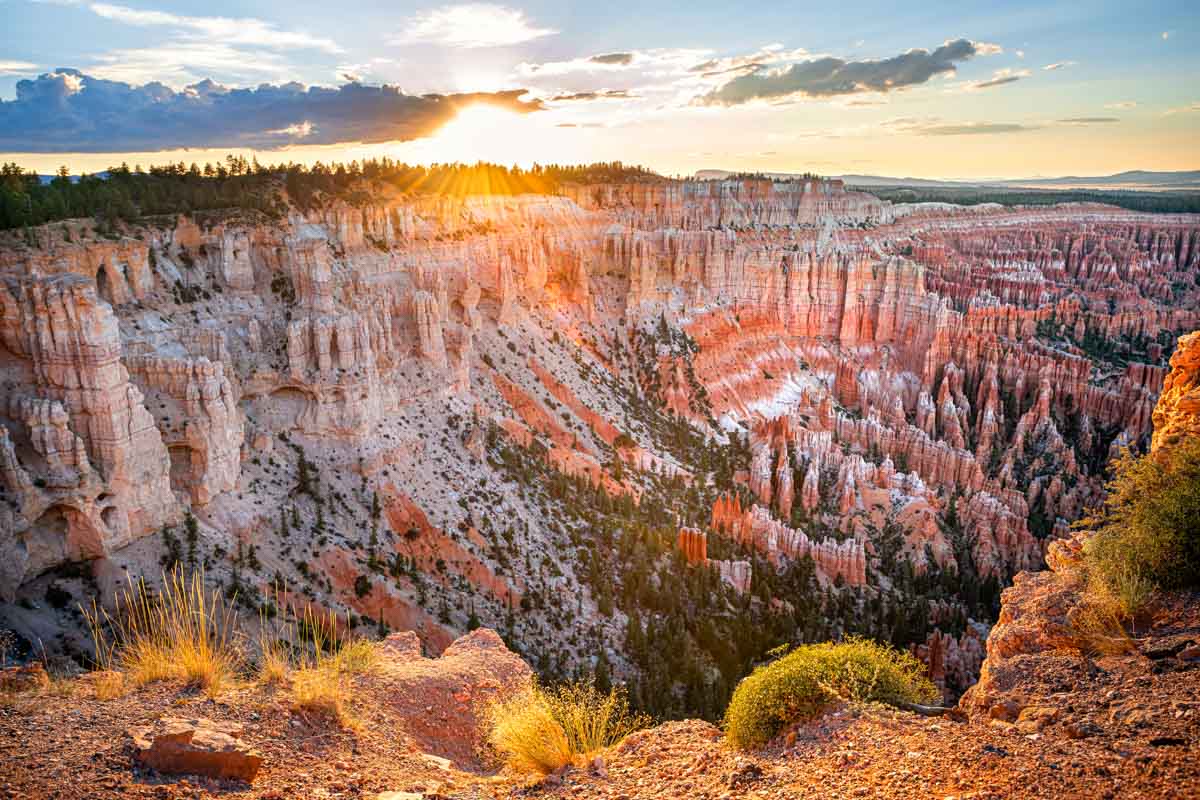 Few things are as magical as watching the sunset over a winter landscape. But part of getting that perfect shot (or just enjoying the view) is to find the right location.

It's not as easy to catch an amazing sunset at Bryce as you'd think. Lucky for you, we have a couple of favorites.

Sunset Point (go figure) and Inspiration Point are popular places to see a sunrise and add to the effect of the bewitching hoodoos.

But we think Paria View gets the best chance for optimal lighting over the snow-capped sandstone on your winter holiday to Bryce Canyon. Bonus points? You also may see elk if you look carefully down in the canyon.
Read Next: The Best Places to See Sunrise & Sunset in Bryce Canyon
See the Sunrise Along Peekaboo Loop Trail
We have good news for you. Sunrises in Bryce Canyon National Park are much easier to capture than sunsets. You can enjoy the morning rays bouncing off the snow-covered amphitheaters and rocky cliffs along the canyons in dozens of places.
Our favorite spots in the winter? Bryce and Sunrise Points are always excellent options. But taking one of the best winter hikes in Bryce Canyon is the perfect way to see the winter wonderland all around you.

Start along the Navajo Loop on the Two Bridges section until you get to the Peekaboo Loop Trail. The approximately 5-mile trail is challenging, and you'll want the right footwear (traction devices), but seeing the sun hit the canyon walls from below is worth the effort.
Birdwatching
Want to see some wildlife on your visit to Bryce Canyon? Winter is a perfect time to go birdwatching and offers unique chances to see woodpeckers, raptors, and ravens perched on the hoodoos, trees, and snow-covered canyons.

Peregrine falcons are a popular option to look for at Paria View, but you'll need to look a little more closely than in the summertime.
Try Snowshoeing at Bristlecone Loop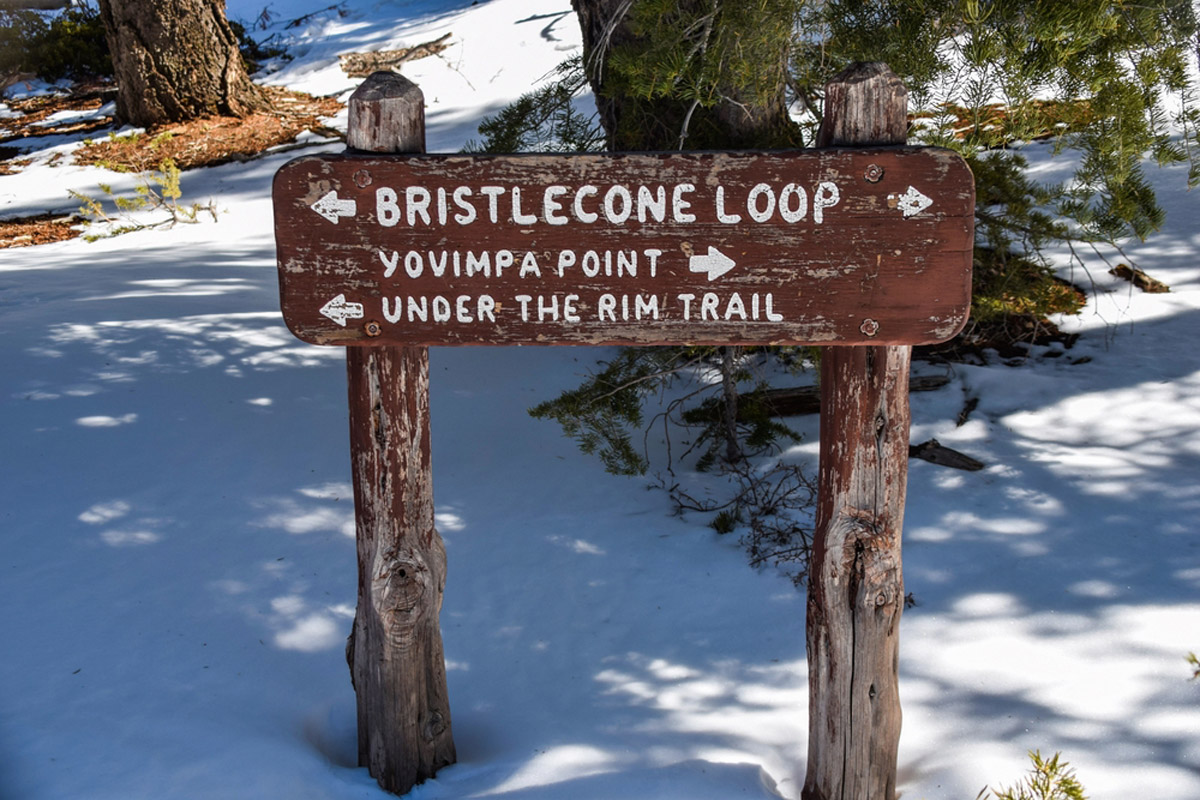 Many of the best hikes in Bryce Canyon during winter months are a lot easier when you have the right equipment. Snowshoes make the trails much easier to hike after you get a few inches, and there are dozens of spots to choose from.

Bristlecone Loop is one of our favorite Bryce Canyon hikes, and the 1-mile loop is a good place to try out snowshoeing, thanks to the flat terrain and beautiful namesake pines.
Queens Garden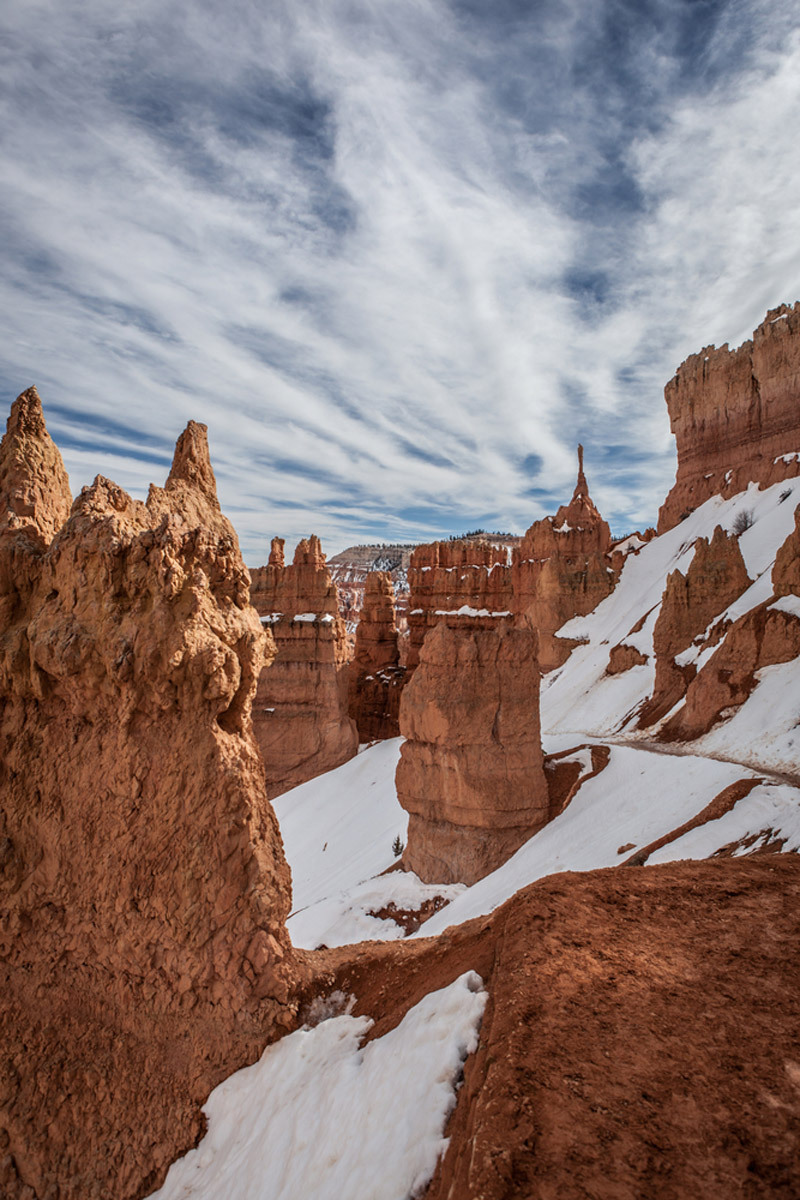 The rather striking resemblance of one of the famous hoodoos in Bryce Canyon to Queen Victoria is how the well-known rock formation earned its name. Look closely, and you'll see what we mean.

Part of the Navajo Loop is closed in the winter, but you can still see this famous hoodoo in all its winter glory.

Just follow the Two Bridges Trail to the viewpoint and enjoy one of the easier hikes down into the canyon with some great winter photo ops of Queens Garden.
Cross Country Skiing
Bryce Canyon is one of Utah's best national parks for winter sports. Why? The heavier snowfall makes the trails the perfect place to try seasonal favorites like cross-country skiing.
So, where are the best places to take to the trails? We think the section of the Rim Trail that remains open during the winter (from Sunrise Point to Bryce Point) near Bryce Amphitheater is the best place to ski with a view.
You can also ski out to Fairyland Point, which you can't access by car after heavy snowfalls.
Top Tip: Rent your gear at Ruby's Inn in Bryce Canyon City.
Have a Holiday Meal at Stone Hearth Grille
If you're visiting during the holiday break, be sure to try one of the best restaurants in Bryce Canyon for a festive meal.

We love the hearty Western cuisine at Stone Hearth Grille any time of year. But the grass-fed ribeye steak with pureed potatoes and tarragon butter is the perfect way to celebrate the holiday season with friends and family.

Top Tip: Pair your holiday meal with one of their well-curated wines, like Patz & Hall Pinot Noir from Sonoma, California.
Unique Things to See & Do in Bryce in Winter: Hidden Gems That Are Off the Beaten Track
Full Moon Snowshoeing
Remember when we said there are lots of great opportunities to snowshoe in the winter in Bryce Canyon? One of the park's most exciting offerings is snowshoeing after dark.

If you arrive at the visitor center at 4 p.m. in the winter during the full moon schedule, you can win a spot with the guided walk above or down into Bryce Canyon.
It's an exciting way to see the park, but spaces fill up quickly, and you'll need to cross your fingers that the skies are clear.
Annual Christmas Bird Count
Since Frank Chapman began the tradition on Christmas Day, 1900, the CBC has slowly gained fame across the USA.

What is it? Avid bird hunters and families looking for a free thing to do on holiday break, head out to the national park to count migratory birds.

It's a fun winter activity and gives scientists important data that helps track climate change and recognize any differences from one year to the next.
Top Tip: This year's event is on 12/16/2023. You can learn more here.
Swamp Canyon Loop
When you're rolling along Bryce Canyon Scenic Drive, you'll see one of our favorite viewpoints in the winter – Swamp Canyon Loop. Bring your hiking gear because this is one of our favorite winter walks.

The moderate 4.5-mile loop begins near the highway before taking you into some of the more challenging winter terrain.

You don't have to climb too much (the elevation change is under 900 feet), but the trails can be challenging to navigate, especially after snowfall.

That said, there aren't many hikers, so your chance to see wildlife and enjoy the scenic views of the snow-capped pine trees without the crowds is very good.
Top Tip: Download an offline map and bring a GPS; this trail is hard to navigate.
Bryce Canyon Winter Festival
Each February, Bryce Canyon National Park and Ruby's Inn host the Bryce Canyon Winter Festival. It's a great opportunity to try winter sports in the park and at the resort in town.

Ice skating, cross-country skiing, and archery classes are just a few of the events held at the popular festival.
Top Tip: Next year's festival is set for February 17-19, 2024. Learn more about the event here.
Winter Camping at North Campground
Camping is one of our favorite Bryce Canyon winter activities, but you can only access one of the two campgrounds during the winter – the North Campground.
The good news is there are around 100 campsites, you're near the popular Rim Trail, and the pine trees look amazing in the snow.
Read Next: Check out our guide to Bryce Canyon Camping
Practical Tips for Exploring Bryce Canyon in the Winter
Where to Stay Near Bryce Canyon National Park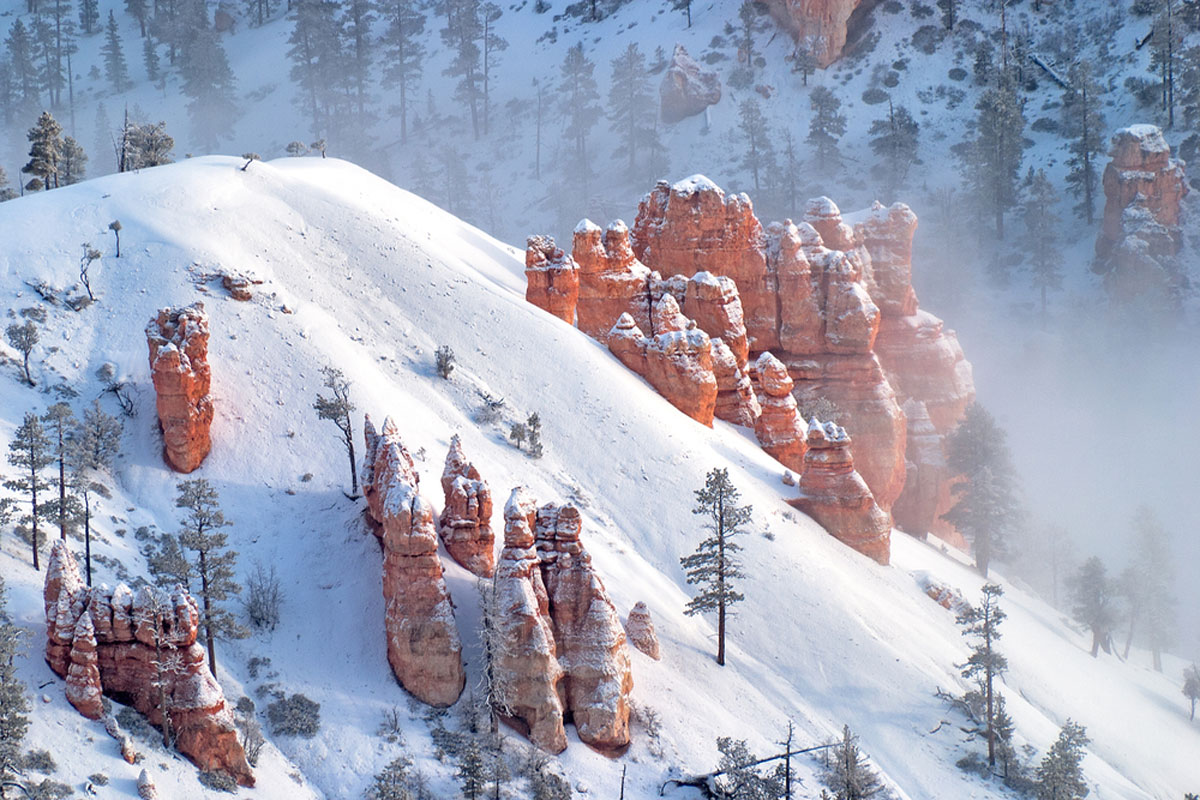 Not only is it much less crowded at Bryce in the winter, you have plenty of options for where to stay.

Some of our favorite hotels near the park are in Bryce Canyon City, Cannonville, and Panguitch. We've done plenty of research, so check out our guide on local hotels.
Read Next: The Best Hotels in Bryce Canyon National Park
Plan Your Winter Hikes Ahead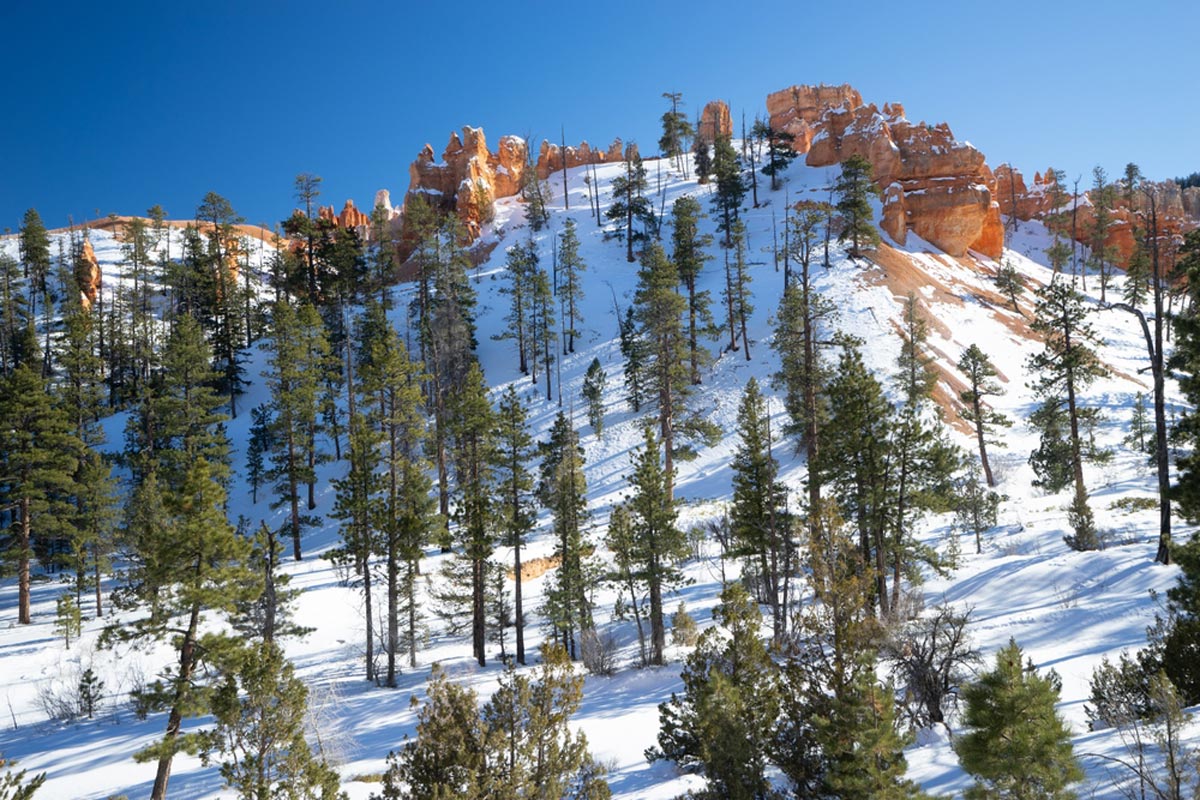 We love a spontaneous day hike as much as anybody, but you need to be a little more strategic when visiting in the winter.

First, you'll want hiking poles, traction devices for your shoes, and plenty of warm clothes.

But you'll also want to know about any road closures and be aware that two of the most popular trails are off-limits at Bryce Canyon National Park in the winter.

A portion of the Rim Trail (from Inspiration Point to Bryce Point) and part of the Navajo Loop Trail (the Wall Street section) are closed all winter long.
Check the Forecast and the NPS Website
Because the roads close after heavy snowfall (and Bryce Canyon sees a lot from December to March), you'll want to keep track of the forecast before planning your daily activities.

You can also check the National Park Service website for winter warnings and updates.
Winter Activities in Bryce Canyon: Map
Need More Inspiration for Bryce Canyon National Park?
Love This? Save and Share on Pinterest