Discover the beautiful Mesa Arch in Canyonlands National Park with this handy guide. Here's everything you need to know before you go.
There are some pretty incredible things to do in Canyonlands, but visiting the Mesa Arch should be right at the very top of your list. You might wonder why — an arch is an arch, right?

Wrong! This particular arch is an unmissable attraction. It just so happens to perfectly frame the phenomenal martian landscape of Canyonlands.
If you haven't already, you need to add Mesa Arch to your Canyonlands itinerary. Read on to discover why.
Why Visit Mesa Arch, Canyonlands National Park?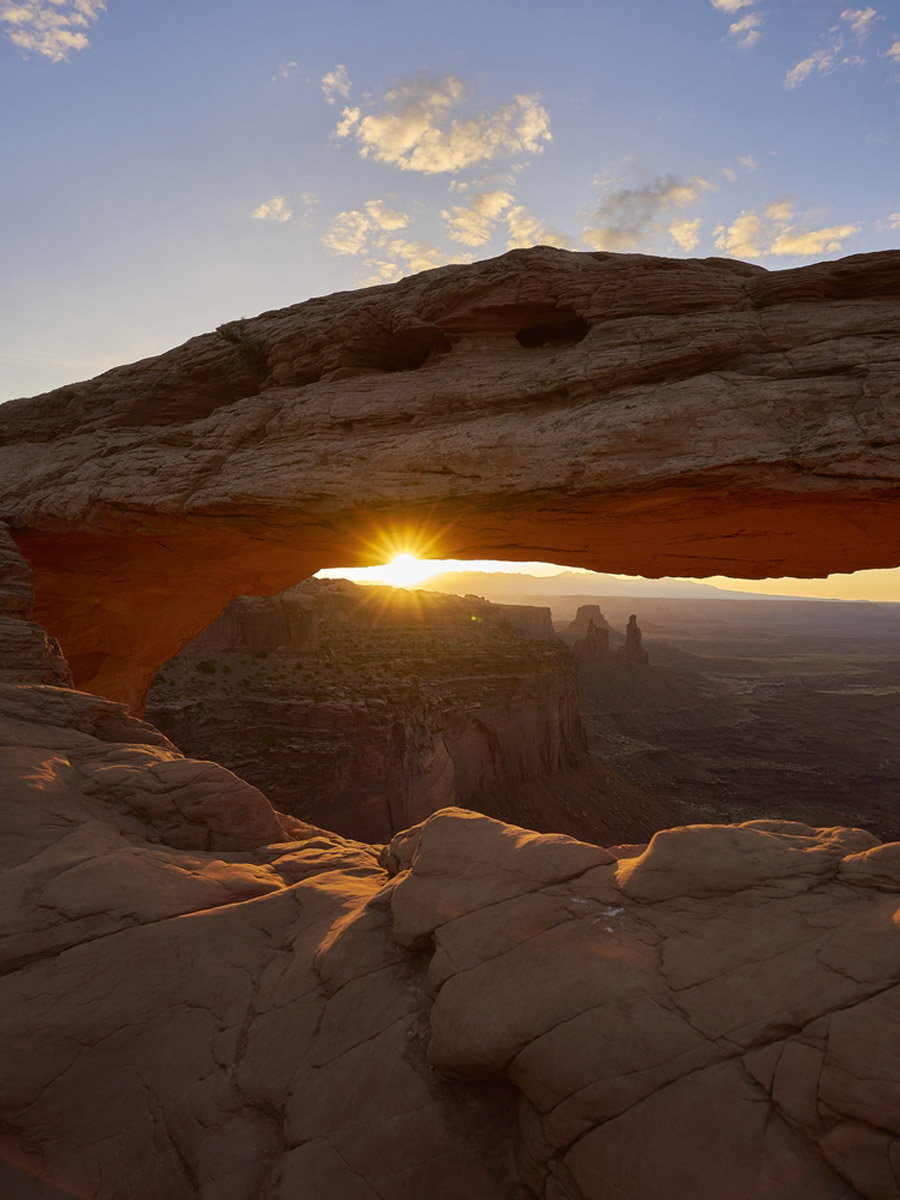 Situated in the sprawling Canyonlands National Park, Mesa Arch is the most famous arch in the park.
With vertically-rising pillars of red rock, natural bridges, buttes, and deep canyons against the backdrop of the sapphire sky seen through this keyhole perspective, it's a stunning sight.
Especially with the sun peaking over the La Sal Mountains in the distance, shedding its golden light on the whole of White Rim County at sunrise.
What's more, after basking in the ambiance of this magical view, you get to explore the trails of Canyonlands for the rest of the day and stare at a blanket of bright stars by night.
Where is Mesa Arch in Canyonlands?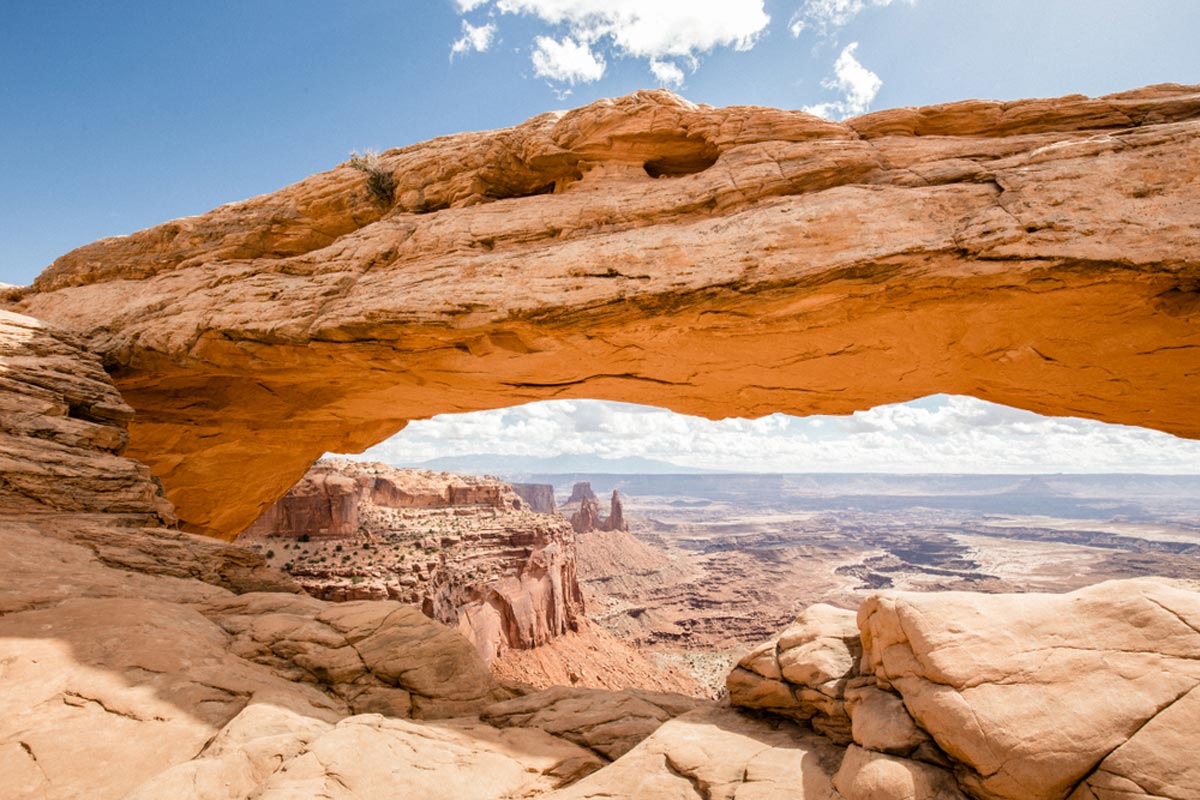 Mesa Arch is on the eastern side of the Island in the Sky mesa of Canyonlands National Park in the northern part of San Juan County, Utah. It sits along the edge of a cliff with a 500-foot drop, which is part of the bigger plunge into Buck Canyon.
You'll have to walk a short way to the Mesa Arch Trail in Canyonlands.
It's a tiny 0.5-mile hike along a loop trail from the Mesa Arch parking lot that takes about 15 minutes to complete. But the hike is very easy, so no need to worry about arriving at the arch looking like a hot hiking mess.
Geology of Canyonlands' Mesa Arch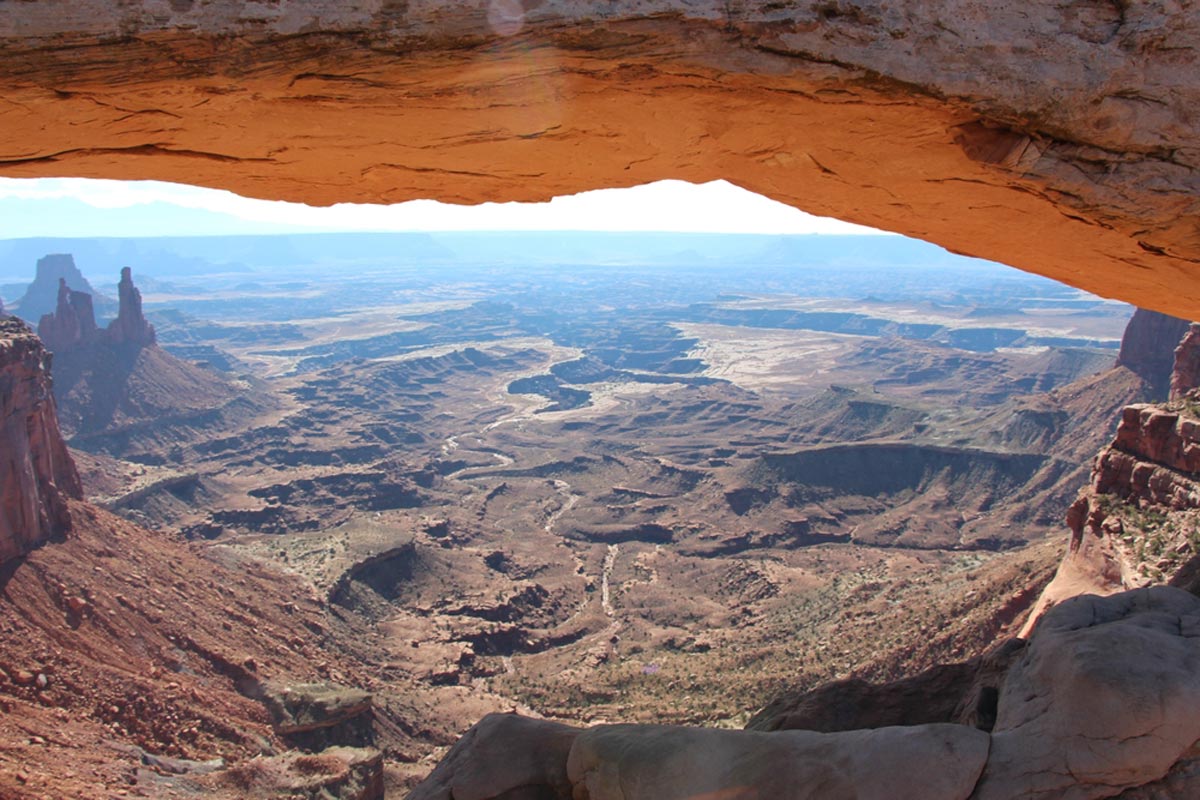 Standing atop the 2,000-foot mesa that is Island in the Sky, you can see across Canyonlands National Park all the way to eternity (it feels like that anyway).
The Green River on one side and the Colorado River on the other helped carve this behemoth through erosion, revealing 150 million years of history in the colorful layers.
On this island is where you'll find the Mesa Arch in Canyonlands, Utah. The arch's beautiful structure consists of Navajo sandstone, an ancient sand dune deposit, and stretches an impressive 27 feet long from end to end.
It's what geologists call a pothole arch. This means that pools of surface water behind the rock began to eat away at sections of the sandstone below its lip.
Over time, the water ended up creating an opening or "pothole" that slowly grew bigger as more water flowed through the opening. The final result is the magnificent Mesa Arch we see today.
Planning Your Visit to Mesa Arch, Canyonlands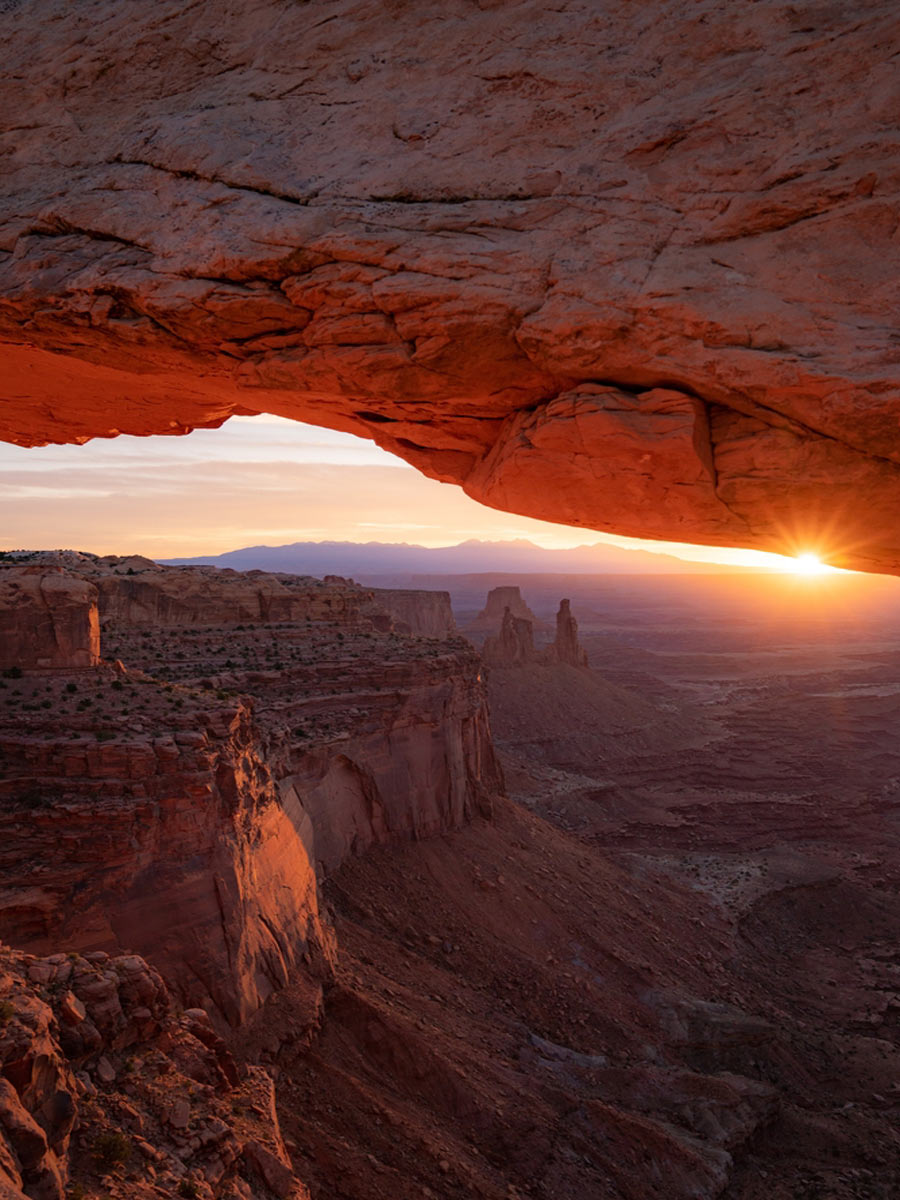 First of all, you'll need to decide when to see the Mesa Arch in Canyonlands National Park.
Technically any time of year or day is alright, but Canyonlands is at its best in spring and autumn when temperatures are more comfortable. If you go in winter or spring, you're likely to see some snow on the distant La Sal Mountains, adding to the overall beauty.

As for the time of day, catching a Mesa Arch, Canyonlands sunrise is a bucket list item for any hiking aficionado, or really anyone who loves a really spectacular view.
Sunrise is a popular time to visit this landmark for most, and we promise it's worth the effort of getting up before dawn and heading down to grab a coveted spot in the parking lot. Check out this site for sunrise times every day so you can plan ahead.
You can also choose to experience a Mesa Arch, Canyonlands sunset. It's not as popular, but it has its own special beauty. Plus you can watch the stars come twinkling out of their heavenly sleep as the sky deepens to pitch black.
Bring a torch! And remember, it can get chilly before sunrise and after sunset, so bring something warm to cuddle up in.
Fair warning: You may have to fight a photographer or four for the best viewing spot at the arch. Hold your ground, friends, and you will be rewarded.
Mesa Arch, Canyonlands Address
0.5 miles from the Mesa Arch parking lot on Grand View Point Road, Canyonlands National Park, Moab, UT 84532.
Mesa Arch, Canyonlands Opening Times
Mesa Arch is open year-round.
Visiting Mesa Arch Canyonlands Independently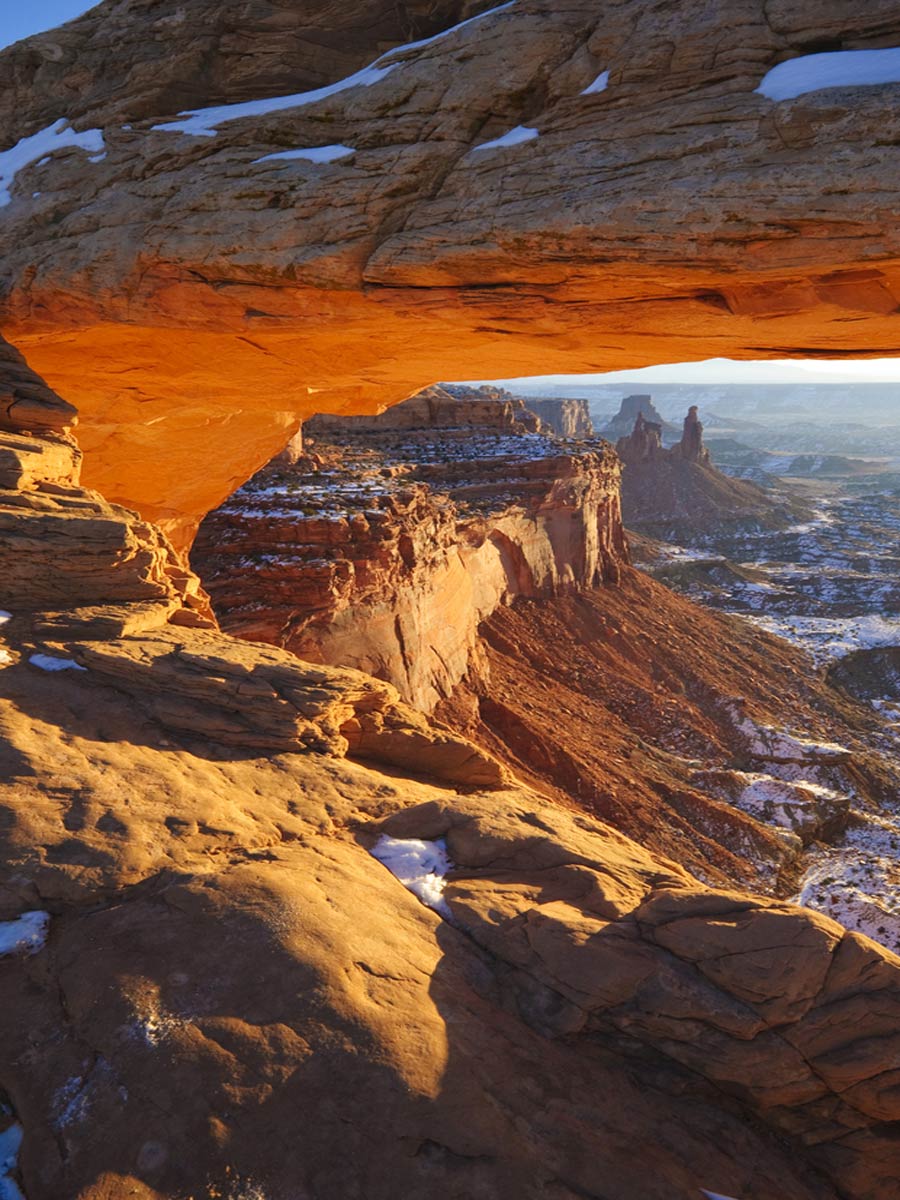 If you're wondering how to get to Mesa Arch, Moab is the closest town to the Island in the Sky mesa.
You can fly into Canyonlands Field Airport (CNY), which is only 16 miles from the town. Otherwise, Salt Lake City International Airport is your best bet.
Moab doesn't have public buses, but does have private shuttles. These shuttles can be expensive, though, with rates starting at £283 ($350) for one person and going up in smaller increments from there.
So, it goes without saying that driving yourself is the cheapest and fastest way to get to Canyonlands, though you'll then have to find a place to park.
If you're coming from Salt Lake City, driving 242 miles is the fastest method, taking only about four hours.
The train is your next best option. It'll cost about $35 – $50 for the train ticket to Green River Amtrak, and then $14 – $20 for the taxi to Canyonlands. The entire trip should take about six hours.
The bus from Downtown Salt Lake to Moab will cost $34 – $74, not including the taxi fare you'll need to get to Canyonlands.
On a Tour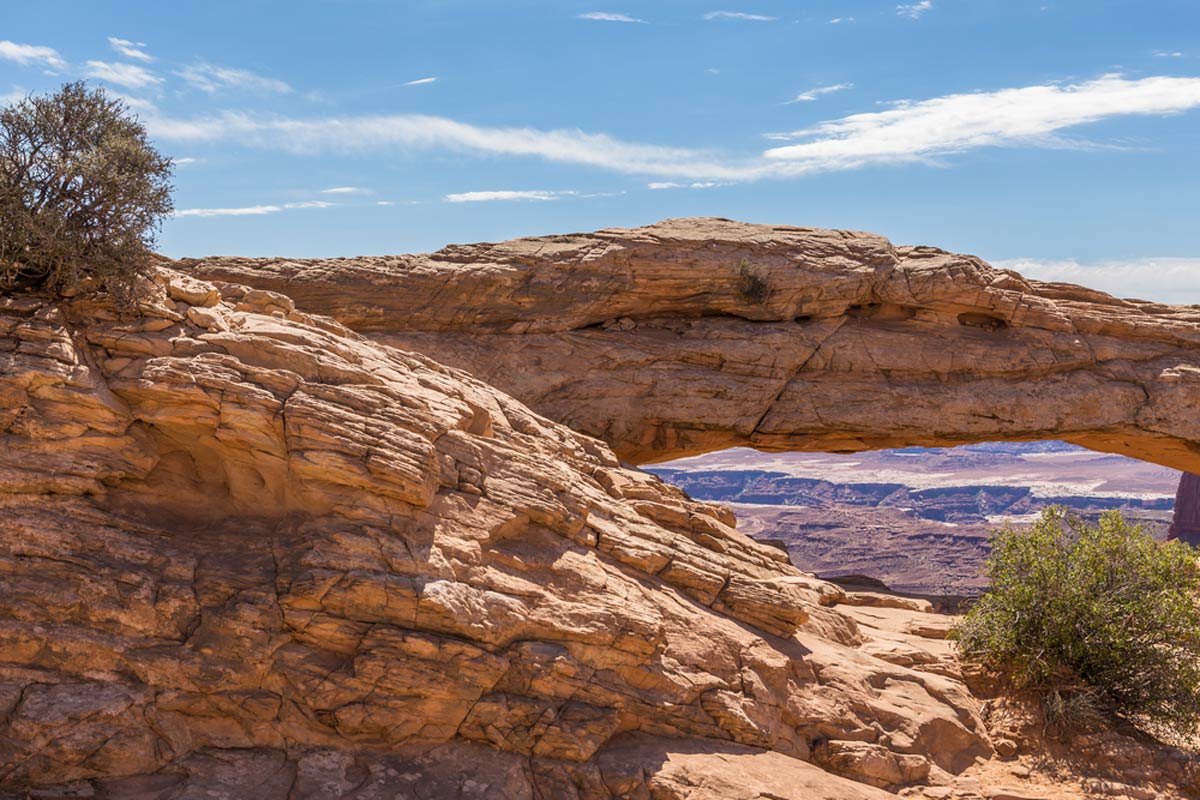 Tours have the benefit of organizing everything for you, and if you're staying in Salt Lake City, this private tour is pretty perfect.
It includes lunch, snacks, and park entry, and can be tailor-made to give you the experience you want out of the park without having to arrange it or follow maps. It even includes hotel pick-up and drop-off.
It's a 3.5-hour ride to the park in a luxury off-road SUV, after which you'll enjoy a tasty lunch before seeing the best of Canyonlands' sights. The best thing about this tour is that the guide customizes it to your level of activity and your interests, and if Mesa Arch is on that list, they'll happily oblige.
Where to Stay for Mesa Arch, Canyonlands
Hoodoo Moab, Curio Collection by Hilton (Mid-Range)
Uber stylish with modern lines and chic neutrals, Hoodoo Moab by Hilton will wow you with its luxury experience. The pool and sunbeds in the center are entrancing against the backdrop of red mountains — that is, if you aren't indulging in the spa and wellness center.
Check Rates and Availability
Alternatively, Check All Accommodation in Moab
What to Pack for Mesa Arch, Canyonlands
Whenever you're heading to a desert setting, a water bottle is a necessity. Staying hydrated on long hikes isn't just a recommendation, it's vital.
Hiking shoes are best for navigating the terrain, even if you don't plan on making the whole day a hiking excursion.
Sun protection is another imperative addition to your backpack. Bring sunnies, a hat, and sun tan lotion at the very least.
If you're anything like us, you'll want to bring your camera to take some epic photos. Remember to charge your batteries in advance.
Mesa Arch, Canyonlands Map
Mesa Arch, Canyonlands: Read Next