Heading to Utah's stunning city of Moab? Read this guide to the best hotels in Moab to make the most of your trip.
It's no secret that we love every inch of Utah, but we have to admit that Moab might just be our favorite spot.
It's a fantastic city, famed for its rugged trails and stunning landscape that makes for an incredible vacation filled with hiking and biking.
There are plenty of awesome (and tiring) things to do in Moab, so it goes without saying that an excellent hotel is a must. Read on to discover our top picks in Moab.
Best Hotels in Moab: At a Glance
Best Moab Hotels
Hampton Inn Moab
£
North Main Street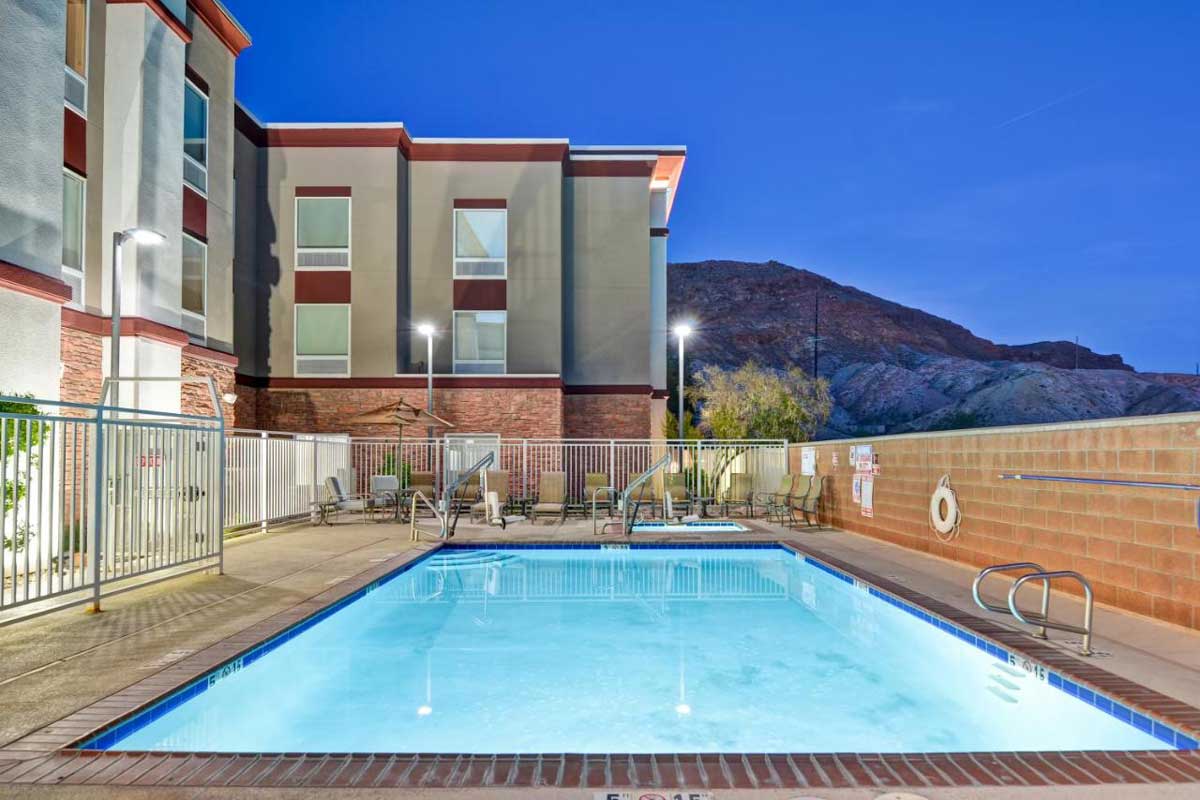 First up: Hampton Inn Moab is our top pick if you're heading to Moab purely to explore national parks, as Arches and Slickrock are just minutes away.
This hotel is the epitome of cozy, with spacious rooms decked out with faux-wood walls and crisp linens. Not only are the staff friendly and helpful, but you also get an airport shuttle service and a free transfer to all the nearby parks.
Better yet, this pet-friendly Moab hotel sits in the heart of Downtown Moab, within walking distance of multiple restaurants, bars, and shops. Not that you'll need to head out, as you'll be able to enjoy a complimentary hot breakfast each day.
Aarchway Inn
£
North Highway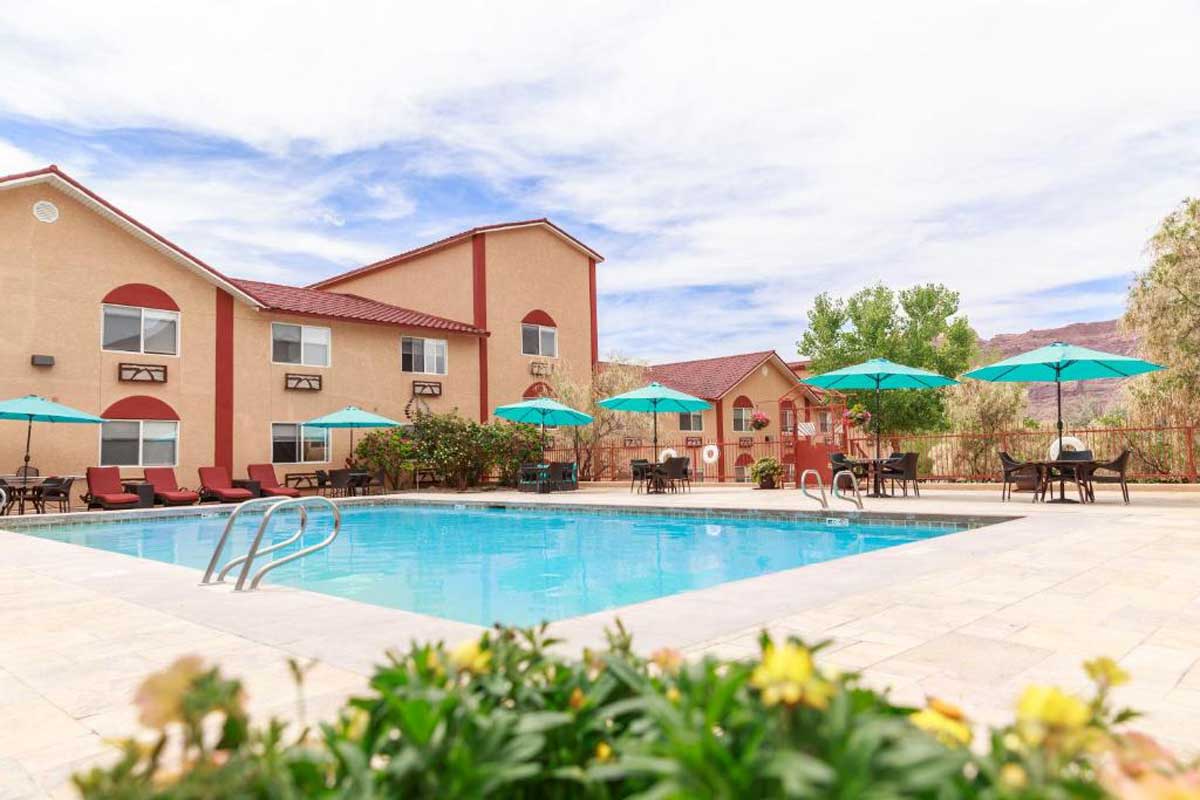 When a hotel has been around since the early 1900s, it means they're doing something right.
That's exactly what's happening at the Aarchway Inn. The historic property boasts homely rooms, friendly staff, and a delicious breakfast to start the day. Stretch your muscles in the fitness center before heading out to the parks, and enjoy a long soak in the pool or hot tub when you return.
Aarchway Inn is one of the best Moab hotels near Arches National Park and downtown Moab, plus Canyonlands National Park and Dead Horse Point State Park are half an hour away.
Moab Springs Ranch
££
North Highway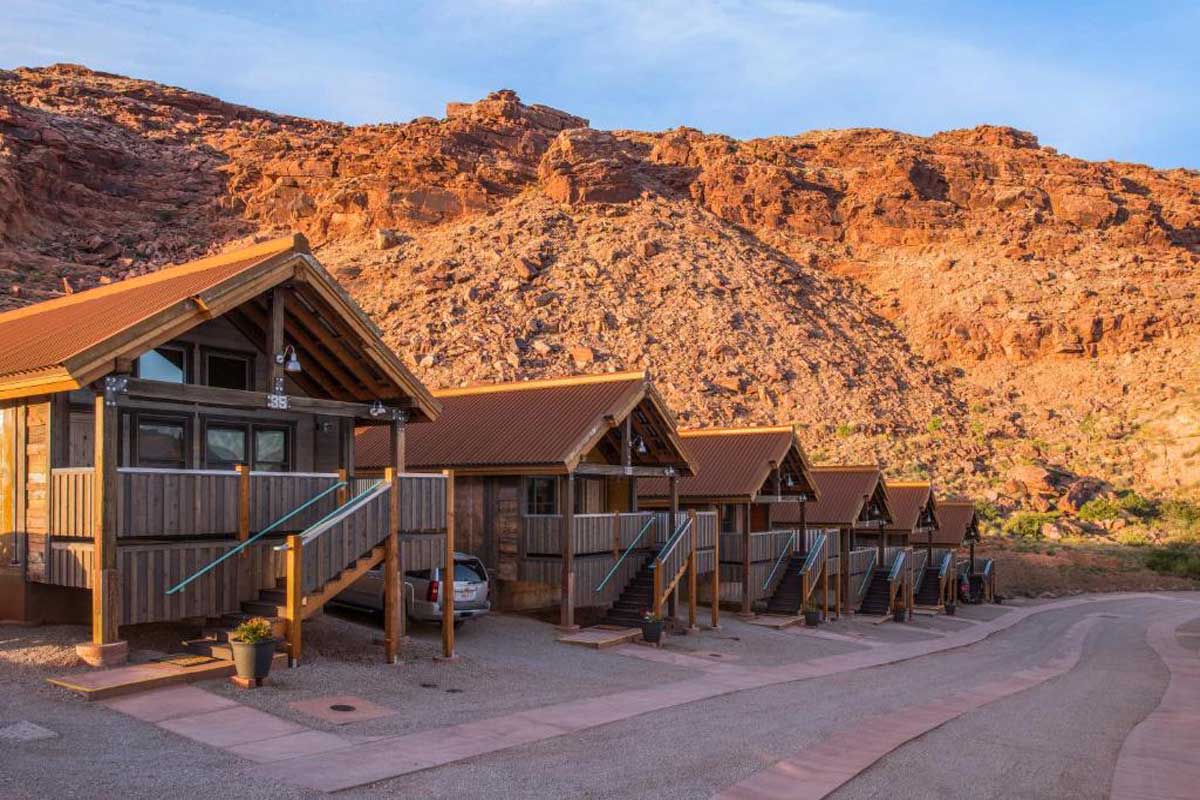 Moab Springs Ranch is a secluded oasis on the Colorado River near Arches National Park.
If you're looking to indulge in ranch activities but are not quite ready to get rid of your luxuries (our hands are firmly in the air), this spot combines bungalows and townhouses with access to activities like horseback riding, hiking, and whitewater rafting.
Each bungalow has a balcony offering a stunning view of Utah's famous red rocks, which is perfect for watching an unforgettable sunset if you ask us.
Start your day off with tasty pastries at Fresh Moab Coffee. And return from your Moab explorations and take advantage of one of the finest Moab hotels with a pool and hot tub.
Hyatt Place
£££
Downtown Moab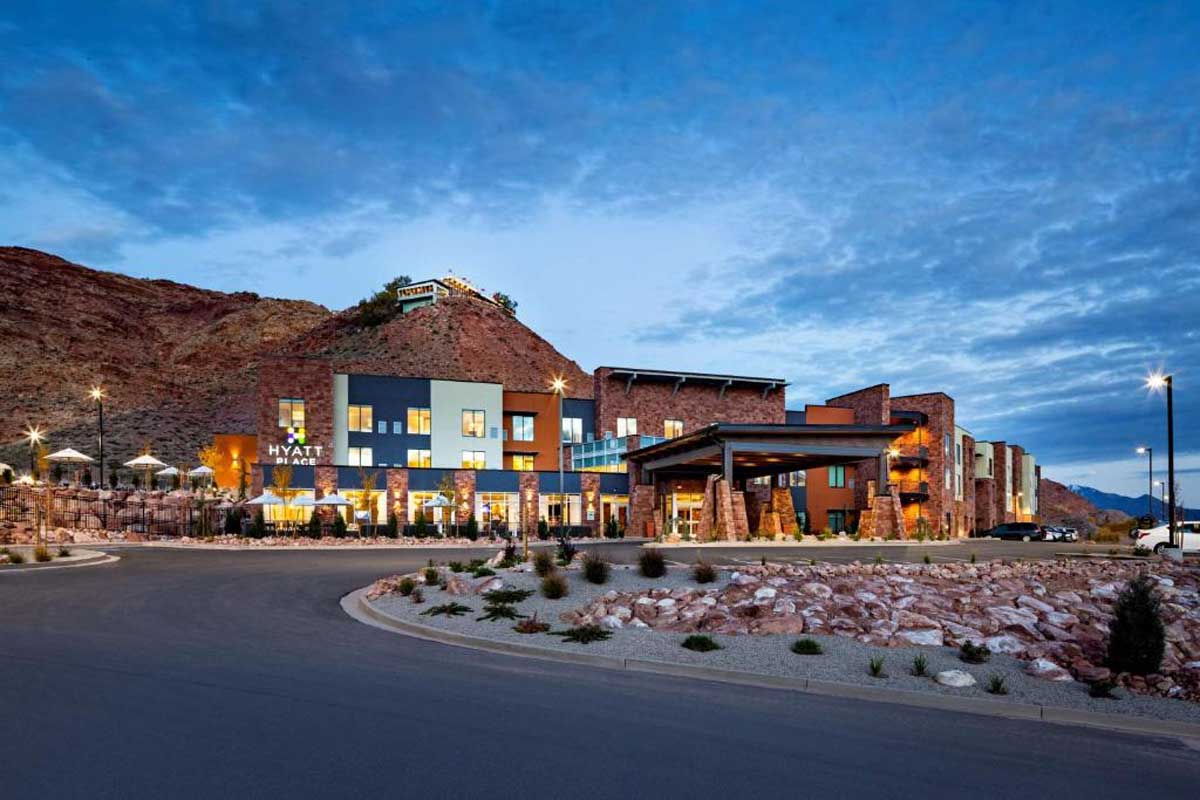 Friendly staff? Check. Spacious rooms? Double check. A pool and a hot tub? Duh.
Hyatt Place is a hotel in Moab downtown, so you're not far from the action. The famed national parks are also very closeby if you want to trade people for the wilderness, as is the famous Delicate Arch.
Sitting against a red rock, you're guaranteed stunning desert views. But the best part is that this is one of the top pet-friendly hotels that Moab has to offer. So, you can bring along your furry friend for an adventure, too.
La Quinta Inn & Suites
££
South Main Street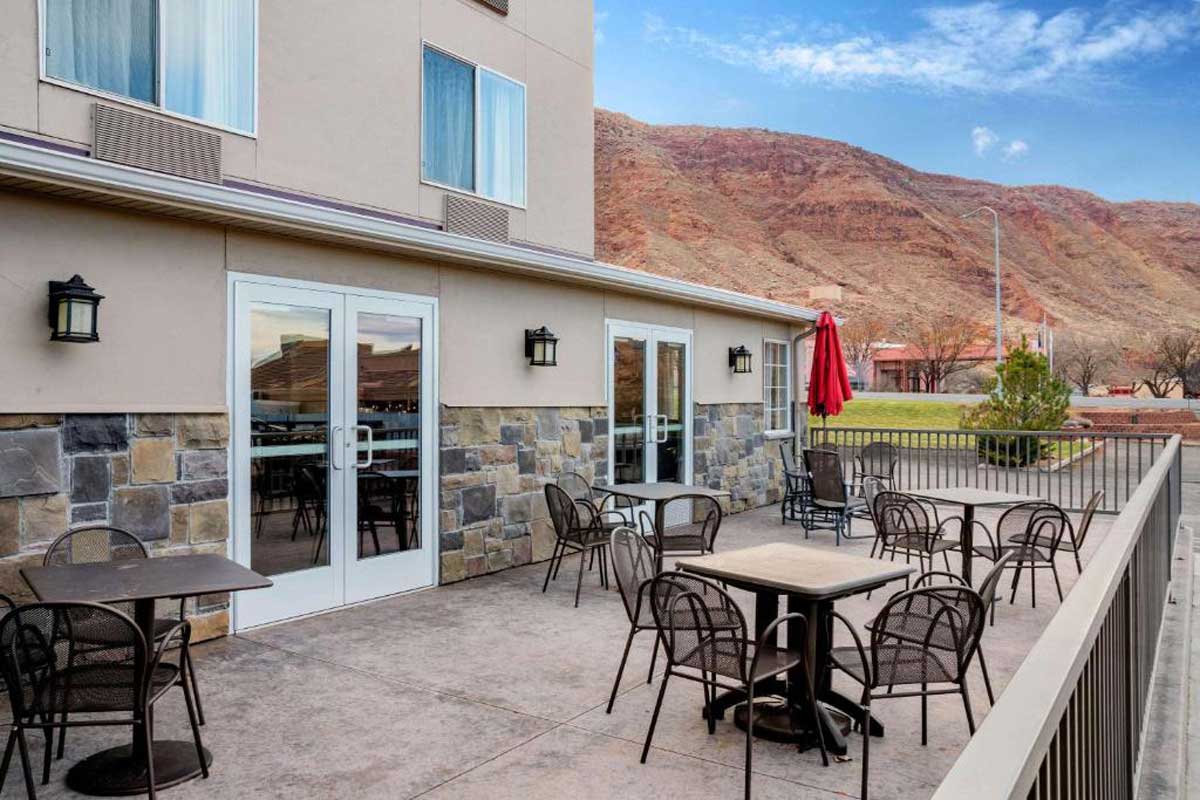 La Quinta Inn & Suites is a modern hotel that sets the tone for excellence with its airport shuttle service. The spacious rooms come with flat-screen TVs, free Wi-Fi, and even pet-friendly rooms on request.
Guests can enjoy a complimentary breakfast and can grab lunch or dinner at the Blue Pig when hunger strikes. Dig in and forget the calories; you can burn those at the fitness center before cooling down in the hotel's hot tub.
Sorrel River Ranch
£££
Mile 17 Highway
The beautiful Sorrel River Ranch sits in the heart of Utah's Sorrel River Valley. The hotel in Moab, Utah, features 240 acres of unspoiled wilderness, showcasing the beauty of the American West.
The beautiful cabins ooze rustic charm and feature private verandas with stunning views of the Colorado River. Thanks to the on-site restaurant, you don't have to leave the luxury hotel for a mouthwatering meal.
The staff are friendly and can help you plan your adventure ahead of time. Spend your days exploring the region and taking part in blood-pumping activities before returning to the resort's spa to recover from the day's action.
Hoodoo Moab
£££
Downtown Moab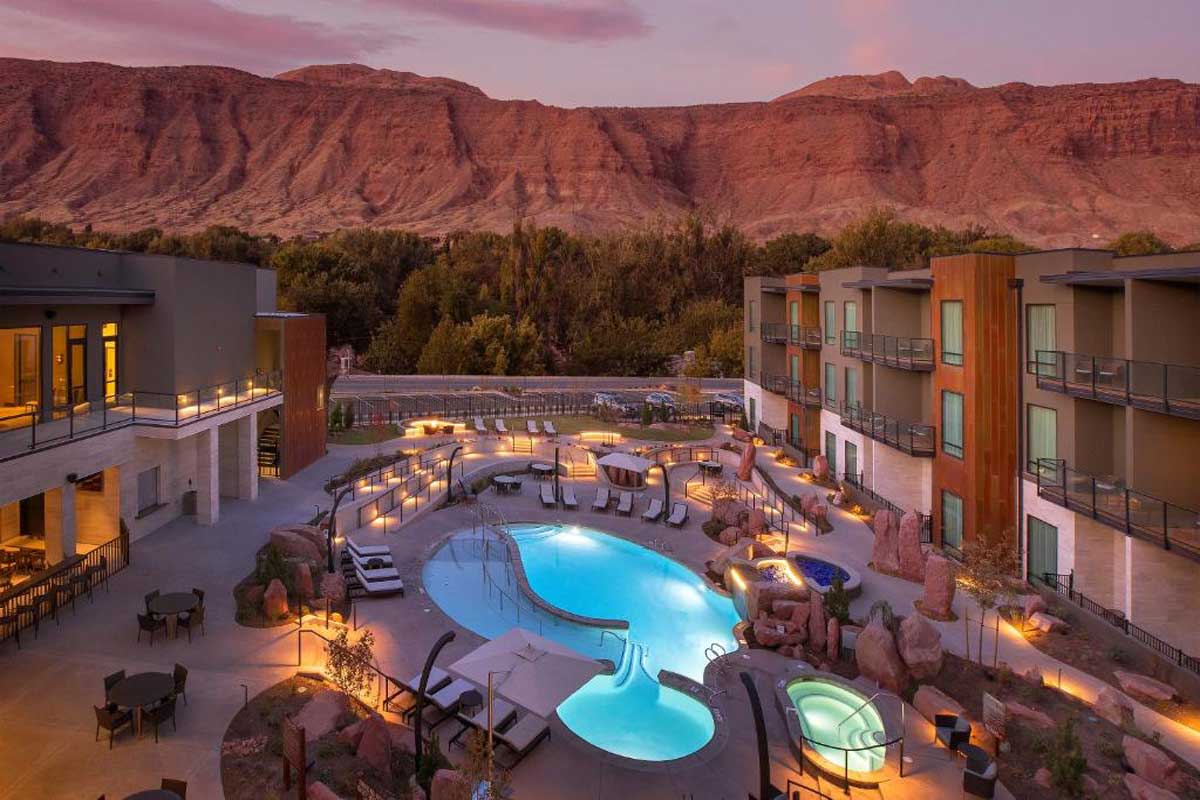 Bespoke luxury set against stunning natural beauty—could you resist that? We certainly couldn't.
Hoodoo Moab offers guests rustic luxury in the heart of one of America's most breathtaking landscapes. On arrival, sweeping views of the desert and the neighboring Arches National Park greet you.
In the center of the property are a large pool and sunloungers for cooling off on those hot days. There's also a fantastic steakhouse for when you're feeling famished.
Oh, and forget planning a trip; the helpful concierge service will take care of everything for you.
Red Cliffs Lodge
£££
MilePost 14 Highway
Nestled at the base of the red cliffs in Moab, Red Cliffs Lodge is perfect for hiding away in serenity. Surrounded by stunning natural beauty, you could spend the entirety of your Moab vacation here, and we honestly wouldn't judge you.
Look out your window, and you'll have verdant vegetation as your view. Head to the restaurant and enjoy stunning Creek or Colorado River views while stuffing your face with delicious delicacies.
In addition to hiking, horseback riding, and rafting, there's also a movie museum, wine tasting, and a tennis court available to you.
Homewood Suites
££
North Main Street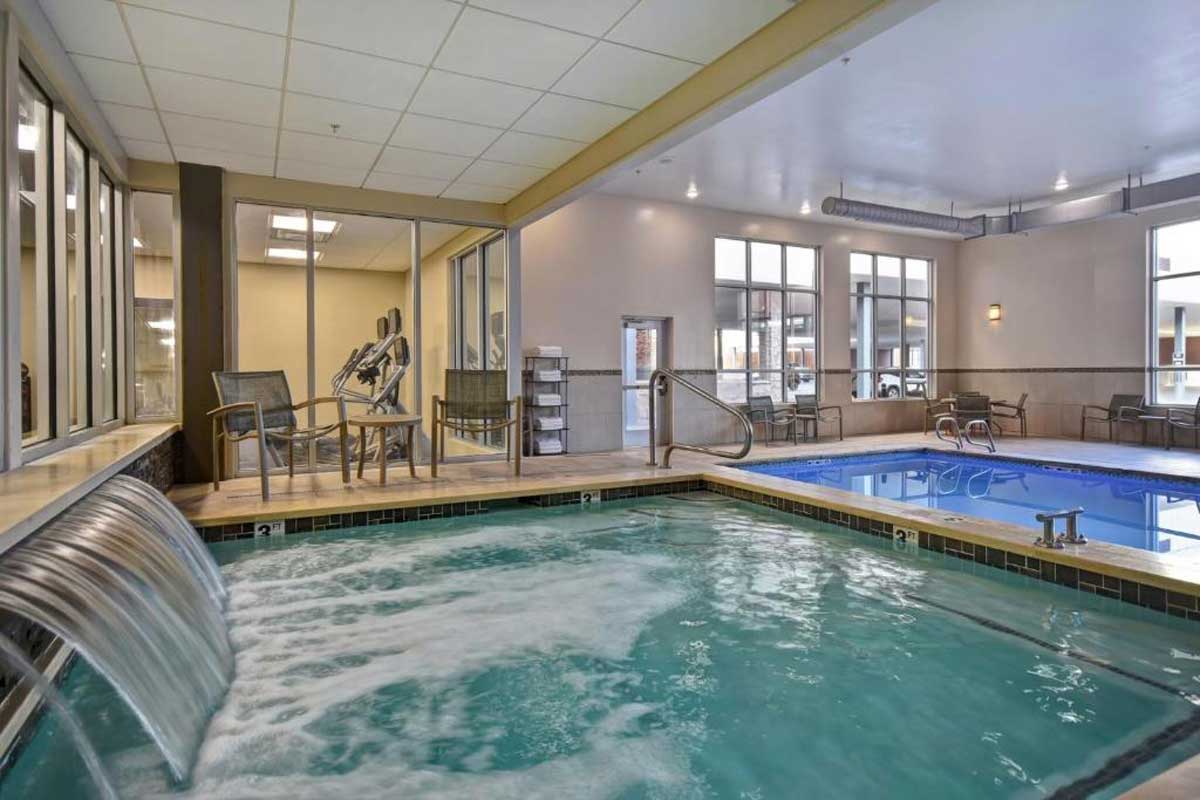 Homewood Suites offers all the comforts of home with no hassle, which is hard to beat. But does your home include a complimentary breakfast and a light dinner menu? Exactly.
Each suite has a full kitchen, separate living and sleeping areas, and plenty of storage space. And because they're part of the Hilton family, you can be sure you'll receive the same high level of service that Hilton is famous for.
The property also has EV charging facilities, a heated indoor pool, and a fitness center.
Under Canvas
£££
North Highway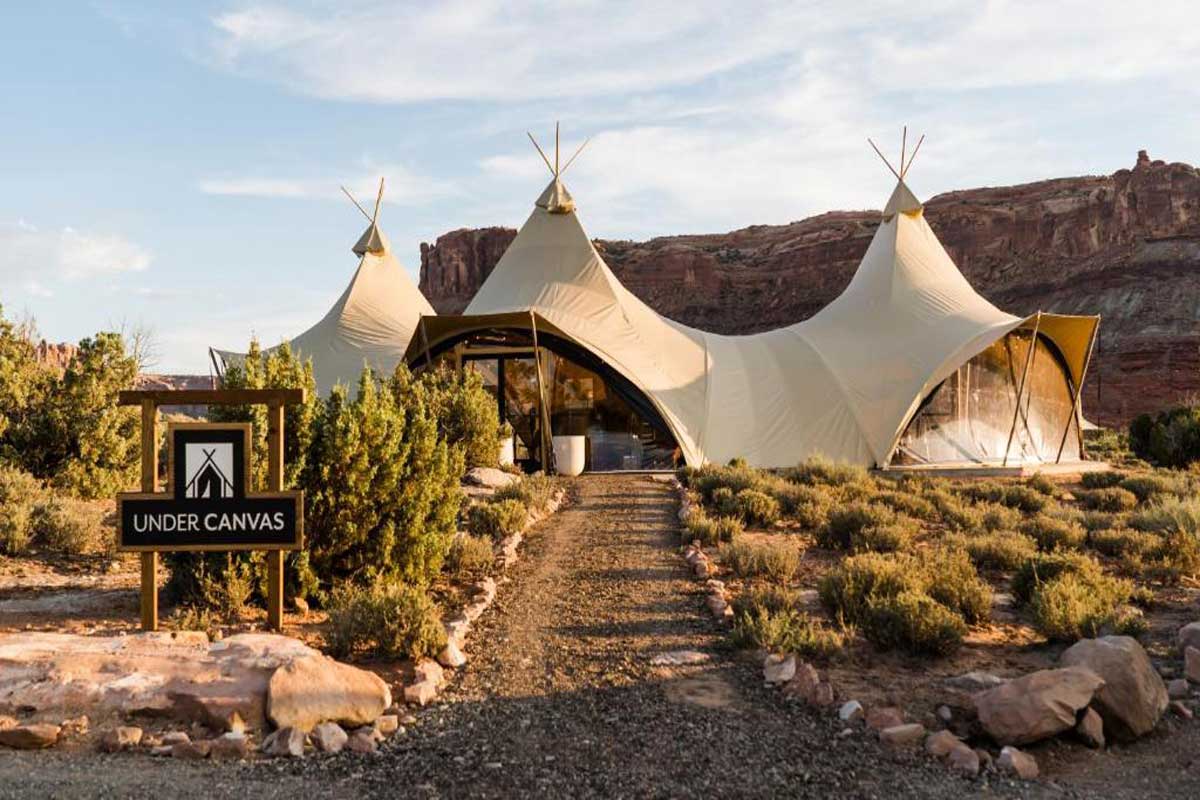 When you choose to glamp at Under Canvas, you'll enjoy all the comforts of a hotel while staying in the heart of nature. In fact, both Arches and Canyonlands National Parks are just minutes away.
You'll sleep in a comfortable bed under a real canvas tent, with a private bathroom and shower just steps away.
Take advantage of the camp's many amenities when you aren't in your tent or exploring the natural splendor. This includes a heated pool, a lounge area with fire pits, and a restaurant serving farm-to-table cuisine.
Sunflower Hill Inn
££
North East Moab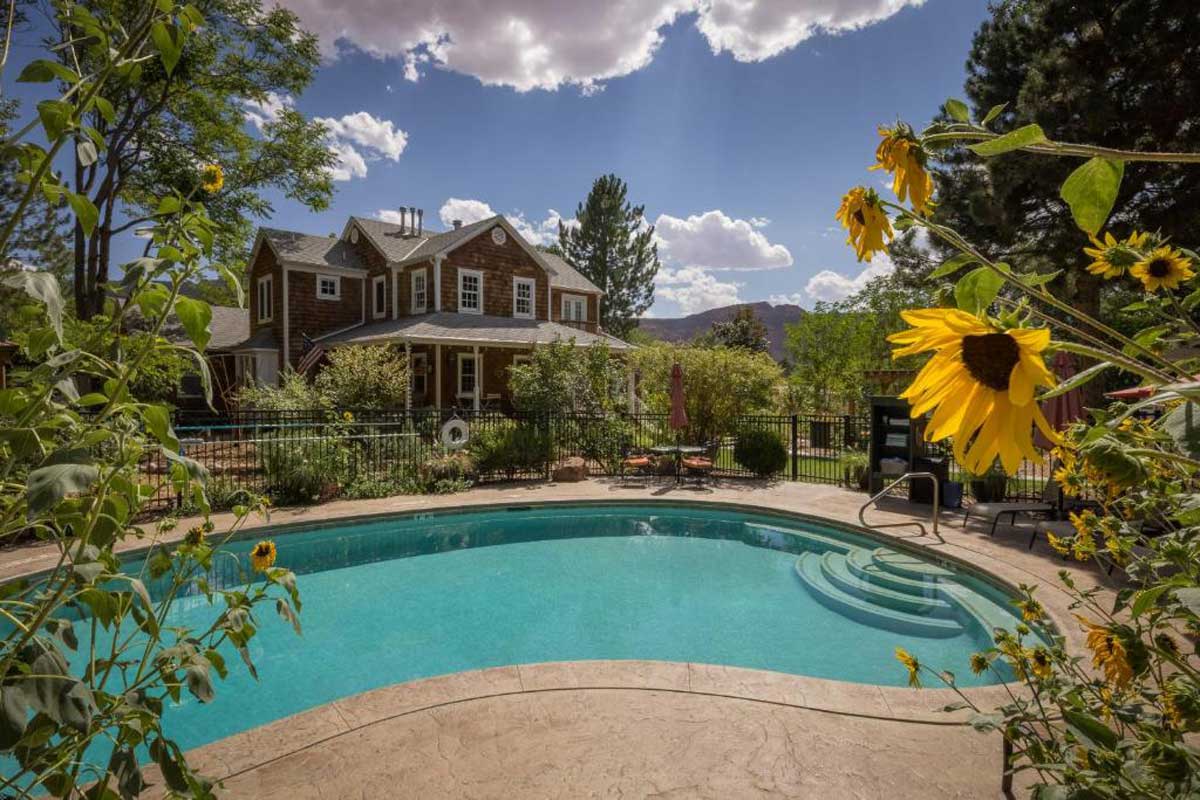 Nestled at the base of the red rocks, Sunflower Hill Inn is perfect for relaxing and enjoying all that Moab has to offer. The rooms are cozy and comfortable, with beautiful views of the surrounding landscape.
With just 12 rooms on-site, you can bet on the friendly staff providing bespoke service, which includes a fantastic, healthy breakfast enjoyed on the patio. They'll also gladly share insider tips, like the best things to do in Moab and more.
Expedition Lodge
£
North Main Street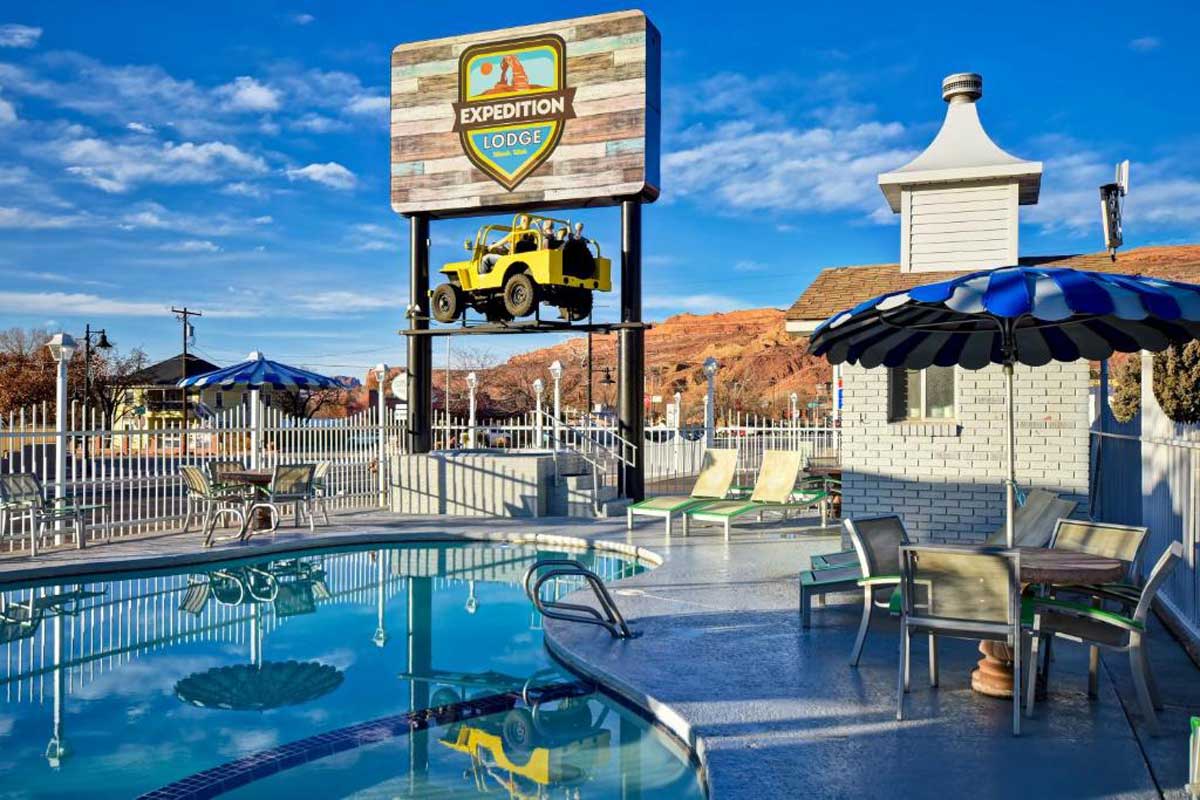 As soon as you enter Expedition Lodge, you'll feel like you're in a different world. This hotel sits on a scenic bluff overlooking the Colorado River, just a short drive from Arches and Canyonlands National Parks.
Whether you're looking for an adventurous hike or a leisurely stroll, you'll find plenty of trailheads nearby. And when you're ready to relax, the lodge offers an outdoor pool, hot tub, a yoga studio, and an arcade game room.
Scenic View Inn & Suites Moab
£
South Moab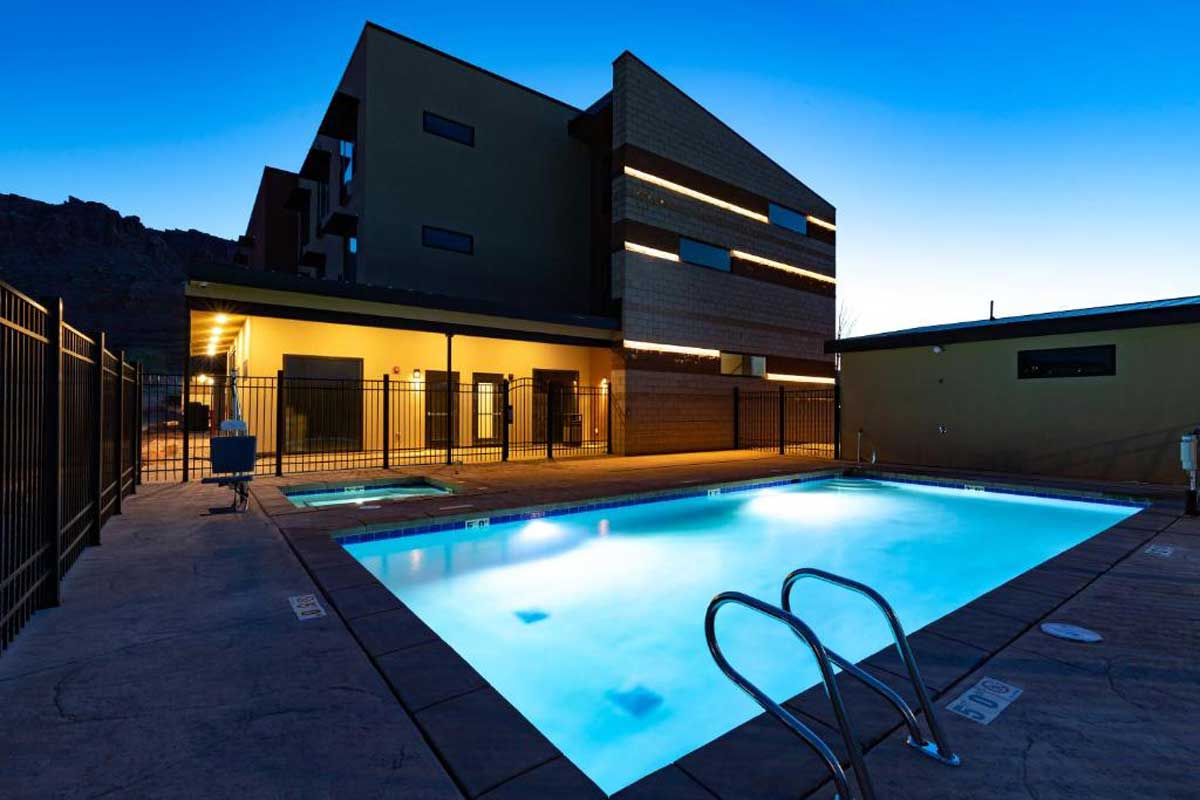 Scenic View Inn & Suites in Moab is perfect for seeing the American Southwest's natural beauty. The hotel sits on a hilltop overlooking the majestic red rocks of Arches National Park.
The rooms feature contemporary decor with functional wood furniture, stunning park views, and coffee pods—a much-needed necessity, we're sure you'll agree. Breakfast is part of the room rate, and there's also an on-site restaurant for lunch and dinner.
No need to leave work behind here; there's a business center perfect for keeping in touch with work-related stuff. Or, you know, totally ignore it and enjoy the surrounding nature instead.
The Gonzo Inn
££
South Moab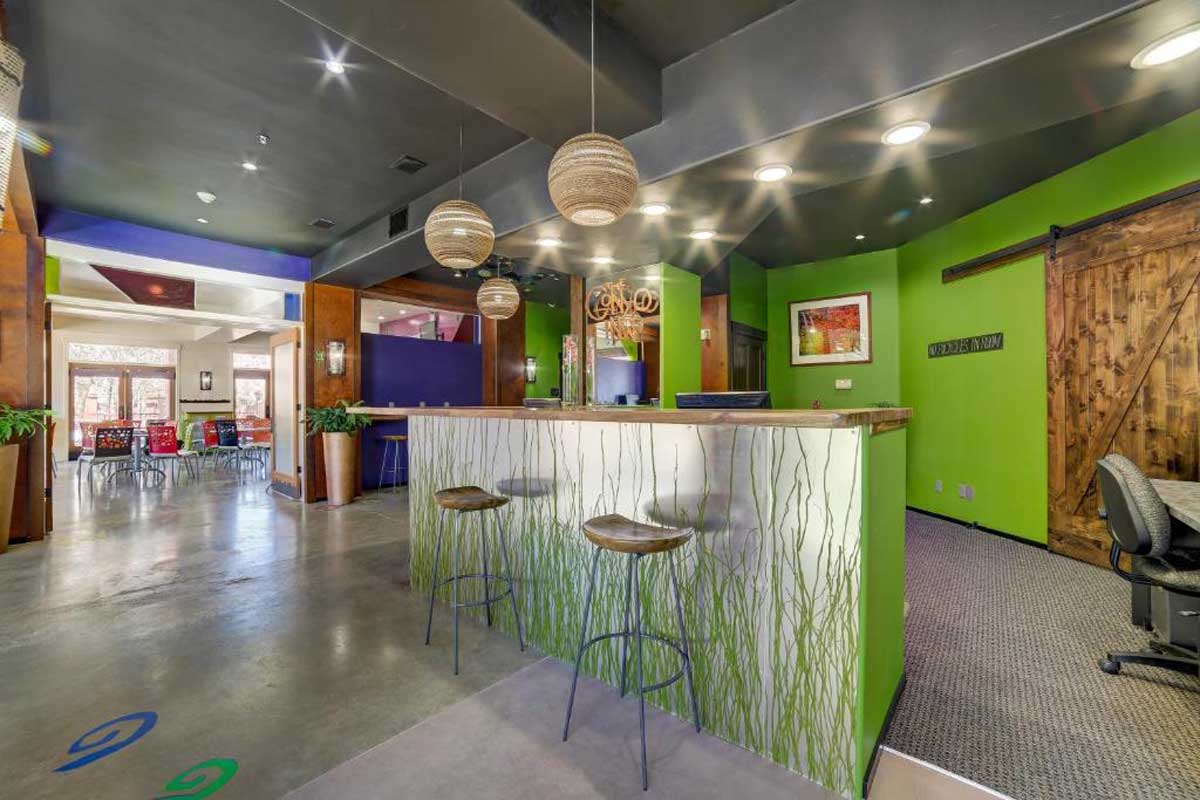 The Gonzo Inn is probably the most unique hotel in Moab, Utah. After all, it's the brainchild of an artist and pays tribute to the life and work of Hunter S. Thompson.
From the moment you step inside, it's clear that this is no ordinary hotel. The lobby features photos and memorabilia from Thompson's life, and his most famous works inspired the guest rooms' themes.
Even the heated swimming pool resembles a bullet hole—pretty eclectic, right?
Bowen Motel
£
North Main Street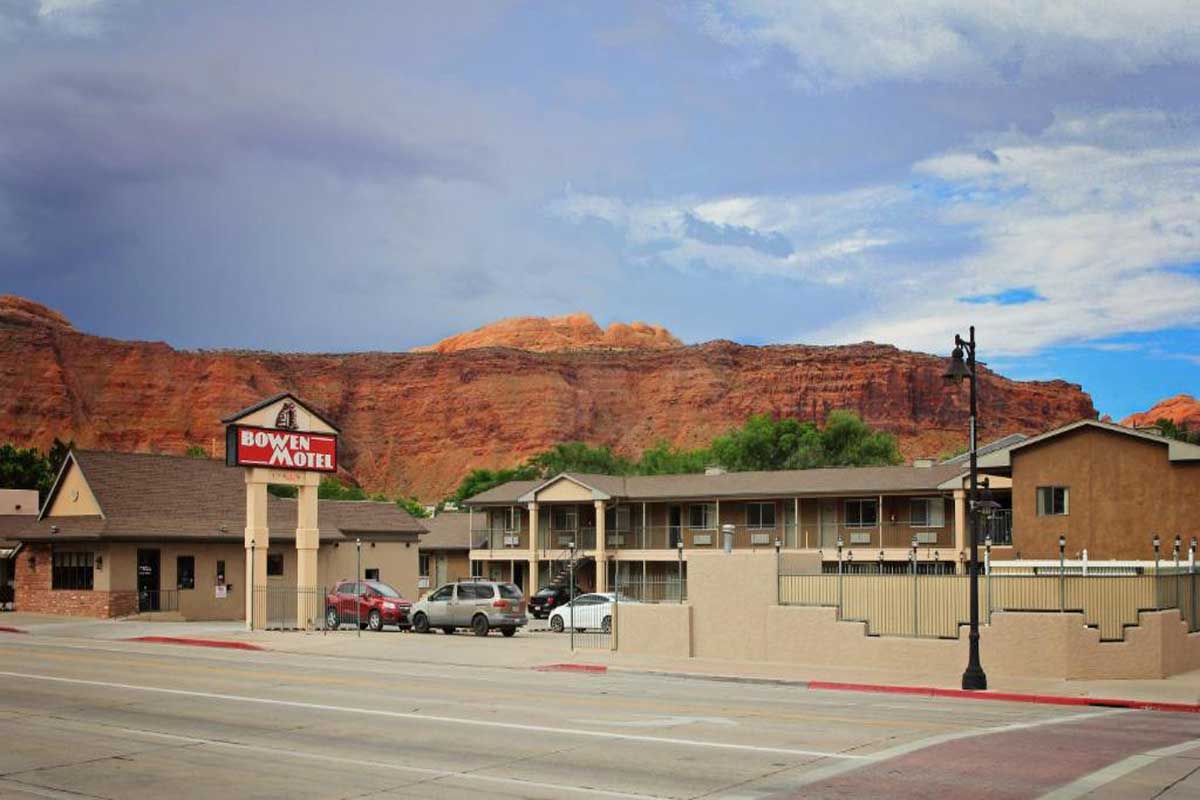 Okay, this is a bit of a cheat, but you certainly won't mind saving a few dollars by choosing a motel over a hotel. Bowen Motel is five minutes from Arches National Park, so it ticks all the boxes for location.
Despite being a motel, you can enjoy a splash in the outdoor swimming pool or surf the net with the free Wi-Fi. Some rooms even have splendid views of the red rocks—not too shabby for a motel, right?
Best Hotels in Moab, Utah: Frequently Asked Questions
What is the Best Area to Stay in Moab?
Downtown Moab is perfect if you want to be close to the shops and restaurants, while you're better off in a hotel near either park if you're visiting for nature.
What are the Best Cheap Hotels in Moab, Utah?
The best cheap hotels in Moab are Aarchway Inn (one of our top choices) and Bowen Motel.
Which Moab Hotels have the Best Views?
You'll find the best vistas at Sorrel River Ranch, Under Canvas, and Red Cliffs Lodge.
Practical Tips to Consider Before Booking Your Moab Hotel
We recommend renting a vehicle, as it's difficult to explore Moab without a car. If you would rather not rent a car, it's best to consider staying at a hotel with a shuttle service.
The Best Hotels in Moab: Read Next