On the hunt for the best hotels in Canyonlands National Park? The search is over – these are the best places to stay.
Nothing quickly ruins a trip like lousy accommodation. We (and many avid travelers) know that the recipe for an excellent visit to a national park is a good night's rest.
And, fortunately, there are plenty of Canyonlands lodgings that provide exactly that.
However, with no hotels or dining facilities within the park, you'll have to find a place to stay in hotels near the Canyonlands. Many visitors will rush to find a room in the best hotels in Moab, so those fill up quickly.
Read on for the best hotels near Canyonlands National Park in Moab and surrounding areas, like Monticello in the southeast, and Green River, which lies north of the park.
Best Hotels in Canyonlands National Park: At a Glance
Best Canyonlands National Park Hotels
Hoodoo Moab, Curio Collection by Hilton
£££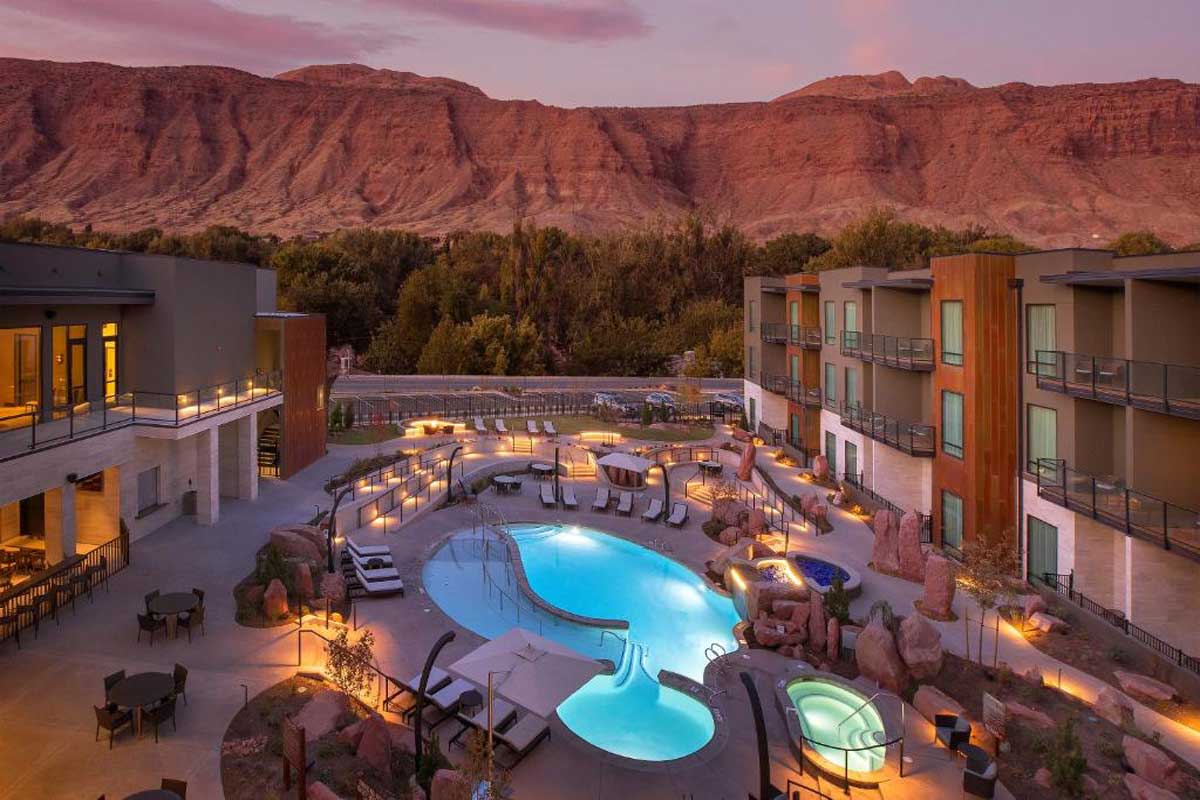 For a modern and comfortable stay, look no further than the stunning Hoodoo Moab, Curio Collection by Hilton. This gorgeous 4-star hotel is one of the best places to stay near Canyonlands National Park as it's one of the closest lodgings — only 30 miles away.
Every room in Hoodoo Moab has expansive glass windows that flood your space with fantastic views of the surrounding red cliffs. Spend time relaxing in the outdoor pool or head to the spa for a special treat after a long day of exploring.
The hotel also offers delectable American cuisine at its on-site restaurant, Josie Wyatt's Grille. Here you can enjoy a vast array of mixed drinks, fine wines, and the tastiest steak dishes.
Top Tip: Discover Moab's stunning outback via this exciting self-drive 4×4 guided tour.
Radcliffe Moab
£££
Moab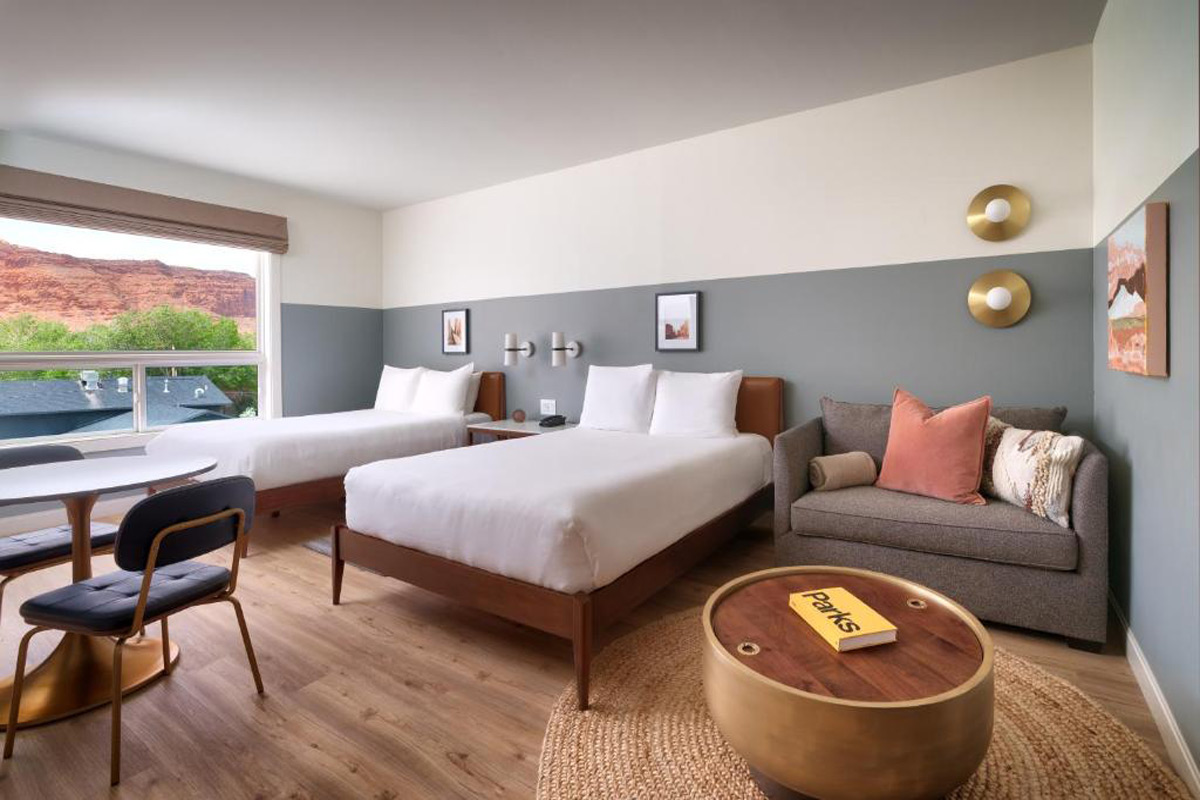 Nestled in the heart of the city, Radcliffe Moab is a pet-friendly boutique hotel offering an abundance of high-end amenities. Its proximity to breweries and the best restaurants in Moab makes it one of the best places to stay near Canyonlands National Park.
This gorgeous 3-star hotel boasts elegant interiors polished with modern furniture and cozy linen. Radcliffe Moab offers select rooms with fully equipped kitchenettes where you can whip up a fresh brew of coffee and enjoy it on the terrace with excellent city views.
The hotel's outdoor pools and fire pits are a great place to socialize and enjoy a cocktail while taking in the incredible mountain backdrops.
For dinner, you can enjoy delicious à la carte and homemade Italian dishes at the hotel's Il Posto Rosso restaurant.
Top Tip: Take advantage of being in the city center and explore all the best things to do in Moab.
Check Rates and Availability
Red Cliffs Lodge
££
Moab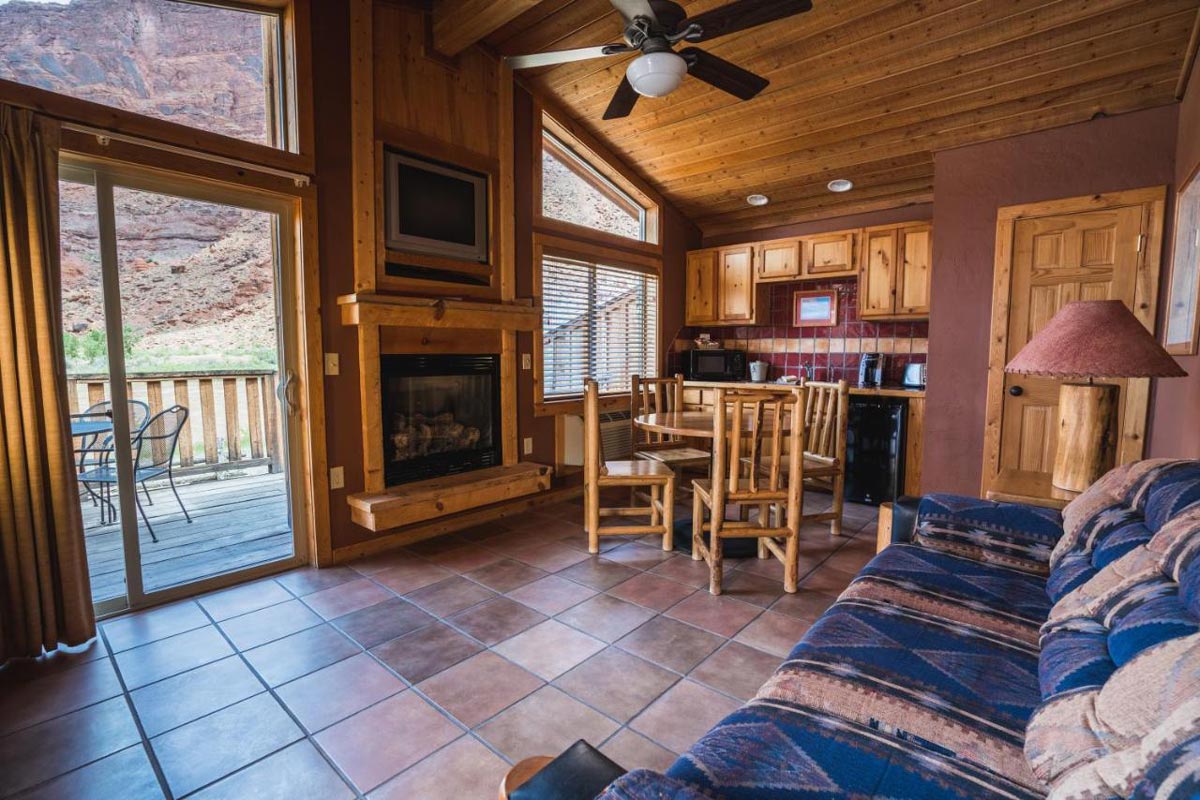 If you're looking for a more laid-back lodging that doesn't skimp on modern amenities, consider staying at the Red Cliffs Lodge. This rustic and cozy 3-star hotel sits about 42 miles from the park entrance and has a great location along the Colorado River.
Red Cliffs Lodge has a charming western cabin feel with log and pine furniture dotted across the hotel. Every suite offers a private patio with scenic river or creek views.
For breakfast, lunch, or dinner, head to The Cowboy Grill for authentic American cuisine.
The expansive outdoor pool is excellent for an afternoon dip. And if you'd like to explore more, the hotel offers activities like horseback riding, UTV rentals, sunrise meditation, and yoga at an extra charge.
River Terrace Inn
£
Green River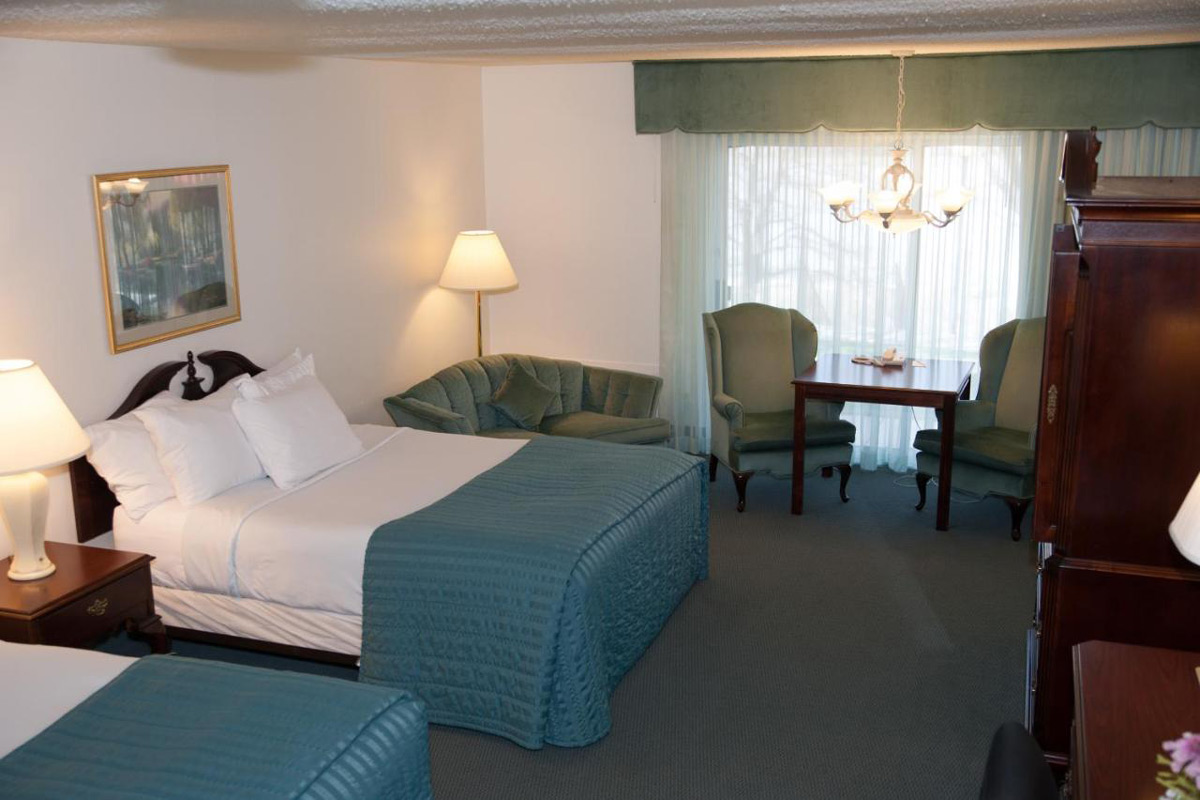 Situated in the quaint town of Green River, about 59 miles from the park, the delightful River Terrace Inn is a fantastic option if you're looking to explore The Maze in Canyonlands.
Traditionally styled and optimizing serenity, this 2-star hotel offers spacious ensuite rooms, a full hot breakfast to fuel up for the day, and free Wi-Fi access throughout the property. Outside you'll find two swimming pools to splash around in before or after an adventure.
River Terrace Inn also offers outdoor patio seating overlooking the Green River, a perfect spot for an afternoon cocktail or a nightcap.
In the mood for southwestern cuisine at an eclectic riverside eatery, Tamarisk Restaurant makes great enchiladas, tacos, and fajitas.
Scenic View Inn & Suites Moab
££
Moab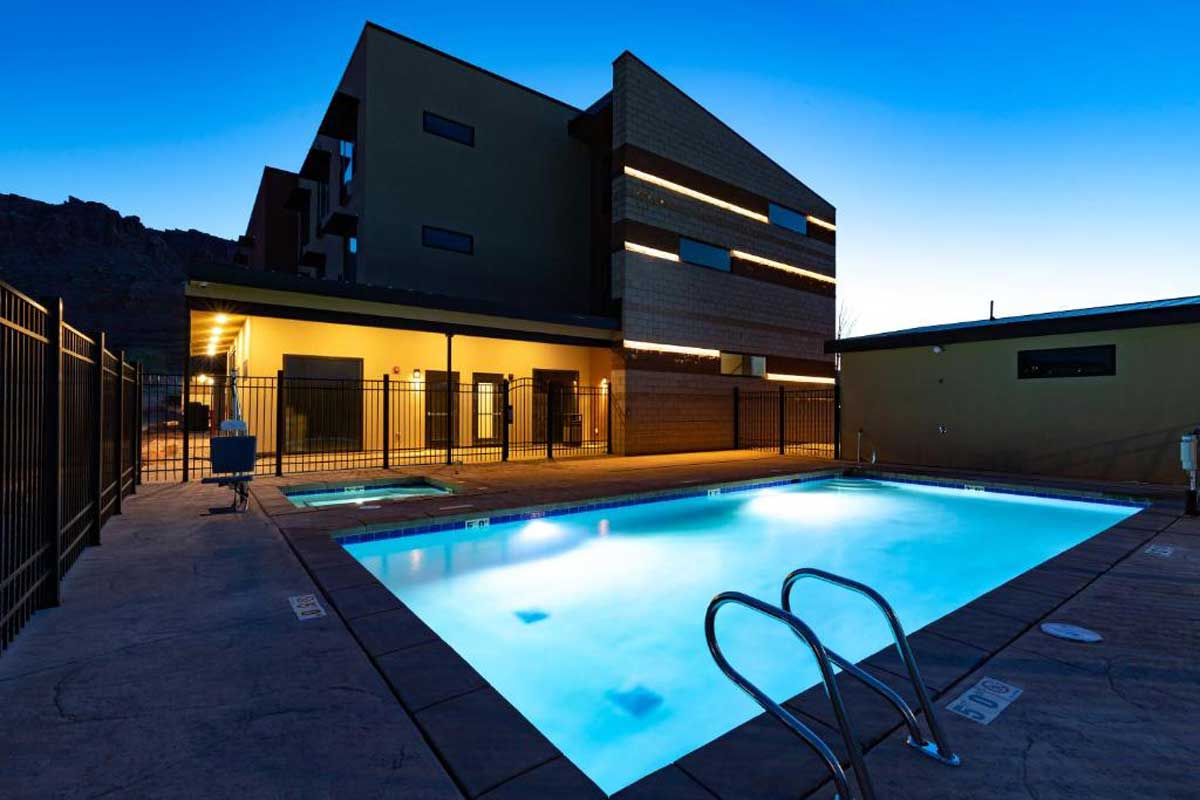 Minimalistic, clean, and modern — the Scenic View Inn & Suites in Moab offer great amenities and a whole host of friendly staff. Situated about 40 miles from Canyonlands National park, this dazzling 4-star hotel brings you closer to some of the best hikes in Moab.
Up for the challenge? Take on the Hidden Valley Trail, just 0.7 miles from the hotel — that's right at your doorstep. This moderate yet challenging hike requires relative fitness and a determined spirit to complete.
And the payoff? You'll get sweeping views of Moab and the Spanish Valley nearby.
There are loads of other fun activities you can do near Scenic View Inn & Suites, from mountain biking and river rafting to boat tours, evening tours, and even winery visits.
Top Tip: Take in the best views of Moab from the water by taking a scenic Colorado River Dinner Cruise with music and a live show.
Check Rates and Availability
Comfort Inn Green River National Park Area
£
Green River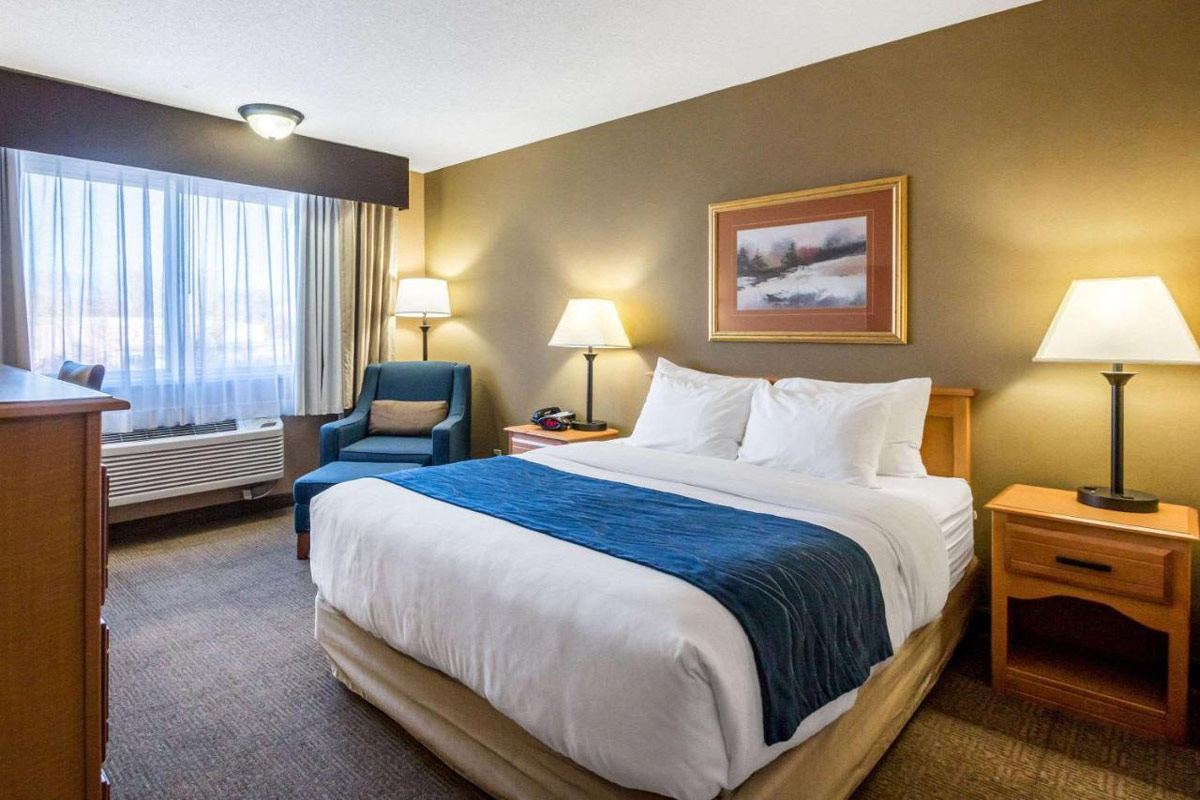 Of all the best Canyonlands, Utah, hotels Comfort Inn in Green River offers the most diverse activities and authentic western lodging. Situated about 59 miles from the park, this charming 2-star hotel is the ideal middle point between two of Utah's Mighty Five.
Comfort Inn features traditional decor throughout its suites. You can also enjoy a relaxing dip in the hotel's indoor pool or hot tub.
Spend time exploring nearby attractions like the Crystal Geyser and Dead Horse Point State Park. Other activities include mountain biking, camping, and river rafting.
Inn at the Canyons
£
Monticello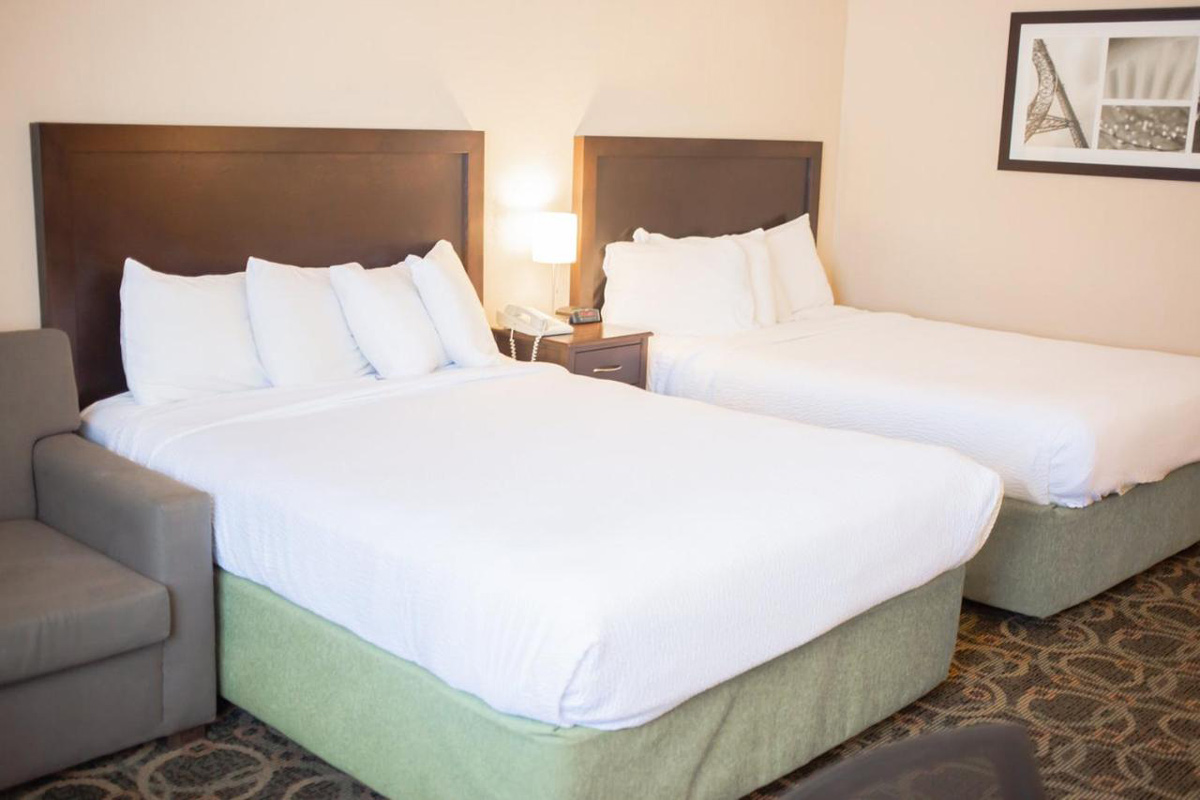 Looking for a budget-friendly stay in one of the best hotels around Canyonlands National Park? You're in luck because Inn at the Canyons gives you that and more.
Situated about 46 miles from the park, this modest 2-star accommodation also offers spacious rooms and a delicious breakfast.
At Inn at the Canyons, you can get luxe amenities like an indoor heated pool and hot tub. You'll also be close to the Needles in Canyonlands and Newspaper Rock State Historical Monument, where you can learn about the area's history.
Best Hotels Near Canyonlands National Park: Frequently Asked Questions
What Is the Best Area to Stay in Canyonlands National Park?
There are no lodgings or restaurants inside Canyonlands National Park, so the best area to stay would be Moab. Our helpful guide on where to stay in Moab will give you the best options available.
What Is the Closest Town to Canyonlands National Park?
About 30 miles from the park entrance, Moab is the closest town to Canyonlands National Park. If you want to visit the Needles District, Monticello would be a closer option, and Green River would be ideal for a visit to the Maze District.
How Many Days Should I Spend at Canyonlands National Park?
Two days is the perfect number of days to spend in Canyonlands National Park. On day one, you can explore the Island in the Sky District. Then you could either do the Needles or the Maze on day two.
What Is the Best Time of Year to Visit Canyonlands National Park?
The best time to visit Canyonlands National Park is early spring or fall. You'll beat the summer heat and have fewer crowds to compete with during this time.
Practical Tips to Consider Before Booking Your Canyonlands National Park Hotel
Make sure to decide which region of the Canyonlands National Park you'd like to visit before making a reservation. This way, you can pick the closest and most convenient accommodation.
Plan ahead. Decide which restaurants and activities you'd like to explore in and around the park, and make an early booking. This helps in the peak season when accommodation and dining establishments fill up quickly.
Canyonlands National Park: Read Next