Planning the ultimate trip through Southern Utah? Discover the best things to do in Grand Staircase Escalante, from iconic hikes to legendary scenic drives.
The Grand Staircase Escalante National Monument stretches across 1.87 million acres of rustic Utah landscape. And it should feature highly on your Utah bucket list – you'll be able to see everything the state has to offer here, from unique Hoodoos to lush evergreen forests.
It's no wonder driving through the Grand Staircase is one of the best things to do in Southern Utah.
So when you're ready, strap on those seatbelts, and let's get exploring!
For a relaxing time in Grand Staircase Escalante, book your stay at the luxurious Canyons Bed and Breakfast.
Top 5 Things To Do in Grand Staircase, Utah
Take a Scenic Drive Down Highway 12
If you ask us, there's nothing quite as spectacular as enjoying a leisurely 123-mile drive along Highway 12. This drive stretches from Bryce Canyon National Park in the south to Torrey in the North and offers impressive views.
It's definitely one of the most scenic byways in the area, as you'll pass areas like Red Canyon State Park. But one of the best places to stop by is Powell Point Vista, where you can admire the Wasatch Limestone formations.
Other picturesque parts of the drive include the Hogback area, Capitol Reef Park (we highly recommend making a stop here), and unique arches that stretch above the road.
Top Tip: When visiting Grand Staircase Escalante, this self-guided driving tour will help you get the most out of your trip.
Explore Cathedral Valley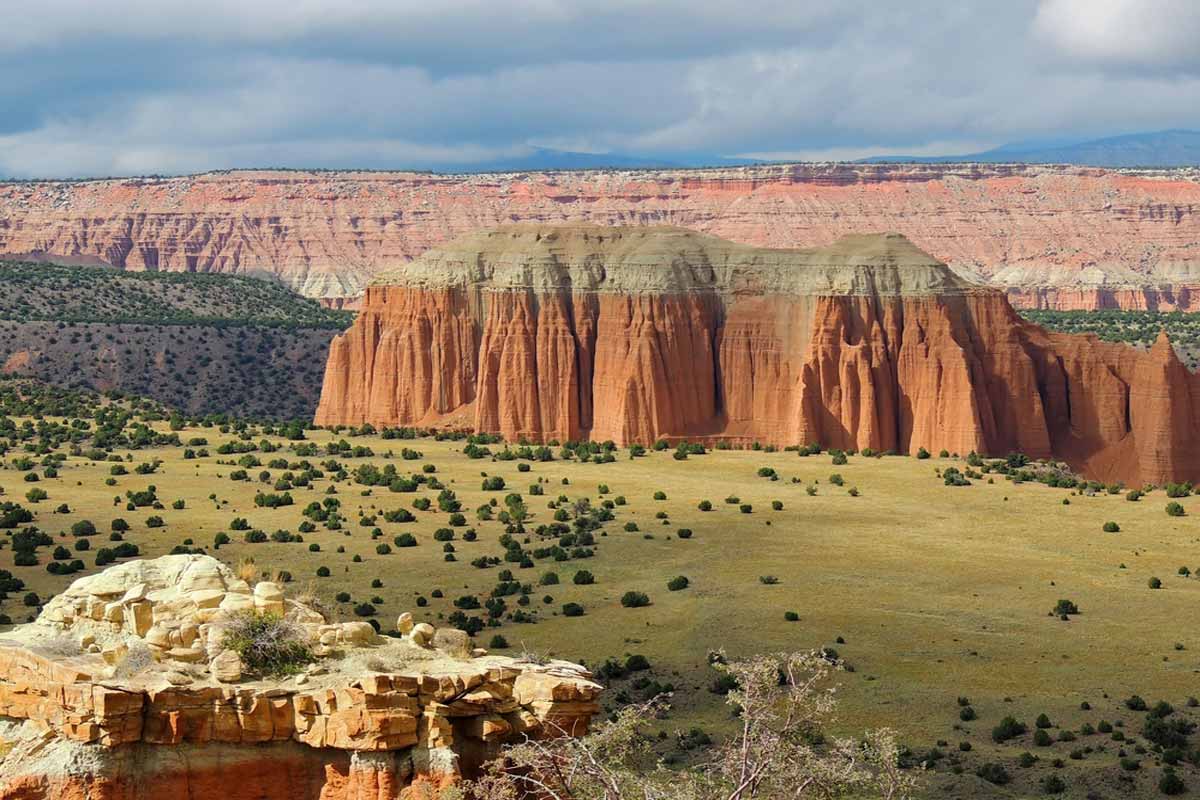 Fancy admiring unique desert reefs and breathtaking rock formations? We thought so. You'll enjoy the Cathedral Valley loop trail. This is a 57.6-mile road that begins at Hartnet Road and will take around 7 hours to complete.
You'll be able to explore the Bentonite Hills, which softly paint the landscape in hues of green, grey, purple, and orange. Some standout landmarks you can see include the iconic Jailhouse Rock, Glass Mountain, and the Gypsum Sinkhole.
Top Tip: Discover Cathedral Valley and more of this amazing region on this Capitol Reef day trip.
Visit The Wave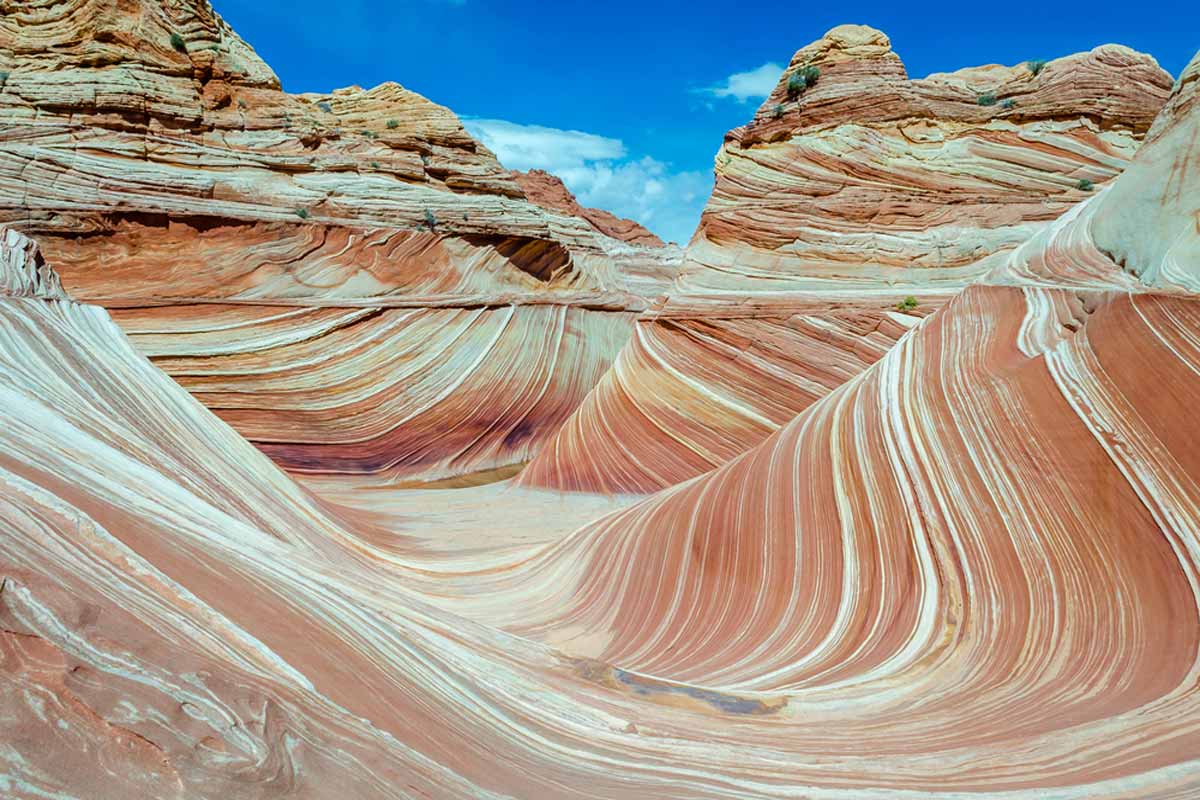 Next up in this epic guide to Grand Staircase landmarks is The Wave – a breathtaking natural landmark in the Coyote Buttes North region. There's plenty to see out here, from dinosaur tracks to expansive sand coves.
But the true star of the show pops into view after a 2.8-mile hike along Wire Pass Trailhead to The Wave. As the name suggests, you'll see a landscape of orange and red stone curving and waving. It's a magical sight and one we highly recommend visiting.
Note: If you want to visit The Wave, You'll need to apply for a permit on a lottery held by recreation gov.
Discover Zebra Slot Canyon
Take a 12-mile drive from Escalante and you'll reach the mesmerizing 5.3-mile (two-hour) out-and-back hike of Zebra Slot Canyon.
Getting to the slot canyon is easy. But the tricky part is yet to come, where you'll have to squeeze through sections as narrow as 10 feet.
There are also some areas with standing water, which can easily reach chest height if there is recent rainfall. Overall, on this 3-hour hike, you'll be able to admire the majestic stripes of these narrow canyon walls from close up – like really close.
Top Tip: Rains in the area can make this hike extremely dangerous. Make sure you keep track of the weather before hiking.
Admire the Wahweap Hoodoos
Although similar to the bewitching Bryce Canyon Hoodoos, the Wahweap Hoodoos are a unique part of Utah. You'll have to embark on an enthralling 10.4-mile (3-and-a-half hour) out-and-back hike if you want to spot them.
It's a long walk through the breathtaking region of Glen Canyon before you reach the towering Hoodoos. What makes these so unique? Aside from their thin and pale spires, most have striking dark caps – we thought they looked a lot like mushrooms.
But it's not just hoodoos out here, with beautiful slot canyons and grooved mounds that look like wrinkly skin.
Brilliant Things to See & Do in Grand Staircase
Hike to Calf Creek Falls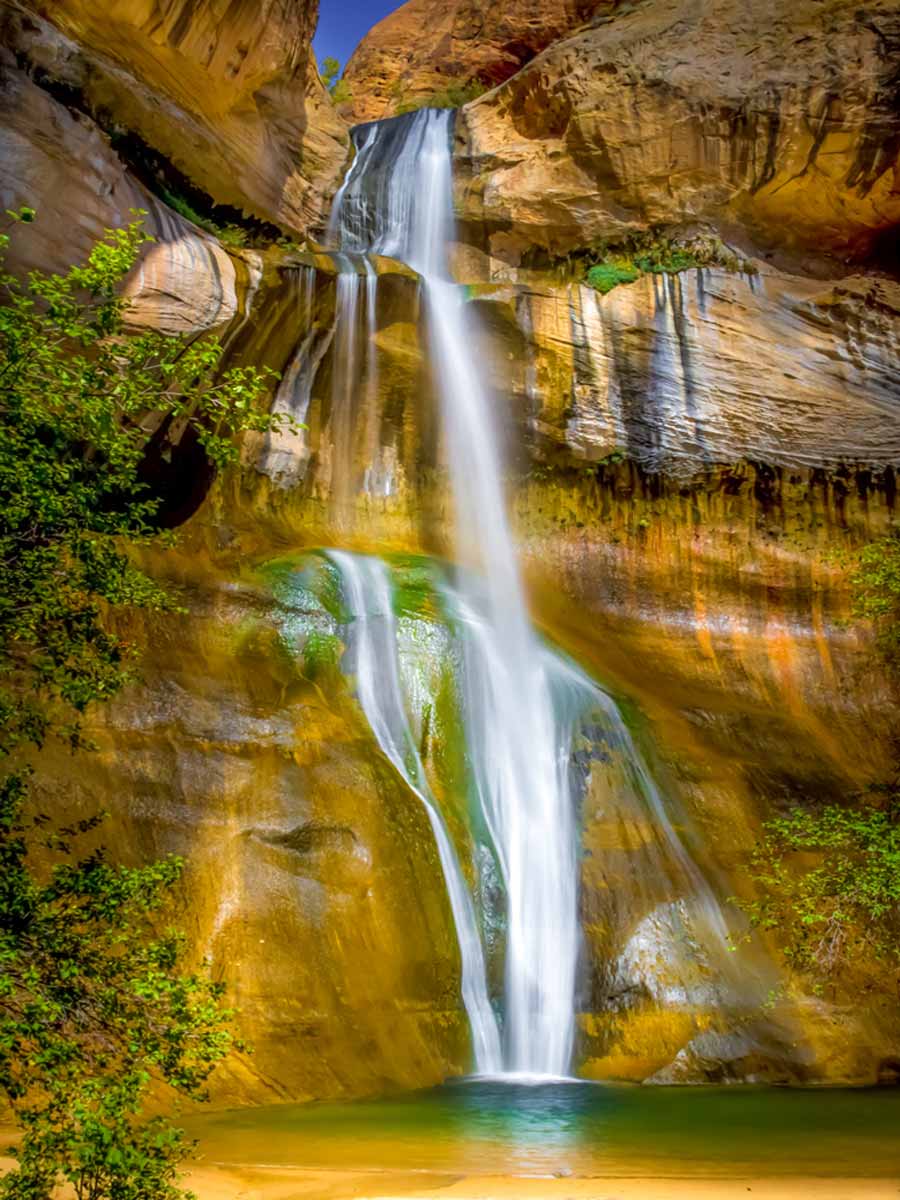 If you haven't had enough of hiking (and with views this good, how could you?), you're really going to enjoy a 6.8-mile out-and-back hike to Lower Calf Creek Falls.
Along this two-and-a-half-hour hike, you'll see the distinct Navajo Sandstone. And if you get close enough, you may see some prehistoric rock art.
It's a relatively moderate hike, with an elevation gain of 866 feet, but the breathtaking views at the end are well worth the effort. At the trail's end, you'll enjoy unforgettable views of a turquoise waterfall 130 feet high cascading toward you.
Top Tip: Bring a costume and enjoy a refreshing swim in the natural pool before heading back on the trail.
Visit Escalante's Petrified Forest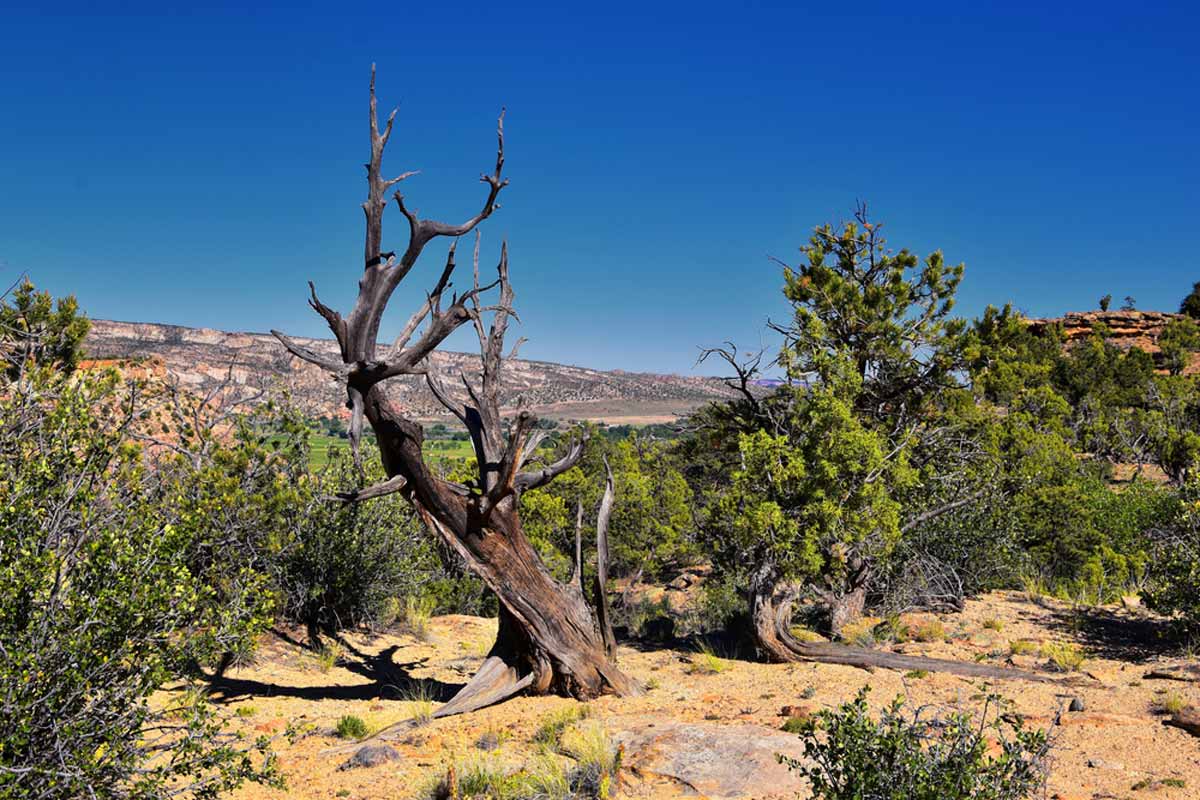 If you want to walk amongst ancient fossils, look no further than the Escalante Petrified Forest, half a mile from the town's center.
Throughout the park, you'll be able to find a world set in stone, with trees, dinosaur bones, and even marine life all fossilized. It's some pretty awe-inspiring stuff.
Tackle the easy one-mile Petrified Forest loop trail, which takes you past lava flows and ancient juniper forests. And if you want to see the largest concentration of these multi-colored fossils, enjoy the 0.75-mile Sleeping Rainbow Trail.
Enjoy the Peek-a-Boo and Spooky Slot Canyons Trail
If you think the Zebra Slot Canyon was impressive, wait until you tackle this 3.5-mile hike. This is a relatively difficult climb, as you need to schlepp yourself up to 12 feet in some sections.
Peek-a-Boo Slot Canyon is a remarkable part of the hike, with majestic arches and narrow crevices you need to squeeze through. It's not for the faint-hearted.
Then you'll get to the darker and more mysterious Spooky Slot Canyon, where smooth walls and narrow passes make this an exhilarating hike.
Top Tip: For the ultimate experience on the Peek-a-Boo Slot Canyon, join this 3-hour hiking tour.
Drive the Hole-in-the-Rock Road
It might have a funny name… But what exactly is the Grand Staircase Escalante? You'll find all the answers on this 62-mile scenic drive. It stretches from Escalante to the beautiful Glen Canyons and treats you to unforgettable views of the Grand Staircase.
Along the drive, you'll see the iconic five steps – the pink, grey, white, vermillion, and chocolate cliffs. But there's more to see along this winding road, including sites such as Devil's Garden to the iconic Dance Hall Rock.
Unique Things To See & Do in Grand Staircase: Hidden Gems That Are Off the Beaten Track
Discover Devils Garden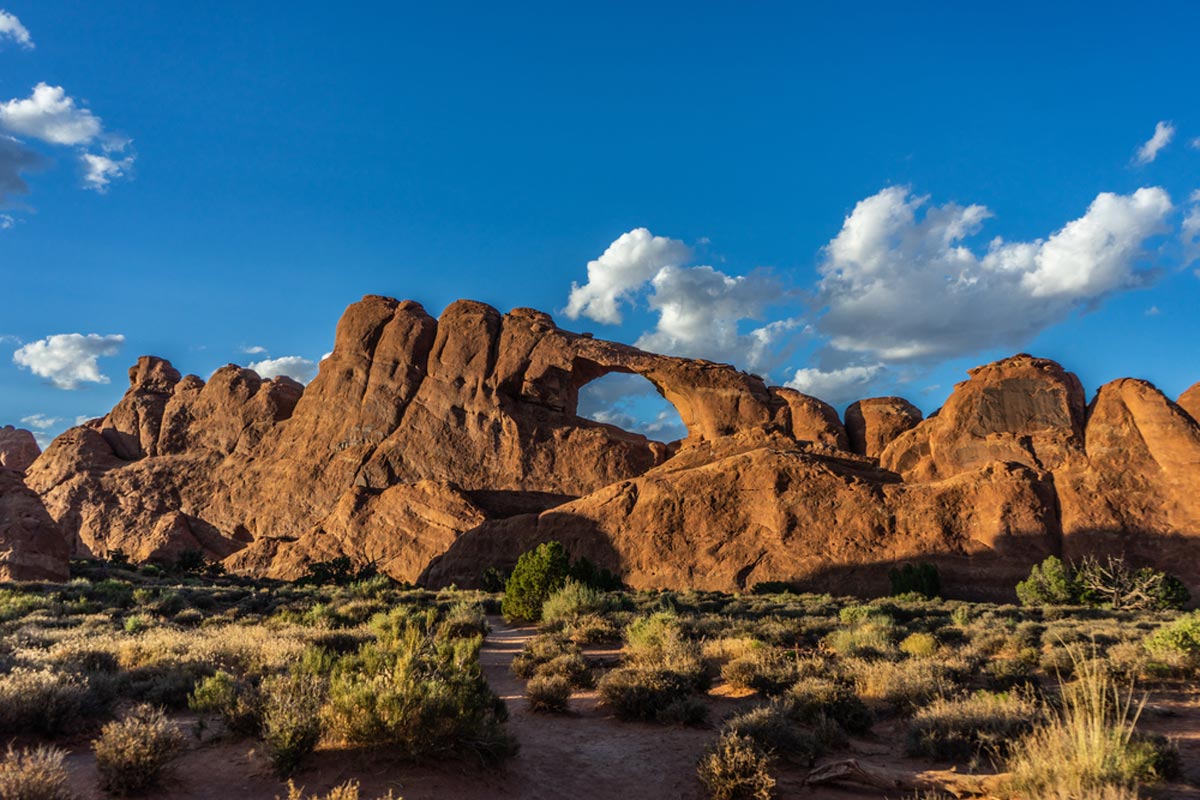 This is a relatively small park, 12 miles from Escalante, along the Hole-in-the-Rock road. Easily mistaken for the Devil's Garden in Arches National Park, this is a much smaller but equally enjoyable part of Utah.
Along the half-mile hike, you'll be able to explore the mysterious Hoodoos, Metate, and Macho Arches. These landmarks are a photographer's dream begging you to snap an epic shot.
Explore Kodachrome Basin State Park
Now, we're sure you're in Utah because you want to see some awe-inspiring scenery. If so, you need to explore the Kodachrome Basin, 12 miles off Highway 12.
This is a land of 67 monoliths and dikes towering above the horizon, including Chimney rock and Ballerina Geyser.
Top Tip: We recommend you take the 3.5-mile Panorama Loop Trail and 0.5-mile Nature Loop Trail to see all the best of the park.
Visit Grosvenor Arch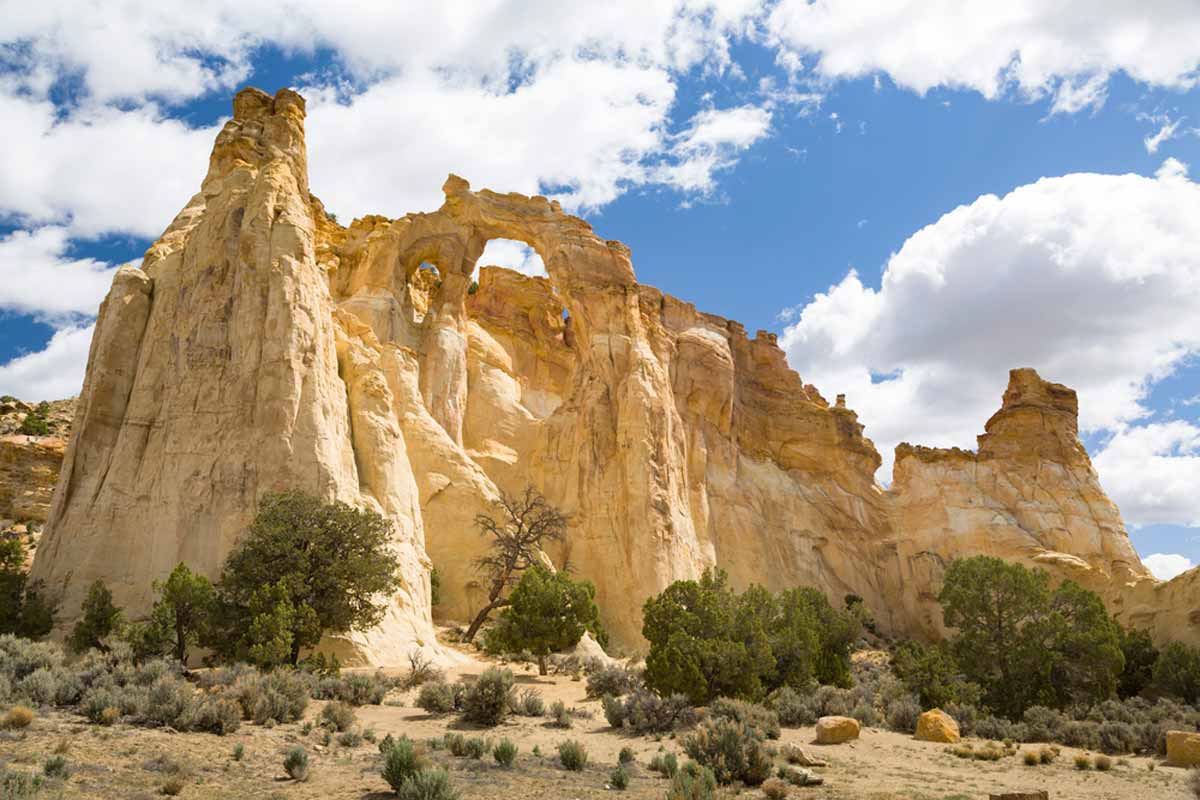 Last, but certainly not least: Admire the unique Grosvenor Arch, which is actually two arches that rise 150 feet above the ground.
After a 9-mile drive on Highway 12 and a 10-mile drive along Cottonwood Canyon Road, you'll take a short walk to Grosvenor Arch. It's a fantastic picnic spot on the way to Kodachrome Basin, with unforgettable views of a truly iconic Grand Staircase landmark.
Top Tip: Join this epic drive and hike tour for an unforgettable adventure past Grosvenor Arch.
Things to do in Grand Staircase: Practical Tips for Your Trip
How Long to Visit in Grand Staircase Escalante?
We recommend exploring the Grand Staircase across four or five days. You'll be able to see just about everything in this guide and enjoy all the best things to do in Kanab and other surrounding towns.
Best Time to Visit Grand Staircase Escalante
The best time to visit Grand Staircase Escalante is in the spring and autumn months of March, April, May, September, and October.
Where Should I Stay in Grand Staircase Escalante?
Hampton Inn Kanab (Mid-Range)
The Hampton Inn provides fantastic budget-friendly lodging, spacious rooms, and an excellent on-site restaurant. You can relax in the indoor pool after a long day of exploring, and if you have pets that want to join in on the fun, they're more than welcome here.
Canyons Bed & Breakfast (Luxury)
For a more personal touch, stay at the luxurious Canyons Bed and Breakfast, tucked away in the quiet town of Escalante. The rooms provide lovely views of the Utah landscape, and the breakfasts here are absolutely sublime.
Recommended Tours in Grand Staircase Escalante
Things to do in Grand Staircase Escalante: Map
Grand Staircase Escalante: Read Next