Discover the best things to do in Arches National Park with this in-depth guide.
Ah, Arches — one of Utah's Mighty 5 parks that deserves all the rave reviews and attention it gets. With desert views, countless hiking trails, and weird, quirky, downright mind-blowing rock formations, there's plenty to see and do in Arches National Park.
If you're unfamiliar with this park (which makes for a great Utah National Parks Road Trip stop), we'll get straight to the chase.
The name may be a bit on the nose, but that's precisely what you'll find in this desert oasis. Besides the roughly 2,000 sandstone arches scattered across this 76,680-acre park, you'll also find tons of mesas, sandstone fins, hoodoos, and balanced rocks.
Ready to discover one of the best things to do in Utah? Read on to see what to do in Arches National Park.
Looking for a great hotel near Arches? We highly recommend staying at the elegant Hyatt Place Moab, a short drive from the park entrance.
Top 5 Things to Do in Arches National Park
Arches Scenic Drive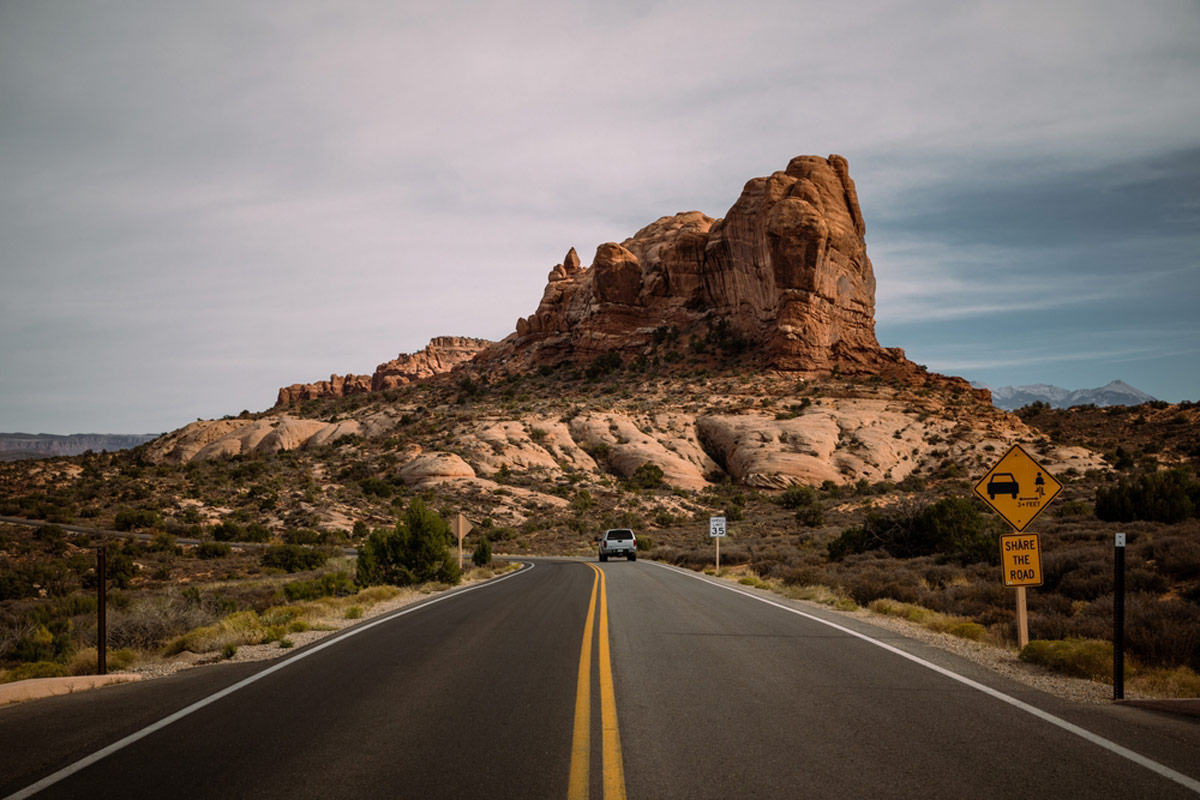 If you're short on time or simply not in the mood to hike, the 19-mile Arches Scenic Drive is the perfect solution. The road leads off Highway 191, through the entire park, to the Devil's Garden Trailhead.
There are several spectacular sights along this drive, including Balanced Rock and the La Sal Mountains Viewpoint. So it would be good to budget about two hours to allow time to get out and snap a few photos along the way.
Tip: Learn a bit more about the park while you enjoy the scenic drive with a guided audio tour.
Camping at Devil's Garden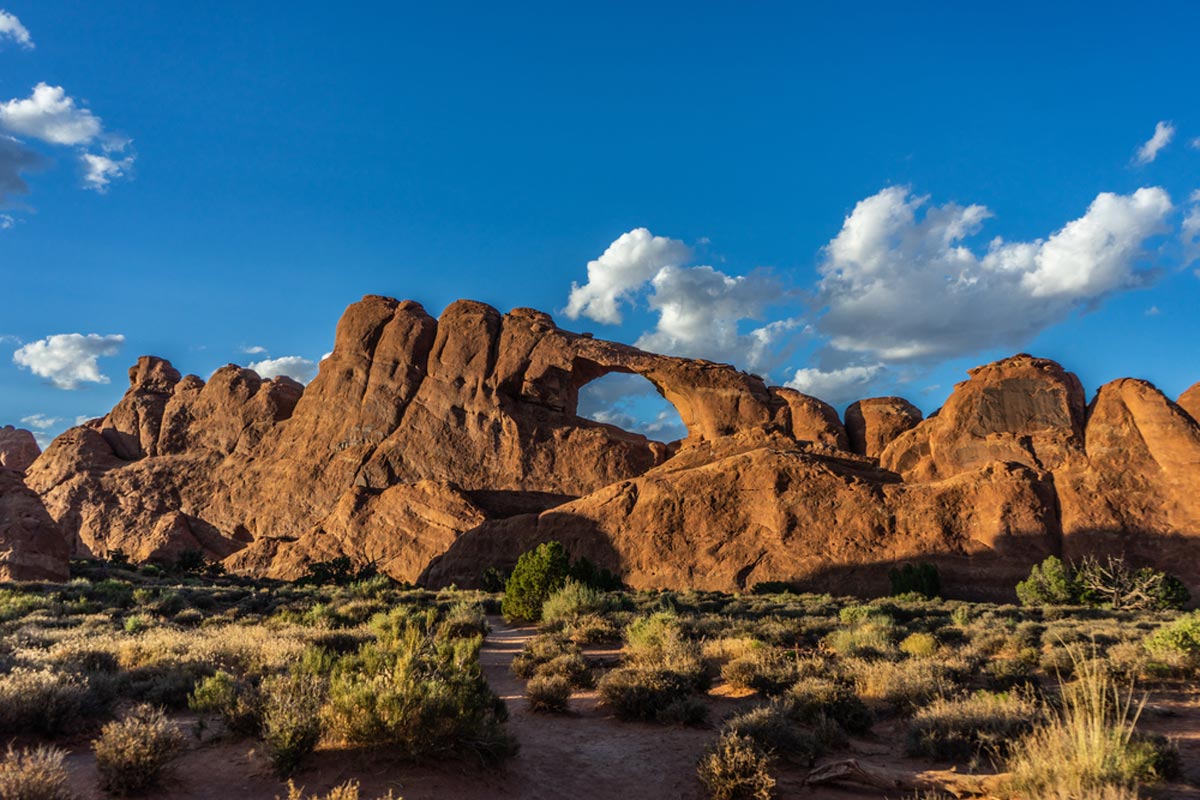 There's only one campground in Arches National Park, Utah, and it has a bit of an intimidating name. But don't let the name scare you off.
This campground is ultra-safe and super popular around summer. So the scariest thing about camping here is managing to book a site for peak season.
Camping is undoubtedly one of the best things to do at Arches National Park. So you have to reserve one of the 51 sites in advance if you'd like to camp here between 1 March and 1 October.
Luckily, sites are available on a first-come, first-serve basis during the shoulder season between November and February.
Top Tip: The campground has drinking water, flush toilets, and picnic tables, but no electrical hookups.
Hike to Delicate Arch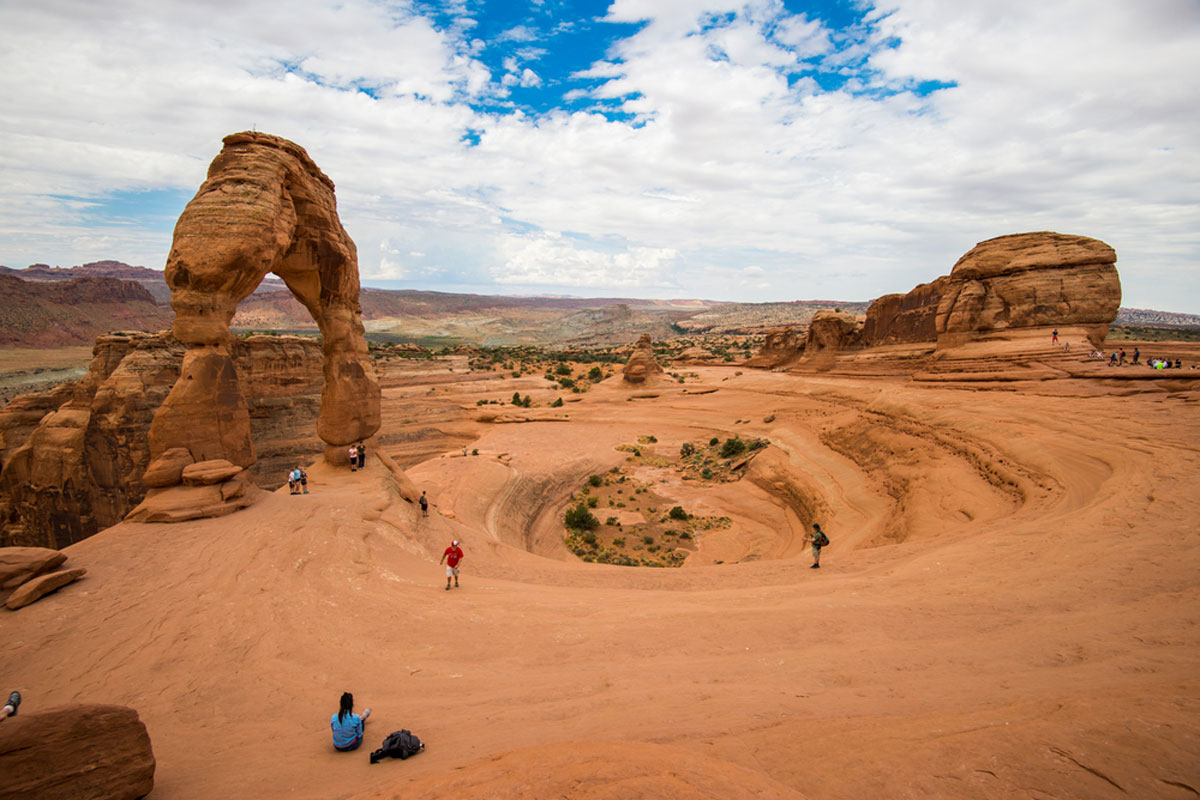 If Arches National Park had a poster child, Delicate Arch would be it.
This towering arch is one of the best things to see in Arches National Park. This towering work of nature is extra attractive because of the views of the mountains and other rock formations nearby.
This is definitely the place where you'll want to put your landscape photography skills to the test. But first, you'll need to set off on a 3-mile round-trip hike to get there. You'll hike over sandy trails and slick rock from the car park on Delicate Arch Road.
This hike is mostly uphill, and there's a short drop-off just before you reach the arch, so be cautious and wear your best hiking shoes.
Devil's Garden and Landscape Arch Hike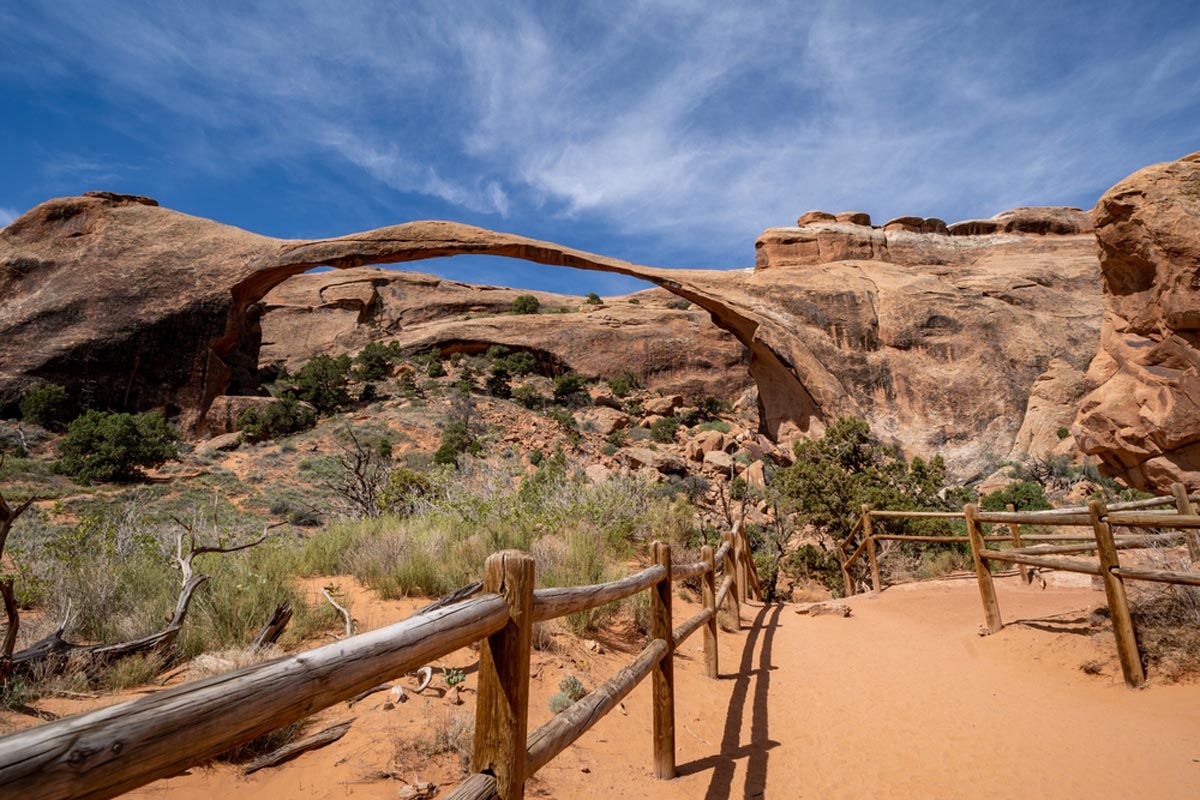 One of the most scenic hikes is around Devil's Garden and Landscape Arch.
This Arches National Park must-see attraction seems almost unreal — how could such a long sliver of rock support itself? Yet there it stands, as the longest arch in North America.
You can head straight to the 306-foot-long Landscape Arch from the Devil's Garden trailhead at the end of the Arches Scenic Drive. This car park also has restrooms. From the car park, take the 1.9-mile round-trip hike.
You can extend this trek further, though. And if you have the time, we absolutely suggest you do! The trail continues to Partition Arch, Navajo Arch, and Double-O arch. If you continue on the challenging Primitive Trail, you'll end up at Private Arch.
Snap Photos of The Windows and Turret Arch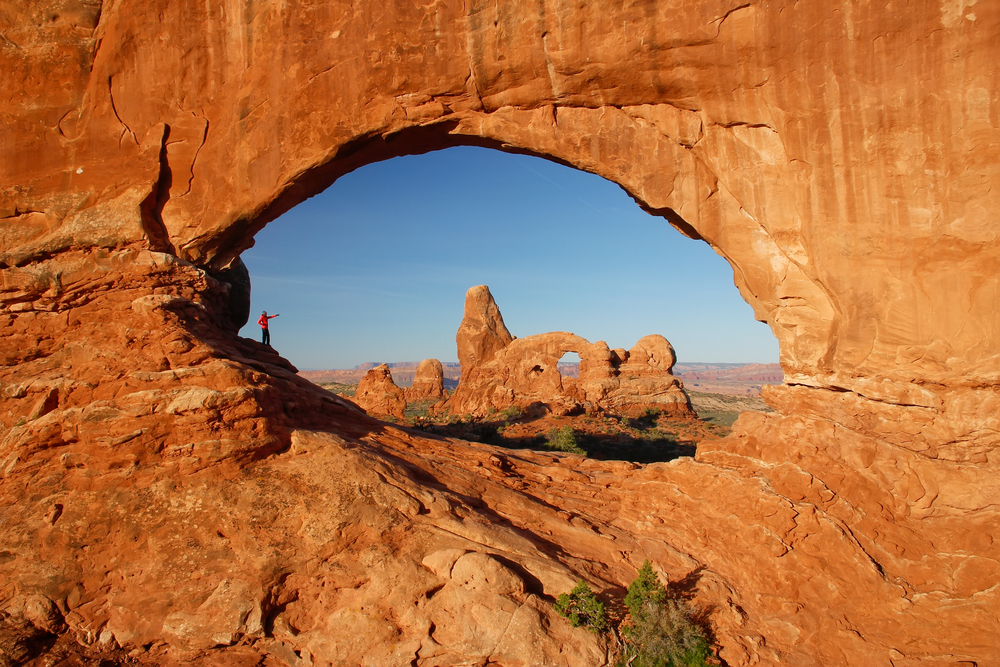 The Windows are one of the most popular arches in the park, consisting of the North and South Windows and the Turret Arch. From afar, the windows almost look like two eyes or a pair of spectacles.
A 1-mile loop trail connects all three arches. If you skip out on Turret Arch (which we wouldn't recommend), the path will be shorter.
The best way to capture these arches is by using one of The Windows to frame the Turret Arch.
You can reach the car park by driving onto Windows Road off Arches Scenic Drive.
Brilliant Things to See & Do in Arches National Park
See the Garden of Eden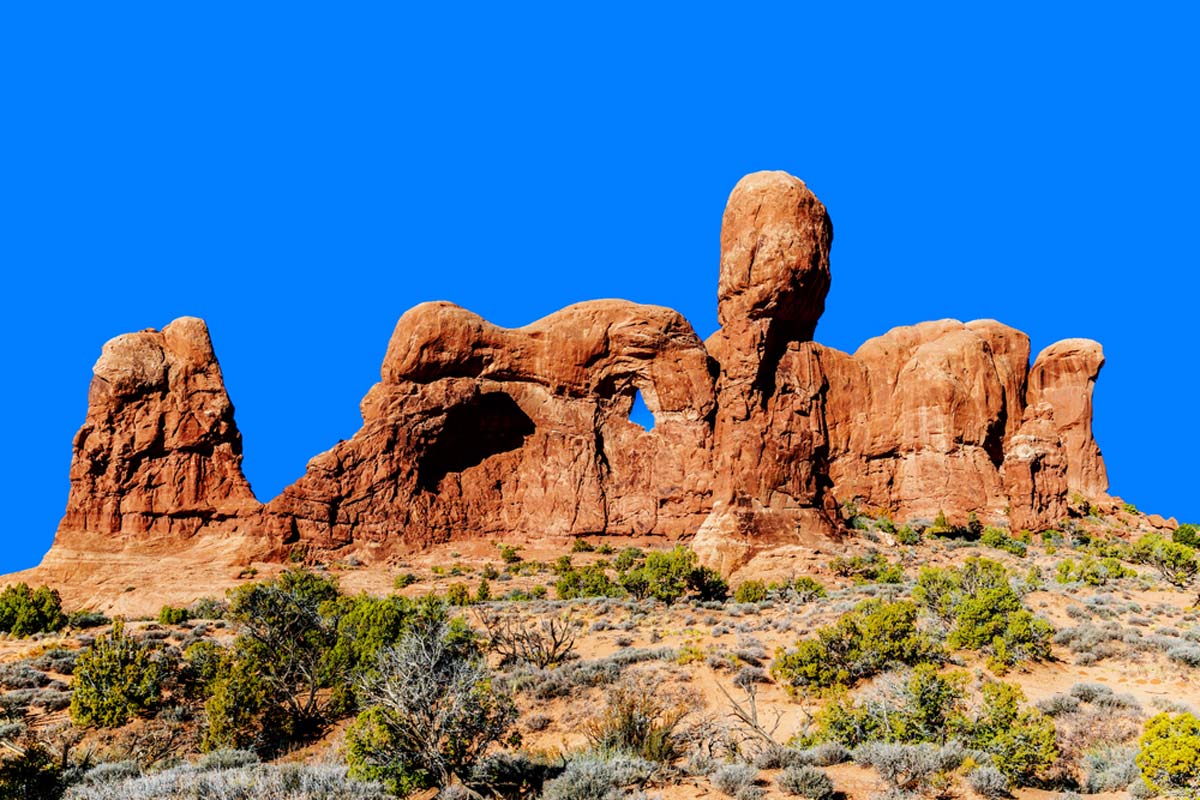 While not as lush with greenery as you'd imagine, this spot has tons of towering red sandstone formations and knobbly hoodoos.
You can access the Garden of Eden from Windows Road, which leads onto Garden of Eden Viewpoint Road. It's an incredible sight to combine with your visit to The Windows and Turret Arch.
Go Stargazing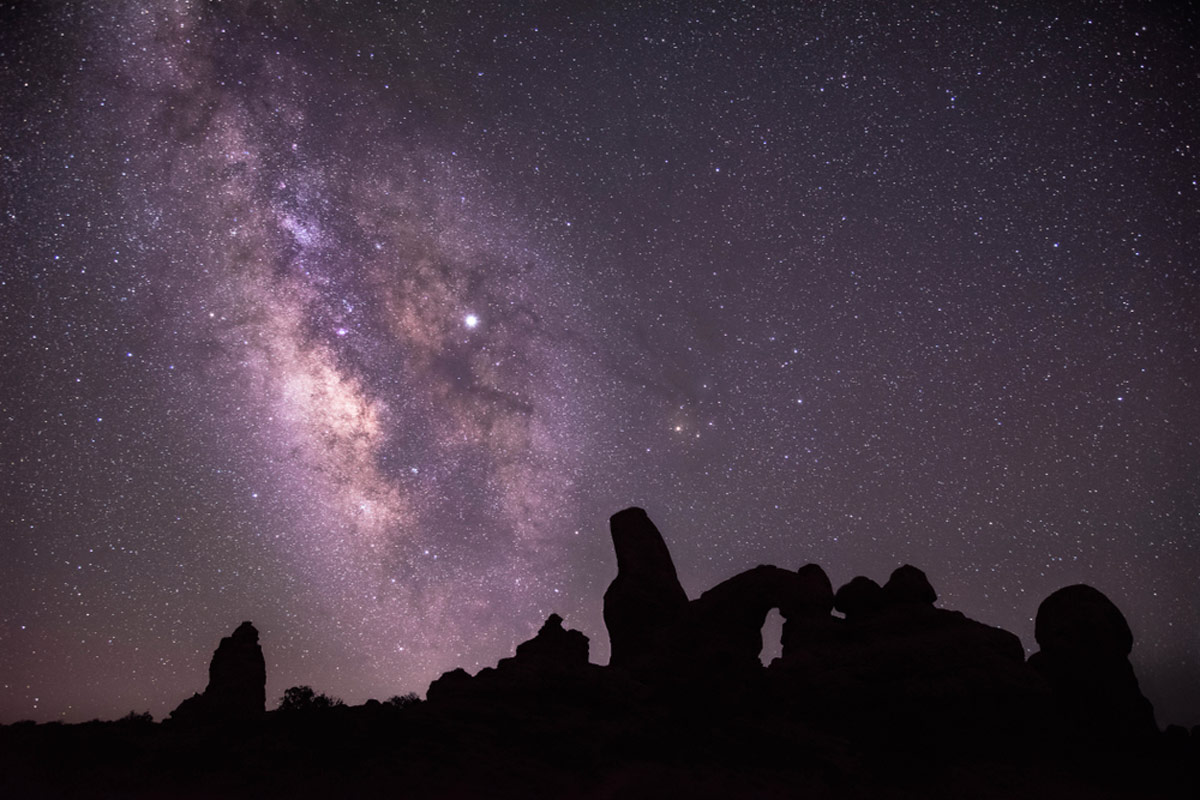 As with many of the parks in the Southwest, Arches is an International Dark Sky Association Certified park.
This means that it's one of the best places to see the heavens without the disruption of urban light pollution.
You can enjoy stargazing while camping, backpacking, or after watching the sunset. Some of the best spots to see the night sky are:
Garden of Eden Viewpoint
Balanced Rock Picnic Area
Panorama Point
The Windows Section
Backcountry Backpacking
If you like to brave the elements and enjoy more challenging adventures, you'll be happy to know that the park allows backpacking.
This requires a lot of preparation, and you'll have to follow a strict set of rules that protect the park. But how many people can boast that they've backpacked through this scenic wonderland?
You'll need to apply for a backcountry permit from the permit office about two miles south of Moab, which will grant you seven nights of backpacking and overnight stays in the park.
Hike Along Park Avenue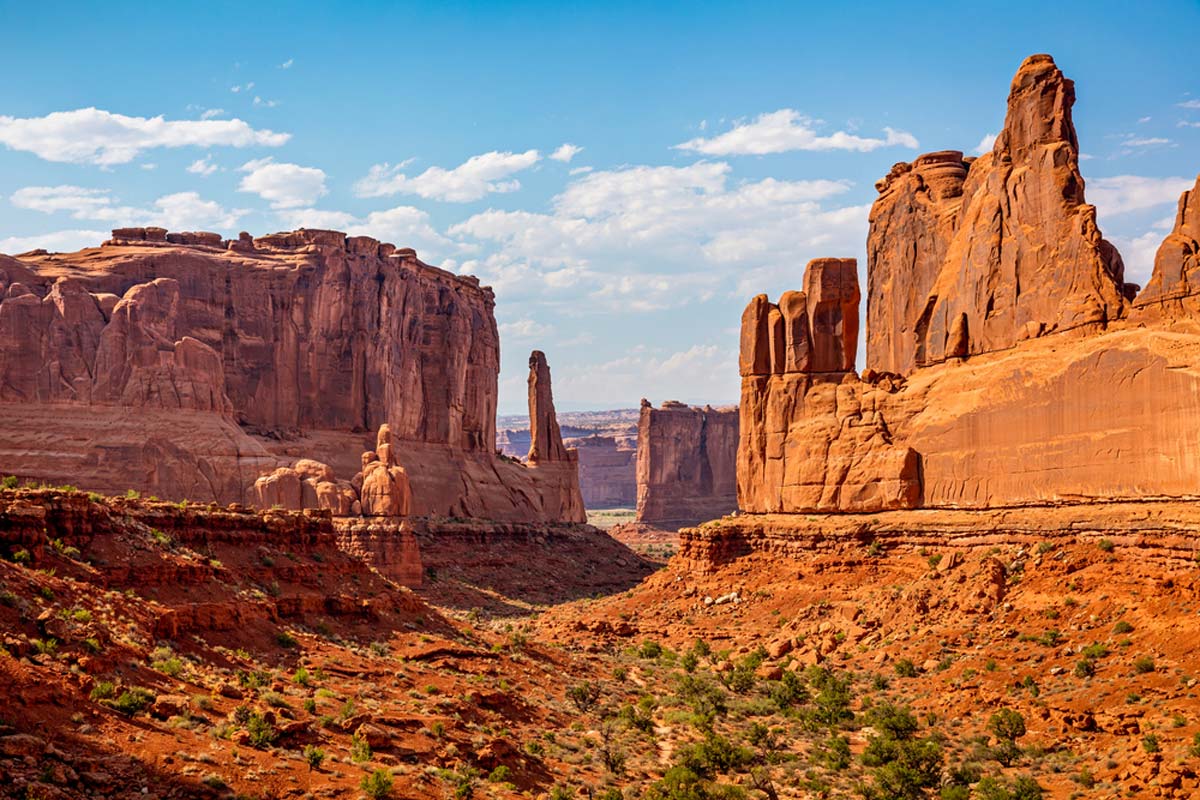 This short, easy round-trip hike passes by must-see Arches National Park attractions like the Courthouse Towers and the Three Gossips.
There aren't any arches to spot here, but the towering rock formations are absolutely mesmerizing.
Your 2-mile hike will kick off at the Park Avenue trailhead and take around 30-45 minutes. There's quite a steep drop about halfway along the trail, and the walk back up has a 300-foot elevation. So if you'd like to skip the calf work, stop midway and simply take in the epic views.
Visit Fiery Furnace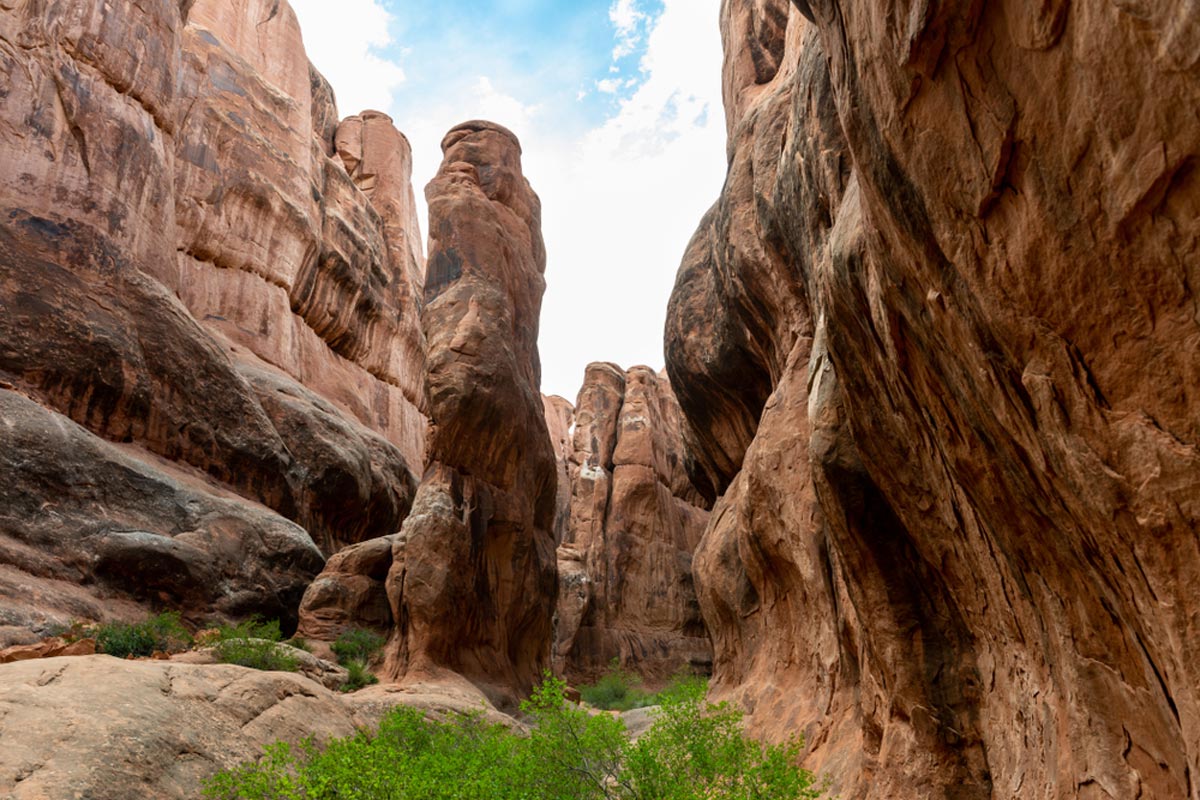 This name sounds intimidating, and in this case, you'll have every reason to feel cautious. But, if you're up for the adventure, you'll love this two-mile strenuous route through the maze of sandstone canyons.
There's limited GPS signal, and it's easy to get lost, so you can only do this hike with a ranger guide or a backcountry permit. You'll have to reserve a spot in advance.
Alternatively, if you're just stopping by for the gorgeous, fiery glow it gets at sunrise, you can go by car. Stop at the nearby parking lot and take the short walk to the Fiery Furnace Overlook for breathtaking views.
Join a Ranger-Led Program
Why not take advantage of the free ranger-led tours offered at the visitor center to understand this park better?
The park rangers provide short talks on the visitor center patio if you'd like a brief rundown.
They also offer guided walks around The Windows area and evening walks around the Devil's Garden Campground amphitheater.
Take Photos at Double Arch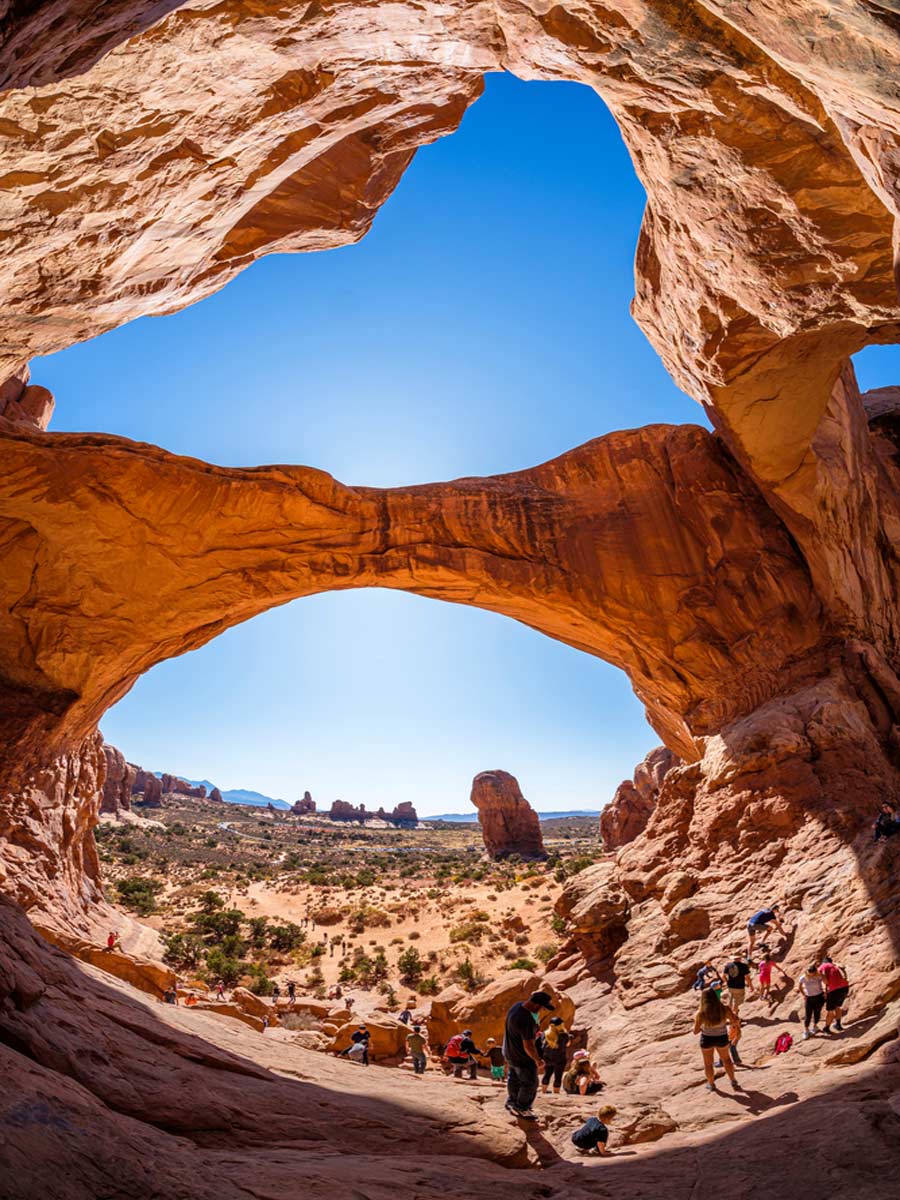 Wondering what to see at Arches National Park? At 112 feet high and 144 feet wide, Double Arch is the tallest and second-longest arch in the park.
It's also one of the few places where you can climb on the rocks underneath the arch.
To get there, you'll take a short walk from the parking lot at the end of Windows Road. The entire round-trip is about 0.5 miles and takes about 30 minutes.
Unique Things to See & Do in Arches National Park: Hidden Gems That are Off the Beaten Track
Tower Arch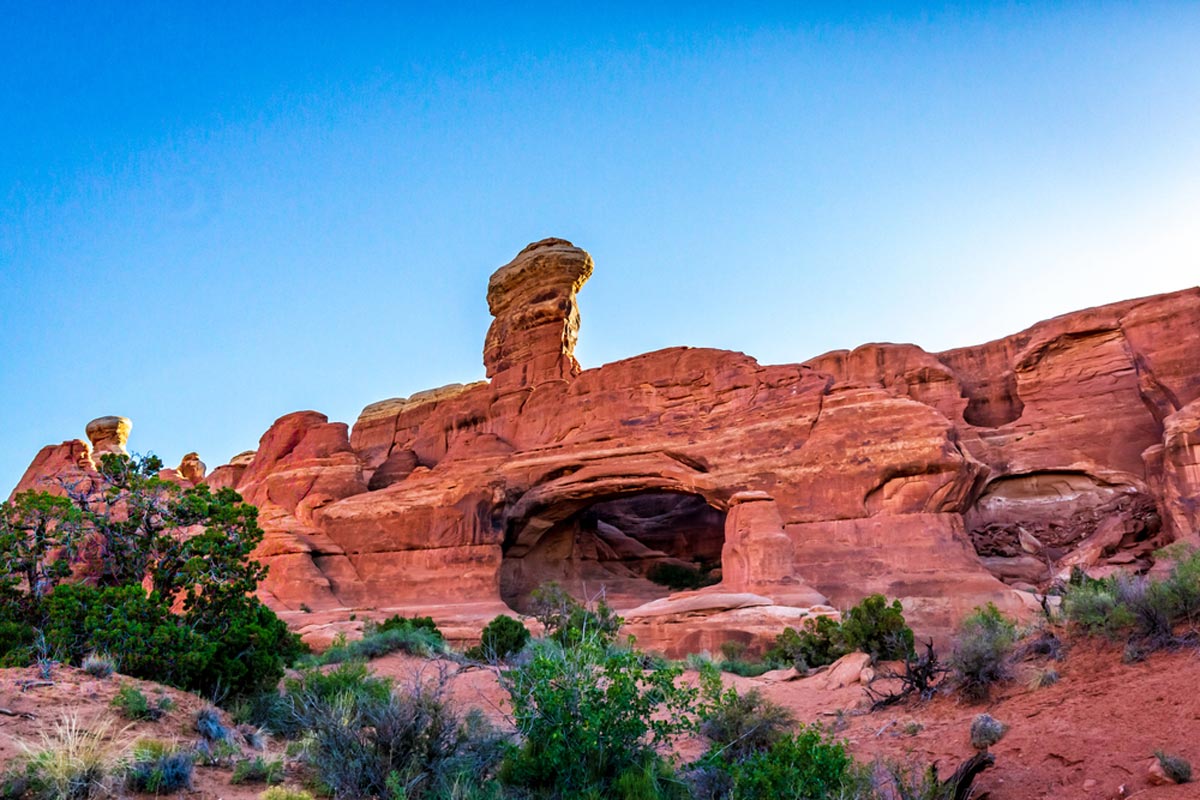 This off-the-beaten-path arch sits in a secluded area of the park, and you can access it on a short drive along a rough gravel road.
You can reach Tower Arch on a 2.5-mile moderate round-trip hike from the Klondike Bluffs or head to the west side of the arch with a 4×4.
From the west side, it's a mere 0.3-mile hike to the arch. Don't have a 4WD? Don't stress; you can try a 4×4 Arches half-day tour instead.
Stop at Balanced Rock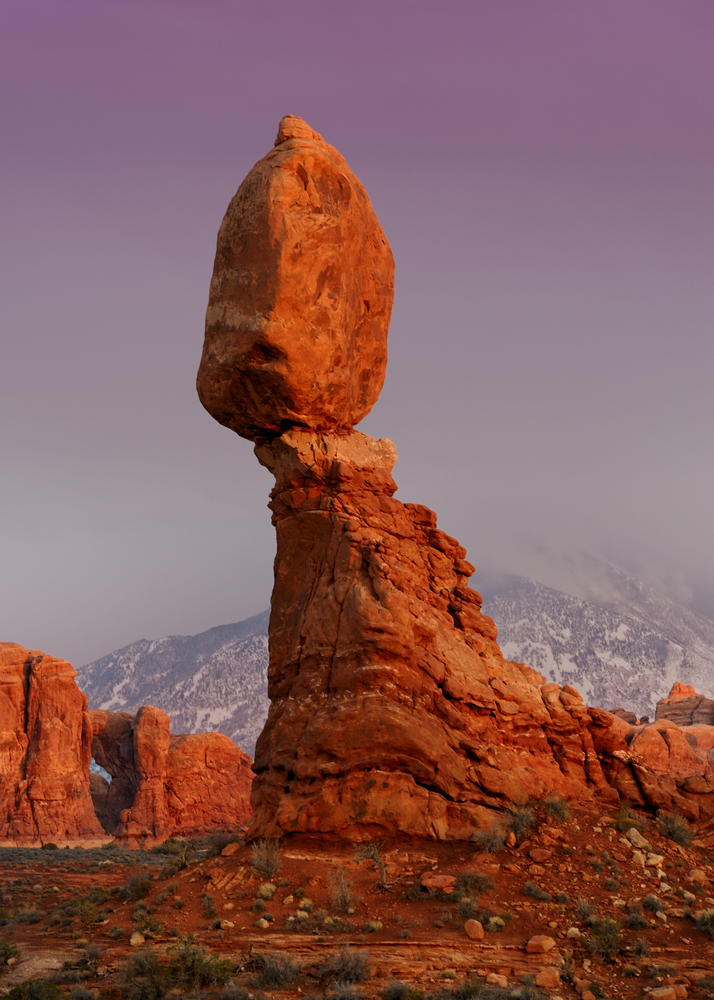 This is another one of those attractions that many people drive past along the main road. But it's definitely worth a 15-minute stop. The oval-shaped rock looks like it might topple over at any time — and makes for a fantastic photo op.
Hike to Tapestry Arch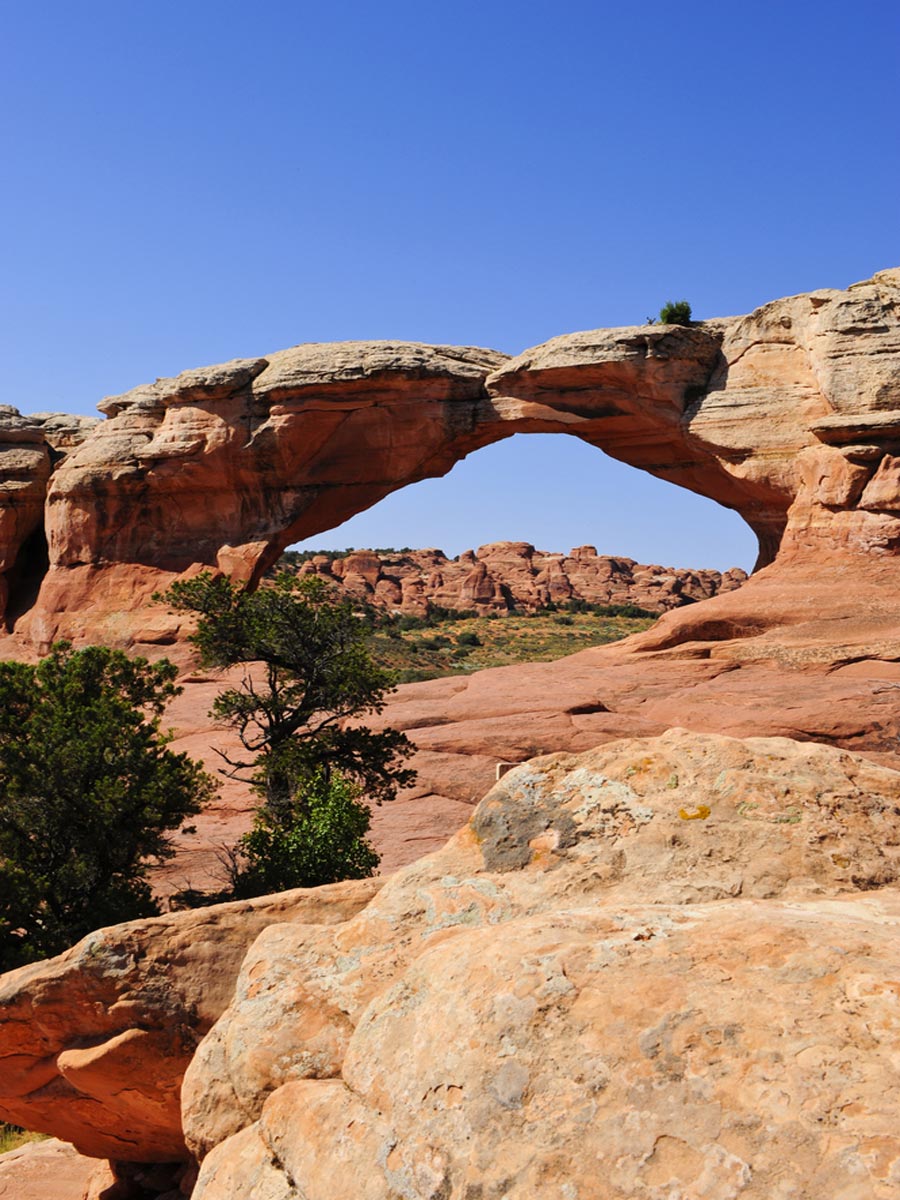 Looking to escape the large tourist crowds and have a sight all to yourself? Tucked away behind the Devil's Garden campground, the Tapestry Arch sees fewer visitors.
This arch has a few false arches by its side, almost giving the appearance of a patterned tapestry.
The 0.3-mile hike starts at the small Devil's Garden Parking lot and takes about 30 minutes. You can extend your walk to 2.8 miles by heading further to Sand Dune and Broken Arch.
Hike to Sand Dune Arch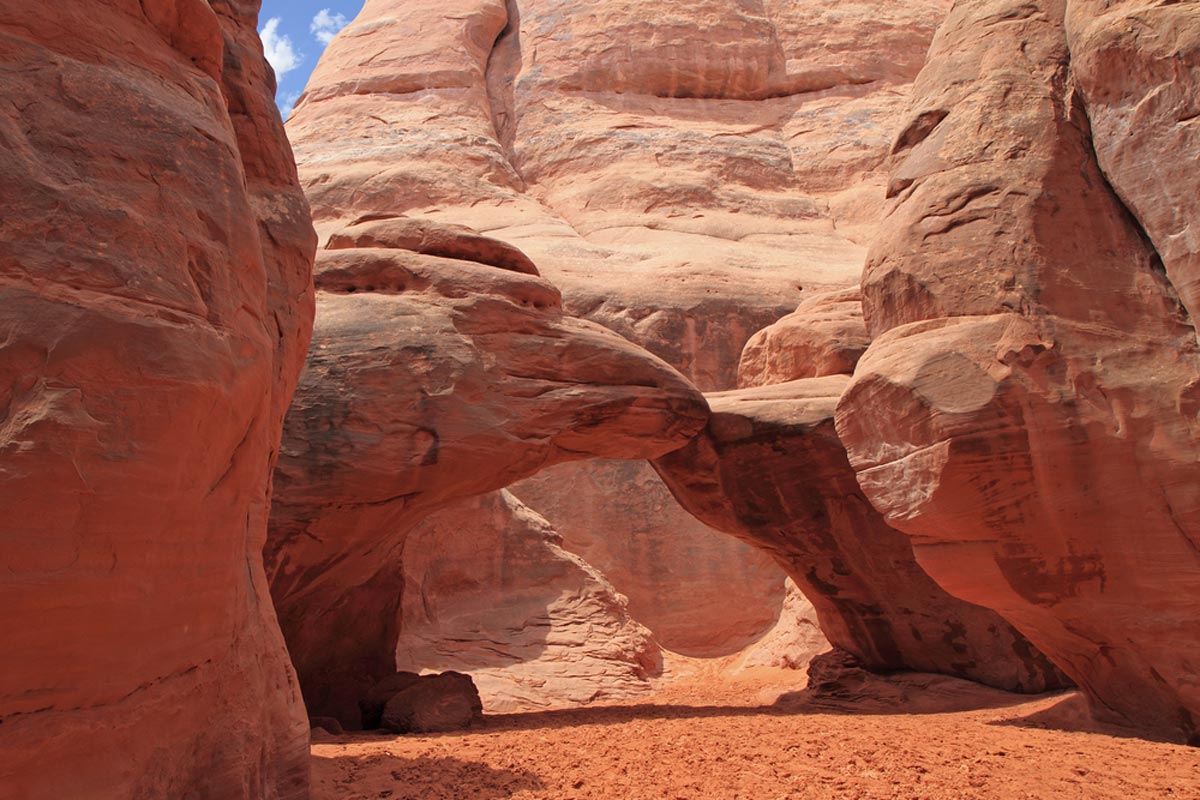 This arch is one of those hidden gems in Arches that is perfect for visiting during hot summer days.
Tucked away among towering fins of sandstone, it provides plenty of shade and almost makes you feel like you're walking through a slot canyon.
You'll take a short, 0.4-mile round-trip along a sandy trail that kicks off at the Sand Dune Arch trailhead to arrive here.
Visit Broken Arch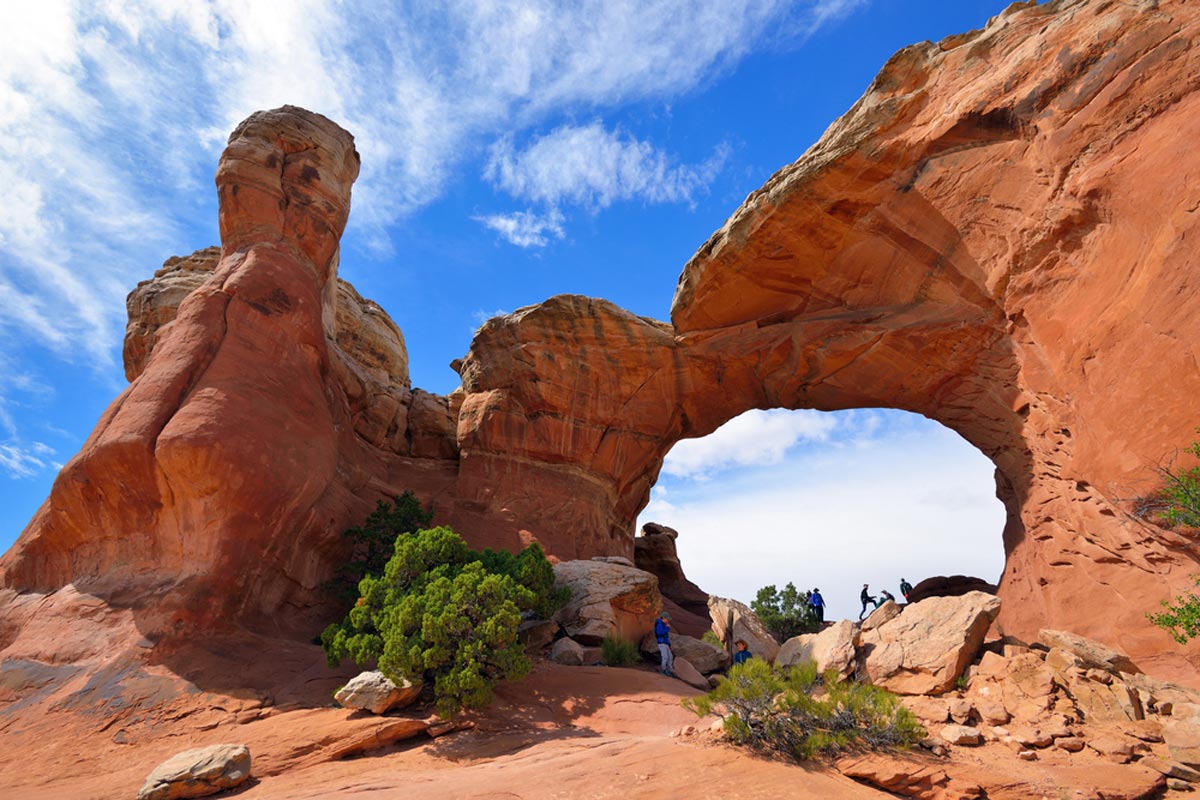 It may sound like the most disappointing arch in the park, but Broken Arch still boasts a complete arc that beautifully frames the surrounding landscape.
You can access this site from the same Sand Dune Arch trailhead and combine both sights for an extended hike.
The 1.2-mile round-trip will take about 30-45 minutes to complete, and the trail is flat. But prepare for a completely unshaded hike.
Stop by Skyline Arch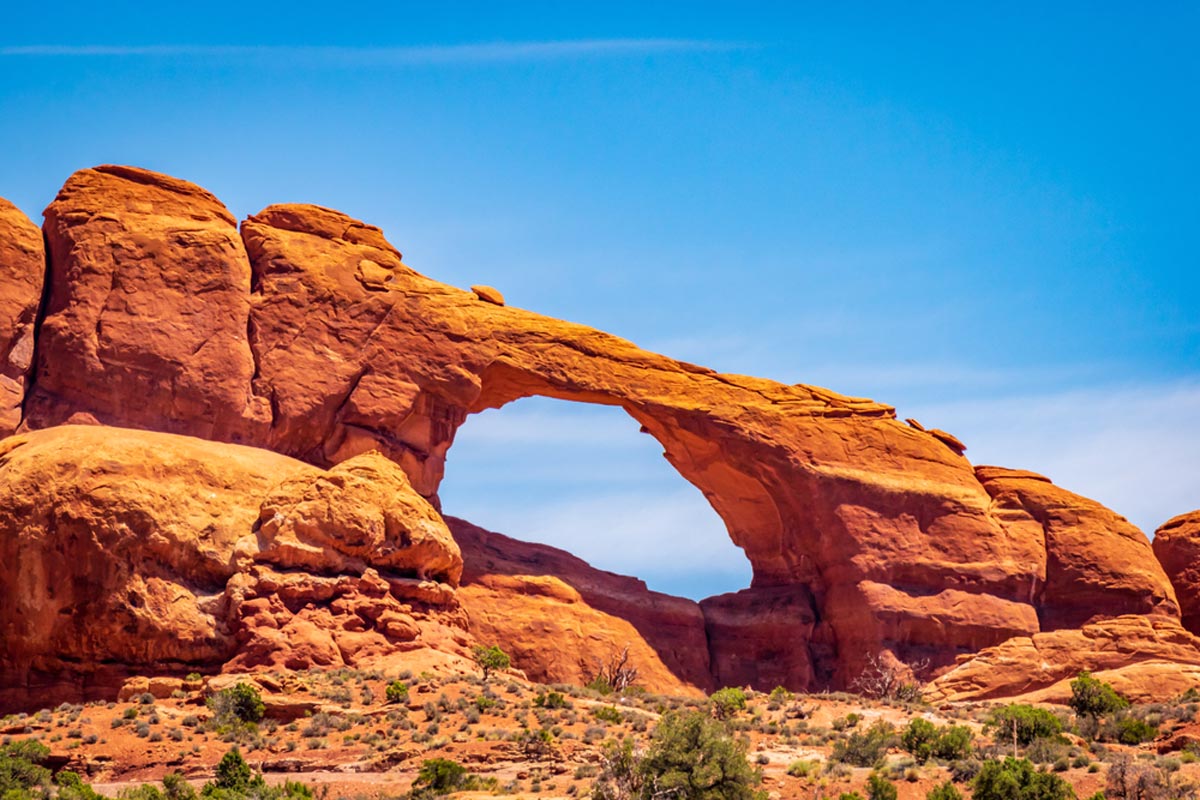 This little high-up arch sits along the Scenic Drive Road and you can access it from a small car park along the way. With a short, 0.2-mile one-way hike, you'll end up at a slanted rock formation with a peekaboo slot at the top.
La Sal Mountains Viewpoint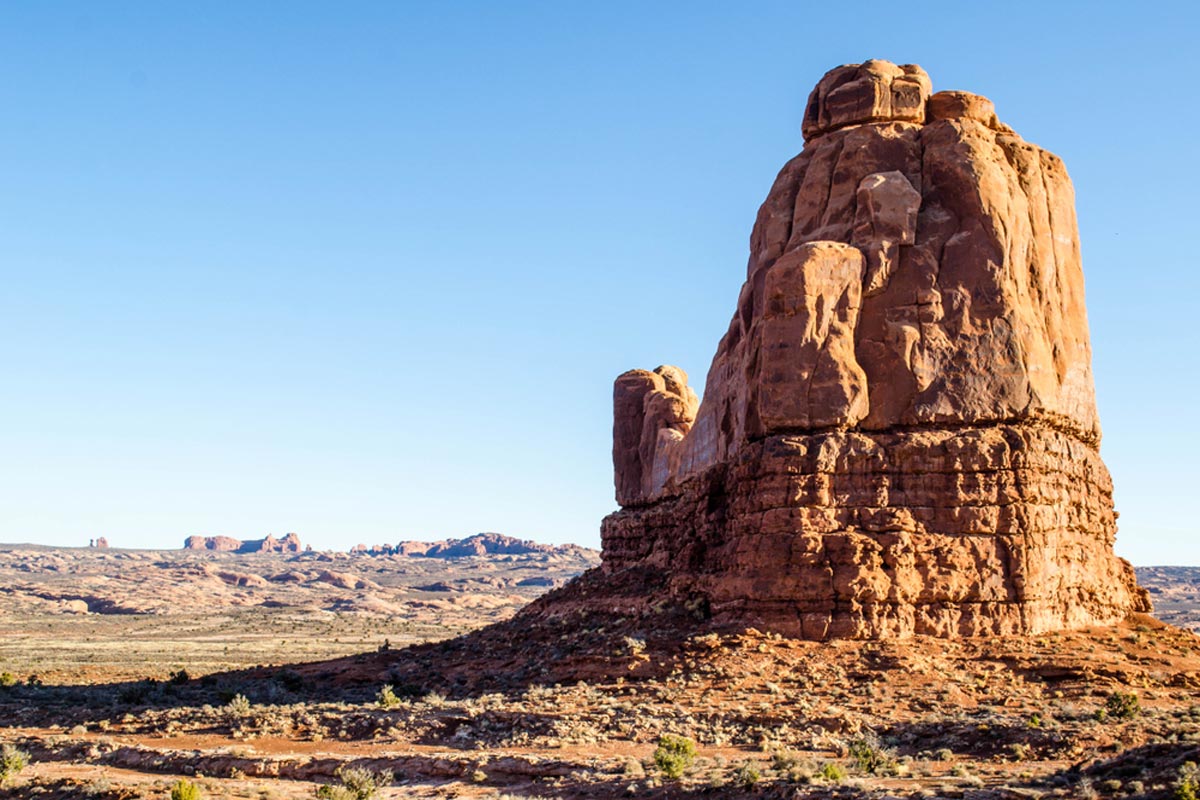 This viewpoint is one of the most breathtaking in the park, yet many people drive right past it. The La Sal Mountains viewpoint is one of the first as you enter Arches.
This view also doesn't include any arching rock formations. But the panoramic vista includes towering rocks and the spectacular La Sal Mountains in the background.
Things to Do in Arches National Park: Practical Tips for Your Trip
How Long to Visit Arches National Park?
If you get an early start, one day should be enough to enjoy Arches National Park fully. But, if you'd like to take things at a slower pace, we'd suggest planning to spend two days in the park.
Best Time to Visit Arches National Park
The best time to visit Arches is spring and fall when temperatures are more moderate and the crowds are fewer.
Where Should I Stay in Arches National Park?
Aarchway Inn (Mid-Range)
The bright and minimalist Aarchway Inn is a 5-minute drive from Arches National Park and offers everything from a fitness center to a pool and hot tub. You'll also have access to barbecue facilities and a fridge and microwave.
Check Rates and Availability for Aarchway Inn on Booking.com
The Moab Resort (Luxury)
Retreat to The Moab Resort after a long day of exploring and unwind in the large swimming pool or hot tubs. This resort features modern decor and facilities in spacious self-catering apartments.
Check Rates and Availability for The Moab Resort on Booking.com
Recommended Tours in Arches National Park
Things to Do in Arches National Park: Map
Best Things to do in Arches National Park: Read Next