A landscape of red sandstone, jutting rocks, and an unexpected oasis of fruit orchards and historical buildings beckons. How can you resist? These are the best things to do in Capitol Reef National Park.
Zion and Bryce seem to dominate as the most popular of the Mighty Five, but don't underestimate Capitol Reef.
It's the unsung hero of Utah's national parks, with fewer crowds clogging its majestic views and glorious formations. There's a reason I included it in my national parks itinerary, after all.
But what is Capitol Reef National Park famous for, you may be wondering? Read on to discover the most iconic trails, landmarks, historical wonders, and fun things to do in Capitol Reef National Park that'll make your jaw drop.
Super stylish and located close to the park, Red Sands Hotel is an ideal spot to stay if you need some accommodation inspo.
Top 5 Things to Do in Capitol Reef National Park
Stroll Through Capitol Gorge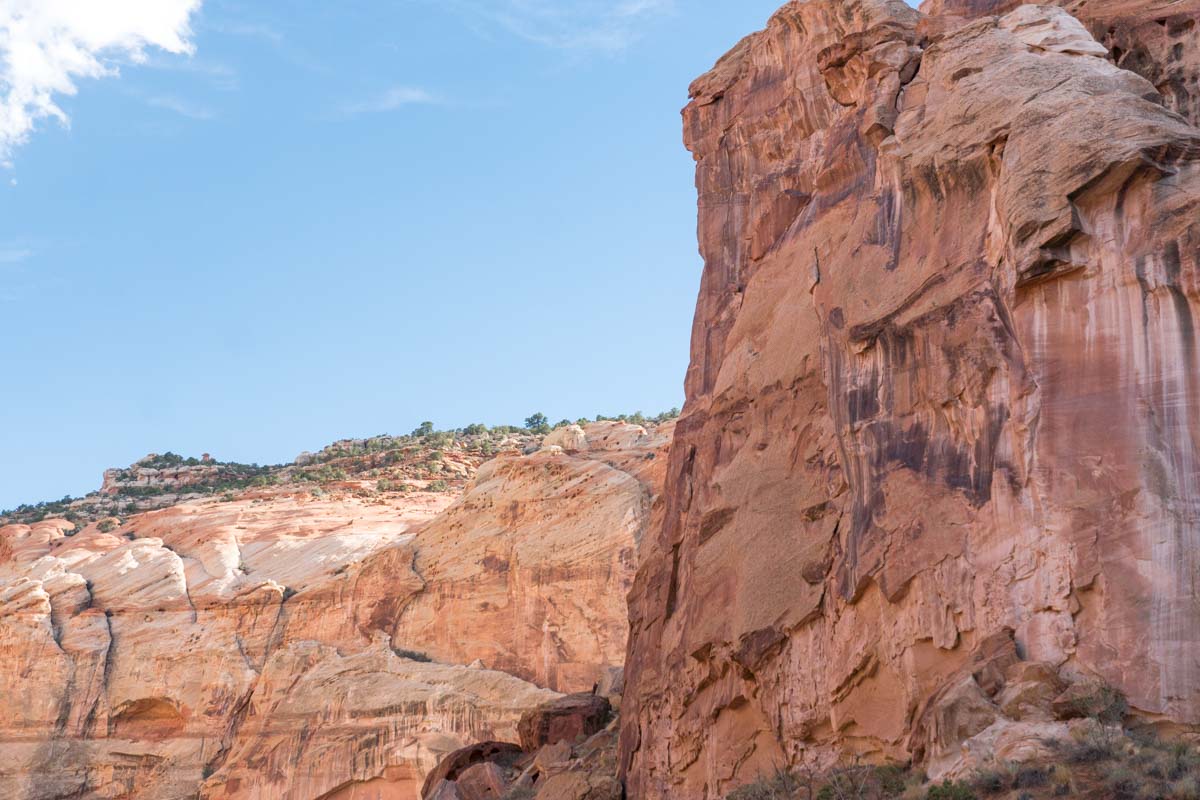 This deeply-set narrow canyon has a similar feel to Zion National Park's, but there's an even greater variety of colours to admire.
It's a flat, partially paved 4.5-mile out and back trail that takes approximately 1.5 hours to complete. So it's fairly easy for all levels of ability, and the geology along the way is fascinating.
Over the course of just one mile, you'll encounter The Tanks (a series of water-filled potholes), a small natural arch, and the Pioneer Register – more on that later. If you keep your eyes on the Navajo sandstone walls, you might even catch a glimpse of some ancient (and some more recent) carvings.
Hike the Cassidy Arch Trail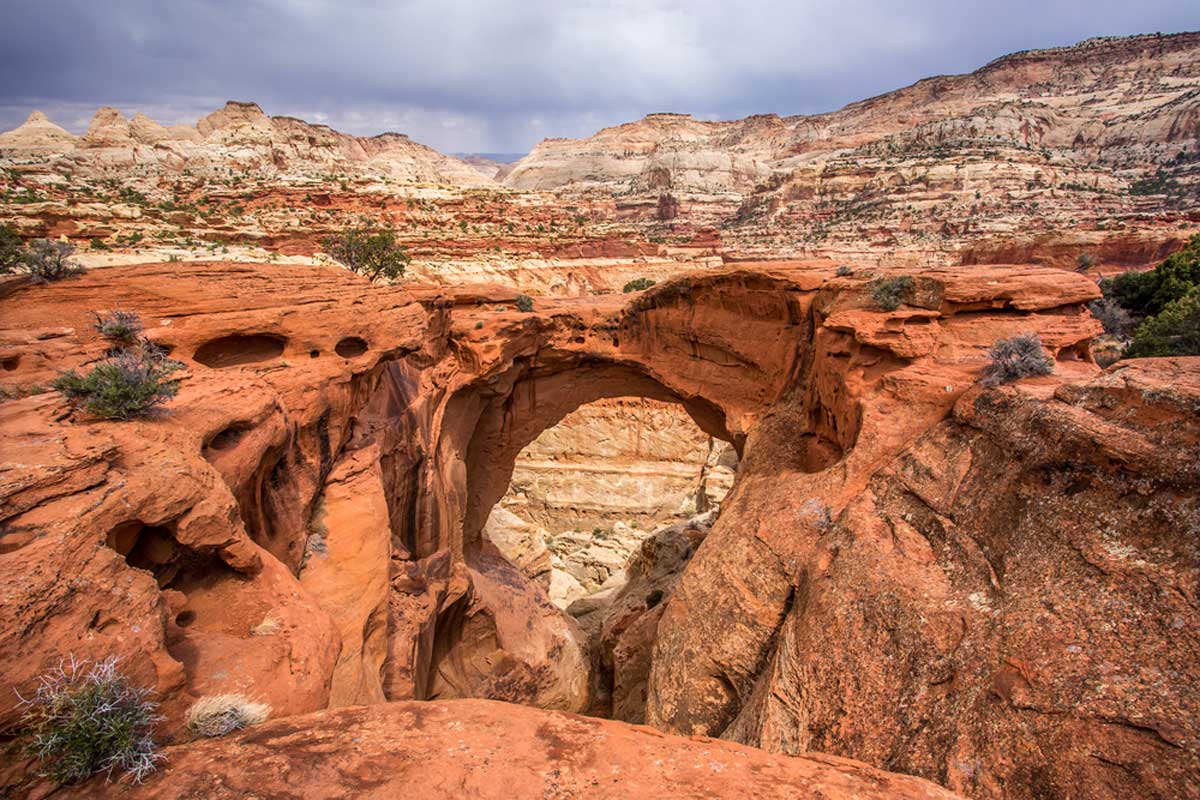 If you only have time for one hike at Capitol Reef park, make it the Cassidy Arch. It's not too long at 3.4 miles, but it's moderately difficult with an exhilarating elevation gain of 845 feet along the lip of a canyon.
The trailhead is easily accessible from the Scenic Drive, and the views over Grand Wash are stunning. When you reach the arch, you can admire it from afar or thrill your inner daredevil by taking a tour across it (oh, the Instagram photos!). Overall this is 2-3 hours of hiking well spent.
Tip: The signs aren't well marked, so take a hard left when you reach the fork, or you might wander a mile or so in the wrong direction.
Go on the Highway 24 Scenic Drive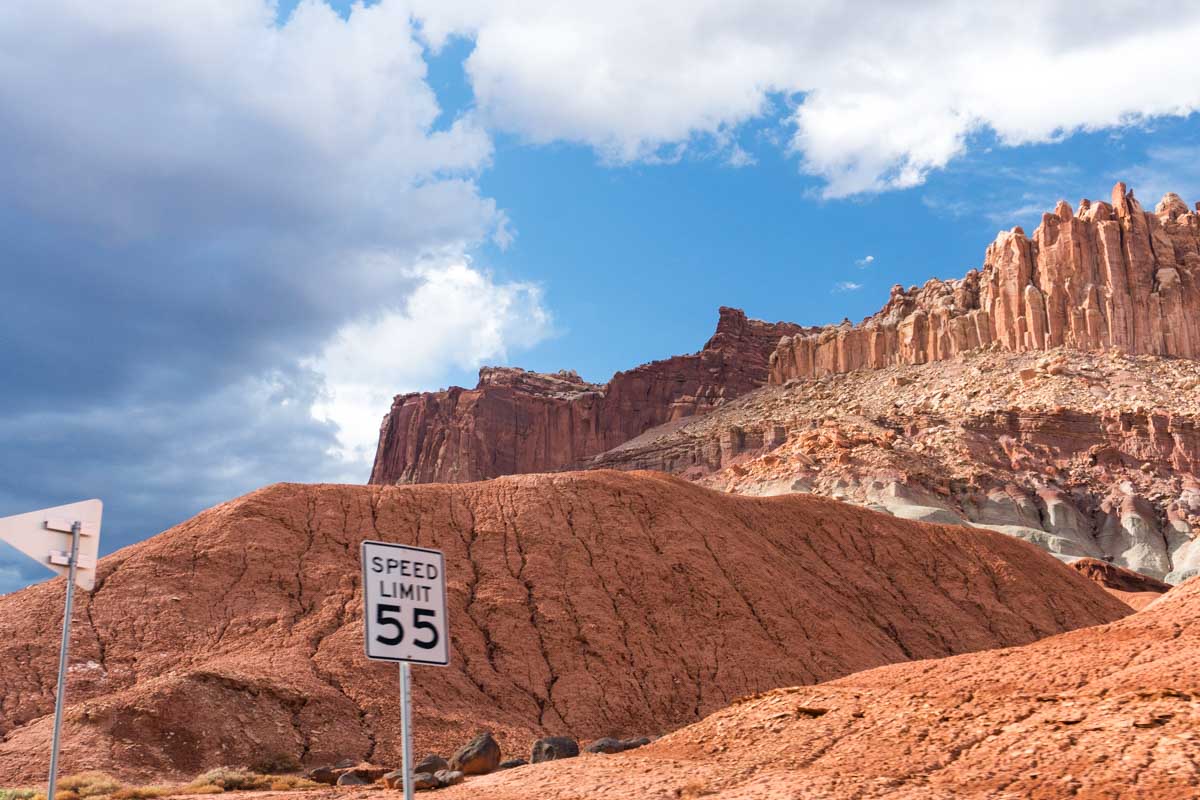 A tarred ribbon running through the heart of Capitol Reef, Utah, alongside the Fremont river and dividing the Fruita and Cathedral Valley districts. This is a great overview experience of the park, where you'll pass sandstone cliffs and rock formations.
Many of the park's attractions, such as Sunset Point, Goosenecks Overlook, and Panorama Point, are along this route. There's no charge for driving this road, so it's one way to see part of the park for free. It's also an excellent option if you only have a limited amount of time in the park.
Join the Harvest at Fruita Orchard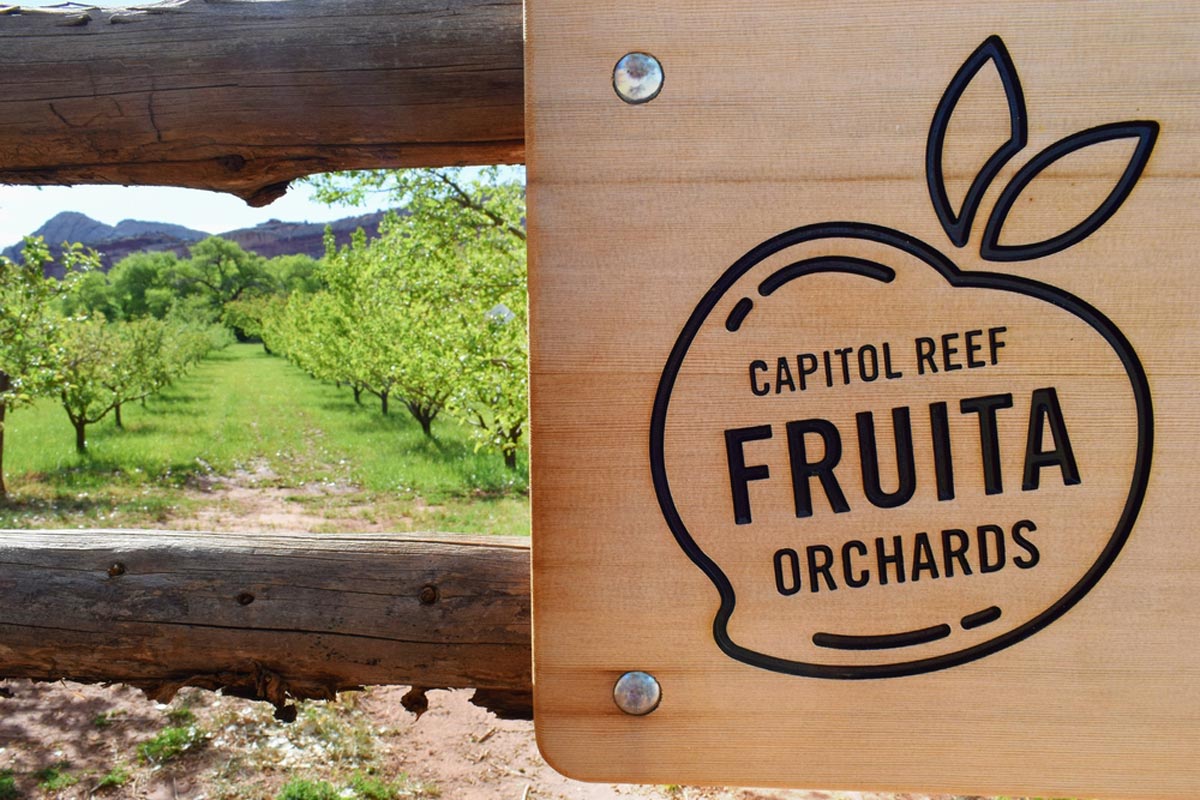 When considering what to do in Capitol Reef National Park, I'm guessing that peach-picking is not the first thing that comes to mind.
However, thanks to the Fremont River, the "Eden of Wayne County" is lush and abundant in greenery, with orchards growing thousands of fruit trees nearby. First planted in the 1880s when pioneers settled in Fruita, these trees have been a source of income and food for over 100 years.
Pop over in summer or autumn whenever the peaches, apricots, pears, and apples are ripe, and pick your own produce from designated "U-Pick" orchards. You can check out the orchard information to see what's in season and when – this is a great activity if you're bringing little ones along.
See the Petroglyphs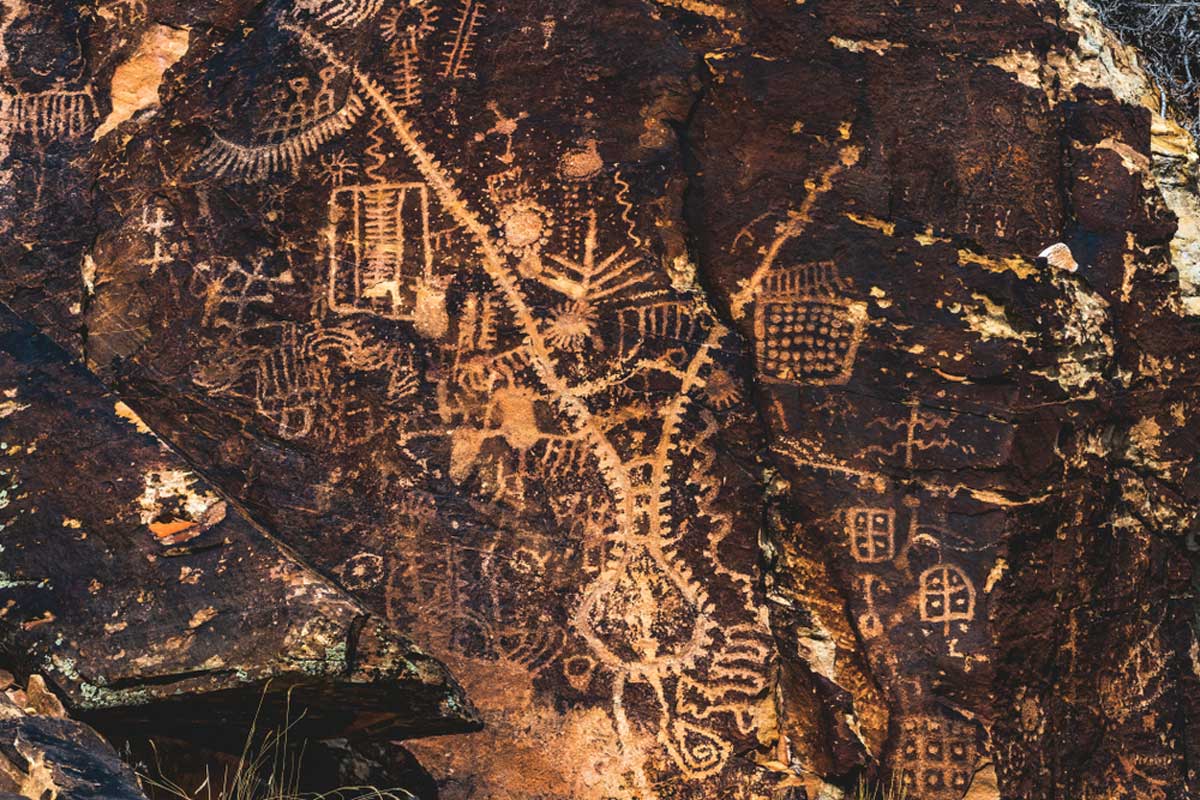 If you're anything like me, you will totally nerd out at the opportunity to spot petroglyphs.
These ones date back to 600 – 1300 AD, inscribed by the Fremont and Ancestral Puebloan people that lived in this region at the time. They depict everything from hunting tales to mythological stories and are incredibly easy to access.
Fair warning, though – you may want to bring a telephoto lens or some binoculars, as the viewing area ensures you keep a fair 50 yards away from them. Still, it's close enough that you get to admire them in all their glory.
Brilliant Things to See & Do in Capitol Reef National Park
Explore the Fruita Historic District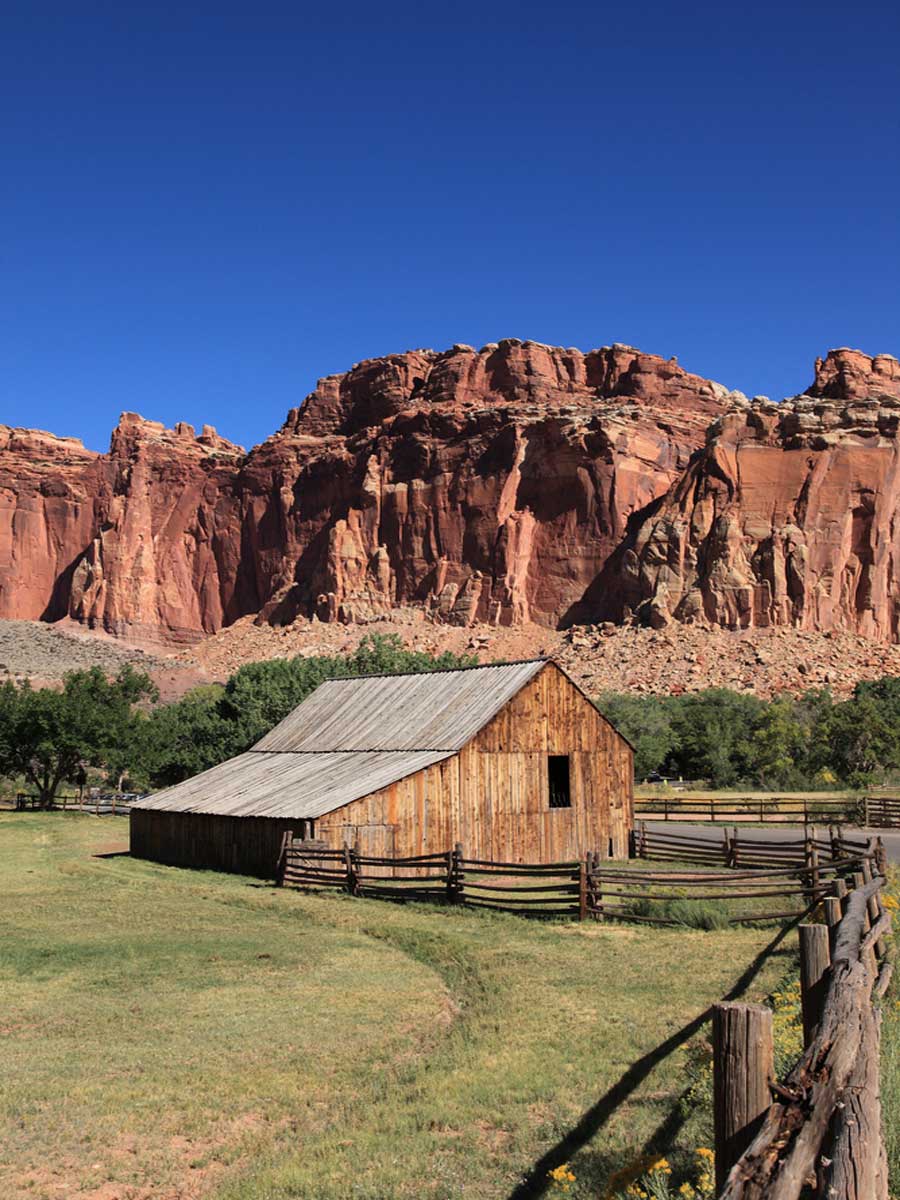 Nope, it's not only orchards. The Fruita Historic District has several pioneer buildings that'll weaken the knees of any history buff. There's a schoolhouse, a blacksmith shop, and Gifford House.
These are all preserved remnants of the Mormon settlers who established themselves here in the late 1800s. It's a lush green oasis in the otherwise desert landscape with paddocks where horses roam against the backdrop of ruby-red mountains. Who would want to miss out on this charming gem?
Hike the Hickman Bridge Trail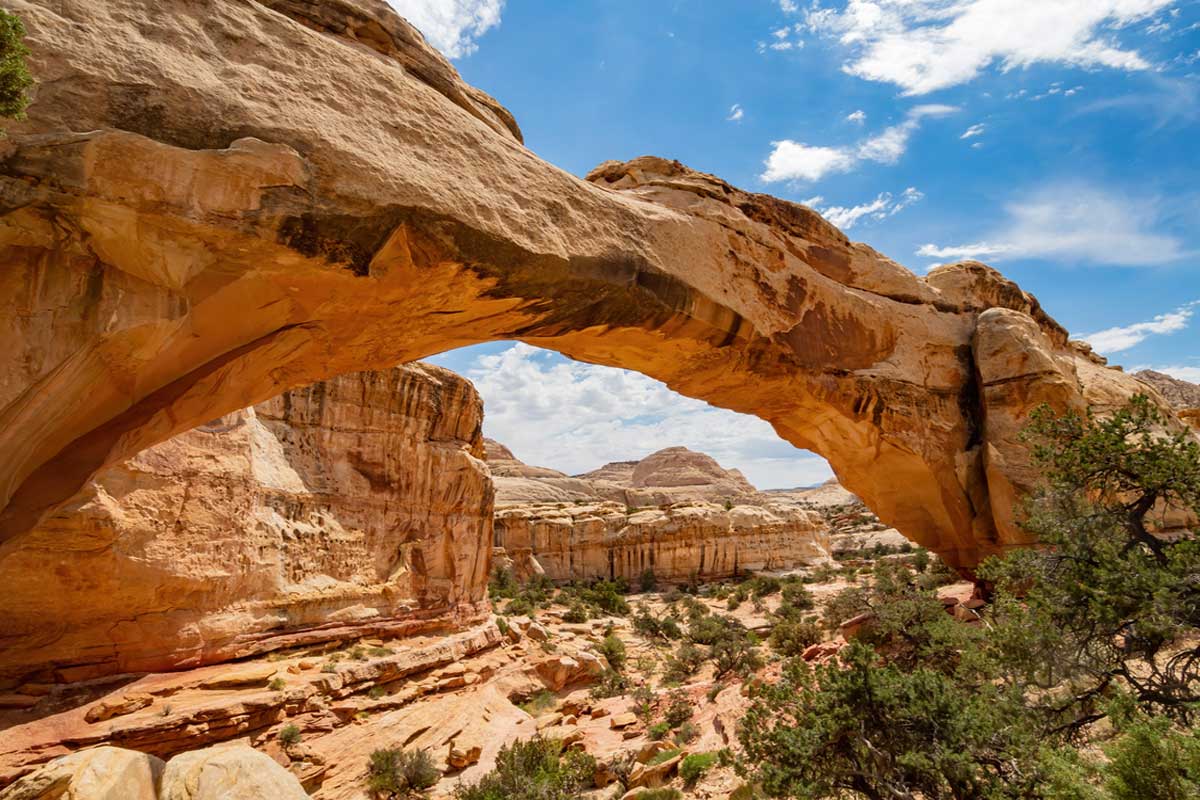 This is one of the most popular hikes in the park, so it warrants a place on your list of things to do around Capitol Reef National Park. You'll be glad to know that it's a little more leisurely than the Cassidy Arch Trail, weighing in at a distance of 1.8 miles and an elevation gain of 400 feet.
It's technically a moderate trail due to the quick increase in elevation, but otherwise, it's not too strenuous and should only take about an hour. The 133-foot Hickman Bridge is the highlight of this trek.
In spring and summer, the red sands of the trail pop with bursts of colourful wildflowers.
Pop Into the Capitol Reef Visitor Centre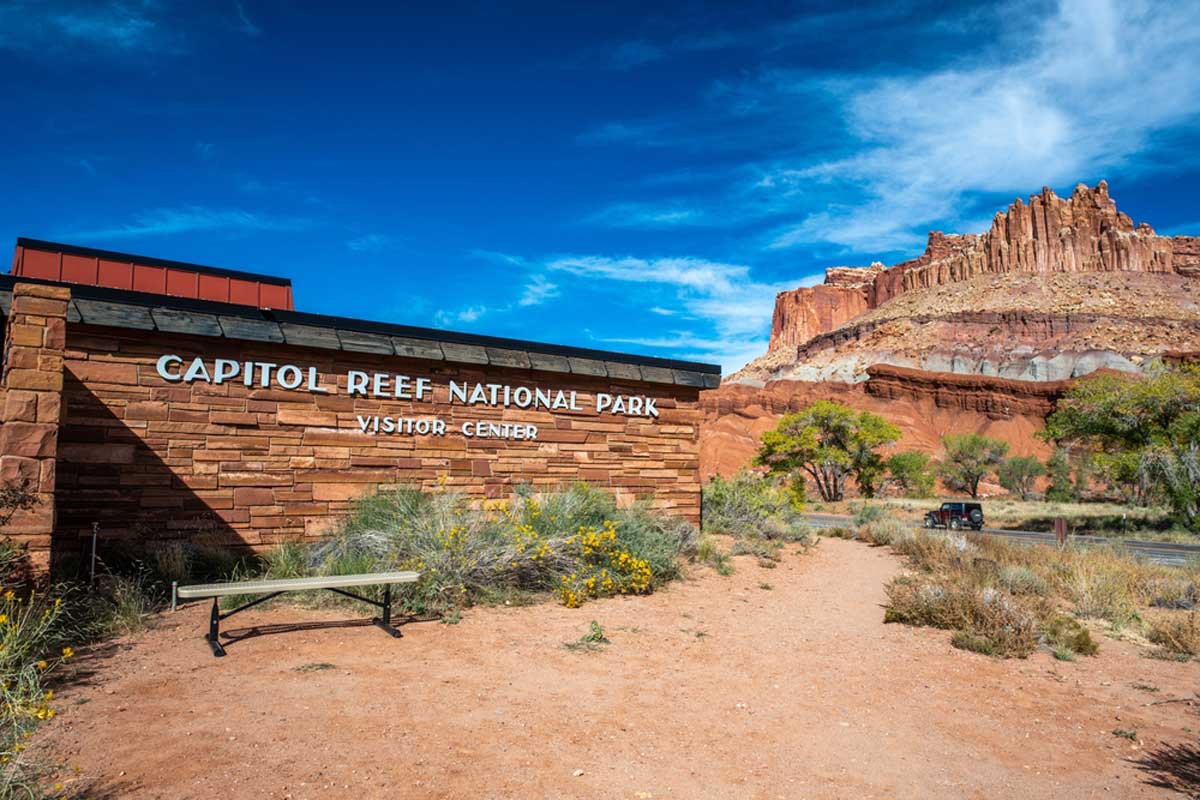 It may not be everyone's idea of fun when visiting Capitol Reef National Park, but you'll learn so much about the history and geology of the area from the visitor centre that it's 100% worth a stop.
There are informational displays and a museum filled with geological and historical goodies. Plus, you can speak to the rangers and get the low-down on any trail closures and pick up maps and brochures.
See the Temple of the Sun and Moon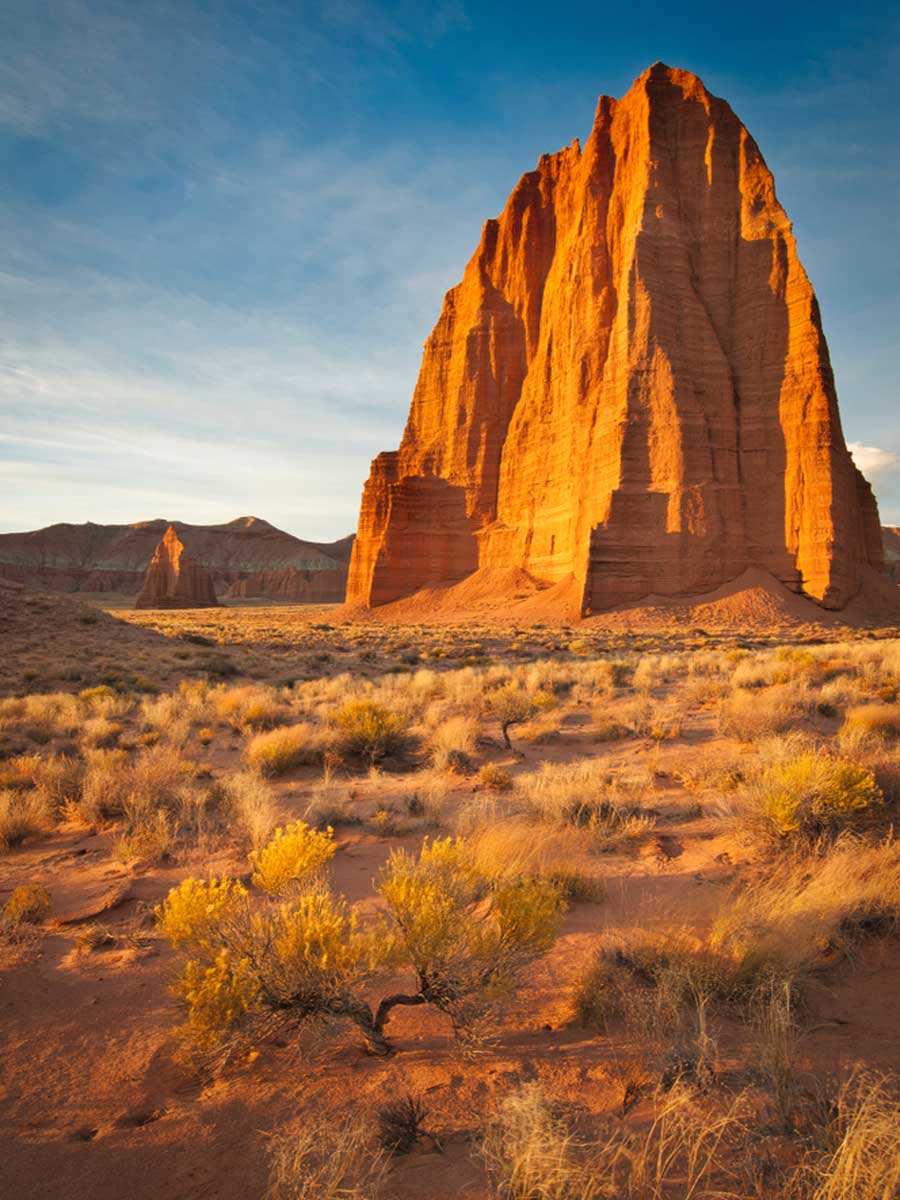 Located in Cathedral Valley, north of the Fruita District, the Temple of the Sun and Moon is situated in a remote area that might make you feel like you've stumbled into a Martian landscape. The temples jut from the earth dramatically and are at their visual best at sunrise or sunset when the sunlight turns them fiery.
A trip to the temples and back takes around three hours, preferably in a 4X4 vehicle, as the roads are rough and unpaved.
If you don't have a car that's up for the challenge, try this tour and make the most of a day trip to Cathedral Valley. It's still one of the most incredible things to do near Capitol Reef National Park.
Perch on Panorama Point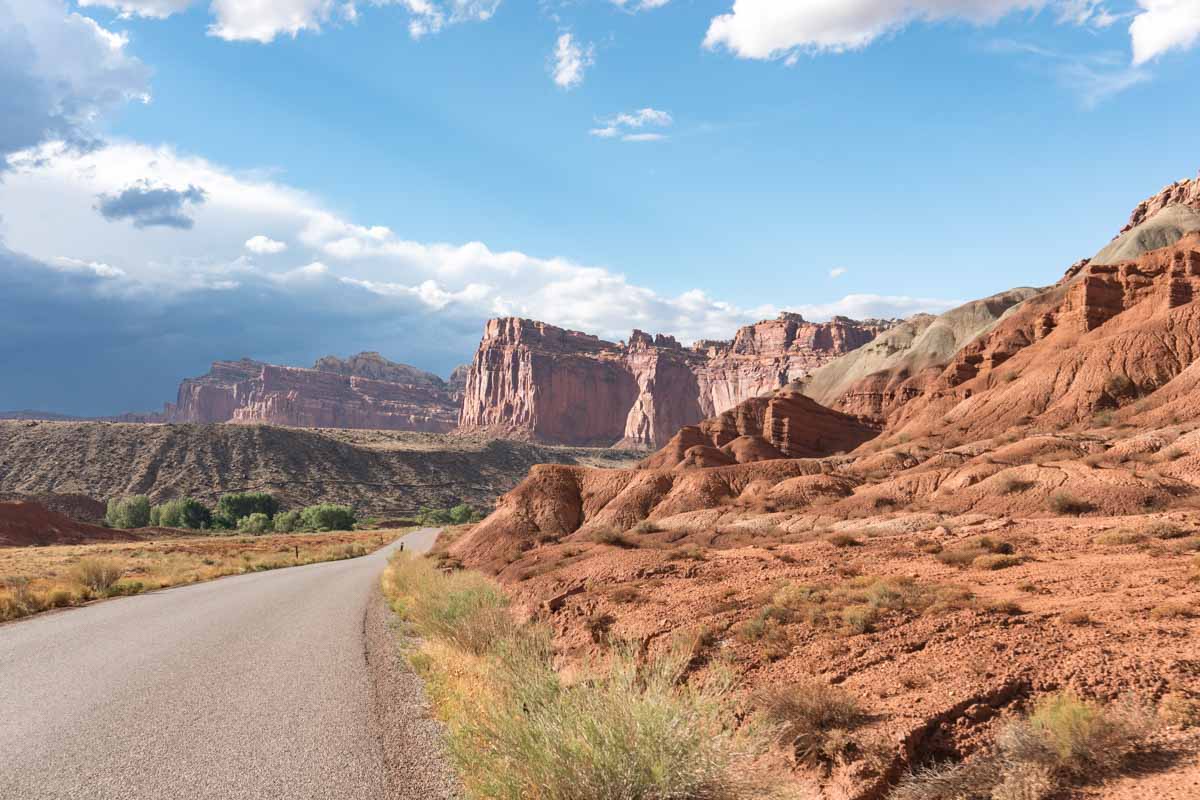 Heading to Panorama Point is one of the best things to do at Capitol Reef National Park, as it's one of the best viewpoints to perch yourself. It's also the first major landmark you'll come across when you enter the park.
If you're fresh from hiking in Bryce Canyon, this will be the first stop for you on your Capitol Reef adventure. It boasts 360-degree views of the rugged red rocks and scattered green brush.
Trek to Goosenecks Overlook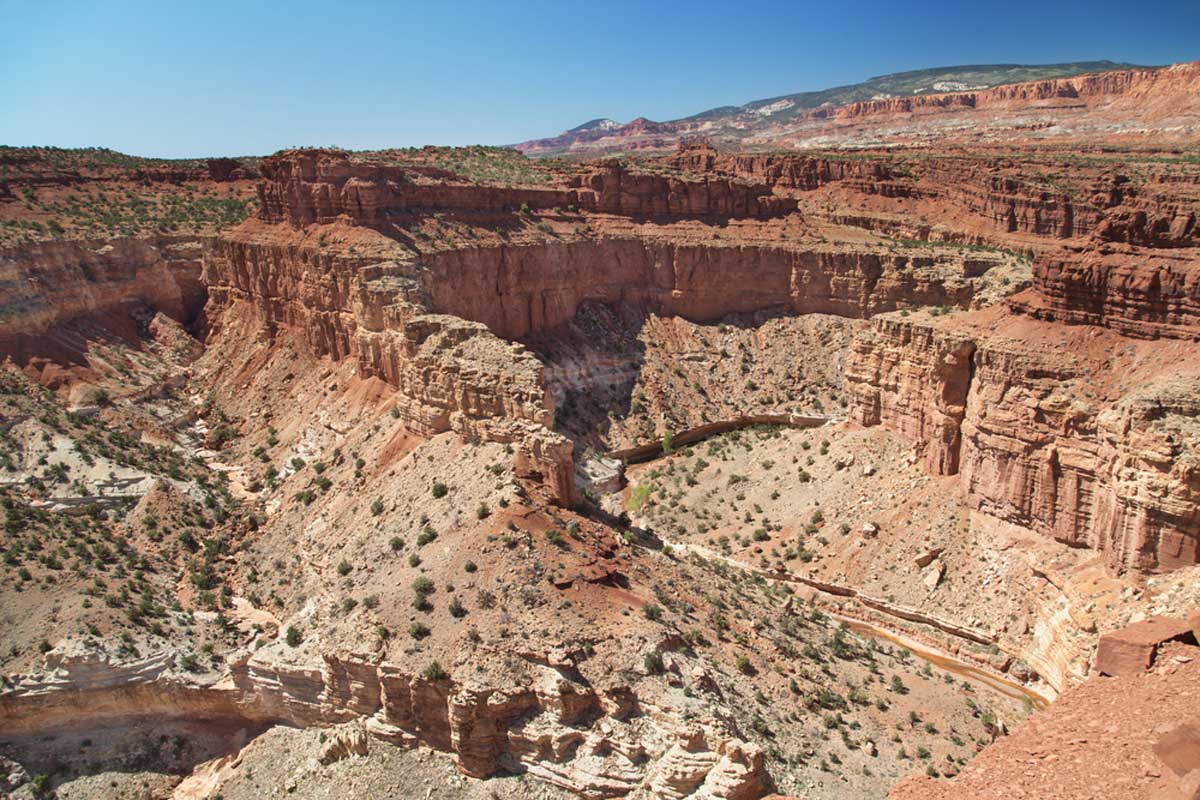 Continuing along the road from Panorama Point, you'll reach Goosenecks. You'll have to hop out of your car and walk a hefty 0.2-mile uphill trek to reach the best viewpoint, but I have faith in you!
You'll find some pretty epic formations, most notably the curious bend carved out by Sulphur Creek over the millennia and now named "Gooseneck" for its appearance. The signature red and dusky-pink rocks that make up the canyon walls are typical of the area, and seeing them in the afternoon light throws dramatic shadows into the crevices.
This makes a pit stop here one of the more beautiful things to do at Capitol Reef National Park.
Admire the View from Sunset Point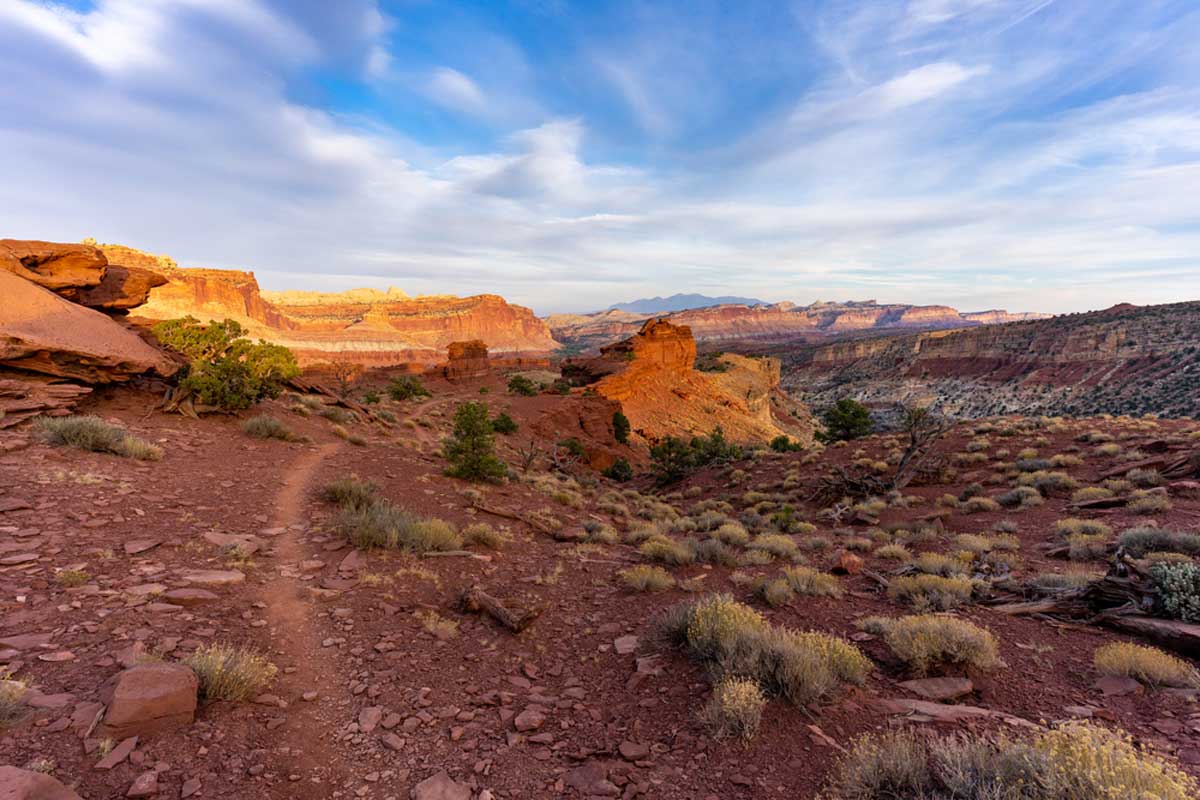 You can guess what this viewpoint is best for, right? It's a 0.8 mile round trip hike to see some incredible visuals as the sun starts to dip below the horizon, and it's only a little further than Goosenecks.
Grand vistas with red-hued cliffs and broad expanses of desert make intricate geological patterns pop in the bright orange light, setting the landscape on fire.
Check Out the Pioneer Register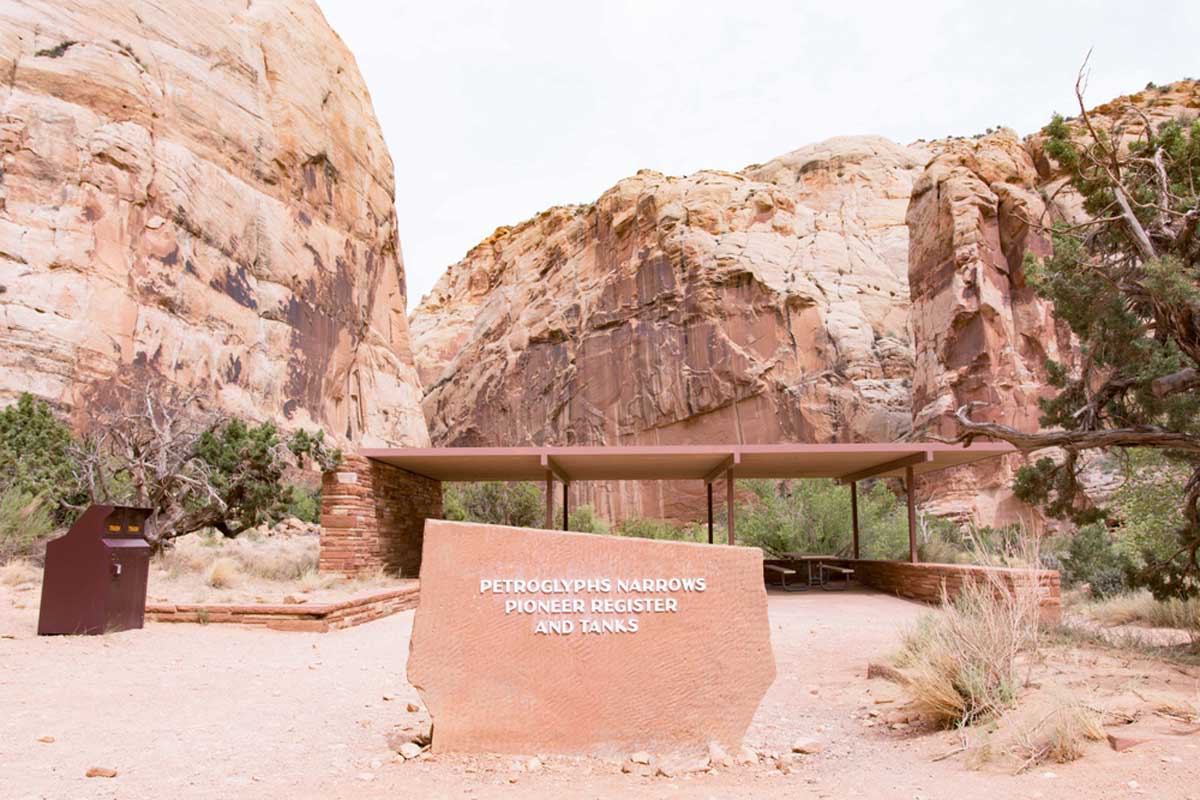 No, it's not an ancient book. It's some good old-fashioned "Kilroy was here" historical graffiti near the end of the Scenic Drive. Cowboys, prospectors, and Pioneer settlers would stand on their wagons and carve or paint their names and the date on this sandstone wall.
Sometimes they even included their profession on this Pioneer Register. The earliest inscriptions amongst the several hundred or so are from 1871, and the site is now protected against any defacement. That means no adding your own job, sorry!
This fascinating log of who was travelling through the area at the time is one of the most unique things to see in Capitol Reef National Park. It's also a testament to the human desire to endure.
Unique Things to See & Do in Capitol Reef: Hidden Gems That are Off the Beaten Track
Grab Some Pie from the Gifford Homestead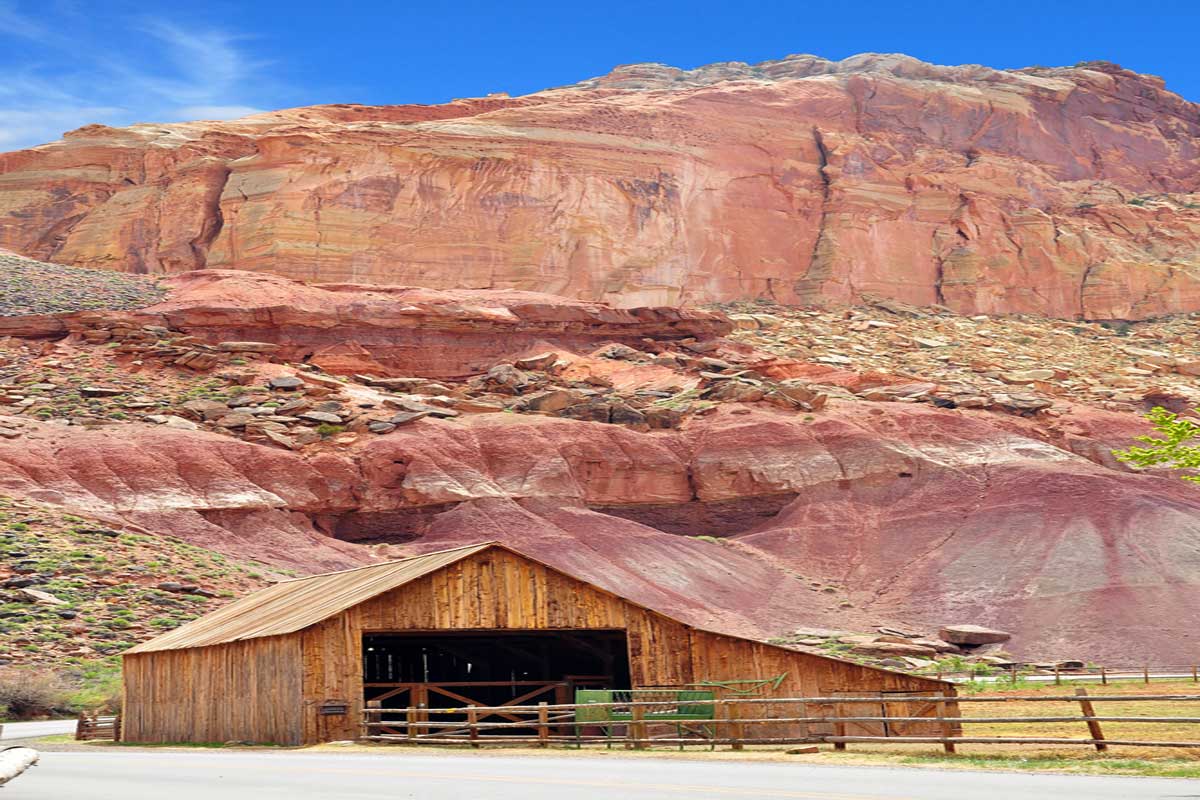 Gifford Homestead is one of my favourite discoveries from my visit to Capitol Reef. One of the last remaining historic buildings in the area, built in 1908, and functions as a farmhouse today. You can get locally-made soaps, dolls, jams, jellies, and even some books.
Though, the biggest hit with visitors (and the reason I sniffed it out in the first place) is the fresh-baked fruit pie—hunker down with a slice and a dollop of ice cream for a true old-fashioned delight. The Homestead is open from March to October.
Stargazing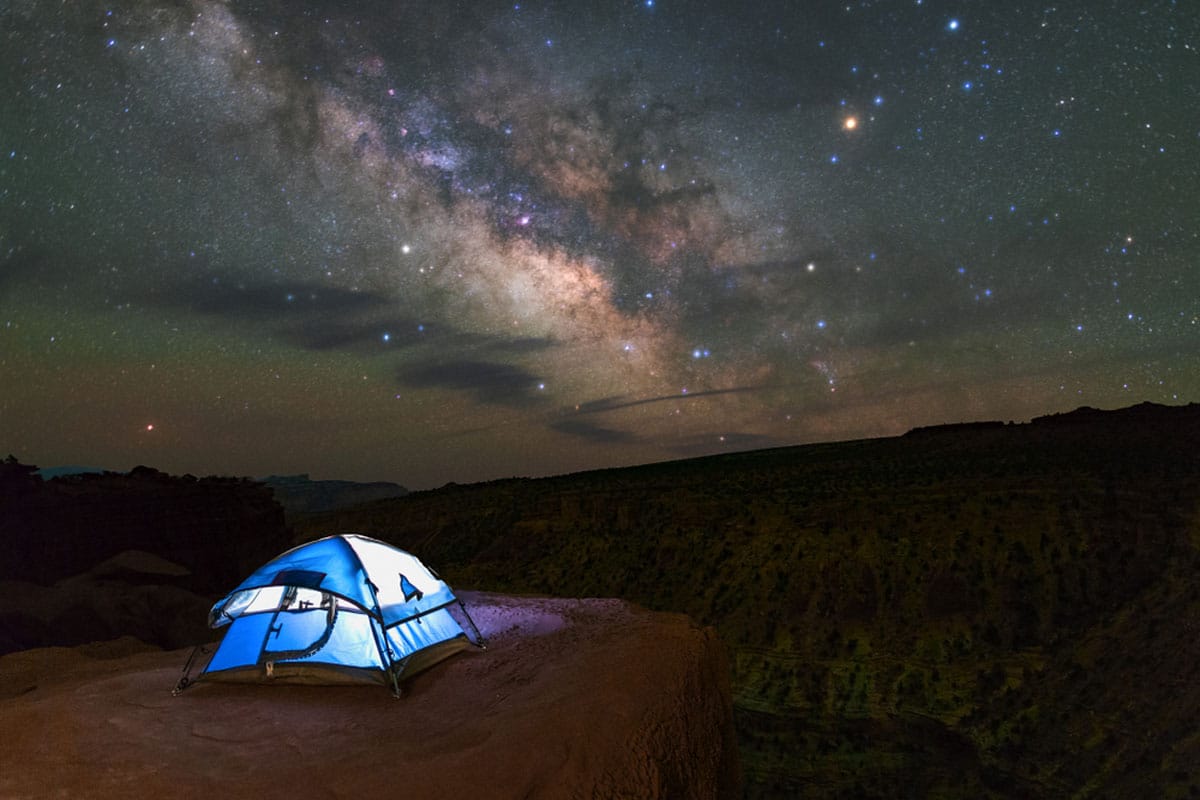 If you ask me, there's no better way to spot the Milky Way than seeing it spread across the night sky amongst red sandstone mountains.
The national parks in Utah are particularly known for the visibility of the heavenly bodies, so taking some time to revel in the sight is one of the best things to do in Capitol Reef National Park.
This tour offers warm blankets and coffee to fight off the night chill and a photographic portrait of yourself in front of the Milky Way. What better keepsake could you ask for?
Things to Do in Capitol Reef: Practical Tips for Your Trip
How Long to Visit in Capitol Reef?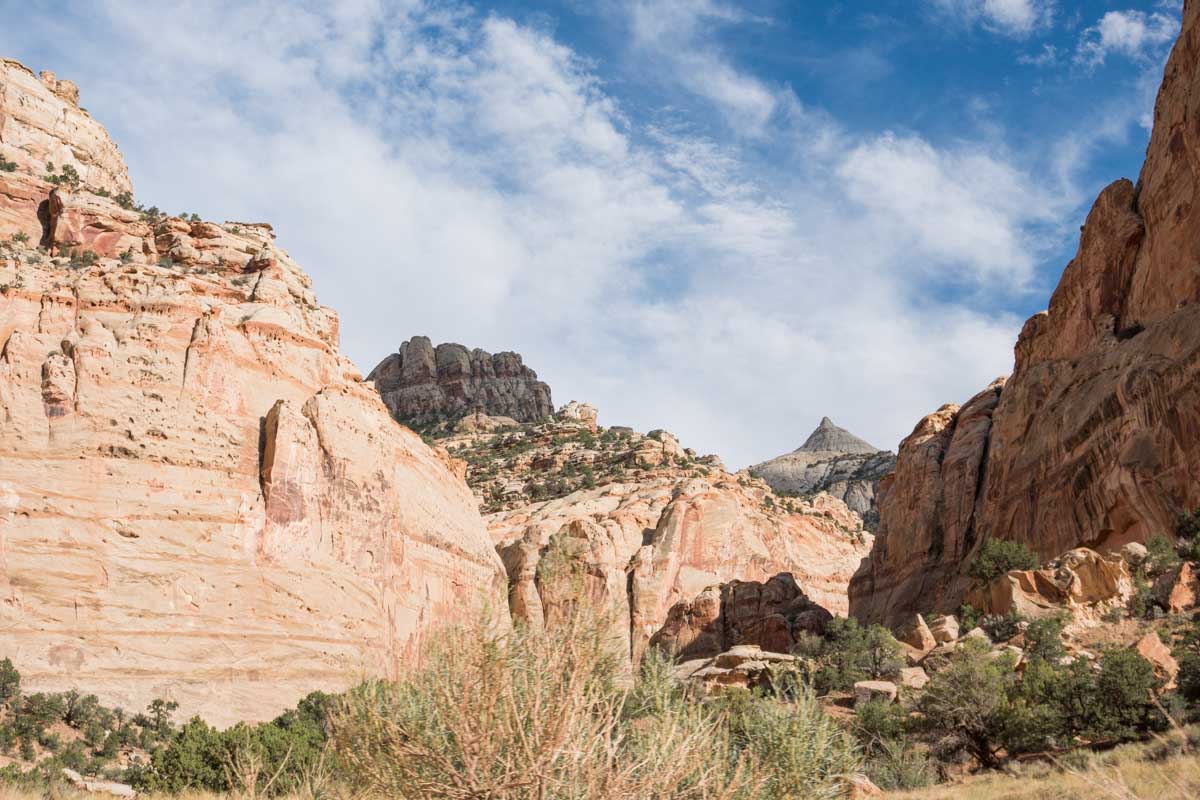 It really depends on what you want to see and do. Let me put it this way – in one day, you can explore the scenic drive and do one or two short hikes. But with three days, you can fully explore the area and tackle a few of the meatier hiking trails.
Best Time to Visit Capitol Reef?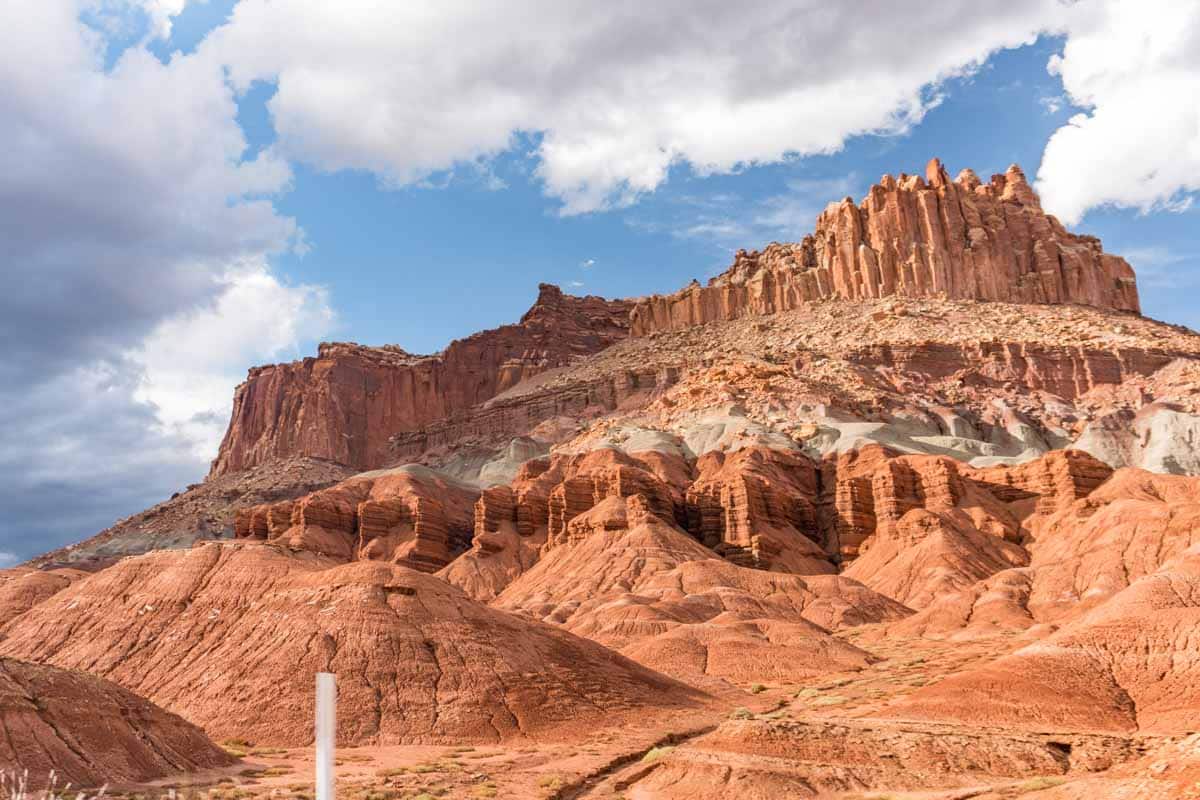 Each season has its own perks, but I think that the shoulder months of spring and fall are the best times to experience the park. Crowds are less dense, while the weather and overall temperature is more comfortable for hiking.
In spring, the orchards burst with blossoms, adding a pretty layer to the unique landscape of Capitol Reef while, in autumn, the apples are ripe for harvest and the cottonwood trees turn golden.
If you would still prefer to visit during summer, I would avoid May as it is the busiest month the park experiences and it gets very hot. You can still visit the park during winter when the white snow contrasts beautifully with the red rock, but hiking is limited at this time.
Recommended Tours in Capitol Reef
Where Should I Stay in Capitol Reef National Park?
Capitol Reef Resort (Mid-Range)
Right on the doorstep of Capitol Reef, this hotel has an outdoor pool and hot tub for pampering those muscles after a long day of hiking. All rooms have garden and mountain views, but you can also choose to stay in an eclectic Conestoga wagon or teepee for fun.
Check Rates and Availability on Booking.com
Cougar Ridge (Luxury)
Located in nearby Torrey, all rooms at Cougar Ridge have seating areas, flatscreen TVs, air-conditioning, and private bathrooms. Some even have kitchenettes.
This spot boasts charming decor with wooden accents that'll make you feel your cosy best.
Check Rates and Availability on Booking.com
Things to Do in Capitol Reef: Map
Capitol Reef National Park: Read Next