Planning a trip to the hypnotic Bryce Canyon Hoodoos? With this practical guide, you'll learn more about these enthralling formations and what to expect.
Bryce Canyon's Hoodoos are a little bit magic, if you ask me. Ancient towers that have been carved away over millions of years of water and ice, leaving the distinct shapes you see today.
Admiring these rock formations is one of the best things to do in Bryce Canyon. But what makes the Hoodoos so unique? And what can you expect when you visit?
Stick around to learn all you can about the magical Hoodoos in Bryce Canyon National Park, from the best time to visit and the amazing spots to look out for.
Ready? Let's get going.
Why Visit the Bryce Canyon Hoodoos… And What to Expect When You Do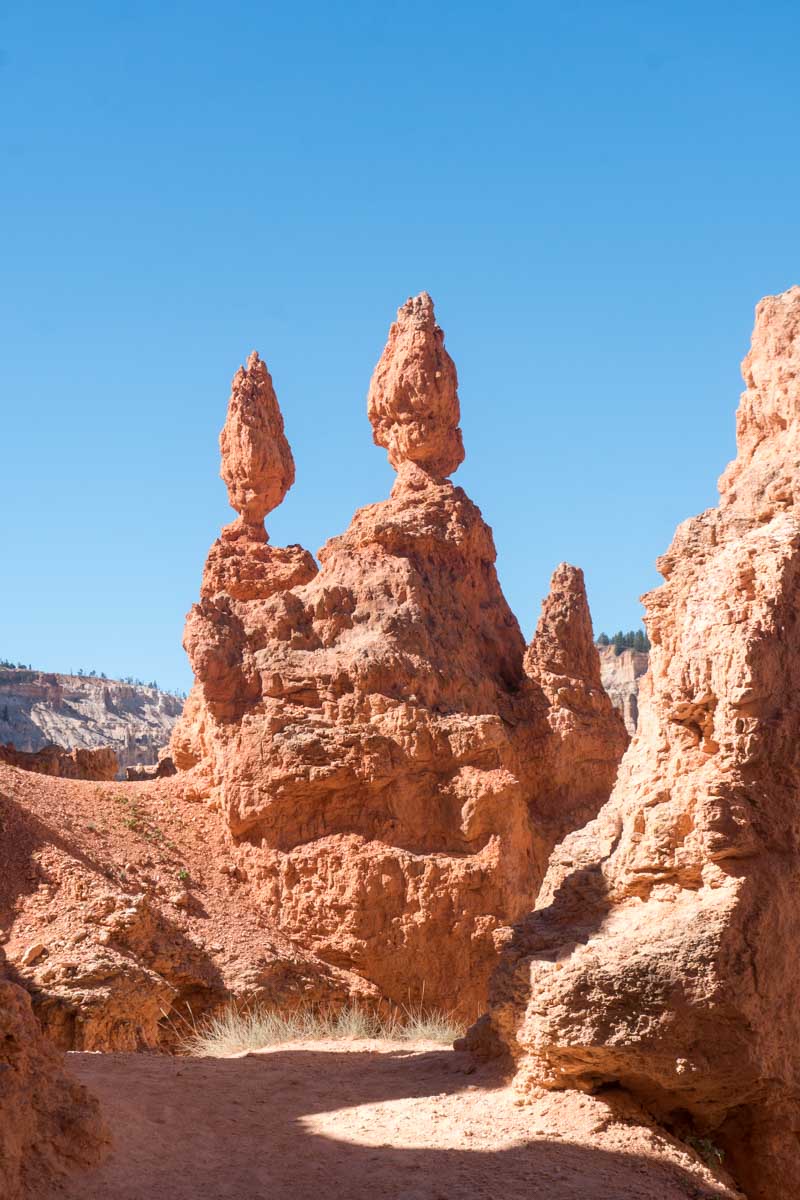 Hoodoos are insanely rare, making the ones at Bryce Canyon even more so. Utah, and specifically Bryce Canyon, has the highest concentration of Hoodoos worldwide.
If the rarity of the Hoodoo rock formation isn't enough to sway you, how about the insane photo opportunities the landscape provides? Walking through these badlands is like stepping into a completely different world.
Bryce Canyon Hoodoo Hikes
The best way to admire the raw beauty of this landscape is on a hike.
Mossy Cave and the Bristlecone Loop are two easy hikes you can enjoy, with the latter taking you to the park's highest point at 2,788 metres.
The Navajo Loop and Sheep Creek-Swamp Canyon Loop are moderate difficulties. You will zig-zag amongst the towering rock faces and get up close and personal with the mesmerising Hoodoos.
The most difficult Bryce Canyon Hoodoo trail is the Fairyland Loop, which takes you on an unforgettable journey through the north amphitheatre. Well worth the sweat (hopefully no tears, though).
You can enjoy 38 Bryce Canyon Hoodoo trails, but these are my top five.
Tip: If you want a guide so you can learn about the specific points of interest throughout the park, check out this Bryce Canyon hiking tour.
Bryce Canyon Hoodoos Drive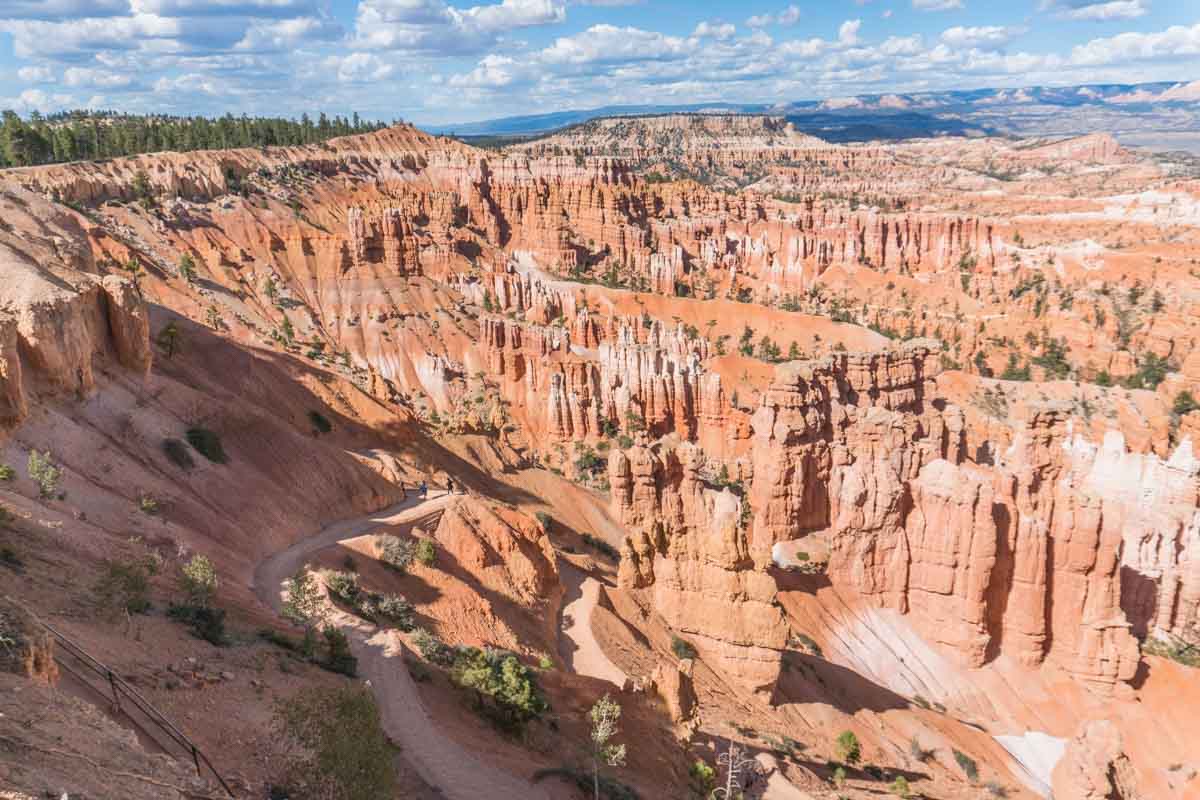 Okay, so hikes aside… What's the best way to view the Hoodoos? On four wheels. A leisurely drive through the park will take roughly three hours to see all 13 fantastic viewpoints.
I found Yovimpa Point at the southern end of the park a fantastic vantage point where you can see the different layers of the Grand Staircase. If you want to admire the unreal phenomenon of a Claron Formation, hightail it over to the Natural Bridge lookout point.
The best views of the Hoodoos are the Sunrise Point and Sunset Point within the park. Both are close to the visitor centre and showcase the spectacular rock formations in all their glory.
What Causes Hoodoo Formations?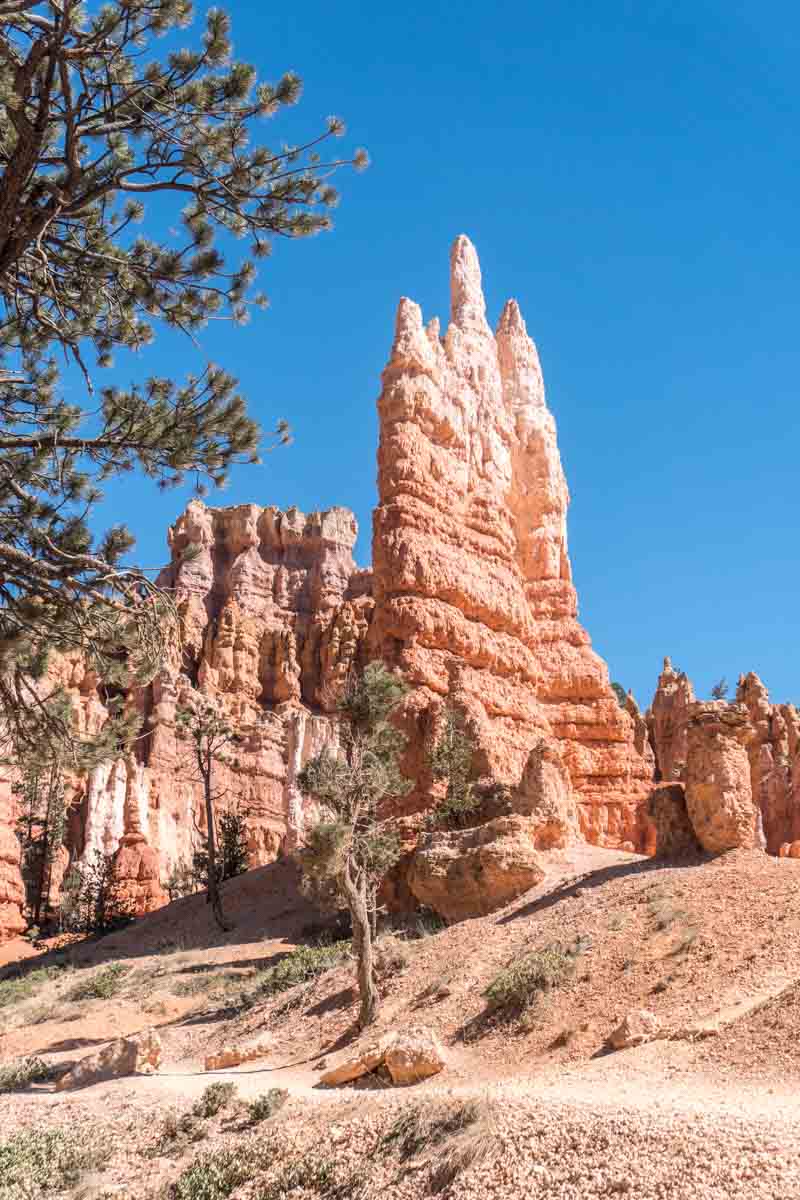 Let me get all technical for a mo.
Hoodoos consist of hard rock encapsulating a softer rock, and over millions of years, the two different rocks erode to form these unique shapes. The harder rock erodes slower than the soft rock, which leaves behind these eerie formations.
How Do Hoodoos Form?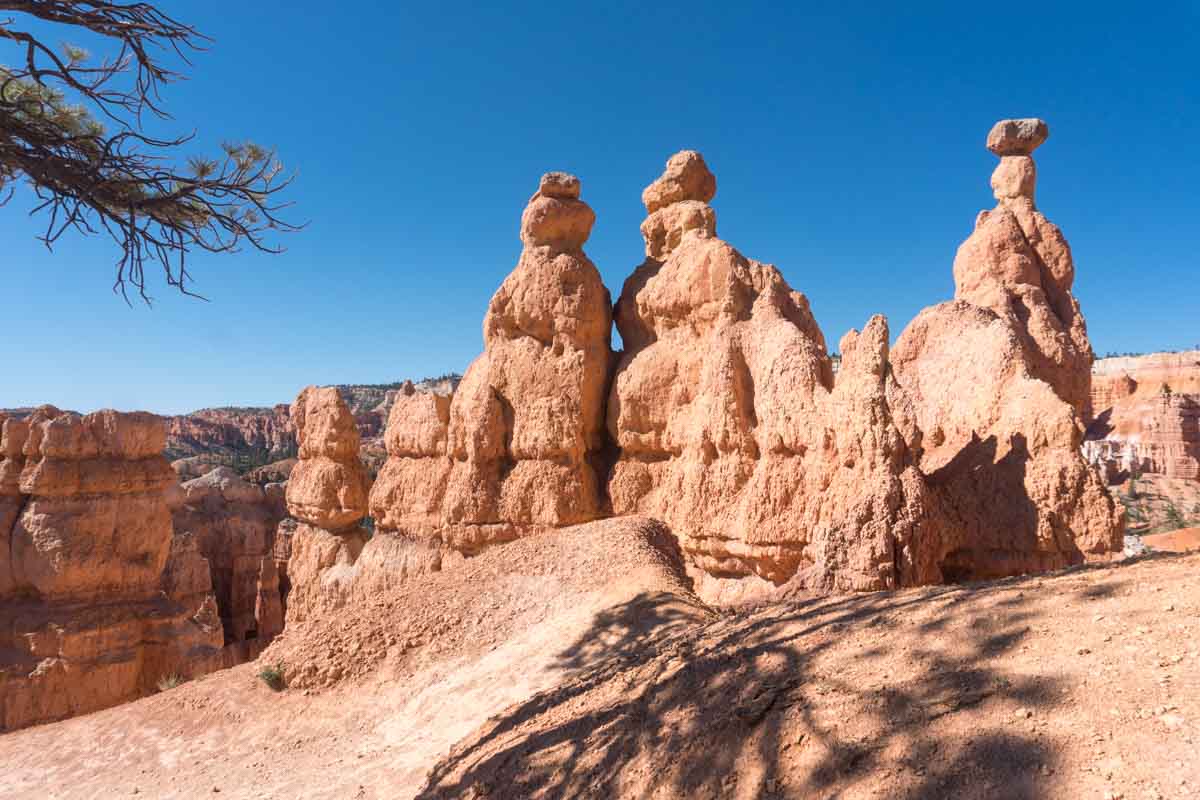 Erosion happens due to rainfall, ice, and extreme changes in temperatures from day to night, known as exfoliation. The soft and hard rock, drastic weather changes, and altitude are crucial for forming Hoodoos.
Luckily for us, Bryce Canyon is one of the few parts of the world with all these critical elements to form Hoodoos.
A Quick History of Bryce Canyon's Hoodoos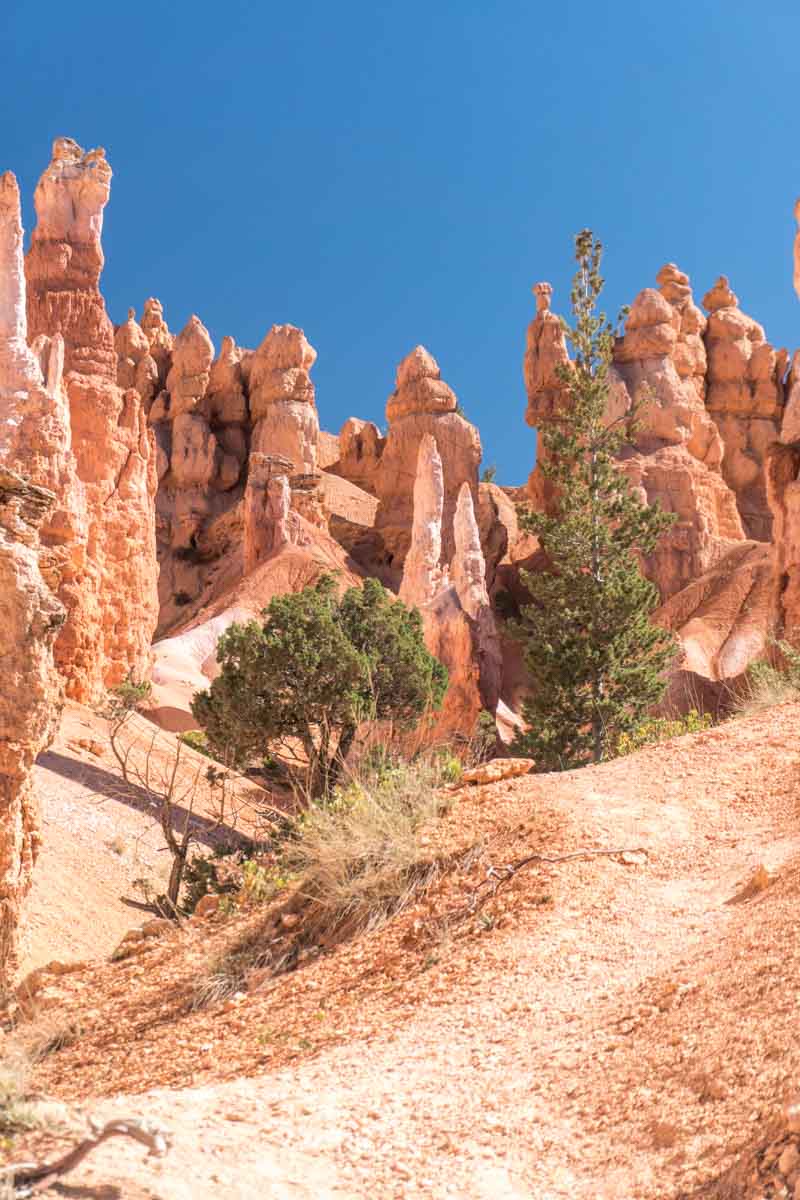 The Utah Hoodoos have been eroding and creating the forms you see today for the last 10 to 15 million years. Established in 1928, Bryce Canyon National Park helps preserve one of earth's most thrilling landscapes.
Wondering how many Hoodoos are in Bryce Canyon? The short answer is there are 12 Hoodoo amphitheatres across the park. Pretty impressive, if you ask me.
Are There Other Hoodoos in Utah?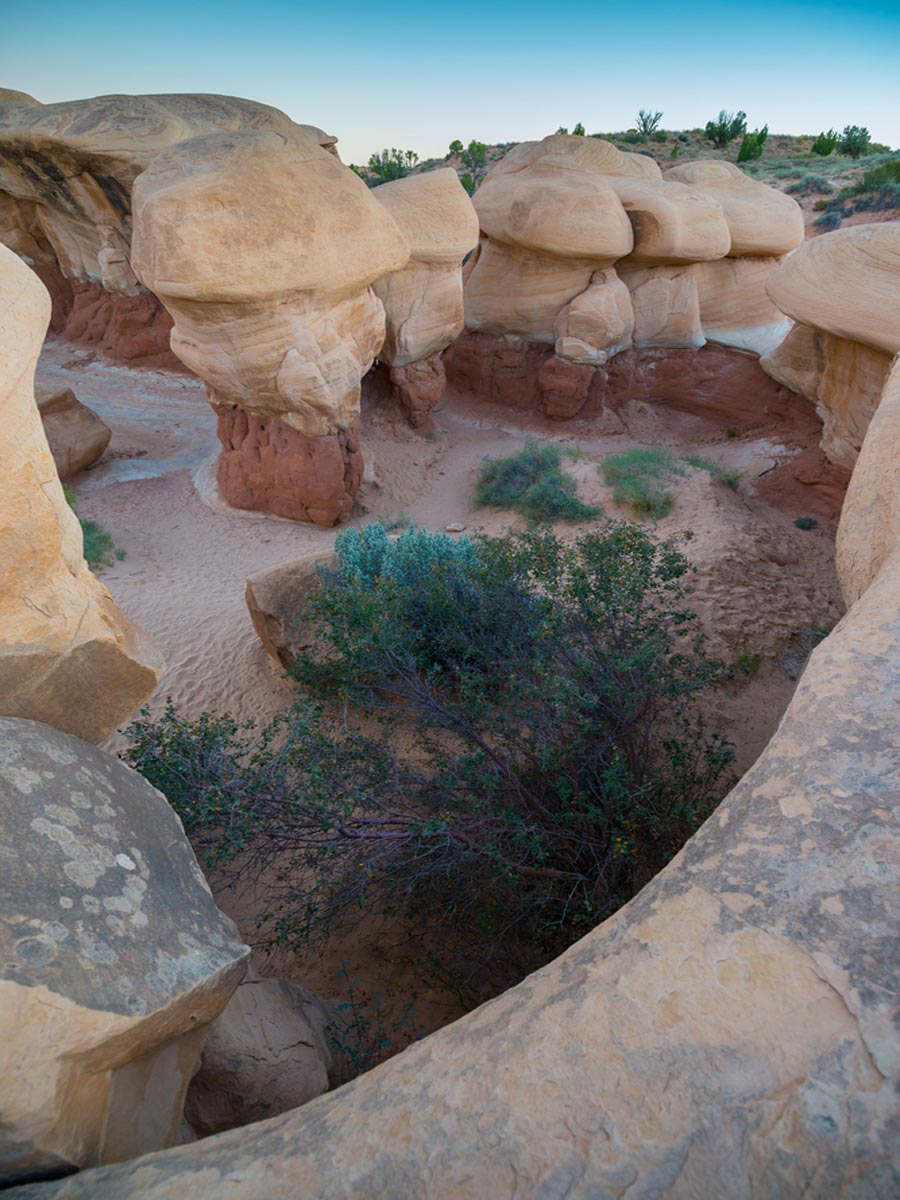 You can find Utah Hoodoos throughout the state's southern region. A fantastic place to see more Hoodoos would be at the Grand Staircase-Escalante National Monument while embarking on your Utah National Parks road trip.
Planning Your Visit to Bryce Canyon Hoodoos
Visiting the Bryce Canyon Hoodoos on a Tour
Visiting Bryce Canyon on your own can have its advantages, but visiting with a tour makes things a lot simpler. No need to stress about transport and timing, this is all planned out for you.
Take a look at these amazing tours if you want to experience the Hoodoos of Bryce Canyon to the fullest:
Visiting Bryce Canyon Hoodoos Independently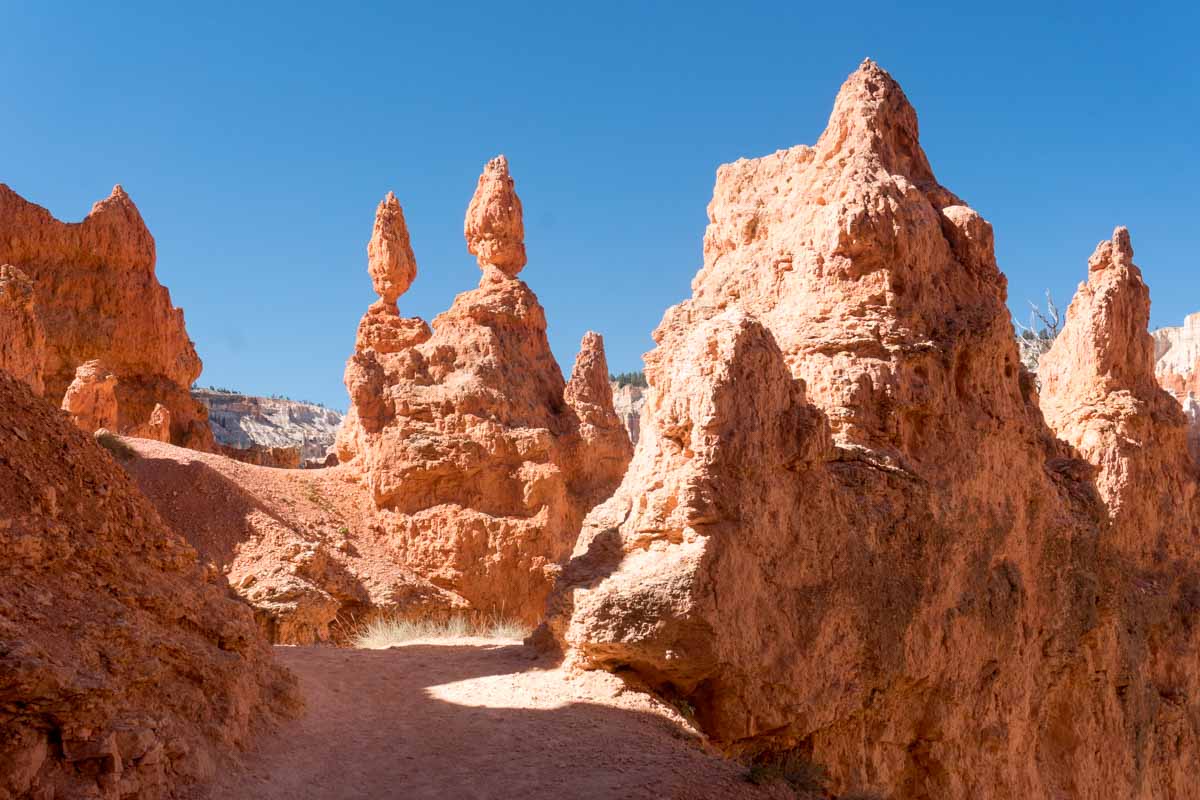 Hiking
You can explore Bryce Canyon without joining a tour, and with 38 excellent trails to enjoy, you have an abundance to choose from. Strap on your comfiest hiking boots and get ready to explore.
By Car
If you don't want to join a tour, you can also travel through Bryce Canyon National Park along Rim Road, past all the best viewpoints in the park.
By Shuttle
The park also offers a free shuttle service if you don't want to waste time finding parking in the busy car parks.
Where To Stay Near Bryce Canyon
The Stone Canyon Inn is a lovely place to stay for unrivalled views overlooking Bryce Canyon National Park. You will love returning to the Stone Canyon Inn after a long day of adventuring with a hot tub, mesmerising views, and a boutique room waiting for you.
Bryce Canyon Hoodoos: Address
Highway 63
Bryce Canyon National Park
Bryce, UT 84764
Bryce Canyon Hoodoos Opening Times
Bryce Canyon National Park is open 24 hours a day, 365 days of the year.
Bryce Canyon Hoodoos: Map
Bryce Canyon Hoodoos: Read Next