Holy hoodoos! Is there a place anywhere as perfectly unique to watch the sun rise majestically into the sky and then see it sink back in fiery glory as Bryce Canyon? Here's where to catch the best sunrises and sunsets in Bryce Canyon National Park.
Umm. So, Bryce Canyon National Park is definitely one of those destinations that lives up to its hype. Think that landscape of otherworldly hoodoos poking up into the sky looks crazy by day? Wait until you catch a sunrise or sunset in the park.
Seeing all those craggy spires lit up by inches in the richest colours of the sunset is, quite frankly, sublime.
But where are the best spots to catch sunrise and sunset in Bryce Canyon National Park? I've got you covered with this detailed guide. Adventures ahoy!
Best Places to See The Sunrise in Bryce Canyon
Sunrise Point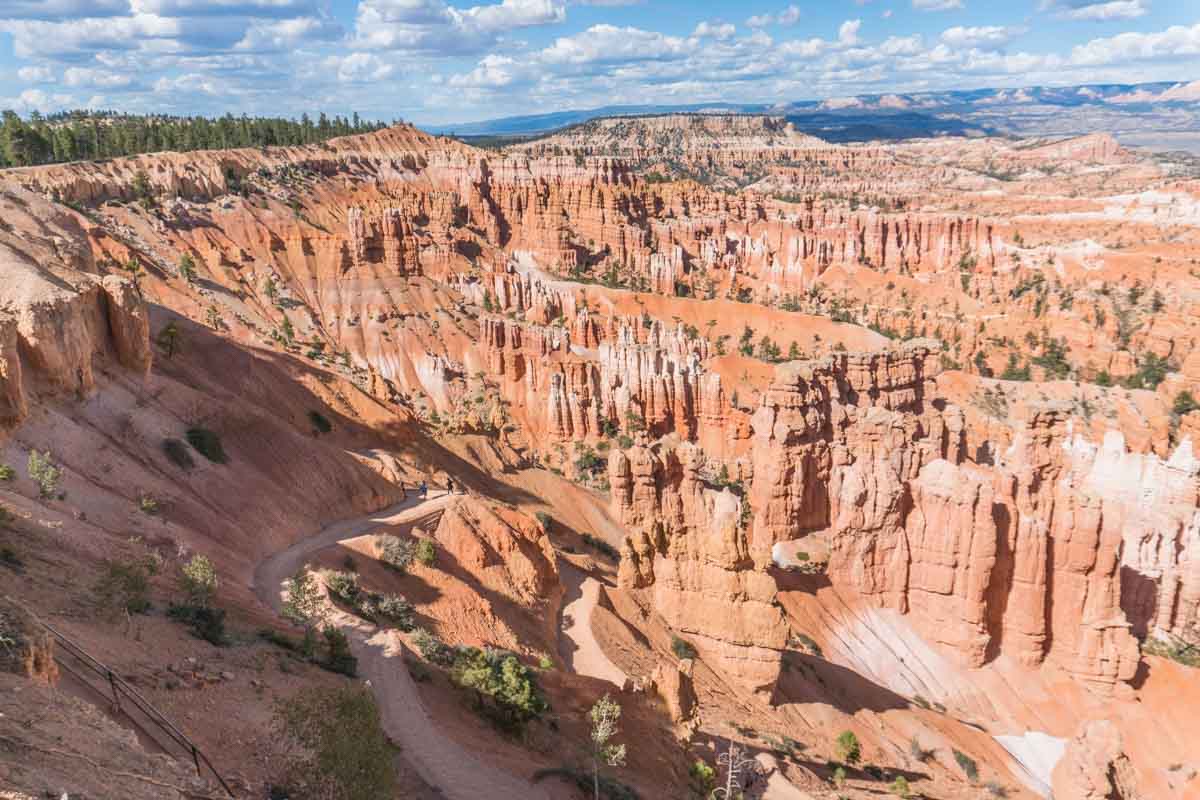 What better place to see the sunrise in Bryce Canyon than Sunrise Point? It's in the name, after all. All you have to do is look to the right to see the sunlight tip the hoodoos of the main amphitheatre and inch its way downwards until the spires are fully lit up.
The incredible contrast between the glowing red hoodoos and canyon walls edged with gold against the civil twilight sky is gorgeous. While the strong shadows making the spires stand out in sharp relief add to the dramatic effect. The parking lot is close by, so you won't have to walk far to reach this viewpoint.
Top Tip: If you're one of the first arrivers, stand a few feet to the right of the information board for the ultimate spot for sunrise at Bryce Canyon.
Sunset Point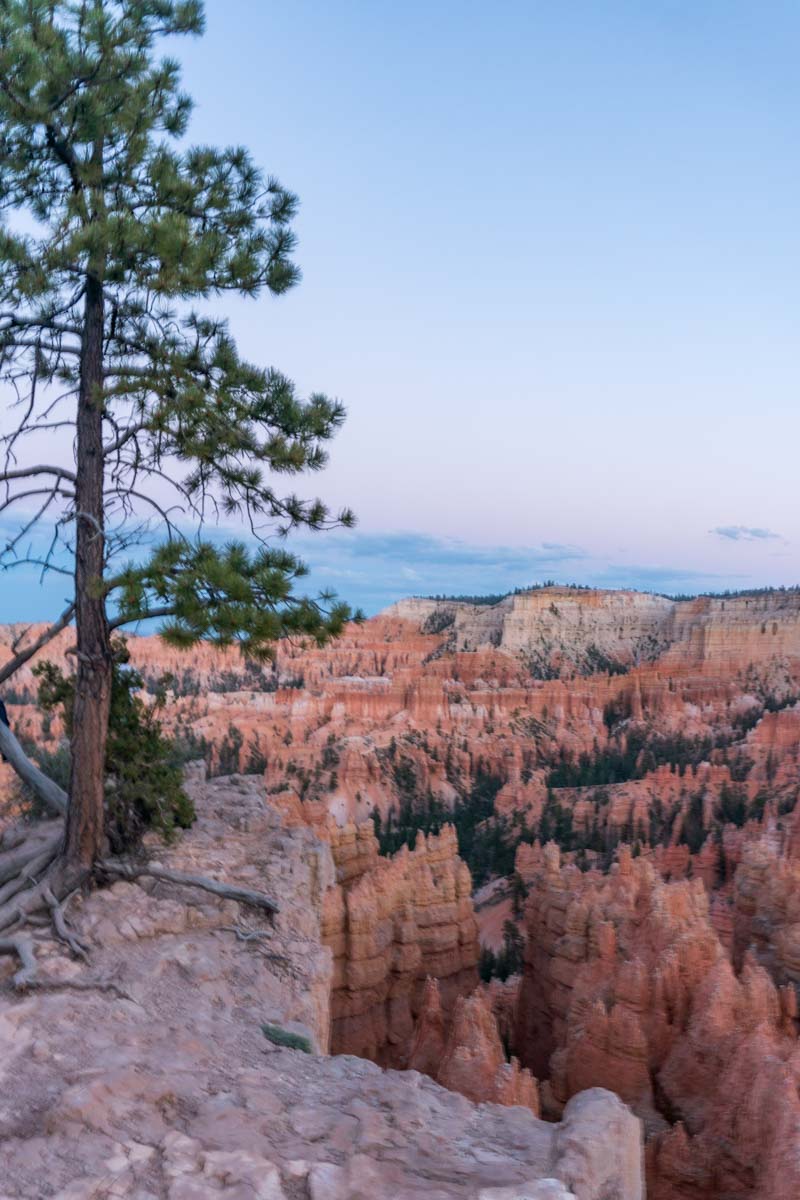 It seems counterintuitive, right? But the canyon mostly faces east, so the sunrise extravaganza you'll be witness to proves that it's one of the best places for sunrise in Bryce Canyon. Plus, you'll avoid all the greenhorns who assumed that Sunrise Point was the only cherry-picked place for dawn, so you won't have to elbow people out of the way for the view.
It's also only half a mile from Sunrise Point, so if you arrive and find Sunrise Point is already full, just head to Sunset Point for a different (but equally, if not more incredible) perspective.
Inspiration Point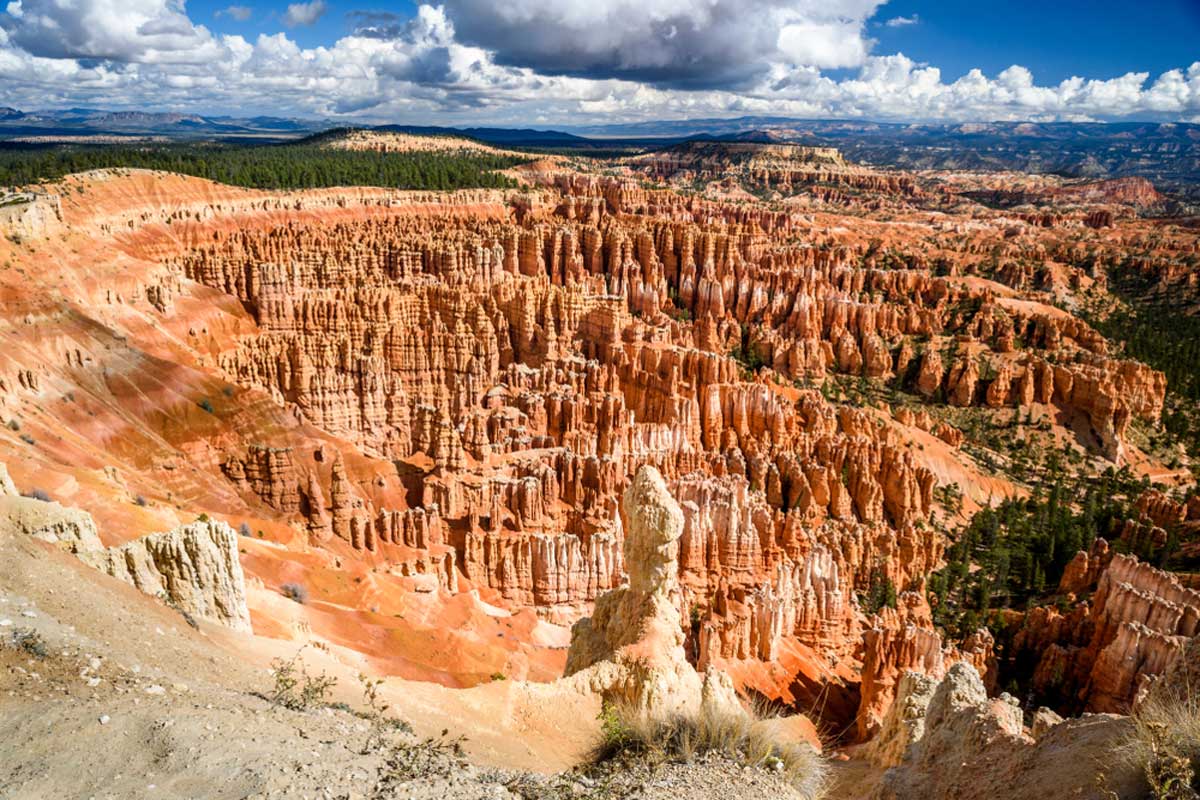 If you stand at one of the three tiers of viewing stations at Inspiration Point, you'll have the central and most hoodoo-crowded section of the amphitheatre staring you in the face.
As you can expect, it's a superbly popular viewing point in general because of this, but sunrise makes it particularly stunning. You'll find yourself surrounded by the full amphitheatre on both sides, adding to the drama and majesty of the light seeping through the canyon.
Plus, three viewing platforms creates less competition for coveted places to showcase the best sunrise in Bryce Canyon. The parking lot is close by for your convenience, so there is no need to plan for lengthy hikes to reach this destination.
Bryce Point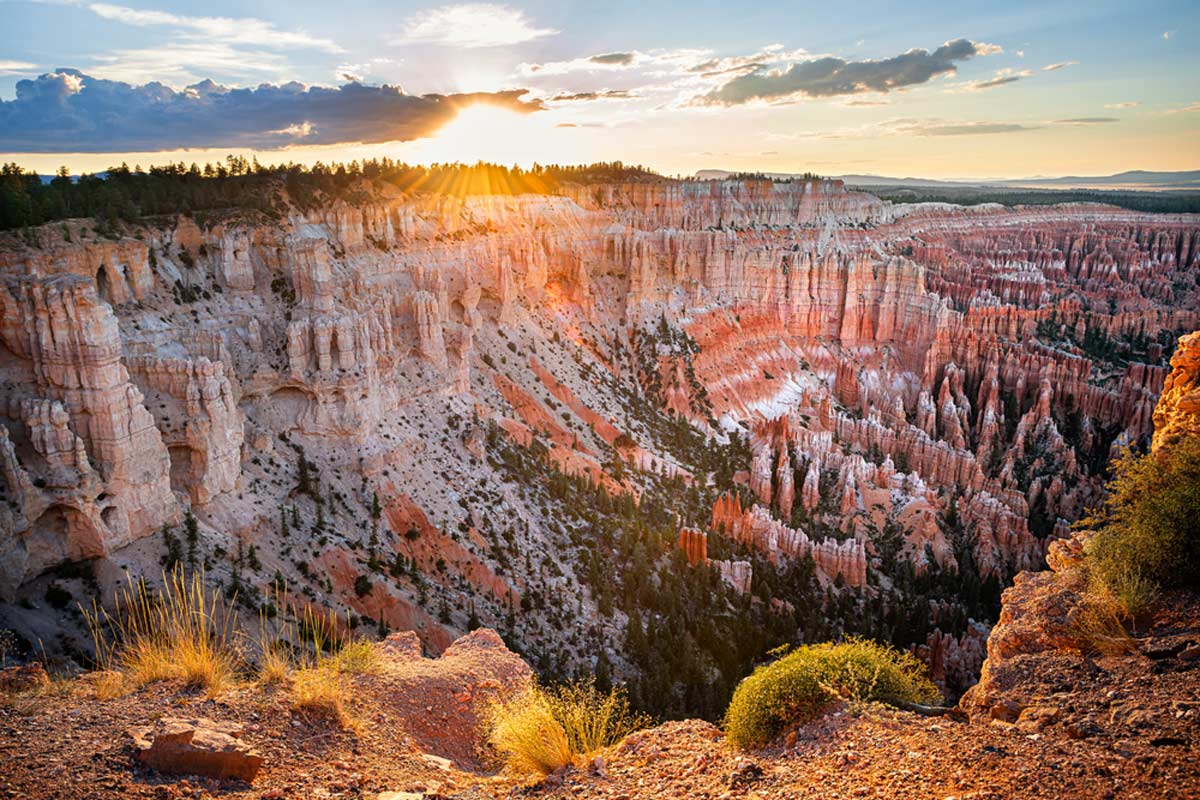 Sunrise Point is on the left side of the amphitheatre, and Bryce Point is on the right side. It differs from Inspiration Point because instead of looking down on the hoodoos, at Bryce Point, you'll be looking across them.
This means the sharp relief created by sunrise shadows is more pronounced, which enhances the craggy spires' appearances even more. It's a popular competitor for the best place to watch the sunrise in Bryce Canyon, thanks to this unique perspective and the lack of crowds.
There's a tiny trail to reach this viewpoint, but only about five minutes' worth of walking there and back.
Peekaboo Loop (Trail)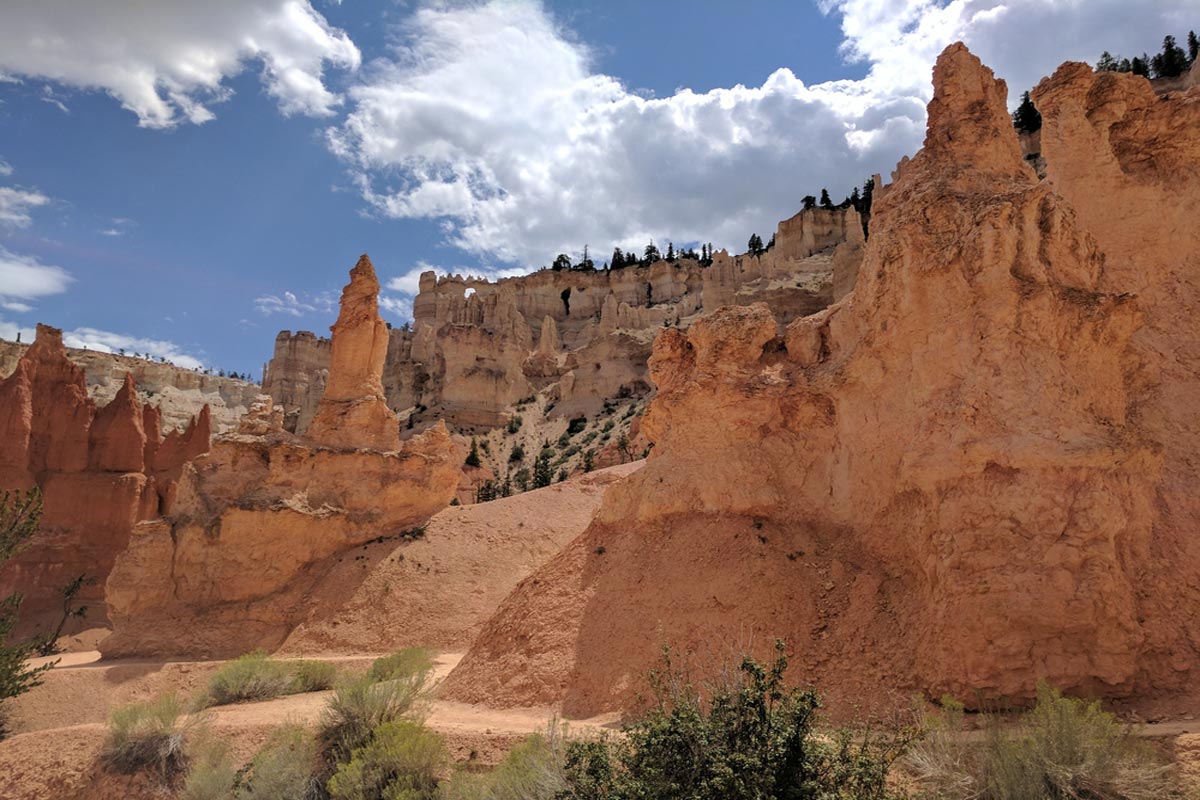 This incredible hike in Bryce Canyon offers a different perspective on a Bryce Canyon National Park sunrise.
It's a moderately strenuous 5.5-mile hike as it drops rapidly from Bryce Point to the canyon floor and has over 1,500 feet in elevation gain to negotiate. So it's not for the novice stroller or the weak-ankled, but it's a different angle to the typical rim-down sunrise experience at Bryce.
If you've never seen a sunrise at Bryce Canyon before or aren't much of a serious hiker, it's better to stick to the rim views.
Best Places to See Sunset at Bryce Canyon
If I'm being honest, there aren't many fantastic spots for the best sunset views at Bryce Canyon National Park. The sun sets at your back as you stand at the rim and look down into the amphitheatre, most of which falls into shadow very quickly as the sun descends. That said, one or two spots can provide a decent sunset experience for twilight chasers.
Sunset Point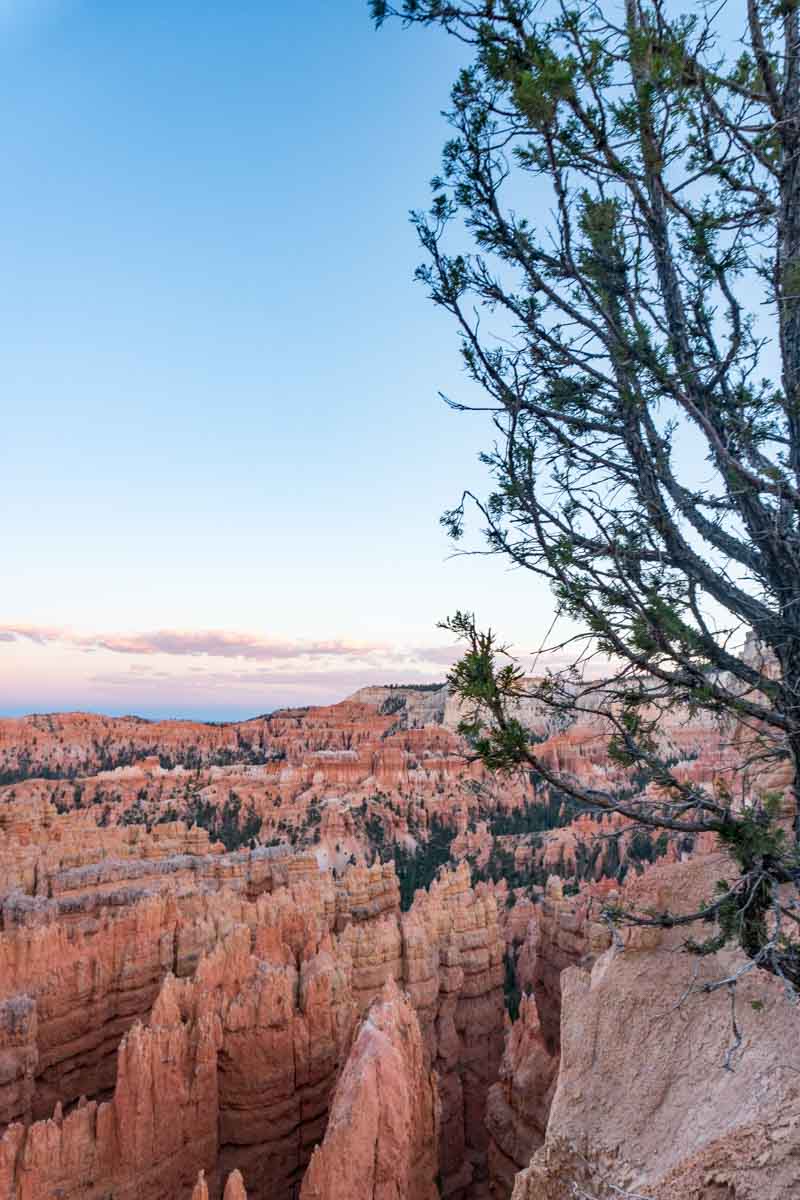 When it comes to sunset, Bryce Canyon has its namesake lookout point; whether the sun is coming or going, Sunset Point is still the place to be.
It offers one of the best sunsets in Bryce Canyon, despite the fact that great vantage points for sunsets are hard to come by here. Most of the hoodoos will be in shade, but the distant hills will glow golden in the magic hour before sunset in Bryce Canyon.
Any ambient light that makes it onto the hoodoos will turn them a delicate glowing red, and you'll be able to see Silent City on one side and Thor's Hammer on the other. It may not be as dramatic as sunrise, but it has a magical ambience.
Inspiration Point
This is also one of the better places to catch the sun dipping below the horizon. With a visual down the middle of the amphitheatre and dozens upon dozens of hoodoos, you're more likely to catch some refracted colours bouncing off mesmerising spires.
Practical Tips for Catching Sunrise & Sunset at Bryce Canyon
The park is open 24 hours a day so that you won't experience any problems driving in the wee hours.
Make sure you arrive 20 – 30 minutes before sunrise if you're looking from the rim. Arrive even earlier if you want to beat the early risers that cling to the railing and block the view.
The parking area fills up fast, so don't leave your excursion too late.
You can't take the Bryce Shuttle as it only starts running at 8 am, so make your way there in a car.
In Fall, winter, and spring, it gets icy in the dark hours before dawn, seeing as Bryce Canyon is at an 8,000 feet elevation. Bring warm jackets and wear appropriately warm clothes.
Approximate Sunrise and Sunset Times For Each Season in Bryce Canyon
The sunrise times for Bryce Canyon can vary between an hour and a half, depending on the season. Similarly, the sunset times in Bryce Canyon oscillate within a range of about three hours. If you need to know the exact time for the day you're visiting, check out timeanddate.com.
February to April: Sunrise is between 6:34 am – 7:32 am, and sunset is between 5:52 pm – 8:18 pm.
May to July: Sunrise is between 6:31 am – 6:33 am, and sunset is between 8:18 pm – 8:37 pm.
August to October: Sunrise is between 6:32 am – 7:52 am, and sunset is between 6:31 pm – 8:36 pm.
November to January: Sunrise is between 7:33 am – 7:53 am and sunset is between 5:51 pm – 6:30 pm.
Sunrise & Sunset in Bryce Canyon National Park: Read Next