Ready to discover the best things to do in Moab? These are the places you need to visit.
Ready to discover the best things to do in Moab? From exploring stunning national parks to unique activities in the city, these are the places you need to visit.
Pairing stunning natural landscapes with a laid-back vibe and the promise of outdoors adventure, it's no wonder that Moab has fast become one of Utah's top destinations. Whether it's the otherworldly red rock formations of Arches National Park, or tackling a tough trail that's packed with jaw-dropping views, Moab isn't short on thrills.
Want to explore the activities in Moab you shouldn't miss? Buckle up – this is going to be one heck of a ride.
Top Tip: If you're looking for a great place to rest your head, we recommend staying at the Hoodoo Moab by Hilton for an unforgettable time in the city.
Top 5 Things to Do in Moab
Explore Arches National Park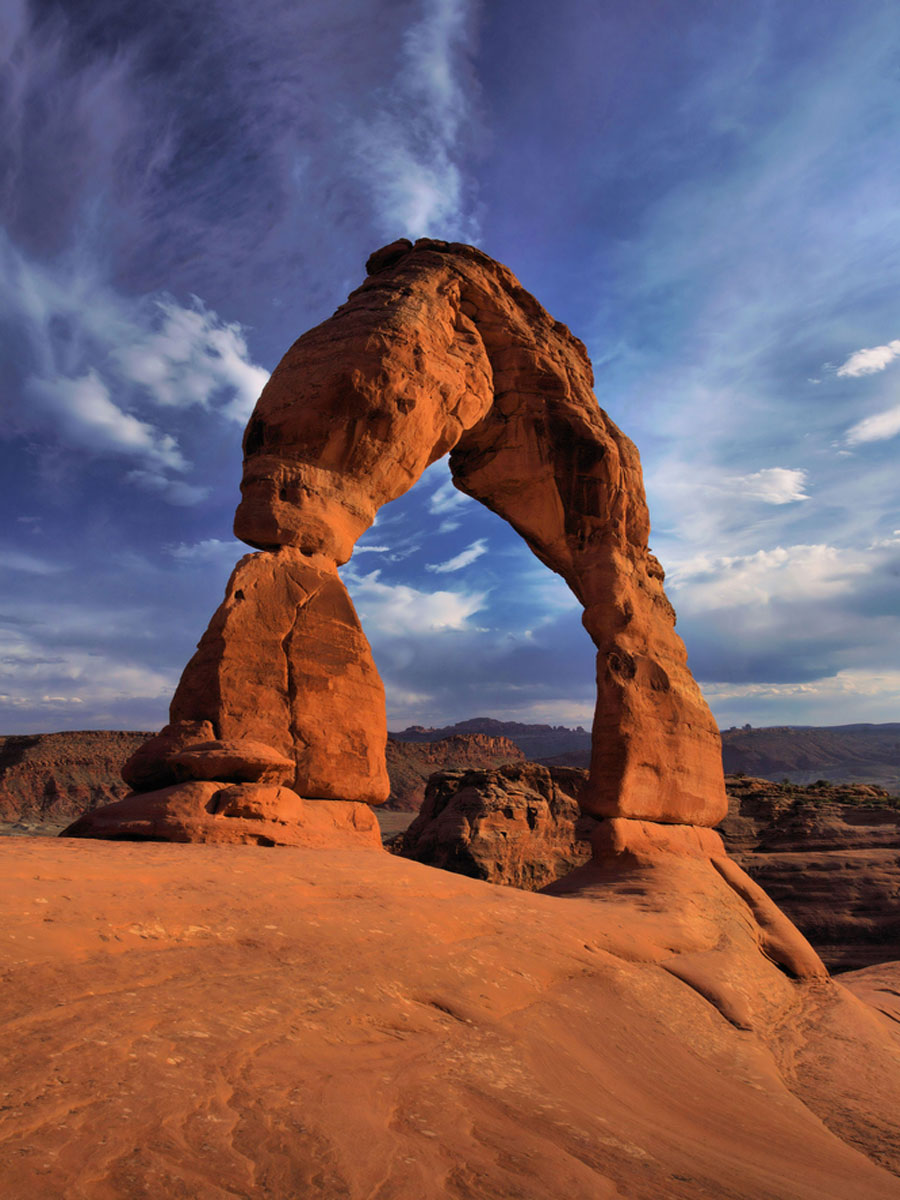 You can't write a guide about Moab without talking up Arches National Park – and we're not about to try. Living up to its name, the park has over 2,000 natural stone arches for you to explore.
While we've written several separate guides to exploring Arches National Park, here are the top spots you shouldn't miss.
Balanced Rock Trail – No more than a 30-minute walk, this 0.3-mile roundtrip takes you past towering 128-foot tall rock formations.
Delicate Arch Trail – With two trails to see this arch, it's no wonder it's so famous. The Lower Trail is a 200 feet roundtrip, while the Upper Trail provides unparalleled views of Delicate Arch on a 0.5-mile (45-minute) hike.
The Windows Trail – What appears to be a window in the rockface, this arch is just a short one-mile (60-minute) hike that provides exceptional photo opportunities.
Top Tip: You can see all these landmarks and more on this Arches National Park 4×4 tour.
Rafting Down the Colorado River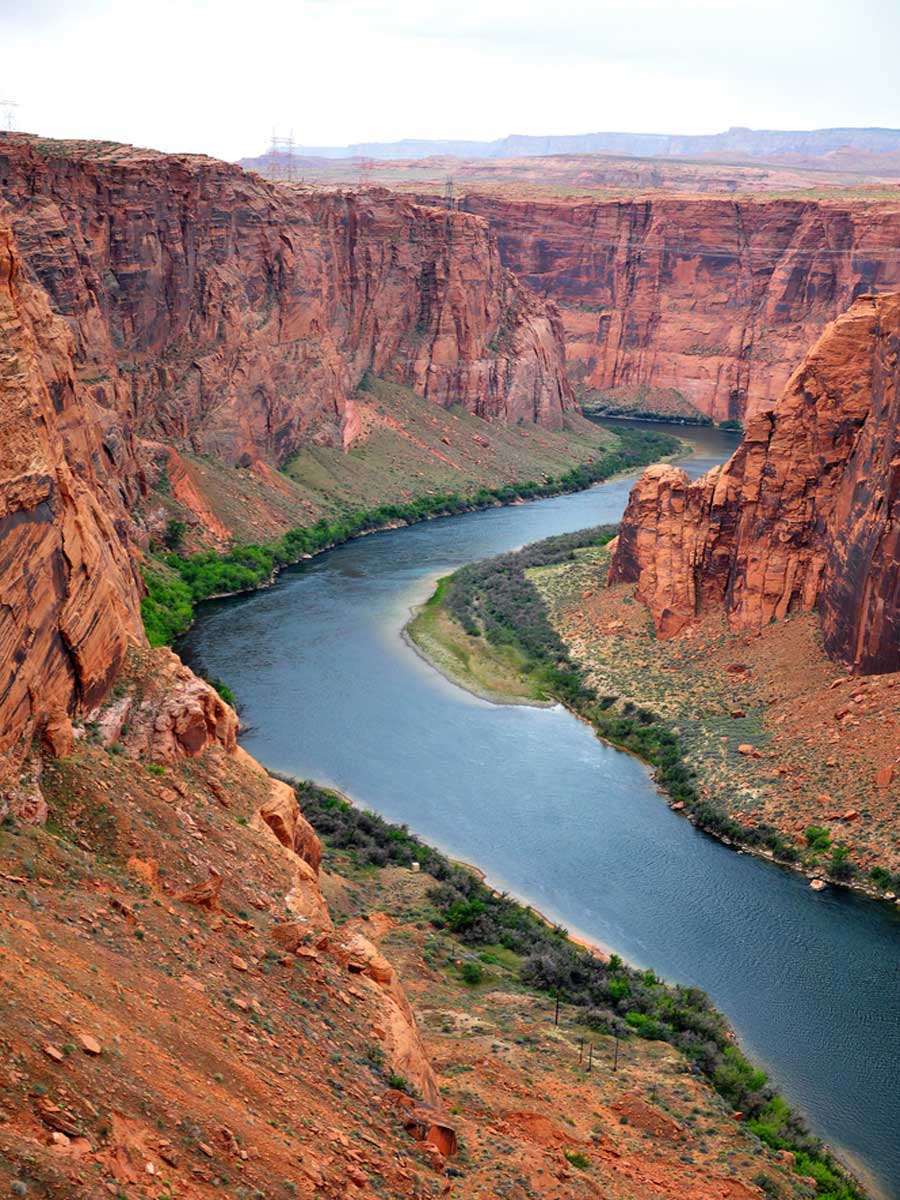 Over millions of years, this body of water has been shaping the picturesque landscape you see today. And whitewater rafting down the Colorado River is the best way to experience the sheer power of the river.
Travel down the river and see the Cataract Canyon or Westwater Canyon from a new perspective. You can choose between a half-day, full-day, or multi-day rafting trip to see the landscape in all its glory.
Top Tip: Join this Colorado River half-day rafting trip for a short but sweet adventure.
Hike the Fisher Towers Trail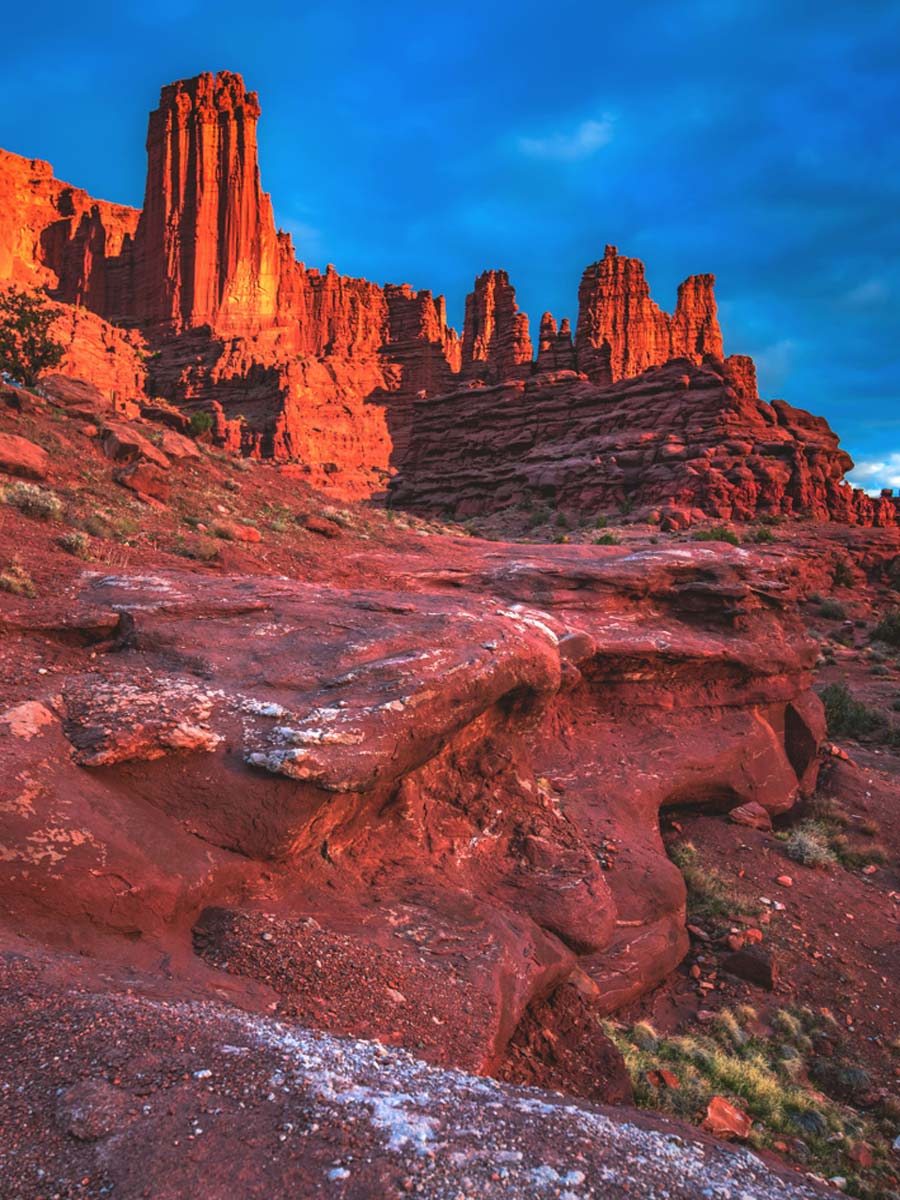 Like fins soaring high in the sky, Fisher Towers is a truly unique landmark and one of the best things to see in Moab. Explore the towering sandstone walls along a 5.2-mile out-and-back hike.
The tallest point along this ever-changing mountainside is Titan Peak, at an impressive 900 feet. The hike takes roughly two to three hours as you zigzag through this unique landscape.
Top Tip: Kill two birds with one stone and join this Colorado River and Fisher Towers tour.
Enjoy the Sunset at Dead Horse Point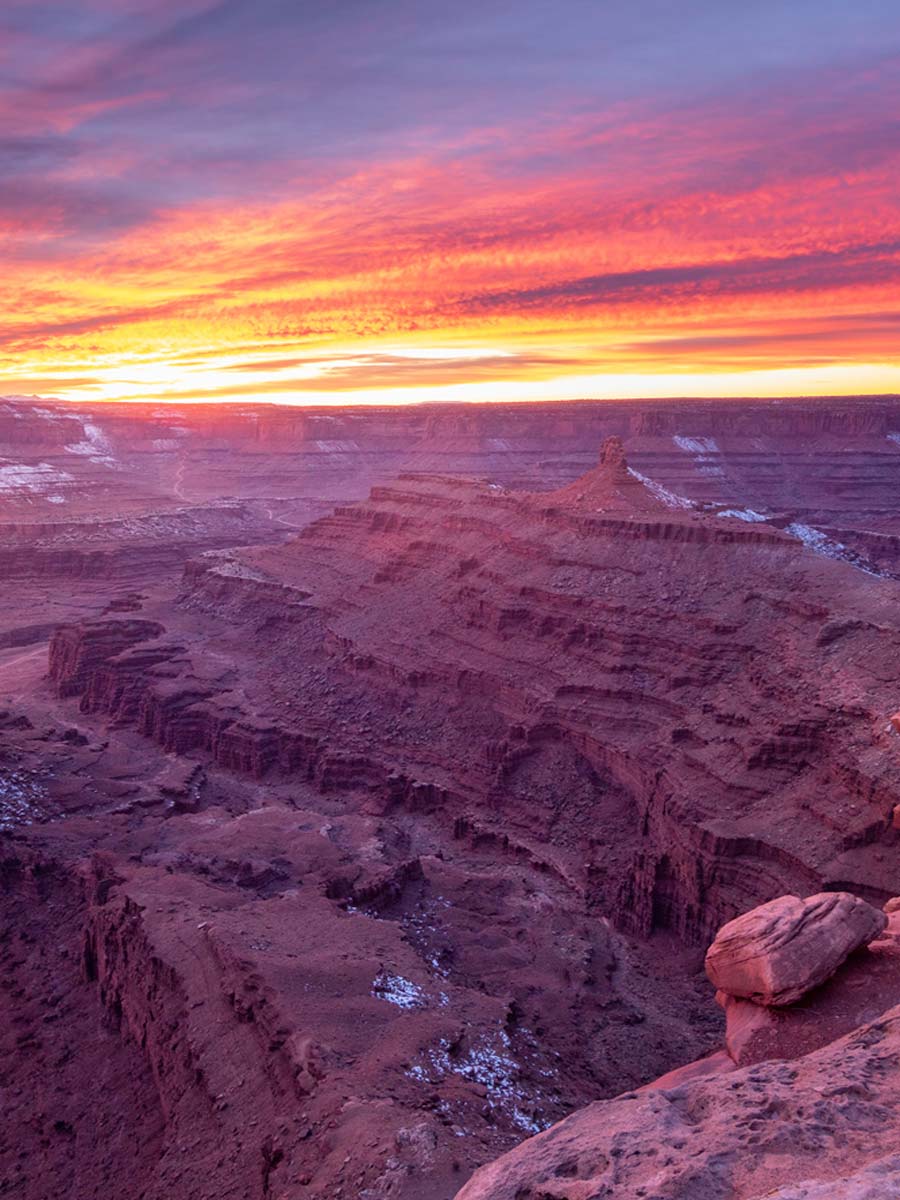 Nothing beats a sunset over Utah's vast expanse, and seeing it at Dead Horse Point makes it extra special. Dead Horse Point National Park occupies 5,362 acres of rustic Utah desert.
You have to visit Dead Horse Point Overlook, where you'll have mesmerizing views of the Colorado River and Canyonlands National Park. Try and visit between 4 pm and 7 pm to catch the perfect sunset photo opportunities.
Top Tip: Take a journey to Dead Horse Point on this jet boat tour to the park before admiring the sunset.
Explore Canyonlands' Island in the Sky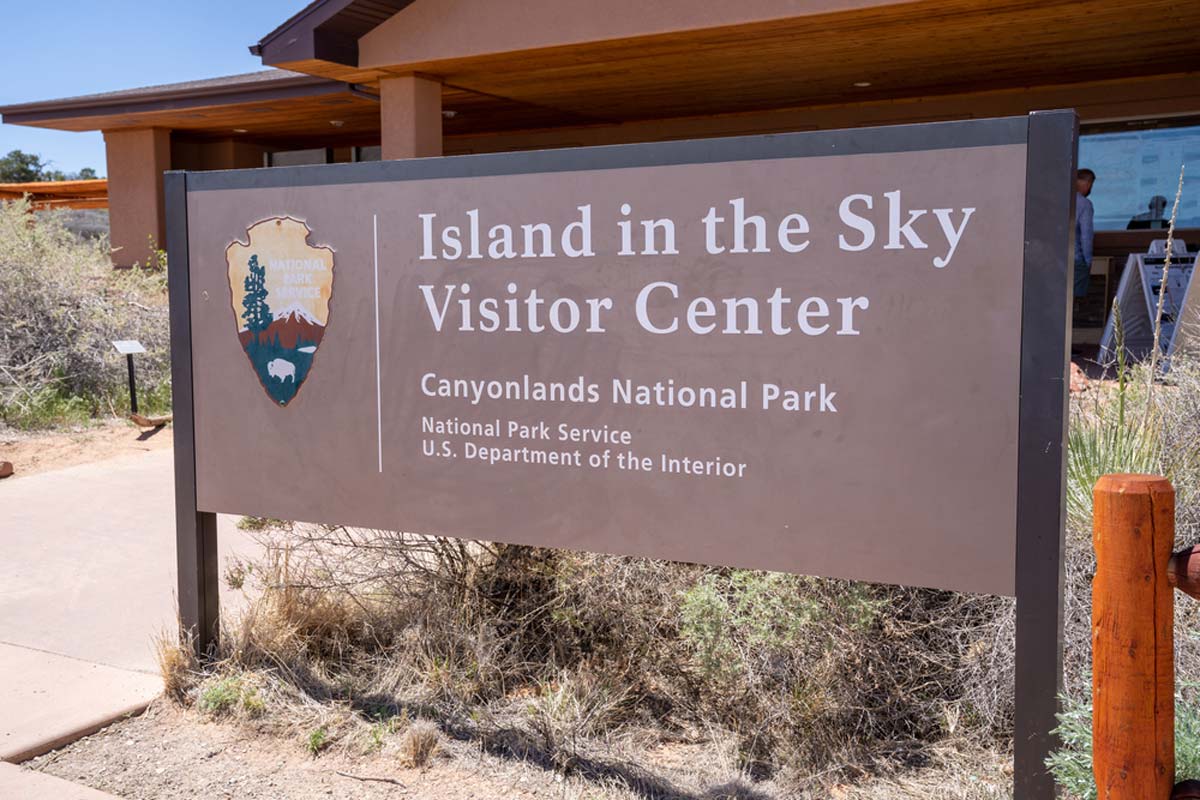 Another simply majestic Moab thing to do is explore Canyonlands' Island in the Sky. No more than a 10-mile drive from Moab, Island in the Sky provides breathtaking views of the Canyonlands' region.
With sheer drops of over 1,000 feet throughout the region, these viewpoints do feel like islands in the sky. The top viewpoints you should visit include the Grand Viewpoint, Shafer Canyon Overlook, and the Visitor Center Overlook.
Top Tip: On this half-day Canyonlands island tour, you can explore the entire Island in the Sky region.
Brilliant Things to See & Do in Moab
Enjoy the Moab Zipline
In search of fun things to do in Moab? If so, taking to the skies on a ziplining adventure should be on your list. Nothing beats the adrenaline-inducing feeling of soaring over the sandstone canyon below.
At the Moab Adventure Center, you can join a two-hour and 30-minute ziplining masterclass over Raven's Rim.
Explore Canyonlands Needles Division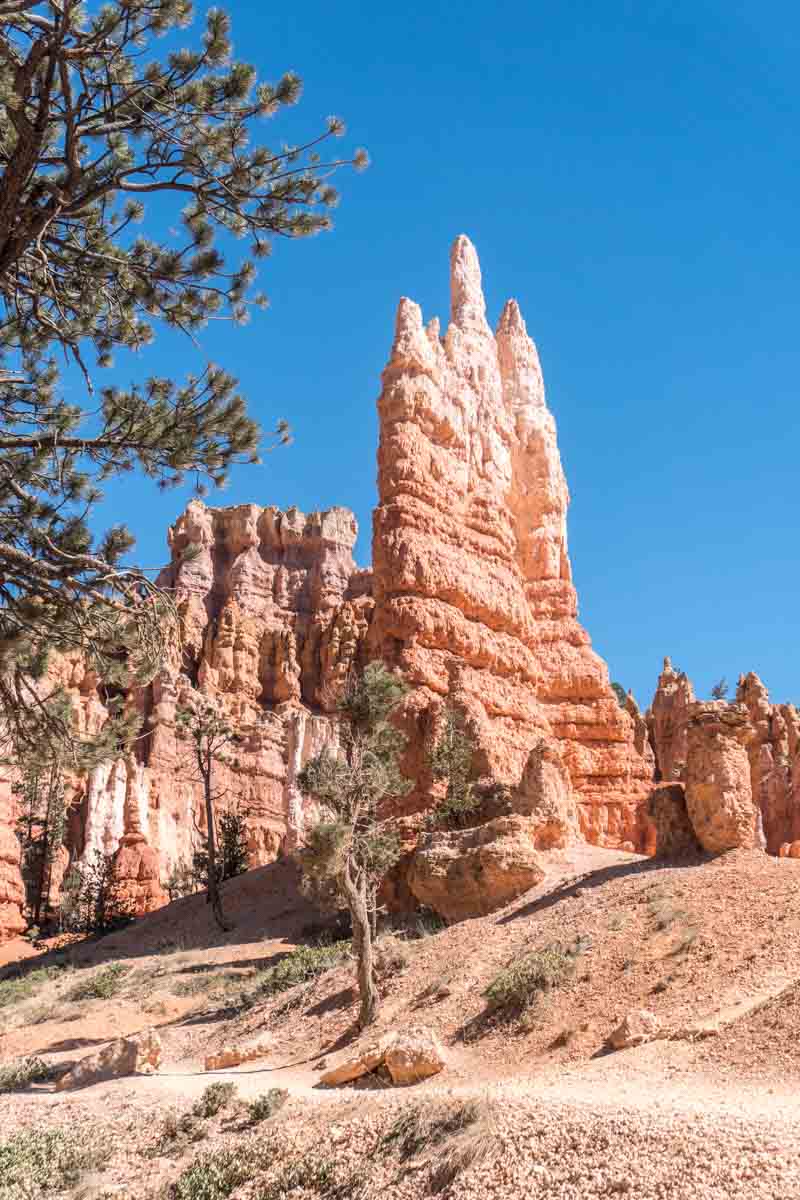 One of the top Moab attractions is the Needles in the southeast region of the Canyonlands. These spectacular spires stretch for an impressive 527 square miles and are one of the best things to do in Canyonlands.
Made from Cedar Mesa Sandstone, some of the top formations to visit at the Needles include Tower Ruin and Confluence Overlook. Each spot offers beautiful views of the Needles Division spires. Trust us when we say they are spectacular.
Top Tip: You can explore this diverse region of Moab on this Canyonlands self-driving tour.
Take a UTV Slickrock Tour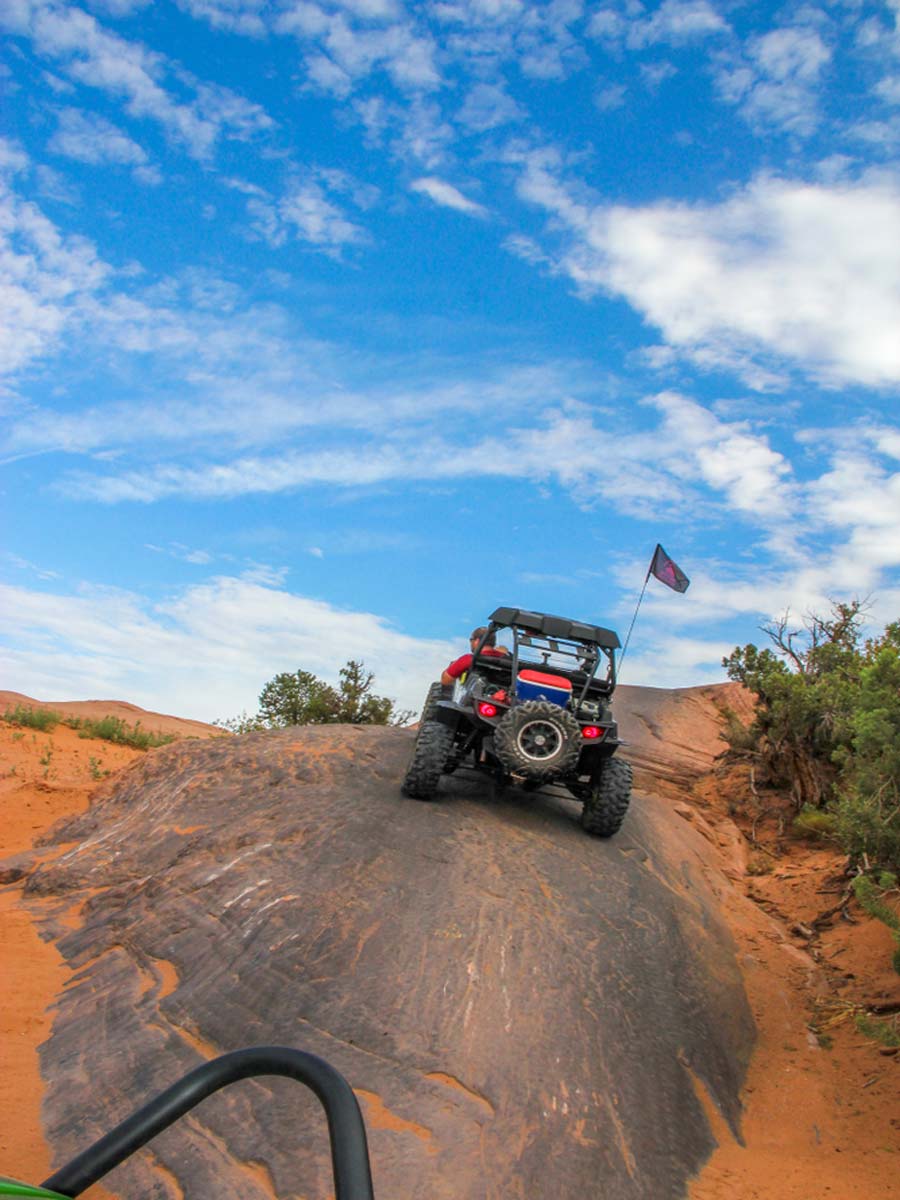 Hold onto your hats… because one of the best things to do near Moab is heading your way. On a UTV Slickrock tour, you'll kick up dirt as you traverse the Hell's Revenge Trail across petrified rock and a Mars-like environment.
But the fun doesn't end there, as you'll stop and have the chance to admire the breathtaking La Sal Mountains off the beaten track. And if you want the perfect photo opportunity, join the afternoon session for fantastic sunset views.
Hike the Klondike Bluffs Trail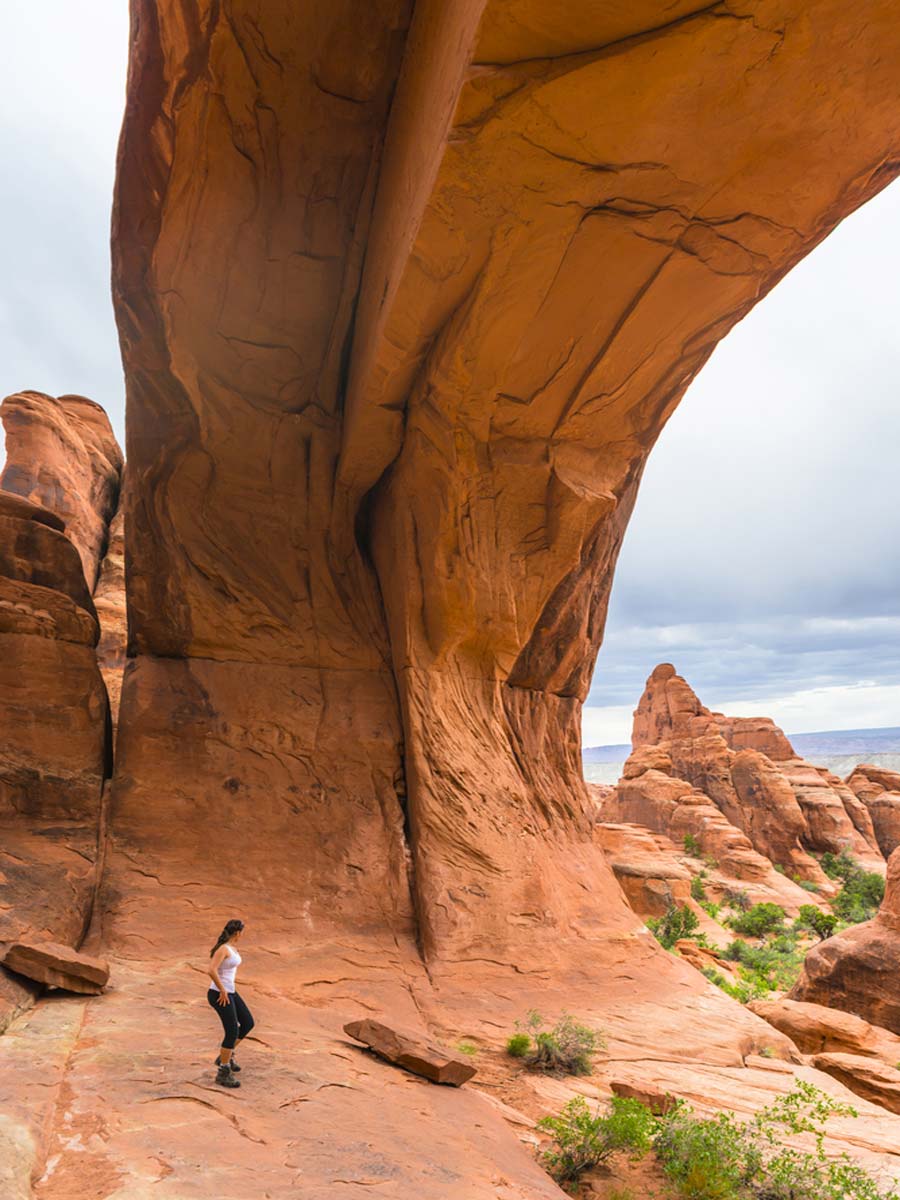 If you want a challenge in Arches National Park, the Klondike Bluffs Trail is just for you. You can hike or ride this 12.9-mile out-and-back trail. It'll take you roughly four hours and 30 minutes on foot.
Along the hike, you can get close to dinosaur footprints, still perfectly preserved in the sandstone. And once you reach the top, the park views are worth the effort.
Drive Along the Shafer Trail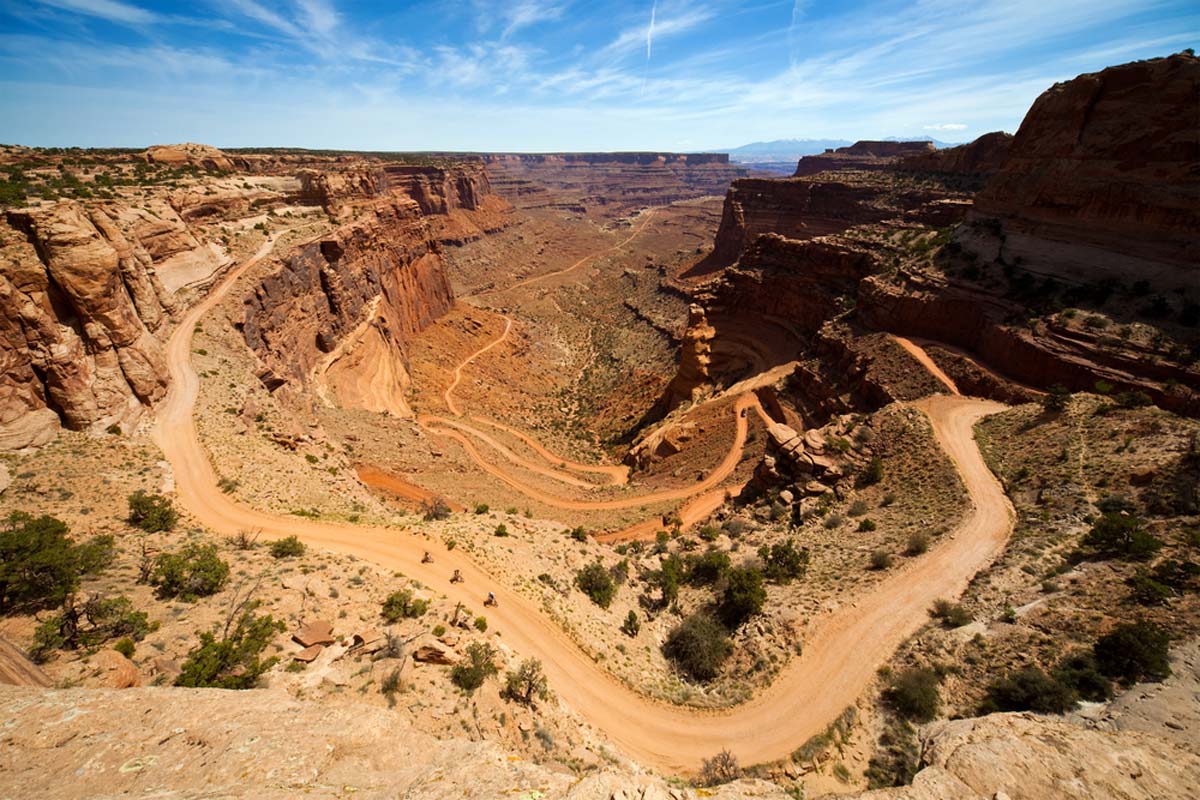 Traverse through 19.6 miles of rugged Utah terrain along the Shafer Trail. In the Island in the Sky region of the Canyonlands, this famous road descends 1,500 feet down the sandstone canyon walls.
This scenic drive will take roughly an hour to complete, but there's no better way to experience the Canyonlands.
Top Tip: Join this full-day Canyonlands and Arches tour to experience the thrills of the Shafer Trail.
Explore the Sand Flats Recreation Area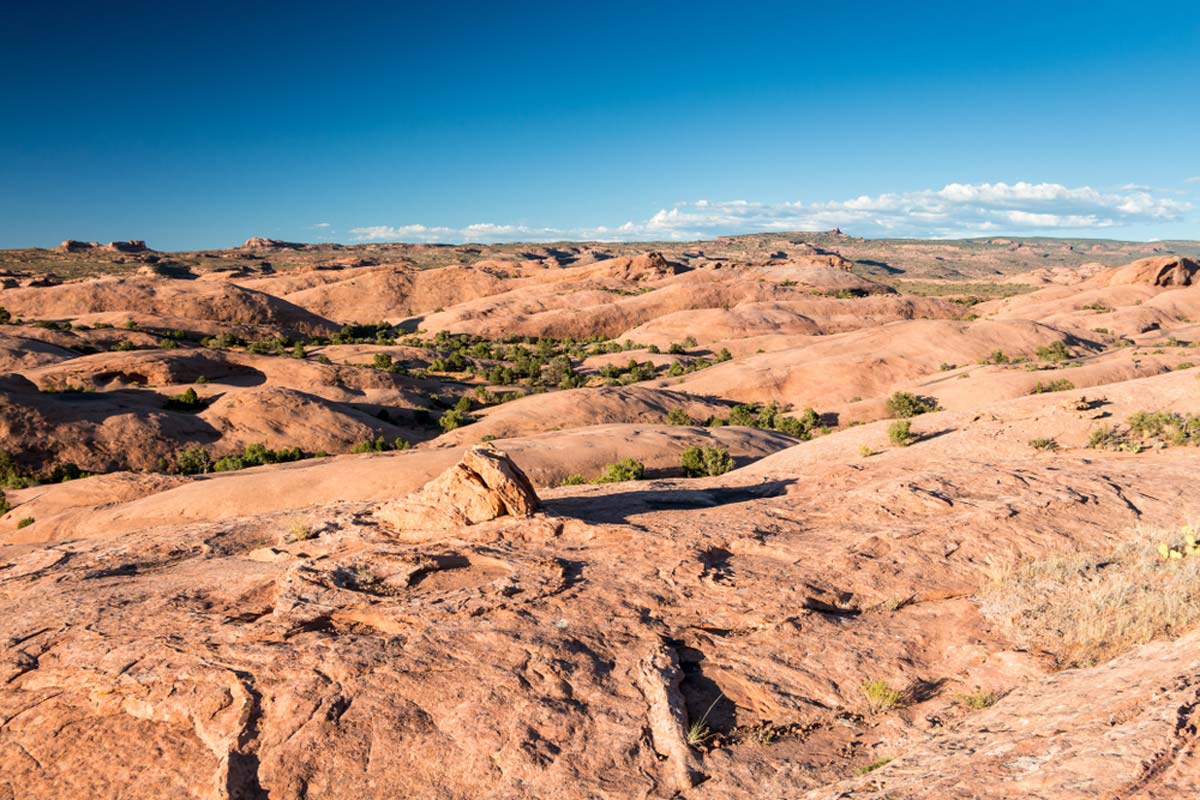 Aside from the popular Canyonlands and Arches National Park, the Sand Flats Recreation Area is another fantastic place to explore.
Across 9,000 acres of rugged terrain, you can journey along hikes, Slickrock trails, and majestic views of the La Sal Mountains.
Top Tip: San Flats is notorious for hosting the Hell's Revenge and Fins N'Things 4×4 trails.
Admire Faux Falls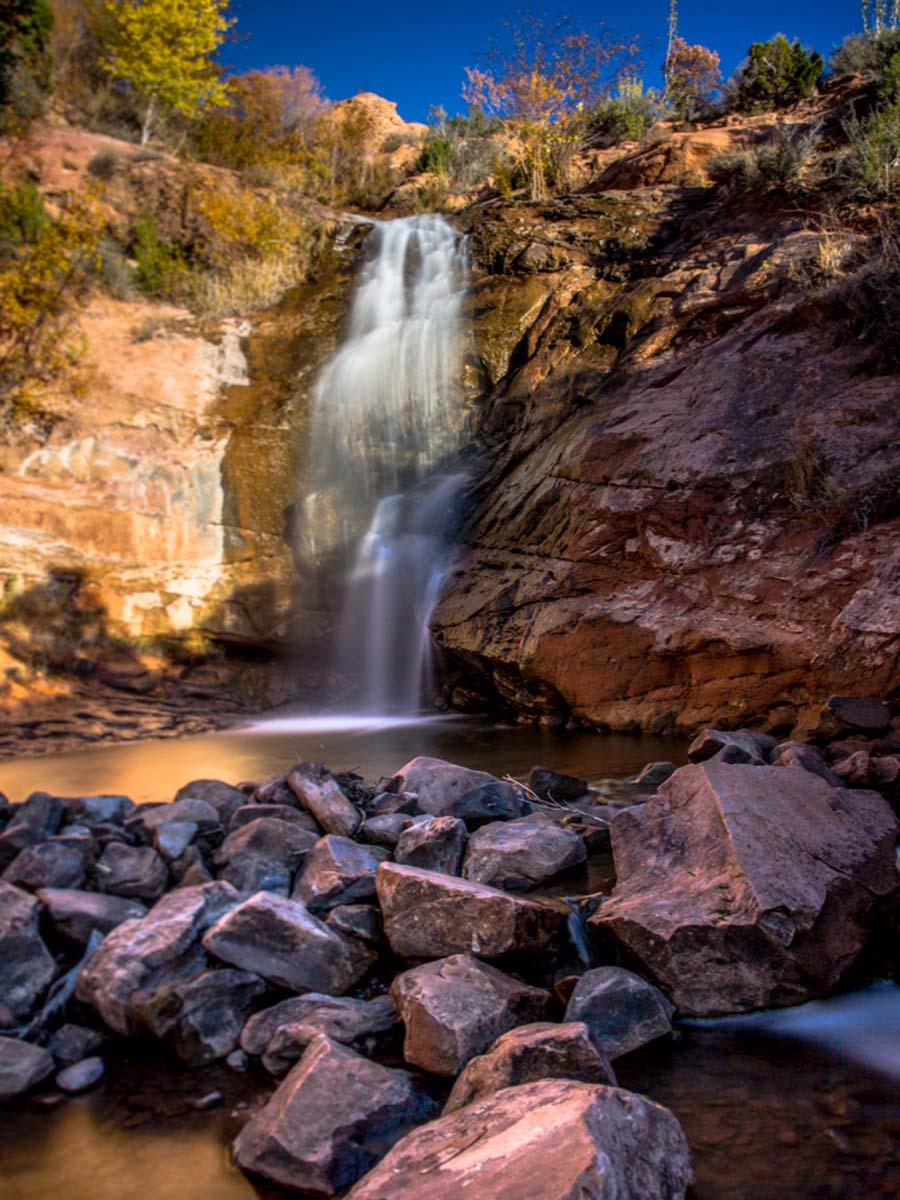 The outdoor activities in Moab keep on coming. After a short 200-yard walk from the Faux Falls parking area, you can take in the beauty that this waterfall beholds.
Despite what the name suggests, this is a real, man-made waterfall. Built in the 1970s during a severe drought in the area, it's now a tiny oasis in the middle of the desert for everyone to enjoy.
Hike the Corona Arch Trail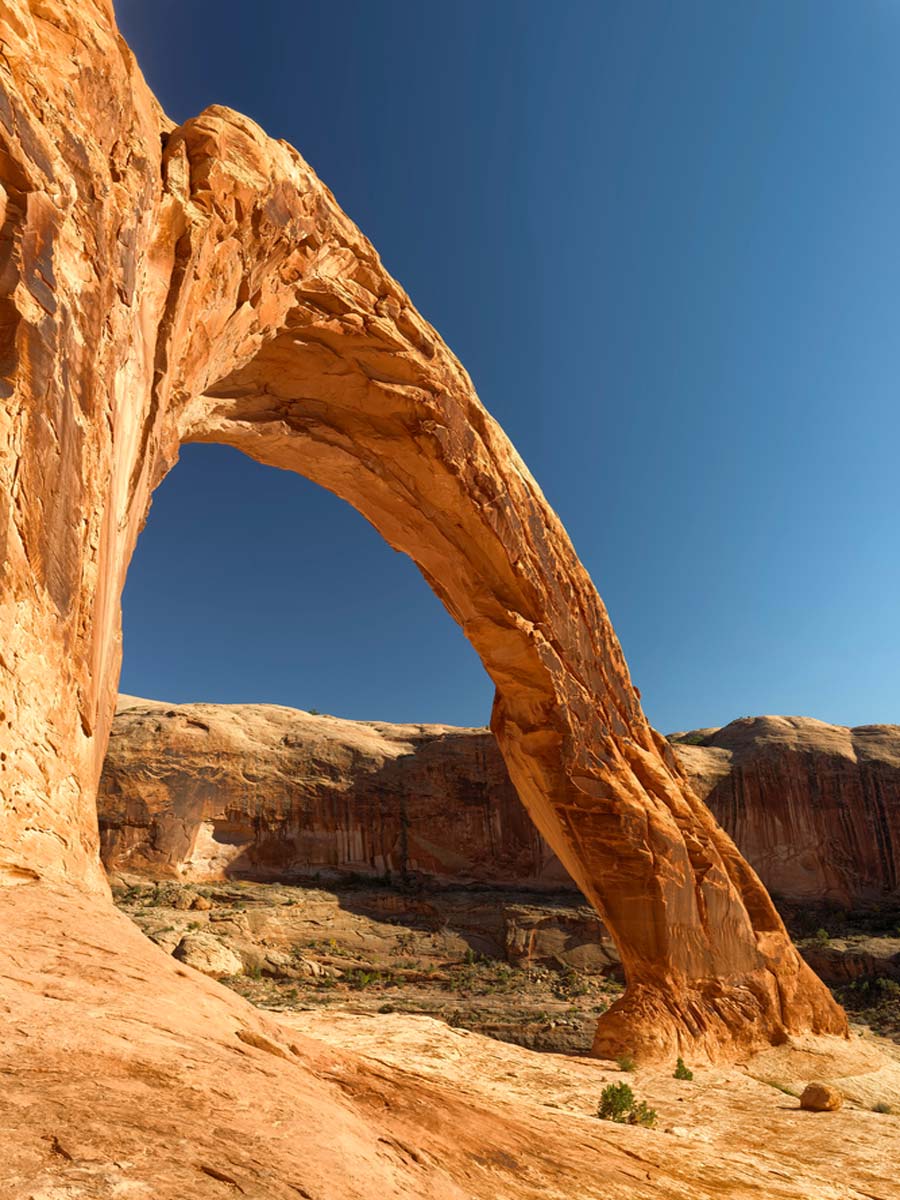 This 2.4-mile out-and-back hiking trail takes you to a dystopian landscape in Arches National Park. After just over an hour of hiking, the iconic Corona Arch reveals itself as it stretches across and frames the Utah landscape.
This is a lovely hike, and you can admire some more arches in the area, such as Pinto Arch and Bowtie Arch.
Unique Things to See & Do in Moab: Hidden Gems That Are Off The Beaten Track
Enjoy a Colorado River Cruise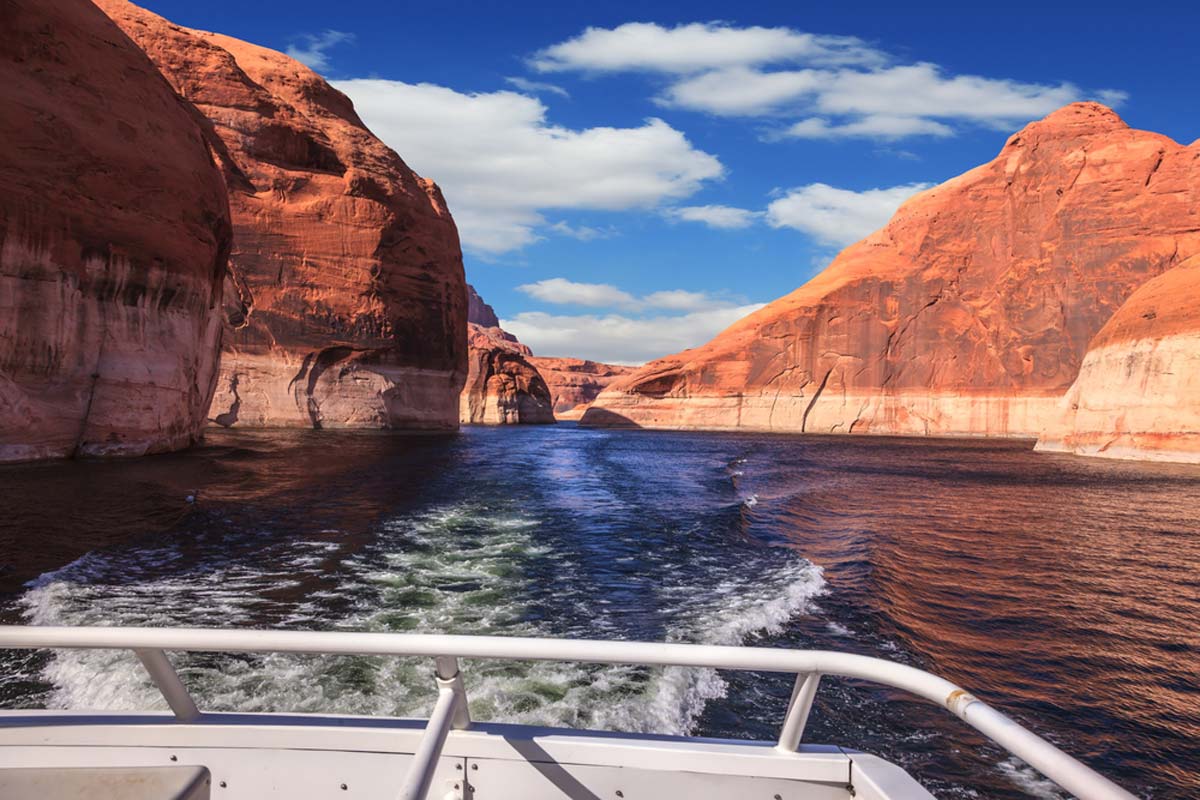 Who doesn't want to sit and enjoy a lovely dinner as they wade along the Colorado River? If you're one of those people, a Colorado River dinner cruise is right up your alley.
You can listen to beautiful live music as you cruise along the river and admire the sunset. Once darkness strikes, a breathtaking light show brings the surrounding canyons to life.
Top Tip: Discover more fantastic things to do in Utah while in the state.
Go Canyoneering at Grandstaff Canyon
Looking for another one of those thrilling things to do in Moab, UT? Head to the cliffside and go canyoneering down the Grandstaff Canyon.
Start by taking a two-mile hike to the canyoneering zone. Now you can rappel 200 feet down the narrow Medieval Chamber slot canyon and pass the Morning Glory Arch. This is an exhilarating activity that's a must-do when in Moab.
Discover Petroglyphs at Newspaper Rock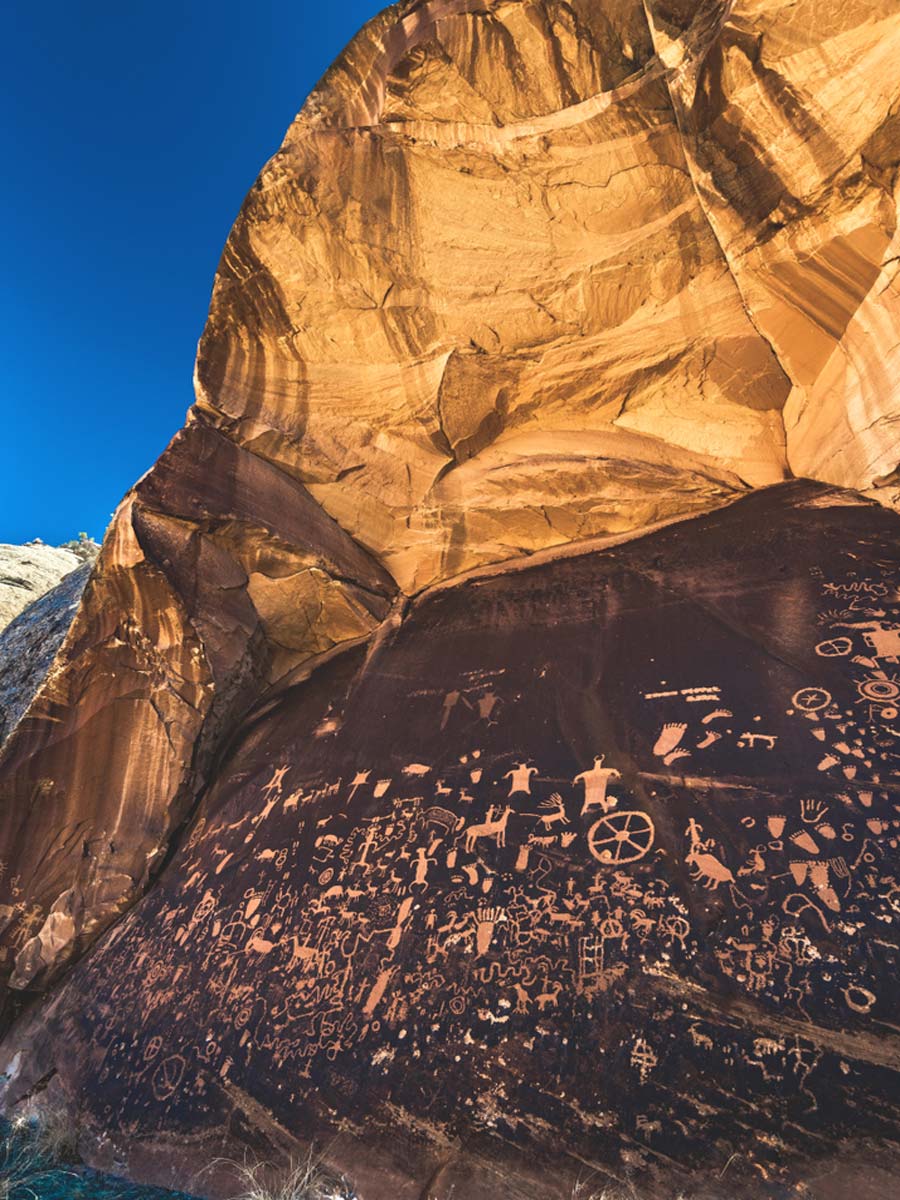 For a dip into the history of Utah, visit Newspaper Rock State Historical Monument. At 53 miles out of Moab, it's a bit of a drive, but it's well worth the trip.
It is one of the most significant collections of petroglyphs in one place and holds essential insight into the life of North American Indians. Although it's not the most exciting, it's one of the most unique things to do in Moab.
Enjoy the Backyard Theater Bluegrass
How about a more relaxing event after you've done your fair share of outdoor activities? The Moab Backyard Theater is a fantastic place to experience the diverse arts and drama skills the city offers.
There are three shows weekly, so you're more likely to catch a show. The best show to visit is Bluegrass on Wednesdays for a free event.
Walk Through Moab Giants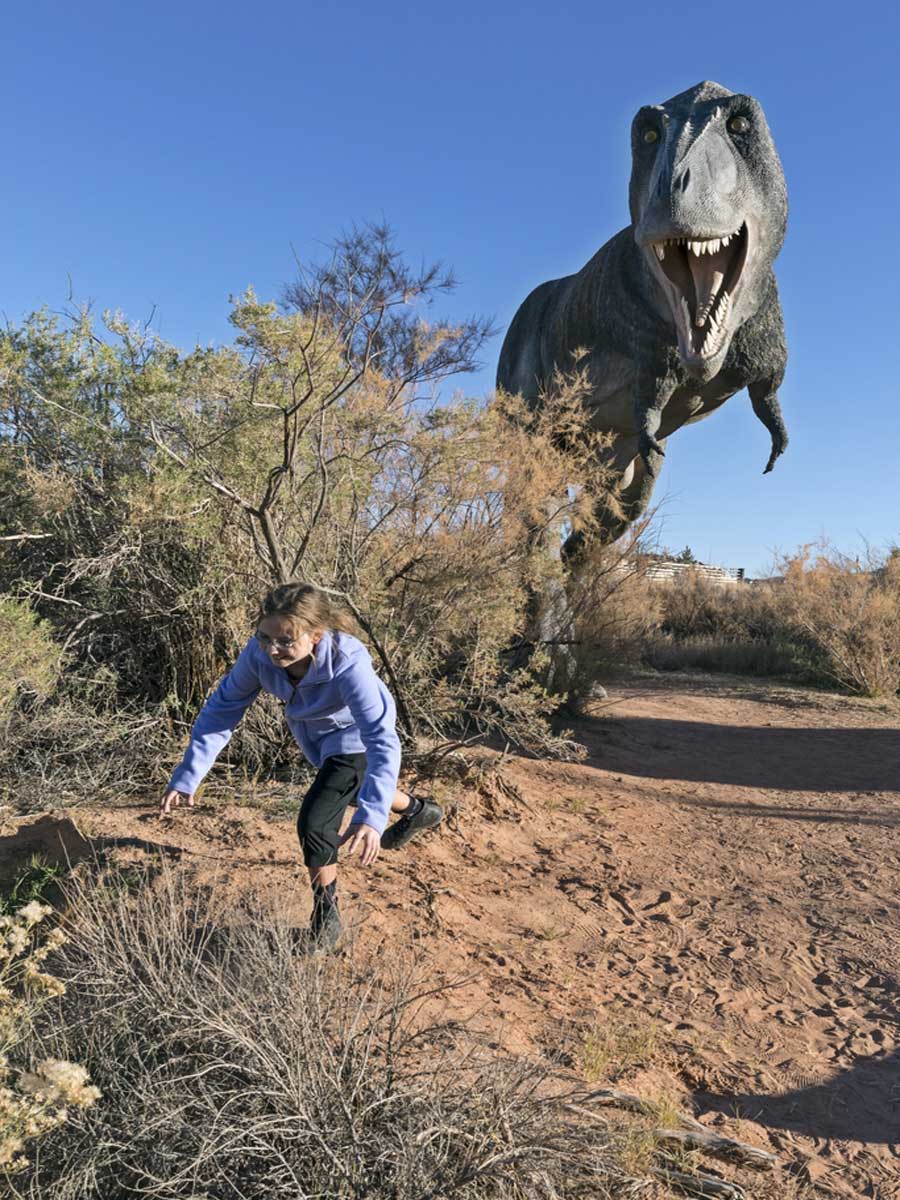 Experience what life was like in the days of the dinosaurs at the Moab Giants open-air museum.
With lifesize sculptures of Ceratosaurus and Diplodocus Longus – to name a few – you will never be short of stunning photo opportunities. And for a deeper dive, join the virtual underwater journey through the life of oceanic dinosaurs.
Top Tip: Learn about the ancient world with this Moab Giants entrance ticket.
Explore the Moab Museum
Discover the diverse history of this breathtaking city at the Moab Museum. The museum covers many topics, from the Ute indigenous community of the Moab area to the settler migration in the mid-19th century.
You can explore everything from dinosaur bones to early Moab settler William Grandstaff. All in all, you can easily spend hours learning about the rich history of Moab.
Take an Astronomy Tour
Last but certainly not least, look up to the starry night and admire the vast expanse of the universe. Join a Moab guided full moon hike to learn about astronomy's history and how to use it in the Utah desert.
On this tour, you can admire the Milky Way in all its glory and explore the moonlit arches of the Moab landscape. This truly is a once-in-a-lifetime experience that you can't miss.
Things to Do in Moab: Practical Tips For Your Trip
How Long to Visit in Moab?
We recommend spending three days in this beautiful landscape. That will give you enough time to visit Canyonlands and Arches National Parks without missing anything.
Best Time to Visit Moab, Utah
As we covered in our guide to the best time to visit Utah, visiting Moab is fantastic in the shoulder seasons. This is between March and April or September and October, as the warm weather during these times is best, and accommodation is cheaper.
Where Should I Stay in Moab?
Scenic View Inn & Suites Moab (Mid-Range)
For affordable accommodation in downtown Moab, Utah, stay at the Scenic View Inn and Suites. Here you can expect complimentary breakfast, a refreshing pool after a long day, and spacious rooms with modern finishings.
Check Rates and Availability for Scenic View on Booking.com
Hoodoo Moab, Curio Collection By Hilton (Luxury)
If luxury is what you want, look no further than Hoodoo Moab, a part of the Curio Collection by Hilton. At Hoodoo Moab, you have pristine views of the Utah landscape, a beautiful pool, a delicious breakfast, and easy access to nearby attractions.
Check Rates and Availability for Hoodoo Moab on Booking.com
Recommended Tours in Moab
Things to Do in Moab: Map
Things to do in Moab: Read Next