Discover the best hotels in Park City with this handy guide. Unmissable places to bed down in Park City after a day on the slopes.
Situated in Northern Utah, Park City is one of the most popular destinations in the state – the city sees more than 4 million visitors a year thanks to its world-famous skiing and snowboarding spots, as well as the Sundance Film Festival.
And, if you needed another reason to visit, Park City is an outdoor haven. The city hosted the Winter Olympics in 2002 and is home to the Utah Olympic Park where teams from across the world come to train.
But that's not all – it's an excellent spot for hiking, mountain biking and plenty more outdoor activities.
Ready to plan the ultimate trip? Discover the best hotels in Park City.
Best Hotels in Park City: At a Glance
Black Rock Mountain Resort
$$$
Park City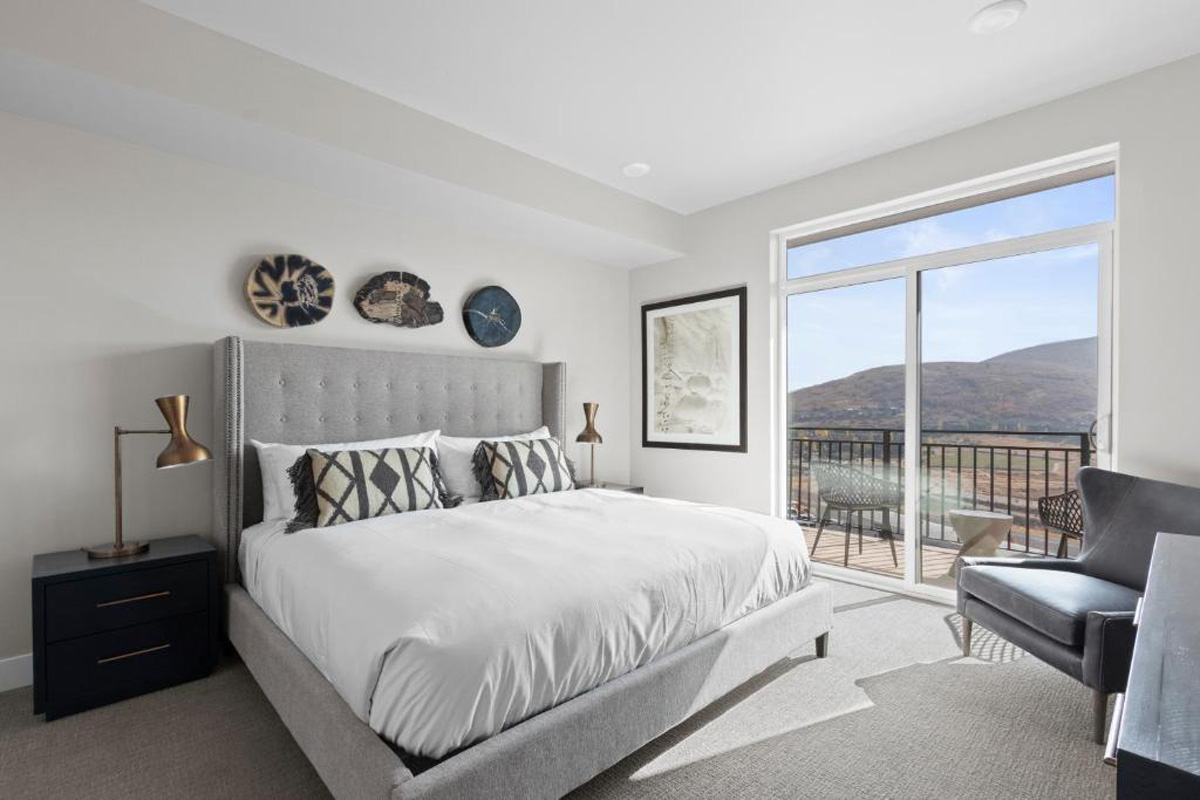 Black Rock Mountain Resort is one of the best ​​Park City hotels for you and your furry family members. They offer luxury suites as well as spacious guest rooms that feature Jordanelle Reservoir or the Wasatch Mountain Range which, of course, are all pet-friendly.
On-site you can find a pool, hot tub, steam room, sauna, fitness center, arcade and game room. There's a restaurant and bar, a snack bar and a coffee house to get your morning fix.
Better yet, the hotel also offers a shuttle service to the mountain during ski season along with ski storage. Though, this resort it ideally located near downtown Park City as well as the ski areas and hiking trails.
The Lodge at Blue Sky
$$$
Wanship
Offering several accommodation styles, The Lodge at Blue Sky provides an unforgettable stay. You can choose to stay in one of the Creek Houses, Sky Lodge Suites or the Earth Suites.
The lodge features a restaurant, bar, and terrace with seating to enjoy food cooked and created with ingredients grown and derived locally. There is also a private dining room, a wine room, a private yurt, and the Refectory, an exclusive, upscale restaurant.
The Lodge offers exciting experiences and adventures throughout the entire year. It's a great option for thrill seekers. There is a spa onsite that offers wellness treatments, yoga classes and a heated pool – perfect for soothing sore muscles.
Park City Peaks
$$
Park City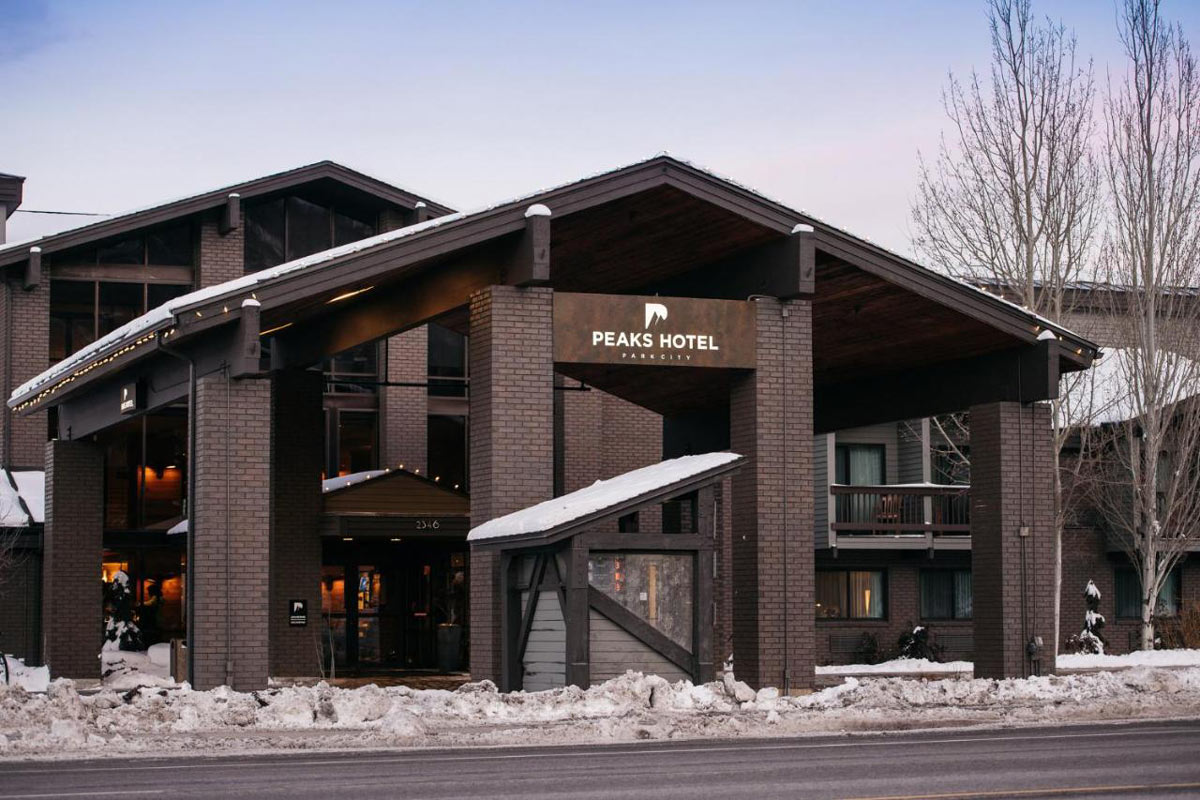 Peaks Hotel offers classic rooms and suites that are comfy and cozy – each of which includes toiletries, a bathrobe and flat-screen TVs with cable.
During the winter months, this hotel offers onsite ski and snowboard rentals, making it one of the best hotels in Park City for visitors just starting to learn the sport. There is also a shuttle that potters around the mountain as well as downtown.
The hotel also features an indoor and outdoor swimming pool, fitness room and breakfast bar. Need more? Don't fret – there is a steam room and a sauna along with a hot tub, yoga classes and a spa. It's total relaxation here.
Silver King
$
Park City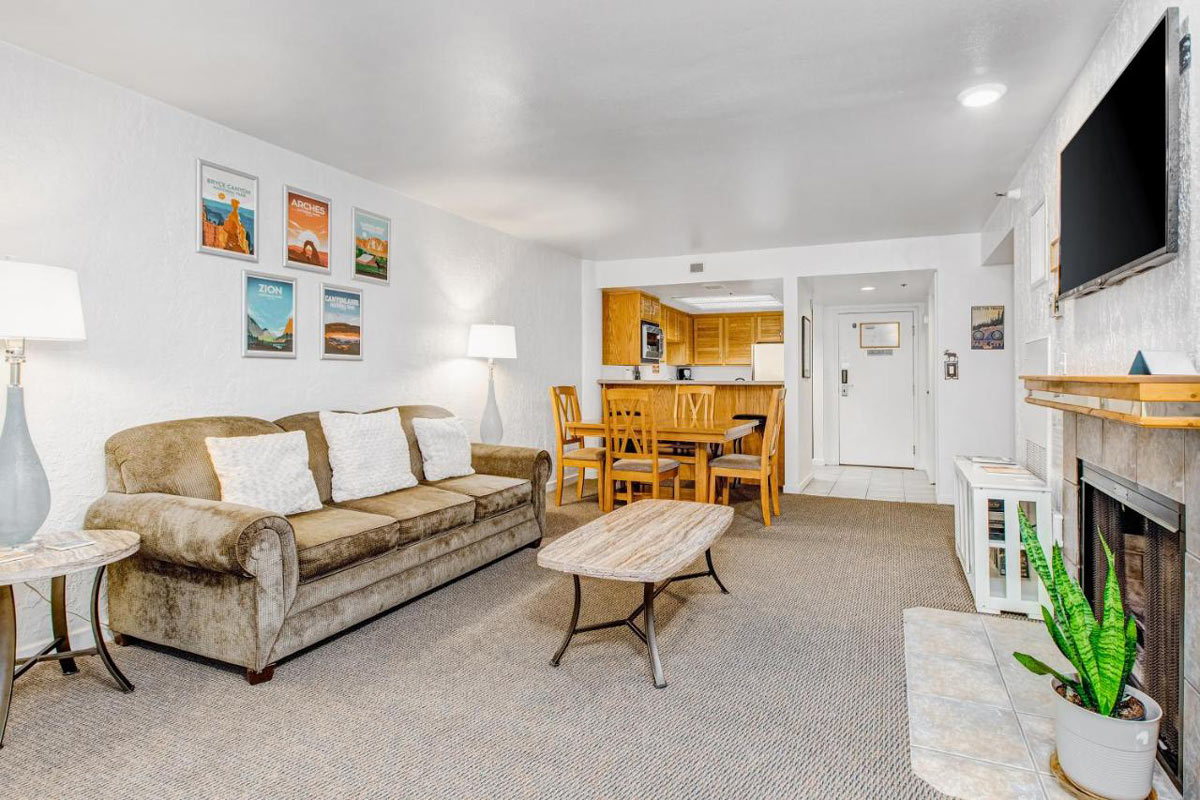 Silver King provides guests with various-sized condominiums with rooms that can sleep up to 11 people. Each condo is individually owned and has its own vibe, featuring wood-burning stoves, washers, dryers, linens and toiletries.
Within the facility, you can find a fitness center, sauna, indoor and outdoor pool as well as a hot tub. For those hauling their own equipment around, there is storage for skis and snowboards, with the condos mere yards away from the ski lifts.
Montage Deer Valley
$$$
Deer Valley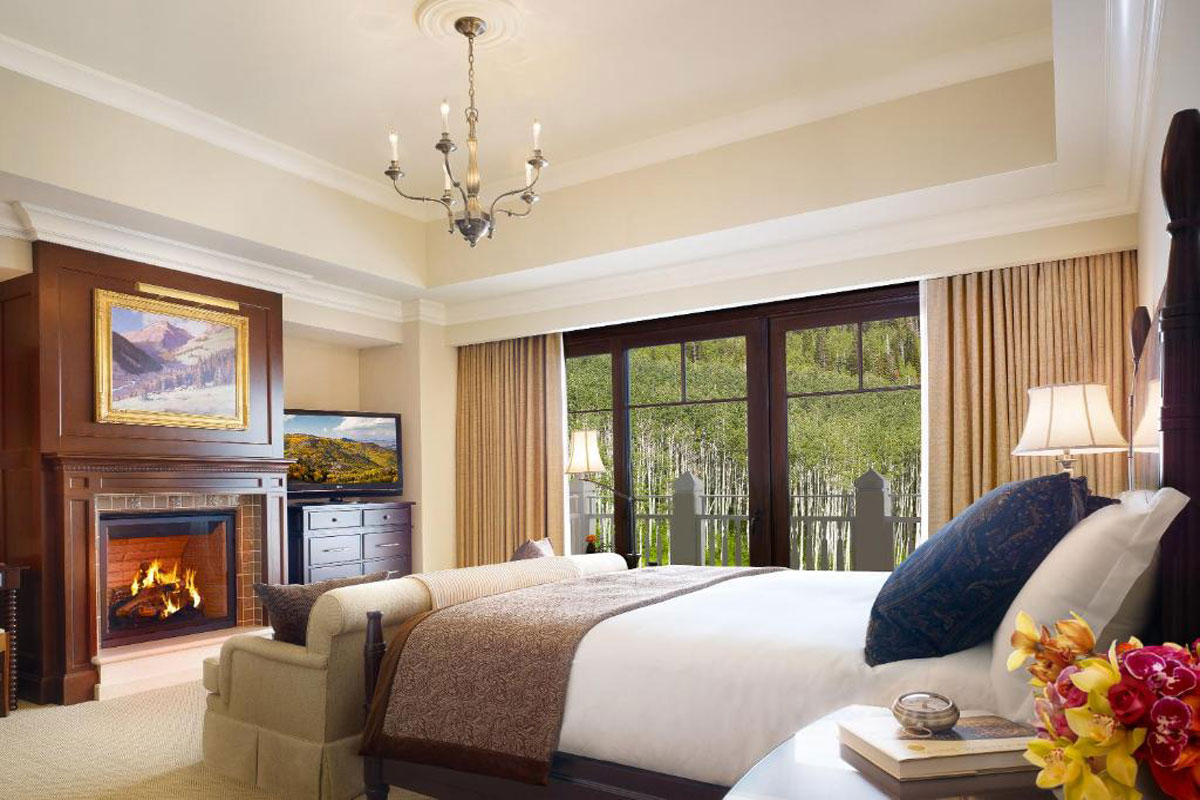 Montage Deer Valley is a luxury retreat that offers guests a variety of luxury living options. There are standard rooms, suites, residences and ADA accommodations. Montage is a ski-in-ski-out resort and is ideal for any skier, beginner or experienced.
Though you should remember that snowboarders are not allowed on the mountain at Deer Valley, so plan accordingly.
There are endless options to eat onsite, from casual to private dining. The likes of Apex, Burgers and Bourbon, Daly's Pub & Rec, The Après Lounge, Yama Sushi and the Alpine Pool will ensure you'll never go hungry at Montage.
The spa on-site offers massage therapies and body treatments, while there's a fitness center as well as a lap pool and fitness classes.
The St. Regis Deer Valley
$$$
Deer Valley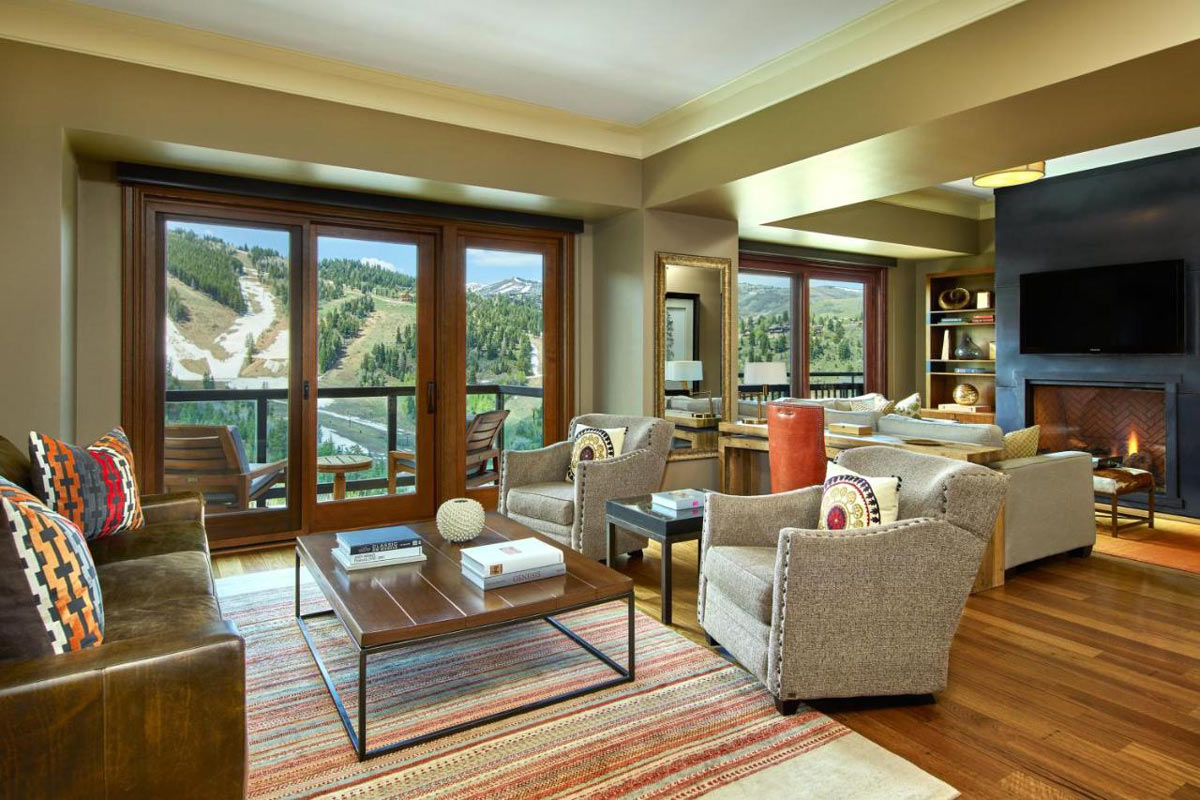 This luxury hotel provides guests with standard rooms, suites and residences. The St. Regis hotel features a Turkish bath, hot tub, swimming pool, fitness center, and sauna – all of which is ridiculously close to the slopes (don't forget Deer Valley is for skiers only).
There are ski rentals and storage on site along with the option to buy lift tickets. The resort is also popular with golfers as there is a golf course 2 miles away.
The dining options exceed expectations with several bars and restaurants to choose from – whether you fancy American of French cuisine, there's plenty to choose from.
Newpark Resort
$$
Park City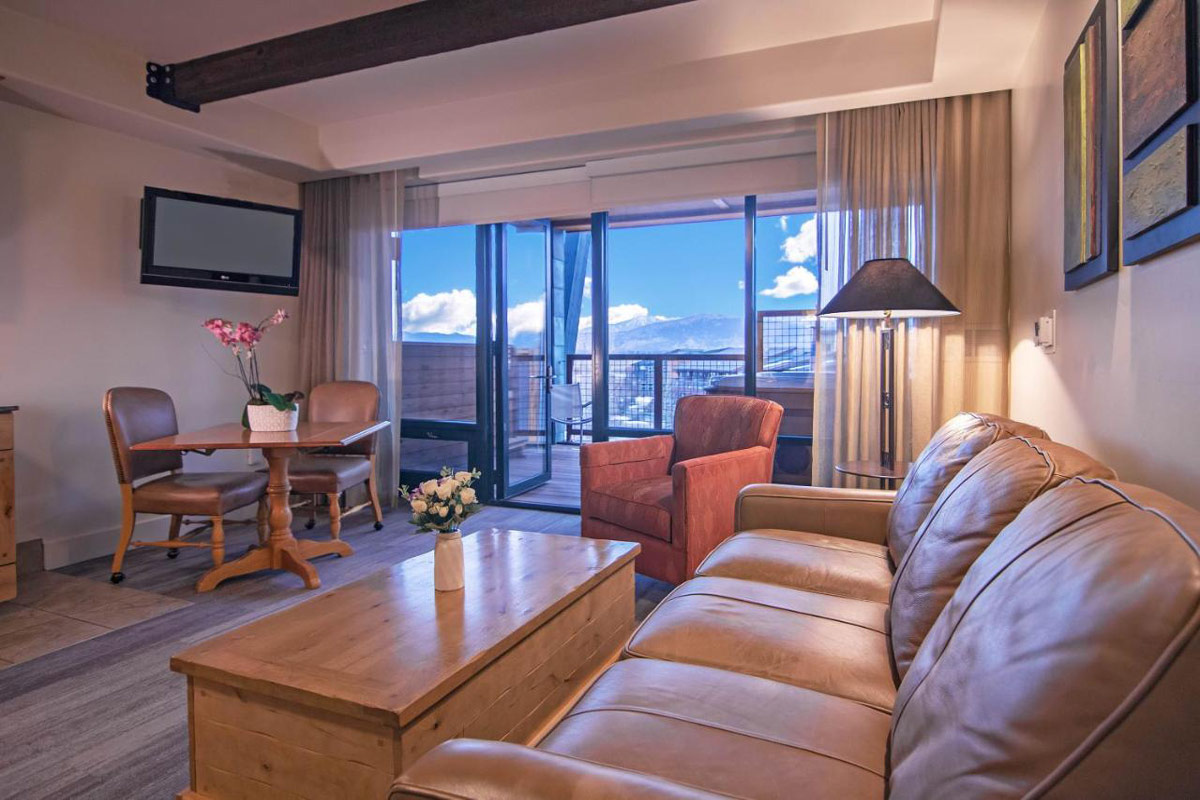 Newpark Resort is one of our favourite Park City hotels – not just because rooms come with their own mini bar, we promise.
The suites and townhomes additionally feature a washer and dryer as well as a private patio with hot tubs. They also come with a fully equipped kitchen, just in case you fancy cooking up a storm.
There's also an indoor and outdoor swimming pool, sauna, steam room and plenty of rental equipment like skis and bikes. Newpark Resort is just steps away from the mountains and downtown.
Being so close to downtown, there are hundreds of dining and entertainment options. Oh, and the local golf course is just 2 miles away.
Zermatt Utah Resort & Spa Trademark
$
Midway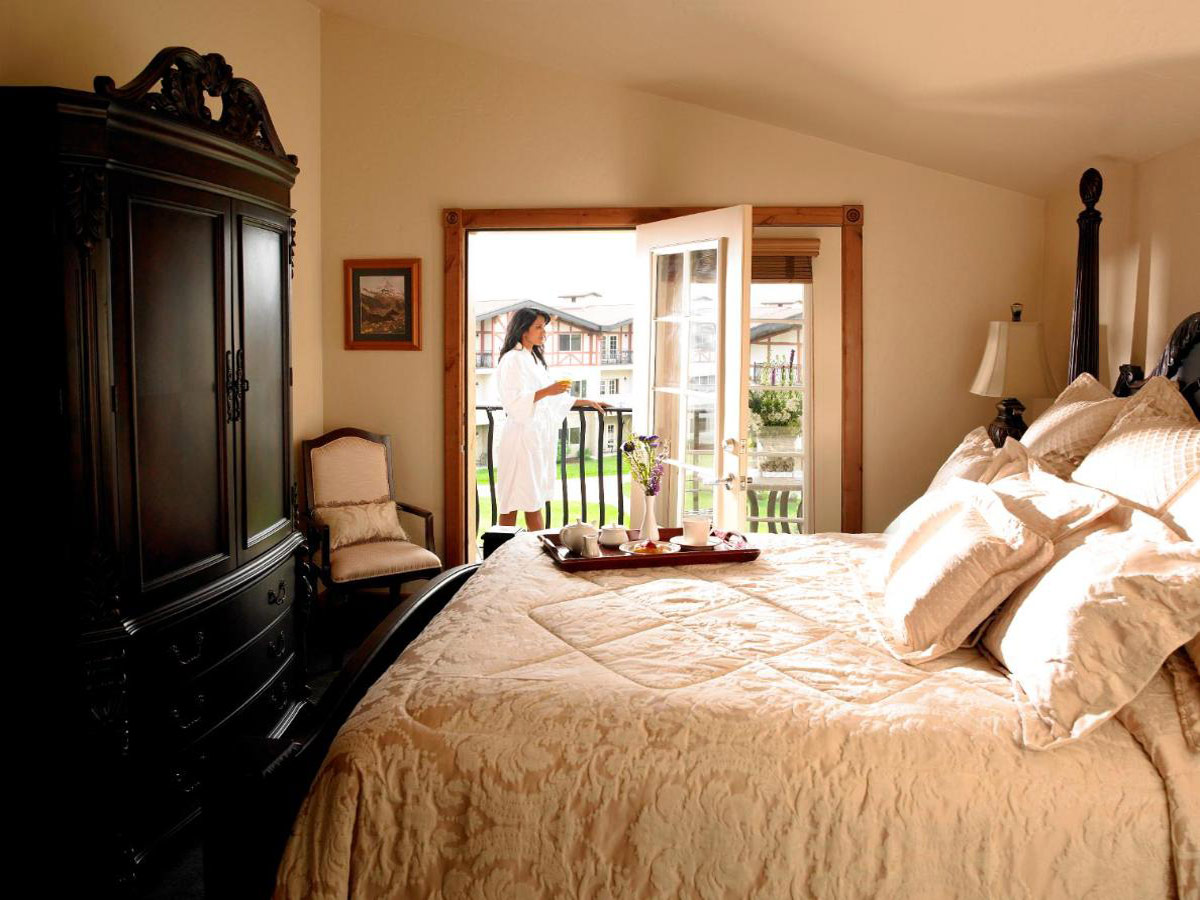 This Swiss-inspired hotel is where luxury meets adventure – we think it's one of the best hotels in Park City for anyone seeking outdoor experiences. There are two swimming pools, a fitness center, rental equipment, a game room and outdoor play equipment for kids.
Indulge in the onsite spa, which offers a myriad of services including massages, wraps, facials, waxing and beauty services. To add to the luxury, there is a sauna, steam room, hot tub and relaxation area.
Zermatt offers resort rooms, suite and villas. The resort also features tennis, mini golf, snorkeling, horseback riding, cycling, hiking and, of course, skiing.
Early morning wake up? There's a coffee house on site, along with a bar and restaurant – oh, and you can also get breakfast ordered to your room.
Goldener Hirsch Inn
$$$
Deer Valley
Goldener is a local favorite. And we can see why; the Inn offers rooms, suites and residences spread out over two ​​Bavarian-inspired ski chalets. It also boasts a rooftop pool and hot tub, a sauna, a fitness center, and a zen garden.
People from all over the world come to stay here to experience the legendary ski slopes, hiking, mountain biking, dog sledding, fishing and hot air ballooning. It is a ski-only resort that includes a "ski valet".
Goldener features an award-winning restaurant that rustles up Austrian and Bavarian-inspired food. We highly recommend swinging by the outdoor seating where you can enjoy a cocktail or two.
Waldorf Astoria Park City
$$$
Park City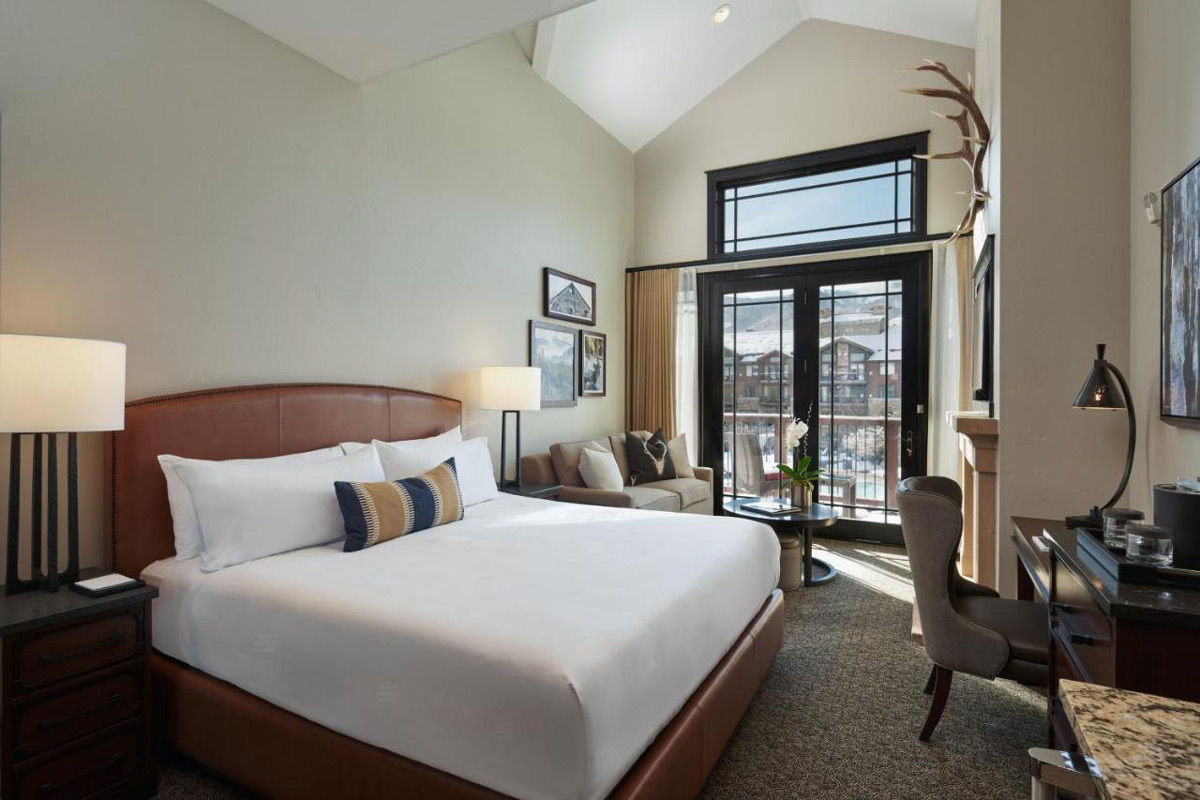 The Waldorf Astoria in Park City certainly lives up to the legendary name. This stunning hotel includes rooms, suites and residences as accommodation options. Rooms and suites have fireplaces while the residences include full kitchens.
The onsite spa is our favorite part of the hotel, though, offering massage therapy, body therapy, facial therapy and salon services.
If you're raring to go the resort boasts plenty of activities to keep you busy like skiing and snowboarding, dog sledding, snowshoeing and snowmobile tours. Once the snow melts you can enjoy things like hiking, biking, golfing and horseback riding.
The restaurant onsite features food from mountainous areas around the world and is open for breakfast, lunch, and dinner and the bar is open daily.
Homestead Resort
$$
Midway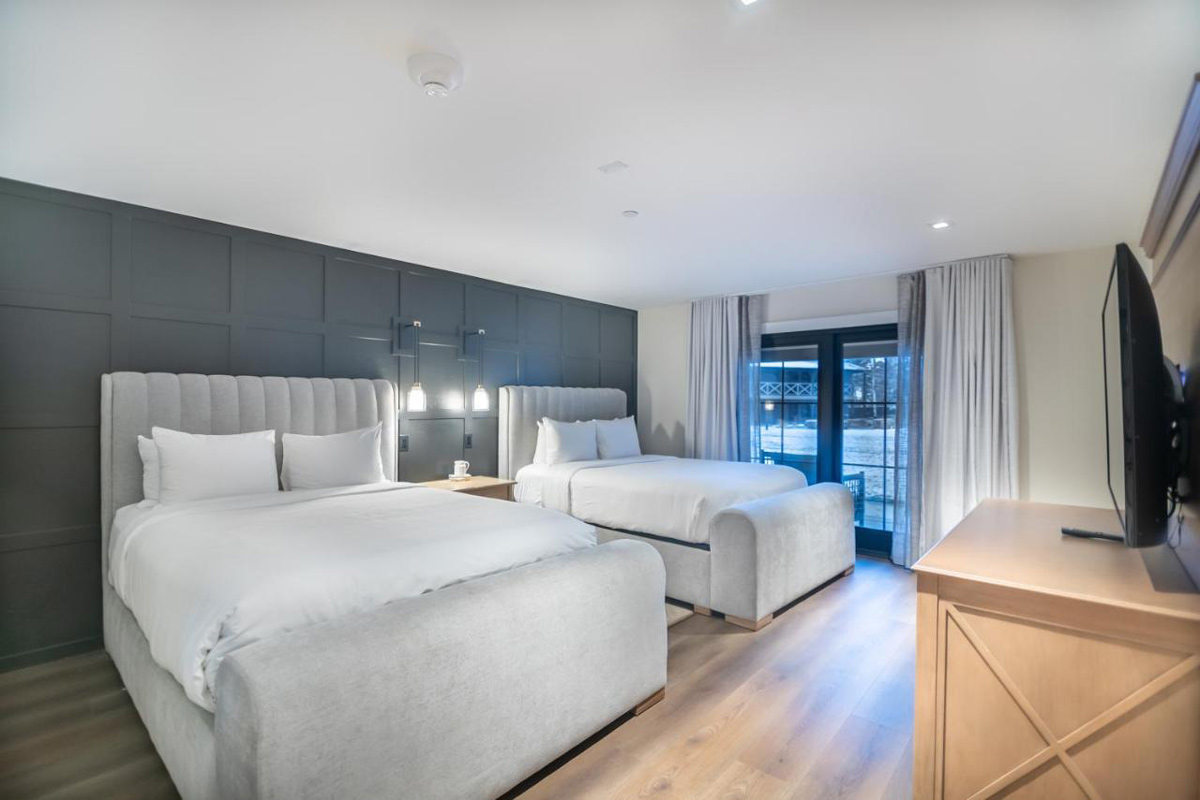 If you're wanting to say somewhere more laidback than some of the fancier Park City resorts, Homestead Resort is ideal. Though, with two swimming pools, a fitness center and a hot tub, you're hardly slumming it!
Homestead features standard guest rooms as well as suites with each featuring a deck or patio. All the rooms feature a coffee and tea maker, toiletries and linens. There's also ski storage, tennis equipment, tennis courts, a game room and a pool table.
That's not all, adventurers – other activities you can take part in at the resort are hiking, fishing, diving and snorkeling.
Best Western Plus Landmark Inn
$$
Park City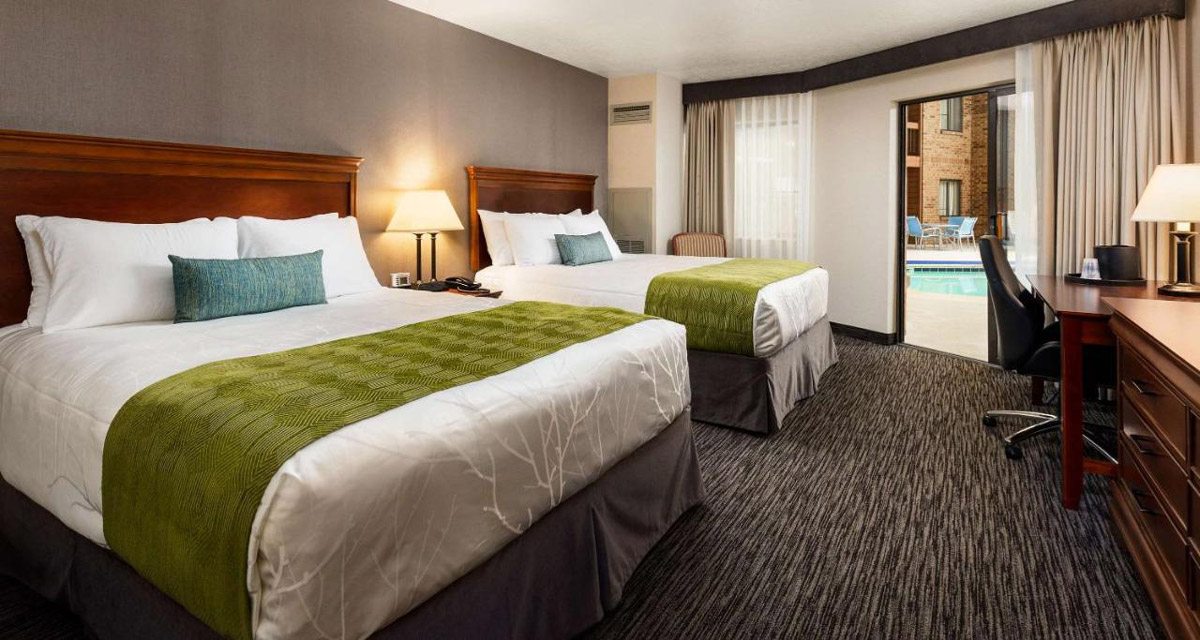 This Best Western is a wallet-friendly spot that features a heated swimming pool, a hot tub, a fitness room, ski rentals, a steam room, a spa and a sauna. If that doesn't sway you, perhaps the ping pong and pool table, a game room and badminton equipment will.
Rooms here are standard across the board: comfy, cozy and clean. The hotel is centrally located near the ski slopes, mountains and downtown – they provide a free shuttle to all the ski resorts.
Better yet, breakfast is included with your stay and there is a free 24-hour hot beverage bar. There is also an array of dining options nearby.
Sundial Lodge
$$
Park City
Sundial Lodge is a classic ski-in-ski-out lodge. The hotel features an outdoor heated pool, a large fitness center and a ski lounge. There is also a terrace with a plunge pool, a hot tub and a fire pit.
There are different accommodation options and each is privately owned so are unique and varied. Most rooms feature a balcony or patio, jetted tub, washer and dryer, and fireplace.
Popular activities here include skiing and snowboarding, hiking, swimming, and shopping. During the winter months, there is a complimentary shuttle to and from the mountains.
Hyatt Centric Park City
$$$
Park City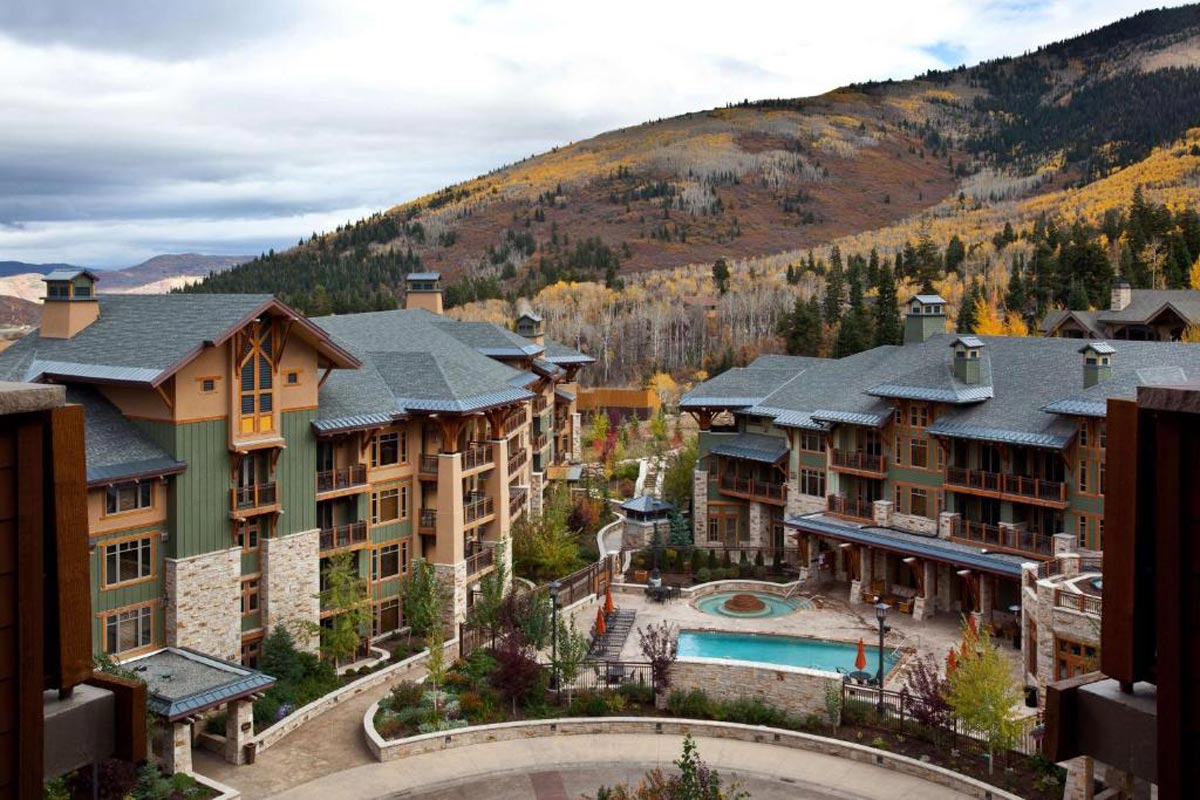 The Hyatt Centric offers patrons deluxe guest rooms or one-, two-, three- and four-bedroom residences. Rooms and suites feature a kitchenette and kitchen accordingly, along with a refrigerator and microwave.
This resort makes it easy to enjoy the facilities; there is ski-in ski-out access during the winter, rentals and a place to buy lift tickets. The hotel features an outdoor swimming pool, a fitness center, a bar, a restaurant and a snack bar.
There is also a convenience store onsite for when you're feeling snacky after spending the day on the slopes or hiking the trails.
Best Hotels in Park City: Frequently Asked Questions
What is the Best Area to Stay in Park City?
Depending on what you're planning to do in Park City for, you may want to stay in different areas. Park City and Deer Valley are popular for outdoor activities while Downtown Park city is great for shopping and dining.
What Is There to Do in Park City?
Park City is a winter wonderland and people come from all over the world for a picture-perfect snowy escape. Winter activities include skiing, snowboarding, snowshoeing and sleigh rides.
As the snow starts to melt, Park City transforms into a magical mountain town blooming with a variety of colors. It's a haven for hiking, horseback riding and paddle boarding.
Is Park City Safe?
Park City is certainly expensive to live in and visit. However, you can definitely travel on a budget.
[Related Searches FAQs]
Is Park City better than Deer Valley?
Park City allows snowboarding while Deer Valley only allows skiing. Deer Valley is also more upscale and expensive.
Park City has cheaper accommodation options, equipment rentals and lift tickets. It also has more terrain options.
How Far is Park City from Salt Lake City?
By car, Park City is around 45 minutes away from Salt Lake City.
Practical Tips to Consider Before Booking Your Park City Hotel
If you're booking on a budget, consider traveling during the shoulder seasons.
If you're traveling to ski/snowboard, book your lift tickets and rentals prior to arrival on the mountain. It's also wise to check if your hotel has a shuttle to and from any mountains.
Some resorts are ski only, if you snowboard, ensure it is open to both.
Read More Park City Guides