Feeling brave? Skydiving in Moab is a once-in-a-lifetime experience for many people. Whether it's your first skydive or not, it is an adventure you won't soon forget.
Calling all thrillseekers – the breathtaking canyon terrain surrounding Moab makes for the ideal setting for a skydive. We're just sayin'.
Ruggedly beautiful from the ground, you can view these spectacular natural features from a different angle once you've hiked through Moab's Canyonlands and Arches National Parks.
Whether you're a regular skydiver or a knee-shakingly nervous newbie, there are plenty of Moab skydiving packers to choose between, including tandem skydives.
We could go on and on about what it's like to go on a Moab skydive. But in reality, it's one of those experiences that remains with you for the rest of your life.
Excited? You should be. Nervous? That's normal, too. Let's discover why you should do a Moab skydive.
Why Go Skydiving in Moab?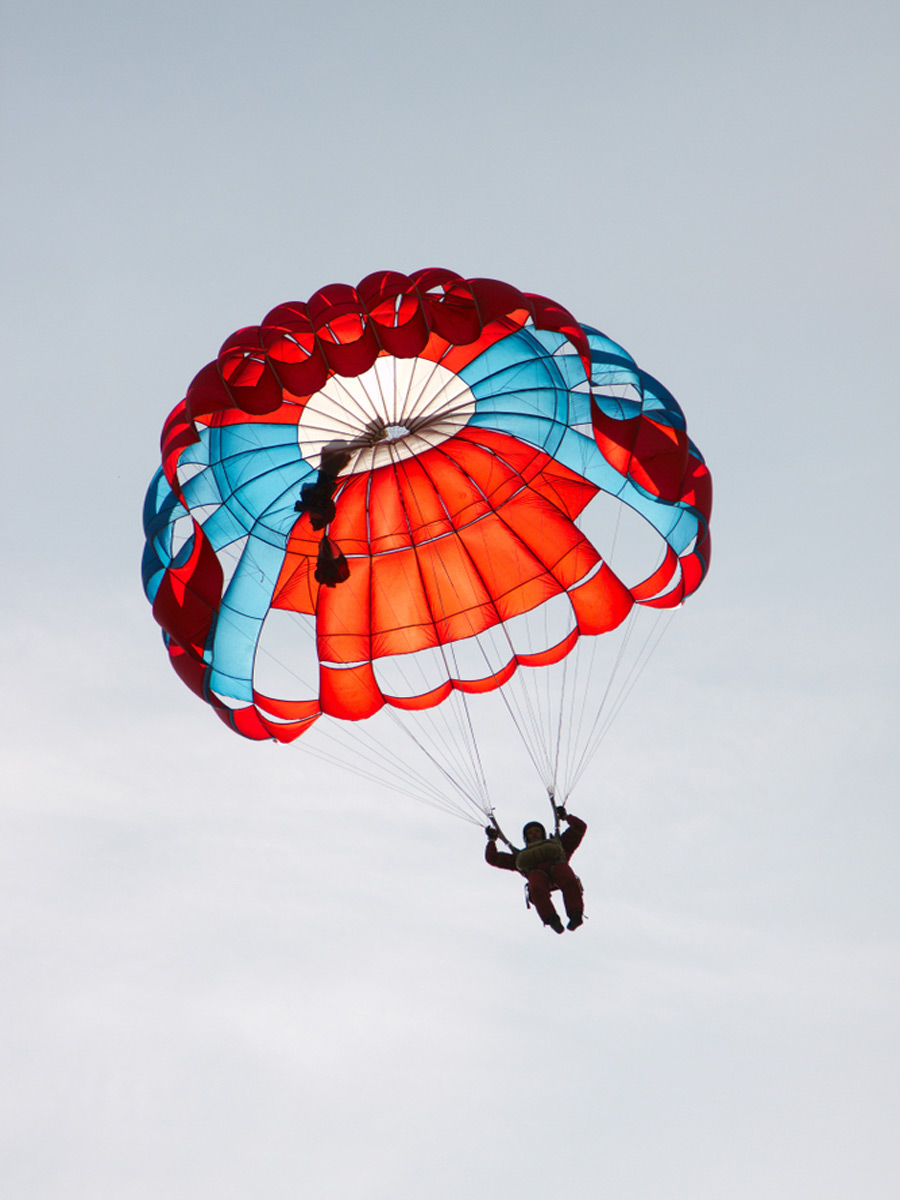 Don't worry; everything will be OK. And you'll be grateful you braved the jump when your feet reach the ground and wish you were back floating through the air.
The most terrifying aspect is leaping out of the plane, but once you're in free fall, it will seem like you're drifting gently above the desert.
Your instructor will assist with the parachute deployment and flight, letting you gently descend back to the ground while you chat with them. Better yet, your instructor will also point out landmarks.
Oh, and remember to snap some photos of your journey – share on Instagram once you're back on stable ground and we guarantee you'll have bragging rights.
Tip: To relax after your adrenaline-fueled skydiving trip, check out these fun hikes in Moab.
Skydiving in Moab
Booking with Skydive Moab
Skydive Moab is, without a doubt, the best company to go with. They offer tandem dives from March to November. Prices begin at $250, and you can find them just 16 miles north of Moab at Canyonlands Field.
They also offer incredible specials and discounts. Students, seniors, and the military get 10% off on dives, so it might be a good idea to take grandpa or grandma along for the dive if they're up for it.
They also have gift certificates on sale for tandem skydiving, just in case you want to get that special someone a unique present.
Tandem Skydiving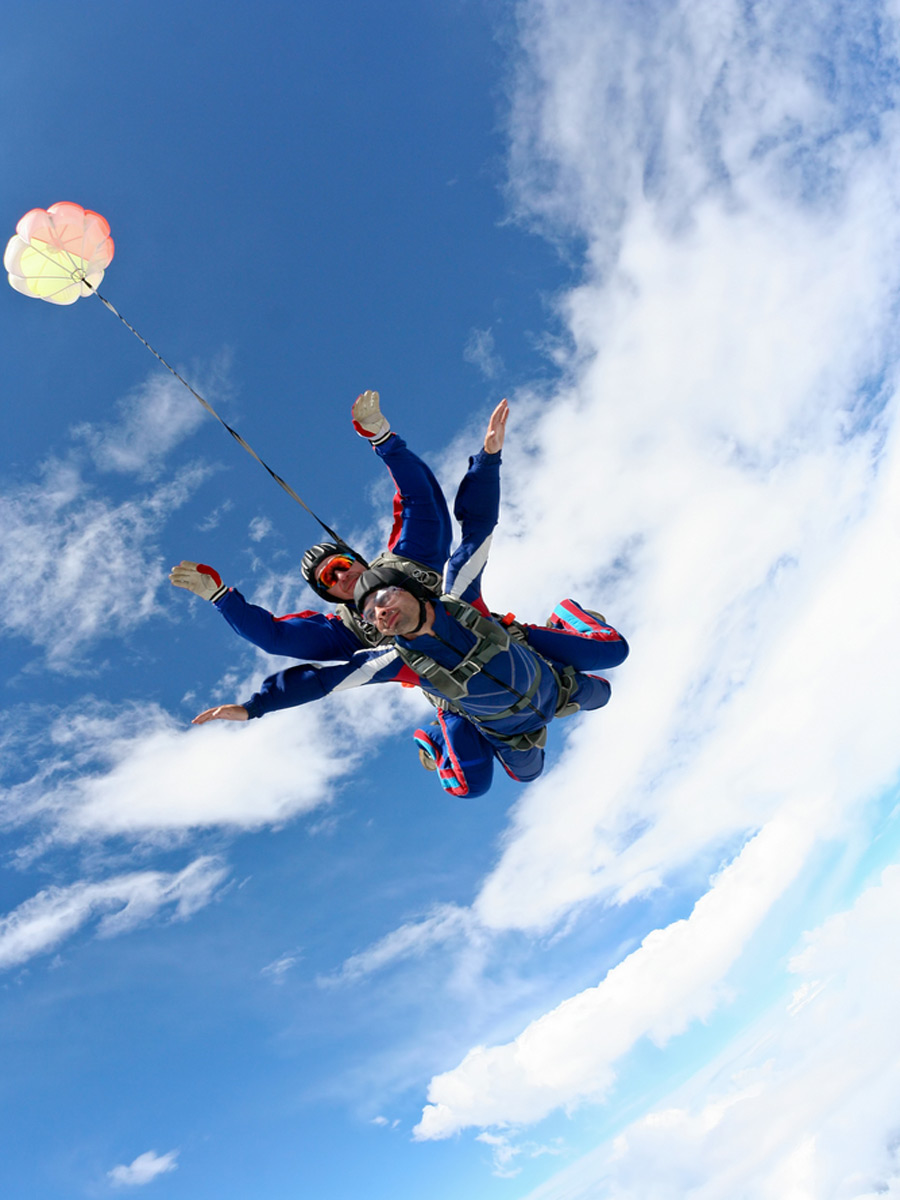 Unless you're a seasoned pro, you'll likely be diving with an instructor in what's known as a tandem skydive.
You and your skilled tandem skydive instructor will leap out of an airplane and reach speeds of over 120 mph during your 40-second freefall.
From there, you'll deploy your parachute once you reach the gorgeous Moab dropzone. After that, you take a leisurely ride back to terra firma while having the flying thrill of a lifetime.
You'll also learn how to evacuate the airplane, proper body positioning for freefall and landing, and freefall procedures. Your tandem instructor will be there to support you during the entirety of your jump.
Whether you're planning to become a skydiver or just want to experience the thrill of skydiving, this is an excellent introduction to the exciting world of freefall skydiving.
There are a few places where you can go skydiving in Moab or the Canyonlands National Park, and you can count on them to put your safety first. Our favorite spot, Skydive Moab, boasts 50,000 jumps under its belt, 20,000 of which were tandem jumps.
Practical Tips for Your First Moab Skydiving Trip
We get it – it's totally normal to be nervous before a skydive. Read through these practical tips to ensure you're as prepared as possible.
The Moab Airport at Canyonlands Field, which is where you'll likely be skydiving, is 16 miles north of Moab and 14 miles south of I-70.
If booking with Skydive Moab (we highly recommend), you need to pay a $75 per jumper deposit at the time of booking, and there is a 48-hour cancellation policy. Skydive Moab prefers reservations, although walk-ins are welcome.
The jump schedule is seven days a week, from March to November.
Eat a healthy breakfast, but not too much. Also, make sure to hydrate very well before the jump.
Dress in close-fitting layers – any clothing that makes putting on a jumpsuit easy. Long hair should also be tied up.
Skydiving in Moab: Read Next