Utah's National Parks are a wonder of the state. Plan your visit to the Mighty Five with this insider's guide.
We may be biased but Utah it's one of the most breathtaking states in the US, especially for the adventurous type.
With sandstone canyons, peculiar rock formations, and various hiking trails, Utah's national parks are some of the state's biggest attractions – for good reason. They're, quite simply, stunning.
Ready to explore the Mighty Five? This guide is packed with information about each park, including top sights and insider tips for planning your visit. Let's go.
Stunning Utah National Parks
Zion National Park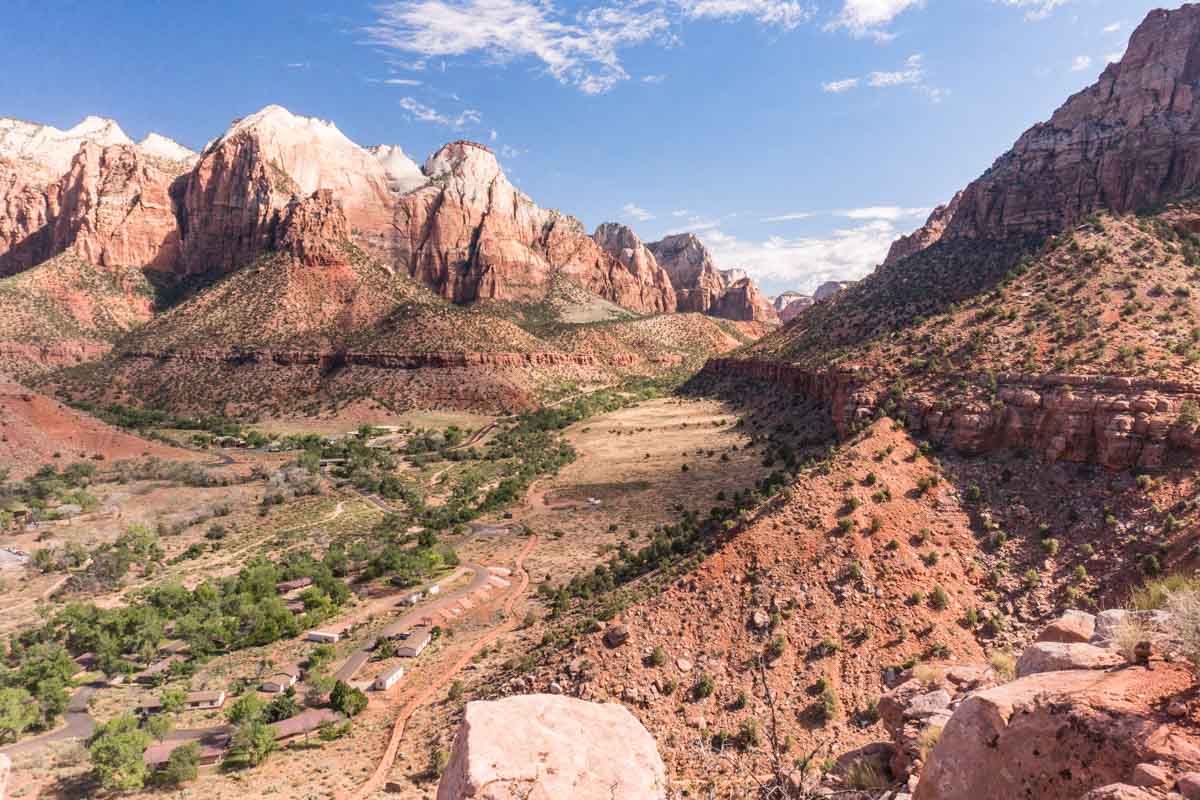 Established as a national park in 1919, Zion National Park is the oldest of Utah's mighty five.
It's also the first park you'll come across if you kick off a Utah national parks road trip in Las Vegas. This national park in Utah is a crowd favorite, and it's easy to see why.
Why Go?
We could go on forever about why you should visit Zion, but we'll keep it short and sweet.
Picture this; towering mountains, surprising desert waterfalls, and red canyons carved by the spectacular Virgin River. Who wouldn't want to explore such an incredible landscape?
What to See at Zion National Park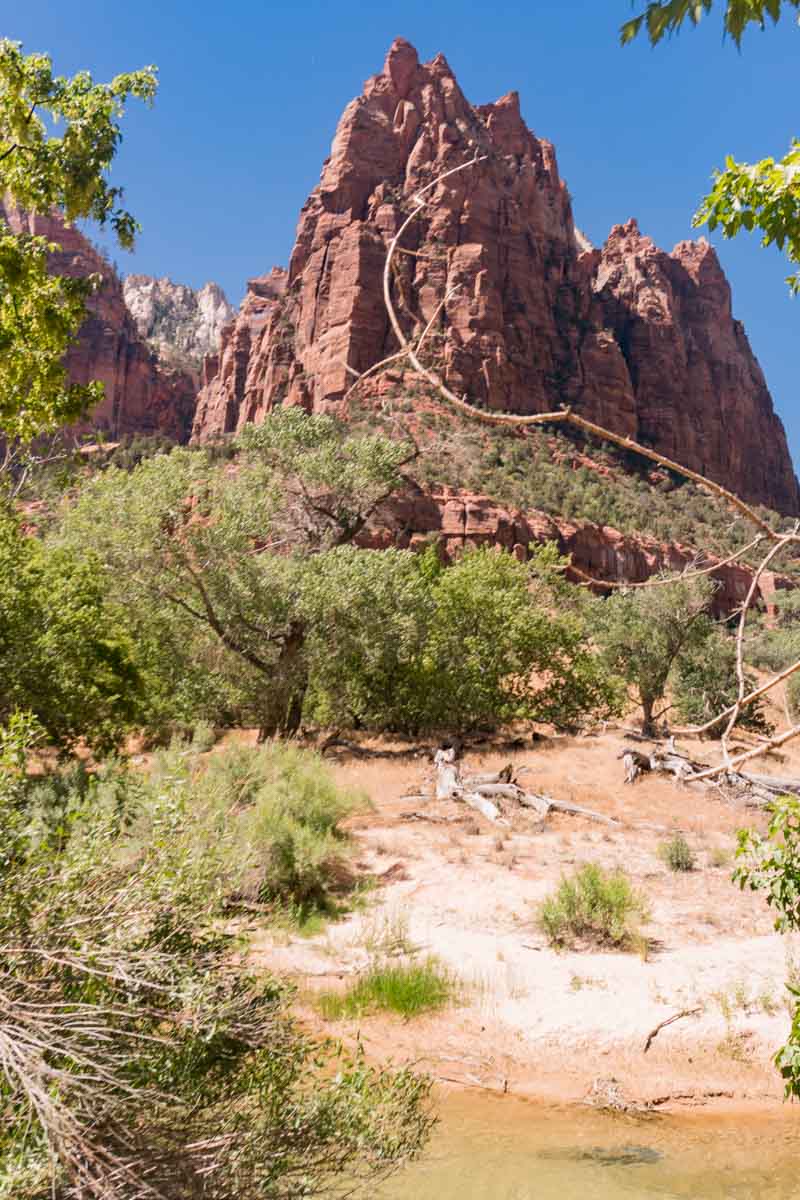 Zion is a nature lover's playground, offering some of the best hiking experiences for every fitness level.
There are the moderate to difficult East and West Rim hiking trails, the challenging but rewarding Narrows trail through a slot canyon, and the lesser-used but still spectacular Watchman Trail.
If you're particularly fit and looking for a challenging Zion hike, don't miss the 5.4-mile Angel's Landing trail, which has a whopping 1,500-foot elevation gain.
Apart from scenic things to do in Zion, the park has must-see sights like the towering Court of the Patriarchs sandstone cliffs and the Weeping Rock.
Insider Tips for Zion National Park
Below are a few tips and things to know before traveling to Zion.
A 7-day entry pass for a vehicle and its passengers costs $35, while a 7-day entry pass per person without a vehicle is $20.
Parking spaces in Zion National Park fill up fast, so try to arrive early to secure a spot.
Zion has a free shuttle service from March to October, but even these can have long queues in high season. So try to arrive before 8 am.
Suggested Stay: Holiday Inn Express Springdale
Arches National Park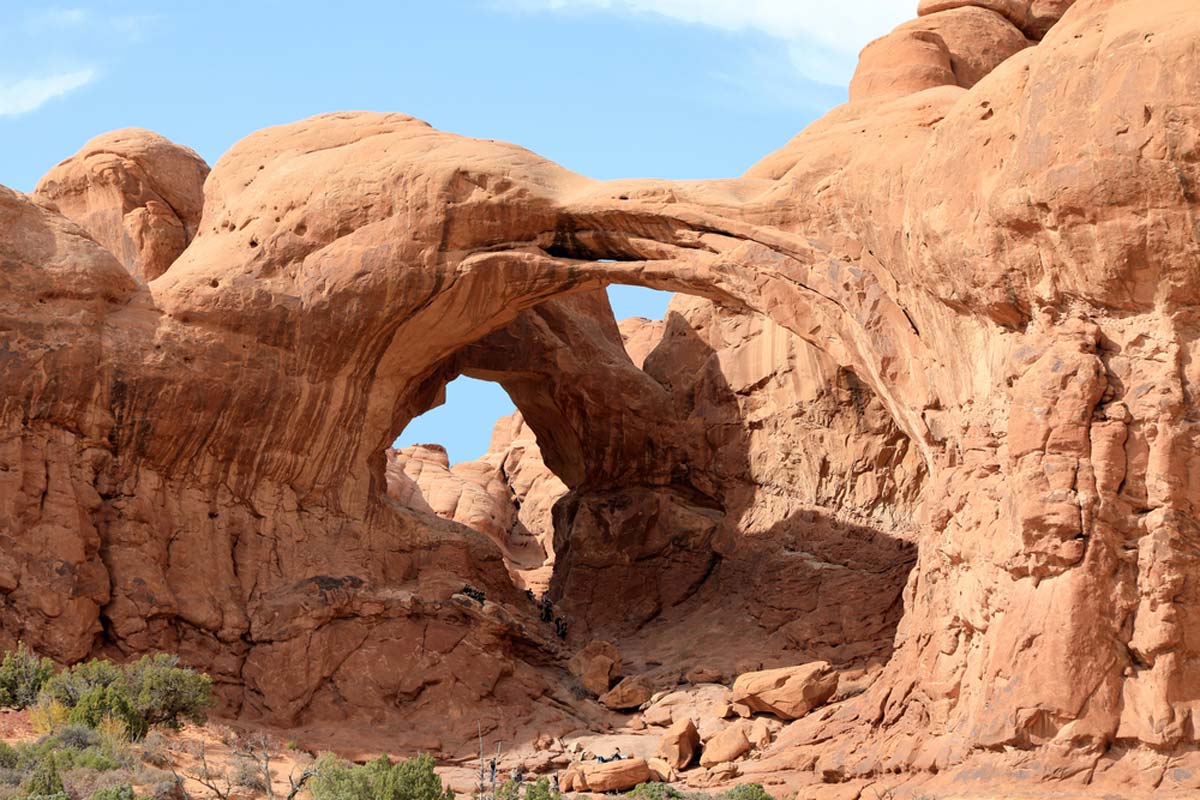 Arches National Park was originally a national monument but was later declared a National Park in 1971. And boy, does it deserve to be up there on Utah's mighty five list.
This 76,680-acre park has roughly 2,000 sandstone arches and an exciting mix of hoodoos, mesas, and sandstone fins.
Why Go?
Why not go?
Some of these arches seem to challenge the very principles of gravity — like the ​​306-foot-long Landscape Arch near Devil's Garden.
They also make for otherworldly photo ops, and the contrasting sight of the La Sal Mountains in the background of this arid landscape is simply stunning.
What to See at Arches National Park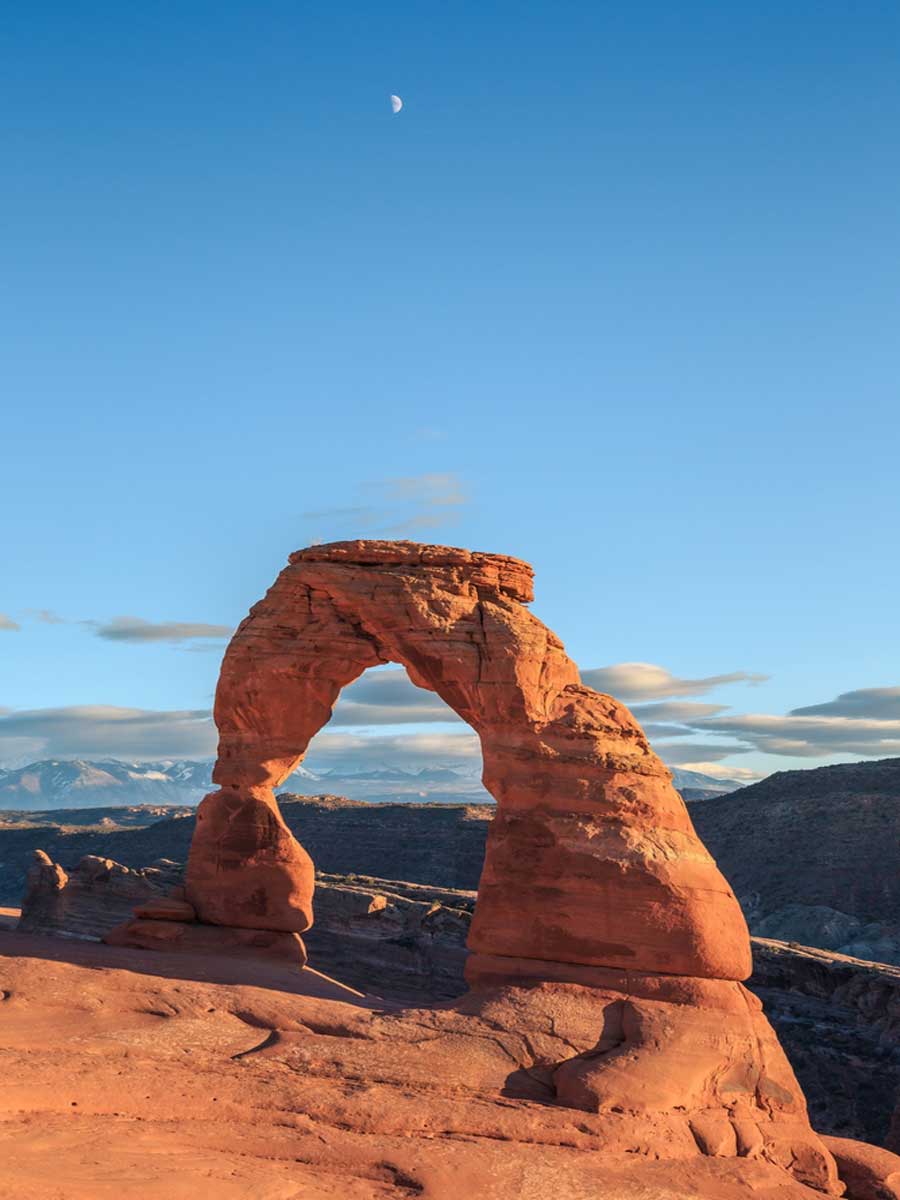 There's so much to see and loads to do in Arches National Park, many of which, naturally, involves hiking. Some popular trails include the Delicate Arch and Park Avenue Trail.
You won't want to miss attractions like Double Arch, The Windows and Turret Arch, and the Balanced Rock, either.
As this is an International Dark Sky Association Certified park, stargazing better be on the top of your Arches bucket list.
Insider Tips for Arches National Park
Private vehicle entry fees are $30, while it'll cost you $15 per person entering without a vehicle.
Short on time? Don't stress! You can still see some of Arches National Park's top attractions on the 19-mile Arches Scenic Drive, which leads to the Devil's Garden campground.
Backcountry camping is only allowed with a pre-booked permit.
If you'd like to camp in the park, reserve a spot at Devil's Garden Campground. Be sure to book way ahead of time, as these spots fly fast.
Suggested Stay: Aarchway Inn (Hotel), Moab
Bryce Canyon National Park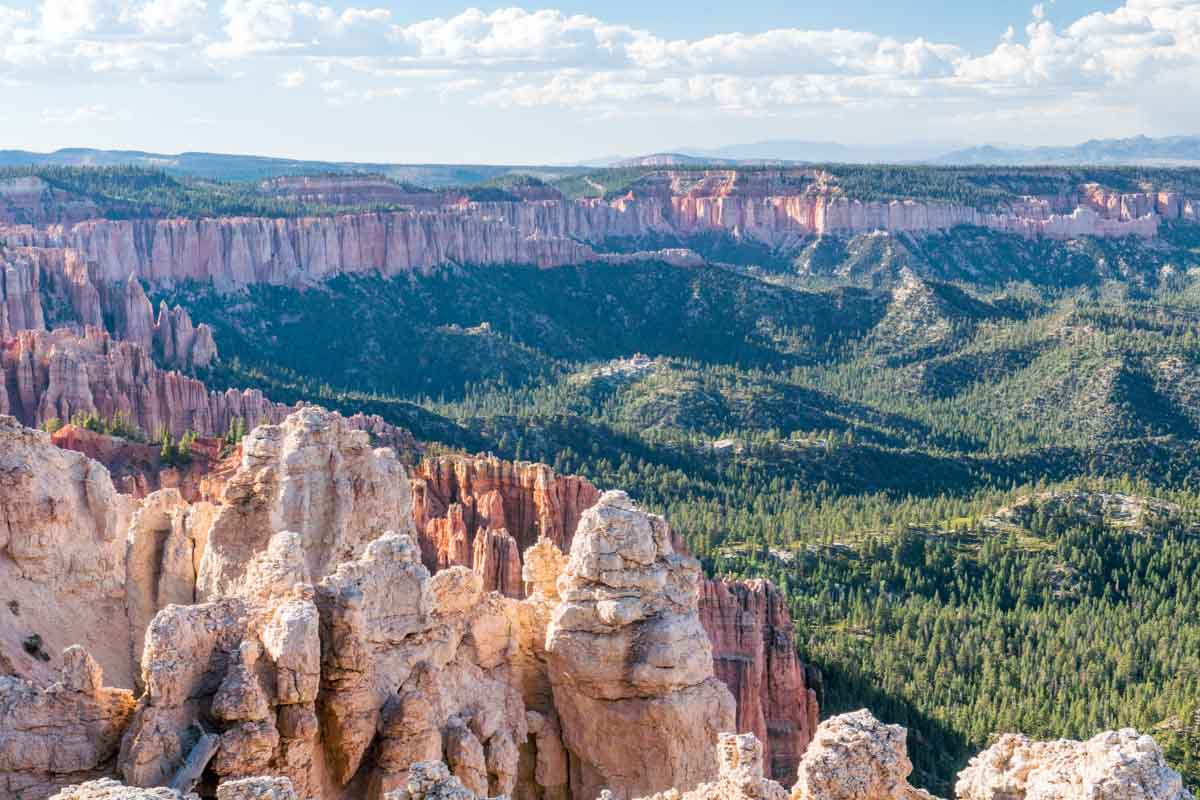 One of the smaller parks, Bryce Canyon National Park is doable in a day. And we promise it'll be an unforgettable one — in the best way.
With hiking trails, iconic viewpoints, and bewitching hoodoos, this 35,835-acre park is the second most popular in Utah, attracting over 2.5 million people yearly.
Still, if you do have more time, Bryce Canyon has plenty to explore.
Why Go?
Arches NP has its, well, arches. And Bryce Canyon National Park has striking, towering hoodoos that look mindblowing from any of Bryce's sunset and sunrise viewpoints.
Besides that, it's another Dark Sky Certified park and an
other incredible stargazing spot.
What to See at Bryce Canyon National Park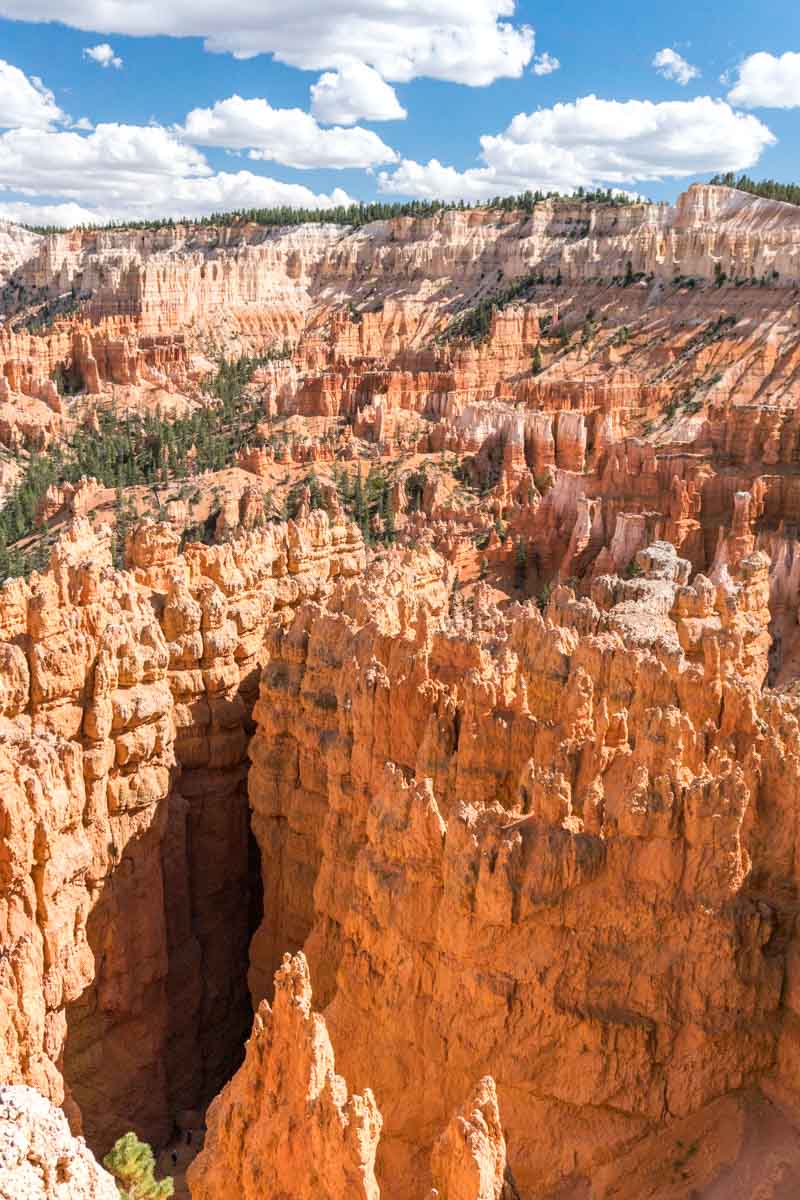 First of all, you'll see a lot of hoodoos (check out our Bryce Canyon hoodoos guide to learn more).
You'll spot these hoodoos on popular Bryce Canyon hiking trails like the 1.5-mile Navajo Loop and the easy 0.9-mile Queen's Garden Trail.
Hike to Mossy Cave for an off-the-beaten-track delight. Or take the 18-mile Bryce Canyon Scenic Drive to spots like Rainbow Point and Natural Bridge.
Insider Tips for Bryce Canyon National Park
Private vehicles and occupants can enter the park for a $35 entry fee. Walk-in and cycling persons pay $20 to enter.
Bryce Canyon sits at an elevation of almost 8,000 feet, so you may feel out of breath much faster. Don't push yourself, and be sure to take plenty of breaks and stay hydrated.
Bryce Canyon National Park can get pretty cold at such a high altitude. Always pack layers of clothing, so you can take off or add on layers to adjust to any temperature changes.
Suggested Stay: Bryce Canyon Pines (Or have a look at our guide on where to stay in Bryce Canyon).
Capitol Reef National Park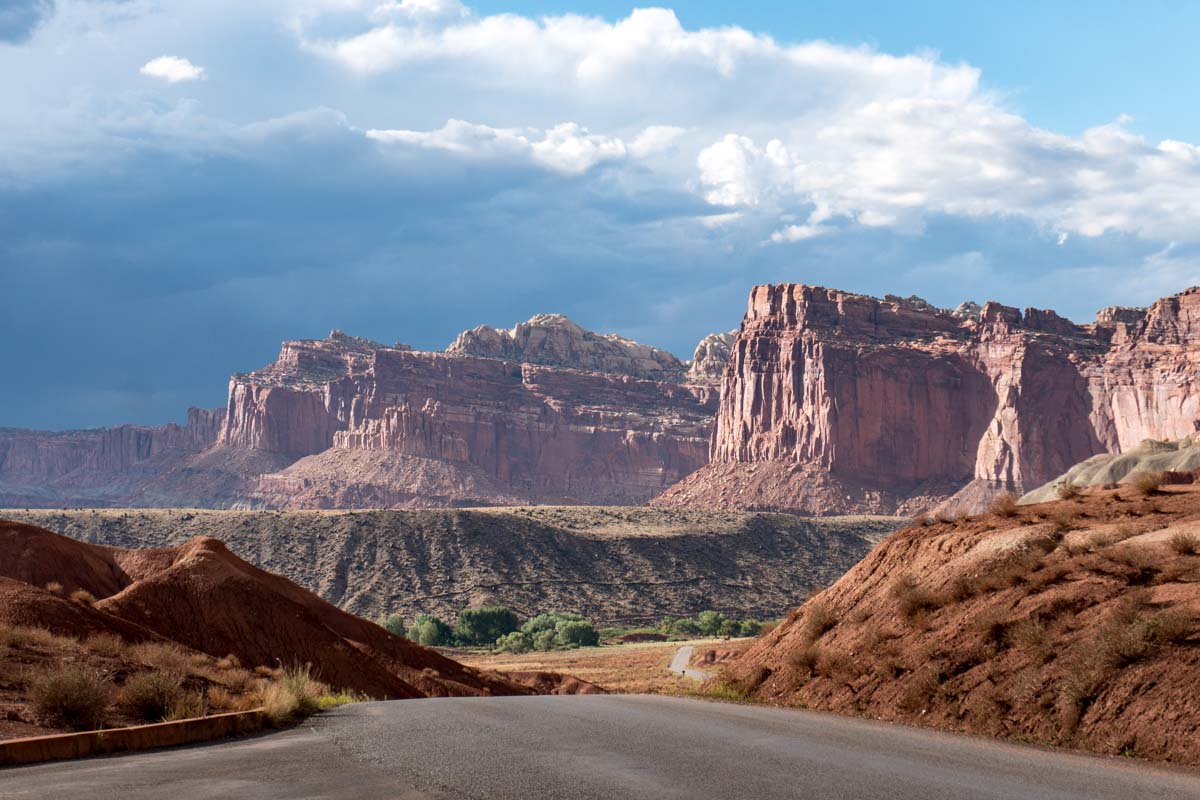 If you're after hidden gems in southern Utah, Capitol Reef National Park in the Waterpocket Fold should be your first stop.
This 241,904-acre park rests in the shadows of its more popular Mighty 5 counterparts but honestly deserves much more buzz.
Luckily, its unsung beauty makes this park much less crowded, meaning you won't have stray hikers wandering into your photos.
Why Go?
There's so much to do in Capitol Reef that you might not want to leave the park. It's got all the Utah parks staples, including canyons, odd sandstone rock formations, and desert vistas.
But it also has super unique attractions. We're talking historic buildings, orchards, petroglyphs, and, best of all, fruit pie!
What to See at Capitol Reef National Park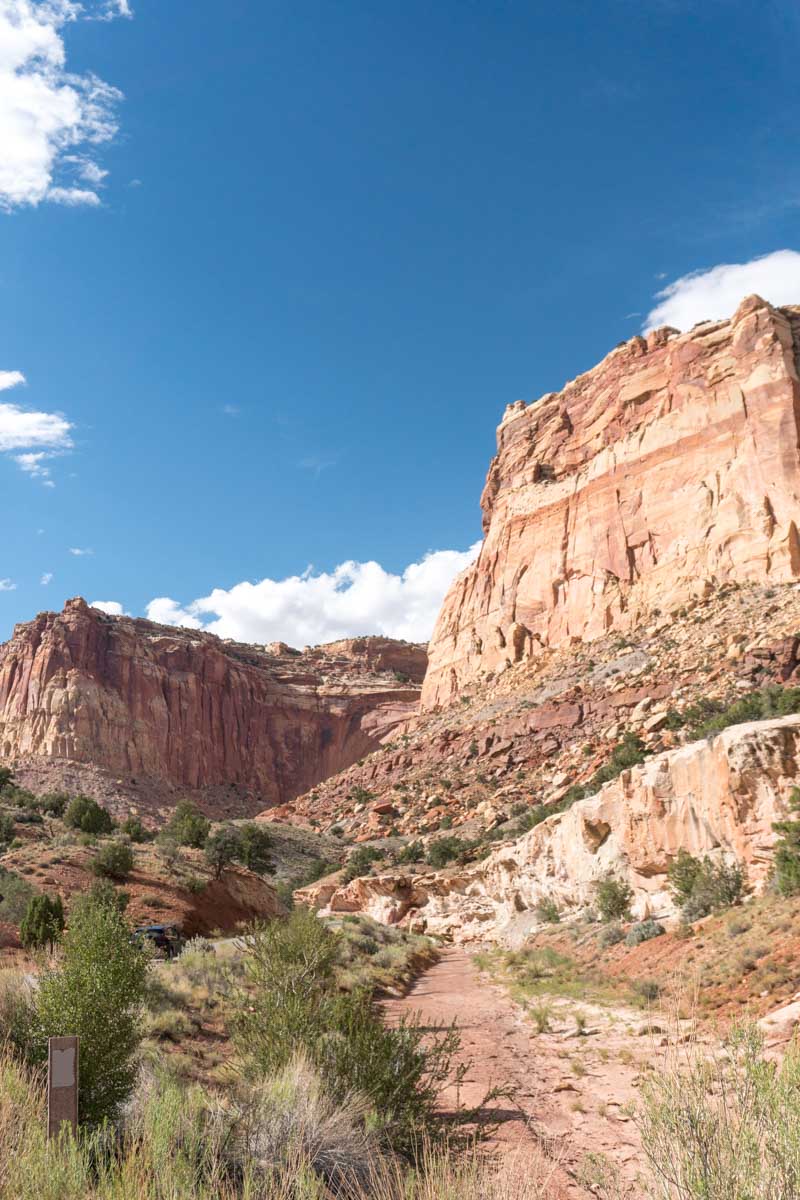 Gosh, where do we begin? In true Utah fashion, you simply can't miss the excellent hikes in this park. Take on the 1.8-mile Hickman Bridge Trail or the more challenging 3.4-mile Cassidy Arch Trail.
You can also have a look at the Petroglyphs dating back to around 600–1300 AD, which adorn a cliff east of the Visitor Center. Or head to the Fruita district during harvest season for a U-pick experience in historic orchards.
You cannot miss the Temple of the Sun and Moon in Cathedral Valley for out-of-this-world phot-ops, either.
Insider Tips for Capitol Reef National Park
Entrance for vehicles and occupants is $20. Individuals entering on foot or bicycle pay $10.
Visit this park during spring to see the landscape decorated with blossoms. Or in the fall for apple harvesting season.
Consider camping at the Fruita Campground ($25 per night) for a budget-friendly visit and immersion in nature.
Suggested Stay: Capitol Reef Resort, Torrey
Canyonlands National Park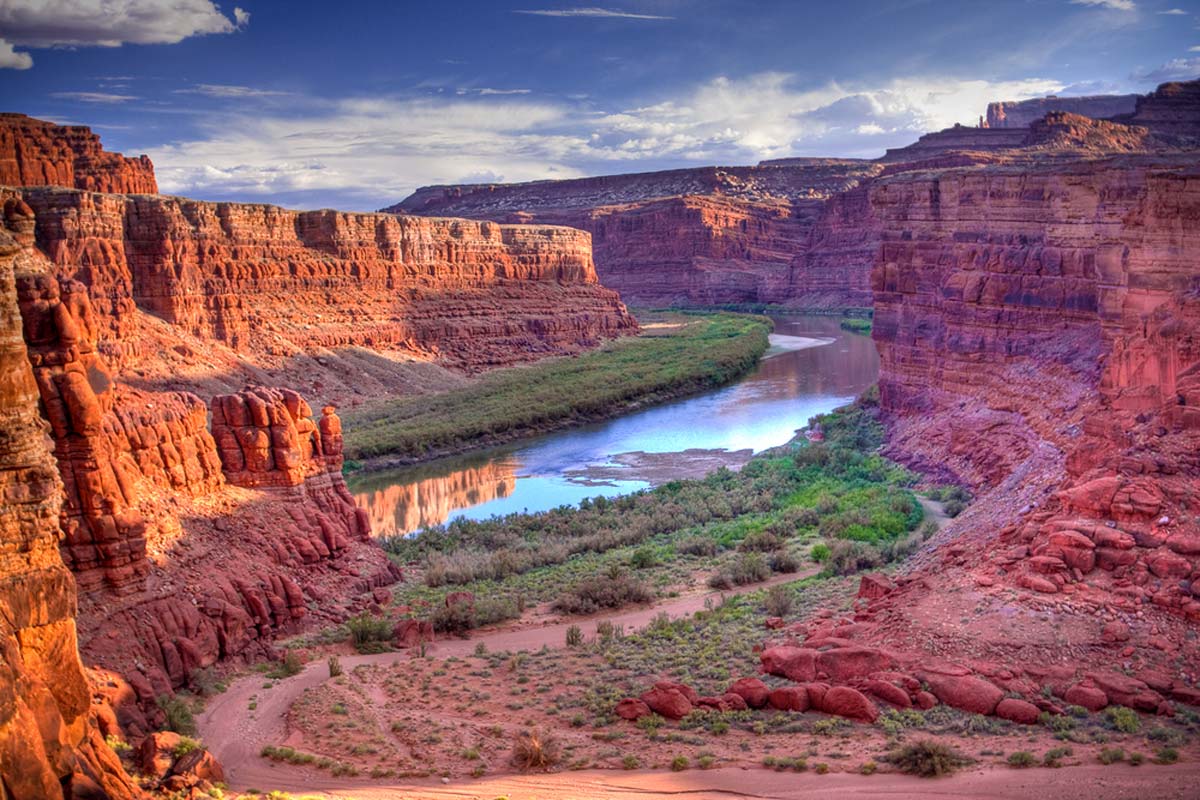 Canyonlands National Park is a gem of a park in southeast Utah. It's the largest of the National Parks Utah has on offer, encompassing 257,640 acres of land.
Yet, despite the vastness and range of attractions and activities in Canyonlands National Park, it's often overlooked for its other Moab counterpart, Arches NP.
Why Go?
Canyonlands seem to have it all; mesas, canyons, arches, and buttes, all carved by centuries of wind and water flowing through the Colorado and Green Rivers.
These rivers also divide the national park into four distinct regions; Island in the Sky, The Maze, The Needles, and the rivers.
Each district has something exciting to offer. And, thanks to its vastness, it's a park you'll never tire of visiting, as there's just so much to see.
What to See at Canyonlands National Park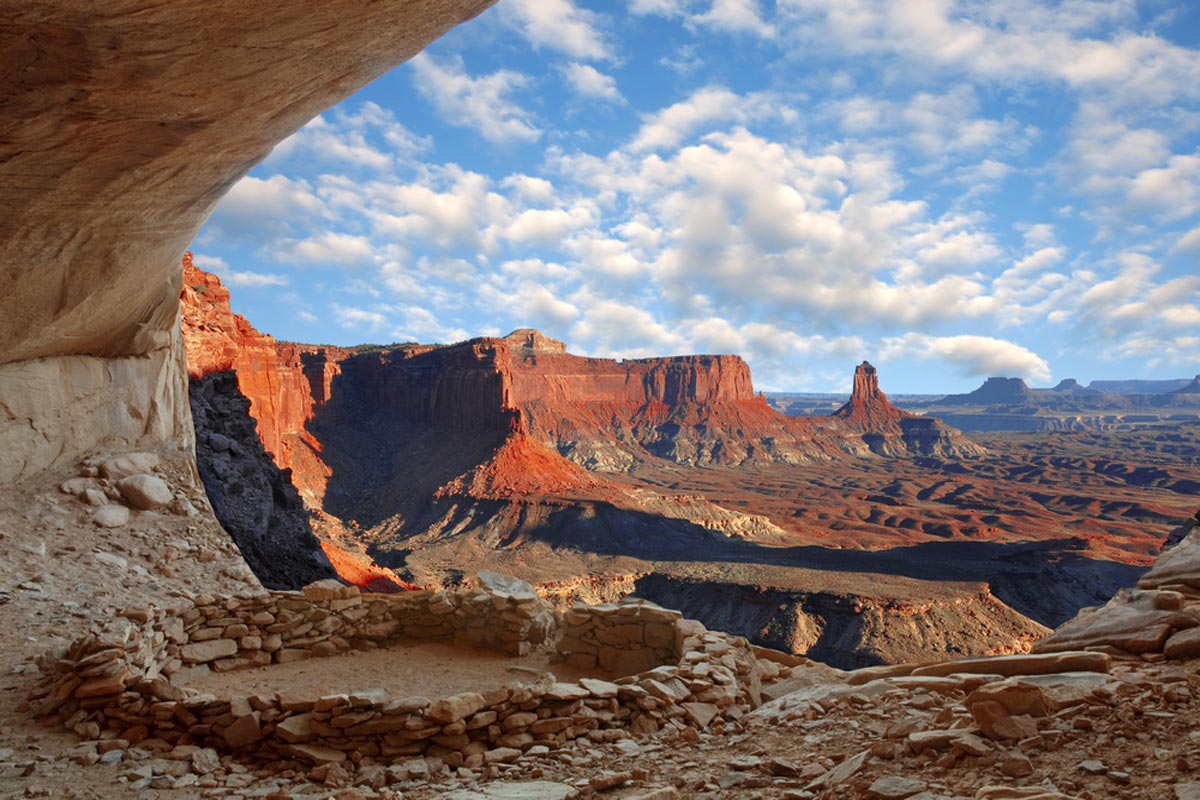 We can hardly cover all the attractions in Canyonlands National Park, but we'll start with the most popular; Mesa Arch. This majestic arch is exceptionally breathtaking at sunrise when the morning light illuminates the arch with fiery shades.
You don't want to miss the hiking trails in Island in the Sky. And the majestic Upheaval Dome is an intriguing crater that'll have you scratching your head over its origins.
Angel Arch is the largest arch in the park, and the red and beige Elephant Hill is a fun challenge if you're into mountain biking.
Insider Tips for Canyonlands National Park
Entrance with a private vehicle costs $30, and pedestrians and cyclists pay $15 to enter.
The Visitors Center has restrooms, benches, and a group of passionate staff who'll be happy to give you advice before you take on the park. If you're unsure about something, do ask for their advice.
The park is large, so bring essentials like a first aid kit, plenty of water, and the correct clothing and gear.
Suggested Stay: Hoodoo Moab, Curio Collection By Hilton
Practical Tips for Visiting Utah's National Parks
How Many National Parks Are in Utah?
Wondering what national parks are in Utah? There are five, often called Utah's "Mighty 5" National Parks. In addition, there are eight Utah national monuments.
How Many Days Do You Need for Utah's National Parks?
If you want to visit all five of Utah's national parks, you'll need at least a week to allow enough downtime and travel time. If you'd like a slower pace or want to add more off-the-beaten-path attractions, you'll need up to two weeks.
When Is the Best Time to Visit National Parks in Utah?
The best time to visit Utah's national parks is during the shoulder seasons of spring (March-May) and fall (September-November).
During this time, crowds are less, and temperatures are mellow, making it perfect for exploring Utah's desert landscapes.
You may also want to visit in winter. Although this season has limitations, parks like Bryce Canyon National Park are especially striking with the contrast of red rock against the white snow.
How to Access the Parks: Passes and Permits
If you're planning on visiting all five national parks, you'll save tons of money by purchasing an America the Beautiful Pass. With this once-off $80 pass, you'll have unlimited access to all national parks in the United States for an entire year.
In parks that allow backpacking, you'll have to apply for a backcountry permit from the park's visitor center.
What to Pack for a Utah National Parks Trip
Sure, you've probably got a good idea of what you'll pack for your Utah national parks trip. But below are a few things you don't want to forget.
Utah National Parks: Map
Utah National Parks: Read Next