Discover all the best Arches National Park camping spots, from private sites to the best communal living options.
Ditch the hotel – if you ask us, pitching up near Arches National Park is an incredible way to spend your evenings.
There might only be one campsite in the entire park, but there are still loads of fantastic options just outside its borders. It's here you'll snag some epic deals, too.
And, better yet, there are options for those who like to rough it completely, prefer a taste of comfort in an RV, or even spots where luxury lovers can glamp.
Ready to explore the best places to camp near Arches National Park? Let's go.
Best Spots for Camping in Arches National Park, Utah
Devils Garden
Arches National Park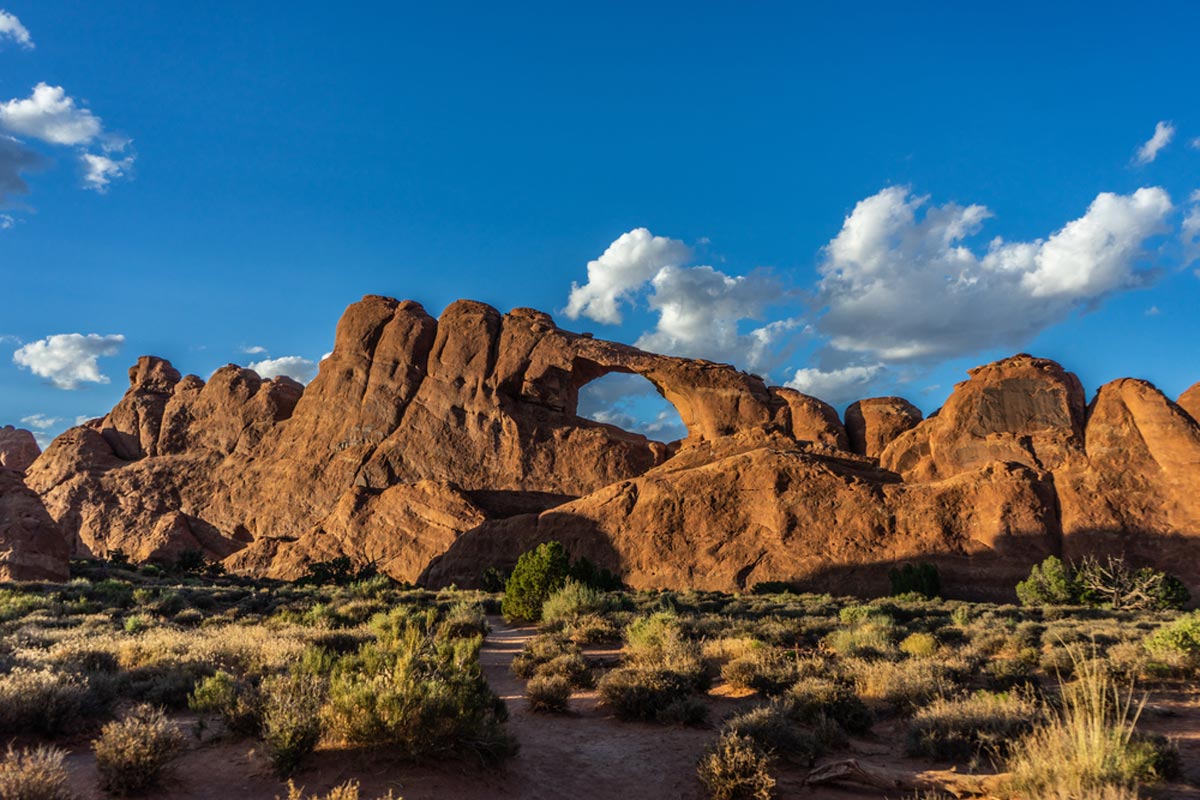 As the only Arches National Park campground, Devils Garden fills up fast. It has a first-come, first-served system in the off-season from November to March, but you'll need to reserve a site from then on.
And it's obvious why it's such a popular spot, with the Devils Garden trailhead around the corner. You'll be able to admire iconic landmarks such as Landscape Arch and Double O Arch, an hour's hike from the campsite.
You'll be glad to hear that this campsite boasts 51 pitches that are perfect for both RVs and tents, while you also have access to drinking water and flushable toilets onsite.
Goose Island
Southeast of Arches National Parks South Entrance
Book a site at Goose Island for an incredible Arches camping experience close to Moab. Individual campsites work on a first-come, first-served basis, but you'll need to reserve a group site.
Despite being 8 minutes from Moab, nature is all around you, with the rustic Mojave desert painting the prettiest pictures. Pets are welcome – albeit on a leash – and with shaded picnic tables, you can enjoy breakfasts and dinners away from the elements.
You can take a short 15-minute walk to Updraft Arch – yes, arches aren't only in the park.
Big Bend
East of Arches National Parks South Entrance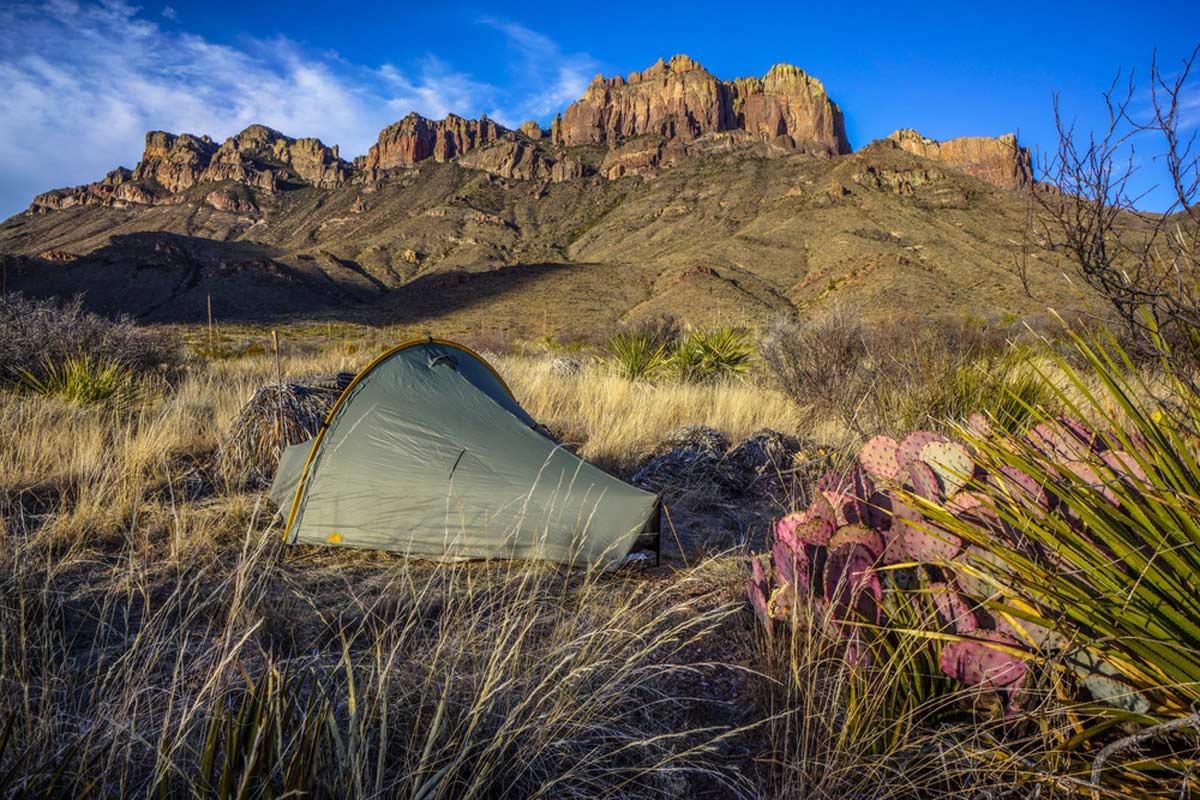 Look no further than Big Bend for riverside camping at Arches National Park, where you can dine in style at shaded picnic areas. So you can save space in the car and don't have to bring a table and chairs.
It's a 15-minute drive from Arches, but you'll have mesmerizing views of the Colorado River.
No surprise then that It's a fantastic spot for fishing, mountain biking, and rock climbing, with the Big Bend bouldering site nearby. You can bring your furry friends for the adventure, but they'll need to be on a leash.
When it comes to amenities, this campsite has got you covered with vault toilets, fire pits, trash collection, and even a boat ramp. What more could you possibly want?
Grandstaff
East of Arches National Parks South Entrance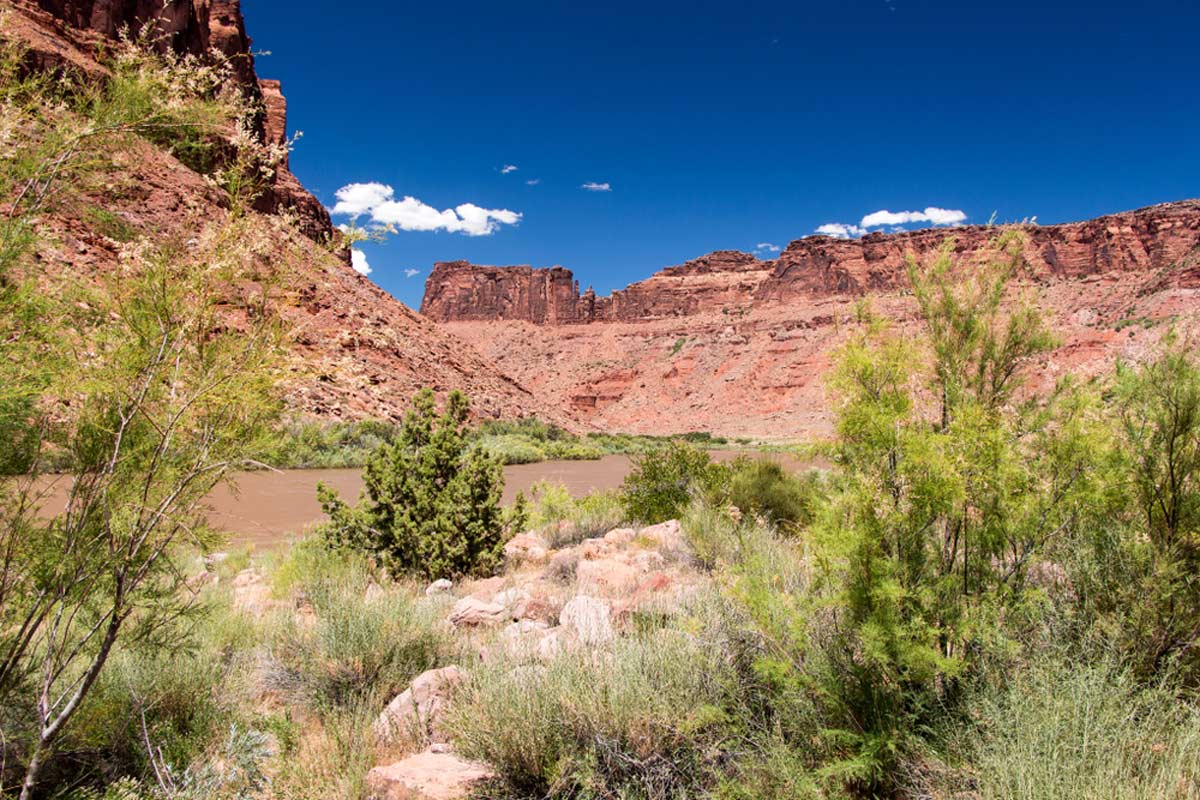 For one of the slightly quieter places to camp near Arches National Park, book a site at Grandstaff. With only 16 sites and a quiet time from 10 pm, you'll enjoy the sounds of nature out here.
Sitting along the Colorado River, it has the breathtaking Grandstaff Canyon trailhead nearby. You can also visit Huntress Arch after a 45-minute hike or drive to Shrimp Rock two minutes down the road.
This site is only for tents (RV drivers, we recommend Devils Garden or Big Bend) but does include pit toilets, fire pits, and tables, so it's ideal for a truly rustic experience.
Under Canvas Moab
Northwest of Arches National Park South Entrance
Under Canvas Moab is the place for you if you want to camp in style with all the luxuries of modern living.
This is a 3-star hotel that turns camping into glamping, with everything from fresh bedding to a coffee house at your service.
You can bring the pups and admire the skies from your private sun terrace. It's 3-minutes from the unique Moab Giants open-air museum and a short 7-minute drive from Bar M Trails, which is perfect for mountain biking.
Courthouse Rock
Northwest of Arches National Parks South Entrance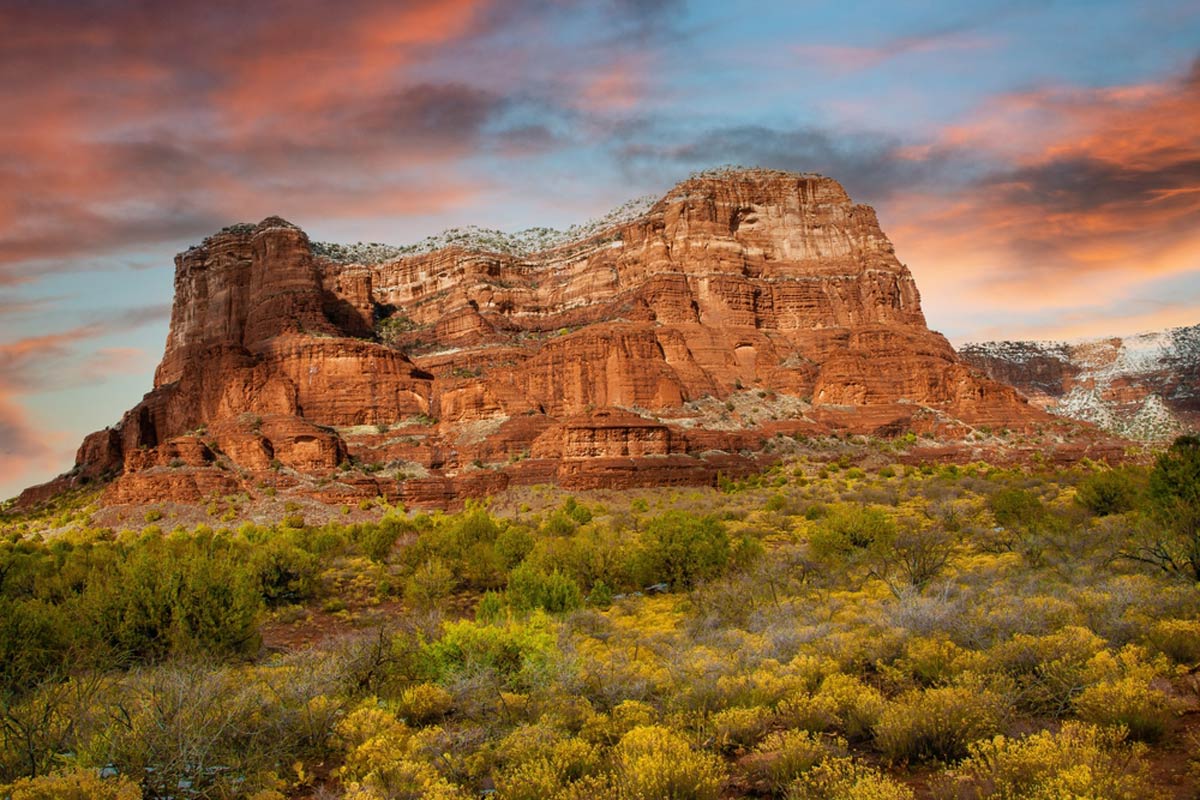 Courthouse Rock is the cheapest Arches National Park RV camping spot on this list, with sites starting at just $10. You can enjoy a majestic sunset dinner at the picnic tables and watch the moody La Sal Mountains change with the sky.
There's plenty to see here, with ancient rock art, dinosaur bones, and Tusher Tunnel trailhead nearby. And, with so much to do in and around the area, the 15-minute drive to Arches doesn't seem all that bad.
Moonflower Canyon
South of Arches National Parks South Entrance
For the most private campground in Arches National Park with one site, go to Moonflower Canyon. It's perfect for large families or groups of friends looking for a fun getaway.
It's situated in the shade, so great for campers who don't fancy roasting in their tent throughout the evening. That said, it's pretty much a free for all space, with fire pits, picnic tables, and vault toilets near. You'll need to reserve in advance.
You can break away from the hustle of modern life here with the sounds of flowing water and the chirps of birds. The canyon wall is perfect for bouldering, and the nearby Moab Rim Trailhead is a gorgeous 4×4 scenic drive.
Sand Flats
South of Arches National Parks South Entrance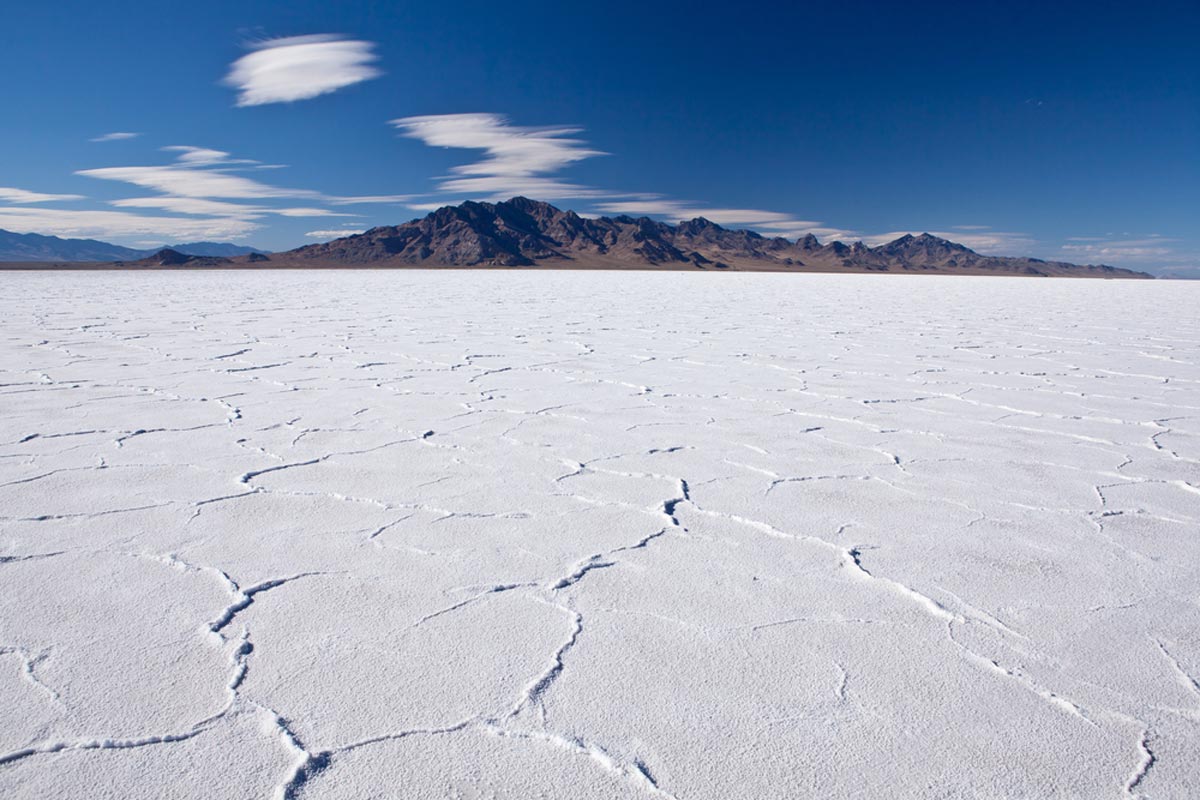 You'll find the largest Arches National Park campground at the Sand Flats Recreation Area.
It boasts a whopping 140 sites, varying from tents to glamping, and pitches start from just $15. It works on a first-come, first-served basis, but larger groups will need to reserve a spot.
The glorious La Sal Mountains create a dramatic backdrop. And to put it simply, you'll always have things to do here, from the Slickrock Bike Trail to joining an ATV tour through Hell's Revenge.
Not to mention that you're just around the corner from Arches south entrance.
Practical Tips for Booking Campsites in Arches National Park
Camping in & Near Arches National Park: Map
Read More Arches National Park Guides