Discover the best hotels near Arches National Park. These are the top places to stay in the area, no matter your budget.
After a long day of exploring Arches National Park, hiking through its tricky crevices, and marveling at all it has to offer, we guarantee you'll be dreaming of a comfy bed.
Now, we don't want to burst your bubble, but there are no hotels in Arches National Park.
Not to worry though, as we've found all the best lodgings along the park boundaries. From budget-friendly hotels to luxury stays, and even a glamping ground where you can connect with nature some more.
Excited? You should be. Let's dive in.
Once you've found your dream stay, read our guide to the best things to do in Arches National Park.
Best Hotels in Arches National Park: At a Glance
Best Hotels in Arches National Park
Sunflower Hill Inn
£££
North 300 East Moab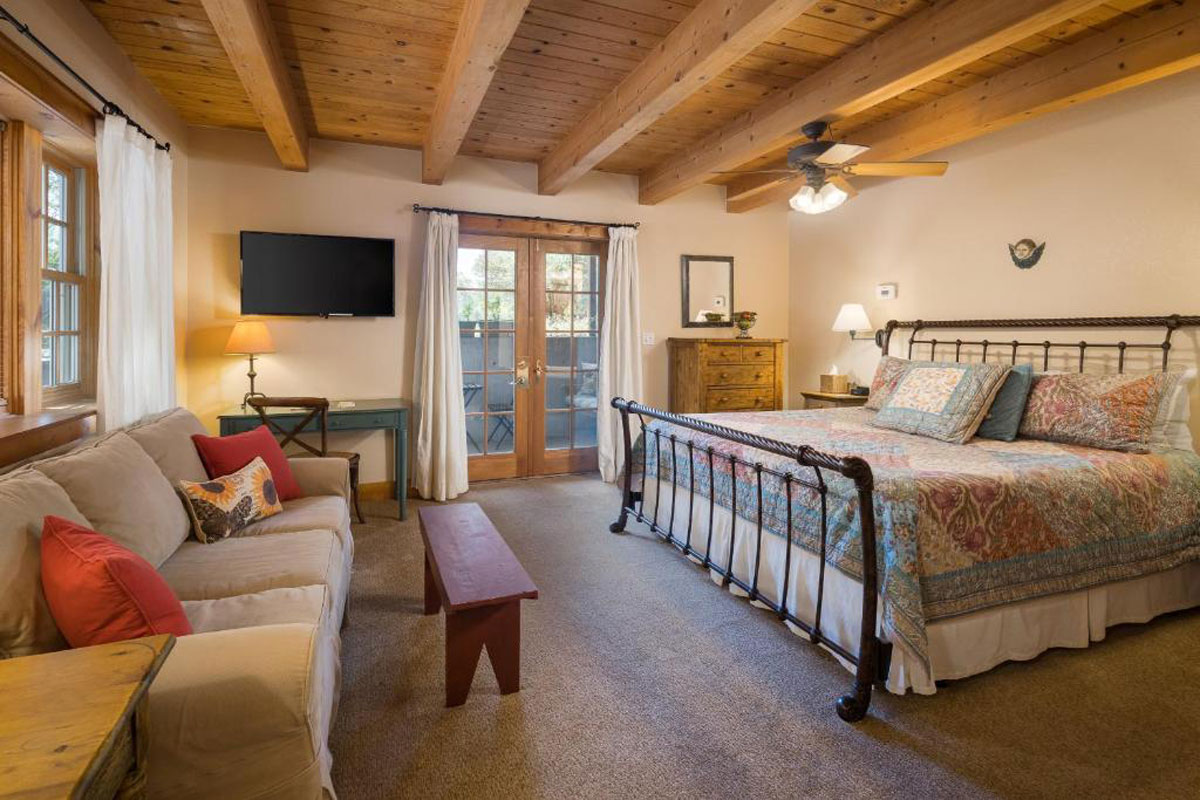 You may not expect to see a field of flowers in the middle of the Mojave Desert. But for a unique stay in a majestic part of Moab, book a room at Sunflower Hill Inn.
Picture yourself feasting on a complimentary breakfast as you watch sunflowers and daffodils dance as the backdrop. We think it sounds quite lovely.
You can see all this from the lovely sun terrace. And for a welcome escape, retreat to your spacious room with cedar ceilings and a light color palette.
With so much greenery on your doorstep, you'll almost forget it's only a 9-minute drive from Arches National Park.
Holiday Inn Express Hotel
£££
Highway 191 Moab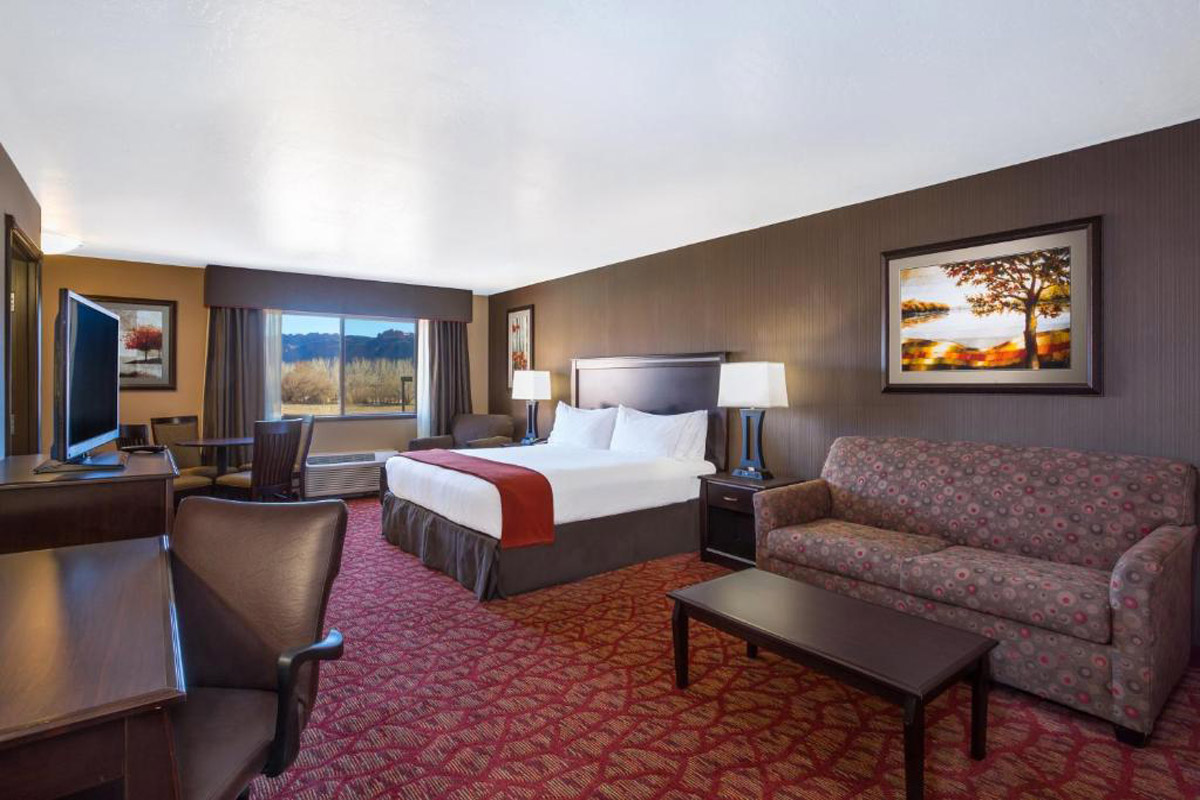 If you dream about luxury carpets with moody ochre walls and duck-down pillows, then the Holiday Inn is for you. Just a short 6-minute drive from the park boundary, it's one of the closest places to stay near Arches National Park.
This is a hotel that considers everything you may (and may not) need, from a fitness center to delicious confectionaries every morning.
Wanting to cool off after a busy day of bouldering and hiking in Arches? No problem. An arch stretches over a pristine pool and mimics the iconic landmarks scattered throughout the region.
And when you're not admiring the stunning views of the La Sal Mountains, grab a tasty bite to eat at Buck's Grill House.
Under Canvas Moab
£££
Highway 191 Moab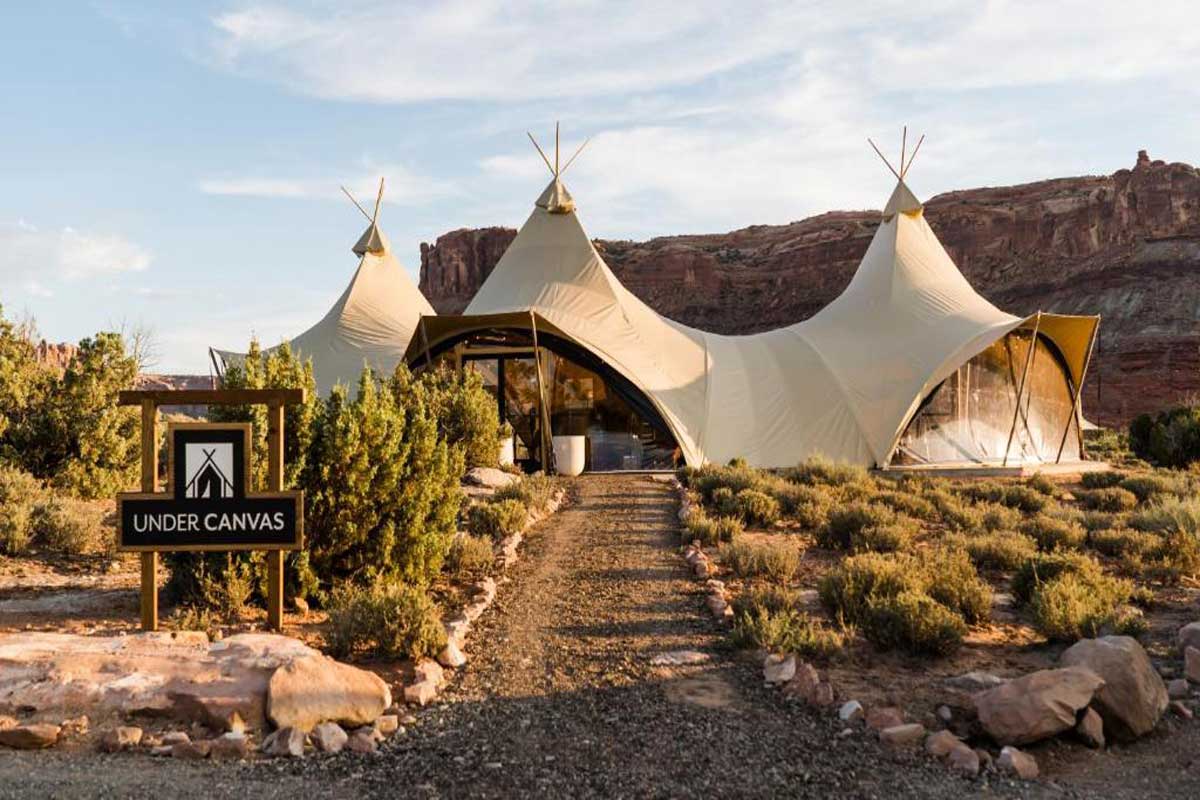 Retreat to the Mojave Desert and experience a glamping experience like no other at Under Canvas Moab. This is a once-in-a-lifetime glamping experience where you'll have all the luxuries of modern living at your fingers.
The all-white and wooden interiors create a calming environment, while each room has a sun terrace, perfect for enjoying the sunrise or sunset. Don't worry; there's more.
The morning yoga classes are a great way to start your day. And you can end the day by sitting around the campfire and enjoying the live music as the stars dance overhead.
It's also one of the few pet-friendly hotels near Arches National Park, so your pups can join the fun.
Moab Springs Ranch
£££
Highway 191 Moab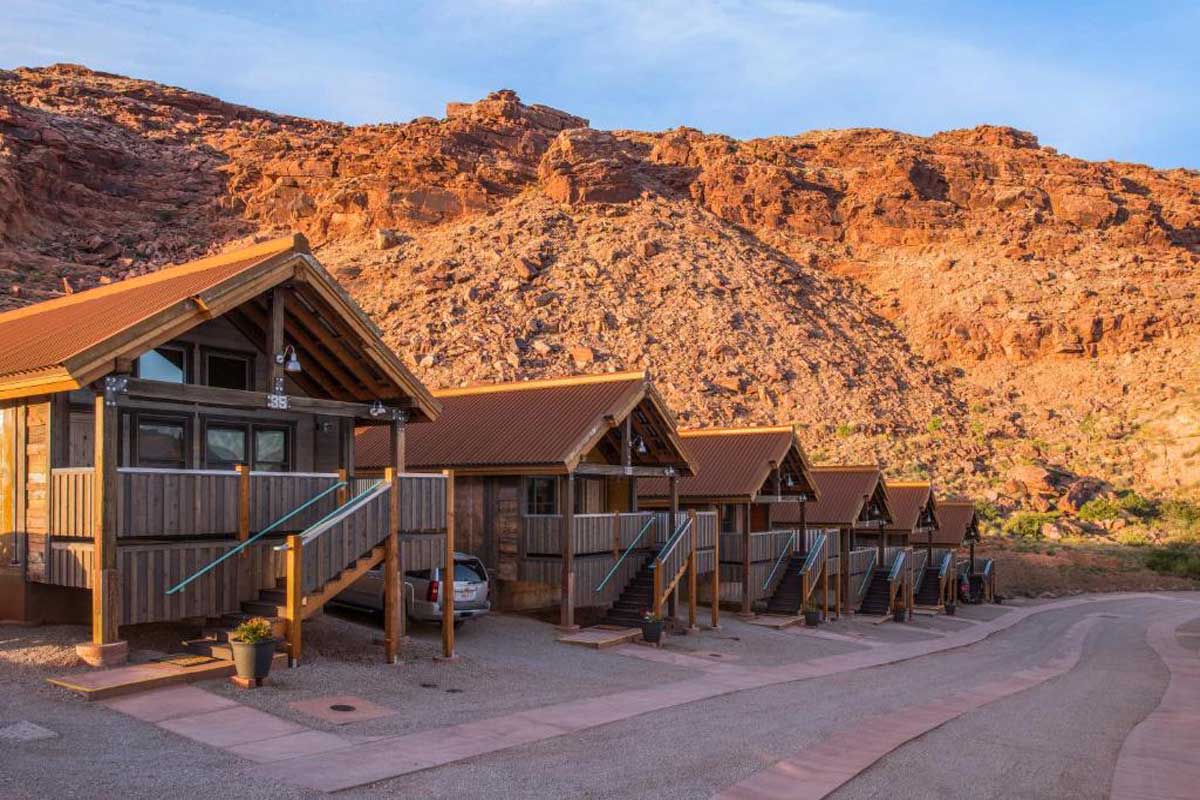 Book your stay at Moab Springs Ranch for an authentic wood cabin stay just 5 minutes from the park entrance. Climb the small steps to your private patio and enter an ultra-modern open-plan lounge and kitchen.
The rooms are neatly tucked away with unrivaled views of a quaint tree-lined stream and the La Sal Mountains in the distance. Some rooms are self-catering, but you can still enjoy authentic American cuisine at the on-site restaurant.
Relax in the heated pool and hot tub when you're not enjoying the best hikes in Moab or walking through the hotel gardens. But no matter what you do, the soft linen sheets of the comfortable bed will always be calling your name at the end of a busy day.
Radcliffe Moab
£££
Main Street Moab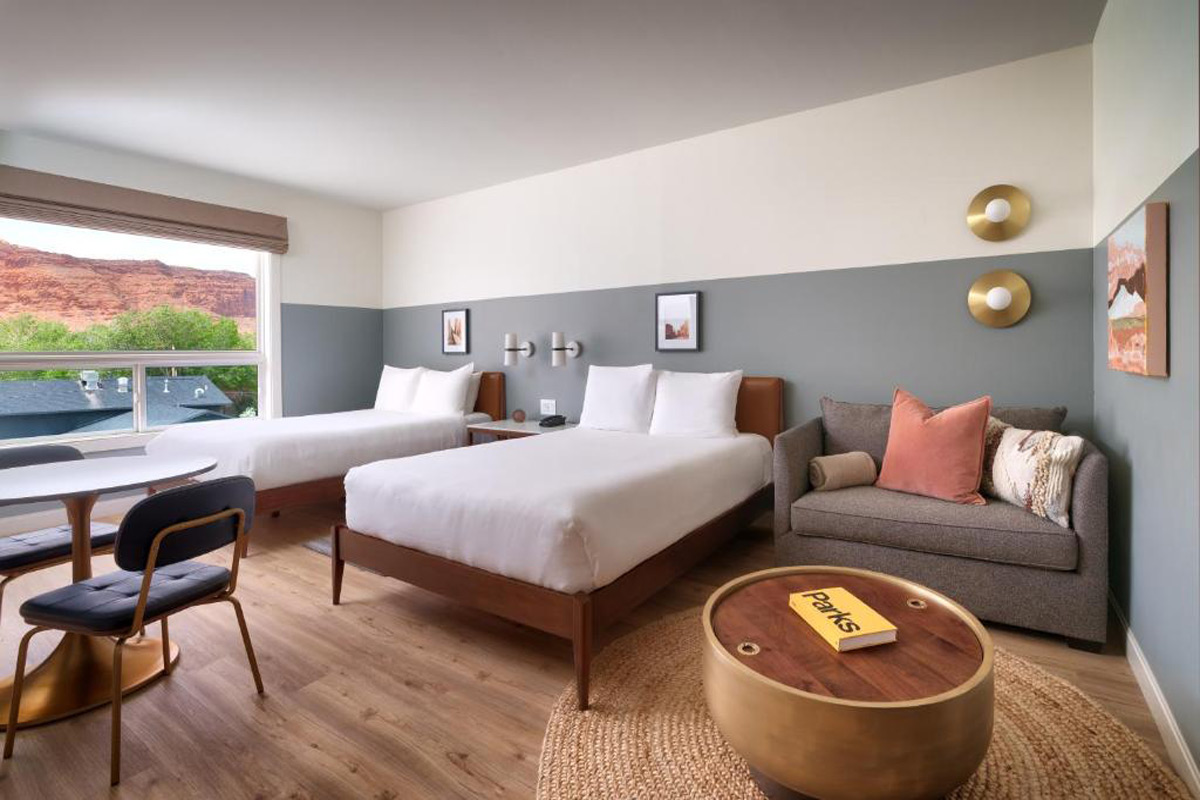 Searching for luxury hotels near Arches National Park? You don't need to look far, as Radcliffe Moab is just 10 minutes from the park entrance, and luxury is its middle name.
Picture boutique modern finishings in a gentle color palette of greys, blues, and whites. Now imagine an inviting pool with fire pits nearby and towering red canyon walls encircling the hotel.
If you can envision all this, you've got a pretty accurate representation of this stunning hotel. You can relax by the pool with a drink in hand (courtesy of the on-site bar) and indulge in a glorious dinner after a long day.
And hey, while you're here, join one of the hotel's fantastic cooking classes for a different Utah experience.
Castle Valley Inn
££
Castle Valley Moab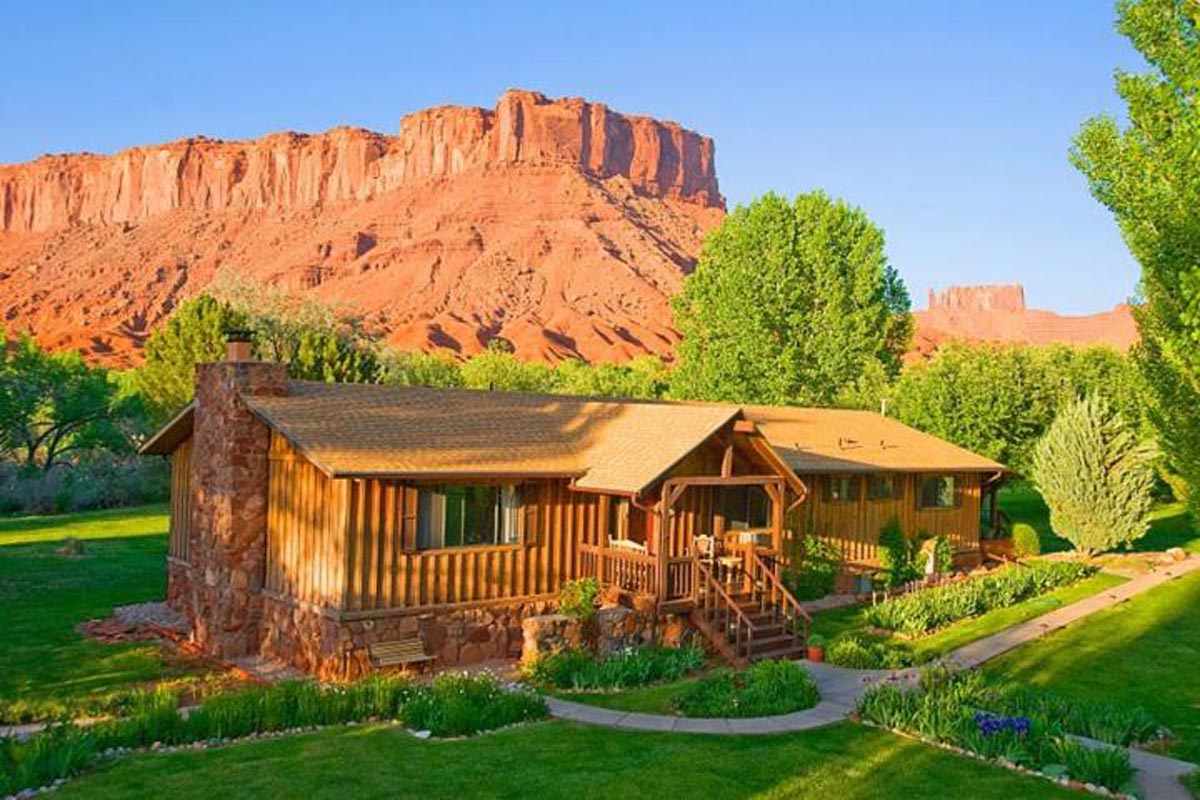 For a more exclusive stay amongst the magnificent spurs and valleys of the region, head to Castle Valley Inn. It's slightly out of the way, with a 30-minute drive from the park entrance, but that doesn't take away from the serenity of the site.
Nestling within Castle Valley, the manicured garden with blooming fruit trees is a fantastic place to escape the hustle of modern life. That said, you still have access to the simple things in life, like a fully-kitted kitchen and a muscle-relaxing hot tub.
And before you embark on the day's journey, grab a bite at the complimentary continental or gluten-free breakfast buffet. You may even see some deer wandering through the garden in the early hours of the morning.
Element Moab
££
Highway 191 Moab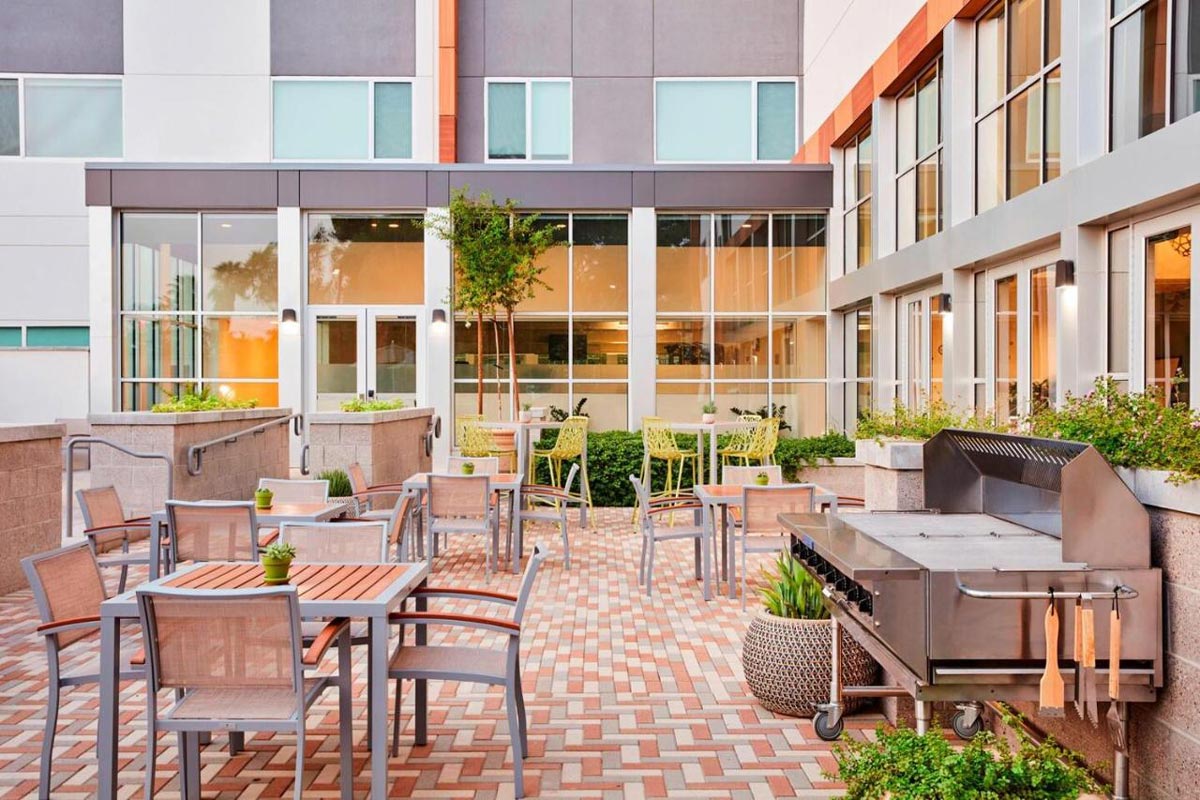 The art of minimalism is on full show at Element Moab, just 6 minutes from the park boundary. All the rooms look onto the triangular pool, which pops amongst the hotel's baby-blue and rust-colored facade.
The rooms are simple but elegant, with an olive green feature wall and cupboards sneakily hidden within the walls. You can also enjoy complimentary breakfasts, and the on-site restaurant serves some delicious pizzas.
It's also one of the few dog-friendly hotels near Arches National Park, so it's only fair you bring the furry family along. When you're not catching some rays on the sun loungers, Raven's Rim Zipline Adventure is a hop-skip-and-a-jump away for some thrilling fun.
Hideout at the Rim
££
Roberts Drive Moab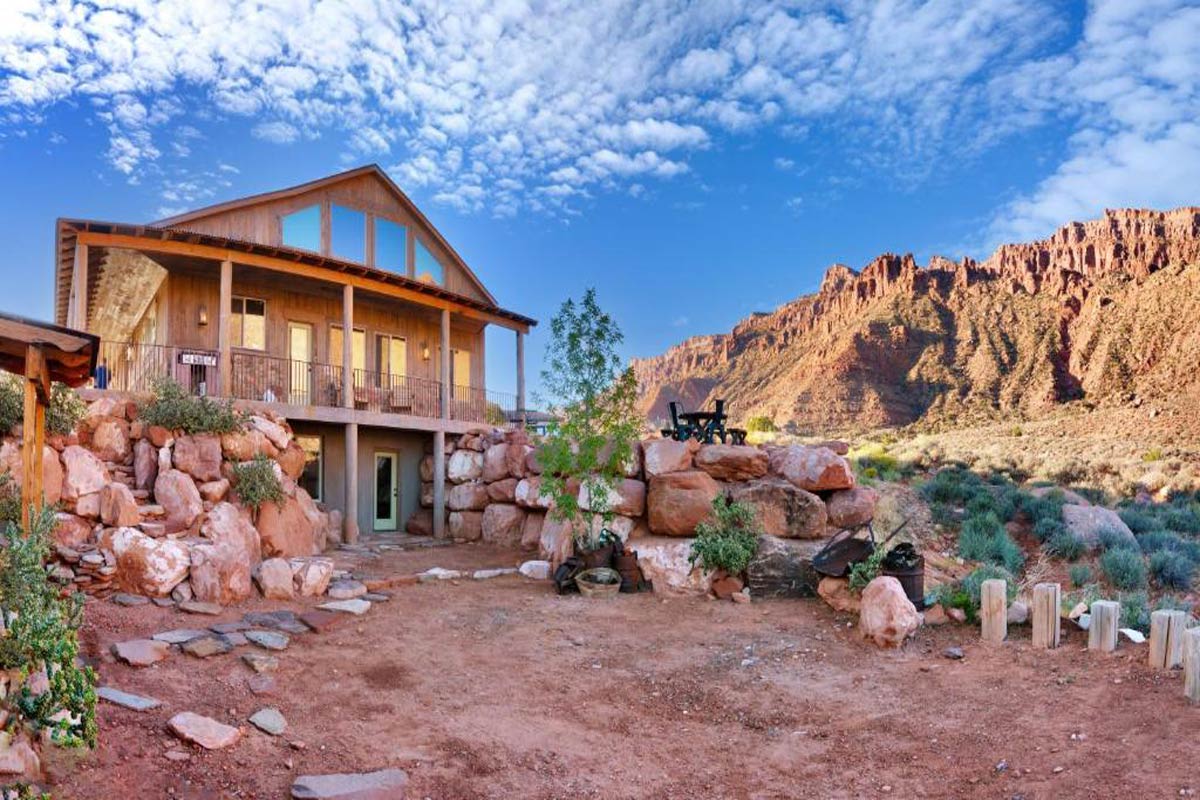 Hideout at the Rim is mesmerizingly similar to the rustic Mojave Desert, just 15 minutes from the park entrance. The hues of gold, orange, and red are so distinct within the region throughout the hotel.
The large square windows allow natural light to filter in and create a spacious and inviting space. It's a bed and breakfast, so expect delicious treats each morning, and if you want something more filling, the kitchen has everything you need.
Its rustic appearance blends perfectly into the surrounding landscape. And for incredible sunset views, we highly recommend hitting the trail to the top of the canyon.
Hyatt Place Moab
££
Main Street Moab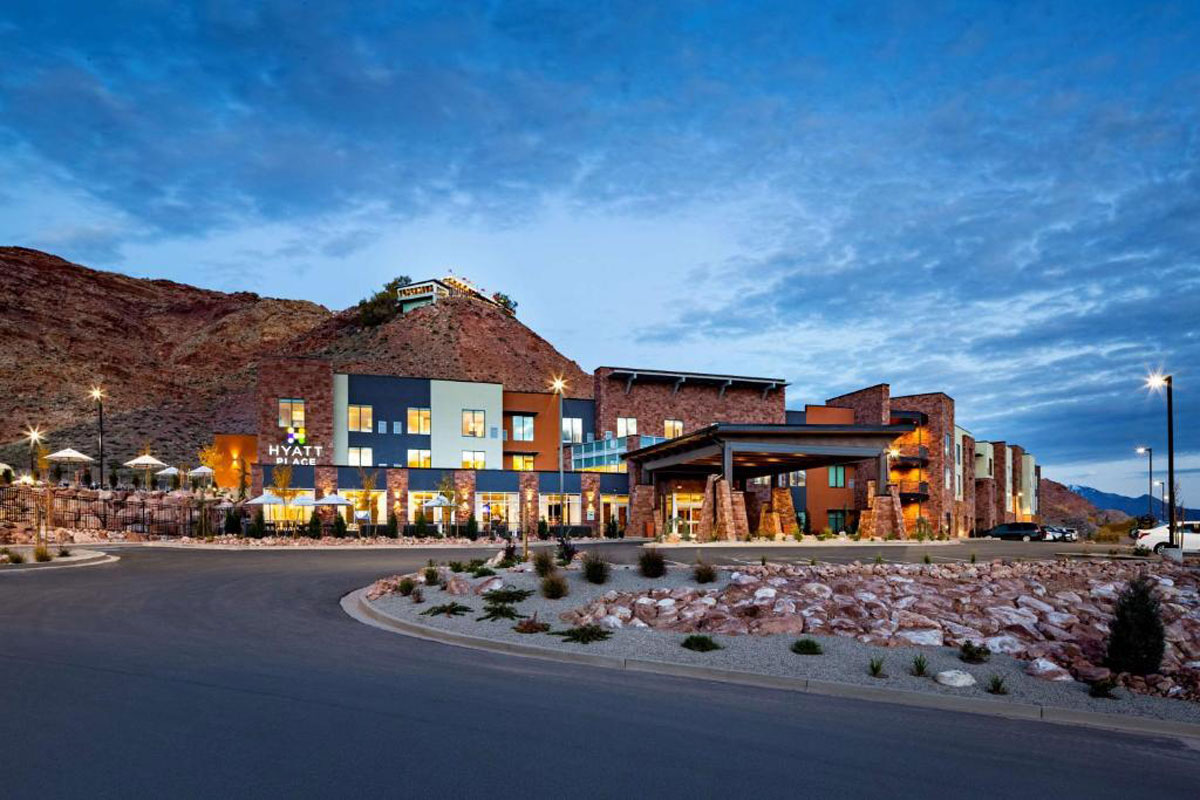 For glorious veranda views of the La Sal Mountains, stay at the Hyatt Place Moab hotel. Arches National Park is 6 minutes from the hotel, so you're never far from sights like Landscape Arch and Mesa Arch.
Each room is decked out in quirky apparel, like mini bicycles or a telescope. The pool is a fantastic place to relax, and the on-site restaurants serve complimentary breakfasts and international cuisine for the rest of the day.
Looking to combine work and play in one trip? The business center is perfect for daily work, while the tour desk is fantastic for finding your ideal Arches National Park tour.
SpringHill Suites
££
Highway 191 Moab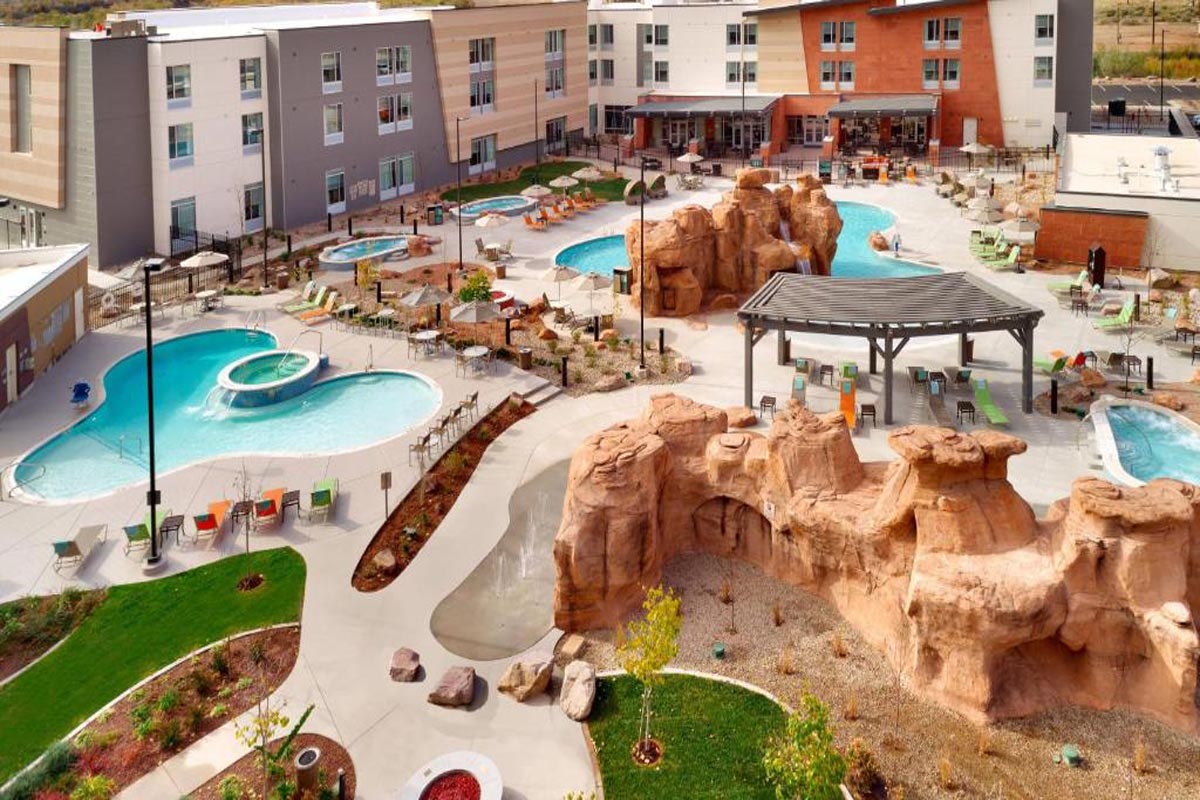 If you're looking for luxury personified by organically shaped pools and hot tubs, stay at Springhill Suites. The pools are the star of this glorious hotel, with every room looking out onto these inviting bodies of water.
Subtle tones of beige and orange ordain the hotel rooms and make them a heartwarming space to chill out. But what makes this a "luxury" stay? Everything here shouts grandeur, from the basketball courts to the elegant dishes at the on-site restaurant.
And to top it all off, this Arches National Park accommodation is only 4 minutes from the visitor center.
Scenic View Inn & Suites
£
Moab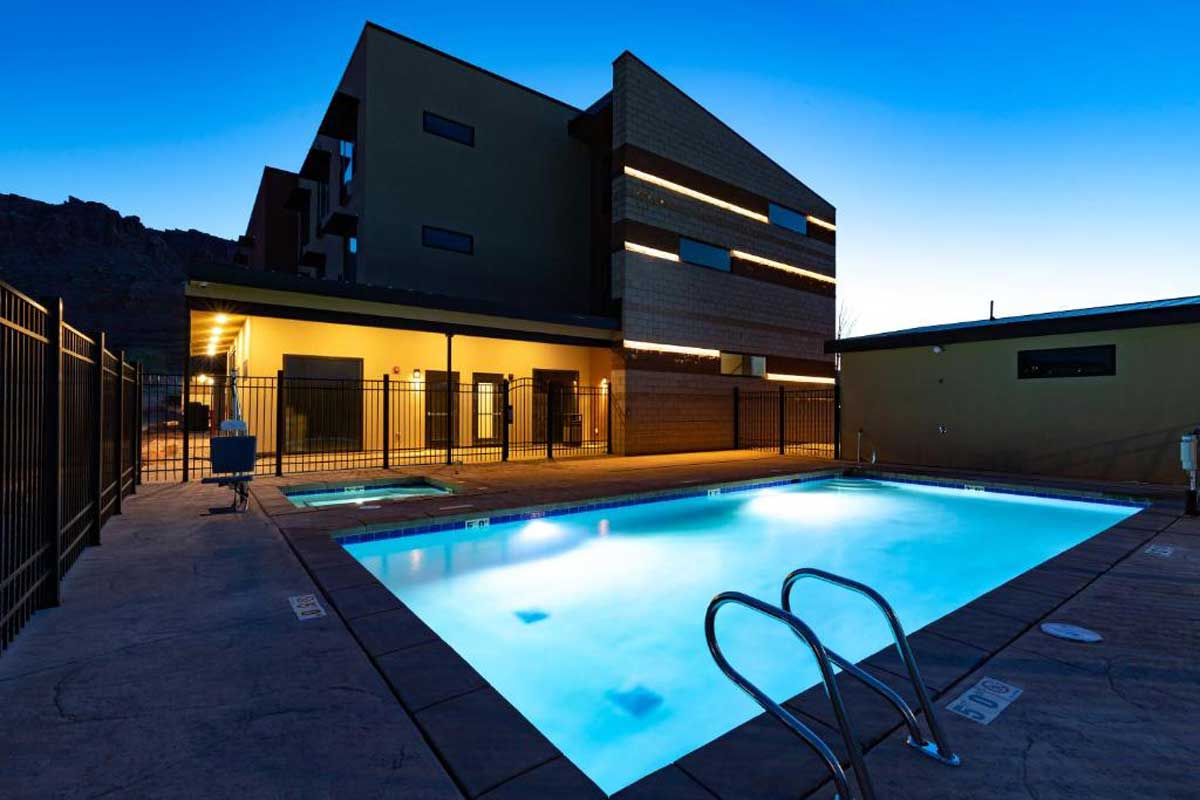 Simplicity is at its best at Scenic View Inn, where minimalism pairs perfectly with the surrounding landscape. It's a 15-minute drive to Arches National Park, but that's a tiny deal compared to everything the hotel offers.
From the business center to the simple yet bold use of dark walls in the rooms, you'll be able to stay here in comfort. Calm your nerves after an adventurous day at the pool or hot tub, and dive into delicious American food at the Hiddin Restaurant.
Hoodoo Moab
£
North 100 West Moab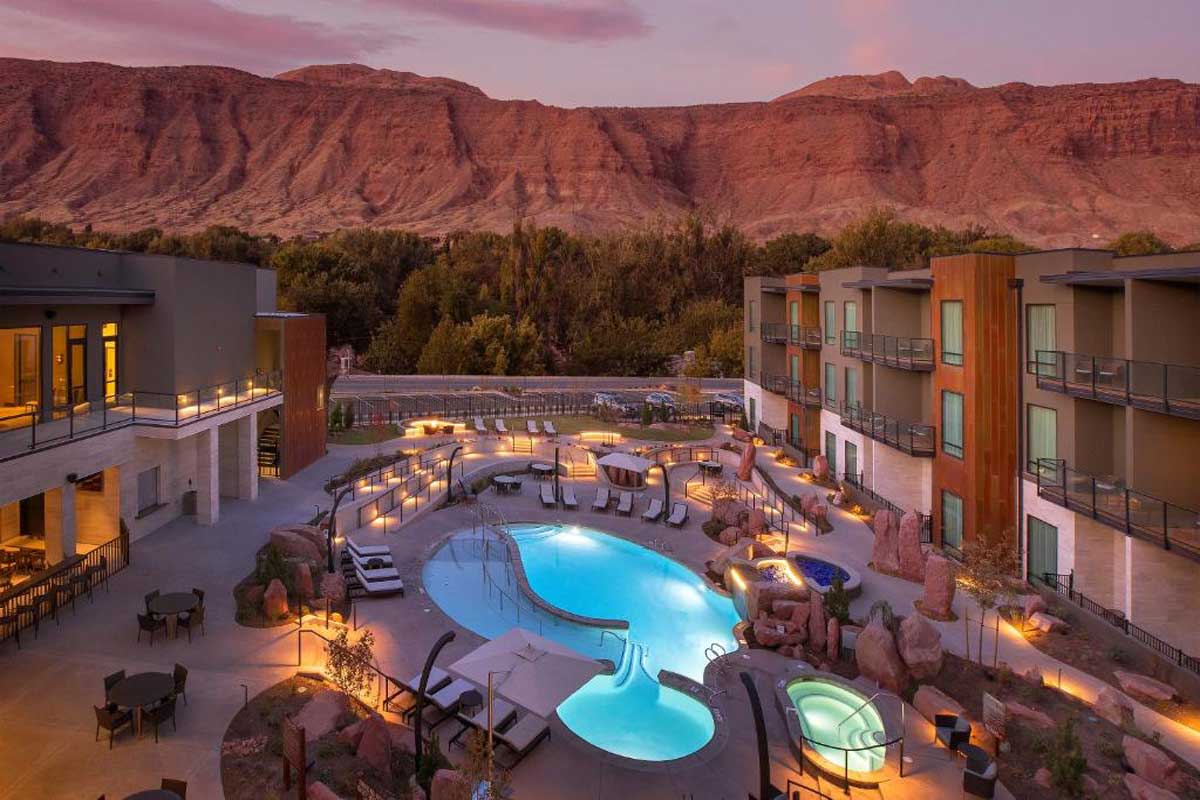 You'll never find a more affordable and luxurious stay than at Hoodoo Moab. It's in the center of Moab, so you'll have quick access to everything from shops to restaurants.
But you won't need to go anywhere as the on-site restaurant serves up some of the best food in the area. Sleek industrial finishings pair with soft furniture to create a warm and inviting space.
Still waiting for more? How about the glorious pool that provides stunning views of the Mojave Desert?
MainStay Suites
£
Main Street Moab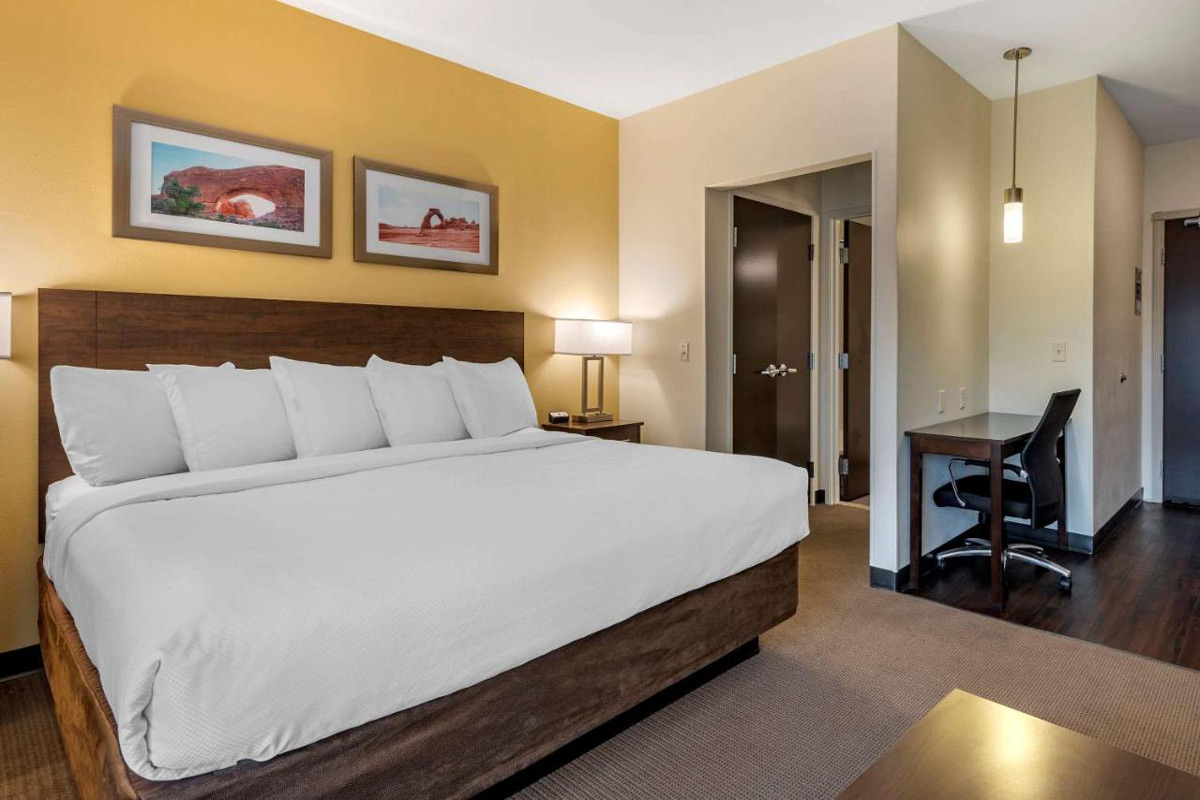 Mainstay Suites is an excellent option for an affordable stay with all the bells and whistles of luxury lodging. It's 9 minutes from Arches National Park and has everything you need, from a communal kitchen to a fitness center.
The sun-lounger-lined pool is fantastic for catching a vivid sunset, while the spacious rooms are great for getting out of the sun. You can even join a walking tour of the area or hit the water and enjoy some canoeing along Pack Creek.
Put simply, of the Arches National Park, Utah hotels; this one is a winner.
Comfort Suites Moab
£
Main Street Moab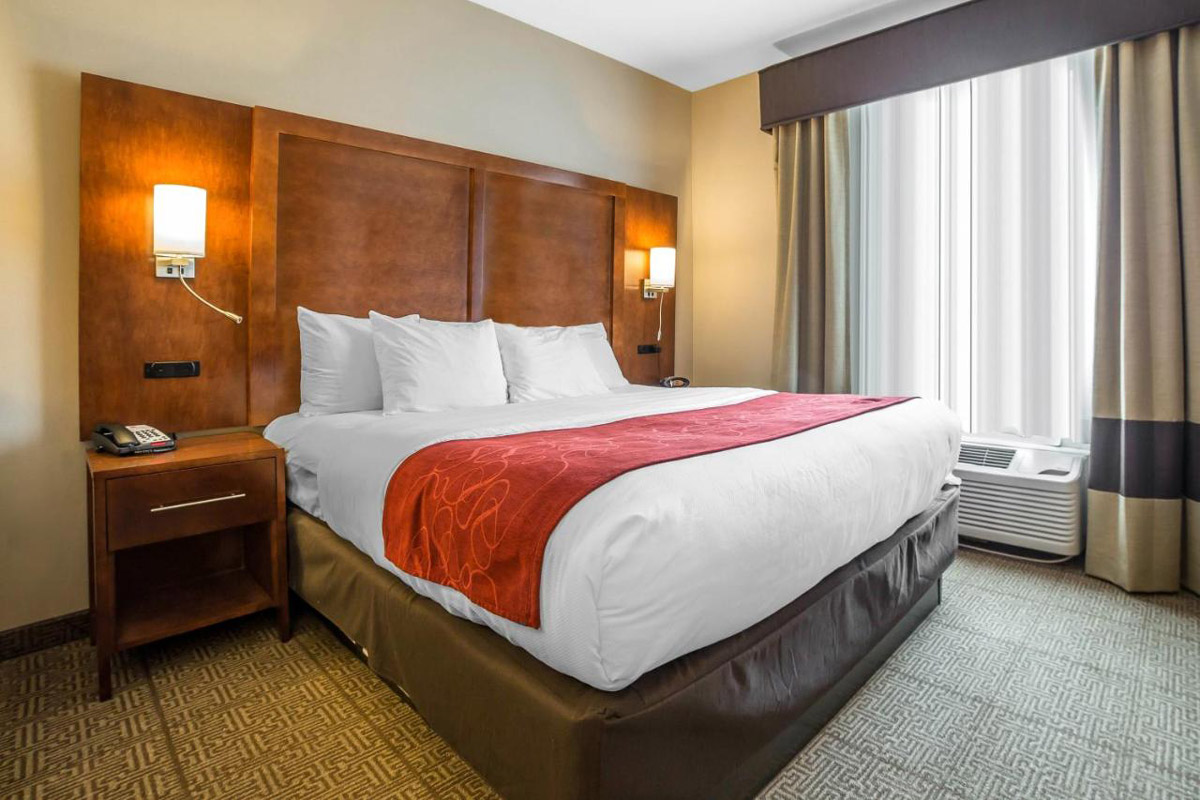 As its name suggests, Comfort Suites Moab is a place you can retreat to for a calming and comfortable stay. The subtle combination of red, white, and cream in the rooms is oh-so inviting, and the hot tub will be your new best friend.
The help-yourself breakfast buffet is the perfect way to start the day. The short 8-minute drive to Arches National Park also makes it a contender for the most convenient lodging in the area.
And, after a long day of exploring, head down the road to Antica Forma for authentic Italian cuisine in the heart of Utah.
Best Hotels in Arches: Frequently Asked Questions
Where to Stay Near Arches National Park?
The best Arches National Park hotels to stay in are in Moab for a comfortable stay and quick access to the park. Read our guide to Moab hotels for more inspiration.
Which Hotels Near Arches National Park in Moab are Romantic?
We recommend staying at Under Canvas Moab or the Sunflower Hill Inn for a romantic getaway.
What is the Closest City to Arches National Park?
As you may notice, Moab is just a 5-mile drive from Arches National Park. Which makes it an extremely handy base.
Practical Tips to Consider Before Booking Your Arches National Park Hotel
Aim to visit Arches National Park in April or September for the best weather and fewer crowds. Book your accommodation as early as possible. Moab and the surrounding areas fill up quickly in summer.
Use our handy Arches National Park map, so you can easily explore the park.
As you'll most likely stay just outside the park, discover the best restaurants and breweries in Moab for the ultimate vacation.
Read More Arches National Park Guide