Looking for the best Airbnbs in Kanab? Read on to discover the coolest places to stay.
Welcome to Kanab, Utah. A stellar part of the state that fills out many a traveler's tick list for reasons to visit.
If you scour the quaint and stunning towns around Utah's national parks, you'll quickly realize that they hide the best Airbnbs. And, near the magnificent Zion National Park, Kanab is no exception.
Whether you're looking for a quiet backcountry escape in Kanab, a breakaway out into Kane County, or a serene getaway in the surrounding regions, we've got your back.
Well? Let's go. Kanab beckons.
Best Airbnbs in Kanab, Utah: At a Glance
Best Airbnbs in Kanab, Utah
Zion EcoCabin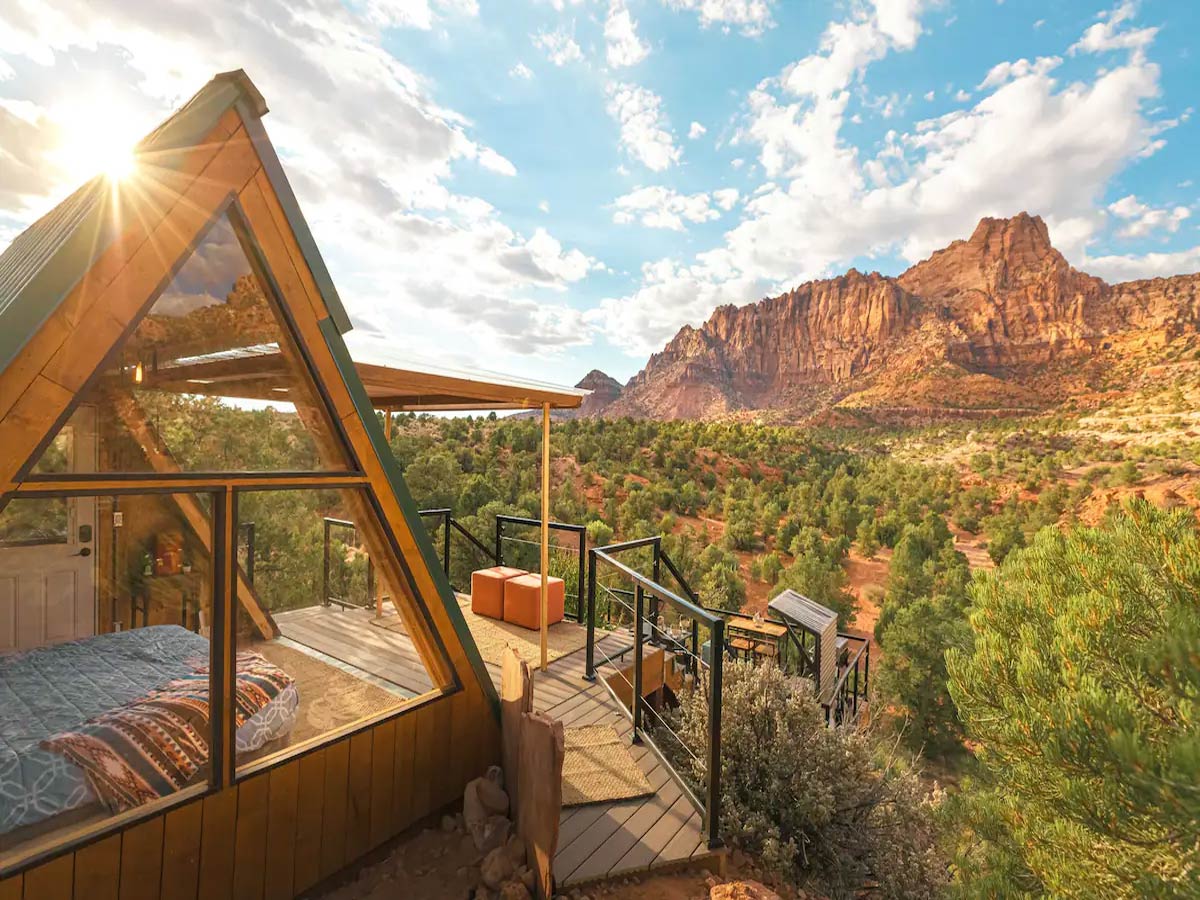 Looking for a unique Kanab vacation rental? This off-grid A-frame cabin offers that and then some.
It takes what you know about off-the-grid glamping and levels it up, as the interior resembles an up-scale loft apartment with a touch of finesse and a comfortable queen-sized bed.
Better yet, you can enjoy a stunning sunset over Canaan Mountain from the lifted patio.
Location: Hildale
Hildale is a tiny town about 20 minutes from Kanab, where you'll find plenty of local restaurants, the Edge of the World Brewery, and cute eclectic cafes.
Country-Style Townhouse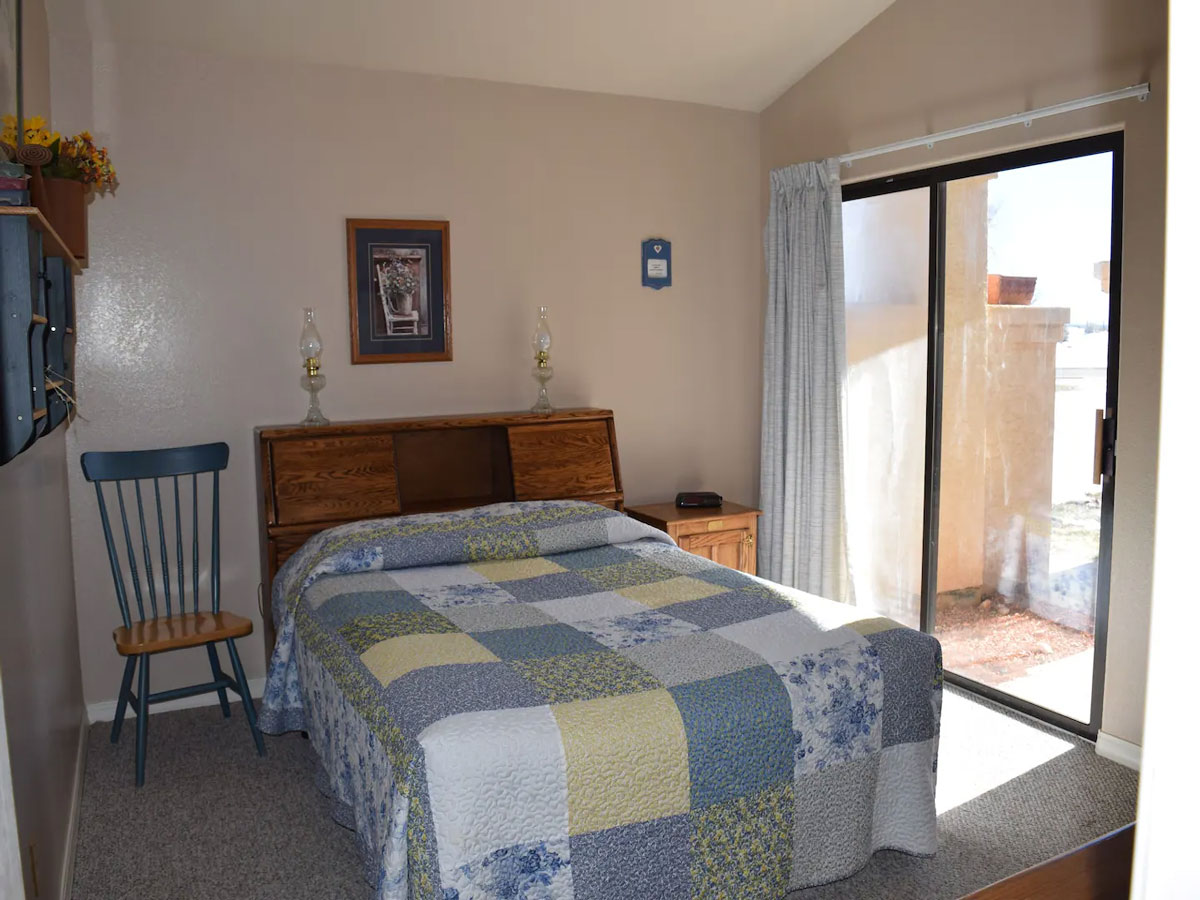 A stunning townhouse within Kanab, you'll instantly fall in love with its country style and charm.
Vaulted ceilings and an open-plan approach make it a spacious property with a well-equipped kitchen. And the small private backyard means that you can enjoy nights next to the BBQ or relax and unwind in the hot tub.
Oh, and if you're looking to explore the great outdoors, many Red Cliff hiking trails are nearby.
Location: Kanab
Kanab is a classic Utah city. Although not the biggest, it features numerous boutique stores and fantastic restaurants. Also close to the property is the Kanab Heritage House Museum.
Treetop #10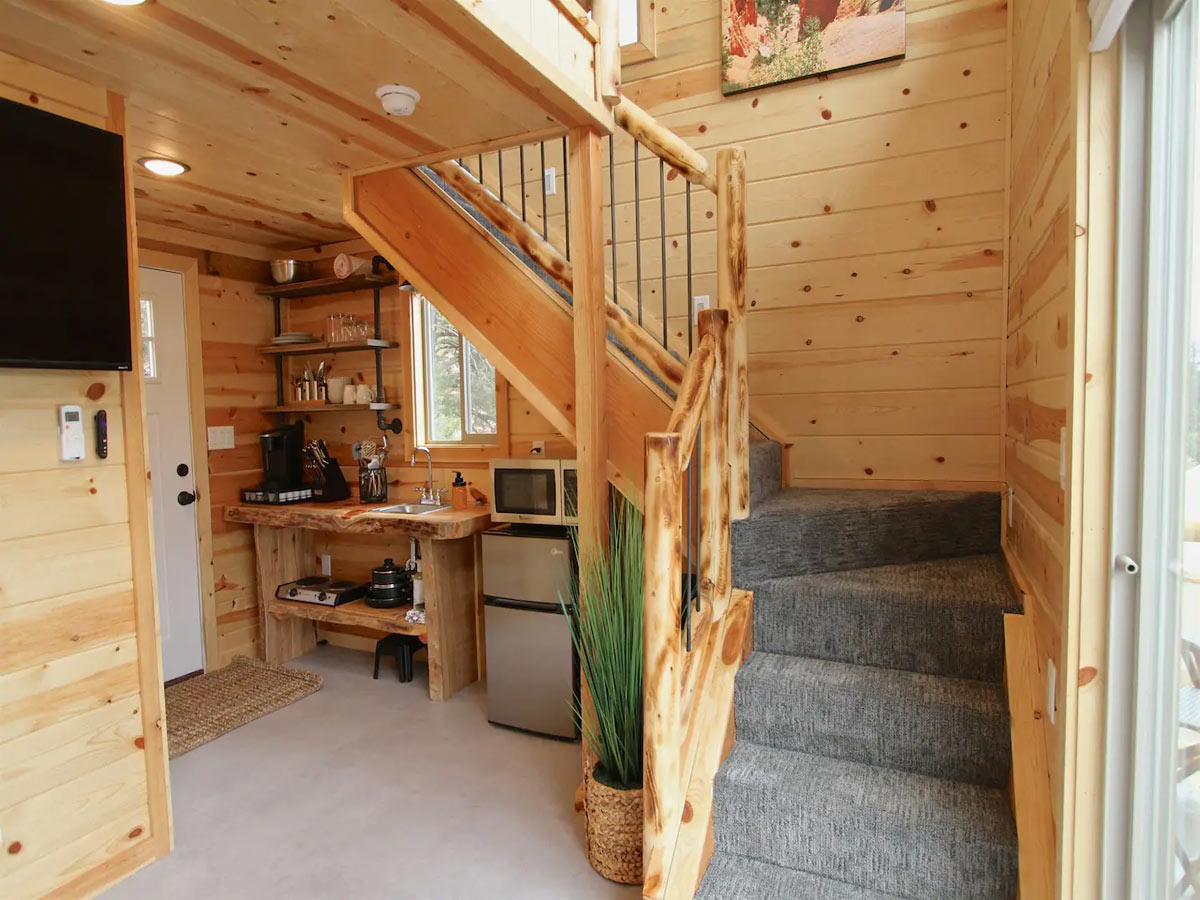 Sitting within the East Zion Resort, you'll find the Treetop Houses. Out of all of these, Treetop #10 is a standout.
Located 20 minutes from Kanab, it blends the convenience of the city's features with a tranquil vacation experience. Modern and rustic elements mix effortlessly with amenities, including a fire pit and air-conditioning.
Location: Orderville
Orderville sits right off Mt Charmel Junction and offers access to numerous attractions such as Joshua Tree, Las Vegas, and Mount Zion.
The Boundary Cabin #4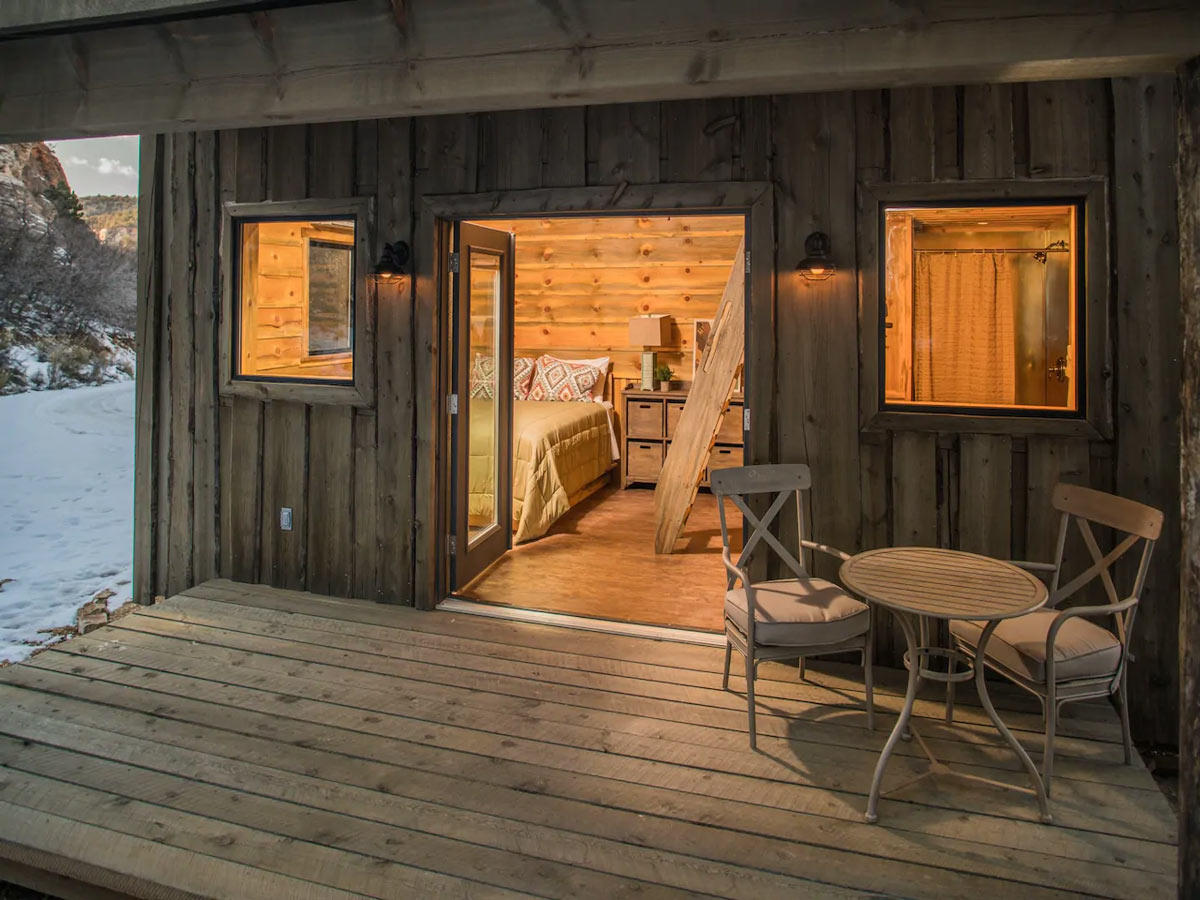 The tiny home of Boundary Cabin 4 is filled with luxurious character that pairs surprisingly well with its rustic elements.
Inside, you'll find a full bathroom, with heating and air-conditioning throughout, a kitchenette, a super comfortable queen-sized bed, and a loft.
Outside, you have serenity provided by a private patio. You can even bring your pets along as the owners are very pet-friendly.
Location: Kane County
Situated in the countryside of Kane County, you're only 1 mile from the east entrance to Zion and surrounded by 6,000 acres of ranch landscape perfect for stargazing.
The Escape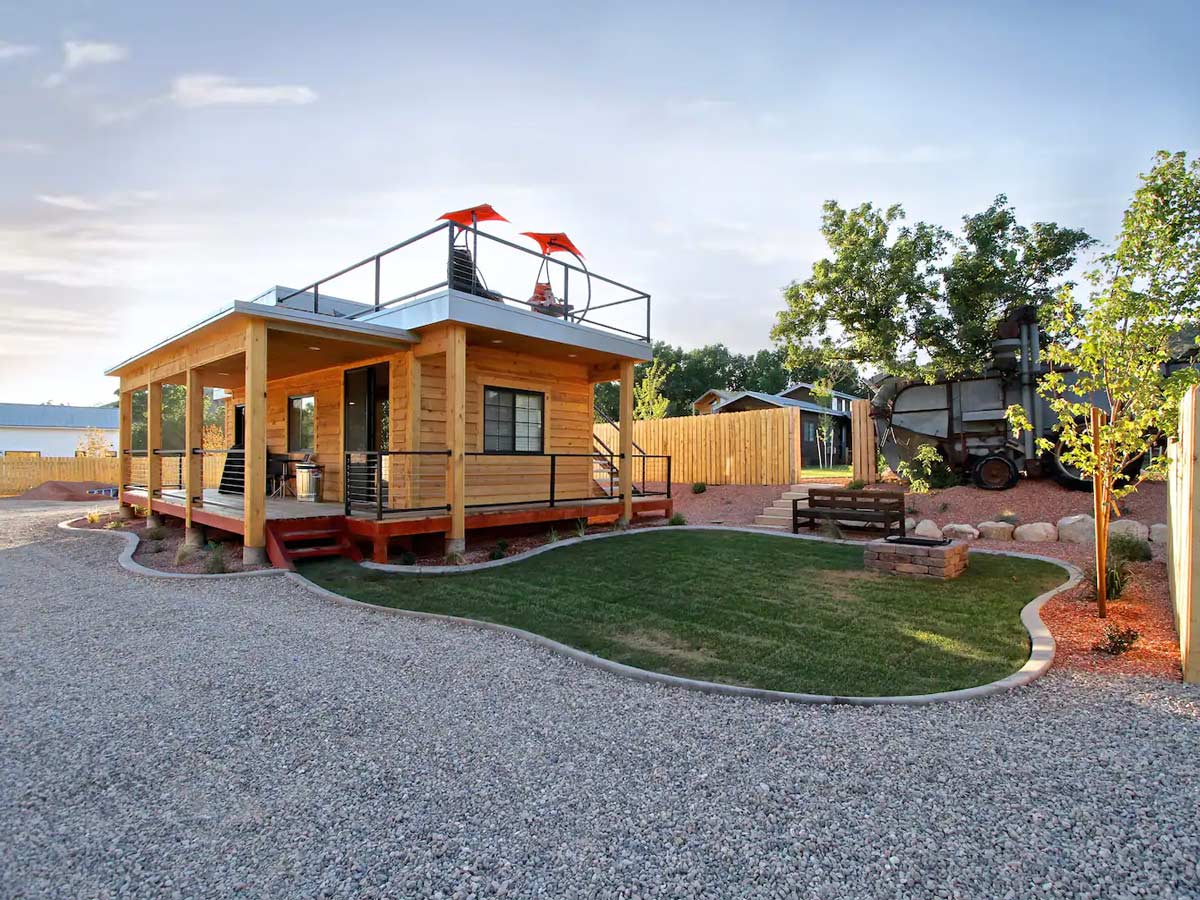 For anyone dreaming of a Kanab getaway, look no further than The Escape.
It might look like your standard wooden cabin from the outside, but the vibrant interior brims with a full kitchen, two spacious bedrooms, and a lounge area.
But the star of the show is the private backyard. The rooftop seating area, replete with hanging recliner chairs, adds a unique quality to this stunning tiny home.
Location: Orderville
If you want to explore Southern Utah's best parks, Orderville is ideal. It's a short drive from Kanab, with Zion National Park only 20 minutes away and Bryce Canyon National Park 50 minutes away.
Daybreak Studio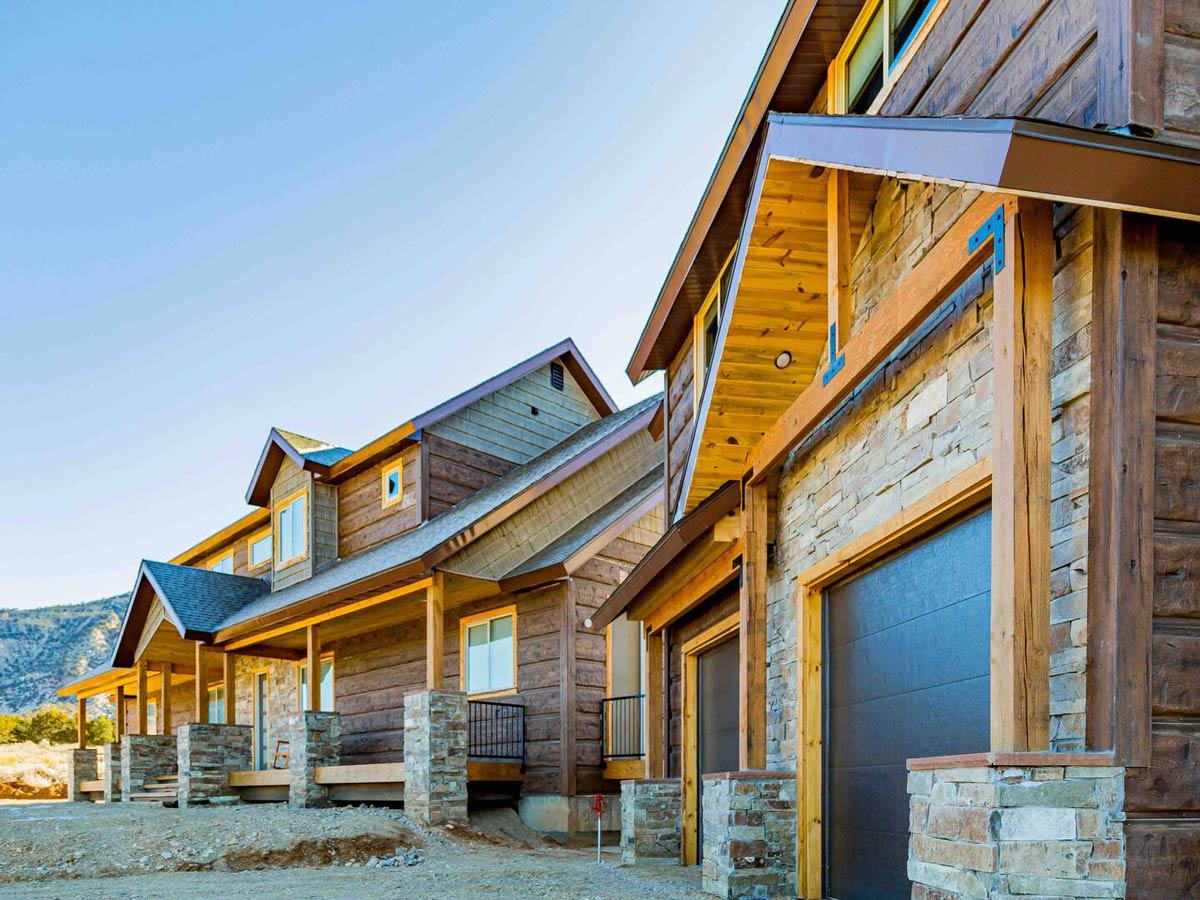 This is a spectacular studio apartment aptly named Daybreak due to the stunning sunrises over the Utah landscape. And yes, you can enjoy them directly from the property.
With total mountain views, this is one of those properties where style and convenience meet perfectly. The interior is decked out in tones of white with black decor, while the fully-stocked kitchen and luxurious bedrooms uplift the entire atmosphere inside.
Location: Orderville
Set within the Quarter Circle H Ranch, it's the ideal spot for peace and quiet as beyond your door, only a few properties speckle the horizon.
Apple Hollow #4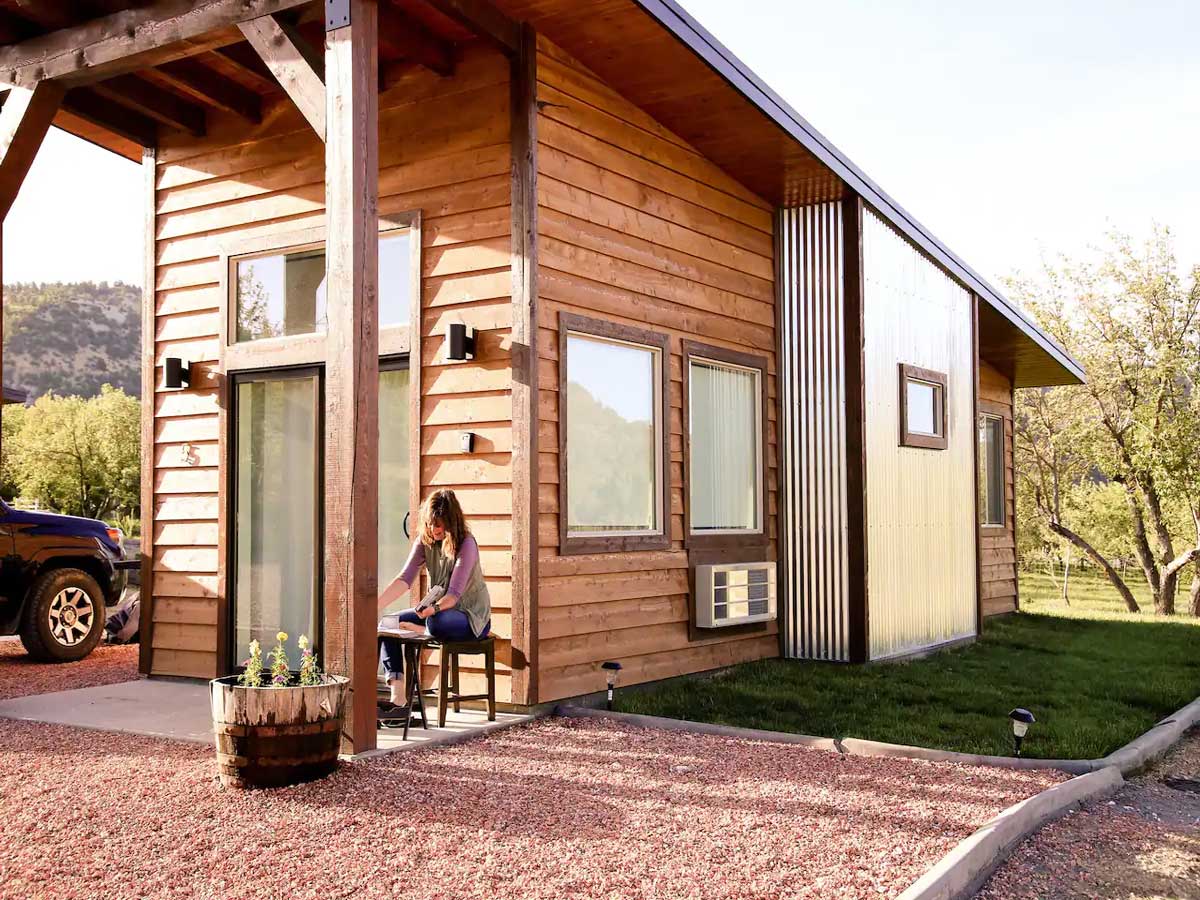 Presenting you with innovative vacation lodging, Apple Hollow #4 is a tiny home in Glendale, just 30 minutes from Kanab.
Inside, you're enveloped by a homely appeal and welcomed by modern features and styling. This spot features a spacious lounge area, a well-equipped kitchen, and a stunning bedroom decorated with contemporary touches.
Outside is a private backyard that offers room for nights under the sky.
Location: Glendale
Close enough to Kanab for those looking for urban pleasures, Glendale also sits perfectly if you're looking to explore Zion, Bryce Canyon, and Lake Powell.
The Historic House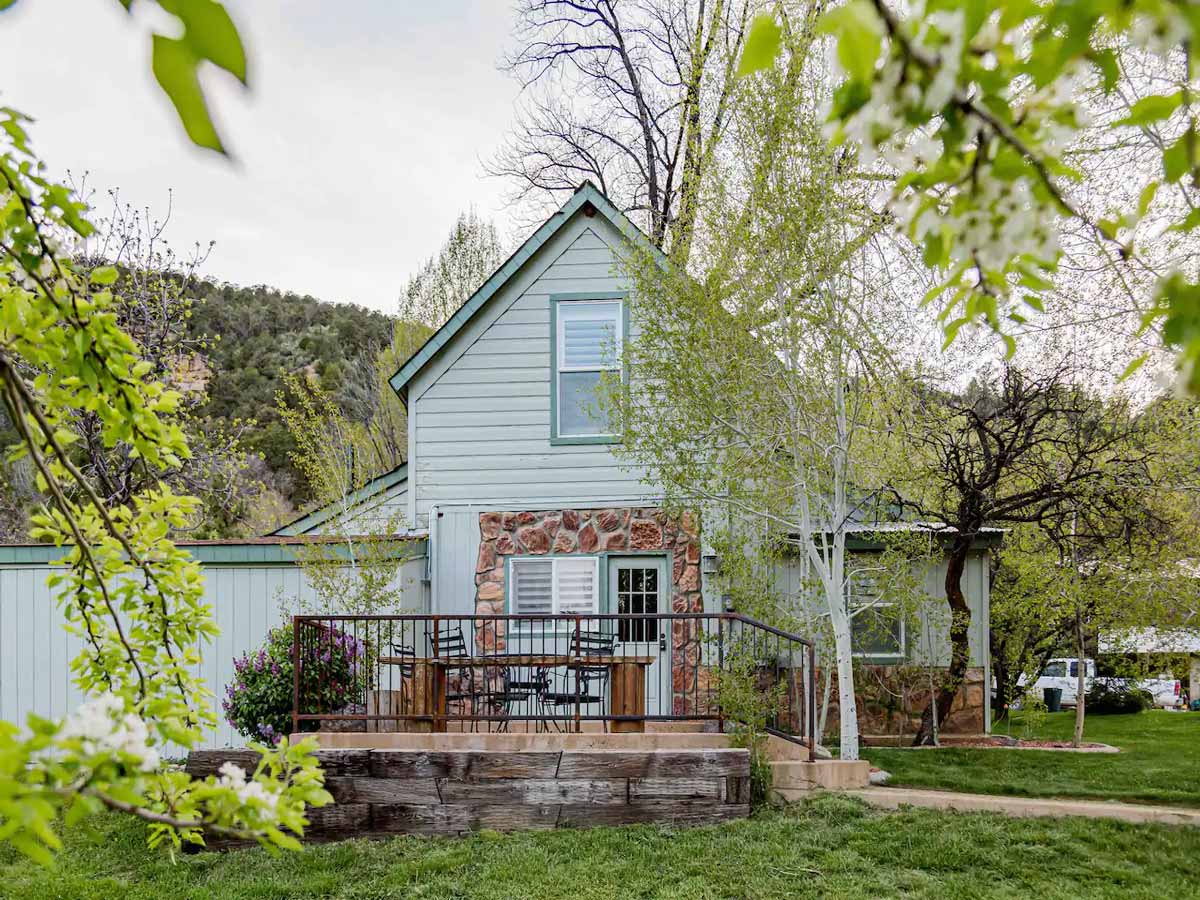 Dating back to the 18th century, this historic homestead, with recent renovations, is now a collaborative feast with modern and traditional elements.
It's large enough for groups of travelers, with three exquisitely styled bedrooms, an open-plan kitchen and lounge area, and fast WiFi.
You'll find amazing lake views from across the stunning backyard garden, and the three acres of roamable orchards are perfect for some exploration.
Location: Glendale
Located close to the farming town of Glendale, it sits on an isolated property with access to Heritage Highway 89.
Modern Apartment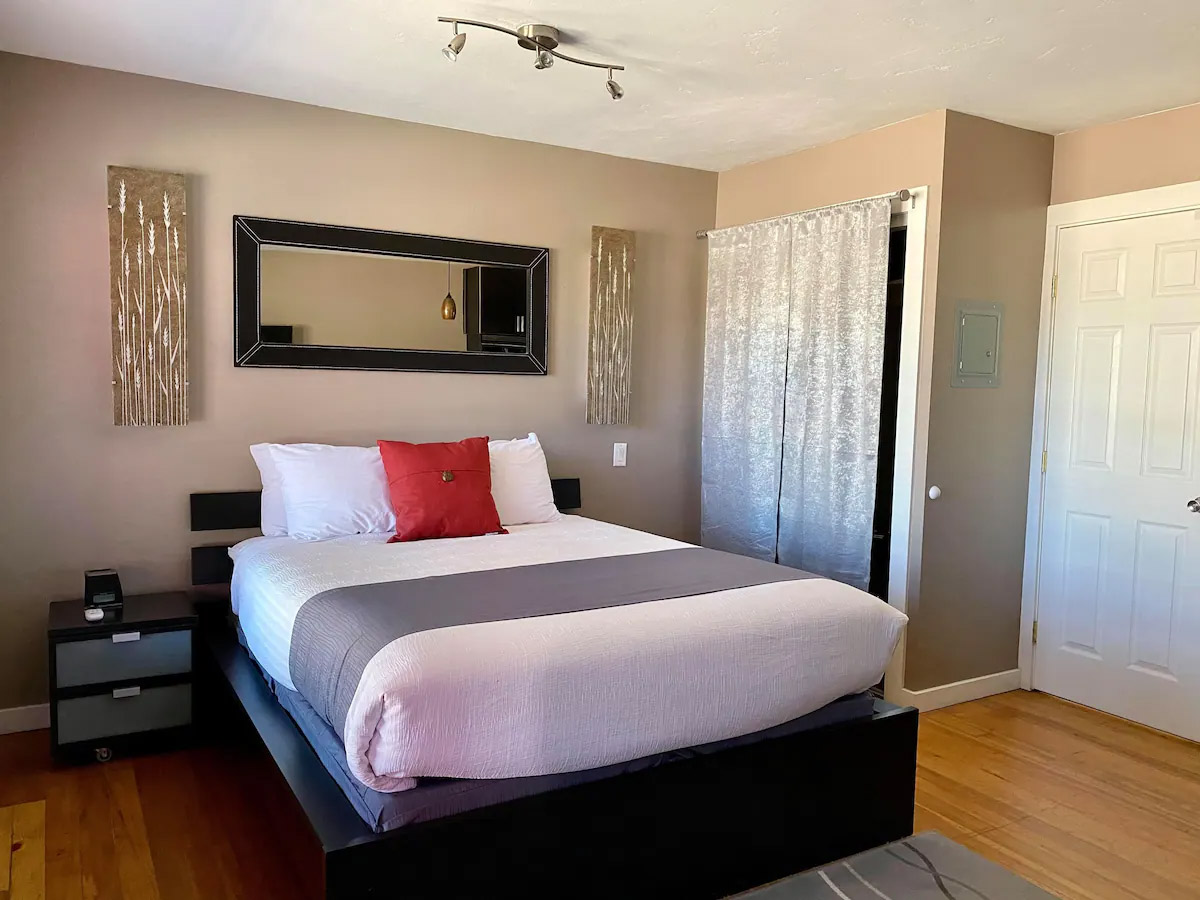 Hosted by Flagstone Boutique, this modern apartment in Kanab offers the ideal budget-friendly stay without the need to sacrifice any luxuries.
The interior includes refined modern touches in furniture and styling, a fully-equipped modernized kitchen, a stunning bathroom, and a beautifully decorated primary bedroom. You can access a community patio with BBQ facilities and outdoor picnic areas.
Oh, and dogs can stay for free. Bonus.
Location: Kanab
Centrally located in Kanab, you're only a stone's throw from the popular restaurant Peekaboo Kitchen and numerous other city attractions.
Blue's Desert Hideaway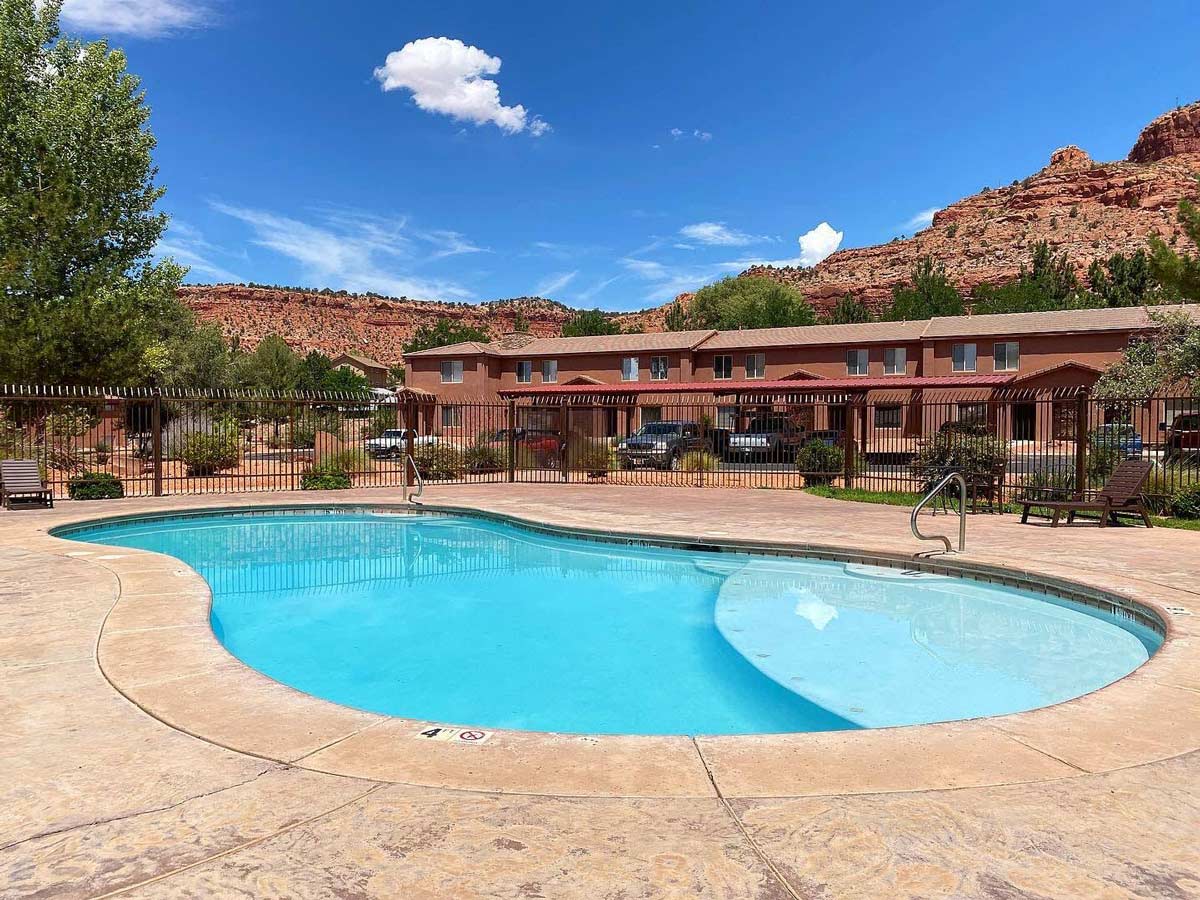 The perfect basecamp for your Southern Utah adventures, Blue's Desert Hideaway in Kanab has it all.
Three welcoming and large bedrooms, a spacious lounge area, and tasteful decorations genuinely create a homely atmosphere. Its crown jewel is the fantastic, fully-stocked kitchen.
Outdoors, you'll have shared access to a pool and hot tub. Which you'll want to take advantage of at night – the stargazing here is magical.
Location: Kanab
Situated within El Pueblo, Kanab, here you have access to the best the city offers and nearby national parks.
Practical Tips to Consider Before Booking Your Airbnb in Kanab, UT
Take our advice and book your Kanab rentals in advance, as bookings fill up extremely quickly during peak season.
There are Kanab rentals for all budgets. But, if you can afford it, we recommend opting for somewhere a little more off-grid – this will treat you to epic views and even better stargazing opportunities.
Airbnb in Kanab, Utah: Map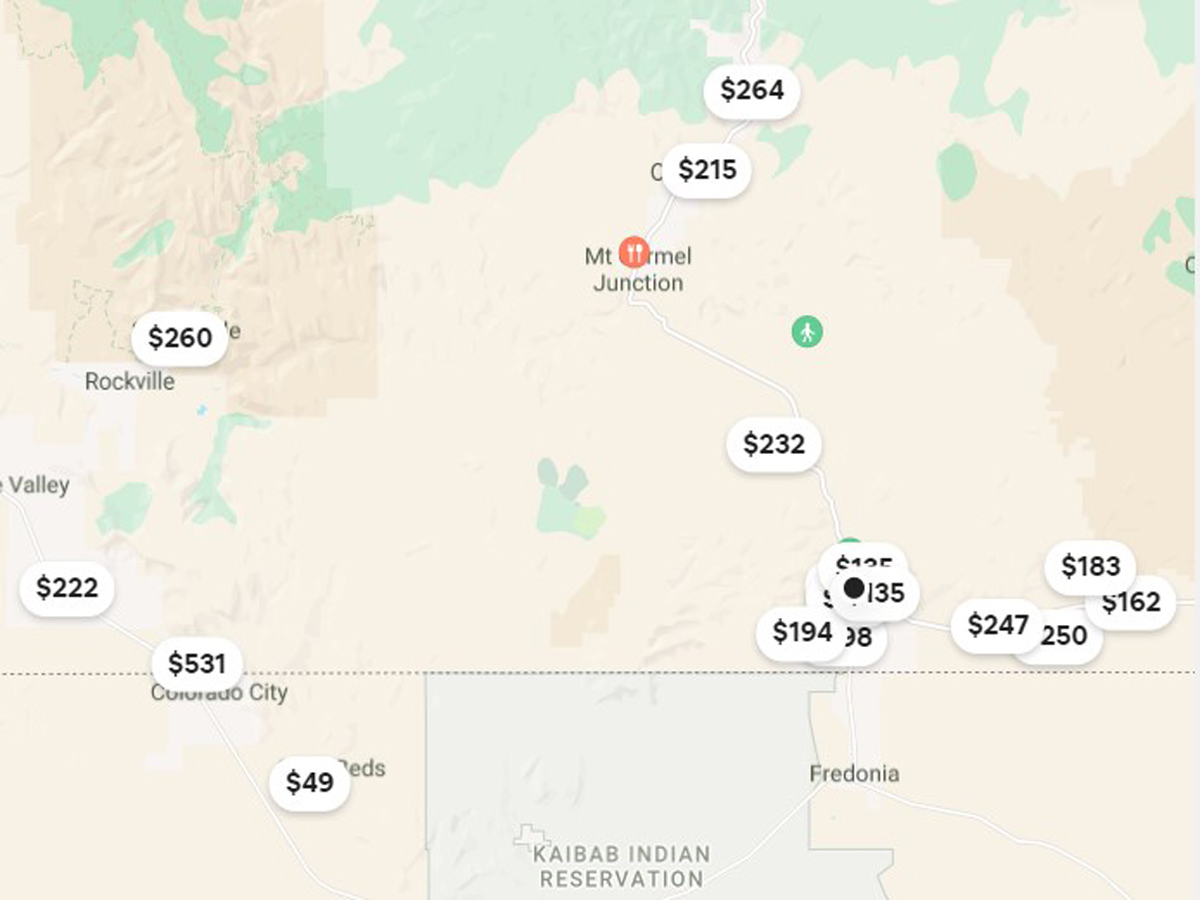 Read More Kanab Guides