Looking for the best hotels in and near Zion National Park? These are the best places to stay in the area.
Nothing quite spoils a magical experience more than a rubbish hotel. It might seem like an afterthought, but a great hotel ensures you have a brilliant night's sleep and are raring to go in the morning.
Luckily, for those heading to Zion National Park, the area is filled with plenty of excellent places to stay. There are options for different budgets, needs, and tastes.
Keep reading to see all the fantastic options we've got lined up…
PS: Before we get into the details, we've got you covered with things to do in Zion National Park for the ultimate vacation.
Best Hotels in Zion National Park: At a Glance
Best Zion National Park Hotels
Cliffrose Springdale
£££
Springdale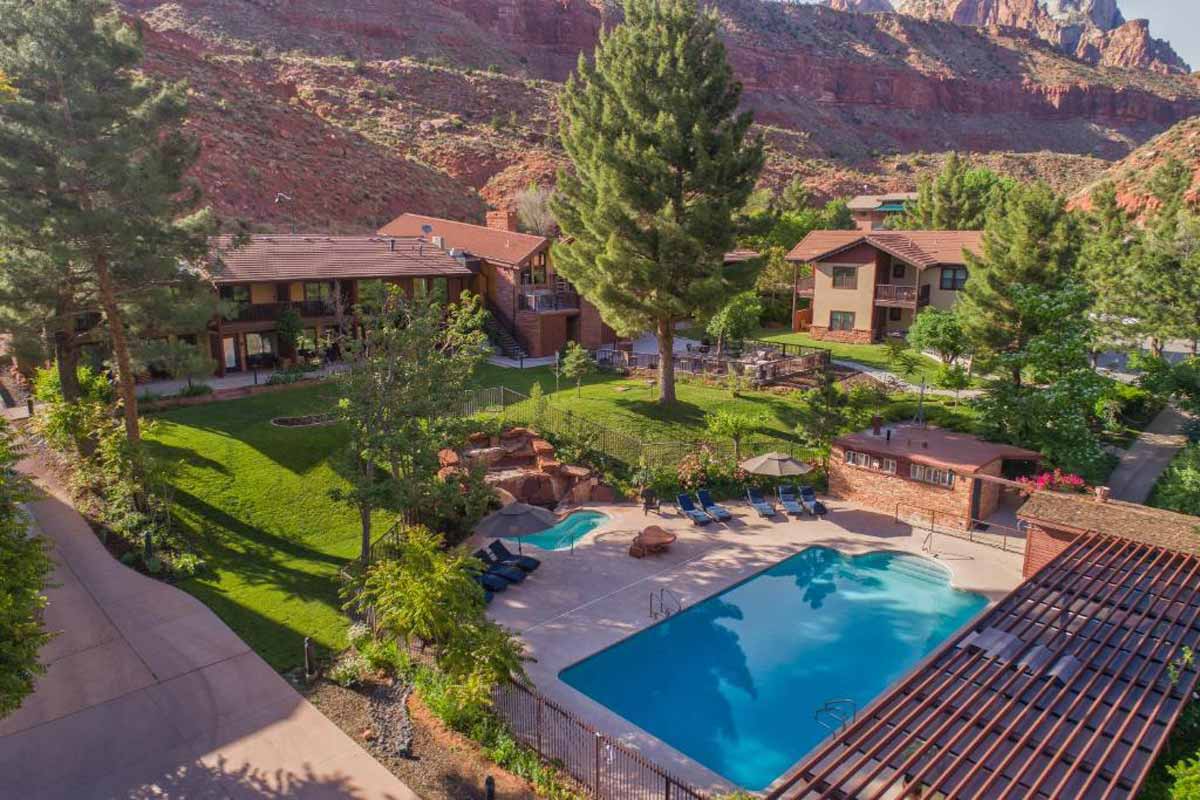 For modern yet cozy accommodation near Zion National Park, Cliffrose Springdale is an excellent option due to its convenient location – only 8 miles from the park.
This 4-star hotel has an elegant charm, aided by the friendly staff, airy rooms, and a relaxing garden. Surrounded by stunning scenery and mountain views, you're guaranteed to wake up with a smile every morning.
After indulging in a delicious continental breakfast on the balcony, you're ready for an adventure in Zion Park.
The on-site fitness center is available if you need to warm up your muscles before heading into the park. And after all the fun, there's a hot tub waiting for you.
Top Tip: This exciting tour lets you explore the backcountry of East Zion via a thrilling UTV ride and hike.
Flanigan's Resort and Spa
££
Springdale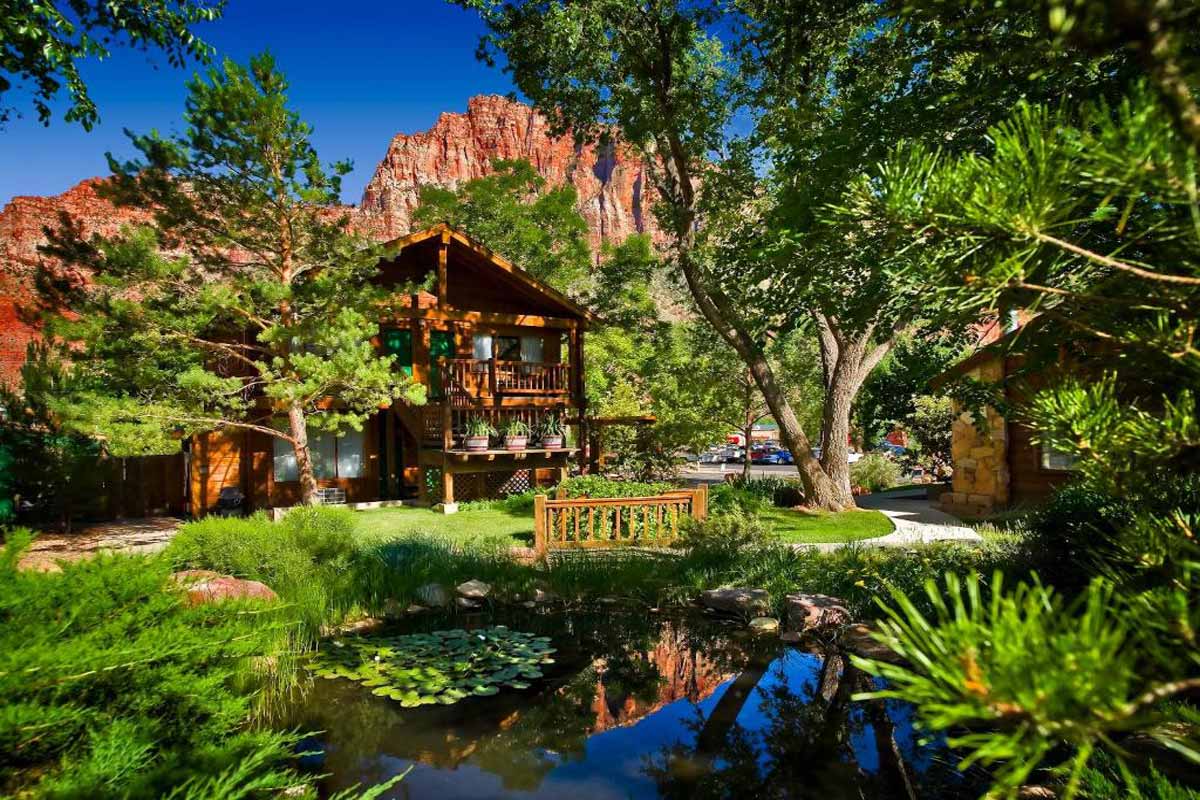 Sitting just a 15-minute walk from the Zion National Park entrance is the lovely Flanigan's Resort and Spa. Rustic, cozy, and thoughtfully decorated, this hotel might not be the most luxurious, but plenty of factors make it a top contender for where to stay in Zion.
At Flanigan's, you can admire the splendid surroundings, canyon views, ponds, and verdant landscapes. The rooms are spacious and some rooms feature a terrace or balcony overlooking mesmerizing mountain peaks.
That's not all; treat yourself to a pamper session at the day spa. And if you leave the spa feeling famished, the on-site restaurant has you covered.
Cable Mountain Lodge
£££
Springdale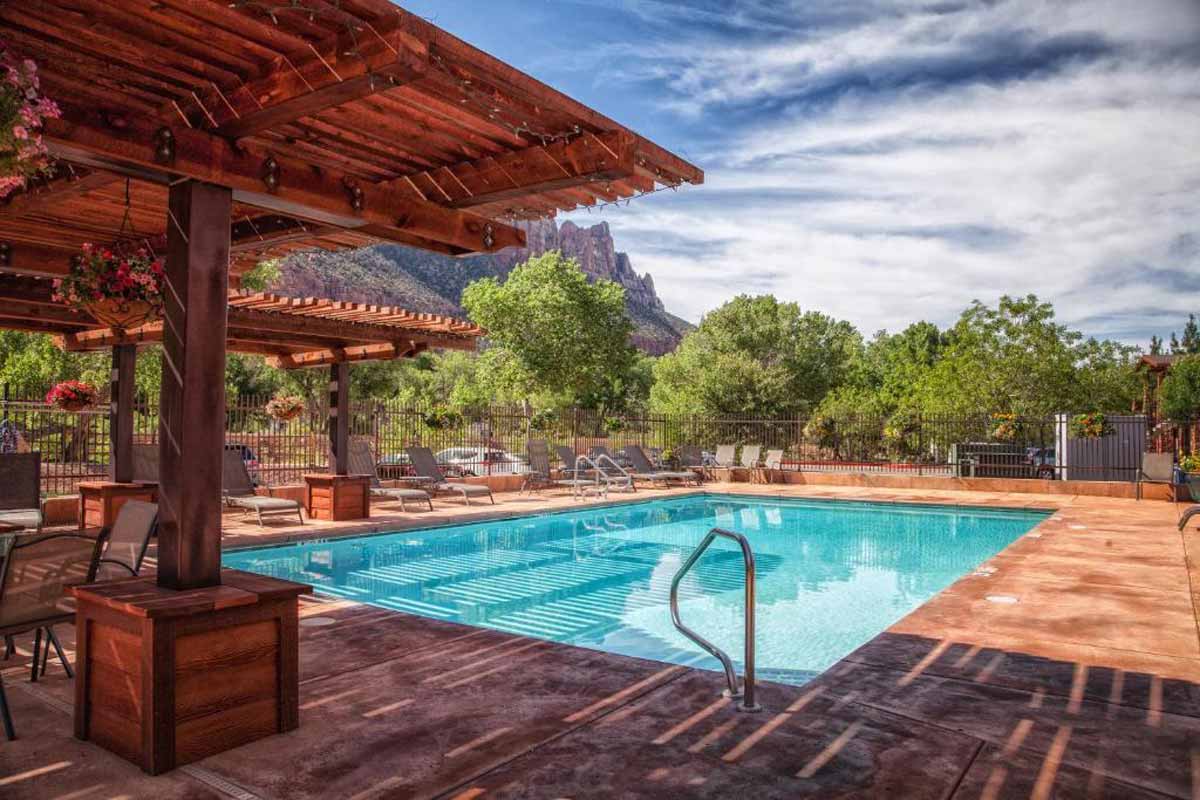 The beachfront Cable Mountain Lodge sits adjacent to the Zion National Park Visitor Center. We couldn't think of a more convenient location. This hotel offers a comfy stay with large rooms featuring a balcony overlooking the park.
Guests can stroll to the private beach – along the Virgin River – to unwind and soak up some sun. Staying here affords you much-needed seclusion and quiet time. And, as if that's not relaxing enough, a hot tub with canyon views might seal the deal.
But you can't just laze around while you're at Utah's oldest National Park — the outdoors is calling. If you're bold enough, take on the iconic Watchman Trail, only 5 minutes away. You'd want to pack your camera as this trail offers breathtaking views over the southern end of Zion Park and Springdale.
You can also visit the nearby Zion Canyon Theater and Fatali Art Gallery to get to know the surrounding areas.
SpringHill Suites by Marriott Springdale
£££
Springdale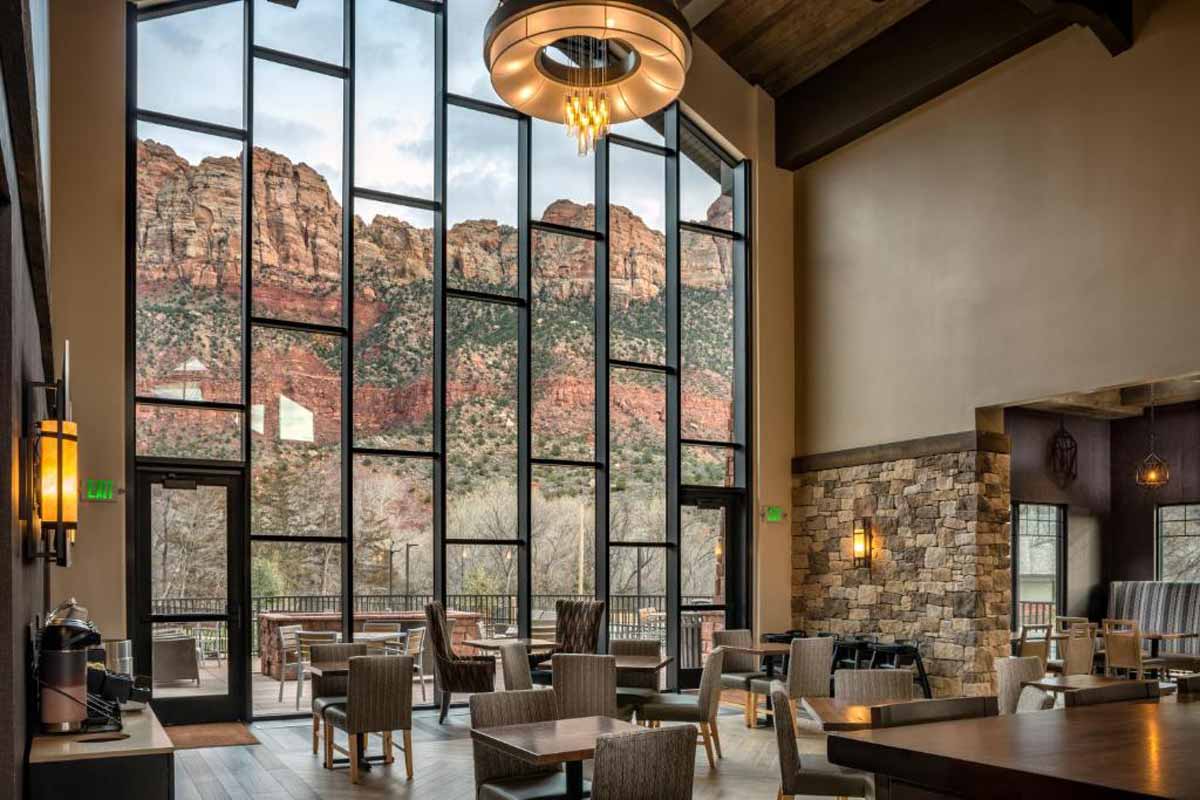 Looking for pet-friendly hotels near Zion National Park? SpringHill Suites is a pet-friendly hotel that sits about 6.8 miles away from Zion Park.
A bonus is that they're human-friendly, too, boasting excellent service and amenities. This includes a large swimming pool, a 24-hour front desk, and free Wi-Fi.
This grand hotel screams luxury and features a dining area with massive floor-to-ceiling windows overlooking beautiful mountain scenery. The rooms are modern and neat, with a spacious bathtub to indulge in. Perfect for soothing sore muscles after a long hike.
Driftwood Lodge
££
Springdale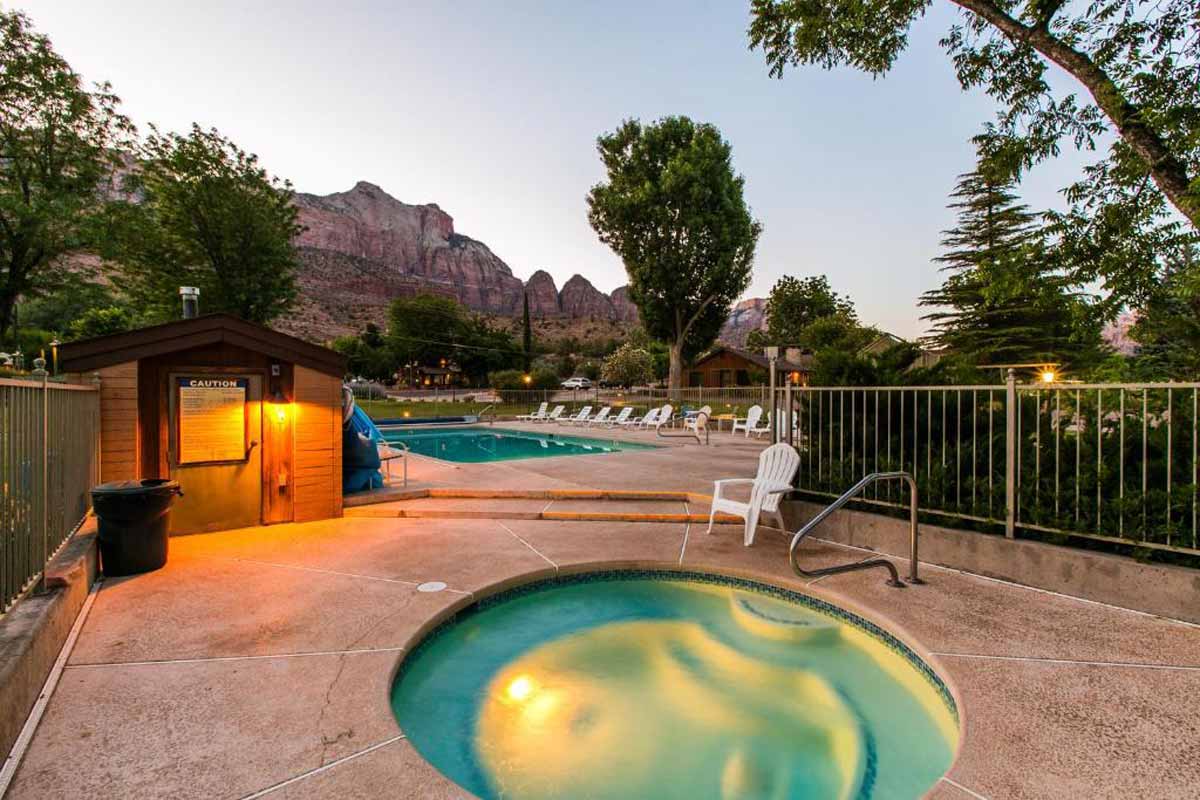 At Driftwood Lodge, you're only 2 miles from the Zion National Park entrance. And with so many superb facilities and high-quality rooms, you get a real bang for your buck here.
It guarantees a relaxing stay enhanced by a seasonal outdoor pool, hot tub and a vast selection of restaurants and cafes nearby. Indulge in prime steaks and fresh seafood from an upscale menu at Switchback Grille Steakhouse, also near the park entrance.
And in summer, a shuttle stop from the lodge takes you through the park. Less time for planning logistics and more time to enjoy the park – we likey.
Fairfield Inn & Suites by Marriott Virgin
££
Virgin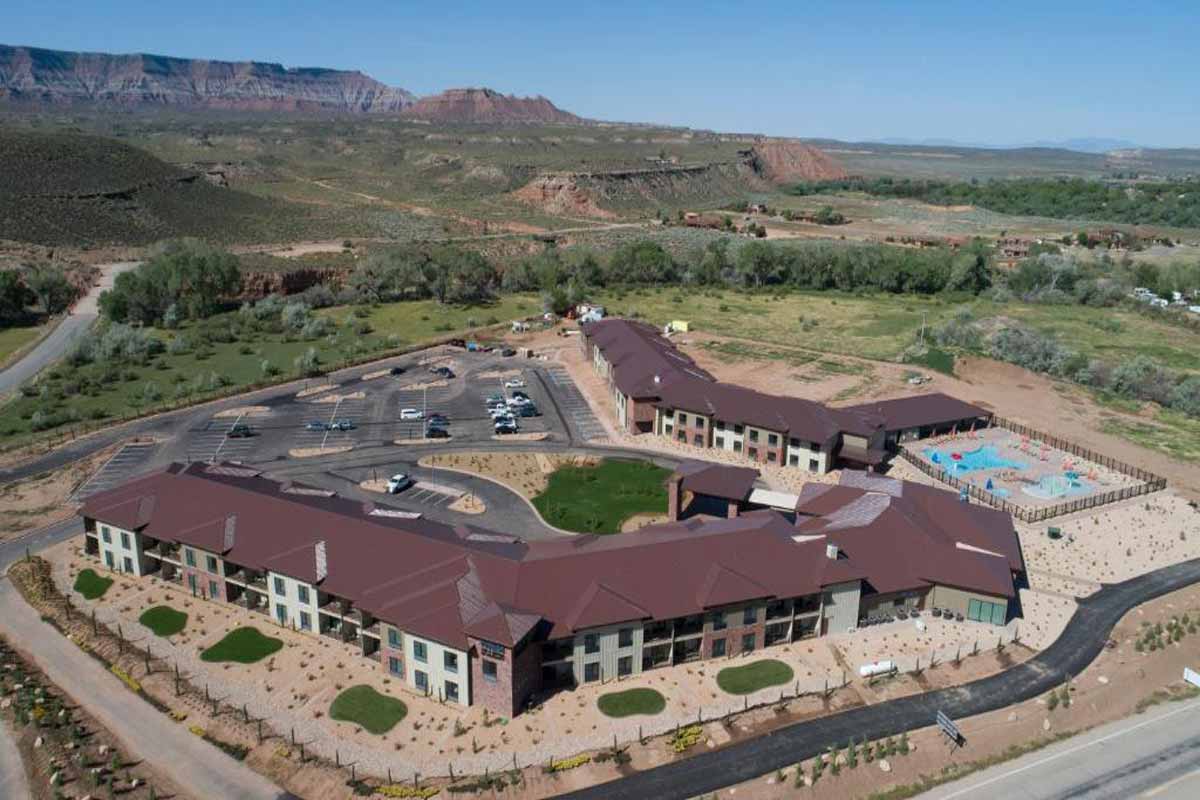 The award-winning Fairfield Inn & Suites boasts a reputation as the largest hotel in Southern Utah. But that's not all that's impressive – the luxurious interior and beautiful surroundings are noteworthy too. Some rooms have a terrace overlooking mountain views, offering a serene escape.
Warm up your muscles in the fitness center before heading to the park. Then, after all the action, you can plop down on a spacious, snug bed. Unfortunately, the hot tub is temporarily closed, but you can still unwind at the lovely outdoor pool.
Ultimately this hotel features everything you need for convenient lodging. And we love it.
Zion Mountain Ranch
££
Mount Carmel Junction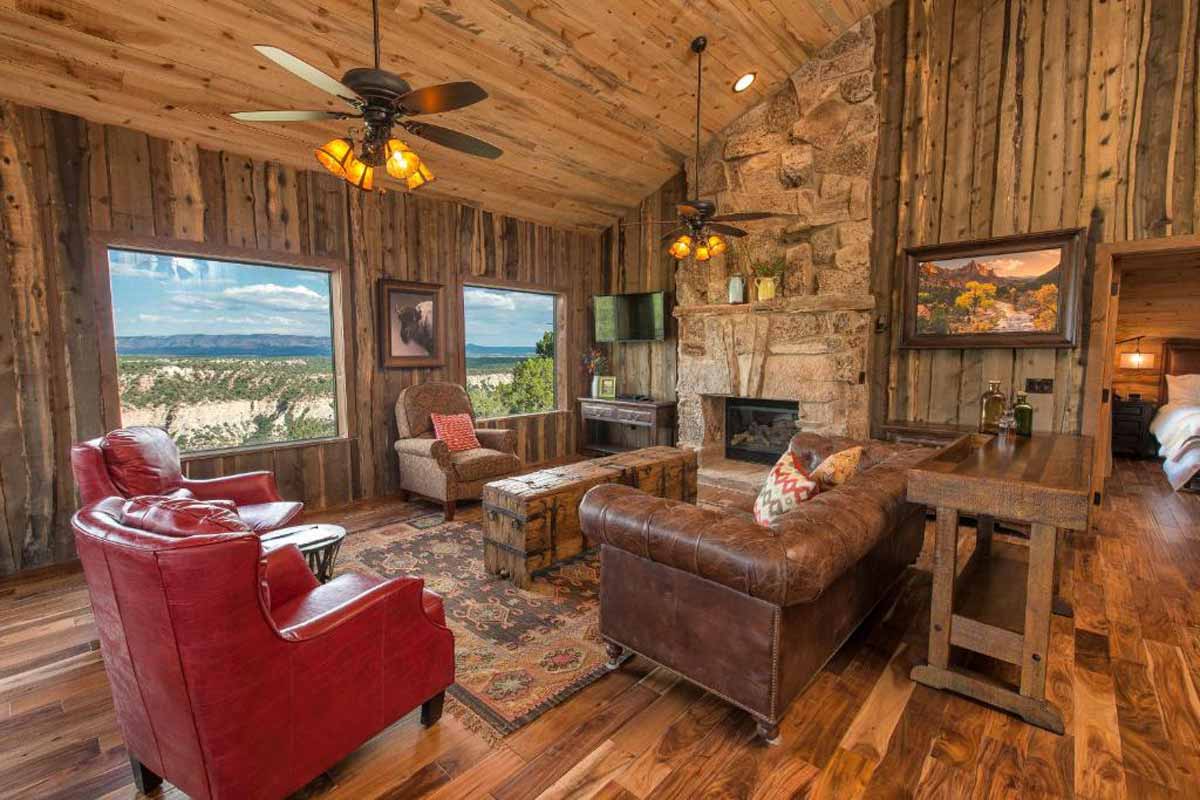 Farm-style resort, anyone? Come and experience humble living at this stunning resort, Zion Mountain Ranch (only five minutes from Zion Park). The scenery here is surreal. Think colorful skies, grassy meadows, bison roaming about, and horse ranches.
And let's not forget about the charming woodsy cabins: open-plan with typical farm-style decorations and western influences. All the rooms have a cozy living space featuring a fireplace, ideal for the hefty snow that blankets the ranch in winter.
But summer's the best time to visit as you can enjoy hiking and horse riding in Zion Park. And at night, you can sit on your balcony and stargaze. It's magical.
Best Western East Zion Thunderbird Lodge
£
Mount Carmel Junction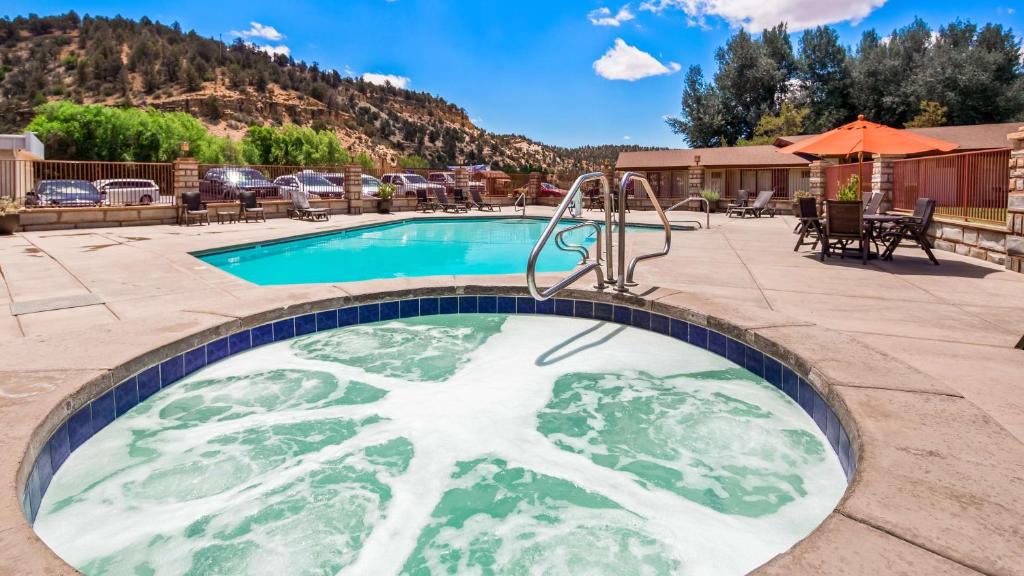 Located on the east side of Zion National Park, you'll find the pristine Best Western Lodge.
Is it the best place to stay near Zion? We think it might be – perhaps their fantastic services, such as 24-hour front desk support, a mini market, and laundry facilities, can convince you.
Surrounded by pleasant nature and splendid mountain scenery, any outdoor enthusiast will feel right at home. Just 13 miles from the park, this hotel is the perfect starting point for exploring Zion in two days.
Practice your swing at the nearby golf course, or catch a break from all the commotion in a steamy hot tub underneath the starry sky.
Bumbleberry Inn
£
Springdale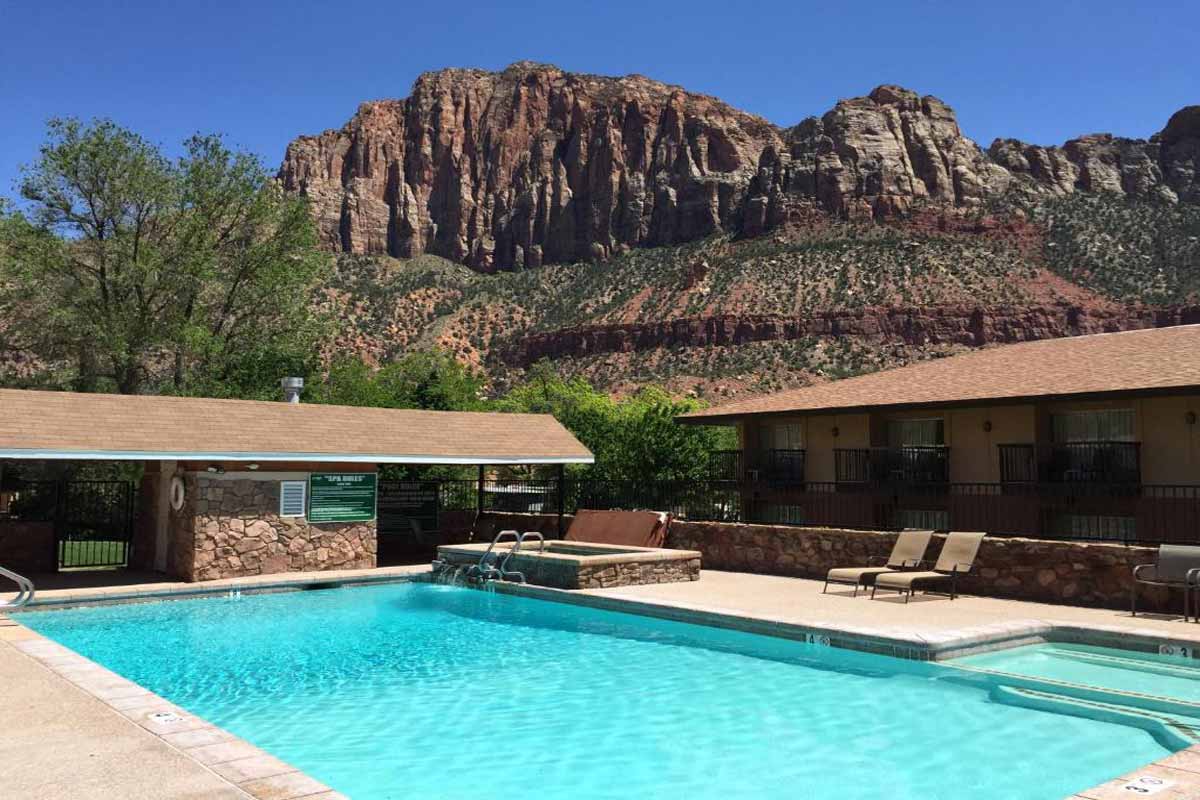 Bumbleberry Inn is a budget-friendly hotel only five minutes from Zion Park. And for this we highly recommend it.
It may not be as modern or luxurious as the others, but it still offers a cozy stay for those traveling in a pinch. On top of that, each room features a balcony with spectacular views of Zion Mountain. What more could you ask for?
The rooms are spacious and neat, offering guests a quiet retreat after a busy day. These feature a comfy seating area, an en-suite bathroom, and free Wi-Fi.
If you're not lounging around the pool or unwinding in the hot tub, you can take a fantastic day trip to Bryce Canyon. Or discover some brilliant things to do in Kanab, such as visiting the Coral Pink Sand Dunes.
Best Hotels, Zion National Park: Frequently Asked Questions
What is the Best Area to Stay in Zion National Park?
There's only one hotel in the entire park, the Zion Lodge, but it's definitely on the pricier side. So it's best to stay in Springdale, which is right by the park entrance and boasts plenty more options.
What is the Best Time to Go to Zion National Park?
The best months to visit the park are March, April, October, or November for favorable weather conditions and fewer crowds.
Do You Need Reservations to Enter Zion National Park?
Permits or reservations are not necessary to enter the park.
Practical Tips to Consider Before Booking Your Hotel Near Zion National Park
If you want our top recommendation, book your accommodation in Springdale. Here you'll find the best – and closest – hotels to Zion National Park.
Try and book your stay for 5-7 days. This allows you to explore Zion park fully and fit in popular hikes such as Angel's Landing and Zion Narrows.
Book your hotel in advance (even during off-season) to secure your spot and possibly score a deal on your accommodation.
Hotels Near Zion National Park: Read Next