Planning a trip to Bryce Canyon? Here's an epic 1 day in Bryce Canyon itinerary to help you make the most out of your visit. You're welcome.
Part of Utah's 'Mighty Five' National Parks, if you haven't already, make room for Bryce Canyon on your US bucket list.
While I reckon the best way to see Bryce Canyon is through the course of at least two days, if you haven't got time for an extended trip Bryce is doable in a day.
While smaller than some of its neighbours, none of those parks come close to Bryce Canyon's extensive collection of hoodoos, amazing views, and things to do.
Ready to explore? Strap in for a flying tour of the BC.
Handy Tips for Planning Your Bryce Canyon Itinerary
What To Pack for your Bryce Canyon Itinerary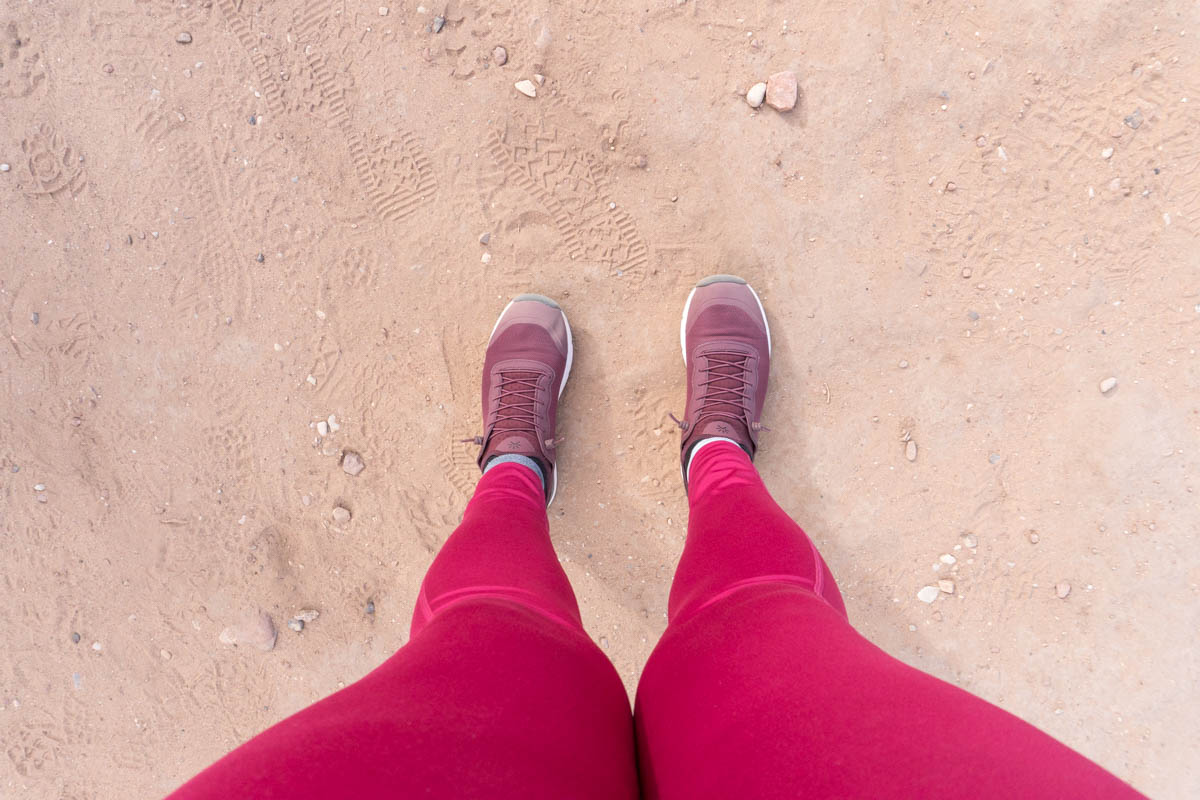 What you pack for your Bryce Canyon trip itinerary depends on the weather. Winters are often snow-filled and have average lows of -7°C (19.4°F), while the weather is pleasantly warm in summer at 24°C (75.2°F).
Either way, my must-have travel gear essentials for this trip include:
A small, versatile backpack like this TETON Sports Oasis bag.
A few light layers for the warmer months and heavier layers for winter.
Sturdy hiking boots like these men's waterproof hiking boots or women's hiking boots.
Protein-rich snacks and meals.
A reusable water bottle like this Hydro Flask.
Sun protection (regardless of which season you visit!).
Many people also forget to bring a first aid kit for accidents along the trail – you won't realise how important it is until you need it.
Where To Stay for Bryce Canyon Day Trip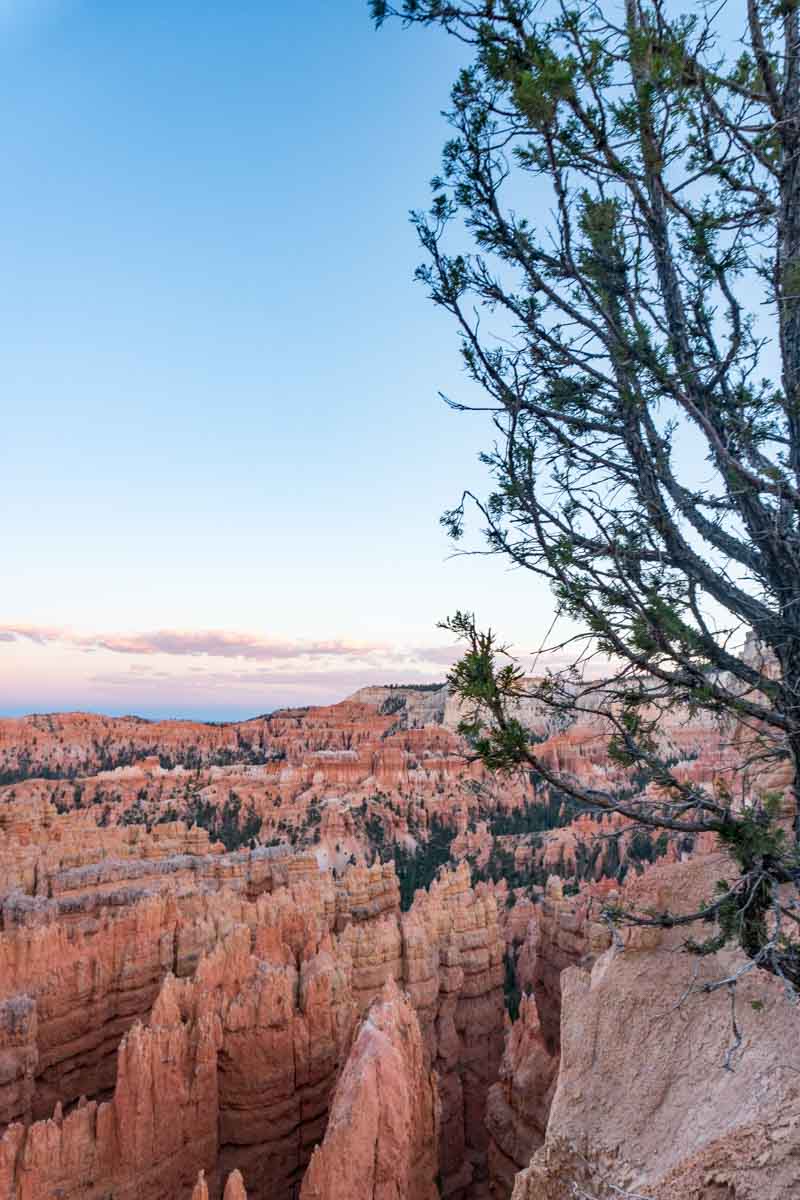 If you're planning on staying in Bryce Canyon for a day, you'll need someplace to sleep. Luckily, there are many places to stay in Bryce Canyon in and around the park.
The Lodge at Bryce Canyon is just a short walk from Bryce Amphitheatre and has over 114 rooms, a dining room, and a gift shop. Bedding down here is a great way to immerse yourself in the park and unplug with no TVs or Wi-Fi in the guest rooms. Don't panic though, there is WIFI in the main lodge if you need it.
If you'd like to stay outside the park, I recommend Ruby's Inn as great low-cost accommodation. In my opinion, the inn is okay for a stay, and while not amazing, it is well located and just 1.6 km (0.99 miles) away from the canyon. There is also a restaurant, hot tub, and general store you can shop at for your packed lunches on the trail.
The Bryce Canyon Grand Hotel is a three-star hotel about 9 km (5.5 miles) from Bryce Canyon. And while a bit further from the park, it is a great place to rest after your action-packed Bryce Canyon National Park itinerary, with an on-site restaurant, complimentary breakfast, and outdoor swimming pools.
Useful Resources for Your Perfect 1-Day Trip to Bryce Canyon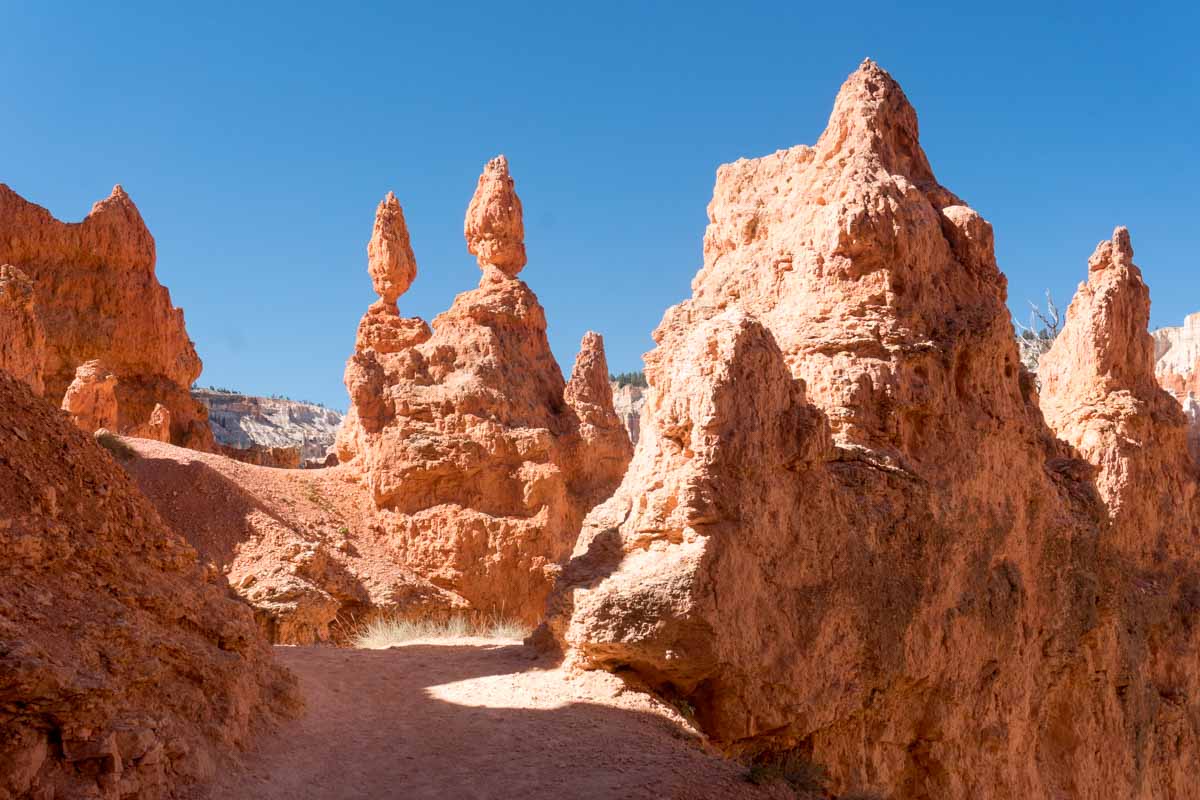 These are practical resources to use online and off for your trip to Bryce Canyon National Park.
National Park Service
The National Park Service is a great resource to have in your back pocket for any national park you're visiting in the US, whether Grand Canyon, Zion, or Bryce Canyon.
This site provides guests with up-to-date information about any alerts, changes, and events within the park. It can also give tips for the best views on trails and weather updates.
Hiking Guides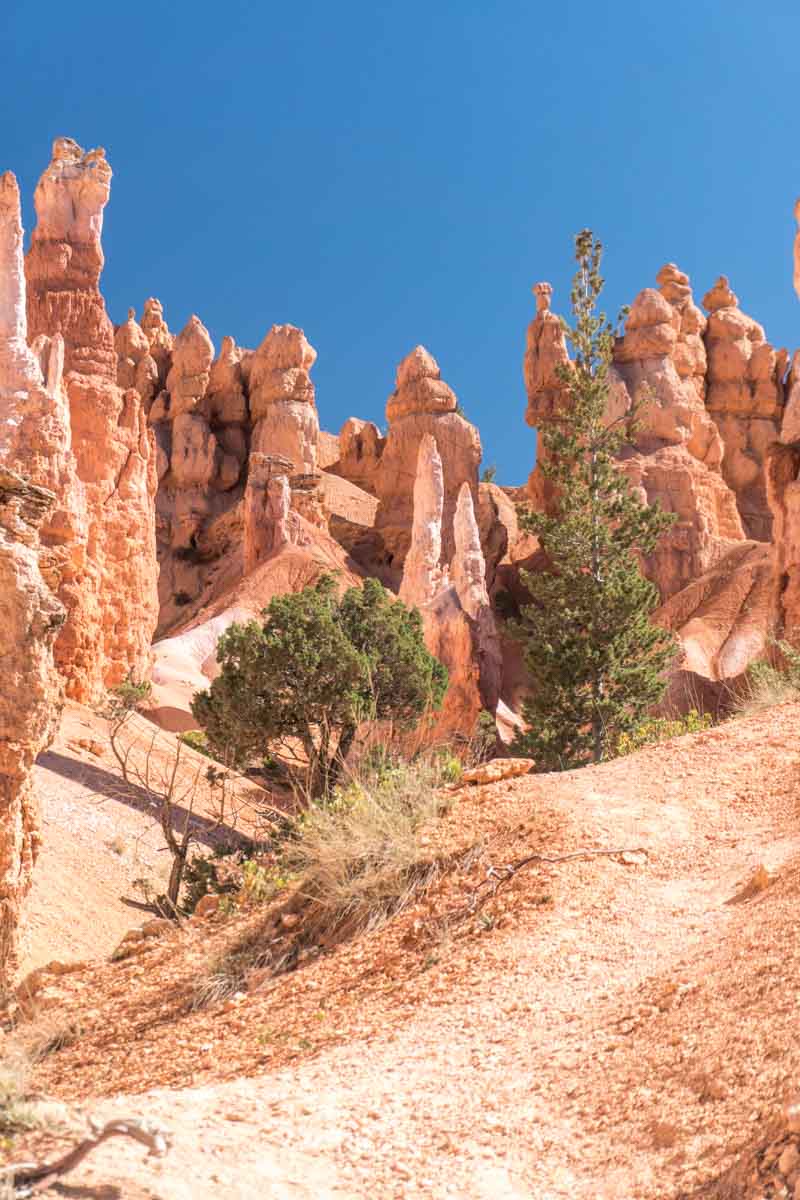 Remember the olden days before GPS or Sat Nav took over, and you only travelled with a pencil and road map? Welp, with limited cell service within the park, it's time to recall your mapping skills.
There are many signs and plenty of helpful and friendly staff around the park. But, it's never a bad idea to be extra prepared. Handy ol' waterproof hiking guides like this one are great to have on hand in case you wander off a trail.
Get Your Guide
I often use Get Your Guide tours – and national parks are no exception. This website provides many exciting tours with locals or knowledgeable guides to show you around areas you're unfamiliar with.
How To Get Around During Your 1 Day in Bryce Canyon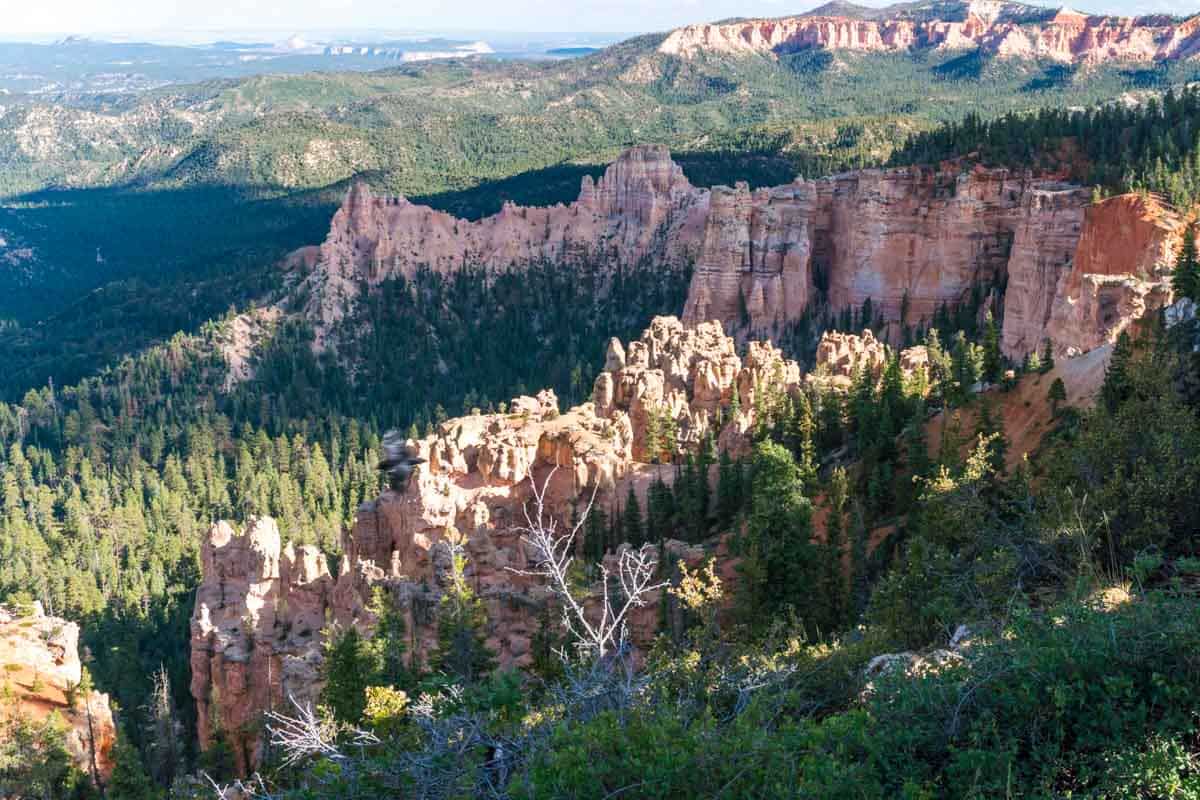 The best way to get around Bryce Canyon in one day is by shuttle or car.
Rent a Car
Renting a car is a great way to get around during your Bryce Canyon National Park 1-day itinerary. It allows you to go where you want to whenever you want, especially for those scenic drive tours like this one.
The entrance fee for a driver with a private vehicle is about $35 (£29.50). This covers the driver's and up to 15 passengers' entrance fares. You can also use the shuttle service within the park after you've paid this fee.
Shuttle
A free hop-on hop-off shuttle starts at Shuttle Station and drives around the canyon. This is especially helpful when the park is full of visitors and cars blocking the roads.
Visitors can use this to get to 15 stops on the route. However, the shuttle only runs from April to October between 8 am to 8 pm.
Note: The Rainbow Bus Tour is no longer available.
1 Day in Bryce Canyon Itinerary
Start With the Queen's Garden and Navajo Loop Trail Combo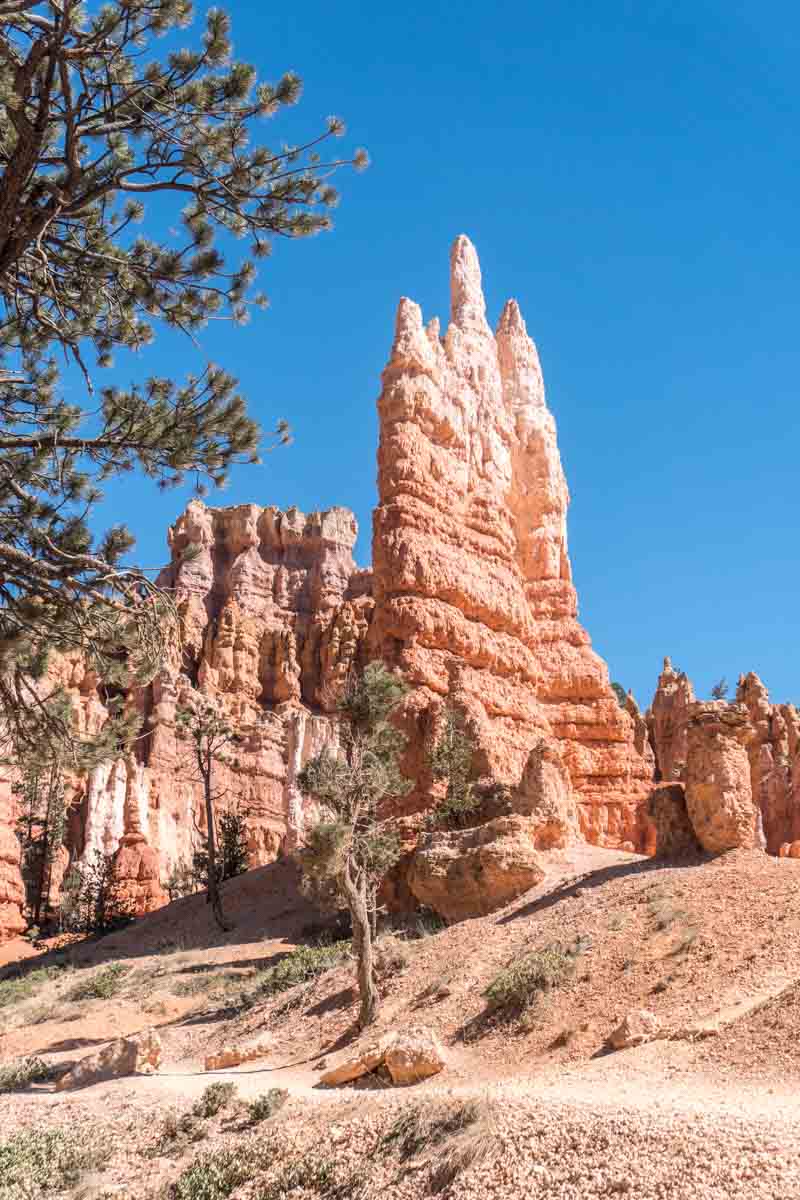 Your mission, if you choose to accept it, is to seamlessly conquer a Bryce Canyon one-day itinerary.
I recommend you start at the Queen's Garden and Navajo Loop Trail – two of Bryce's best-known hikes. The best time to hike is around sunrise or just after when the light is excellent, and the path is quieter.
Both trails are pretty challenging to hike. It will take roughly two hours to complete, but trust me when I say that the burn will soon be worth it.
On the trail, you'll see panoramic views of the brightly painted canyon hoodoos. As the sun touches them with its rays, they light up with shades of yellow, brown, and red.
The easiest way to hike this trail is in a clockwise direction, starting at Queen's Garden and walking upward on the Navajo Trail. This way, you'll have unobstructed views of well-known rock formations like Thor's Hammer.
I will warn you that time the sun rises depends on the season, so use this site to plan your early morning Bryce Canyon hiking itinerary.
Top Tip for Visiting: The Wall Street section of the Navajo Loop Trail is often closed from November to April as there are many rockfalls during this time.
Hike at Least a Section of the Rim Trail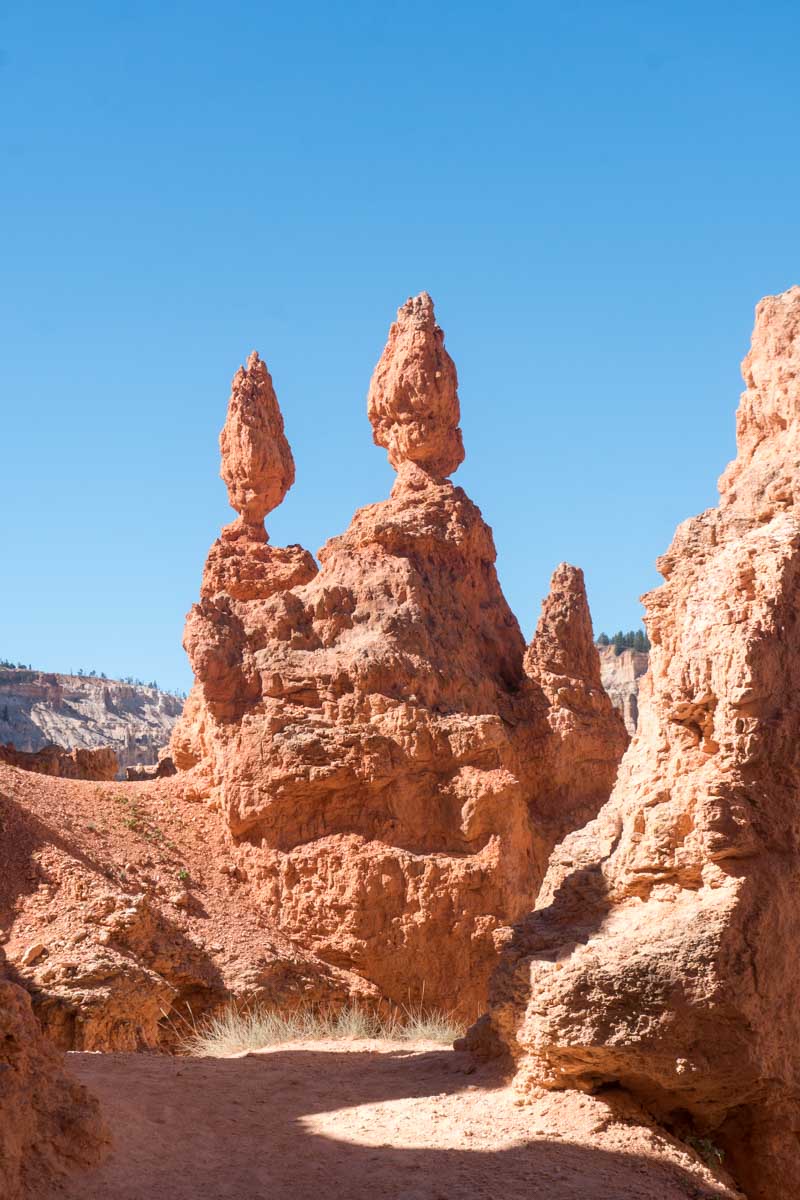 Alright, so you don't have to hike the whole Queen's Garden and Navajo Loop to get great views. But I do recommend walking at least a bit of the Rim Trail for this Bryce Canyon 1-day itinerary.
Make sure you check out the section overlooking the Amphitheatre. This spot provides picturesque views that look insane – it's hard to believe they aren't CGI. Admire the most extensive concentration of hoodoos in the world – the sea of hoodoos sits high and scattered in different hues.
Top Tip for Visiting: Take this Guided ATV Tour of the Bryce Canyon Rim if you're tired from walking the Sunrise Loop Trail.
Eat a Packed Lunch
You're probably ravenous by the time you've done your hiking and ATV adventures. It's time for a lunch break at any of the many picnic spots in the park.
My favourite place to picnic in the park is at Rainbow Point, but this is quite a long way from the Rim Trail. Alternatively, opt to enjoy your lunch on the log benches at Sunset Point overlooking the millions of Bryce Canyon hoodoos.
The best things to eat on a one-day hike are food full of complex carbohydrates, high-protein, and healthy fats.
I recommend you pack a light lunch like a sandwich, high-protein snacks, and ample water. Don't make the mistake of many, and ensure you fill up your stomach before the trip to ensure you don't become dehydrated.
Top Tip for Visiting: If you'd like to refill on snacks or forgot to pack a drink or two, you can find some at the General Store near Sunset Point. You can also find restrooms open here between April to December.
Take a Bryce Canyon Scenic Drive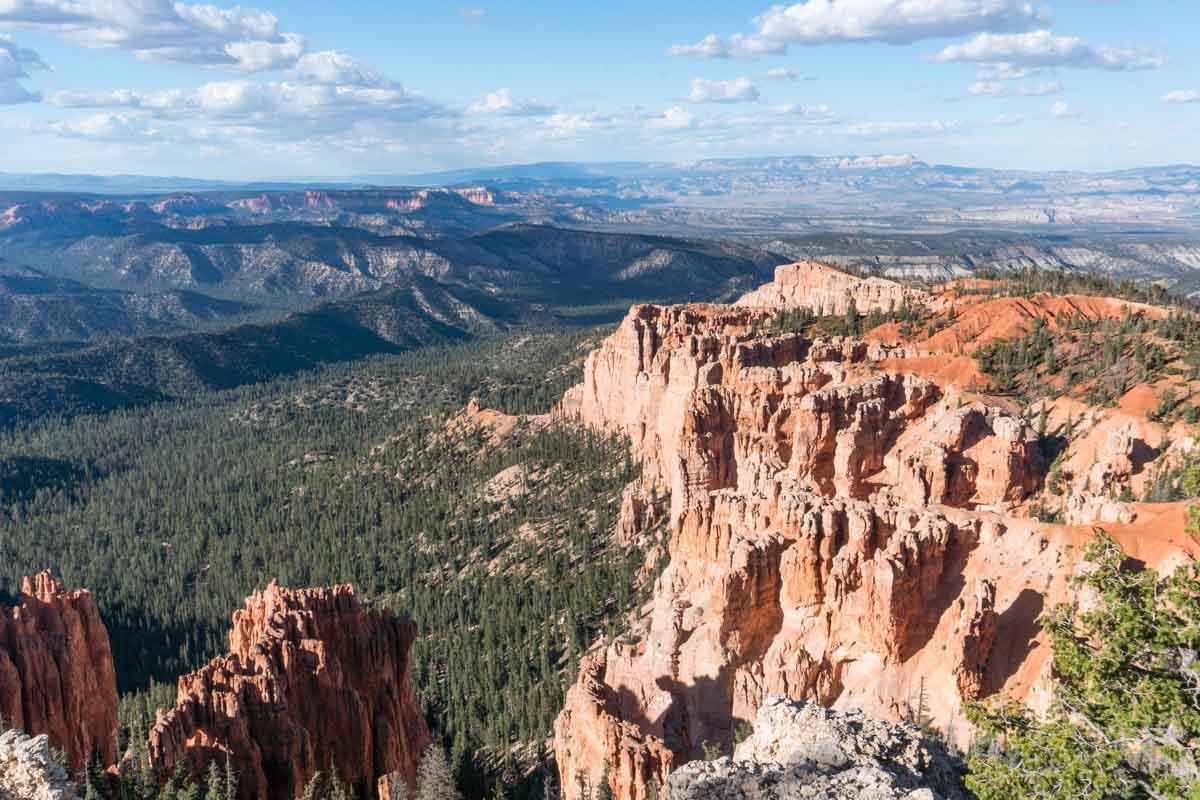 While it's fun to take hikes around national parks, sometimes you're cut for time. That's when scenic drives come in to allow you to see as much of the park as possible in the shortest amount of time.
If you've rented a car, you can take the Bryce Canyon scenic drive from Highway 12 to Highway 63. The drive takes about three hours to complete and has about 13 viewpoints or stops along the 61 km (38 miles) loop.
While the whole drive takes a few hours, allow yourself some time to stop and add a few hikes along the way. There are significant points to look out for; places like Rainbow Point, Natural Bridge, and Inspiration Point offer mind-blowing views.
Top Tip for Visiting: Take this 3-Hour Sightseeing Minibus Tour to learn about and see the park's top spots with a local tour guide.
Watch a Sunset at Sunset Point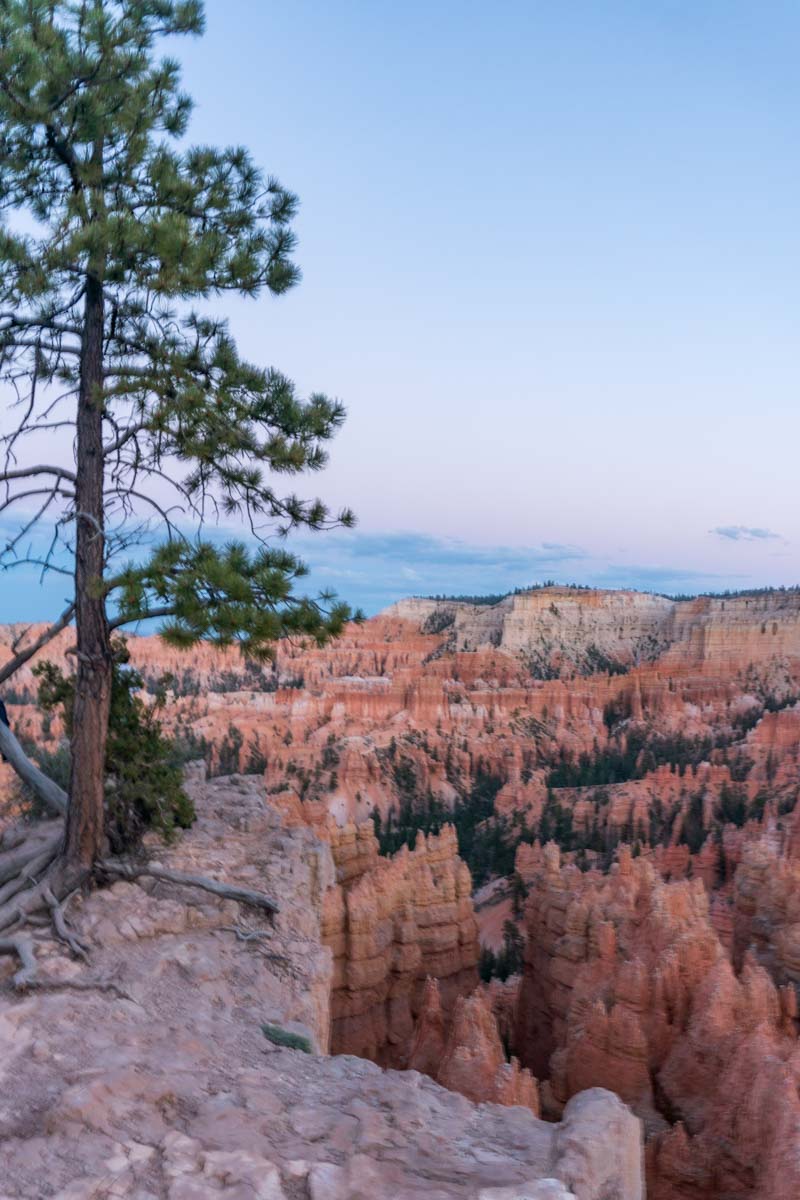 One of the best things to do in Bryce Canyon is to watch the sunset at the various picturesque spots around the park. Of course, you may have guessed by now that the best place to see dusk is at Sunset Point.
From this high point, you can admire most of the canyon with unbelievable rock formations painted in shades of red, orange, white, and purple. And, while you won't see the actual sunset here, you will see its effect on the area.
The setting sun lights these beautiful multi-coloured rock formations and hoodoos in beautiful golden hues. If you're lucky, you'll also see many birds and wild animals scattering for something to eat along the trail.
Fun Tip: Try to spot the popular Thor's Hammer while here. It looks like a rock sticking out on top of an isolated hoodoo, ready to topple over any minute.
Have Dinner at IDK Barbecue
If there's one non-negotiable in this 1 day itinerary, it's that you eat dinner at IDK (my stomach is rumbling just thinking about it). While IDK Barbecue is just outside the park, it is well worth the short drive. This restaurant offers hearty meals for a reasonable price, which you'll need after this big day.
You can fill up on appetisers, mains, and dessert here without needing to break the bank. They offer anything from meat plates, nachos, sandwiches, and salads to peach cobbler and ice cream. The all-American restaurant is open Monday to Saturday from 11 am to 9 pm.
Top Tip for Visiting: There are many IDK Barbecue branches in Utah, but the one in Tropic, Utah, is the closest, only 13 minutes away.
Return for Stargazing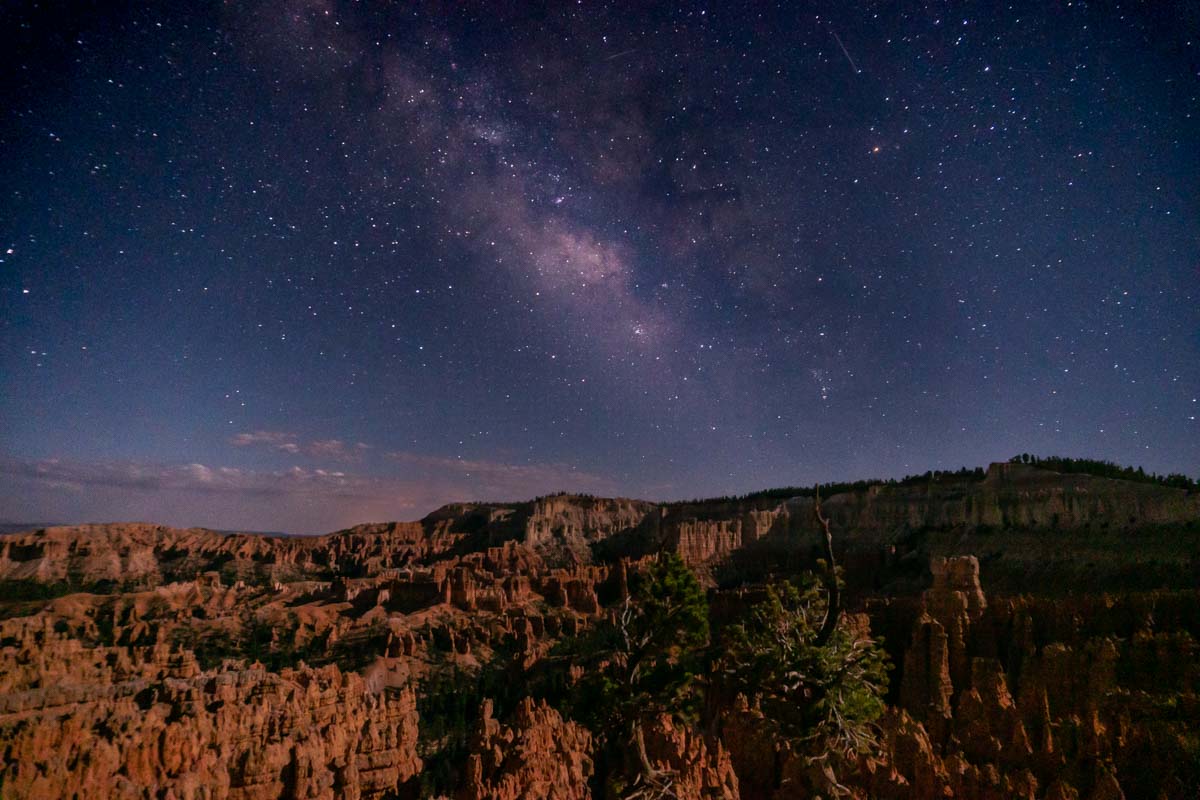 You've smashed it. The last thing to tick off your Bryce Canyon National Park 1-day itinerary is stargazing. The park is one of the darkest places in Utah, with little to no light pollution. Thus it offers many moon and star-lit hikes.
Each year the park holds a four-day Astronomy Festival in the summer. Here avid stargazers can see the constellations through telescopes with activities led by rangers and guest speakers. If you miss the festival, there are still plenty of stars to see here.
Stargaze through telescopes every Friday and Saturday on summer nights at 10 pm with a ranger-led program, or have your own stargazing time. Because the park is so dark, you can easily spot the Milky Way and even a few planets.
Park rangers hold moonlit hikes for one or two nights every month. These hikes typically have strenuous and easy hike difficulty with the spooky hoodoos and night sky as the backdrop.
Top Tip for Visiting: You must enter a lottery that rangers draw at 4 pm to get a spot on this hike.
Bryce Canyon Itinerary: Map
Bryce Canyon Itinerary: Read Next