For many people, Zion National Park is a dream destination, filled with enchanting red rock formations, striking canyons, and some of the most gorgeous sunsets in the country.
Whether you're a hiker, a climber, or simply a nature-lover, there's something in Zion for you to enjoy and explore.
With a whopping 4.5 million visitors a year, Zion isn't always the easiest place to navigate.
After our trip to Zion, we decided to put together this comprehensive list of things to know before traveling in Zion National Park. Hopefully these tips will help you plan a perfect vacation to this stunning national park!
What to Know Before Going to Zion National Park
Zion is Best in the Early Mornings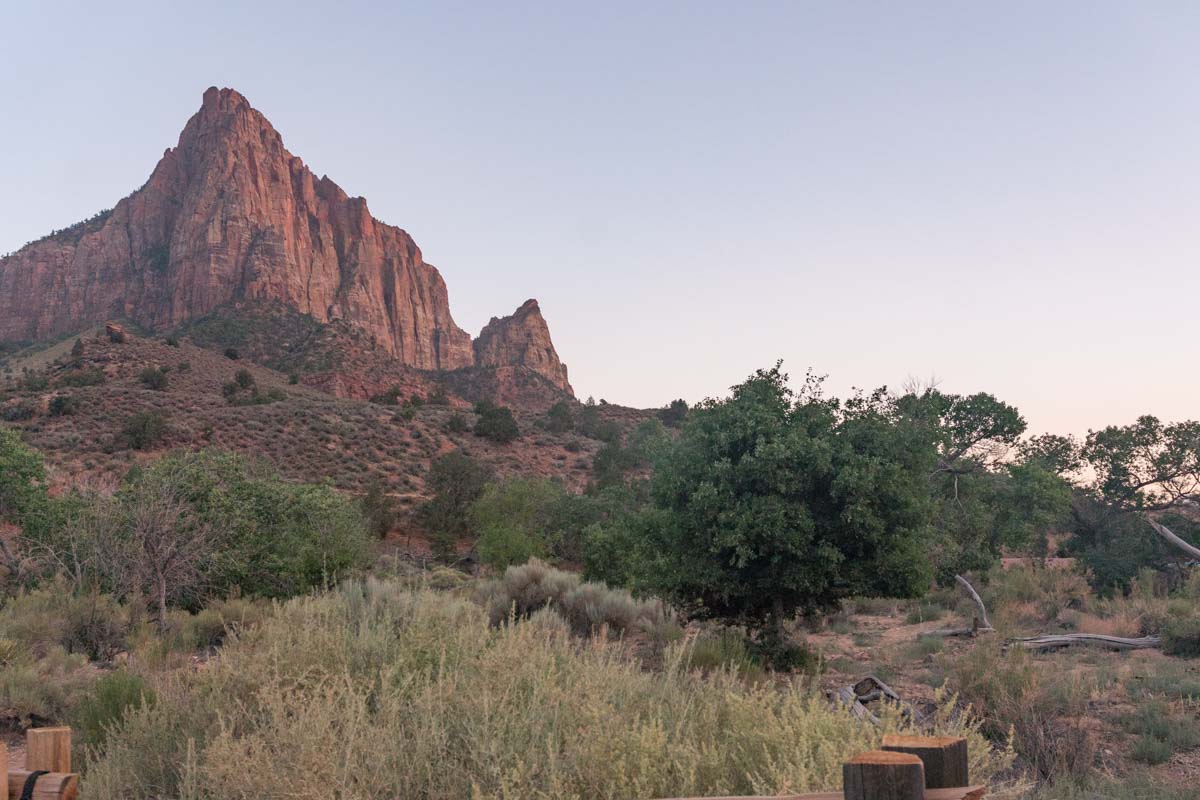 While Zion (like any national park), is technically open 24 hours, you'll be rewarded if you set your alarm early and rise with the sun.
To make the most of your experience at Zion National Park, especially in the high season, I recommend arriving no later than 7 AM.
Why? Because this park gets really full during the daytime. We're talking "lines up the wazoo, no parking available, circling the lots for hours trying to find a spot" type of full.
Compared to the rest of the day, mornings in Zion are calm, cool, and quiet. This maximizes your chances of seeing wildlife and minimizes the amount of fellow people you'll have to share the trails with.
You'll also almost surely be able to snag a parking spot if you get there early enough.
The Most Popular Time to Visit Zion is in the Summer and Fall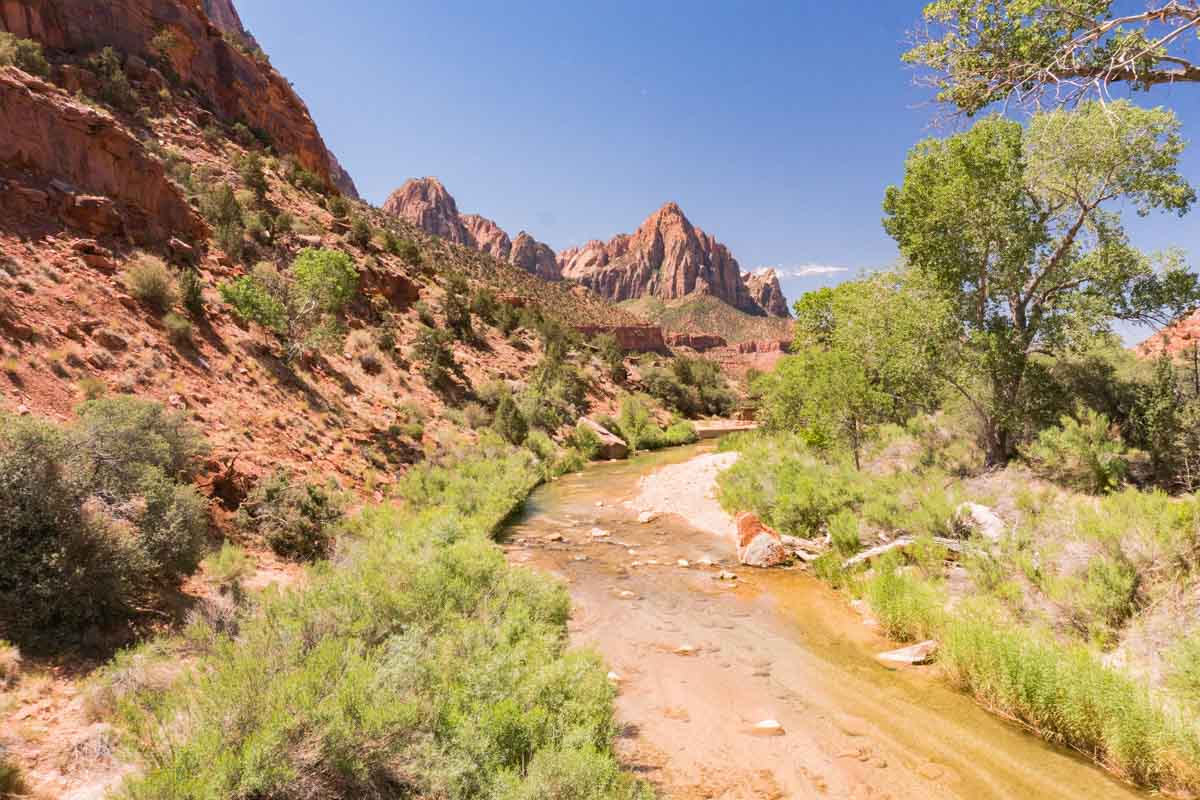 Needless to say, Zion is best when the weather is warm and the sun is shining.
In the off season, many of the park's most famous trails are closed due to icy conditions or snowmelt, which causes the river levels to rise and can damage some of the trails.
However, as with all seasonal destinations, the high season isn't always all it's cracked up to be.
Massive crowds flock to Zion during the high season, meaning you'll never really have any of the handful of open trails to yourself. Additionally, accommodation in Zion skyrockets, leading to increased costs for travelers.
If you do decide to visit Zion in the high season, be prepared for early mornings and crowded buses, parking lots, and trails.
But If You Go in the Winter or Spring, You'll Have Cheaper Travel Costs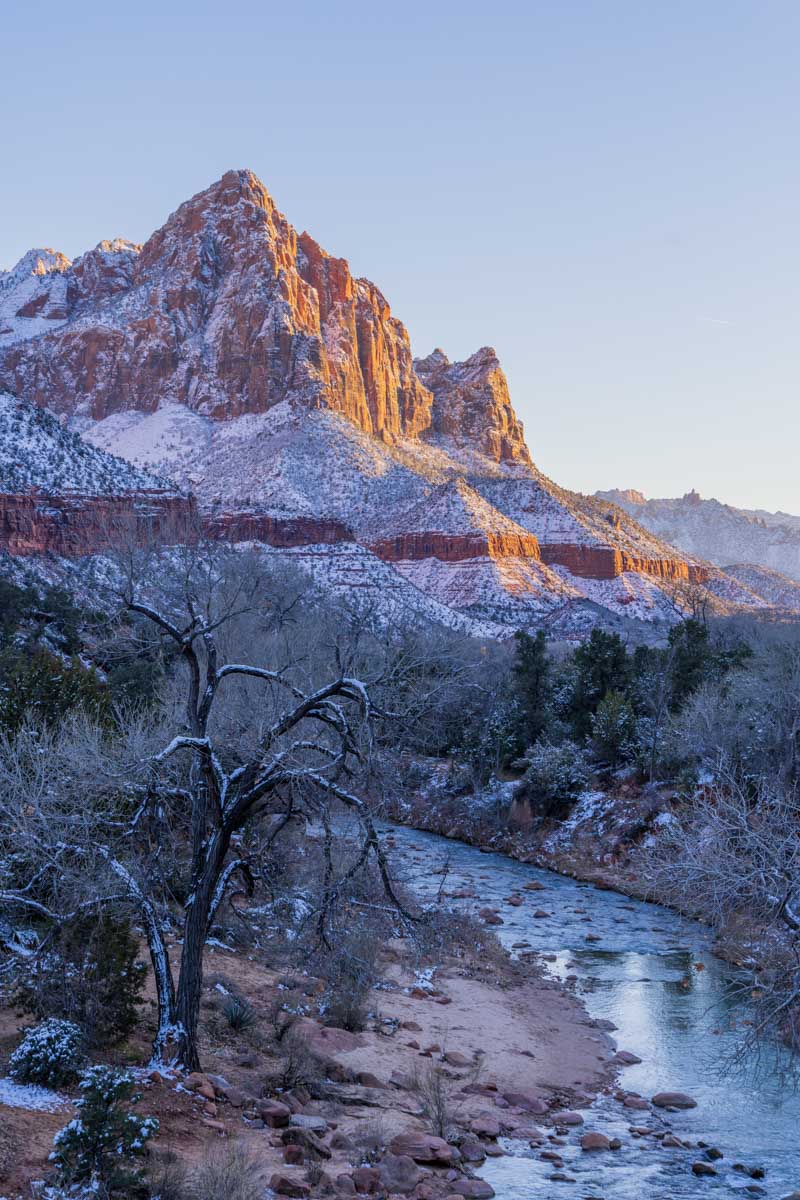 I actually took one of my trips to Zion National Park in the spring and it was a totally epic trip.
Yes, the famed Narrows trail was closed due to high water levels, and many of the roads and trails were under construction, but we still got to hike the adrenaline-inducing Angels Landing and explore the off-the-beaten path Kolob Canyon.
When I went in late April, the buses were already running, there were a decent number of tourists, and yes, we still had several traffic jams up on Angels Landing's trail. However, it was relatively calm compared to the more crowded summer months.
In the winter, the buses don't run but you can bring your car into the park!
If you're into off-season travel and are okay with many of the trails being unavailable, winter is a fabulous time to visit with much fewer people.
Zion National Park is Composed of Several Different Areas
While many of the most iconic photos you'll see online of Zion are from the main canyon, there's actually a lot more to explore in the park.
While there are several sections of Zion that are worth exploring, here are the main ones you may want to visit if you've got limited time in the park:
Main Canyon – With iconic sights like Angels Landing, the Zion Lodge, and many other trailheads in the park, Zion's Main Canyon is the only one that's regularly serviced by the bus system. The majority of people only explore the Main Canyon, so you'll be in good company in this area.
Upper East Canyon – Home to the Canyon Overlook Trail and the Checkerboard Mesa, this scenic drive through the park is certainly worth doing, especially in the early morning when you have the chance to catch a glimpse at some wild sheep or deer.
Kolob Canyons – My personal favorite area of the park is Kolob Canyons, which boasts beautiful red rock geography with far fewer people than the main canyon. Hike the Taylor Creek Trail for a fun day of stream crossings and some very spectacular views of the red canyons around you.
Certain Trails and Areas of Zion May Close Depending on the Time of Year
Like I mentioned before, many trails were closed when I was at Zion in the spring. I think there were 4-5 hikes we wanted to do that we simply couldn't because the trails were under maintenance or faced poor conditions due to the weather.
Be sure to get an updated trail map when you arrive (or view the updates online) to determine which trails and areas are off-limits while you are there.
The Mount Caramel tunnel, which connects the main canyon to Canyon Overlook, frequently closes for repairs following the icy season (and they were closed most of the time we were in Zion).
If the tunnel is closed, a one way trip from the southern entrance of the park to the eastern entrance (where the Canyon Overlook trail is located) is a 2 hour drive.
The Narrows hike is also closed in times of high rain or snowmelt (but it's an absolutely incredible trail otherwise!).
If you find yourself visiting Zion when things are closed, don't worry! You can take some time to explore what's open, or visit some of the other national parks in Utah.
Zion National Park Tips: Parking & Transportation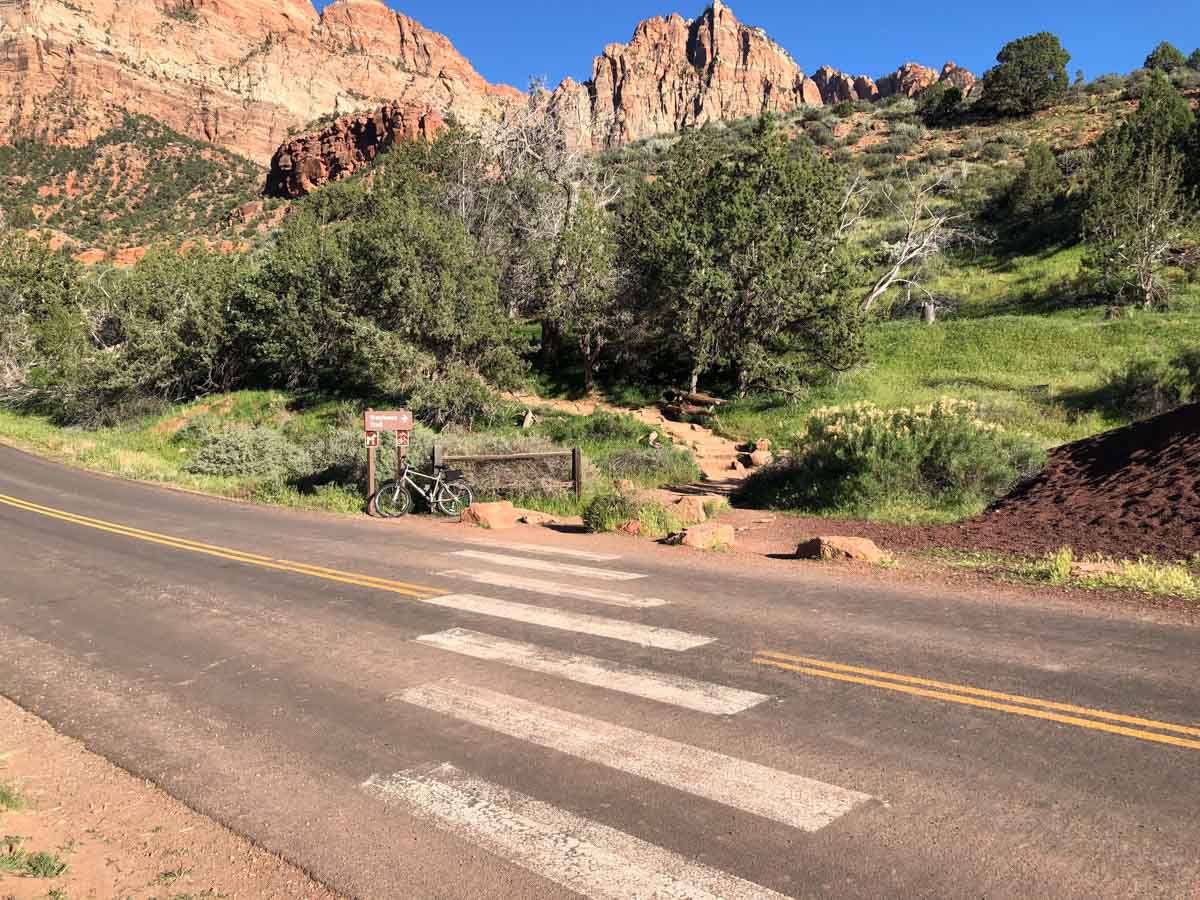 Admittedly, I find it a little sad that we need to include an entire section on parking and getting around in here, but it's necessary given that well over 4 million people visit Zion each year!
Basically, parking can be pretty difficult, but you have a few different options, especially if you get to the park early in the morning.
Parking in Zion National Park Can Be Difficult, Especially in the High Season
Parking is free within the park, but availability is very limited, especially if you are not planning on camping.
There is parking at Canyon Overlook Trail, at the Zion Visitor Center, and at the Zion Lodge (only if you are staying there, however).
If you get there early enough, you can get a spot by the visitor's center which has a lot of information about the wildlife and plants in the park, as well as a small gift shop where you can find some awesome national park gifts.
While the parking lots inside of Zion fill up quickly, there are plenty of open lots in nearby Springdale. Be prepared to pay for parking if you must resort to this (most lots do take credit cards) and plan your day accordingly, as you'll need to take an extra bus or walk into the park.
There are Free Buses All Through Zion's Central Canyon
During the spring, summer, and fall, there are free buses you can take throughout Zion's main canyon area. They begin at the visitor center and end at the Narrows trailhead. If you're planning to explore outside of the main canyon, you'll need to drive as buses don't go to Kolob Canyon or Canyon Overlook.
One thing to note is that the shuttle schedule changes depending on the time of year. For the most up to date timetables, visit the National Parks website.
Generally, shuttles run every 7 minutes.
Try to be at the park before 6 am in the summer if you want to get on the first shuttle and be the first on the trails. After 8 am, lines for the shuttles can be very long, with waits of 15 minutes or longer in some occasions.
Having a Car is Essential to Get to and From the Parks in the Surrounding Area
Needless to say, Zion is NOT an easy place to visit without a car.
It's fairly remote and isn't generally serviced by many forms of transportation. Moreover, the hotels inside of and directly bordering Zion's entrance are ridiculously expensive, especially in the high season.
I recommend renting a car for your trip to Zion to give you the most flexibility. Avis is my personal go-to, but always check a comparison site like RentalCars.com for the best rates across all providers.
Or, You Can Rent an RV / Campervan To Cover Accommodation and Transportation All in One!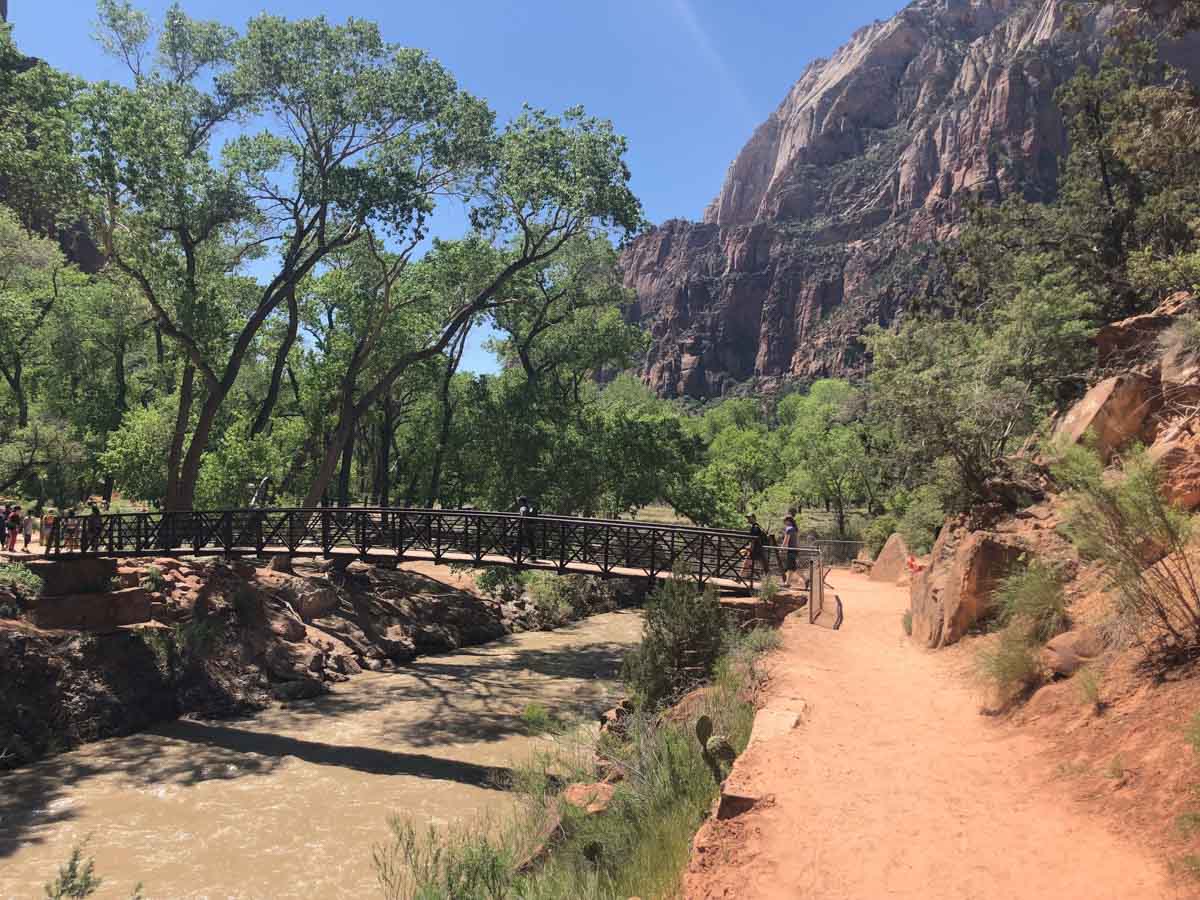 While we didn't get the chance to travel via campervan in the Southwest, it's something we'd love to try in the future.
We saw tons of people driving these miniature homes around, parking in Zion's campgrounds, and just generally having a blast.
People who drove RVs into Zion were able to sleep and stargaze in the park and get early access to all of the trails, which we were extremely jealous about since we LOVE camping.
Luckily, for those of you who are interested in having the full RV experience, you don't need to own an RV or campervan – you can simply rent one for the duration of your trip!
Things to Know About Zion National Park: Logistics and Food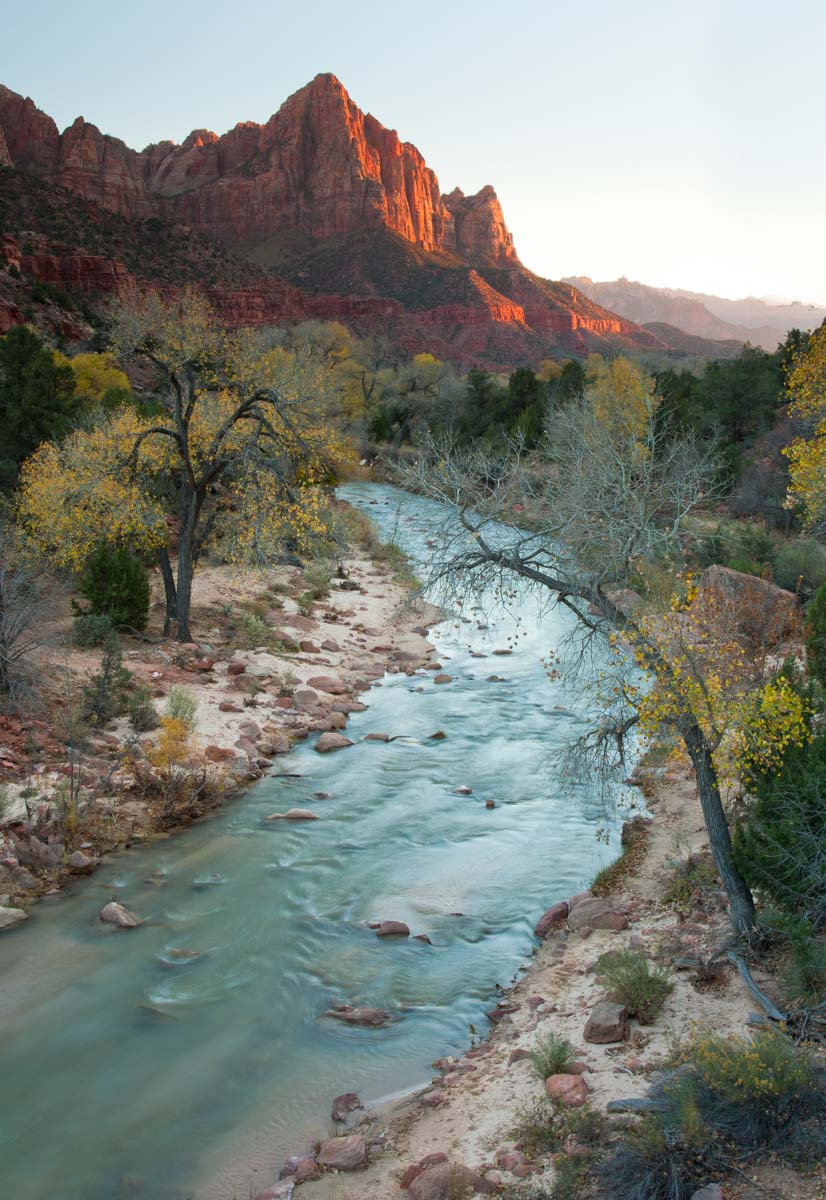 There's Only One Place that Sells Food Inside the Park (So Bring Your Own)
Much like other national parks, Zion has limited food options on-side.
If you're hangry after hiking and need food ASAP, the only places to get it within the park are at the Zion Lodge.
Luckily, the lodge has two different offerings depending on your budget: Castle Dome Cafe, which is a self-serve cafeteria on the ground level by the bus stop, and Red Rock Grill, which is a more upscale eatery.
If you're willing to wait, however, nearby Springdale and Kanab have a much better selection of dining options. In Springdale (near the Main Canyon), head to the Zion Brewery for a cold beer and some delicious sandwiches and burgers.
And in Kanab (near Canyon Overlook trail), you HAVE to stop by Rocking V Cafe, which has literally the best veggie burgers and cold tropical iced tea I've ever had in my life, plus an adorable art gallery space upstairs.
Stay in Nearby Hurricane or Go Camping for a More Affordable Option
While accommodation at Zion Lodge or in a hotel in Springdale will run you a pretty penny, you don't have to spend an arm and a leg on your hotel during your visit to Zion.
Head to nearby Hurricane (~30 minute drive) for cheaper hotels and Airbnbs, like these great options:
Or, alternatively, you can opt to camp in Zion for a small fee, which gets you a guaranteed parking spot (score!), a fire pit, and a cozy place to pitch your tent or stop your RV for the night.
The main campground is located right next to the visitor center and is a lovely place for stargazing (we'll get to that later!).
I'd strongly recommend booking your campsite in advance as the whole park was full when we went in the off-season.
Tips for Visiting Zion National Park: Hiking & Outdoor Adventures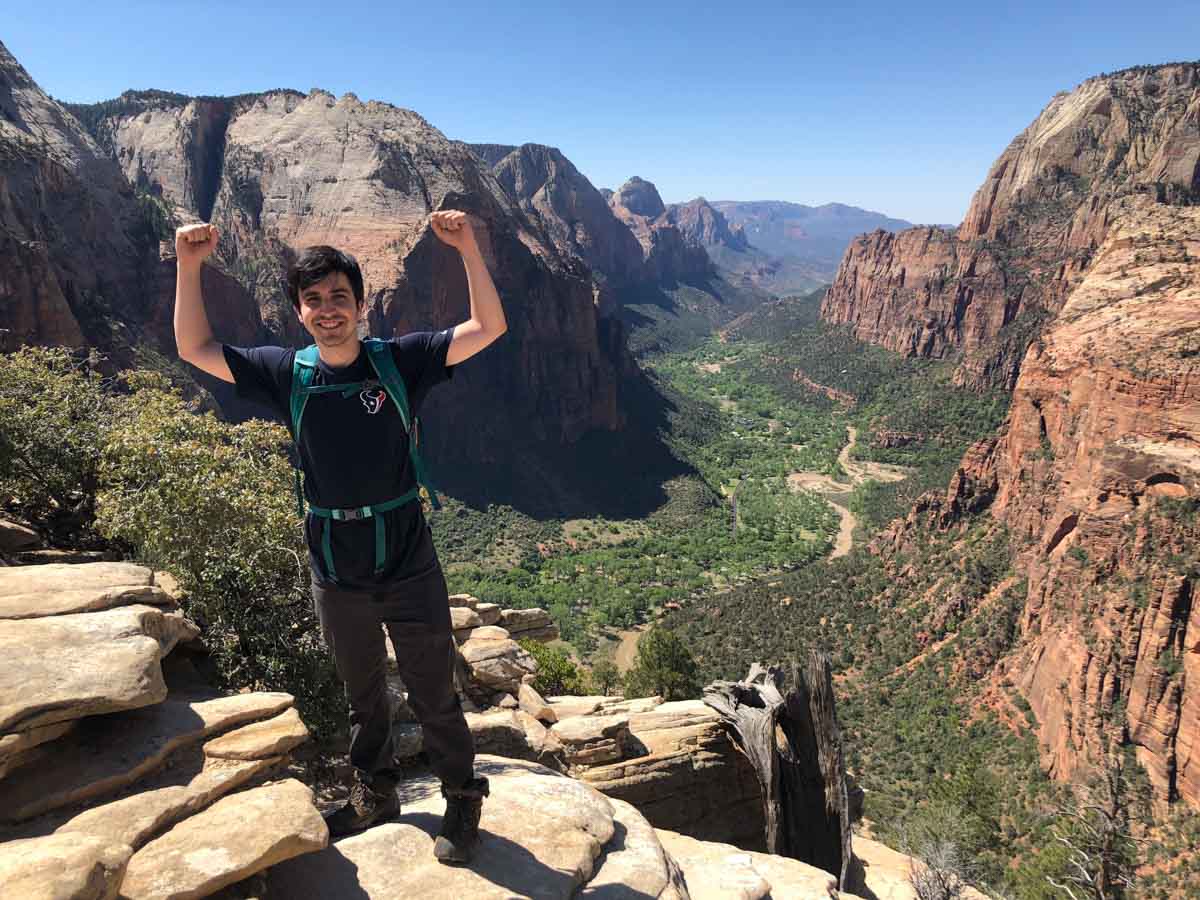 Get There EARLY (on the First Bus) if You Want to Hike Angels Landing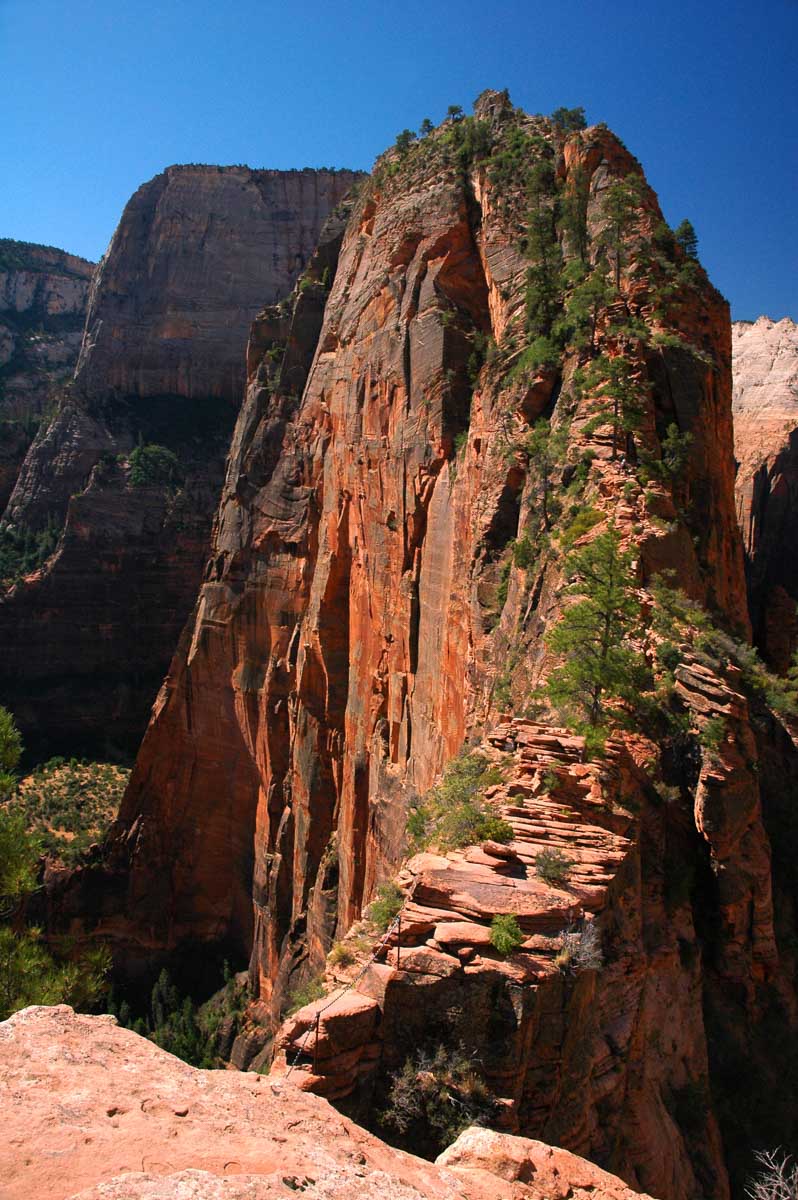 If you've heard of Zion National Park, you've probably also heard about Angels Landing. In short, its a thrilling trail to a rocky "summit" in Zion that has drop-offs of over 1,000 feet.
Some people actually visit Zion solely to tackle the Angels Landing trail, and after doing it myself, I understand why.
You know what's more adrenaline-inducing than a cliff-side trail? Getting STUCK on a cliff-side trail with 1,000 other people in tow.
The trail typically gets flooded with thousands of people by midday, leading to some very dangerous traffic jams along the narrow spine of this 1000 ft high mountain.
If you want to try Angels Landing yourself, make sure you're on the first bus out in the morning if you want safer and less stressful conditions.
For Smaller Crowds, Head to Kolob Canyon, The Park's Northwest Annex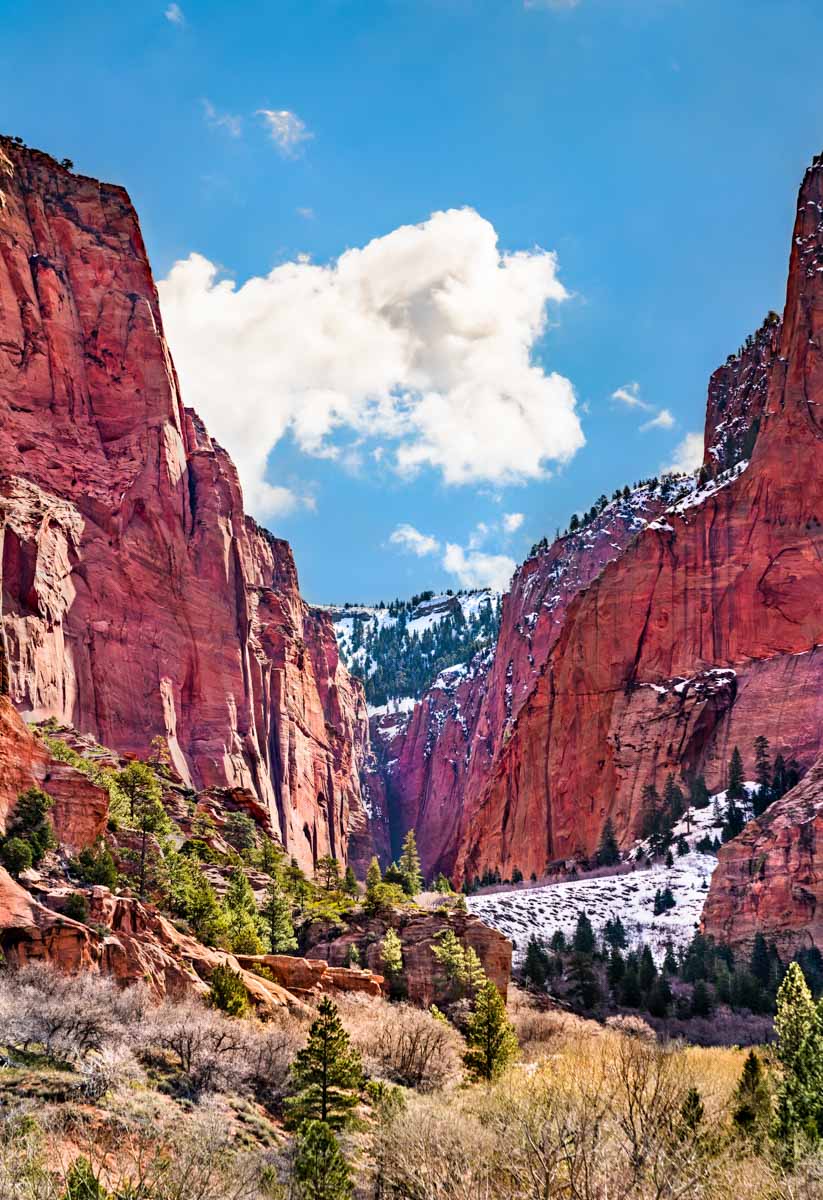 I've already spoken wonders about Kolob Canyons in this post, but I figured this beautiful, lesser-known pocket of Zion National Park deserves its own callout on my list.
I loved visiting Kolob Canyons because it was much less crowded than its Main Canyon counterpart, but equally as stunning.
I'd recommend an entire day or two in Kolob Canyons to get the full experience. While there, be sure to hit some of the best hiking trails in Zion, including:
Timber Creek Overlook – An easy overlook hike towards the end of Kolob Canyons.
Taylor Creek Trail – An easy, longer hike that weaves through Kolob Canyons, crossing through many babbling streams and ending at a giant cave-like rock formation.
LaVerkin Creek to Kolob Arch – This strenuous full-day hike takes you through Kolob Canyons to a magnificent red rock archway known as the Kolob Arch.
If You're Up for a Real Wilderness Adventure, You Can Explore the Zion Backcountry
If crowded day hikes aren't really your thing and you'd prefer some peace and quiet in nature, there are several backcountry hiking and camping opportunities available.
However, you'll need to plan ahead if you want to do this because backcountry trails are limited and require pre-registered wilderness permits. (You also need a wilderness permit for the Narrows Day Hike.)
You can also get a wilderness permit at the Visitor Center as a walk-in, but these are first come first served and are not guaranteed.
Not a Hiker? There are Tons of Other Fun Outdoor Activities You Can Try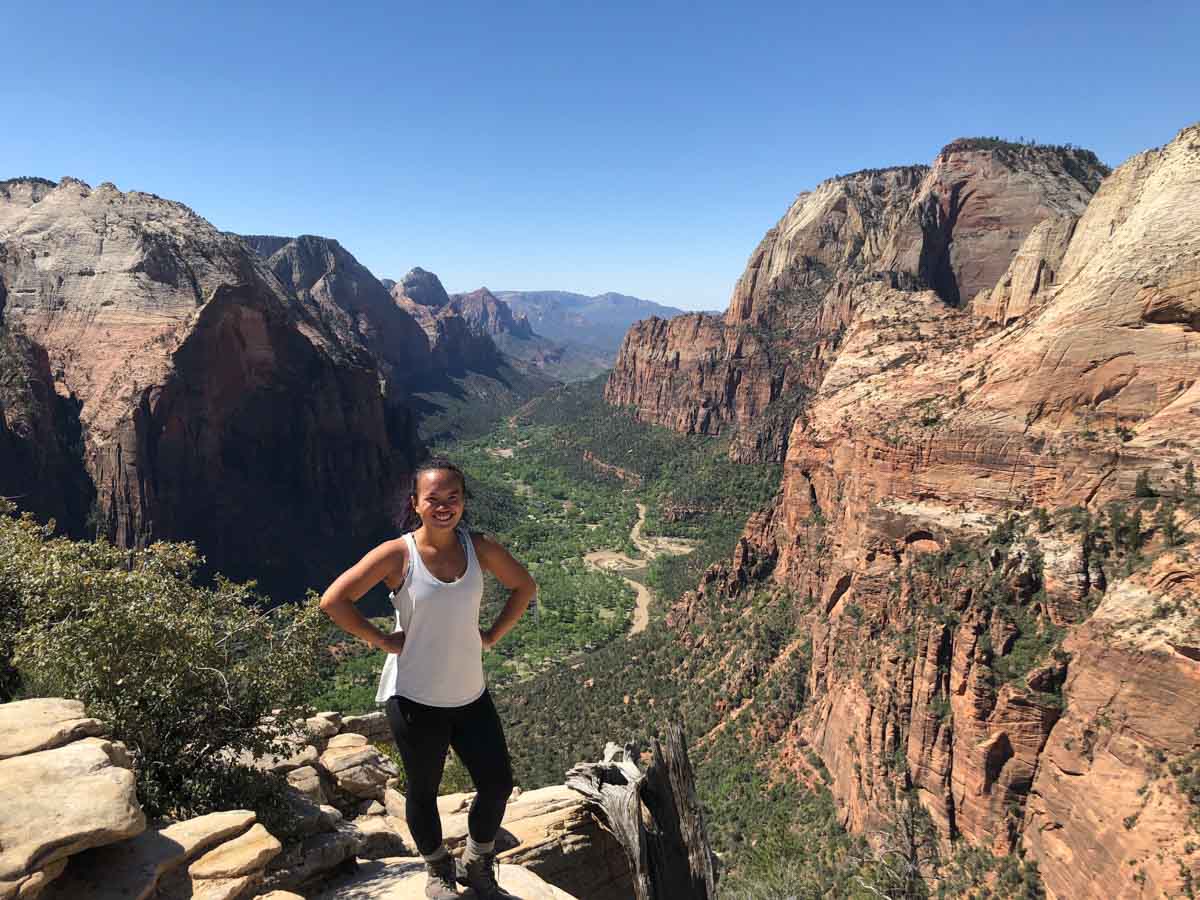 If you'd prefer not to hike but still want to get outside, there are tons of outdoor adventure activities available in the park for you.
Whether you're interested in getting on the water, exploring by horseback, or want an adrenaline-inducing climbing experience, it's all available in Zion.
Here are just a few tours and adventures you can do within and around the park:
Kayaking or rafting
Horseback riding
ATV tours
Canyoneering and rappelling
Rock climbing
The Stargazing in Zion is Amazing!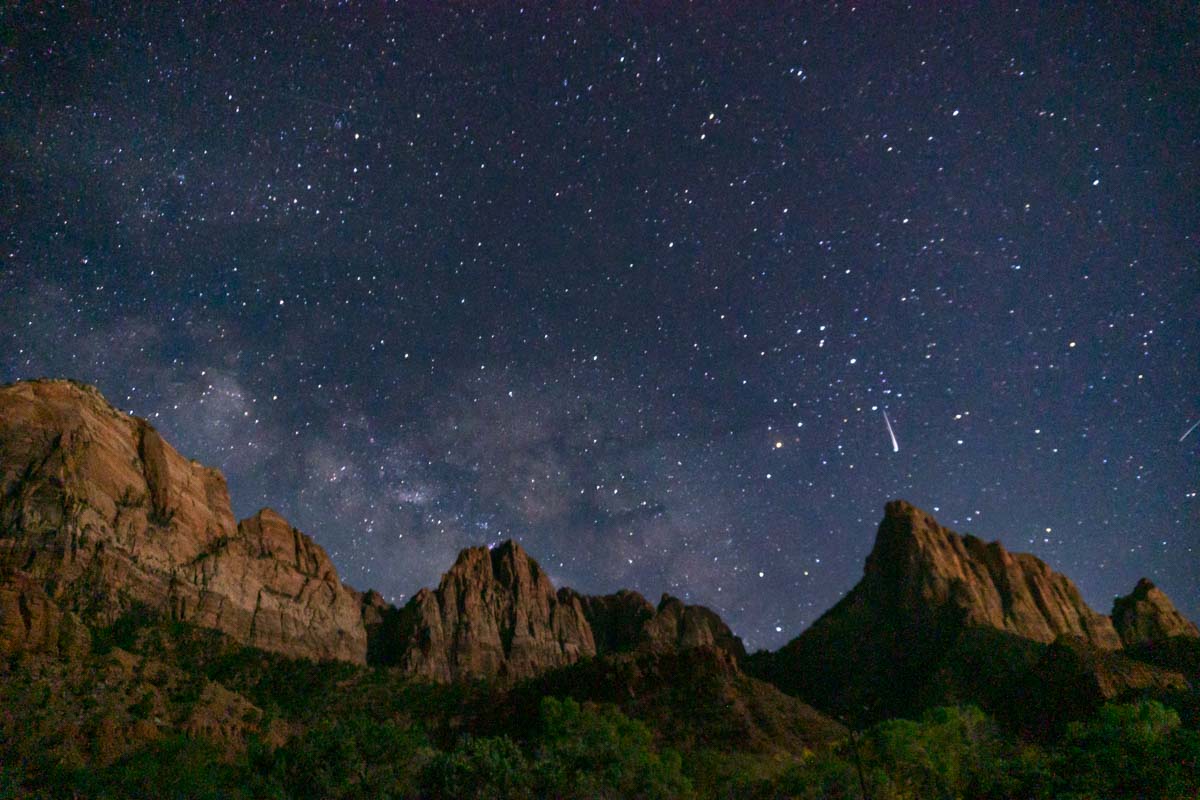 While Zion is colorful and bright during the day, those desert skies get very, very dark by night. For stargazing lovers, it's the perfect place to lay out a blanket and watch the sky for a few minutes or hours.
For stargazing, I recommend staying near the Zion National Park entrance, as it's difficult to get around the park at night without driving (and you can't drive during the high season).
Stop at the bridge near the Mt Carmel Tunnel, which offers stunning views of the Watchmen's Tower rock formations and the stars above. There are also fabulous stargazing spots from the main Zion campground and the Pa'rus Trail.
Other Insider Tips for Zion
Zion's Best-Kept Secrets? Its Sunsets
While people tend to flock to Zion for the heat of the summer sun and leave before it gets dark, one of the gems of the park is its sunsets.
Because the canyon is composed predominantly of red rock formations, the sunsets here are quite warm and breathtaking, to say the least.
There are several fabulous lookout points and trails with gorgeous sunset views scattered around the park. Here are some of the most spectacular places to watch the sunset in Zion National Park:
Watchman Trail
Pa'rus Trail
Canyon Overlook Trail
Watchman Lookout Bridge
If You Look Carefully, You Can See Lots of Wildlife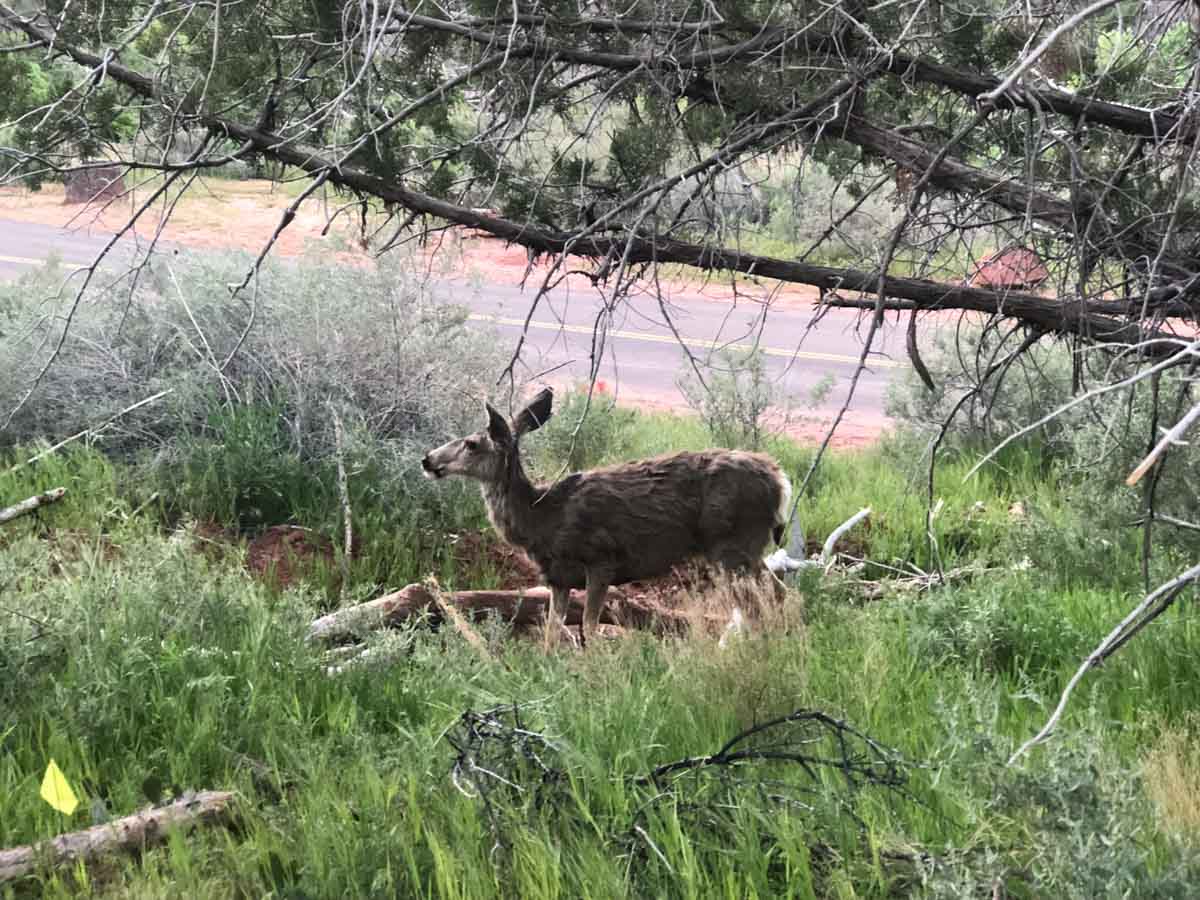 In the early mornings and late afternoons, it's not uncommon to stumble upon wildlife in the park. Zion is home to deer, wild bighorn sheep, coyotes, mountain lions, chipmunks, and several species of birds that you have a chance to see if you're in a quiet spot at the right time of day.
Seeing wildlife is largely based on luck, but visiting during the cooler, quieter hours of day can help increase your chances. We saw this quiet deer on the Watchman Trail just after sunset and it didn't even flinch as we quietly passed by.
The Grotto Trail is also known as an easy and accessible trail for fantastic wildlife viewing opportunities in the mornings and evenings.
Zion Travel Tips: Read Next