Searching for the best hikes in Zion National Park? These are the epic treks you need to add to your itinerary.
When it comes to views, Zion National Park is hands down one of the most scenic places on earth.
Don't believe me? Oh, you soon will, my friends.
The area may be famous for its staggering red canyons and awe-inspiring views, but the hikes are what I fell in love with during my last visit to the national park.
Enough of the preamble, I'm going to take you through 12 of the best Zion National Parks hikes.
Strap up your boots and let's go.
The Best Hikes in Zion National Park
Pa'rus Trail
Length: 3.5 miles (5.6 km)
Difficulty: Easy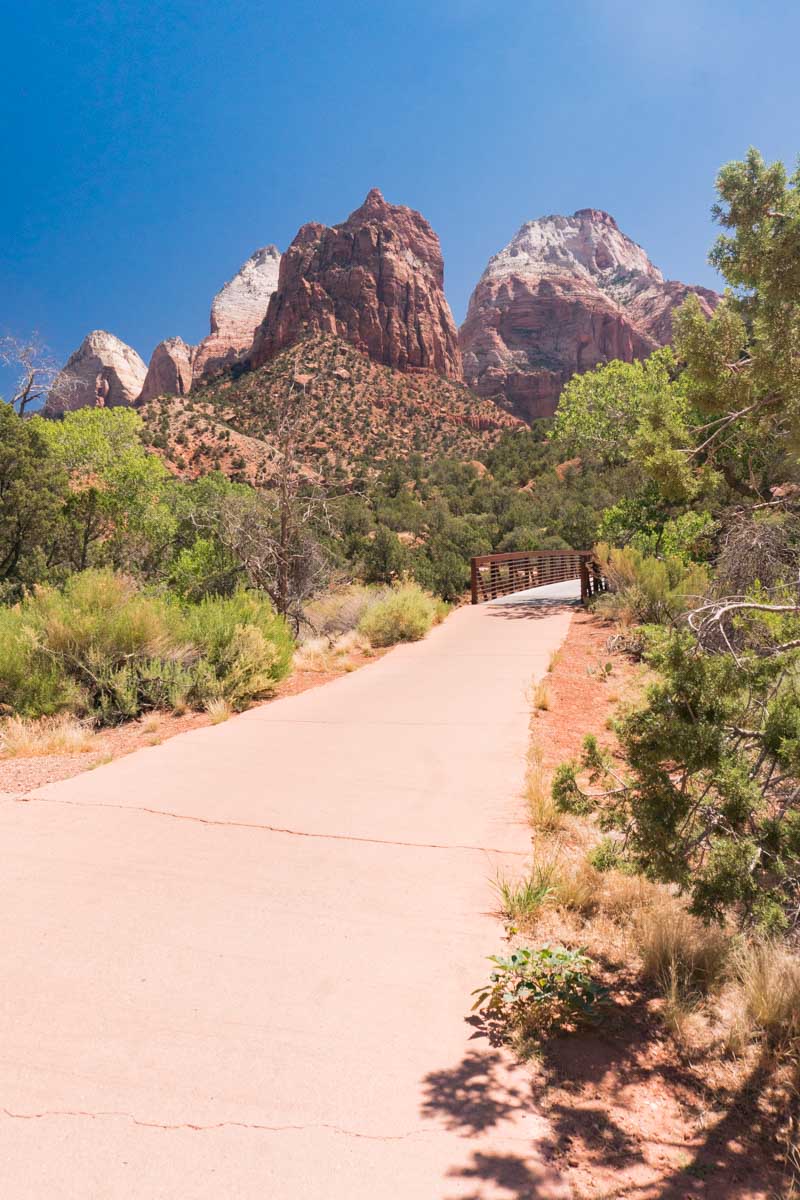 Hiking newbie? Don't stress, hiking in Zion isn't all scary rocks and loose footing.
Beginning near the Southgate Campground, Pa'rus is one of the easiest hikes in Zion National Park. It's flat and completely paved, and even wheelchair accessible – quite the rarity. It's also the only trail in the park that allows bicycles and pets.
This easy-access hike is stunning in the morning when the first rays of light start shining over the main canyon's pinnacles, cliffs, and peaks.
These majestic sights make it one of the best sunrise hikes in Zion National Park. After a leisurely walk, you can dip in the calm Virgin River.
That said, it's also pretty spectacular at night when the sun starts setting.
As it's so flat and easily navigable, the Pa'rus Trail is a good option if you want to spend some time stargazing in Zion. The park is a dark sky reserve – so expect incredible views of the Milky Way framed by the park's mountains.
Angel's Landing Hike
Length: 5.4 miles (8.6 km)
Difficulty: Difficult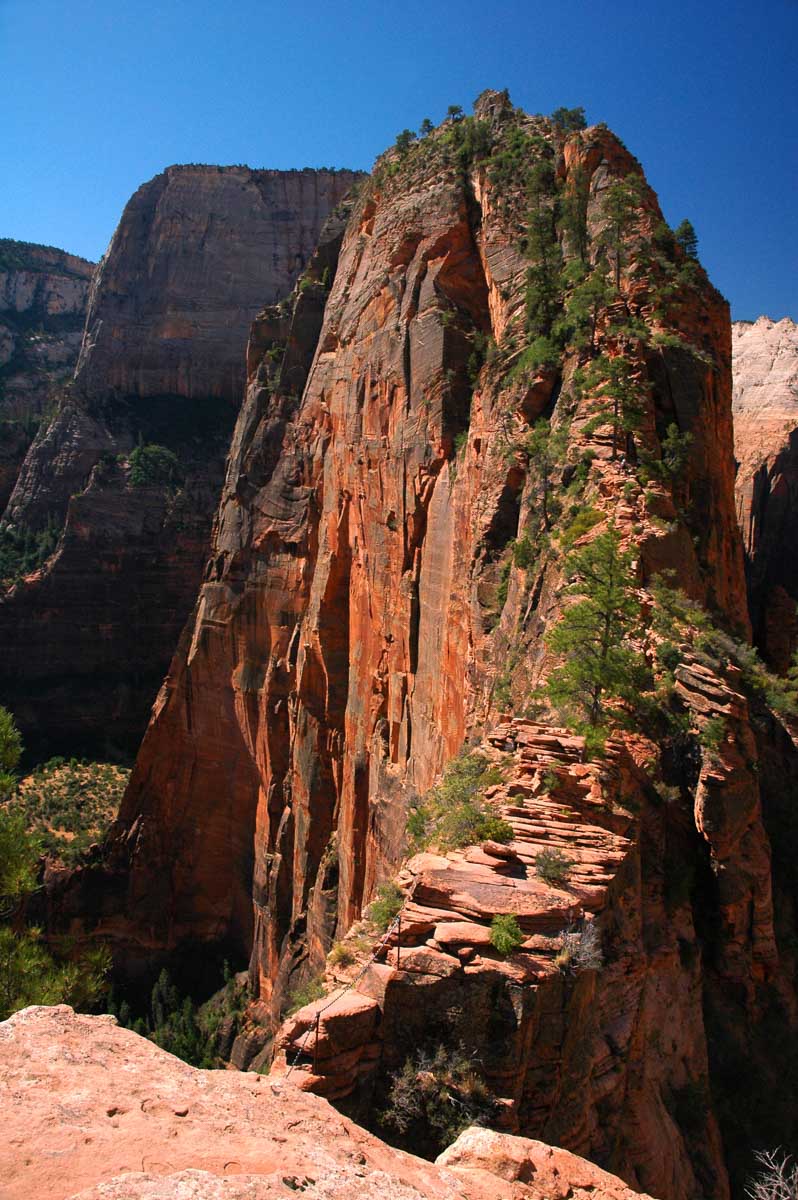 Feeling brave? Angel's Landing is one of the most famous hiking trails in Zion National Park, mainly because it is notoriously difficult.
Reaching an elevation of just over 457 metres (1500 feet) in just 2 miles, there's no skipping leg day on this hike. Angel's Landing is not for the faint-hearted, but for those willing to work up a sweat, you'll have the sweetest reward at the end.
The last half-mile stretch goes around a knife-edged ridge with sightings of cliff drops. Once at the summit, you can admire a phenomenal 360-degree view of the surrounding cliffs, canyon, and gorge below. Well worth the effort, I think.
Top Tip: Angels Landing is challenging and steep. Although there are guard rails that help, even the most experienced hikers will need to take caution when walking this trail as there have been a number of fatalities in the past.
The Watchman
Length: 3.3 miles (5 km)
Difficulty: Easy to moderate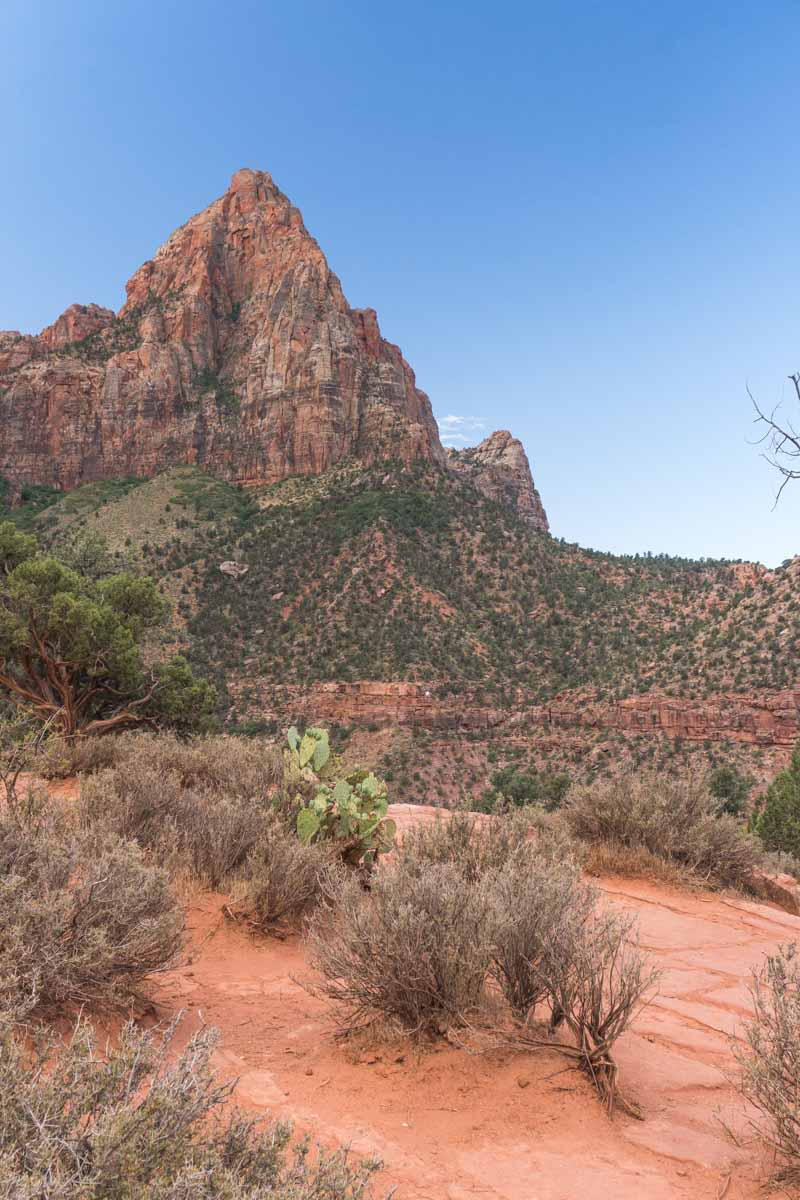 If Angel's Landing isn't for you, The Watchman is another one of Zion National Park's easier hikes. You can complete it in about one or two hours, depending on how fit you are.
This trail sits in the main canyon and is one of the quieter ones in the park – which is a shame as it's incredible!
The Watchman follows the banks of the Virgin River and ascends past the gorgeous Bridge Mountain.
Most people turn back at the first plateau, but I highly recommend doing this trail and its loop – I was blown away by how spectacular that last little bit of the trail is.
This is one of the best short hikes in Zion National Park, and it is also great to do as a sunrise or sunset hike. As the sun hits the tall canyon walls, it creates a soft orange-red glow, which is quite a magical sight.
Lower Emerald Pool
Length: 1.2 miles (1.93 km)
Difficulty: Easy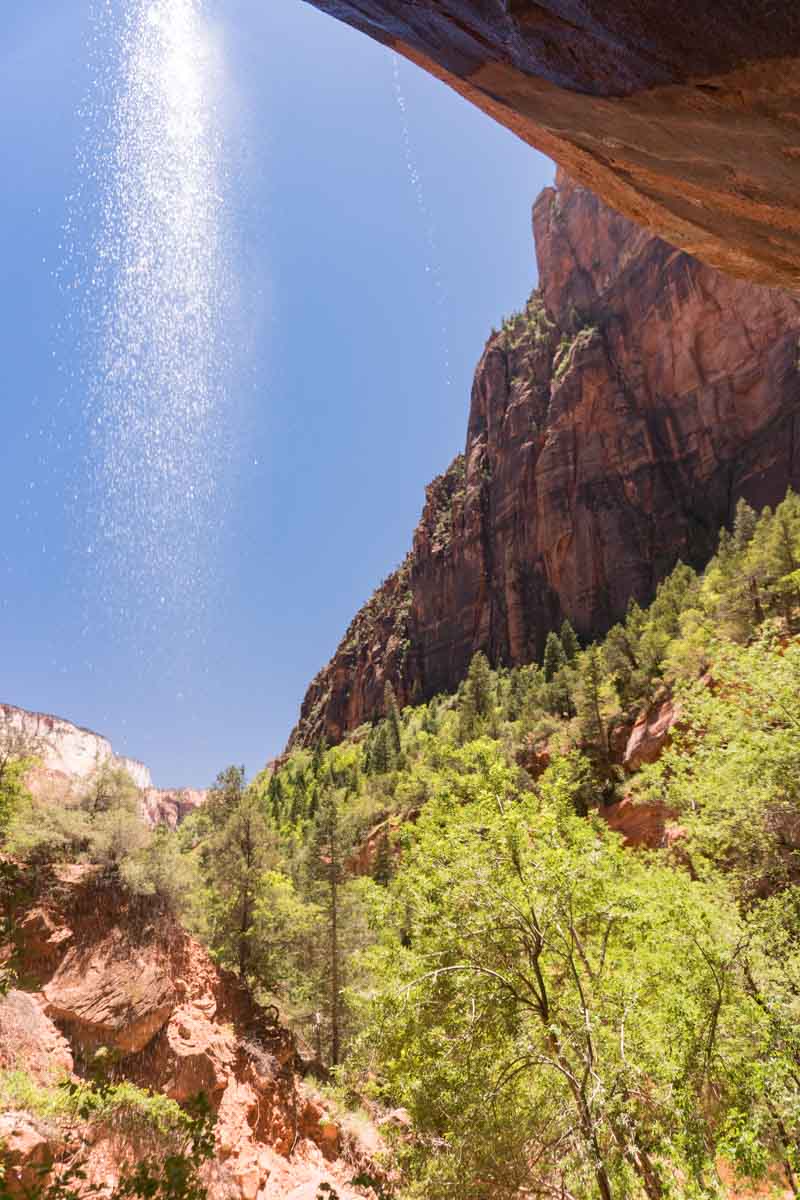 In terms of Zion hiking trails, it doesn't get more classic than Emerald Pools. These are three small pools, with the Lower Emerald Pool being the most popular since it's close to Zion Lodge and easy to access.
This Zion National Park water hike might be short, but boy is it gratifying.
The water from the two upper pools creates a soft waterfall that flows into the glistening pool below, surrounded by lush greenery and rock formations.
Remember your camera because this hike is a stunner and she's working all her best angles.
The Narrows Hike
Length: 5 – 9.4 miles (8 – 15.1km)
Difficulty: Difficult
The Narrows is probably one of the best hikes at Zion National Park, even though it is pretty tricky. The trail follows the lower half of the Zion Canyon and cuts through the North Fork of the Virgin River.
This is a water hike; the glistening water ranges from ankle to waist deep the further you venture into the canyon. The Zion National Park Narrows hike takes you below thousand-foot walls of colourful Navajo sandstone on both sides.
The deeper into the canyon you go, the better the views become. So be brave and be prepared to get wet.
Top Tip: There is a danger of flash floods and slippery cobbles. Check the conditions before you go.
Zion Canyon Overlook Trail
Length: 1 mile (1.6 km) round trip
Difficulty: Easy to Moderate
If you're looking for one of the best day hikes at Zion National Park, then I highly recommend this one. It's short and sweet but very scenic, with sweeping vistas across the lower parts of the Zion Canyon.
The trail sits east of the famous Zion-Mount Carmel Tunnel, which sets the tone for this picturesque hike as you approach and drive through it.
The Overlook Trail is relatively flat and easy to get to, so it's perfect for beginners. Little effort, and a whole lotta reward – just how I like it.
Taylor Creek Trail
Length: 5 miles (8 km)
Difficulty: Easy to Moderate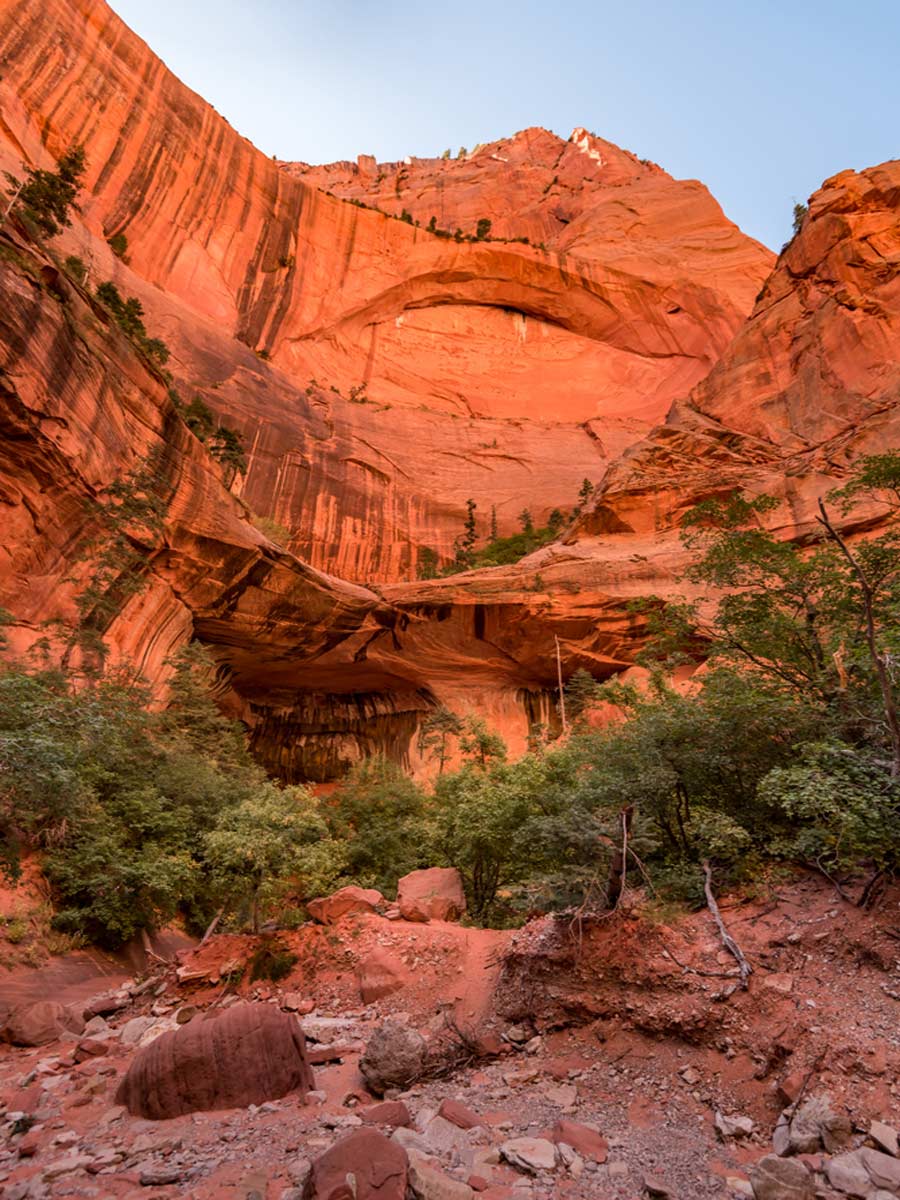 It's no secret that this national park gets BUSY. So, if you want to escape the crowds of the main canyon, then the Taylor Creek Trail is perfect. It's one of the better hikes near Zion National Park and sits in the Kolob Canyon.
This trail is scenic, easy, and offers a breathtaking experience as you pass the orange sandstone canyons.
You'll also pass serene waterfalls, the Double Arch Alcove, and two historic homesteads built in the 1930s. Taylor Creek is one of the less explored trails, so it's excellent for enjoying peace and serenity.
Observation Point
Length: 7 miles (11 km)
Difficulty: Difficult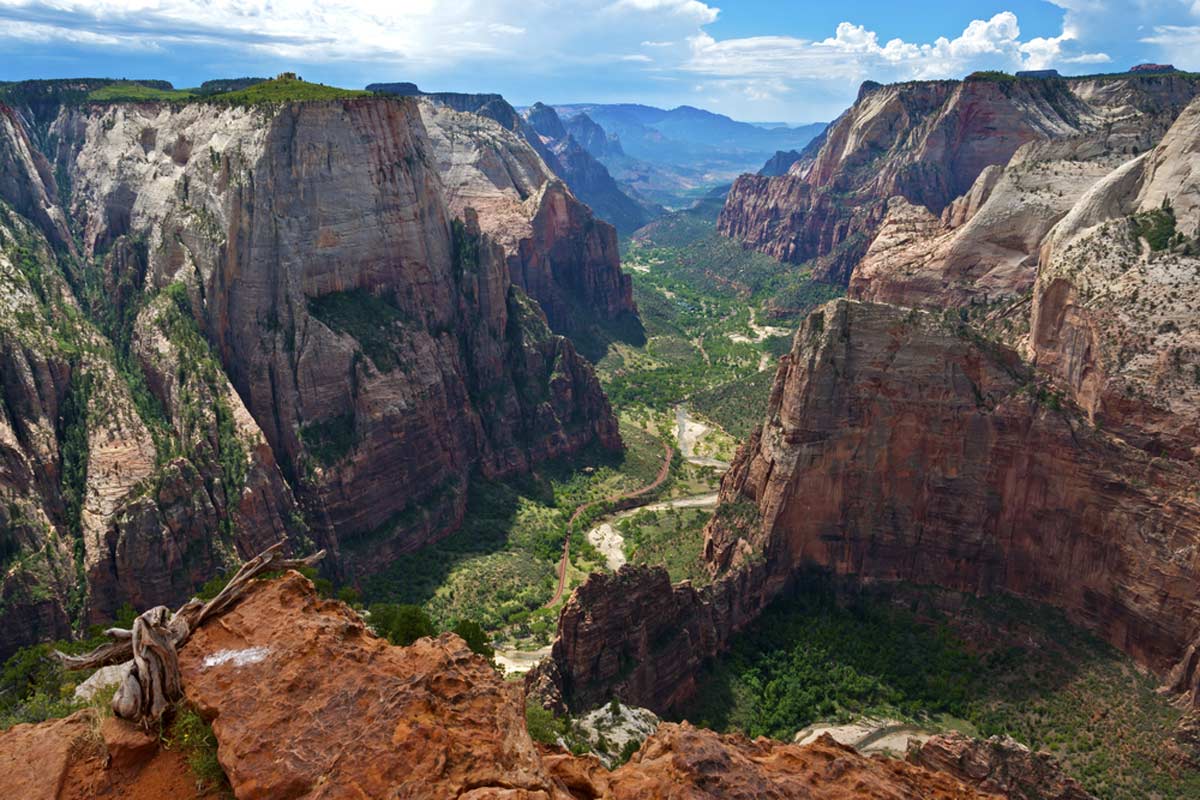 If you want a challenge, you'll find it in Observation Point. This hike gains over 609 metres (2000 feet) of elevation as it crosses through an amphitheatre, eventually leading you up into the Echo Canyon.
Once you finally reach the top, stand back and take in the incredible views of the area. You'll also see Angel's Landing below.
Observation Point is not for the faint-hearted, but it is one of the quieter hikes in the park (I wonder why, huh?), allowing you to enjoy the beauty in peaceful bliss. It's a thigh-burner, for sure.
Riverside Walk
Length: 1.9 miles (3.1 km)
Difficulty: Easy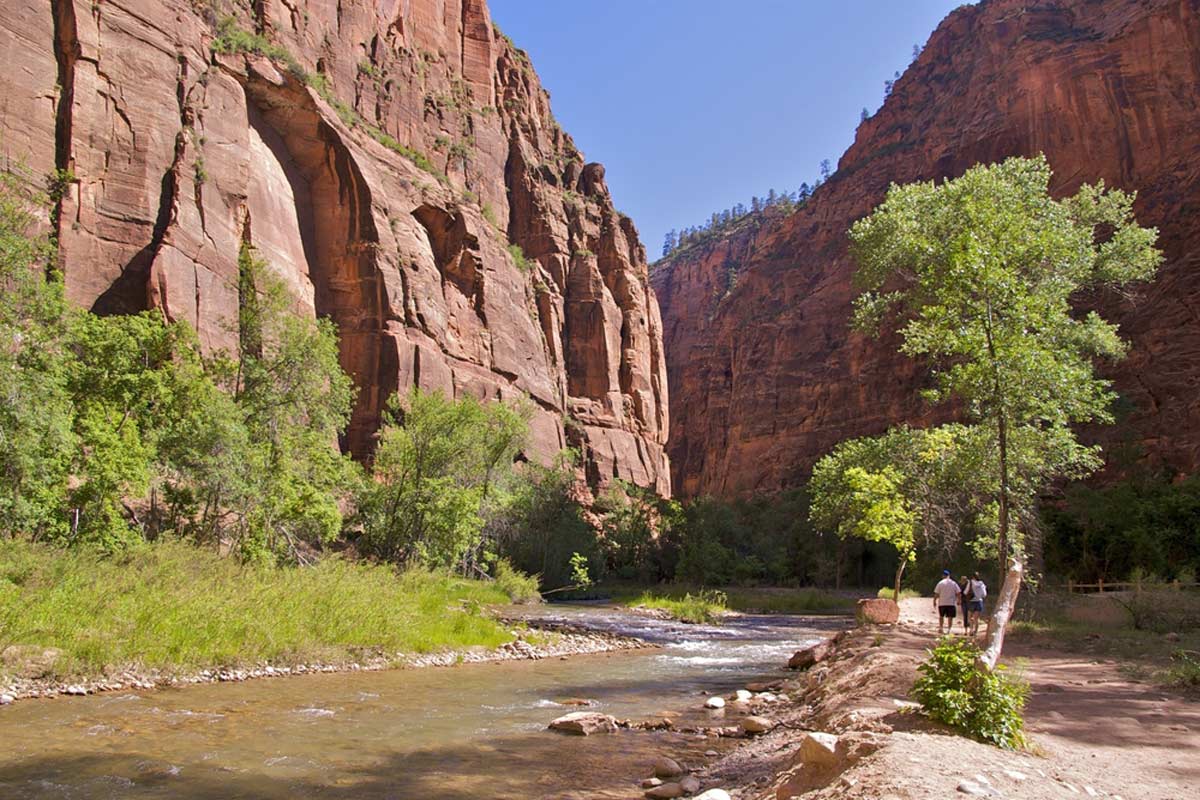 Riverside Walk, also called "The Gateway to the Narrows', is one of the best hikes around Zion National Park because it's easy to get around and is also wheelchair accessible (another win for this epic national park).
The trail follows a channel of the Virgin River which leads to a beautiful pool you can (and should) take a dip in after hiking.
It's one of the best Zion hikes, well-known for its diverse landscape and scenery, and is easily accessible. You can move on to the more challenging Narrows hike if you wish.
Kolob Arch
Length: 14 miles (22 km)
Difficulty: Difficult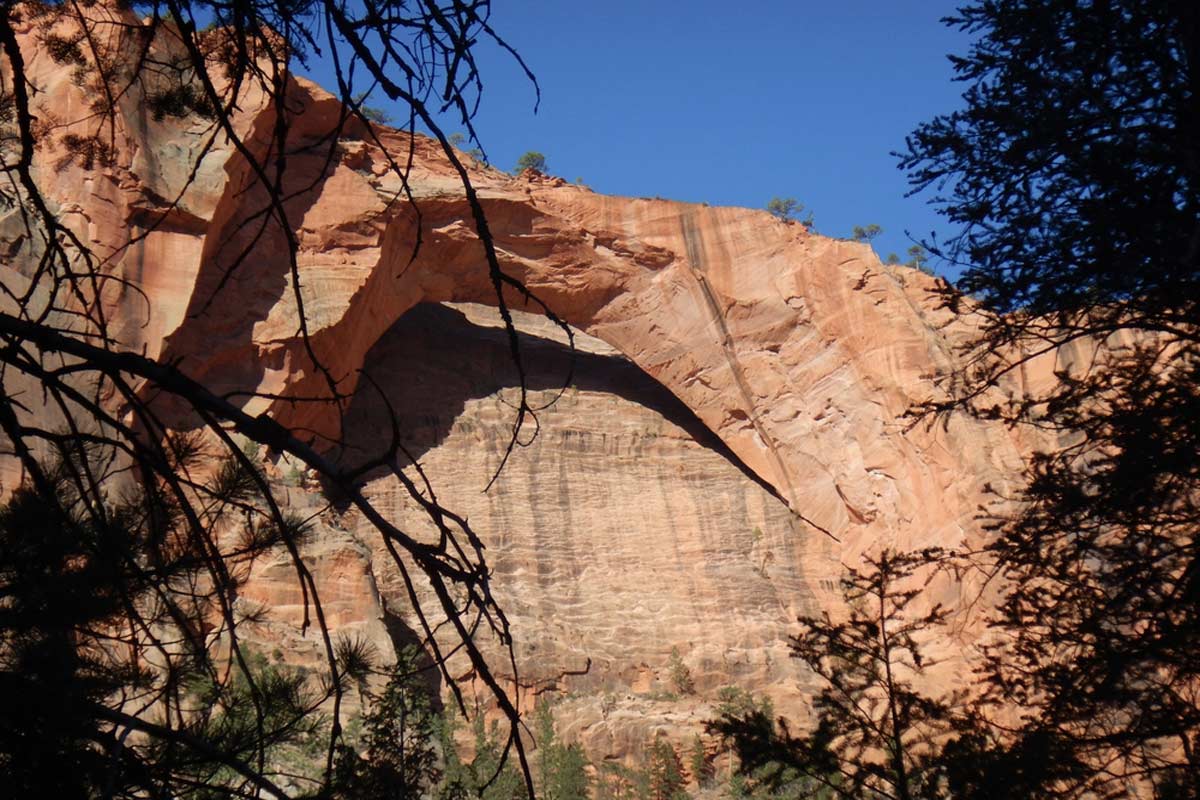 Excuse me while I swoon, but Kolob Arch is one of the most spectacular landmarks in Zion National Park. It's a natural arch adorned with red, orange, and a dash of yellow.
Traversing deserts, mountainous terrain, and forests, this might be the best hike in Zion National Park.
If you are looking for the best Zion National Park hikes that you could do overnight, this is a great option as it passes through many campsites and is relatively straightforward. With that said, this is most certainly not the easiest hike in the park, so come prepared.
Weeping Rock Trail
Length: 0.8 miles (1.2 km)
Difficulty: Easy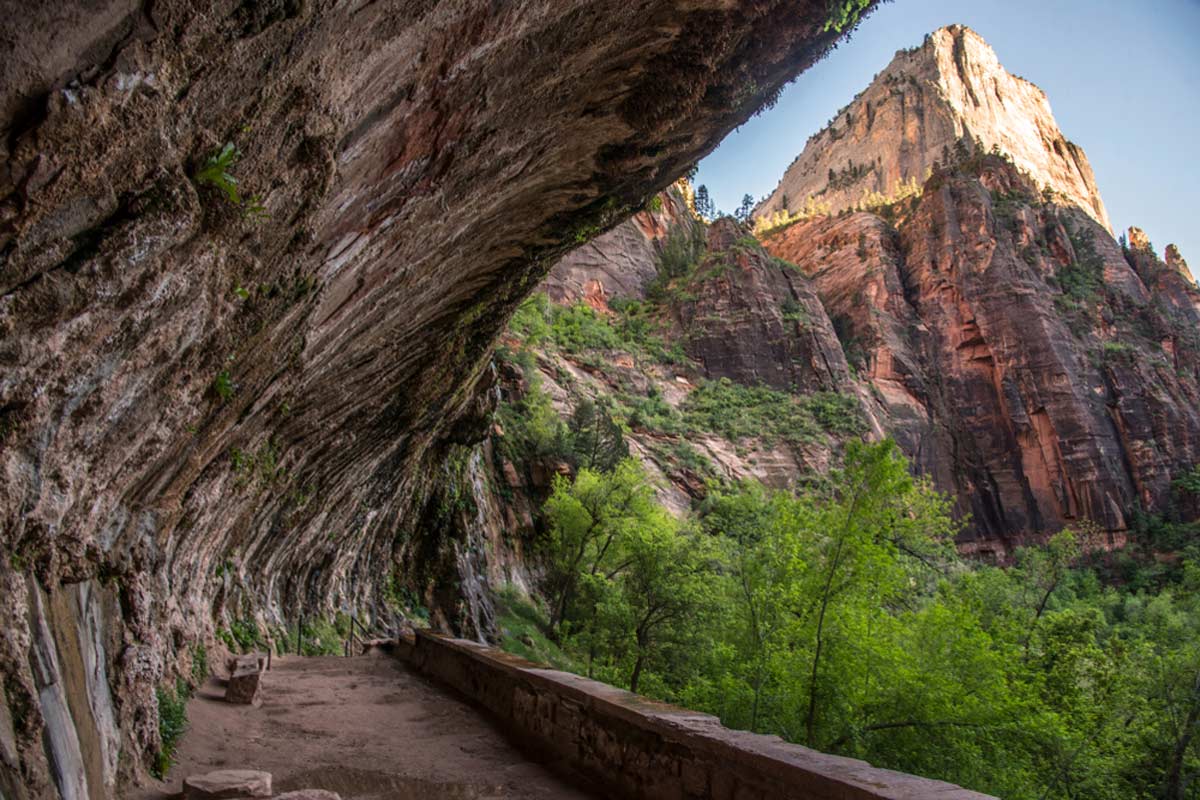 If you're keen on an easy hike in Zion National Park, this is one of the quickest and easiest hikes. Fair warning: It's a little steep but still easy enough for even the least-prepared of travellers to undertake.
This paved hike leads to an exciting concave inside the cliff, surrounded by lush green hanging gardens. Small waterfalls also flow from the canyons above the Weeping Rock. The trail also serves as a starting point for five other hikes in the park, including the Observation Point.
Northgate Peaks Trail
Length: 4.2 miles (6.7 km) round trip
Difficulty: Easy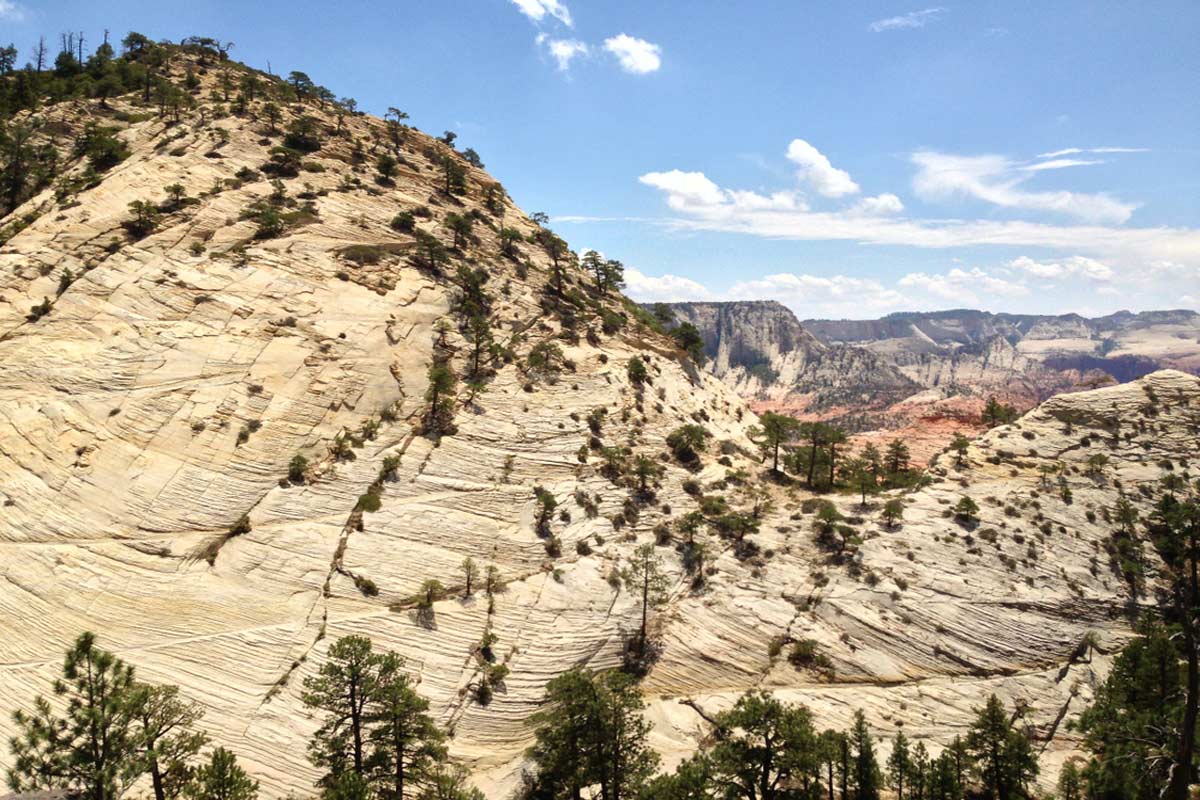 Northgate Peaks is one of the most gorgeous trails at Zion National Park. This trail travels across picturesque wildflower meadows and beautiful alpine trees, as well as skirting through the Kolob Terrace and past towering sandstone formations.
I reckon it's possibly one of the most underrated hikes in the park – it boasts eyefulls of views. A day exploring this trail will have you feeling refreshed and content with its peaceful surroundings and otherworldly views.
The Best Hikes in Zion National Park: Practical Tips
Make sure you have the trail map. It's highly likely that you will not have any cell service while hiking, so print out a map or save the trail offline on your phone to avoid getting lost or wandering too far off your path. Most of these trails are signposted, too.
Bring along a first aid kit. Some of these trails are very tricky, so it's best to prepare for minor injuries. It's also important to keep hydrated and well-fed. It gets really hot during the summer months in Utah, so bring lots of water and snacks.
Read my guide to everything you need to know before travelling to Zion National Park.
Zion National Park Hikes: Read Next