Let's talk about Zion National Park. Dramatic canyon views, the crystalline Virgin River, red stone that pops against lush greenery…have I got your attention yet? Thought so.
These are just some inspiring must-dos in Zion National Park, and I haven't even mentioned the incredible hiking trails yet.
Before you don your hiking boots and stock up on trail bars, though, Zion is a place that deserves a little research. Take the time to plan your trip and Zion will reward you – with scenery that looks too beautiful to be real, with some incredible experiences thrown in for good measure.
Without further ado, let's jump into the most incredible things to do in Zion National Park.
Looking for a comfy place to rest your feet after a long day of hiking? Look no further than Hampton Inn & Suites Springdale.
Top 5 Things to Do in Zion National Park
Marvel at Zion's Famous Peak on The Watchman Trail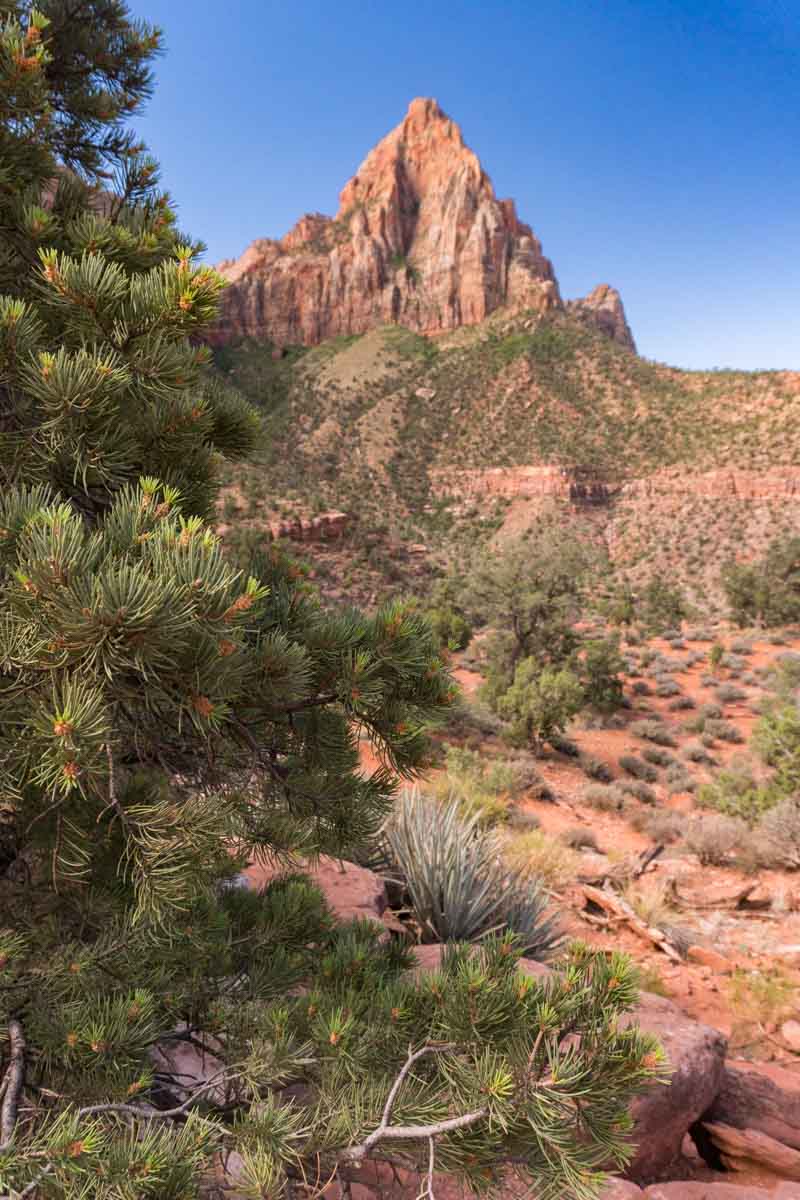 I'm not going to lie – too many people sleep on The Watchman Trail and they're missing out. This was one of my favourite hikes in Zion.
This short 5 km round trip hike starts next to the Visitor Centre and has a relatively doable 194 metre elevation gain that won't stress your thighs too much.
Don't think that means it's not a thriller though – as the name suggests, the Watchman Trail leads to a viewpoint that shows off The Watchman peak in all its glory.
Depending on how fast you hike, it'll take about 1.5-2 hours, but there's more to The Watchman Trail than people expect. Don't follow everyone who turns back at the first plateau—trust me, stick it out and do the loop.
The end portion has some of the best views of The Watchman, and it's not strenuous at all. This hike gets full sun, so it's best done on a cloudy day or in the morning when it benefits from sitting in the shadow of the canyon.
Top Tip: Bring a packed lunch. Zion Lodge is the only place to grab food, so naturally, it gets very busy, and who wants to waste their holiday standing in long queues? Not me!
Cruise Along the Zion-Mt Carmel Scenic Drive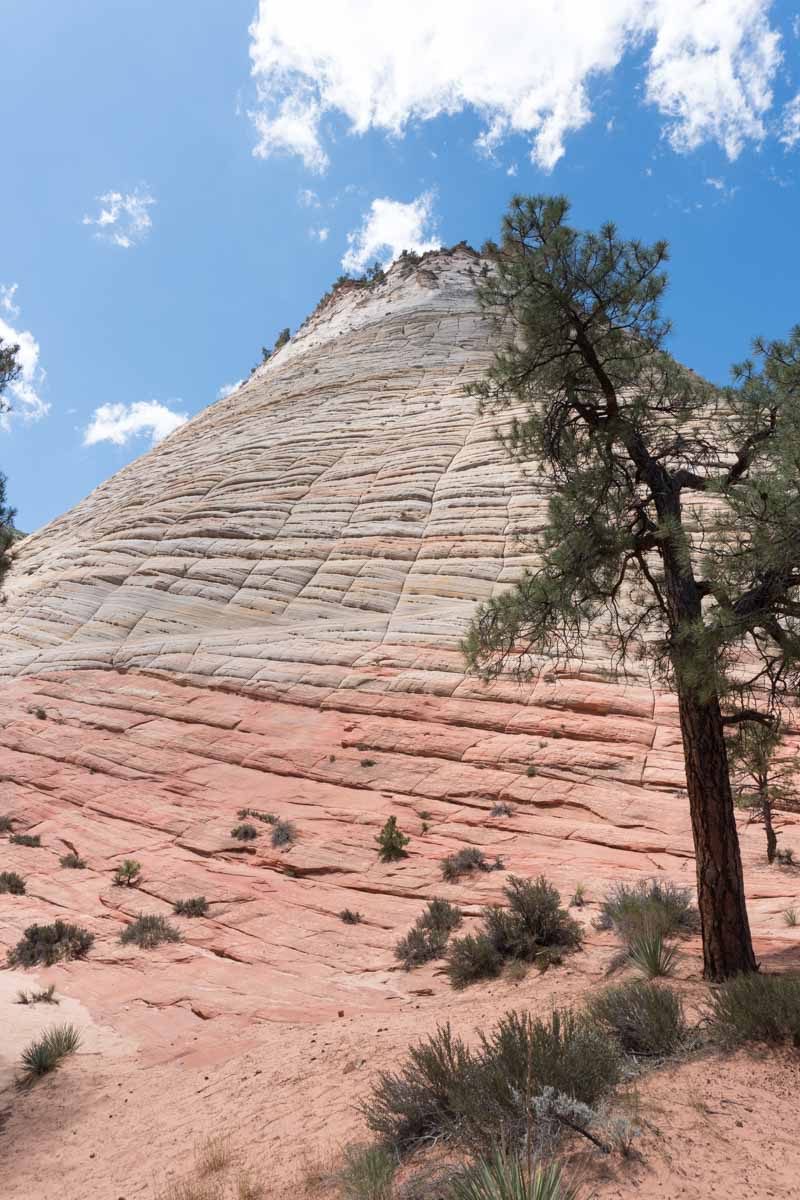 It feels a little cheaty to say that a scenic drive is one of the must-do things in Zion, but what can I say… it is!
When I say that the Zion-Mt Carmel Scenic Drive over delivers on its promise of jaw-dropping views, I mean it seriously overdelivers.
Who'd pass up the opportunity to go zig-zagging on switchbacks as you dip into the Canyon? Even when you plunge into the darkness of the long tunnel, there are carved windows to give you tantalising glimpses of the scenery.
Stop and gawk at the Checkerboard Mesa with its unique criss-crossed façade, and watch the red hills for Bighorn sheep. It's a must.
Go Stargazing in a International Dark Sky Park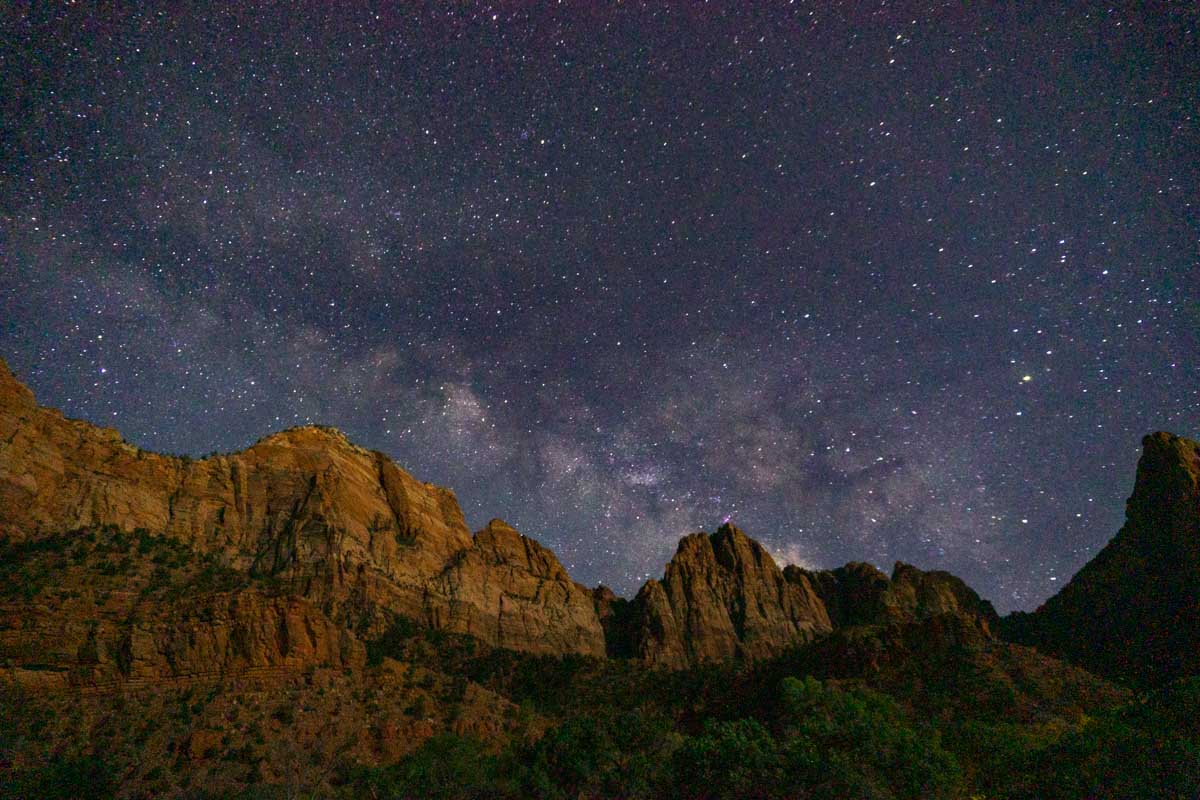 Stunning as Zion National Park is during the day, it's also just as spectacular at night, thanks to the fact that it's an International Dark Sky Park.
The crowds empty out come nightfall, leaving you with a dark sky playground lit up by the stunning vista of the Milky Way in all its glory.
The Pa'rus Trail is a good spot to hunker down and stare at the skies, as it's paved, flat and easy to navigate in the dark. Bring a camera and tripod to get brag-worthy long-exposure images like I did.
11/10 would recommend anyway.
Top Tip: Unless you're all whizzed up on your astronomy, download the Night Sky app to explain which stars and constellations you're seeing. You should also check the moon – if it's not a New Moon, try and time your trip before moonrise or after moonset for the best visibility.
Hike the Famous Narrows Trail
Along with Angel's Landing (more on that later), The Narrows is Zion's most famous hike – so you'd better pay attention.
What makes The Narrow so special? How about the opportunity to go wading through a canyon in waist-deep water? Yep.
The trail leads you on a passage through astounding water-carved cliffs clambering skyward on either side of you as the Virgin River swirls about your feet.
It's moderately strenuous and takes 7.2 km to reach Big Springs (which is amazing if you can make it that far). Overall you want to set aside about 6 hours for this trail.
Tackle the Lower Emerald Pools Trail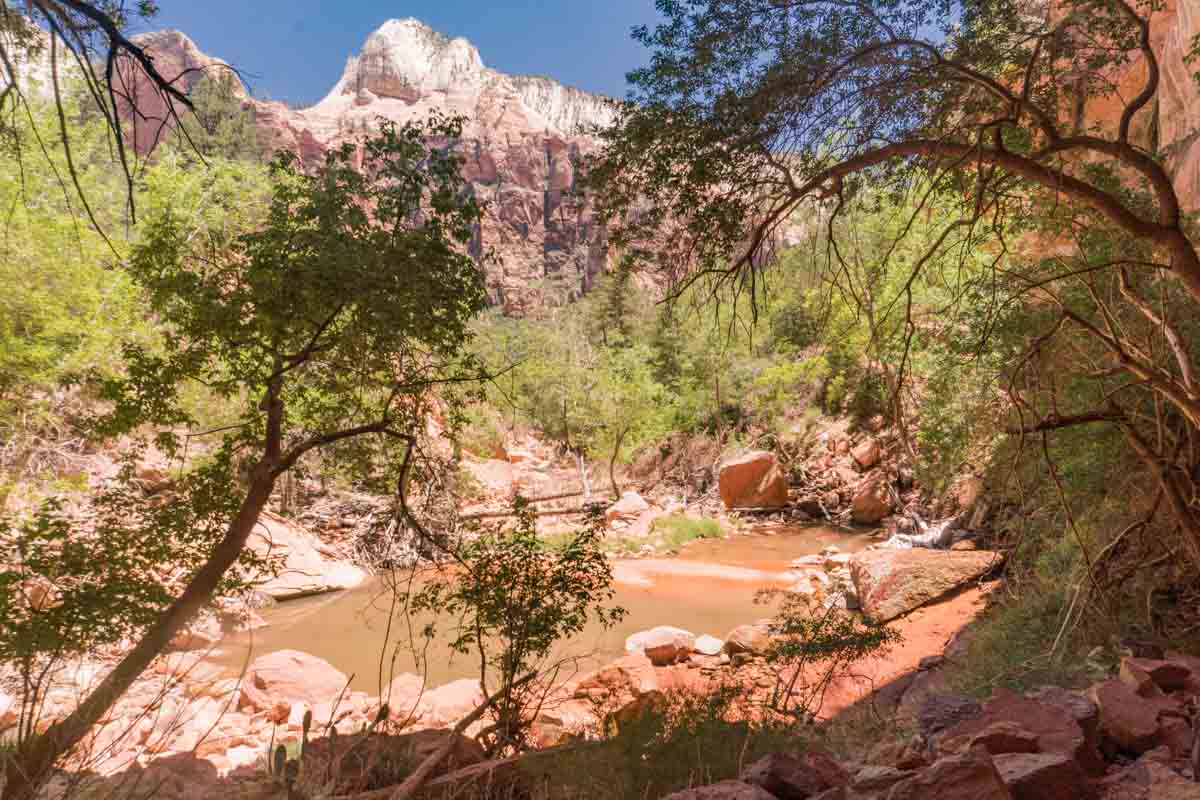 The Lower Emerald Pools Trail is the first in a series of three trails taking you to Zion's gorgeous emerald pools.
There is an upper and middle section to this trail, but the lower portion sports a special attraction—an expanse of weeping rock that is simply mesmerising. The rust-red stone sparkles from light, refracting from the tiny creeks that flow down its length and breadth, seeping into the pool below.
It's only a 1 km roundtrip on a paved trail starting from Zion Canyon Shuttle stop #5, so it's not intense, but the rewards for this short hike are great.
It's one of the best places to visit in Zion National Park in spring when the snow melt means the waterfall is at its fullest.
Top Tip: Take the shuttle to one end of the park and work your way back by hiking and taking shuttles in between. Which end you start at depends on which hikes you want to do and in which order.
Brilliant Things to See & Do in Zion National Park
Hike to Angel's Landing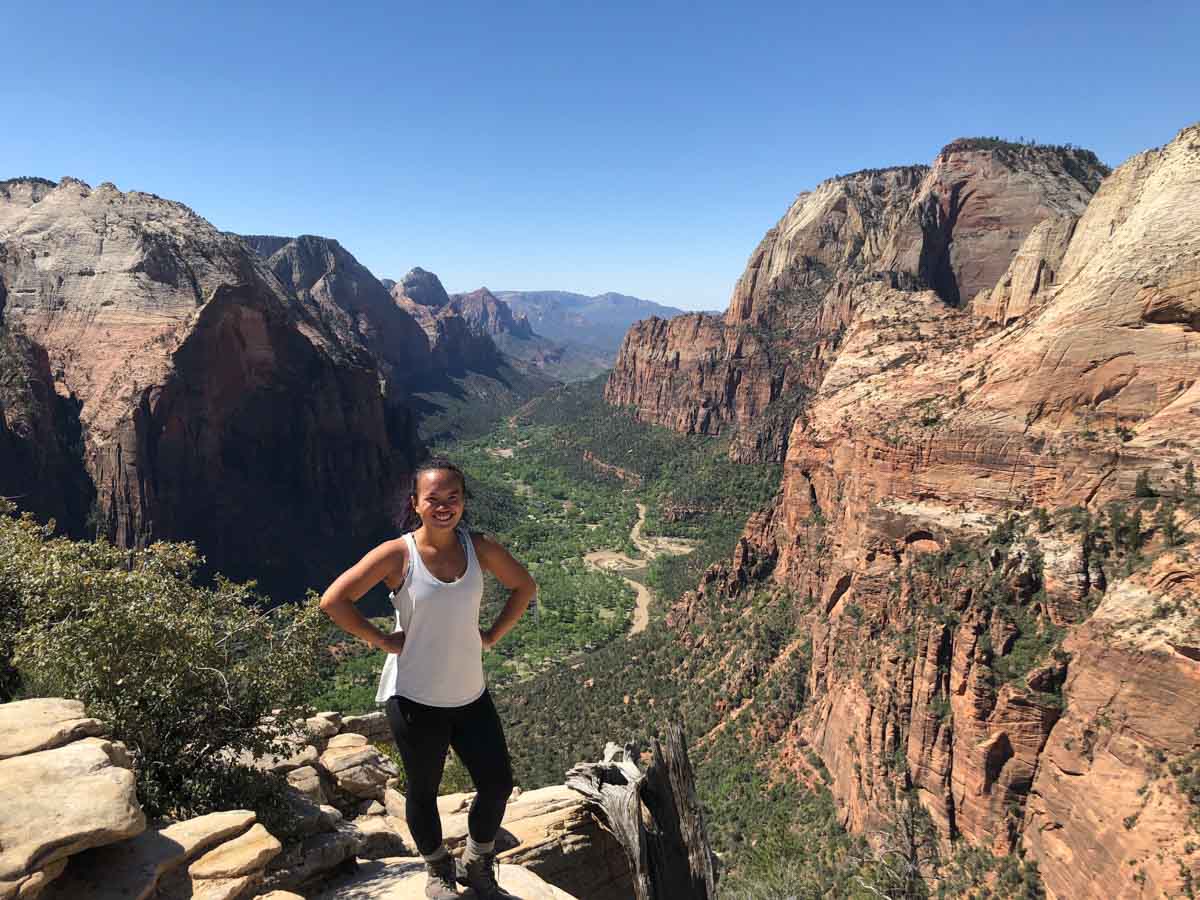 Angel's Landing is Zion's best-known trail but it's really one for the pros… and maybe the mid-level hikers who can take a gruelling 457 metre elevation gain and can shimmy along narrow exposed areas without getting vertigo. Not me then lol.
Despite its difficulty and those knee-knocking heights, it's still one of the top things to do in Zion National Park. The viewpoints are some of the most stunning the canyon has to offer, making every moment of muscle-tearing effort worthwhile.
Depending on your fitness level, you can expect to spend 3-6 hours on this 7.7 km trek.
Top Tip: Since April 2022, a permit has been necessary to do Angel's Landing.
Hike the Pa'rus Trail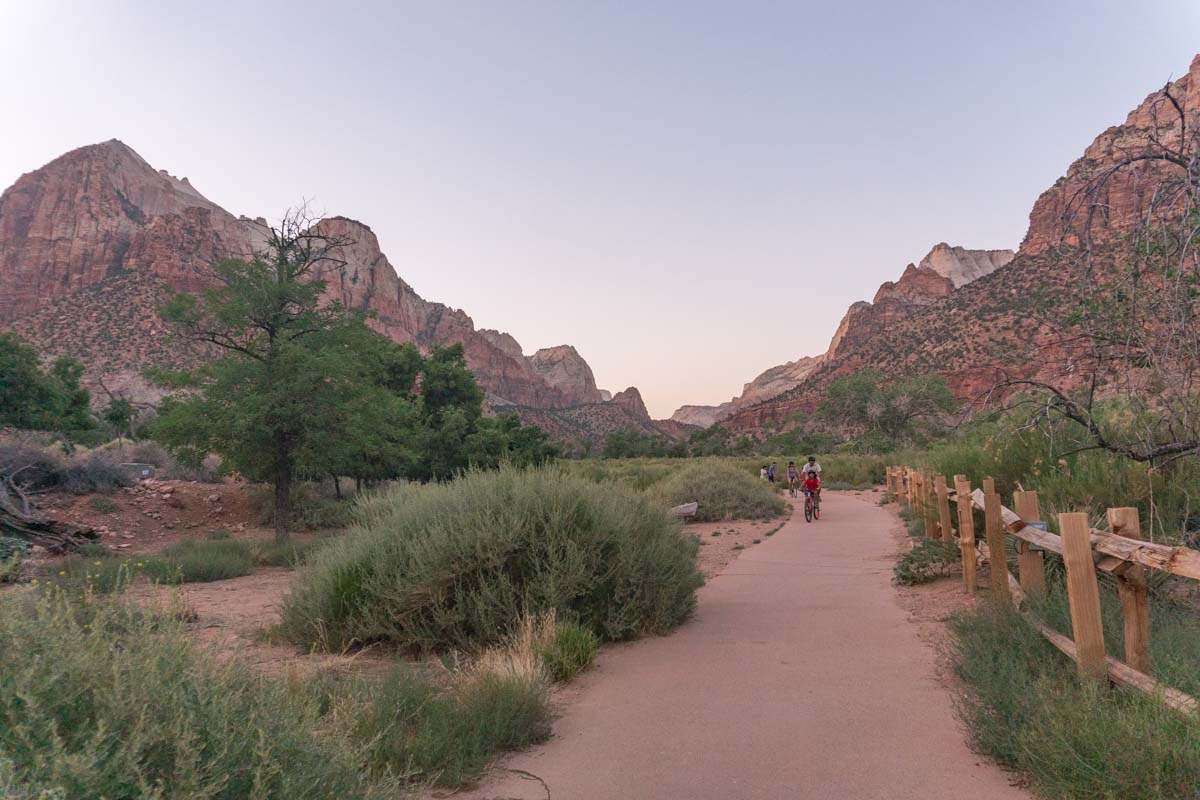 The Pa'rus Trail is a nice n' gentle trail that will ease you into the park's many (many) hikes.
Meandering alongside (and over) the Virgin River, it's a pretty hike with minimal elevation that takes you pretty much from the main car park into the heart of Zion. Wanna try something different? Hire a bike and explore the trail on two wheels instead.
On a summer day, dip in the water to cool off while enjoying the scenic wildflowers. You might even spot a mule deer, so keep a sharp lookout.
It might be a low-key 1-2 hour trek, but this introductory hike is one of the fun things to do in Zion National Park that won't leave your calves crying.
Go Canyoneering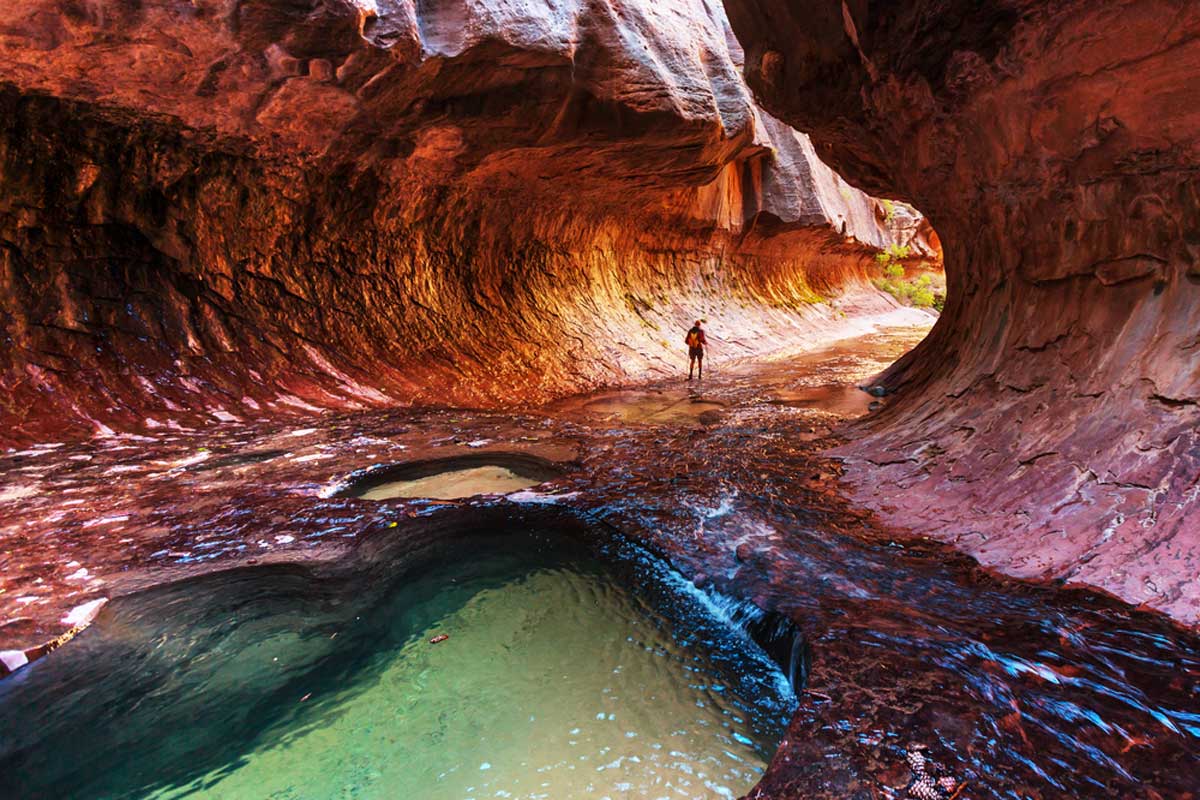 Looking for things to do in Zion National Park besides hiking? Dangling by a small rope over the open air while climbing a sheer cliff face is an adrenaline junkie's dream come true.
But even first-timers and nervous Nellies can strap on some protective gear and dangle with the best of them on this tour.
It's located just outside the park due to National Park restrictions, but before you know it, you'll be a pro at rappelling and scaling cliff sides like a mountain goat.
Book Your Canyoneering Tour Now
Admire the Court of the Patriarchs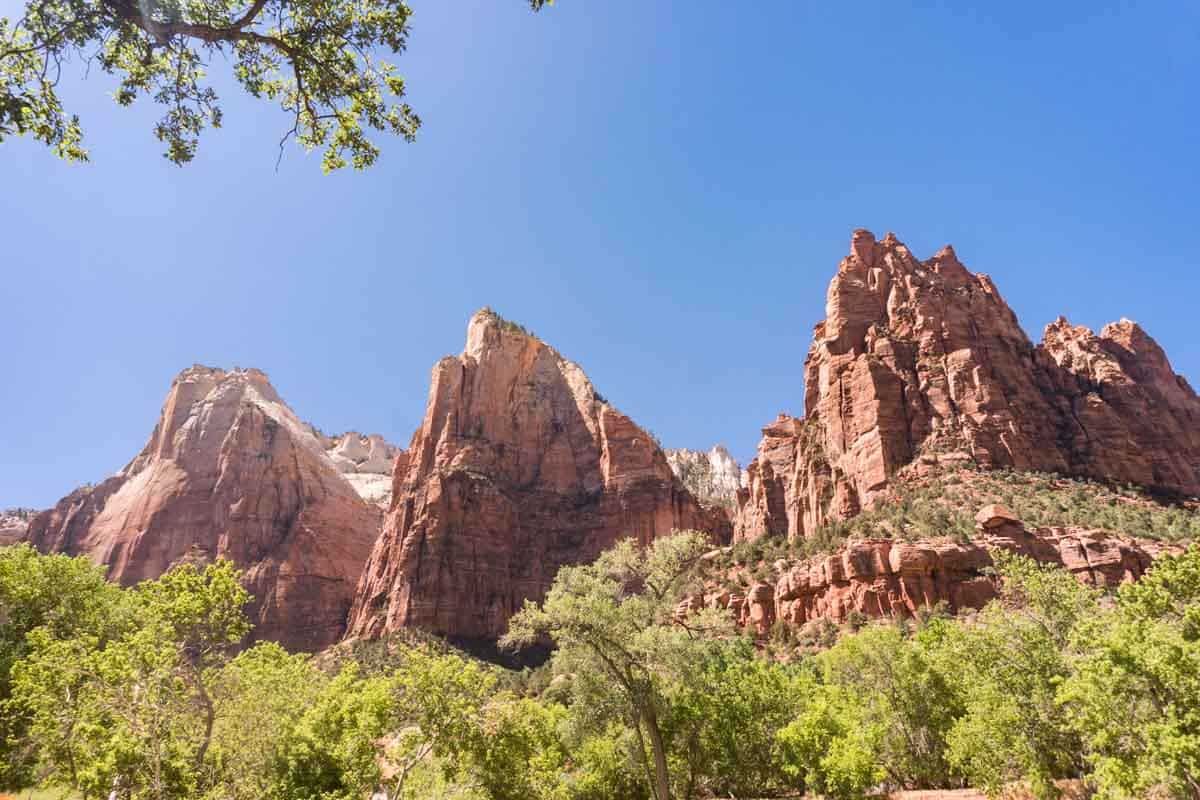 The Court of the Patriarchs – a towering grouping of sandstone cliffs named after three biblical figures – Abraham, Isaac and Jacob – is one of Zion's iconic views.
You'll no doubt catch glimpses of the Patriarchs as you adventure in the park, but if you really want to get a great view, hop off at the 4th stop on the Zion bus and walk along the short sandy trail to the Court of the Patriarchs viewpoint.
It's a short five-minute walk with a big reward.
Saddle Up on Horseback Rides
Discover East Zion from horseback with a short hike through a slot canyon thrown in for good measure. It's a fun throwback to America's Old West and one of the more unique things to do in and around Zion National Park.
Don't know how to ride a horse? This tour will sort you out, no matter your level of expertise with equines.
Alternatively, from March to October, you can ride alongside the Virgin River inside the park too.
Book Your Horse Riding Trip Here
Unique Things to See & Do in Zion National Park: Hidden Gems That are Off the Beaten Track
Stop by the Kolob Canyons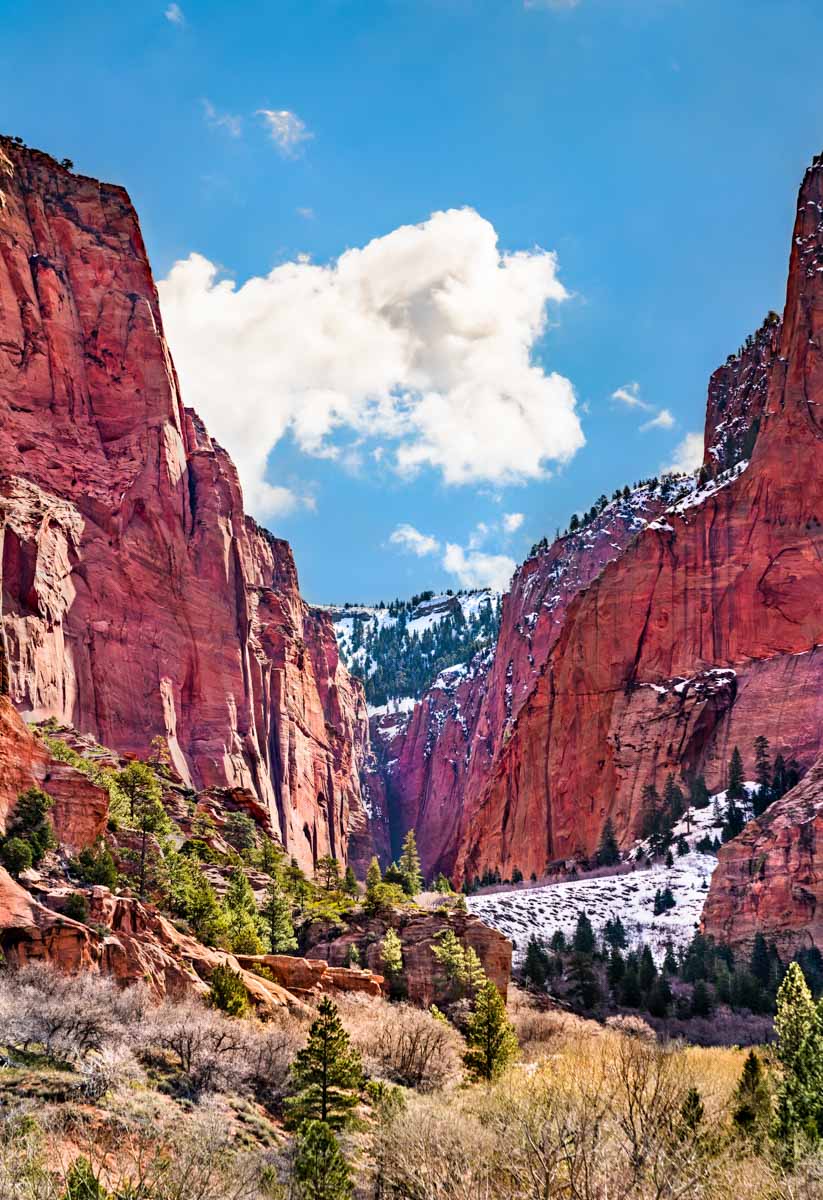 Zion is glorious and, as a result, it can get crowded. For unusual beauty and fewer tourists, the 8 km Kolob Canyons Road has plenty of strategic viewpoints to show off the incredible scenery of the deep canyons.
And yes, you can hike there too. With ten-plus trails to pick from, the Timber Creek Overlook Trail is short and sweet, and the views are wonderful. Kolob is about an hour's drive from the park's main gates.
Head to Kolob Terrace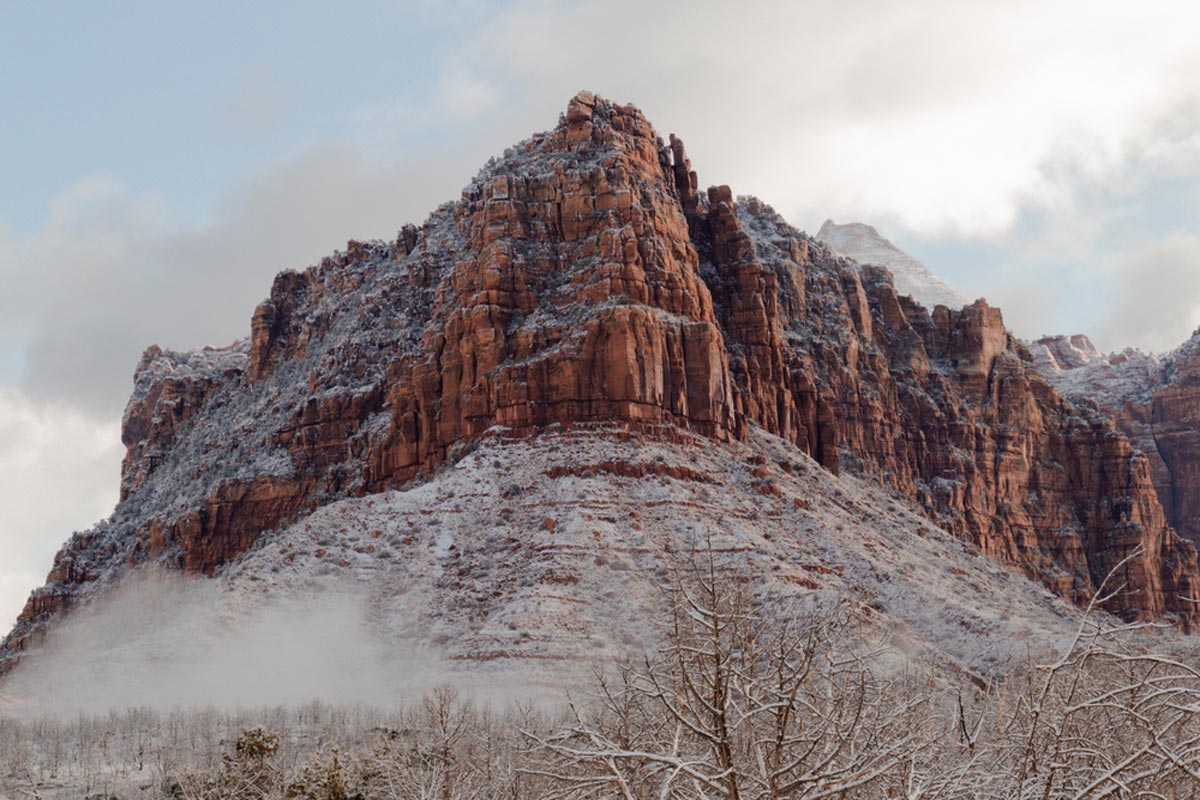 Completely uncrowded (although I can't understand why), hoodoos, volcanic rocks, grassy plains, and colourful mesas contribute to the scenery in this area of the Canyons.
One of the most picturesque spots is Lava Point, the best place in Zion to watch the sunset. This is probably one of the most underrated spots in the "best things to do and see in Zion National Park" category.
What to Do in Zion National Park: Practical Tips for Your Trip
How Long to Visit Zion National Park?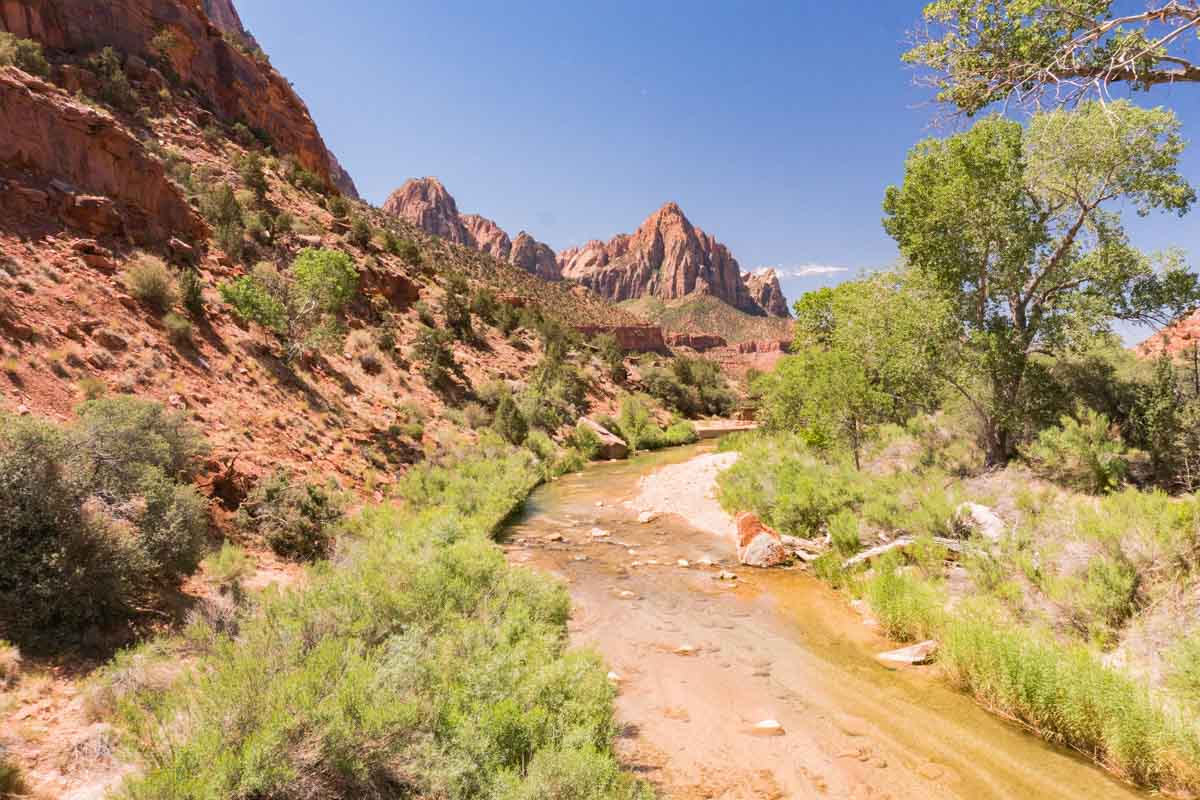 I'll level with you – it depends on how much you want to explore. You can fit in one long hike, the scenic drive, and a few shorter hikes in two days. If that's all you want to do then two days is perfect for you.
If you want to experience all of the best things to see in Zion National Park, you might need as long as five days.
Best Time to Visit Zion National Park?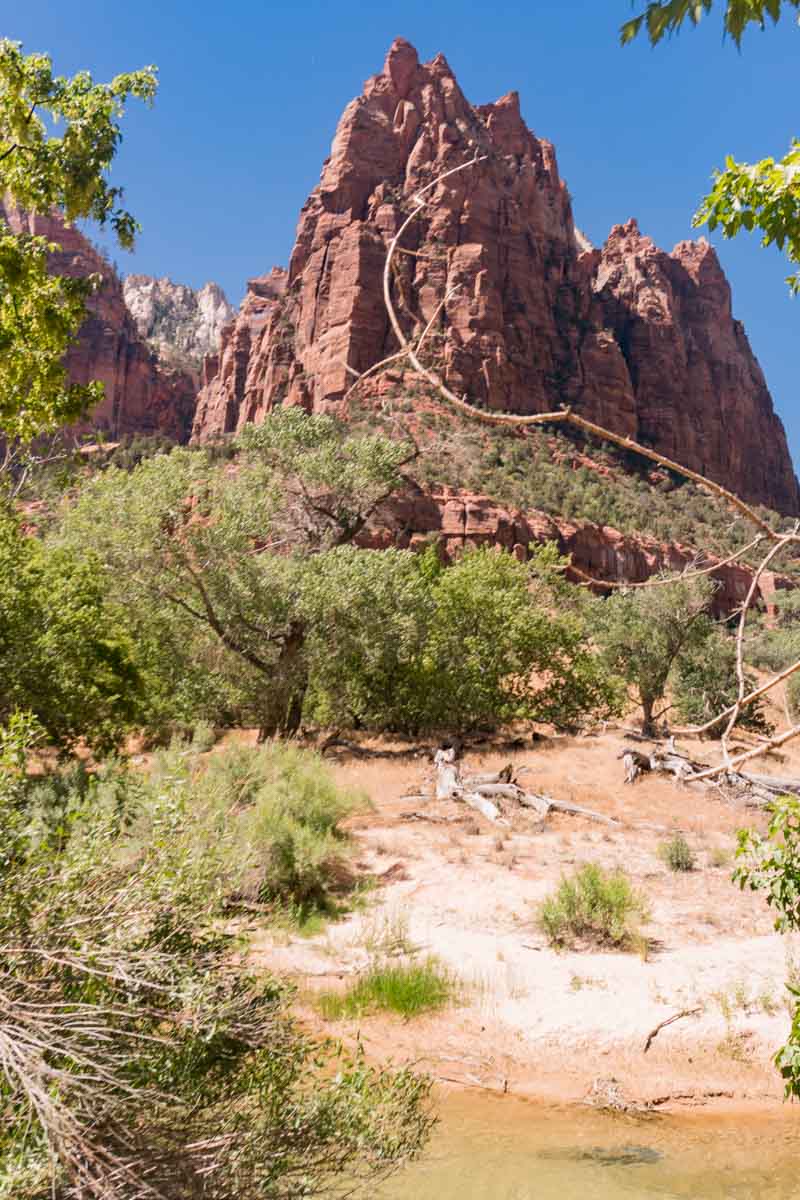 Summer is the most popular time because of basically-guaranteed good weather, but it's crowded and, quite frankly, uncomfortably hot to hike sometimes.
The shoulder months of spring and fall are wonderful as the tourists thin out and the sun doesn't boil you quite as much. Remember though that specific trails may be closed in spring due to flooding from melting snow.
Where Should I Stay in Zion National Park?
Best Western Plus Zion Canyon (Mid Range)
There are camping options at numerous campgrounds scattered inside and outside the park that support RVs and standard tents. But if you're more of a featherbed-traveller, then there's a host of options nearby Springdale, including the luxurious Best Western Plus Zion Canyon Inn & Suites.
Zion Glamping (Budget)
If you're looking for something in between a hotel and a tent, why not try your hand at a glamping experience? It's the best of both worlds. Situated in Hildale, expect mountain views and epic night skies.
How to Get to Zion National Park?
If you're flying in, the closest international airport is Harry Reid International Airport in Las Vegas. From there, it's just a rental car and 2.5 hours away.
You'll need to drive on Highway 9, the main road through Zion. If you happen to be coming from the Grand Canyon or Bryce Canyon, Highway 89 is the road you'll take.
Things to Do in Zion National Park: Map
Things to do in Zion National Park: Read Next