On the hunt for some of the most exciting Capitol Reef National Park hikes? Look no further. We've made life easier for you by rounding up fantastic treks in red rock country.
Capitol Reef National Park is a geological wonder in Utah's south-central desert. Striking rock formations, cliffs, canyons, bridges, and domes are among the natural features that make this park a must-see. Get your camera ready.
But before we get to the good stuff, we have more treats waiting for you: practical tips, maps, and essential details covering the hikes. So read on to discover the best Capitol Reef hikes.
Pssst… Looking for more things to do in Capitol Reef? Read our handy guide.
8 Best Hikes in Capitol Reef
Hickman Bridge Trail
Length: 1.67 miles
Time: 1 hour
Difficulty: Medium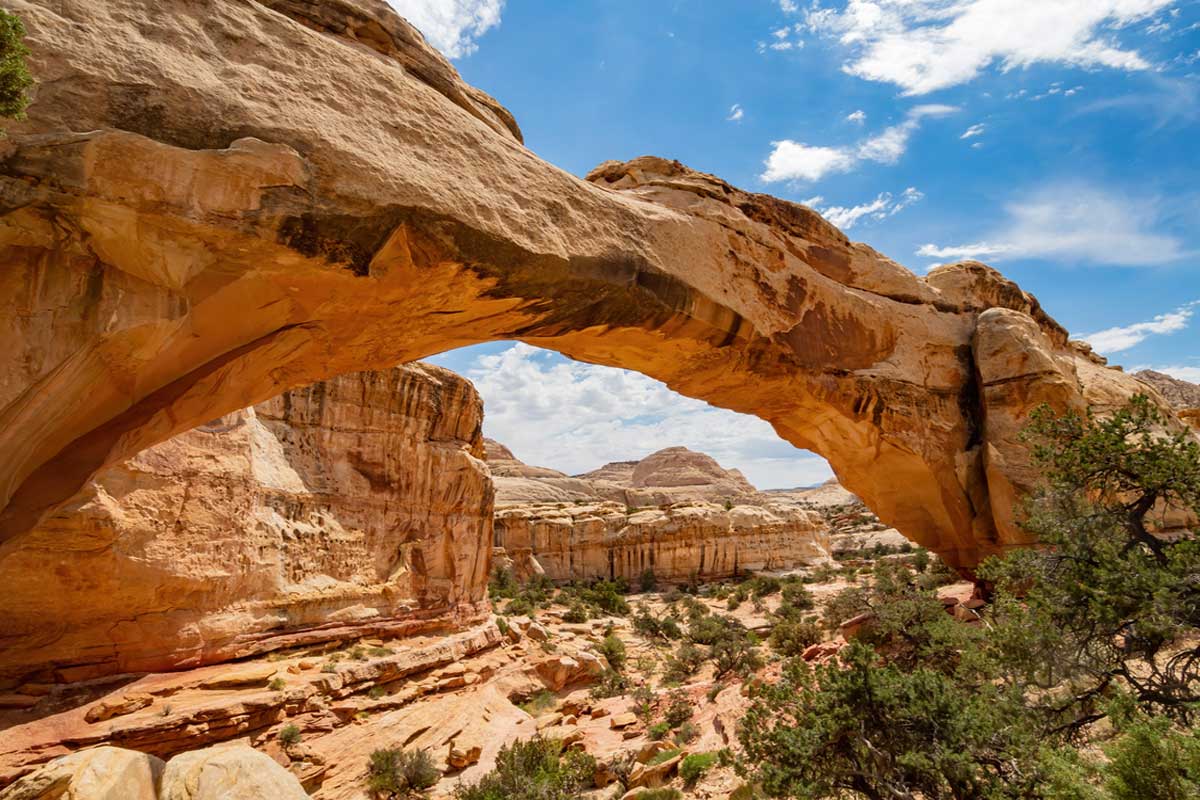 Let's kick things off with Hickman Bridge Trail, shall we?
It's regarded as one of the best hikes in Capitol Reef National Park, attracting casual hikers and runners alike. This means it can get busy here, especially from March through November, which just so happens to be when it's the best time to visit.
You can start this out-and-back trail about two miles east of the visitor center near Torrey, Utah. And, while you're not allowed to bring your pup along, the scenic views, sites, and wildlife make up for it. Keep your camera handy.
First, you'll follow along the Fremont River, and then the trail takes you down into a canyon where you can admire many natural sights. Finally, you'll end the trek in awe of the Hickman Bridge, a majestic natural arch that awaits your arrival behind the canyon.
Tip: This rocky terrain has many uphills and you also won't have much shade, so come well-prepared.
Cassidy Arch Trail
Length: 3.1 miles
Time: 1 hour and 45 minutes
Difficulty: Medium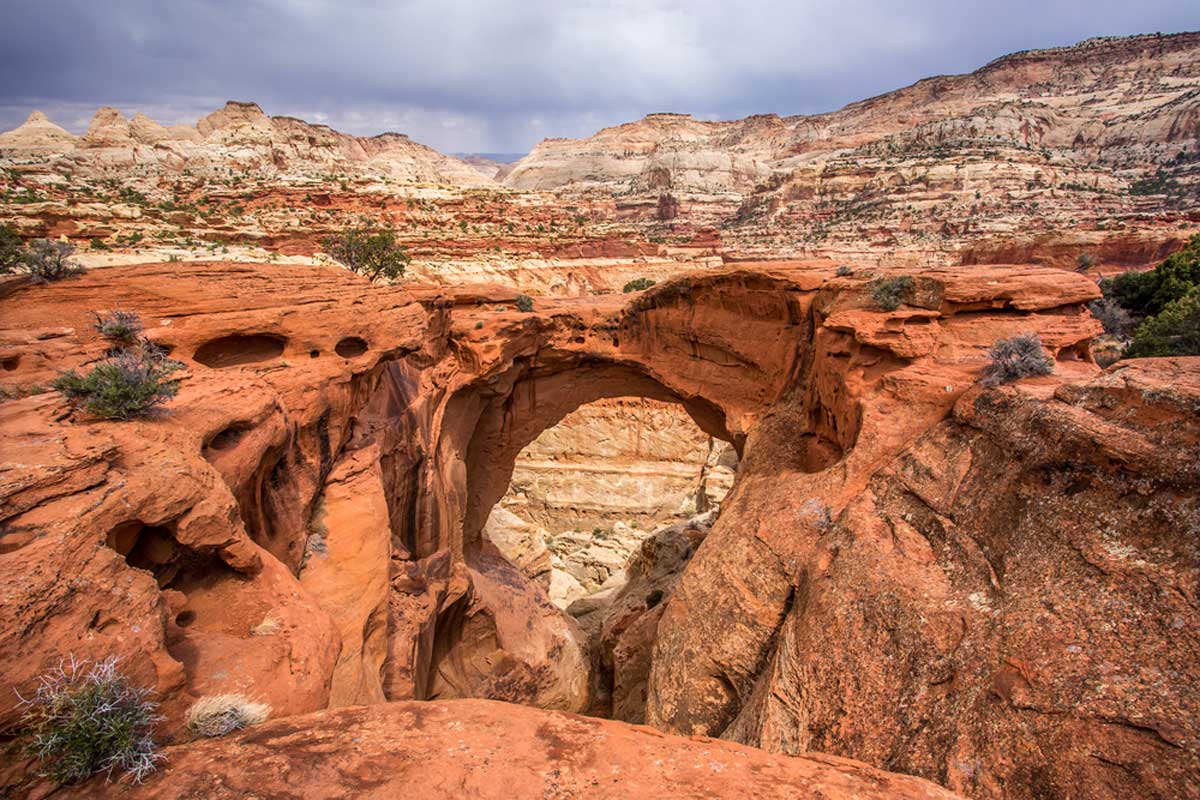 If the Hickman Bridge Trail is a little too easy for you, a slightly more challenging hike worth taking up in Capitol Reef is the Cassidy Arch Trail.
This out-and-back trail is easily accessible from Scenic Drive and rewards explorers with unique photo ops. You'll come across dreamlike terrain reminiscent of Mars, and you can gaze at Grand Wash from multiple viewpoints on this route.
And, if that's not enough, Cassidy Arch is not only a pretty rock to look at, but you can walk across it! Just remember to wear your comfiest shoes.
Like most trails in this park, dogs are not allowed. We suggest doing this hike around spring and fall when temperatures are mild, and crowds are low.
Top Tip: If rock climbing's your thing, the gigantic rocks on this trail welcome you.
Grand Wash Trail via Northeast Trailhead
Length: 4.97 miles
Time: 1 hour and 50 minutes
Difficulty: Easy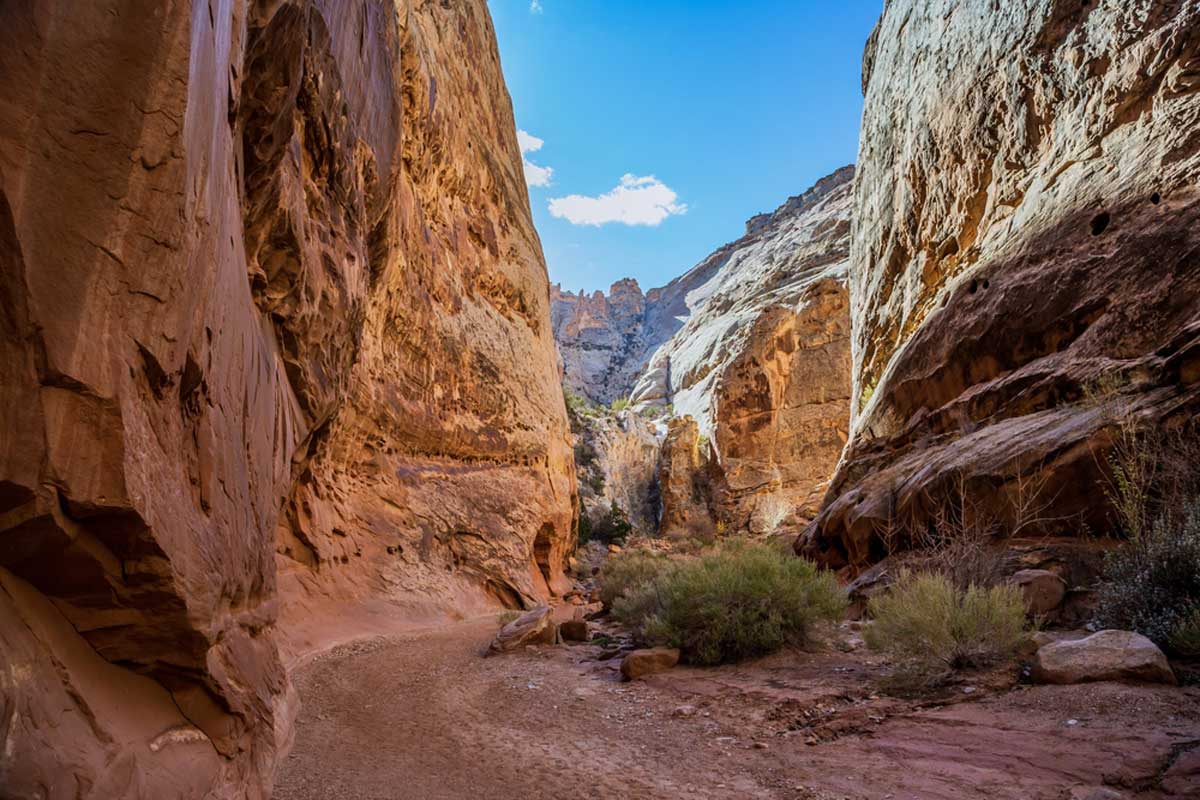 For a quick and easy introduction to Capitol Reef Park, allow us to present to you the Grand Wash Trail. Accessed by Scenic Drive, make your way for 3.5 miles to Grand Wash Road, which ends at the trailhead.
We'll level with you – it's not the most challenging hike in Capitol Reef, but the flat and tranquil conditions make for a relaxing stroll.
You'll come across many families with kids here because of how effortless it is. But don't let the simplicity of this hike fool you, as there is an abundance of wildlife spotting and striking views to admire.
It's also a great option if you are in the area during the sweltering summer months. You won't need to venture too deep, as most of Capitol Reef becomes unbearable due to a lack of shade.
Chimney Rock Loop Trail
Length: 3.29 miles
Time: 1 hour and 50 minutes
Difficulty: Medium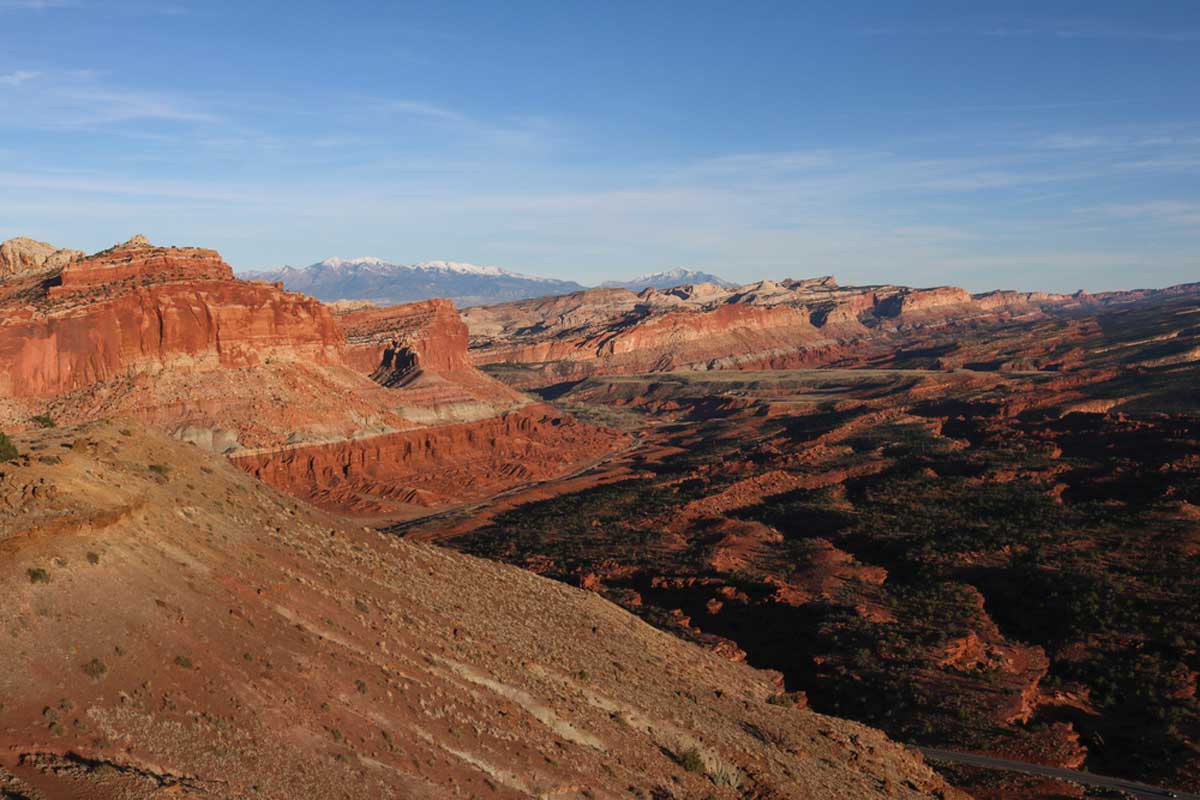 We dare you to take on this short yet challenging loop at Chimney Rock Trailhead, near Sedona. The Chimney Rock loop weaves its way along the edge of Sedona and offers an incredible side trip to the summit of Little Sugarloaf Mountain.
Once you've reached the summit, panoramic views of Sedona will gladly embrace you, and to sweeten the deal, catch the sunset here.
That's not all for this trek. As you continue, you'll feel yourself ascending higher. After some treading, you'll catch a glimpse of Chimney Rock (a natural spire standing 300 ft above ground) then you'll make it to the top of Mummy Cliff.
Finally, the loop will take you right back to the starting point.
Tip: We recommend making this loop counter-clockwise and in Mid-October for the best conditions and surroundings.
Cohab Canyon Trail
Length: 2.9 miles
Time: 1 hour and 40 minutes
Difficulty: Medium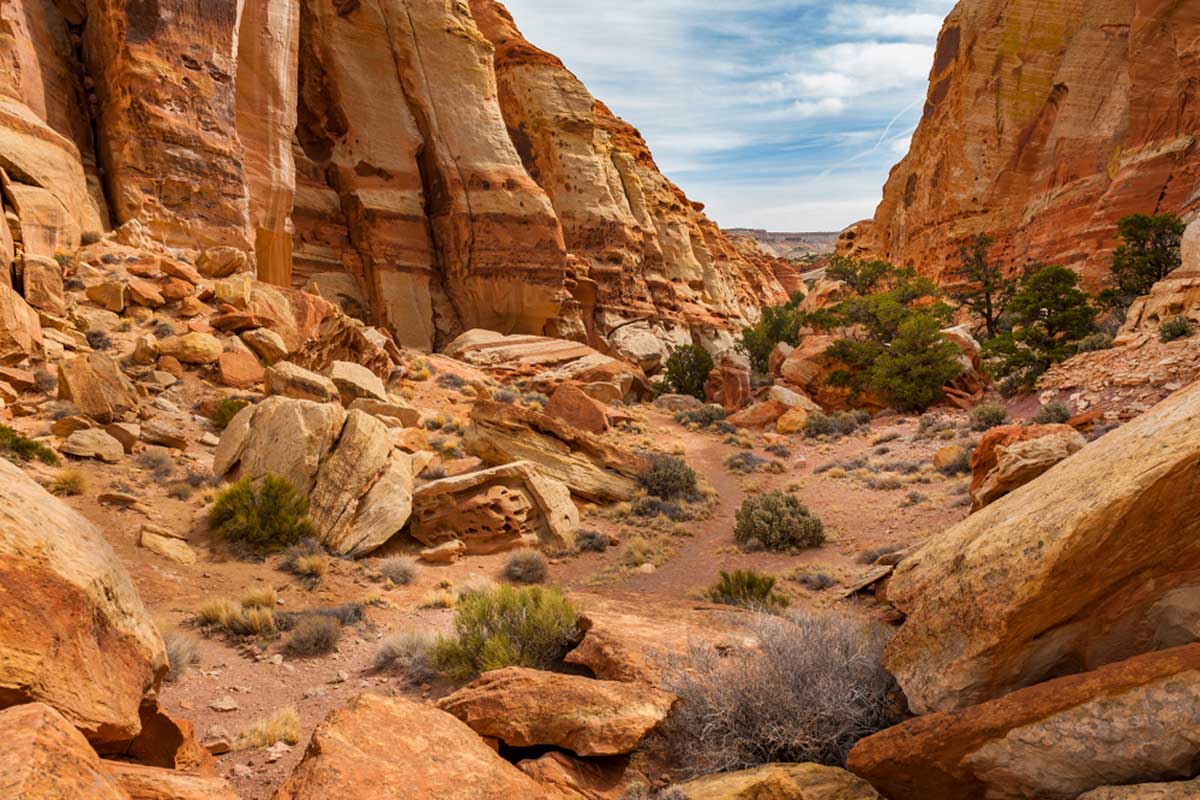 Cohab Canyon sits snugly on top of the Waterpocket Fold, offering stunning views and exciting climbs.
You'll find this hike at the southwest trailhead above the small historic town of Fruita, famous for its gorgeous orchids. You'll also find the Fruita camping grounds nearby, which is perfect for a night under the stars.
The trail starts with a moderately challenging climb up and along the Waterpocket Fold. Then it descends into the hidden walls of the lower Cohab Canyon (where sweaty hikers can find some much-welcomed shade).
Along the way, you can take in the breathtaking scenery of Fruita and the surrounding landscape from two stellar viewpoints. Bring your photography A-game, you'll likely spot a few birds along the way, such as the golden eagle, the pinyon jay, and several other species.
Navajo Knobs Trail
Length: 9 miles
Time: 5 hours
Difficulty: Hard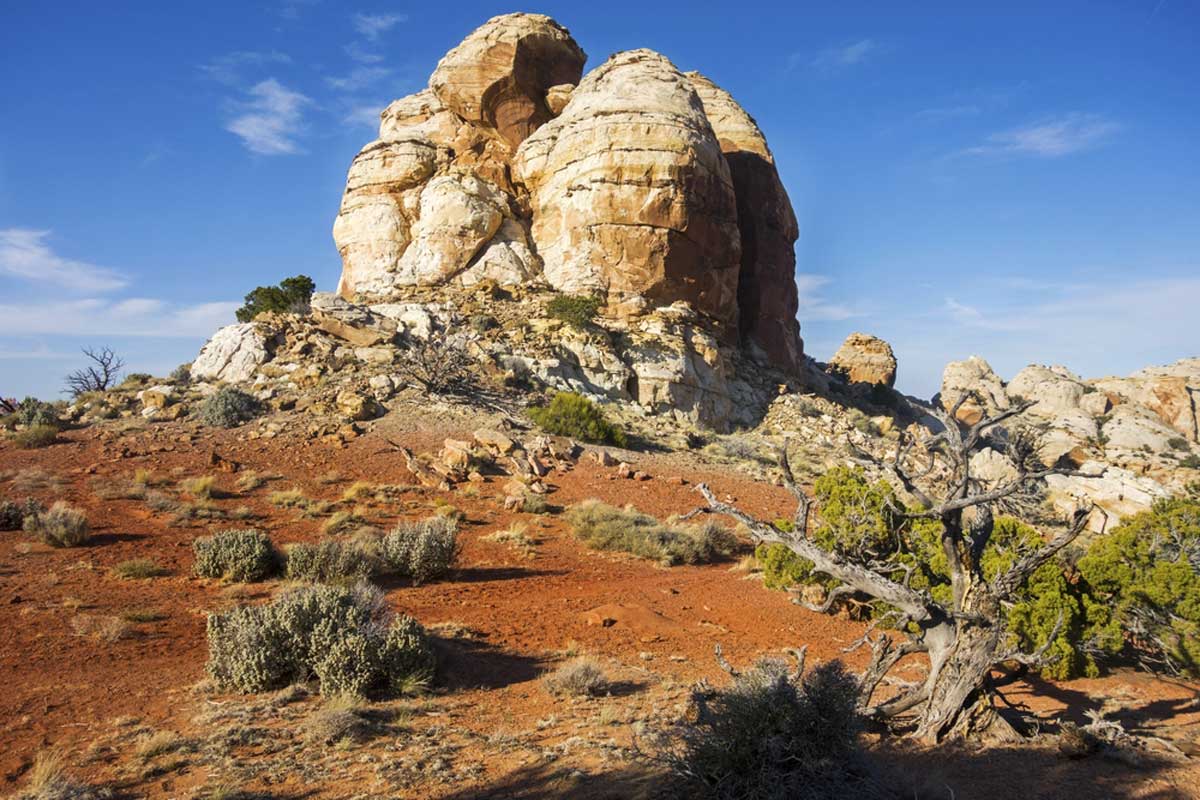 Ready to up the ante? Take on this strenuous hike that'll have your muscles sore for days after. A five-hour hike is no joke, and there's almost no shade, so bring more than enough water, snacks, and sun protection.
Although challenging, the rewards are worth it. This is one of the best hikes Capitol Reef National Park offers for advanced hikers.
Some of these rewards come from jaw-dropping views over Fruita and an undeniably scenic route filled with beautiful rock formations. Come in October for optimal weather conditions, and wear sturdy hiking shoes as you can expect a bit of scramble.
Note: It's best to hike the Navajo Knobs early in the morning. Visiting during a highly congested time means people start parking on the sides of the road, creating unsafe conditions.
Rim Overlook Trail
Length: 4.28 miles
Time: 2 hours and 30 minutes
Difficulty: Medium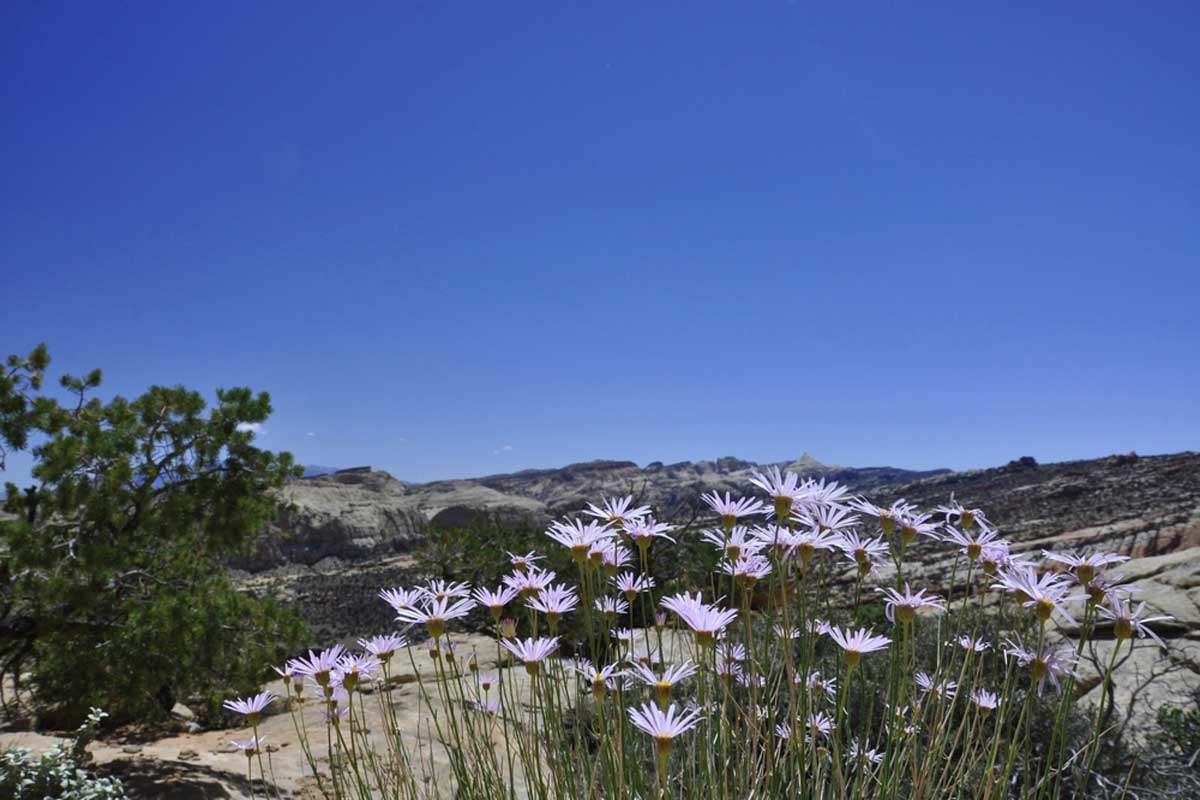 The Rim Overlook Trail boasts a reputation as one of the best things to do in Capitol Reef.
Located in the heart of Utah's Mighty Five, this trail offers favorable conditions that most visitors relish. It's not too challenging, yet you'll be able to spend almost 3 hours enjoying the fruits of your labor.
The trailhead is easy to find near the visitor center. We must warn you: Brace yourself for a steep ascend at first. Then after climbing a few steps and hopefully not feeling too tired out, you'll face the Rim Overlook.
This incredible viewpoint is the reason for doing this hike and probably the most unforgettable way to see the vast Capitol Reef area.
Sulphur Creek Waterfall Hike
Length: 1.67 miles
Time: 38 minutes
Difficulty: Easy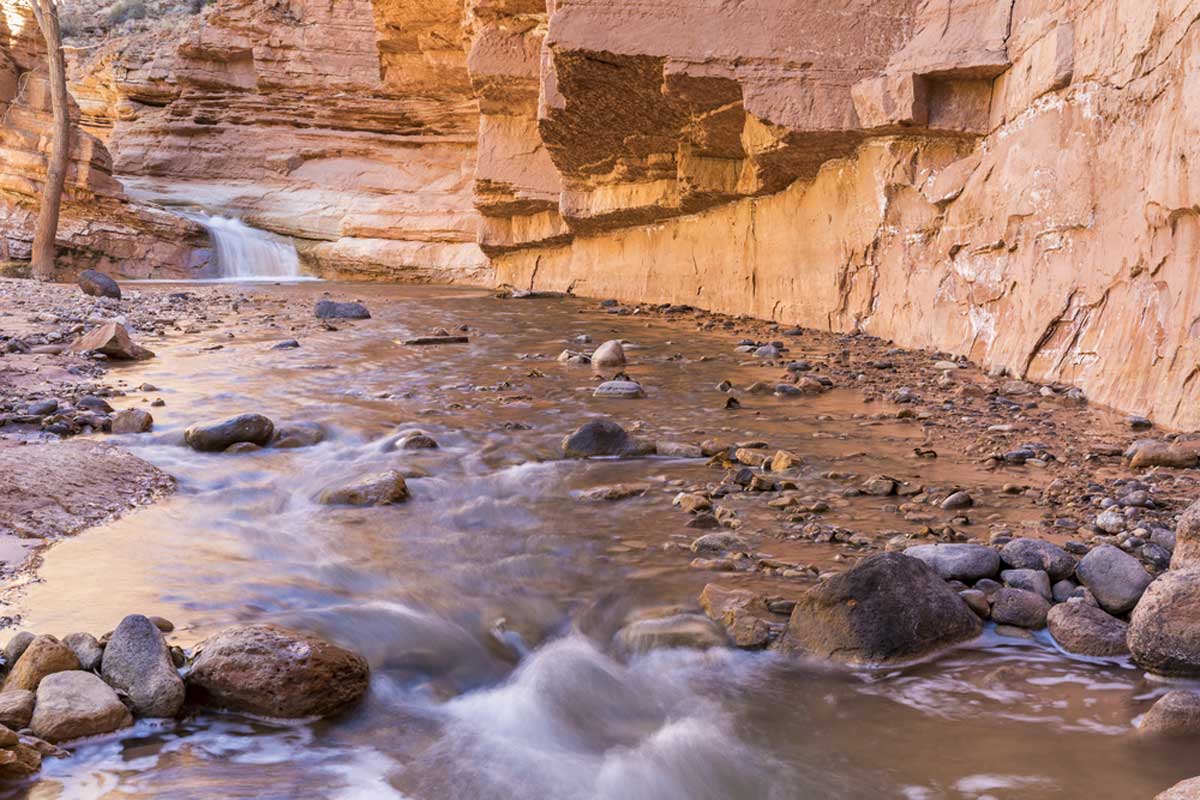 In need of a quick walk to clear your mind? A Sulphur Creek Waterfall hike will treat you to that and more. As the name suggests, there's a waterfall waiting for you on this trail. The calming sound of water trickling down rocks offers an even bigger dose of meditation.
Slightly rocky and running low on shade, this hike remains a walk in the park (get it?). You'll find the start at the visitor center, and the trail continues along a creek. We recommend wearing water shoes for this one, as things are about to get muddy.
However, nothing should stop you from kicking off your shoes and splashing about in the water if the sun is out. Both the canyon and waterfall on this trail will provide you with lovely waters to cool down.
Capitol Reef Hikes: Practical Tips
Prepare well for your trip. This includes wearing the right gear, having snacks and water, and, most importantly, doing the necessary research before hiking a specific Capitol Reef trail.
Flash flooding and unbearable heat can be a source of trouble at certain times of the year. Knowing the weather conditions helps in choosing when to go.
Many wildlife calls this park their home, meaning you'd have to be on high alert. Black bears, mountain lions, and yellow-bellied marmots are among some animals that could pose a threat.
Capitol Reef National Park does charge entry fees, but you can check this website to find more information on the costs and passes.
Best Capitol Reef Hiking: Map
Capitol Reef Hikes: Read Next