Heading to one of Utah's hidden gems? Then you'll need a guide on where to stay. Here's an insider's look at the best hotels in Capitol Reef National Park.
Nobody loves an underdog quite like us. Always the last pick of the bunch but so deserving of the first place that it's almost criminal. In this category falls Capitol Reef National Park.
Now you might think, "But it's one of the Mighty Five of Utah's National Parks, are you crazy?" We might very well be. Crazy over the best Capitol Reef National Park hotels, that is.
So why don't you get packing, and leave the accommodation finding to us? Queue excitement in three… two… one…
Best Hotels in Capitol Reef National Park: At a Glance
Best Hotels in Capitol Reef National Park
Capitol Reef Resort
££
Torrey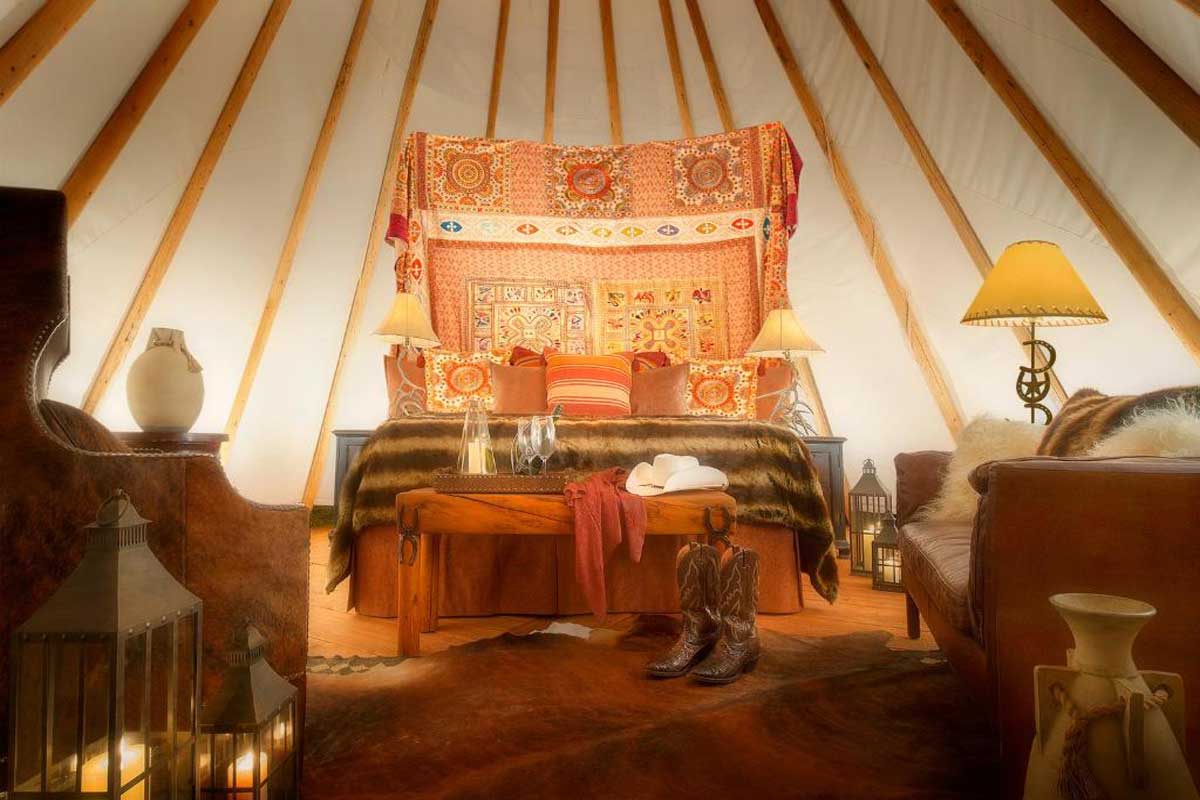 Officially the last accommodation option before you reach Capitol Reef's entrance, the Capitol Reef Resort sits pretty as our best overall pick. If you're looking for the closest property to the park that won't break the bank ‒ this is it.
There's a range of room types, from standard hotel rooms to air-conditioned teepees and even striking Conestoga Wagon suites. In keeping with the general aesthetic of the region, you'll find southwestern-style design features throughout.
On-site is an aptly themed restaurant that serves breakfast and dinner daily. While those of you looking for some relaxation can head to the outdoor heated pool and hot tub. All of this is set against the backdrop of the Red Canyon Cliffs under starry skies.
Red Sands Hotel
£££
Torrey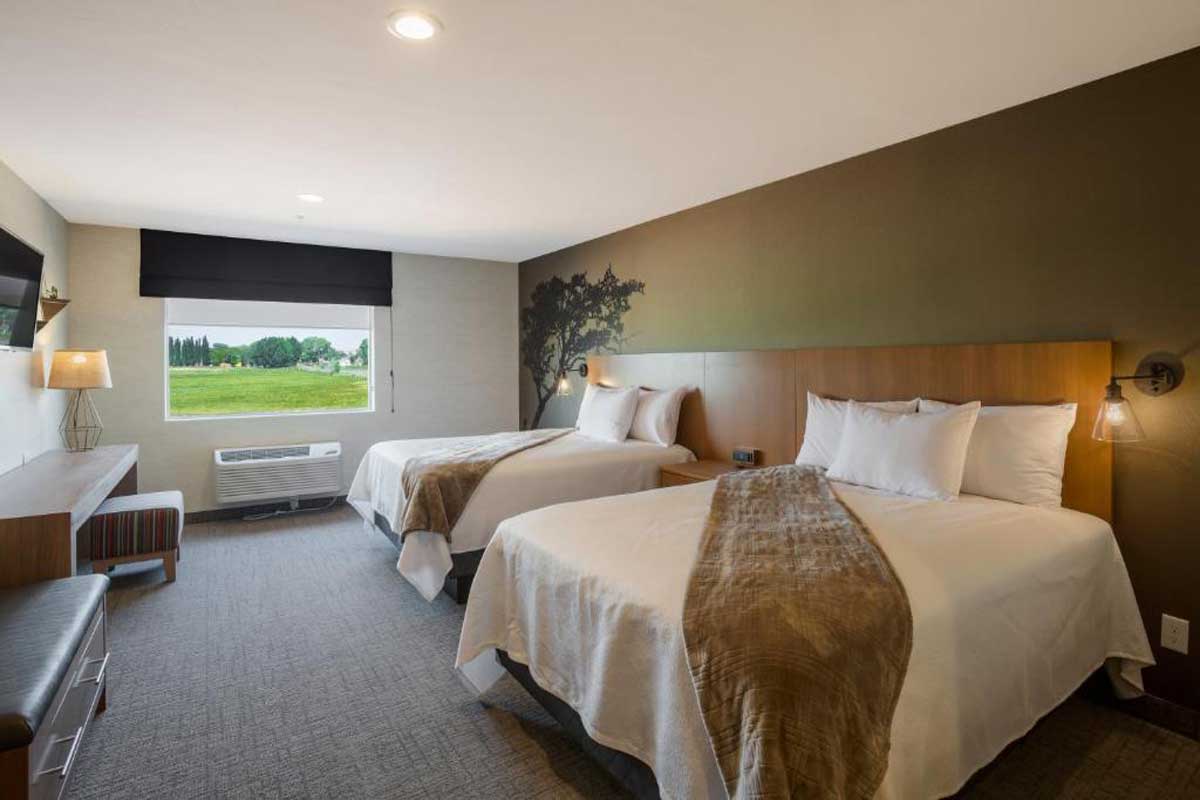 One of the best hotels near Capitol Reef National Park; the Red Sands Hotel is both convenient and luxurious. Sitting east of central Torrey, it's everything you could want from a relaxing higher-end option in the area.
About 4 miles from the park entrance, it has an undeniable country feel and atmosphere. A newer kid on the block, this 35-room hotel showcases a more modern take on vacation accommodation. But that doesn't mean it sacrifices any of its charm.
The Rock Garden Eatery and Bar is on-site if you've mustered up a hungry stomach. Then there's a range of other amenities, including an outdoor pool and wellness center. But a standout is its unique stargazing deck, open to all guests year-round.
The Noor Hotel
££
Torrey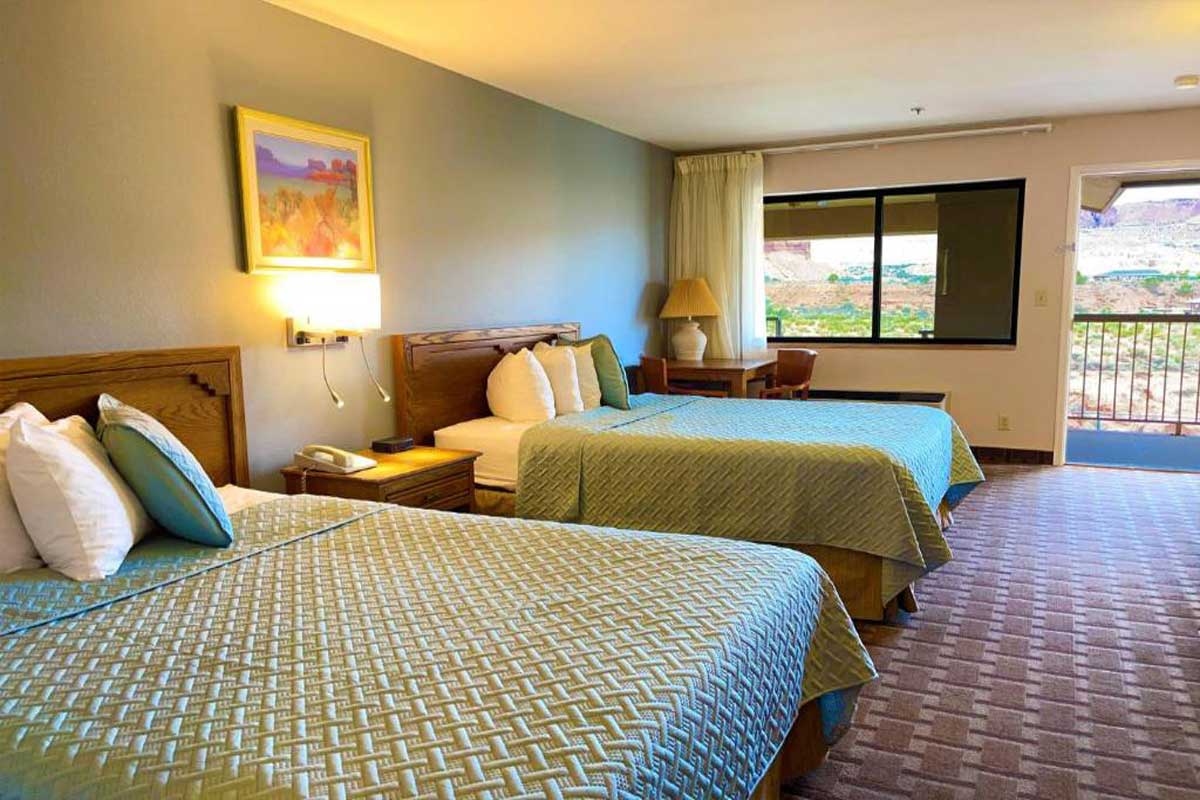 Now, when it comes to budget-friendly lodging near Capitol Reef National Park, our recommendation is always The Noor Hotel. It's close to the park at just under 3 miles away, and other local attractions, such as the Goosenecks Overlook, are about 10 miles from the hotel.
Here you have a wide choice of room types, from standard rooms to deluxe rooms with stunning views of the surrounding mountains. The 40 rooms are each individually decorated and well-equipped with en-suite bathrooms.
While this hotel doesn't offer many amenities like a pool or wellness center (who cares – you want to explore, right?), it features an on-site convenience store and restaurant. La Cueva is a traditional Mexican-inspired restaurant that serves lunch and dinner.
Cougar Ridge Resort
£££
Torrey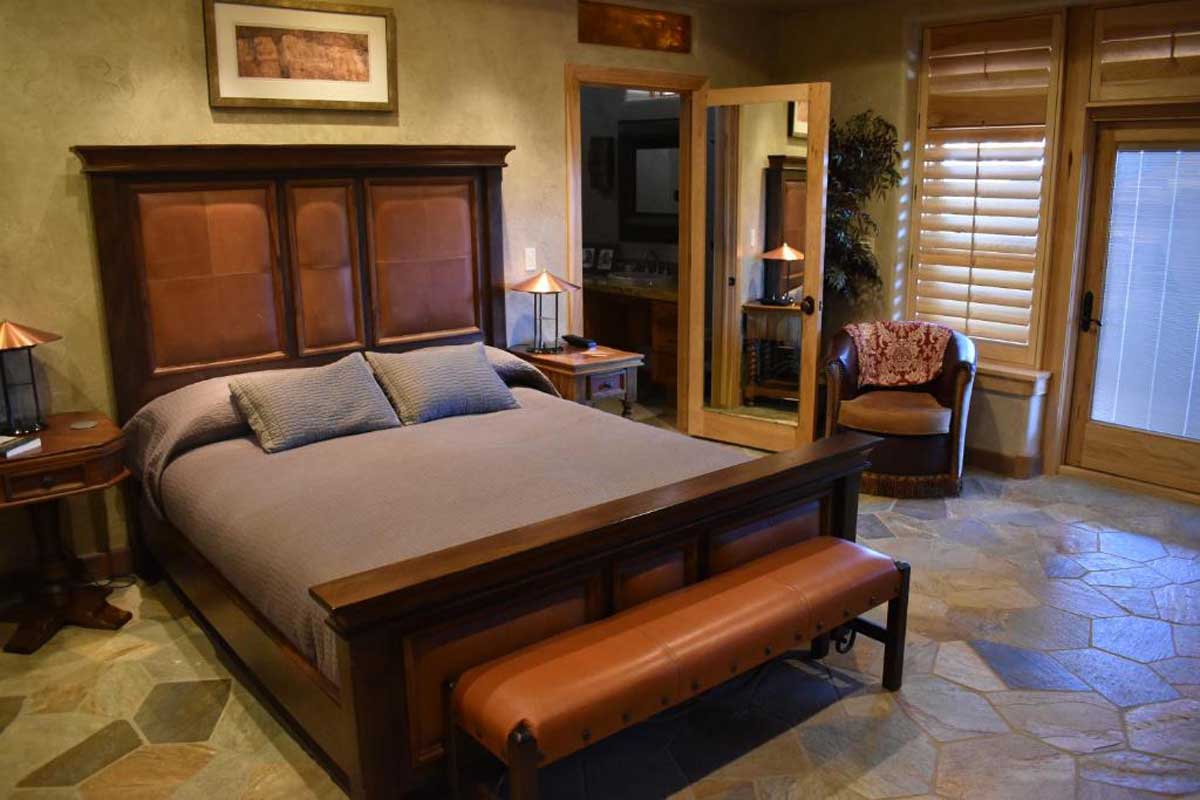 The Cougar Ridge Resort is another excellent place to stay – especially if you're looking for higher-end Capitol Reef National Park accommodation.
Featuring only 18 guestrooms, Cougar Ridge is a prime choice if you want some seclusion while taking in the expansive views around the property. Rooms feature individual styling and furniture, as well as the comfiest beds known to man (or woman).
At the same time, opulent touches such as Egyptian cotton sheets and designer complimentary toiletries highlight its up-market qualities. Standout features include a spa lounge, yoga classes, and pet-friendly rooms.
Broken Spur Inn
££
Torrey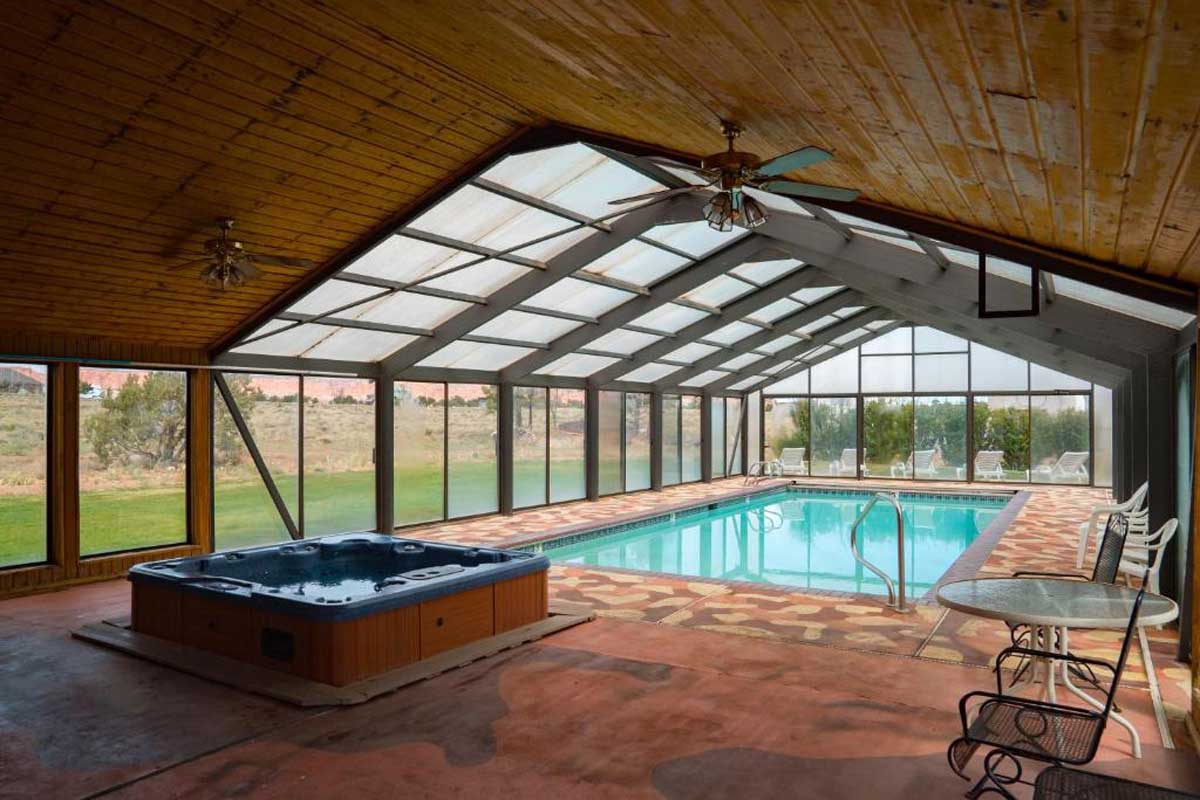 One of the more distinctly Western-themed hotels near Capitol Reef National Park, the Broken Spur Inn, is a stellar choice for your trip. It's a short 5-minute drive from the park and has an impressive list of facilities.
Its 50 spacious rooms showcase genuine Western design stylings in muted tones of beige and brown. Though it's not all old-fashioned, as you'll be glad to hear that rooms boast air-conditioning, flat-screen TVs, complimentary Wi-Fi, and mini-fridges.
You'll find an indoor pool, hot tub, and fitness center on the grounds, all housed underneath an atrium ceiling. But its premier attraction is the Broken Spur Steakhouse. Specializing in steaks, seafood, and pasta, it also serves a daily breakfast, which is included in your room rate. So fill yer' boots and get ready to explore.
Days Inn by Wyndham Capitol Reef
£
Torrey
Although the Days Inn by Wyndham isn't a hotel in Capitol Reef National Park; it certainly is one of the best options closeby. Sitting on the edge of the town of Torrey, you'll love it for its convenient location (4 miles to the park) and cheap price tag.
Rooms are spacious and decorated in warm tones while featuring staples you can expect from a property in its price range. There's complimentary Wi-Fi throughout the property, and each room has an en-suite bathroom stocked up with toiletries.
The Days Inn boasts an in-house cafe, restaurant, indoor swimming pool, and spa. But what really makes this a superb option is its proximity to hiking and other outdoor activities, with Slot Canyon just 5 minutes away.
Best Hotels in Capitol Reef National Park: Frequently Asked Questions
What is the Best Area to Stay in Capitol Reef National Park?
The small town of Torrey is the best place to stay when visiting Capitol Reef National Park. It's closely located near the main entrance and features the most accommodation options for any visit to the park.
How Long Should I Stay in Capitol Reef?
Thanks to its relatively compact size, it's possible to explore the best Capitol Reef offers in 2 to 3 days. However, seeing that there are numerous other attractions around Capitol Reef, if you plan to visit any of these, you can still get the best of the park in 1 day.
Does Capitol Reef get Crowded?
Depending on when you visit, crowd sizes fluctuate quite a bit. In summer, you can expect larger crowds, but during winter, these numbers drop.

Although Capitol Reef doesn't see the same visitor numbers that Bryce Canyon, for example, sees during summer, it can get somewhat crowded.
Practical Tips to Consider Before Booking Your Capitol Reef Hotel
Although smaller than other parks in the state, there is a lot to do in Capitol Reef. So use our guide to the best things to do in Capitol Reef National Park to help you plan.
It's always a good idea to book your accommodation as far in advance as possible. Most properties in Torrey fill up rather quickly, so use tools like Booking.com to make locking down your home-away-from-home easier.
Keep a close eye on the weather when planning your trip. It gets blisteringly hot in summer, while in winter, the temperatures drop below freezing and you can expect snow.
Capitol Reef Hotels: Read Next