Don't miss this guide to where to stay when visiting Capitol Reef National Park. We've got you covered when it comes to accommodation and lodgings in and around one of Utah's lesser-known national parks.
Capitol Reef National Park might be the quietest and smallest of Utah's Mighty Five, but do not underestimate its beauty. This stunning park is in the state's south-central desert and boasts unique natural landscapes.
This Utah gem will leave you in awe, from the dramatic red rock formations and hidden slot canyons to the striking Waterpocket Fold.
But before packing your bags and hopping on the next flight, make sure you check out these excellent places to stay near Capitol Reef National Park.
Best Places to Stay in Capitol Reef National Park: At a Glance
Where to Stay in Capitol Reef National Park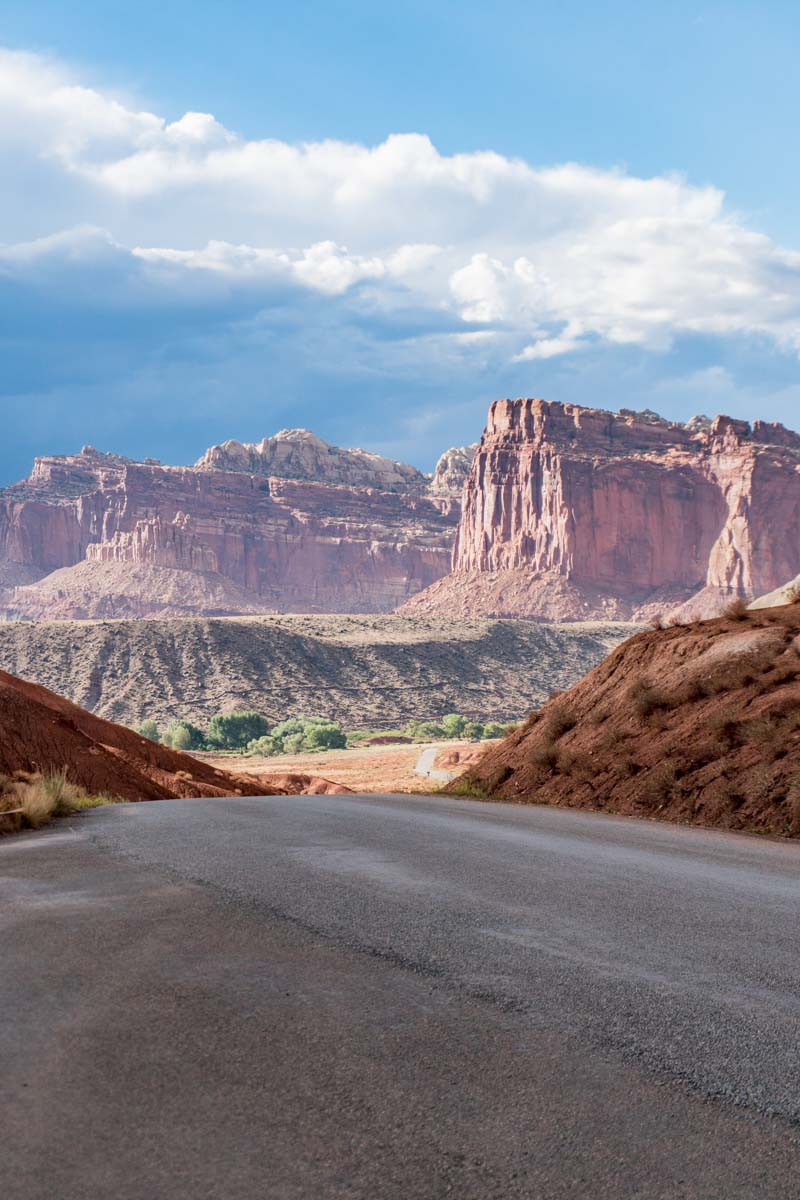 As one of the designated International Dark Sky Parks in the U.S., Capitol Reef is an excellent place for stargazing. Camping sites within the park, like Fruita, Cathedral Valley, and Cedar Mesa campgrounds, are popular with astrophiles (those are star-lovers, FYI), and the spots get filled relatively quickly.
While there aren't any hotels or lodges within the park, you'll find plenty of alternative places to stay near Capitol Reef National Park, Utah.
Torrey: Where to Stay Near Capitol Reef National Park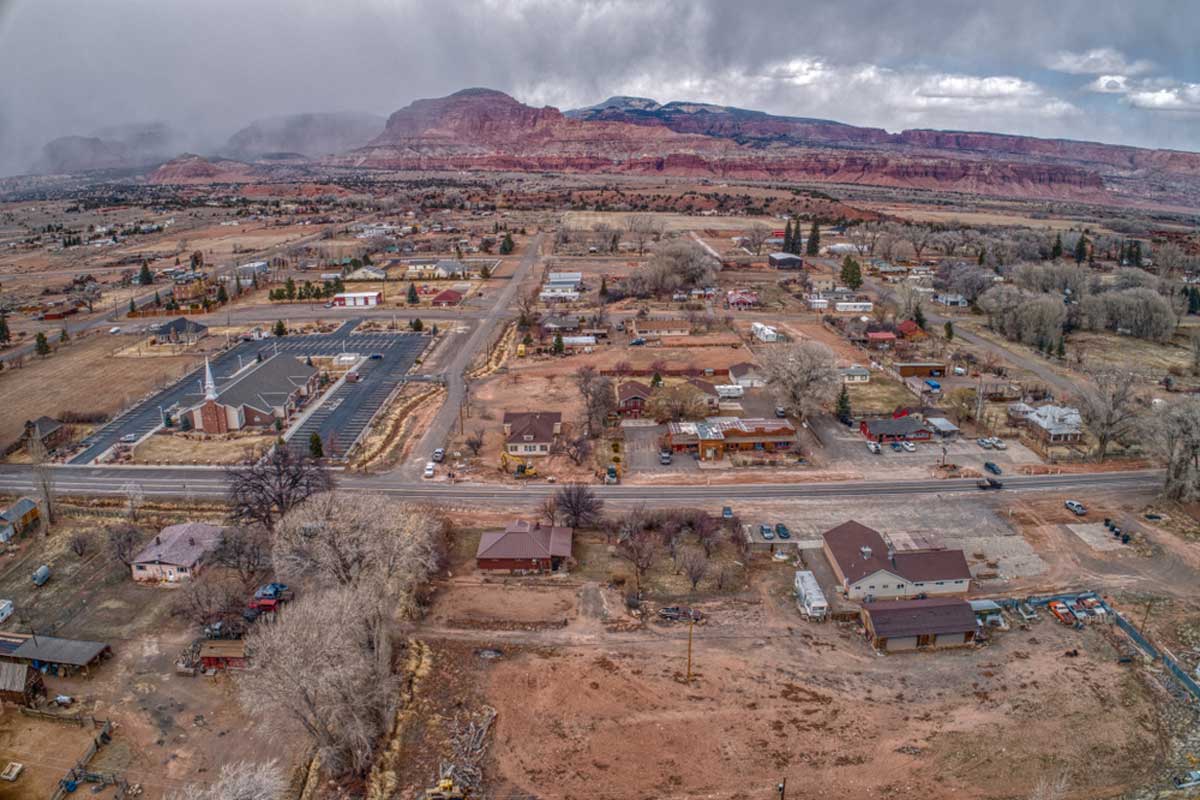 Torrey is undeniably the best place to stay near Capitol Reef National Park. Located in the heart of southern Utah, Torrey lies on the park's western border and is a short 15-minute drive away from all the action.
This quaint town is a popular home base for Capitol Reef National Park visitors thanks to its range of hotels and restaurants. Staying in Torrey gives you easy access to the park's unmissable attractions, like the Chimney Rock and Sunset Point hikes.
Torrey Highlights
Go stargazing – Torrey, like Capitol Reef National Park, is famed for its dark skies. The town's effort to reduce light pollution allows you to see stars glistening on any regular night under clear skies.
Explore the Torrey Gallery – This fine art establishment features stunning displays of local paintings, sculptures, and photographs. Make sure to pick up a Navajo craft souvenir.
Suggested Hotels in Torrey
Capitol Reef Resort – Flanked by scenic red peaks from all sides, this gorgeous hotel offers an authentic southern Utah experience with unique Conestoga wagon and teepee lodgings.
Red Sands Hotel – Perfectly blending the rustic Utah landscape with gorgeous modern furniture, Red Sands offers nothing short of luxury, from the fitness center to the luxe indoor pool with mountain views.
Escalante: Where to Stay for Excellent Hikes in Utah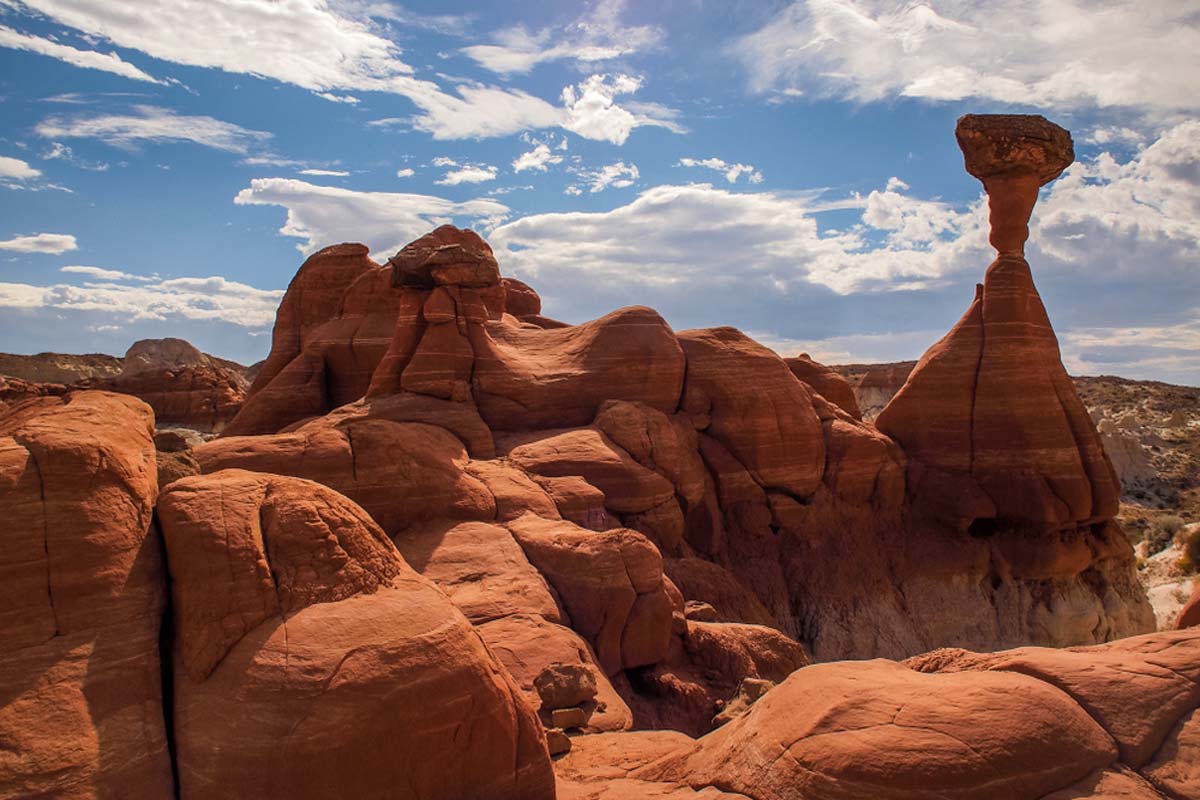 Escalante might be a little bit further away from Capitol Reef National Park, but it's not short of fantastic outdoor adventures. This Garfield County city sits along the Scenic Byway 12 en route to the Grand Staircase Escalante National Monument.
It's filled with mesmerizing slot canyons; twisting narrows carved by water into rock make for an unbelievable Instagram snap. Speaking of unbelievable, Escalante's otherworldly arches will blow you away.
Escalante Highlights
Go hiking – With an abundance of exciting trails along the Dry Fork Narrows, the Peek-a-boo Canyon, the Spooky Gulch, and Coyote Gulch, you may not know where to start.
Visit the Escalante Heritage Center – Learn about the history of Utah's rugged landscape and the Mormon trailblazers who pioneered the Hole-in-the-Rock Trek.
Suggested Hotels in Escalante
Canyon Country Lodge – Tucked along the Scenic Byway 12, this cabin-style hotel is as cozy as it looks. Offering a restaurant on site, an indoor pool, and breakfast to kick start the day, you may never want to leave.
Escalante Yurts – Nothing screams glamping like a gorgeous yurt, fully decked with modern furniture, home utensils, and a private bathroom. These yurts accommodate two to seven people, perfect for a romantic getaway or a tight-knit group of friends on a Utah national parks road trip.
Boulder: Where to Stay for Exploring Utah's Scenic Byway 12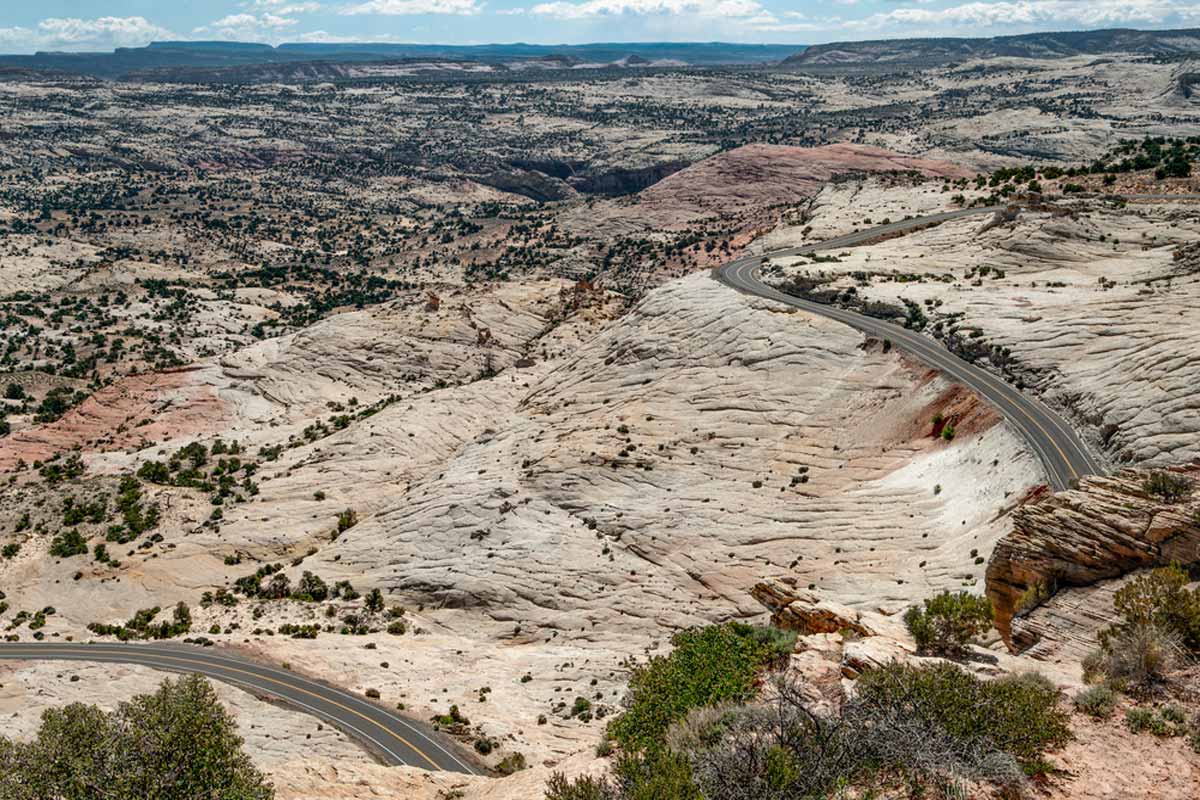 Less than 30 miles from Escalante, you'll find this serene and wildly unusual town. With a small population of fewer than 250 people, Boulder Town is an ideal getaway to Grand Staircase and Bryce Canyon National Park.
While not many people live here, the town doesn't skimp on wild outdoor adventures. Some highlights like the scenic Burr Trail Road taking you through Sugarloaf Mountain and the Singing Canyon.
Boulder Highlights
Tour the Anasazi State Park Museum – Peruse through archeological ruins at an 11-12th century Ancestral Puebloan village and delve deeper into southern Utah's history.
Grab a bite at Burr Trail Grill – Enjoy locally-sourced smash burgers and handmade pies, then wash your meal down with a chilled bottle of craft beer at this quirky eatery.
Suggested Hotels in Boulder
Annie's Place Bed & Breakfast – With sweeping views of arid land and mountains, this charming lodge is a home away from home. Its white wood and brick facade is striking, and the interior features modern amenities.
Boulder Mountain Guest Ranch – Get a classic southern experience at this Utah ranch. Sitting on about 160 acres, it offers quintessential stays in yurts and log cabins dotted with indigenous decor.
Bicknell: Where to Stay for Capitol Reef National Park Adventures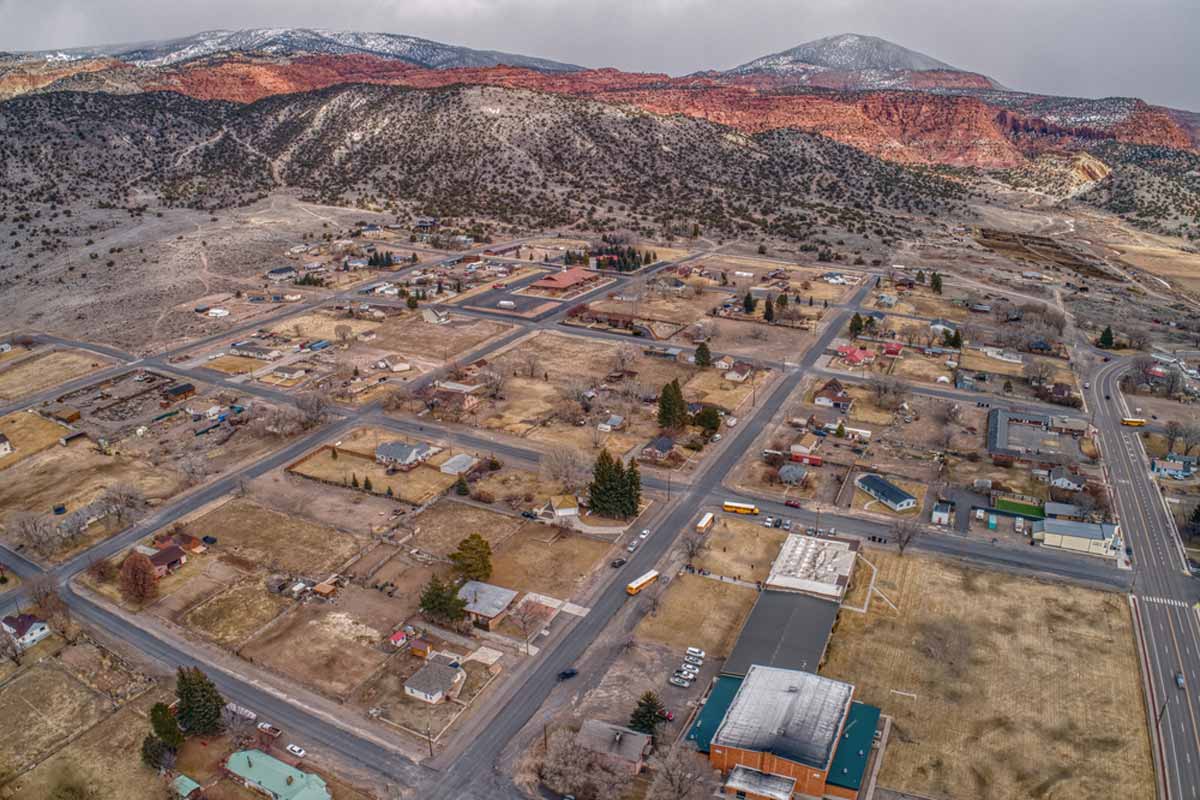 Located less than 17 miles west of Capitol Reef National Park, Bicknell is a lovely town in the heart of the county. With a population of fewer than 350 people, Bicknell offers solitude near the park.
The small town's claim to fame is the year-round movie theater, where the annual Bicknell International Film Festival takes place. Other fun activities include hiking, canyoneering, and guided tours via the Capitol Reef Adventure Company.
Bicknell Highlights
Birdwatching at Bicknell Bottoms Wildlife Refuge – Looking for a quiet place to see Utah's wildlife? This sanctuary sits on 670 acres of wetlands and marshes, ideal for spotting waterfowl, the Bald Eagle, and the American White Pelican.
Film at Bicknell Theater – Catch a newly released movie from Thursdays through Saturdays. We encourage you to come hungry, as the Reel Bites Cafe offers tasty broiled sandwiches, chicken strips, and buffalo wings.
Suggested Hotels in Bicknell
Aquarius Inn – Centrally located on Main Street, this cozy inn provides great amenities, from a seasonal indoor pool to fresh linen and spacious bedrooms. You'll also find laundry facilities and a fitness center for your day-to-day needs.
Sunglow Motel and Restaurant – Not only does this lodging serve delicious, original homemade pies (the pickle and pinto bean pie is to die for), but it also offers clean and gorgeously decorated rooms.
Where to Stay in Capitol Reef National Park: Frequently Asked Questions
What Is the Best Area to Stay in Capitol Reef National Park?
Torrey is the best area to stay near Capitol Reef National Park. The town offers a range of hotels, cafes, restaurants, and other entertainment that park visitors love.
How Much Time Do You Need in Capitol Reef National Park?
You'll need three days to fully explore the gorgeous red landscape, towering arches, and hidden slot canyons around this Utah park.
How Do You Get Around in Capitol Reef National Park?
Local outfitters provide shuttle services from Torrey and surrounding areas to the park. However, the best way to get through the park is by self-driving the Scenic Byway 12.
Practical Tips to Consider Before Booking Your Capitol Reef National Park Accommodation
Choose your accommodation based on your itinerary. If you're only visiting Capitol Reef, a hotel in Torrey would be ideal. But, if you'll also visit Bryce Canyon, you should book in Escalante or Boulder Town.
While this Utah park may be smaller, there's a plethora of things to do in Capitol Reef. So carefully plan your itinerary and book a hotel for three days or more.
Where to Stay in Capitol Reef: Read Next