Looking for the best Airbnbs in Park City? Discover exactly where to stay when visiting the largest ski resort in the USA with this handy guide.

Utah is home to some incredible mountains and ski areas, perhaps none more famous than Park City. Whether you're visiting to snowboard, sample the incredible dining options or partake in Sundance Film Festival, Park City is a perfect travel destination year-round.

But you need to catch up on some sleep at some point, right? That's why we've found the best Park City Airbnbs to relax, soak in a hot tub and marvel at those priceless mountain views.

Just a heads up before you start reading — many of these rentals are from Plum Guide. We love how they vet the properties and choose some of the most unique and luxurious homes for you to enjoy.
Best Airbnbs in Park City: At a Glance
Best Airbnbs in Park City
Ready to take a look at the best Airbnbs in Park City? Read on and learn all about these exciting vacation rentals for your trip to Utah.
Gold Medal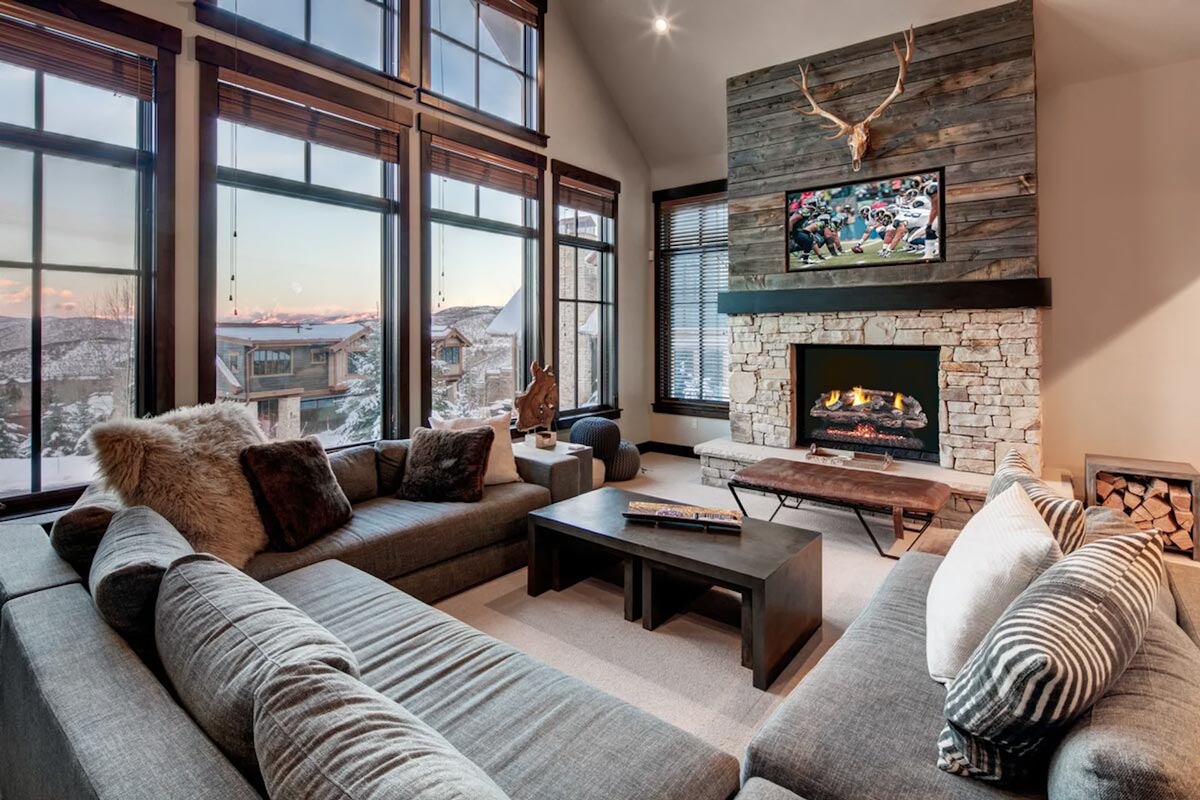 Let's start off with a strong one: Gold Medal is an incredible Park City Airbnb.
What makes this a winner? Boasting five bedrooms, two living rooms, and picturesque vistas around a cozy fireplace, this luxury home is perfect in every way. MCM furniture, live-edge tables and a built-in bunk bed give the two-story Park City Airbnb a rustic yet stylish feel.
Each bedroom is large and unique, with built-in fireplaces, flat-screen TVs and private bathrooms with walk-in showers and dual vanities.
A hot tub is perfect for colder months, and the patio has ample space for celebrating life any time of year.
Location: Silver Star Ski Run
Whether you're here for golf at the nearby course in the summertime or want to ski-in, ski-out from Silver Star, you can't beat the location for outdoor activities.
The Boss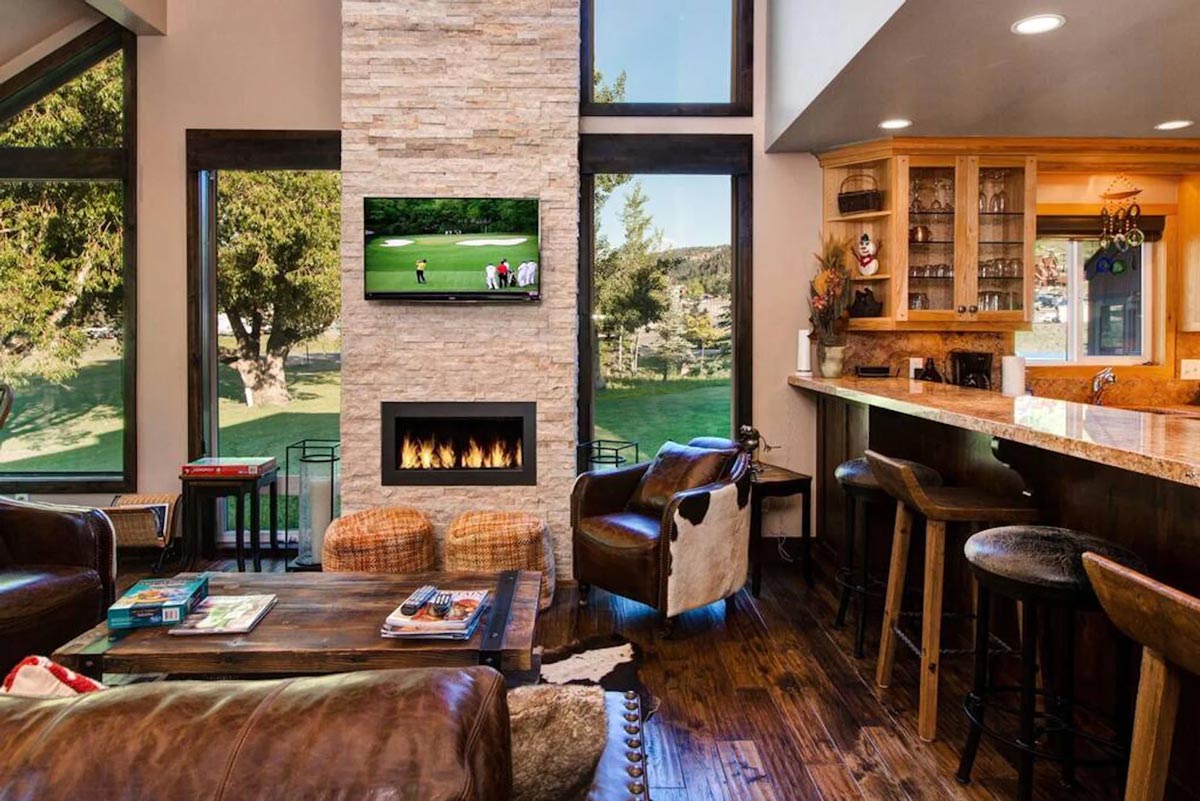 Park City is a wonderful place to visit for skiing, but you can also find excellent Park City summer rentals.
The Boss is a two-bedroom ranch-inspired luxury rental near hiking trails, golf and skiing. A shared swimming pool and hot tub round out the endless activities during warmer months.
Leather sofas, rustic hardwood furniture and a fireplace built into exposed brick make this a perfect vacation home any time of year. An open kitchen with an island leads to the living room, crowning happy hour the main event after a day of outdoor activities.
Location: Park City Golf Course
A golf course, cross-country trails, and ski resorts are all within a short distance from this Park City, Utah, Airbnb.
Deer's Landing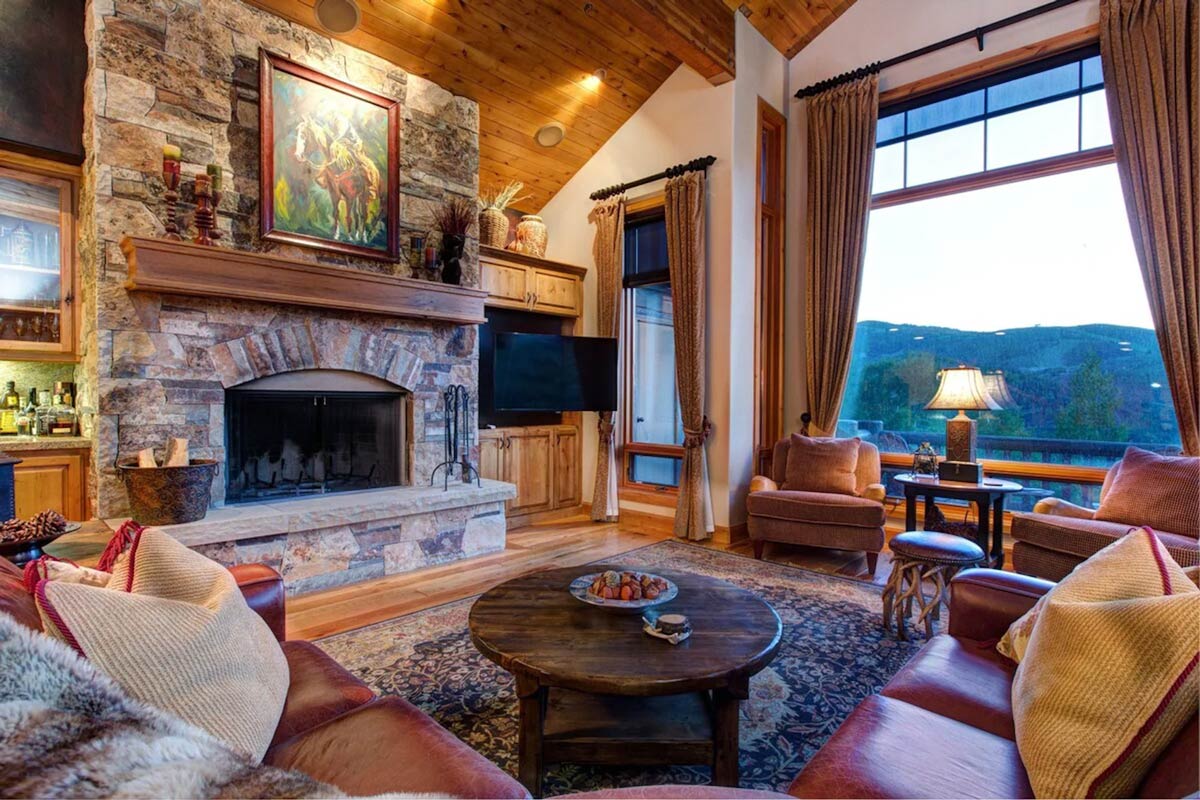 Looking for an Airbnb ski-in, ski-out Park City-style? We have just the place for you. Deer's Landing is an ultra-luxurious cabin experience for groups.
Featuring four bedrooms, each with its own bathroom, you and a few friends can head out to the mellow Silver Dollar Ski Run before taking the lift up to more challenging terrain.
When you return for the evening, relax in the hot tub or prepare an elaborate dinner using the Viking stove and extensive kitchen. Dine under antler chandeliers before moving into the spacious living room with a fireplace and the million-dollar view of Park City outside.
Location: Silver Dollar Ski Run
When you pull up to this slopeside Park City cabin, park your skis or snowboards in the equipment room and prepare for adventure.
Rock-a-Bye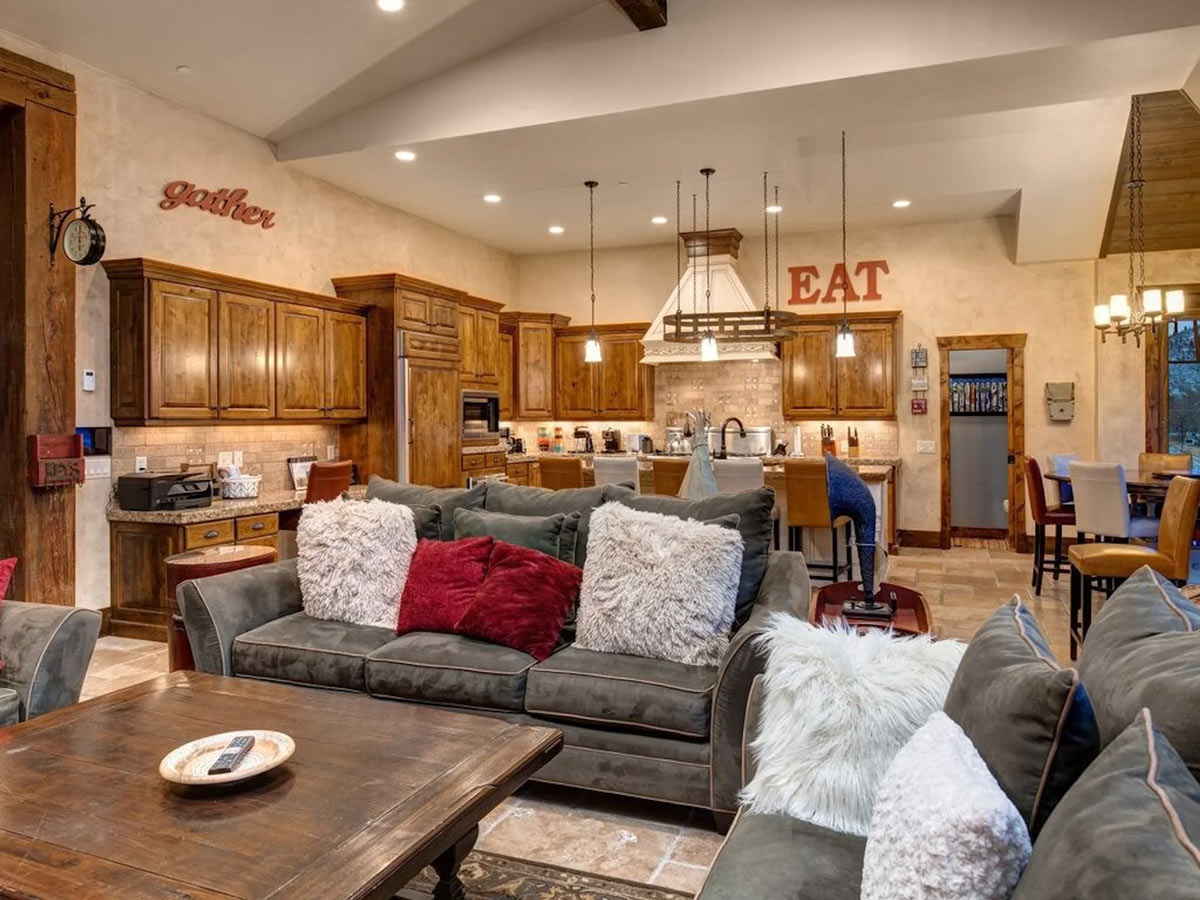 Park City vacation rentals are ideal for linking up with a few pals you haven't seen in far too long. If your circle of friends is on the larger side, this eight-bedroom home is a perfect place to gather for a long weekend.
Hardwood furniture, window frames and doorways give the apartment a warm and cozy atmosphere that's perfect after a long day carving the world-famous Utah powder.
An outdoor hot tub, game room and ample kitchen space will keep you close to home when you're not on the slopes.
Location: Deer Valley Drive
Look forward to a serene setting outside the bustling resort district along Silver Creek at one of the most tranquil Park City Airbnbs. You'll need to be ok with driving anywhere you want to visit, but on-site parking is available.
Awesome SKI-IN-SKI-OUT Condo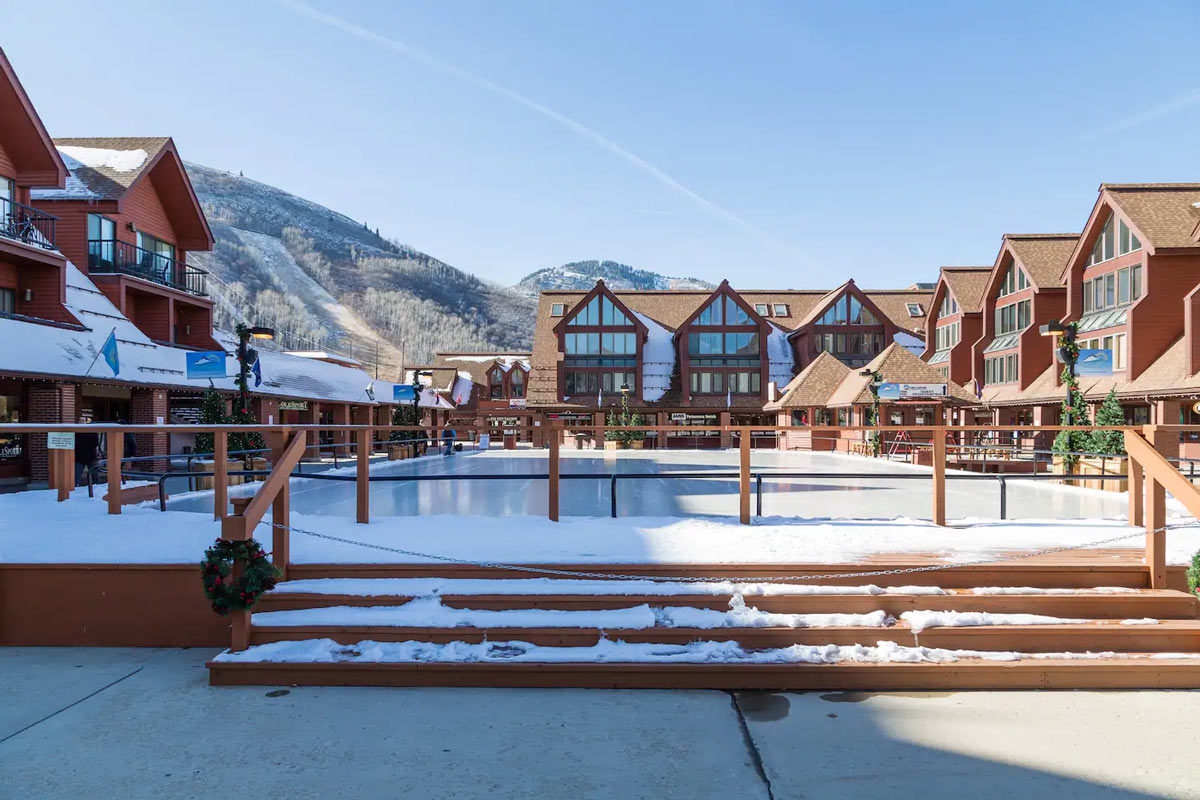 Looking for an Airbnb Park City Mountain resort? This two-bedroom condominium hosted by Stephanie and Scott is set in the heart of all the action around the ski slopes.
Hardwood floors, generous lighting and high ceilings add some breathing room to the smaller apartment. At the same time, a full kitchen, comfortable beds and ski-in ski-out access make it a dream destination for skiers and snowboarders.
This Airbnb Park City with a pool has a fitness center, a washer and dryer, and an indoor fireplace to keep you comfortable year-round.
Consider other choices if you're looking for a large, luxury Airbnb in Park City, Utah. But the location doesn't get any better if you want the perfect apartment for yourself and a friend. And let's face it; you'll be outside most of your time here.
Location: Park City Mountain
Walk out, strap on your skis or snowboard, and enjoy Park City Mountain right outside your door.
2BR Dog-Friendly Townhouse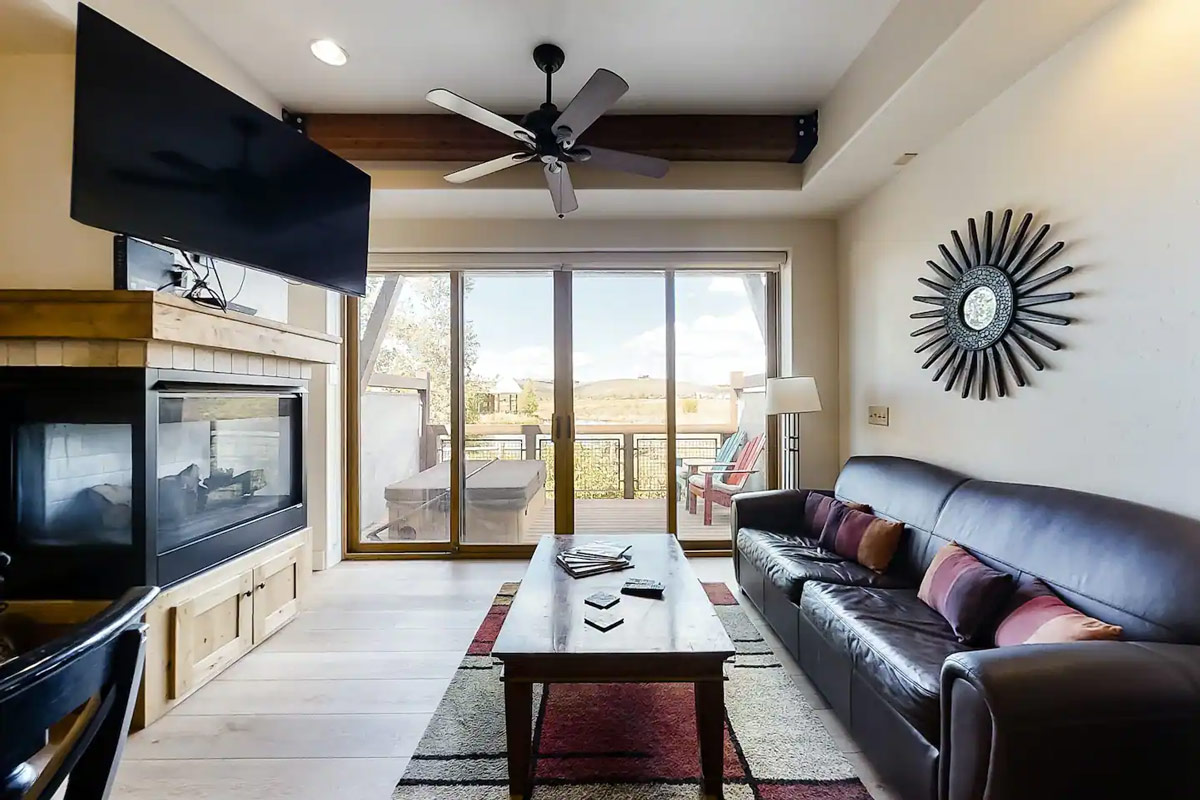 This two-bedroom townhouse is a perfect Airbnb for you and your four-legged travel companion.
Picture yourself waking up to views of Park City from the private patio of your Park City Airbnb. Now imagine yourself doing it with your best furry friend.
Inside, the space is stylish and comfortable, and features modern artwork on nearly every wall. High exposed-beam ceilings and a three-sided built-in fireplace are highlights of this open-floor plan townhouse.
Enjoy amenities like an in-house washer and dryer, three bathrooms, and an outdoor spa with a view at this Airbnb Park City with hot tub.
Location: Newpark District
Enjoy all the dining, entertainment and shopping of Newpark District, or take a short drive to any famous local ski resort.
Dreamy Treehouse Above Park City, Utah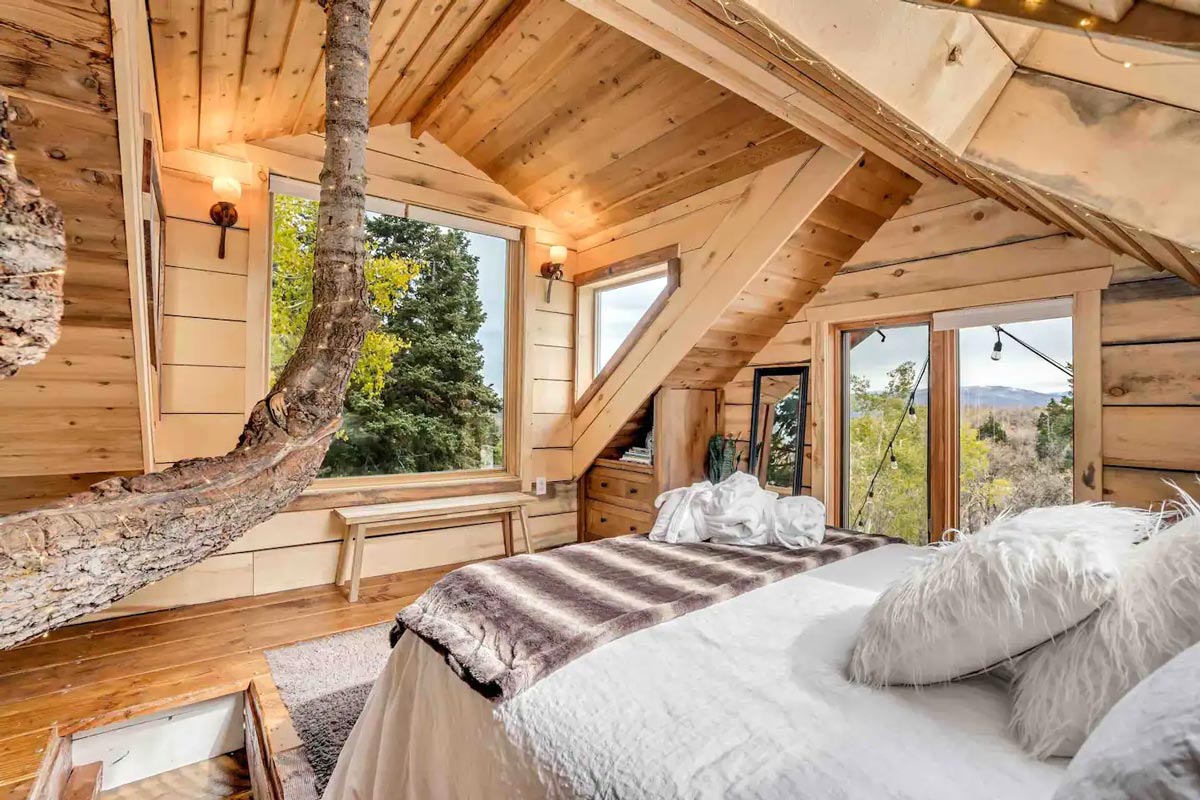 Ok, you know we can't make a guide to Airbnbs in Park City without including an over-the-top, totally amazing Park City Treehouse Airbnb. And this mountainside luxury cabin takes the treehouse concept quite literally.
A 200+-year-old tree is part of the interior design scheme. A few more splendid and stylish touches are a candelabra-inspired chandelier, antlers, and a wooden step ladder leading upstairs.
Ideal for a couple on their honeymoon, this picture-perfect luxury treehouse Airbnb will take your breath away.
Location: East of Kimball Junction
You'll need a 4-wheel drive vehicle to access this Park City Airbnb, but the views from any room of the house at 8,000 feet are well worth the journey.
Little Reb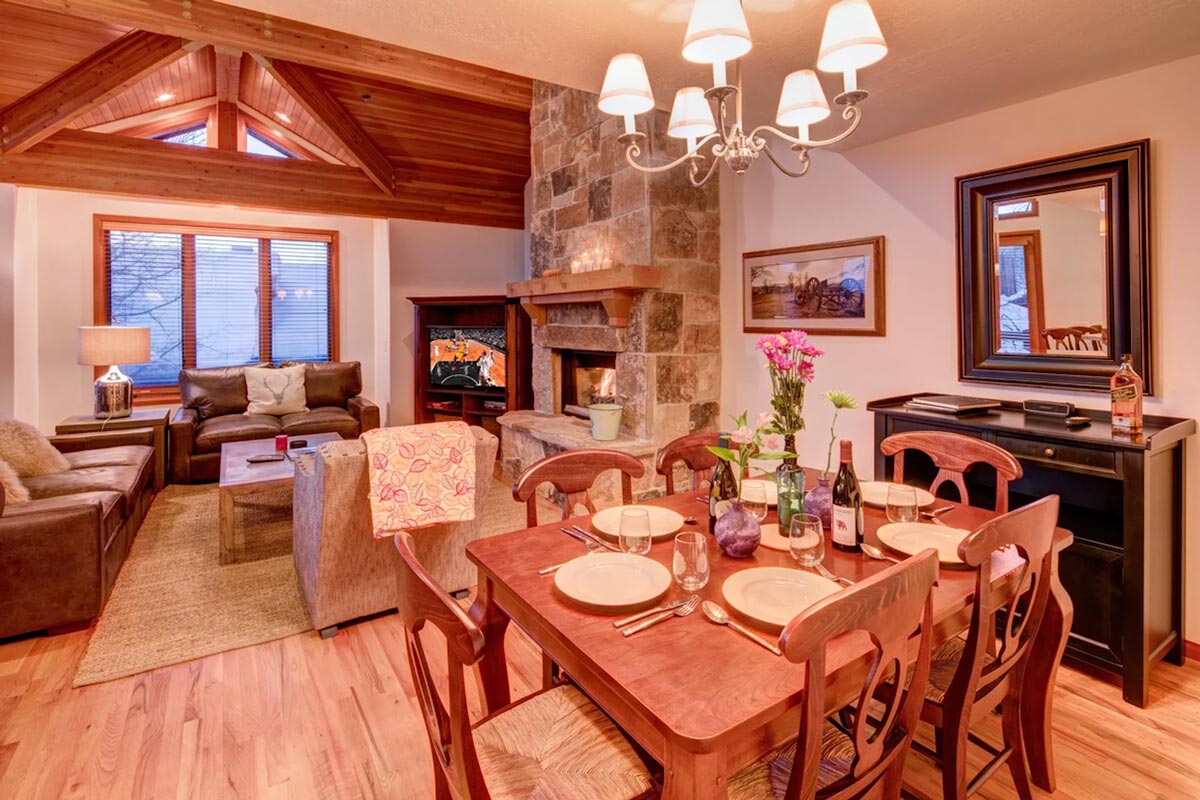 Booking a Deer Valley Airbnb? This charming three-bedroom home is perfect for a group wanting privacy while staying near the renowned ski resort. Each floor has a private bedroom and bathroom but enough common area for the nights you want to stay up later socializing.
An open kitchen connects to the dining area and living room, with a flat-screen tv and gorgeous built-in fireplace surrounded by bricks.
This Airbnb in Park City also features a private hot tub outdoors, making it an all-around great choice when visiting this mountain retreat.
Location: Deer Valley
You'll be right by the ski slopes and only a few minutes on foot to Silver Lake Lodge at this Airbnb in Deer Valley.
Cozy Haven Condo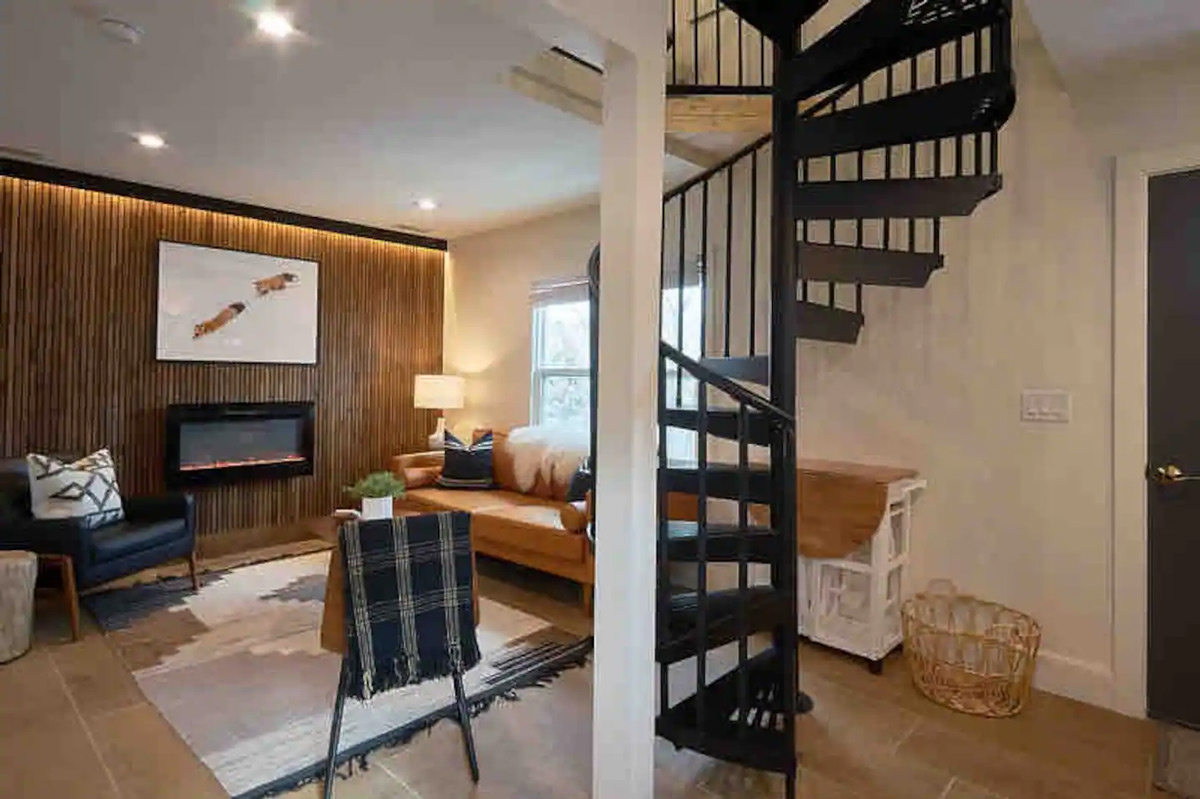 Stay at a recently renovated two-bedroom, a short walk from shopping, skiing, and dining. The expertly designed interior livens up a smaller space with modern touches and a spiral staircase leading upstairs.
A large flatscreen tv, built-in oven range, and stylish MCM furniture give this two-bedroom rental a luxurious all-around feel.
Location: Main Street
Keen to try the best restaurants in Park City? You'll stay within a short walk of them at this central location near the ski slopes.
The Glen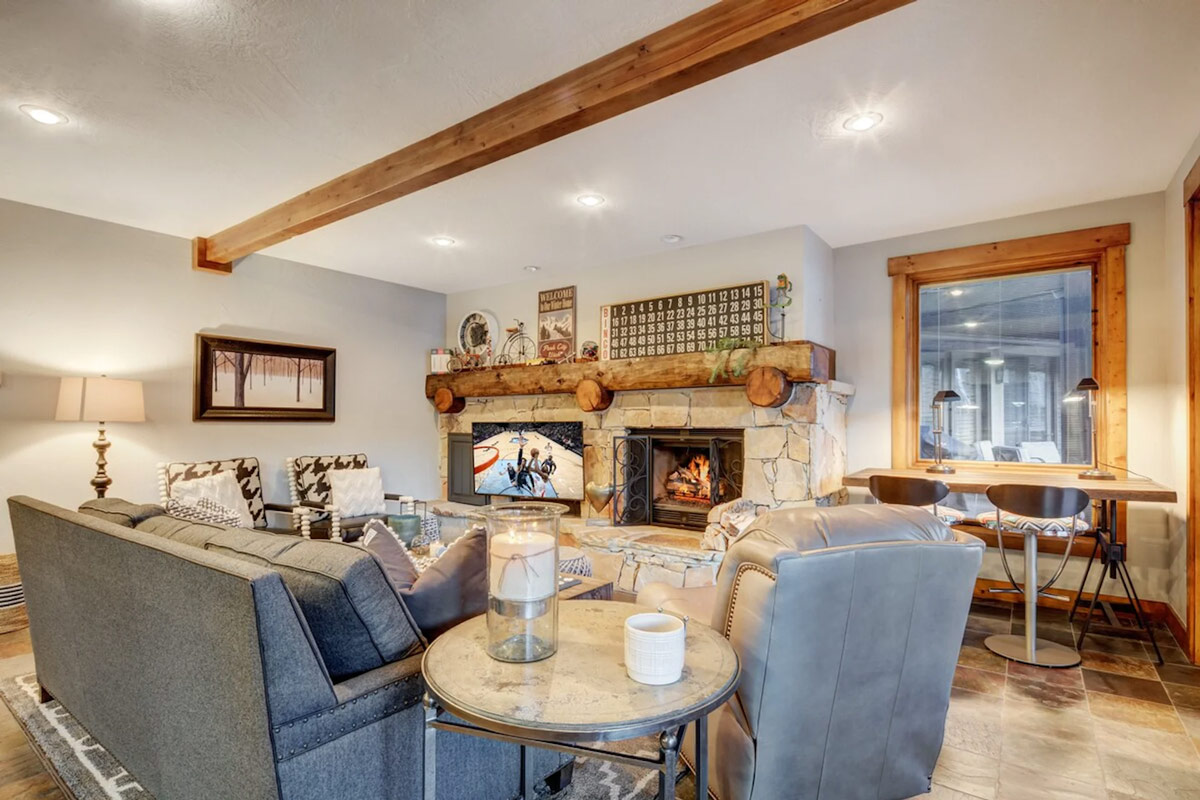 The Glen is a three-bedroom Park City Airbnb near the world-famous Deer Valley ski resort. With a spacious interior and cabin-style decor, you can't do much better for a luxury mountain escape than here.
The entertainment center is built into a large stone wall with a side-by-side flat screen tv and fireplace. The mantle built from logs and hardwood beams on the ceiling feels perfect on chilly winter evenings.
A bit sore from a day on the slopes? Spend some time breathing in the cool mountain air in the outdoor hot tub. It doesn't get any better than this.
Location: Deer Valley
Nestled between Utah's two most famous ski resorts, you are a short bus ride from the legendary Deer Valley.
Practical Tips to Consider Before Booking Your Airbnb in Park City
Check for parking at your property. Many, but not all, Park City Airbnb have space for your vehicle(s).
Take our advice and plan your trip to Sundance Film Festival ahead of time. It's one of the most iconic movie events in the world, so places fill up quickly.
Choose an Airbnb Park City ski-in ski-out if you're an avid snowboarder or skier. Nothing beats the convenience of heading back to the mountain any time of the day.
Airbnb Park City: Map
Click here for a map of the hotels featured in this guide
Park City Airbnbs: Read Next