Searching for the best hikes in Moab? Strap on your boots – we've got the top treks lined up for you.
There's no disputing that Utah has some of the most incredible places to hike in the USA. Home to famous places like Bryce Canyon and Zion National Park, the state boasts an array of mesmerizing hiking trails.
But, did you know that Moab offers equally incredible hiking opportunities? We thought not. The city is often overshadowed by its larger neighbors and is somewhat of a hidden gem.
This geologically rich area can hold its own with astonishing desert landscapes and unique rock formations, making it a hiker's dream without the crowds of the larger Utah areas.
Get ready to discover some of our favorite Moab hiking trails (and stick around for some handy tips before you get going).
Best Hikes in Moab
Double Arch Trail
Length: 0.6 miles
Time: 30 minutes
Difficulty: Easy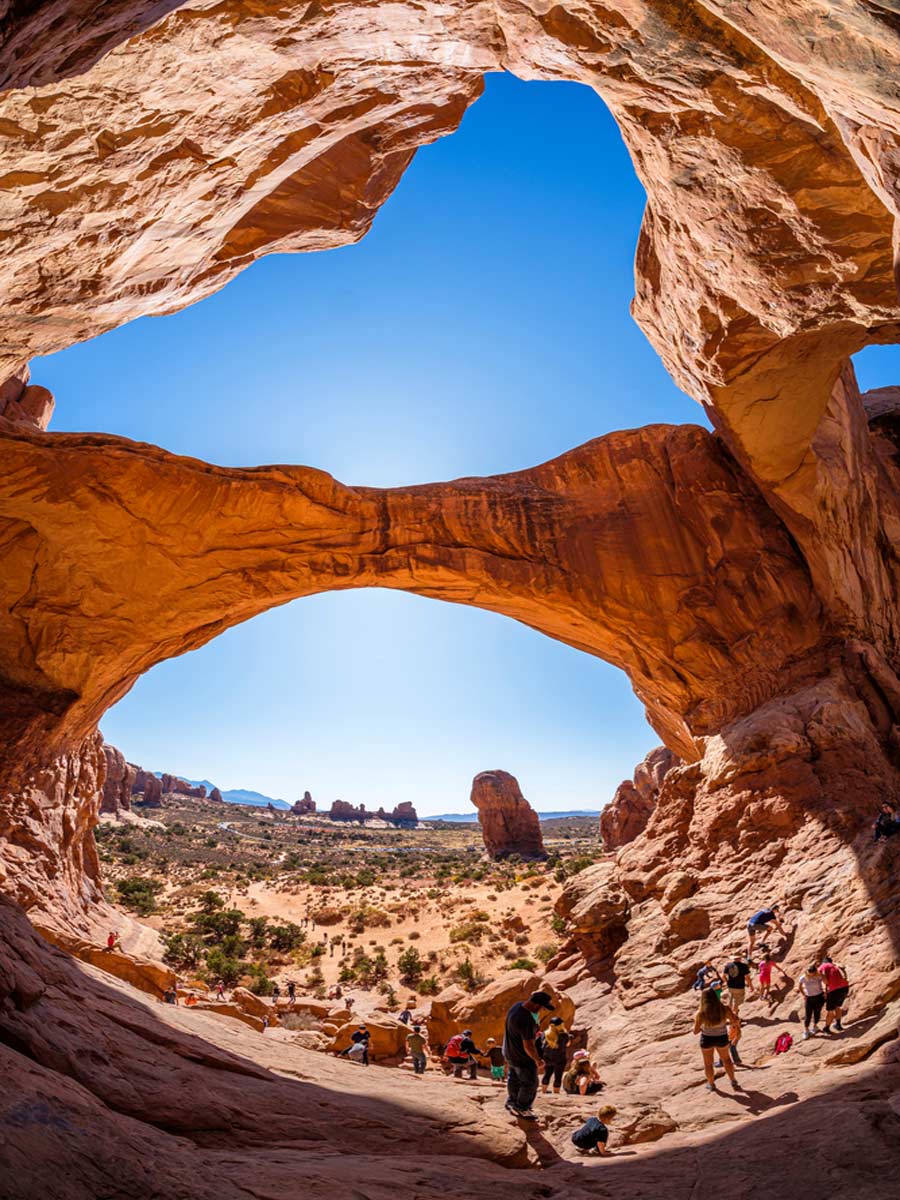 Let's kick off with something simple (but rewarding). If you're looking for easy hikes in Moab, it really doesn't get much easier than the Double Arch Trail since it will only take you about 30 minutes to complete.
Plus, there's only a 95 feet elevation gain, so your knees and calves won't hate you at the end of the day.
But, while it may be a simple hike, its surrounding landscape is anything but simple.
The Double Arch Viewpoint is one of the Arches National Park's most popular and incredible viewpoints, standing at 111 feet tall, and this trail provides easy access to it. Surrounding it are some of the most dramatic desert landscapes, and it's near landmarks such as the Ribbon Arch and Cove of Caves.
Grand View Point Trail
Length: 2.9 miles
Time: 40 minutes to 1 hour
Difficulty: Easy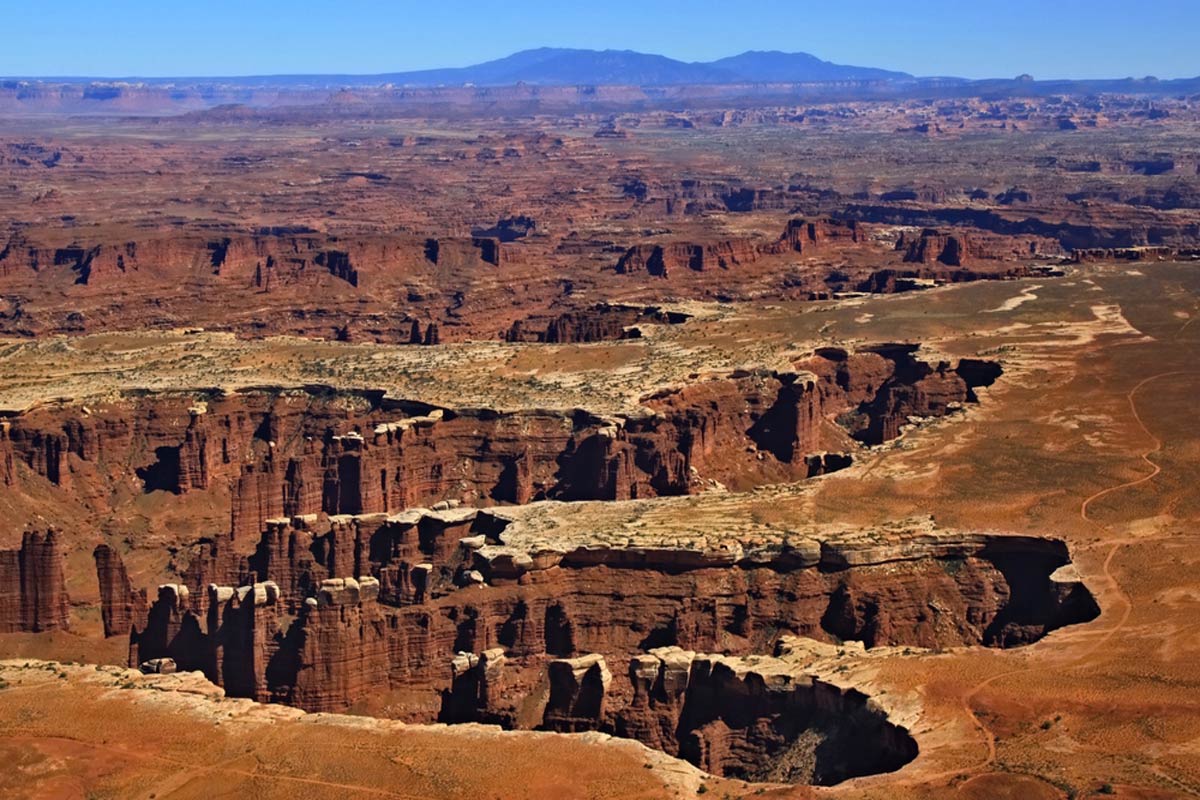 We're taking this up a notch with this next hike. if you're looking for a relatively easy hike but with a bit of a climb, then this is one of the best hiking trails in Moab.
This out-and-back hike takes place in the Island in the Sky area of Moab and is open all year round.
There are two viewpoints on this trail. The first is a short walk to a smaller viewing area. If you continue, you'll encounter a short climb up some stairs leading to the actual Grand View Point, which offers sweeping views of the Canyonlands National Park.
This is one of the more popular hikes in the area, so you'll likely encounter other hikers. But once you get there, you'll understand why. It has the name Grand View Point for a reason.
At sunrise and sunset, the area transforms into one of the most magical places. The landscape turns deep red as the sun's rays hit the rock formations.
Dead Horse Rim Loop Trail
Length: 5 miles
Time: 2-3 hours
Difficulty: Moderate – Hard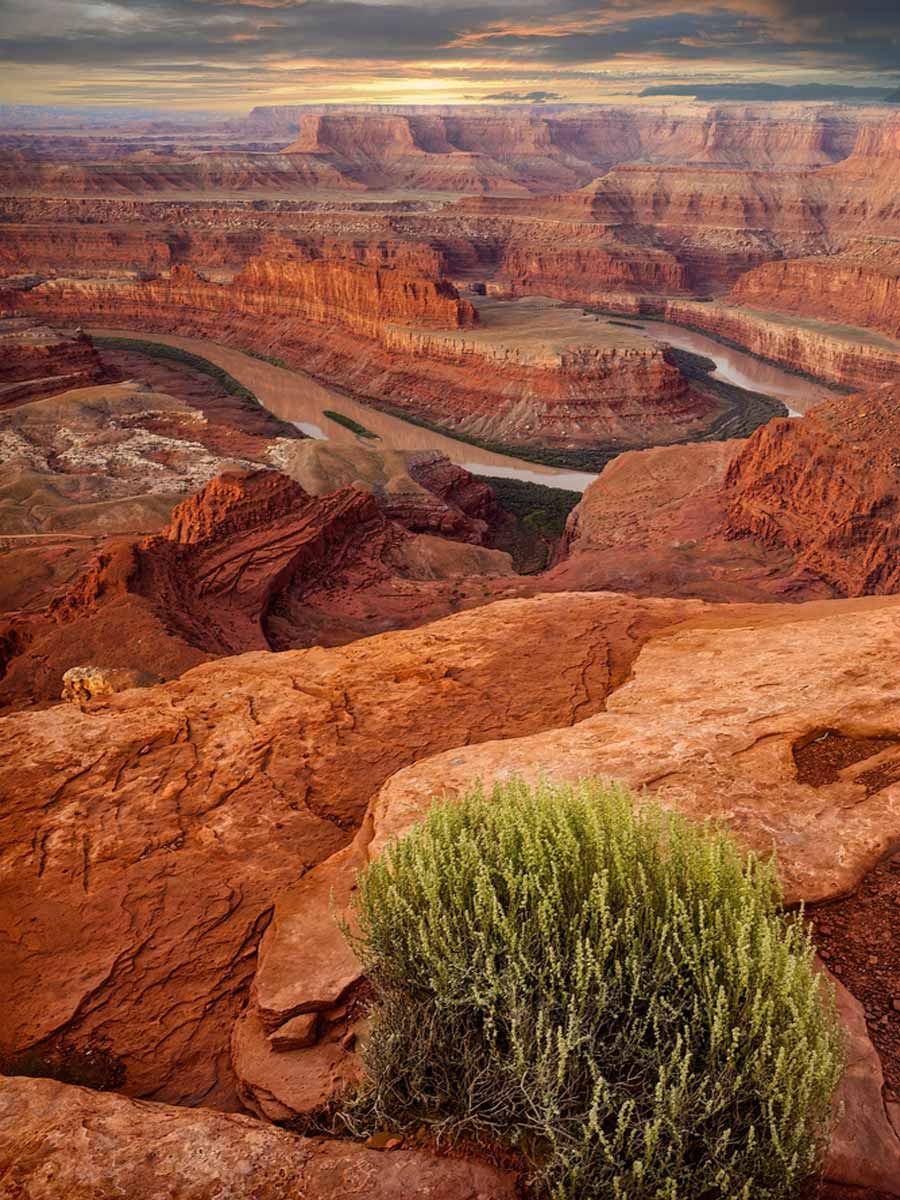 Now for those of you who are avid hikers and love to challenge yourself, the first two hikes we've mentioned might have severely bored you.
But don't worry, we haven't forgotten about you – that's why we've included the Dead Horse Rim Loop trail. Horrible name, wonderful hike.
With an elevation gain of about 908 feet, it will work your glutes, thighs, knees, and everything else in between. Now, you might wonder what the point of putting yourself through all this pain is…
Well, the views are why. The Dead Horse Rim Loop trail sits in the greater Moab area, on the rim of the Colorado River Canyon. Since it's so high above the ground, it offers some of the greatest views of the Canyonlands National Park.
Plus, it's one of the few dog-friendly hikes in Moab, so you can bring along your furry friend if they can keep up.
Tip: After a long day of hiking, treat yourself to a Colorado River dinner cruise and take in the stunning views around you.
Corona and Bowtie Arch Trail
Length: 2.4 miles
Time: 1-2 hours
Difficulty: Moderate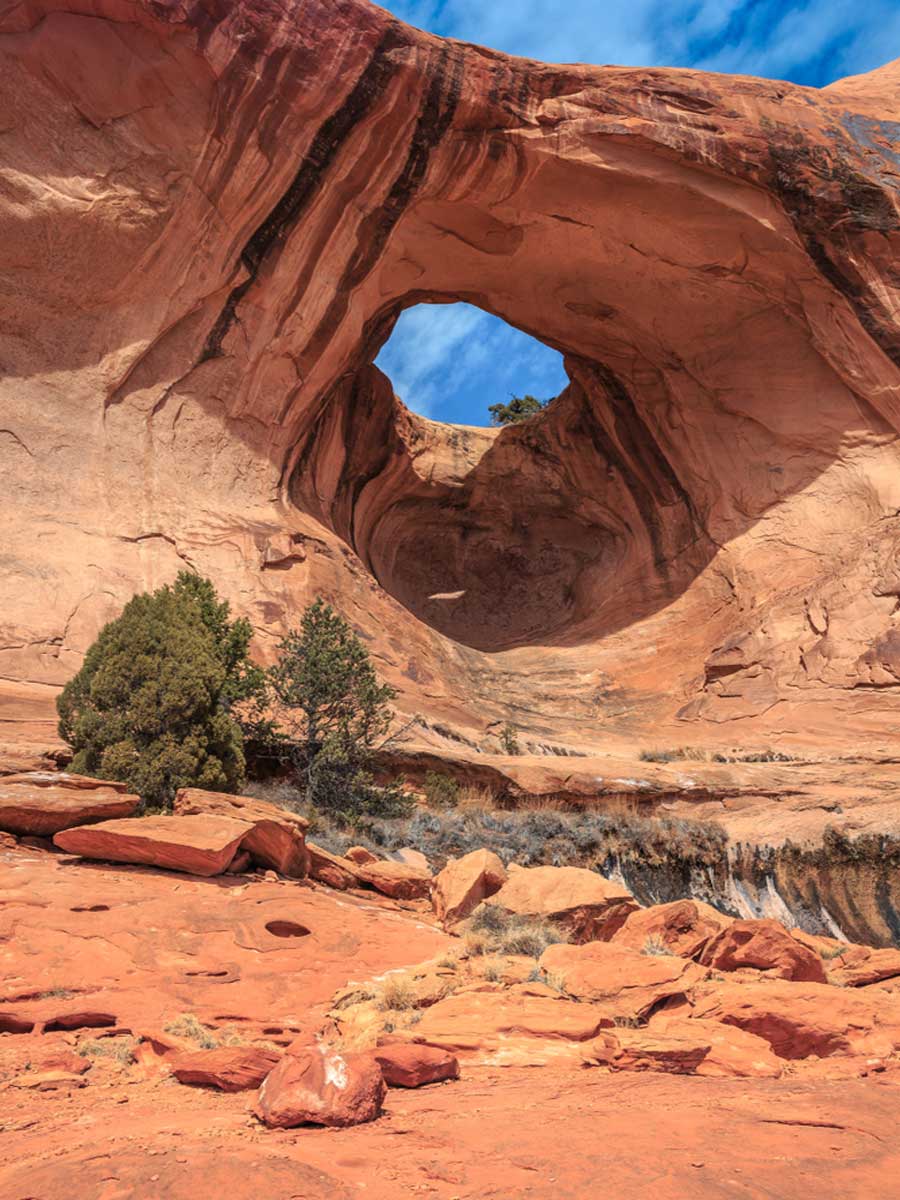 Hiking to the Corona and Bowtie Arches should be high on your list of things to do in Utah. Why? Well, not only are they two of the most impressive landmarks in the area but also because they're two of the most accessible arches in the Arches National Park.
The trail begins close to the Gold Bar camping area and runs along Potash Road. You'll pass the banks of the Colorado River and the slick rock that makes up the Bootlegger Canyon before finally arriving at the Corona and Bowtie arches.
Don't forget to take a minute to step back and admire the incredible landscape. Remember to take a few selfies for Insta, too.
Note: A small section of this trail is entirely exposed and has safety cables, so exercise caution when you get to this part.
Windows Loop Trail
Length: 0.7 miles
Time: 30 minutes – 1 hour
Difficulty: Easy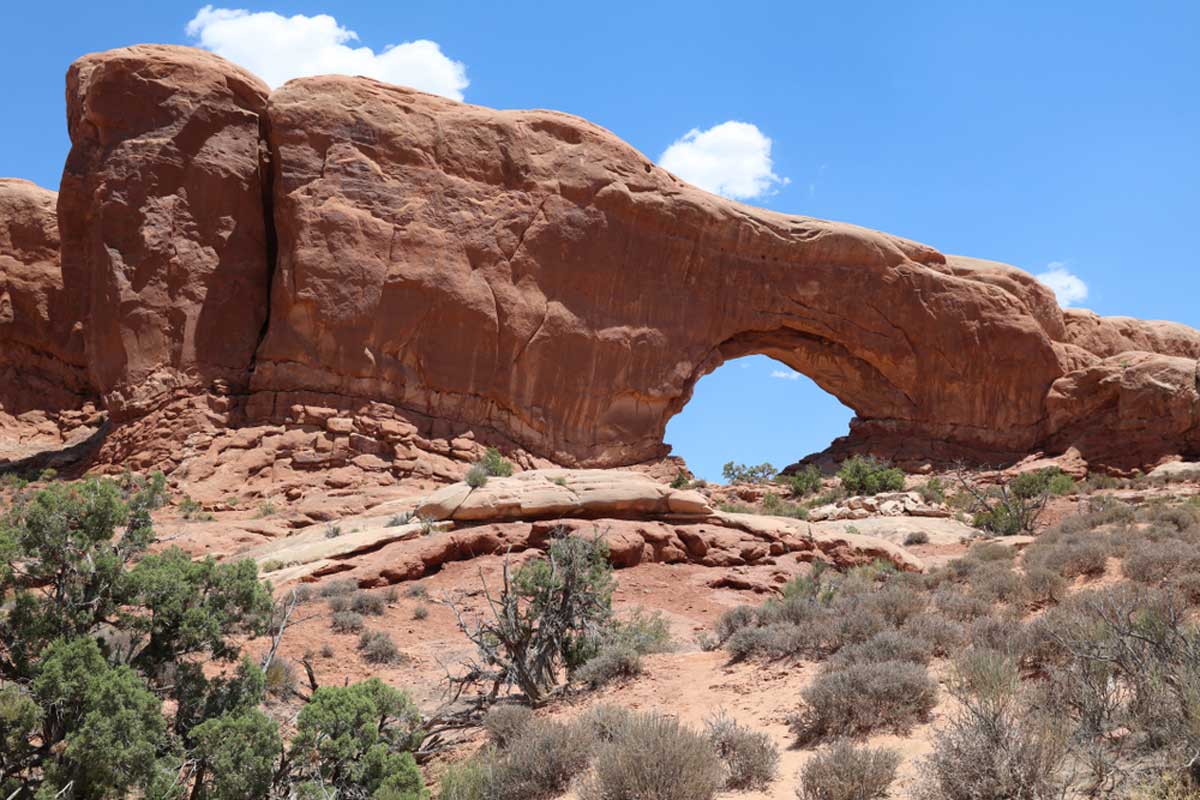 Let's take it back to the basics. If you're keen on an easy hike, we can't recommend the Windows Loop Trail enough.
It easily falls into the category of the best hike in Moab, and it's not because it's a short and easy walk. Rather it's because of its (yup, you guessed it) "Windows" that look out across the gorgeous Arches National Park.
This Moab arches hike first takes you to the massive Turret arch, which has North and South windows looking out over the desert plateau. You can step inside them, and what you'll see will take your breath away.
So don't (we repeat, don't) forget to bring your camera along to capture some of the most majestic views of Utah's landscape here.
Hidden Valley Trail
Length: 2.6 miles
Time: 2-3 hours
Difficulty: Moderate – Hard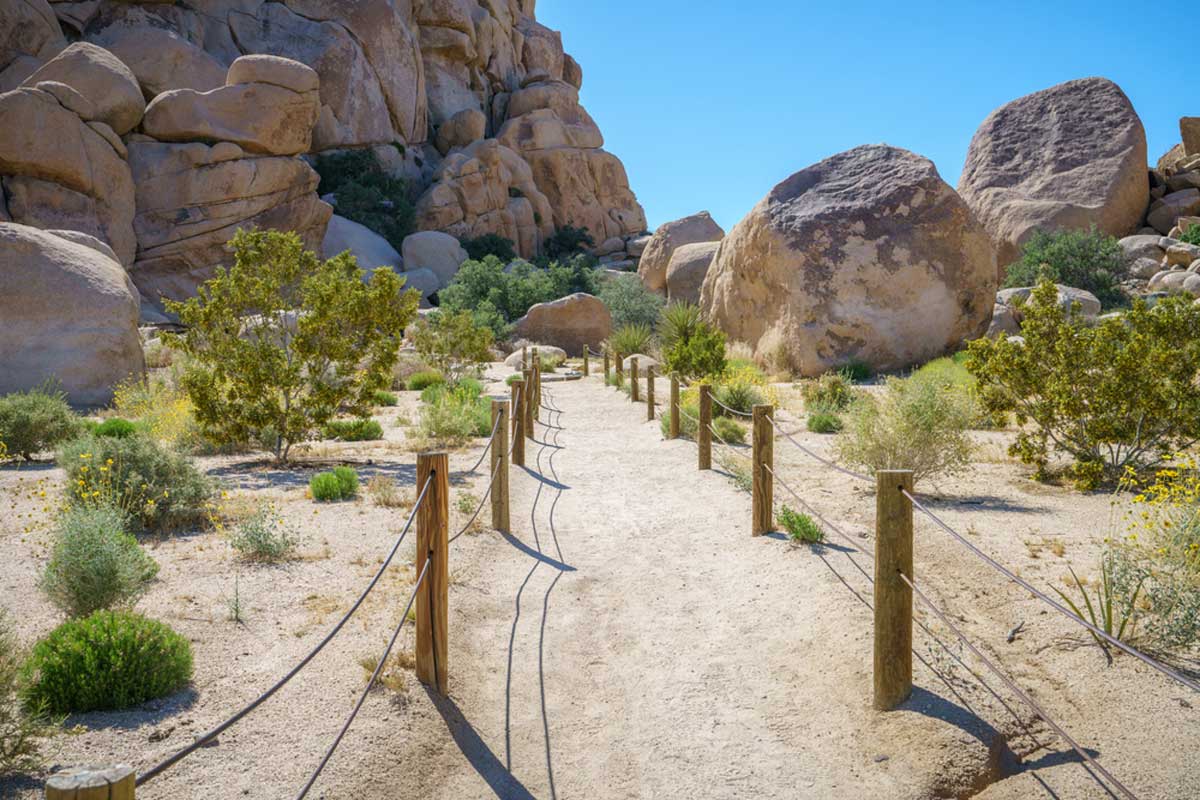 Ready for another challenge? You'll find it on the Hidden Valley trail.
It lies just off the path of the Indian Trail before it veers off into a steep 1,469 feet ascent. It's called the Hidden Valley trail for a reason – you'll have to keep a sharp eye out for the sign that leads off to it.
It's one of Moab's quieter trails, so most people don't consider hiking it. But that doesn't mean that you should skip it. This is one of the most rewarding hikes in the area because it has gorgeous sweeping views of Moab and the nearby Spanish Valley.
If you're lucky, you'll even get to spot a deer or two.
However, this is not for the fainthearted and requires a good fitness level. If you can keep up, you're in for a real treat. Plus, you can bring your doggo along to enjoy the views with you, as the trail is pet friendly.
Delicate Arch Trail
Length: 3 miles
Time:1-3 hours
Difficulty: Moderate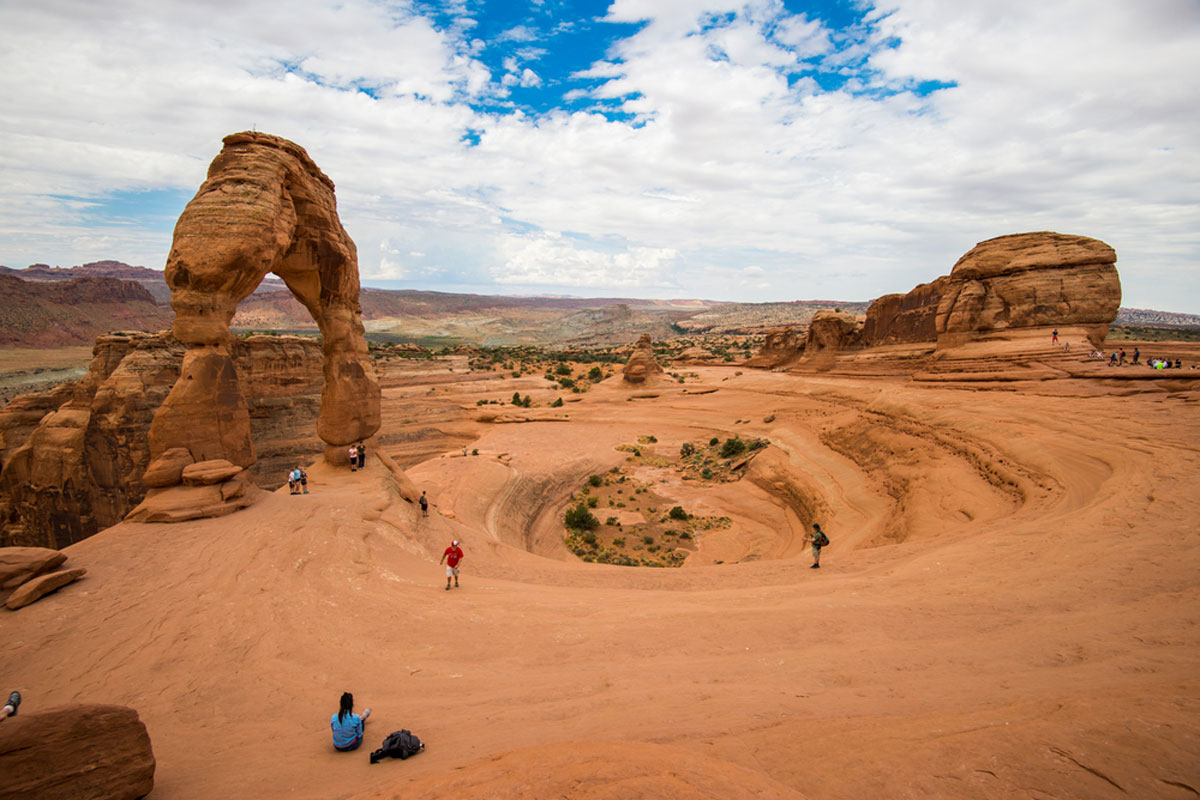 Delicate Arch is undoubtedly one of Utah's most recognizable landmarks. This 52-foot stone arch is a must-see if you're looking for things to do in Moab.
Great news – hiking to this striking landmark doesn't require you to have insane fitness levels, as it's not as challenging as the others.
On your way to Delicate Arch, you'll be lucky enough to pass some smaller sandstone arches and rocks. The best time to visit is early at sunrise or sunset when the area basks in red, orange, and yellow hues.
It's worth mentioning that there is absolutely no shade on this trail, so bring a hat and lots of water.
Mill Creek
Length: 2 miles
Time:1-2 hours
Difficulty: Easy- Moderate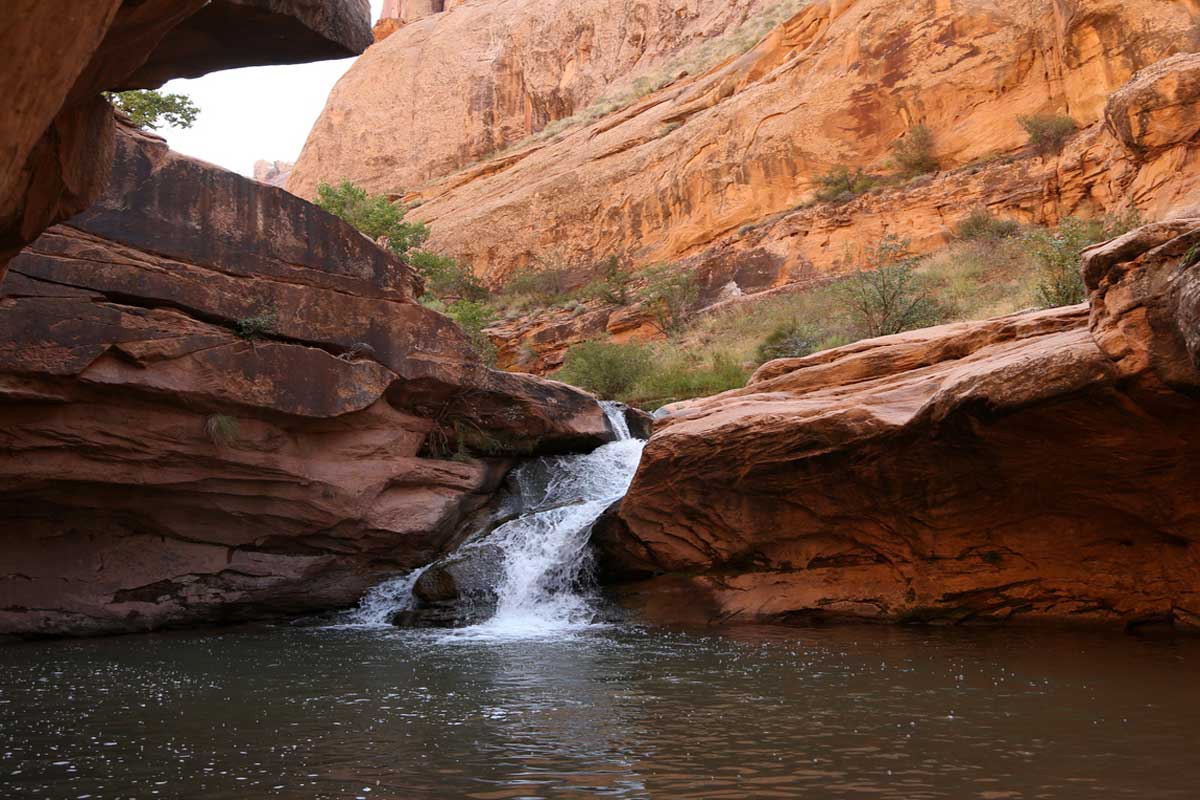 Spoiler alert! Hiking in Moab doesn't get more blissful than at Mill Creek… Because you'll find an incredible waterfall and pool at the end.
It lies between Moab City and the Spanish Valley, and it's one of the best day hikes in Moab simply because it's short and great for escaping Utah's insane heat.
There are a series of smaller pools along the way, but the ultimate treat for anyone hiking this trail is the lovely Mill Creek Waterfall with its crystal clear pool at the end.
Tip: Looking for accommodation in Moab City? Consider making the Scenic View Inn your base for exploring Moab.
Moab Hikes: Practical Tips
Preparation is key. Bring lots of water with you – it gets unbearably hot in Utah. If you're planning on hiking in Moab, you need a lot of water, especially during summer. You'll also need to bring strong sunscreen to protect yourself against the harsh sun, while a wide-brimmed hat and sunglasses will also give you some additional protection.
Bring along some trail mix snacks or energy bars to keep you fueled. Choose a good-quality backpack to keep all your goodies safe and secure for whichever hike you choose.
Bring a flashlight or headlamp to help you along the trail if you plan on hiking before sunrise and after sunset.
Best Hikes, Moab: Map
Moab Hikes: Read Next