Discover the best places to stay in Moab with this handy guide. Read on to find out the top areas and hotels in Moab, Utah.
It's pretty obvious that we think Moab is one of the most magical and enchanting areas to visit in Utah.
Known for its dramatic landscapes, unusual rock formations, and history of dinosaurs, there are deserts, forests, canyons, and rivers all waiting to be explored on the city's doorstep.
Tempted to book a trip? You should be – but you'll need somewhere to bed down at night.
If you're wondering where to stay in Moab, look no further – these are the top areas you need to consider for the base of your trip.
Best Places to Stay in Moab: At a Glance
Where to Stay in Moab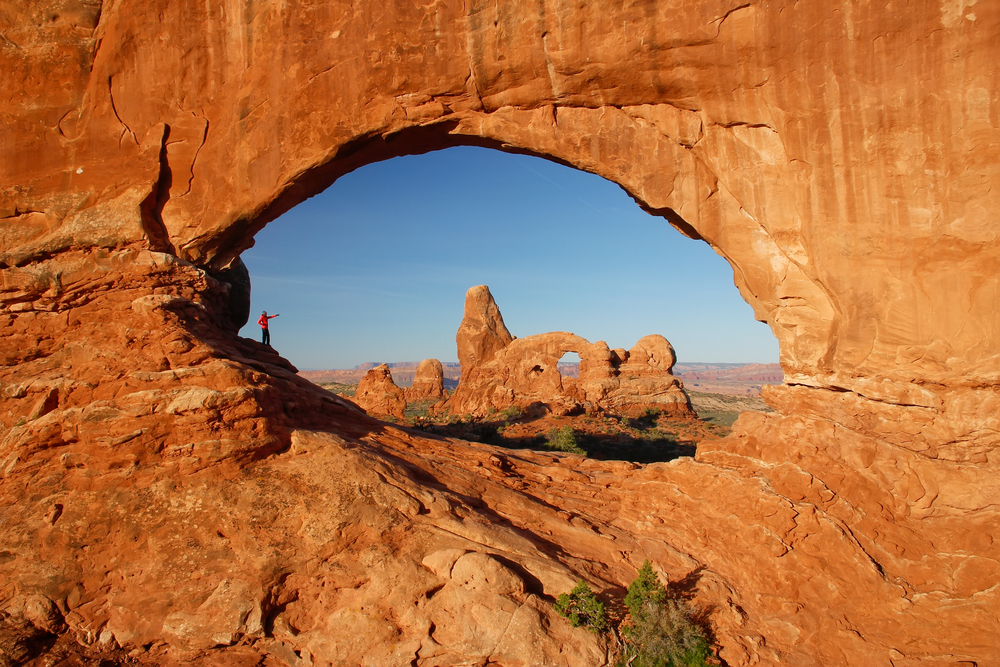 Moab is gaining popularity in recent years – and we're not surprised.
The area is stunning no matter what time of year you're planning to visit and adventures are abundant. In fact, outdoor activities like hiking, biking, camping, and stargazing are all popular with locals and visitors.
Knowing what you want to see and do will help you decide where to stay in Moab. That's why we've compiled this handy guide to Moab's different areas to help you make that decision.
Arches National Park: Best Place to Stay in Moab for Hiking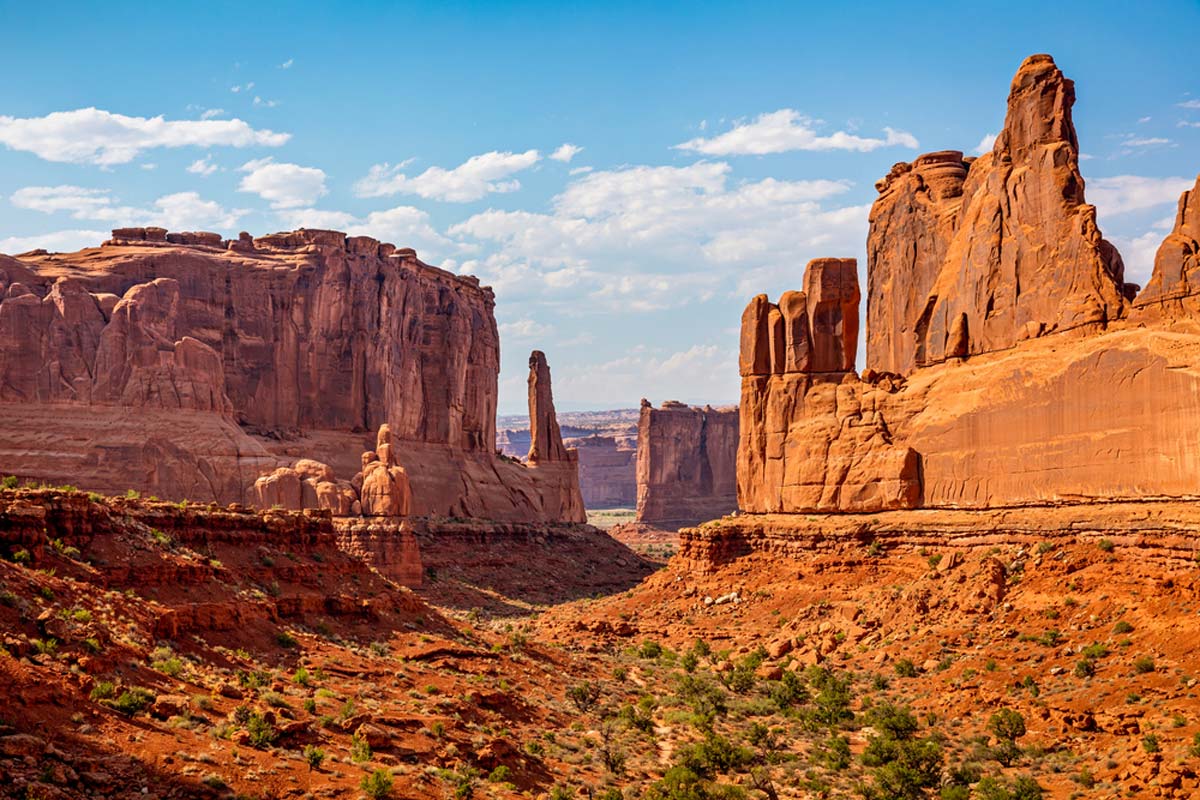 Arches National Park is synonymous with Utah and is iconic because of all its rock arches, pinnacles, balanced rocks, and stone fins that have all been naturally created over time.
The rocks all have a red hue to them, giving the park an otherworldly atmosphere that is especially stunning during sunset.
It's no wonder then that Arches National Park is one of the most popular places to stay in Moab, Utah.
Arches National Park Highlights
Devil's Garden – One of the best places for hiking, where impressive trails meander through natural arches.
Balanced Rock – One of the most photographed spots in the park with a short (but picturesque) walking trail.
The Windows Section – Here's where you'll find some of the largest arches in the entire park.
Suggested Hotels in Arches National Park
Under Canvas Moab – This spot features upscale, safari-inspired accommodations. Spacious canvas tents include en suite bathrooms, king-size beds, and woodburning stoves.
The Moab Resort – This resort is conveniently located near popular tourist sites, parks, and recreation centers. For total relaxation, there's also an outdoor swimming pool, hot tub, and a fitness center.
Devil's Garden Campground – If you want to stay in the park, Devil's Garden Campground offers drinking water and flush toilets.
Canyonlands National Park: Best Place to Stay in Moab for Rugged Luxury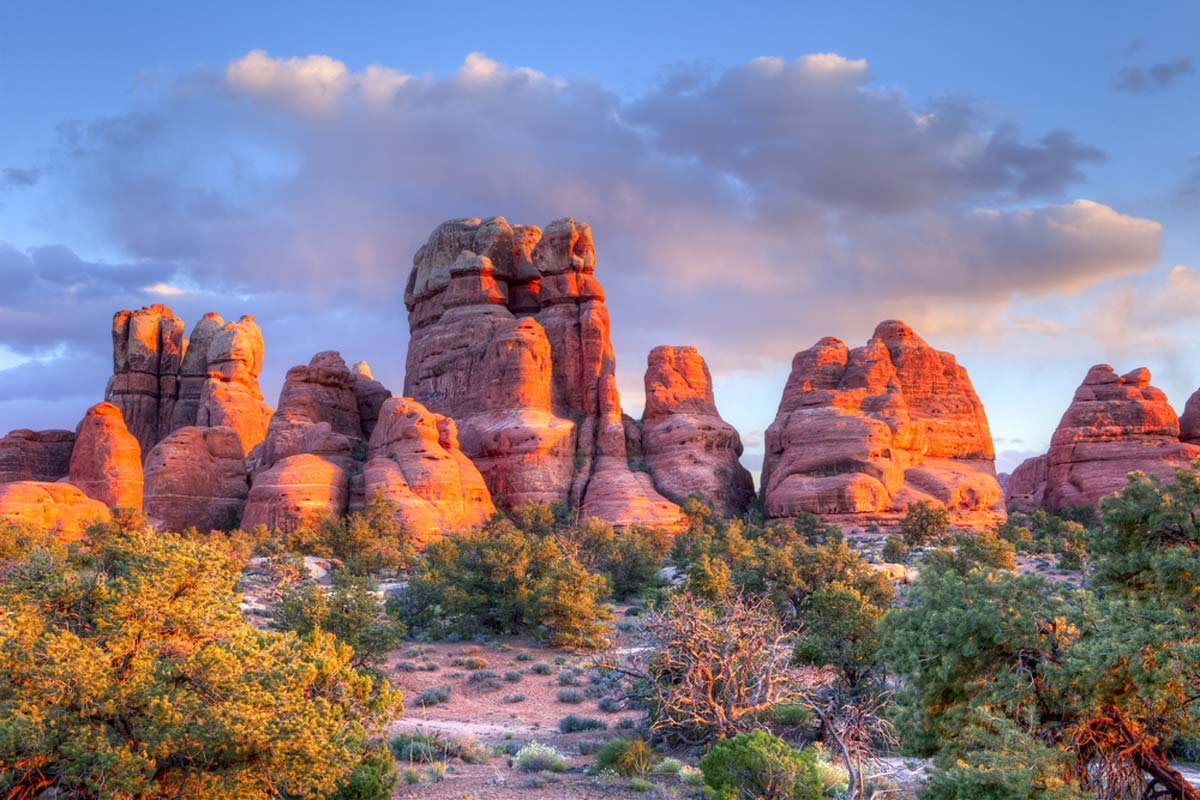 Canyonlands National Park is another popular national park in Utah – and an epic place to stay near Moab.
In fact, it's the largest national park in Utah, but one of the most underrated. There's so much to do here, from boating, hiking, and rock climbing to horseback riding and stargazing.
Canyonlands National Park Highlights
Grand View Point Overlook – The most popular scenic spot in Canyonlands National Park. This overlook is located at the Island in the Sky mesa, offering expansive canyon views.
Green and Colorado River – Get your adventure kicks here with guided rafting, kayaking, paddling, and more.
Mesa Arch – Here's where you'll want to catch sunrise. We promise it's worth getting up early in the morning for.
Suggested Hotels in Canyonlands National Park
Downtown Moab: Best Place to Stay for Foodies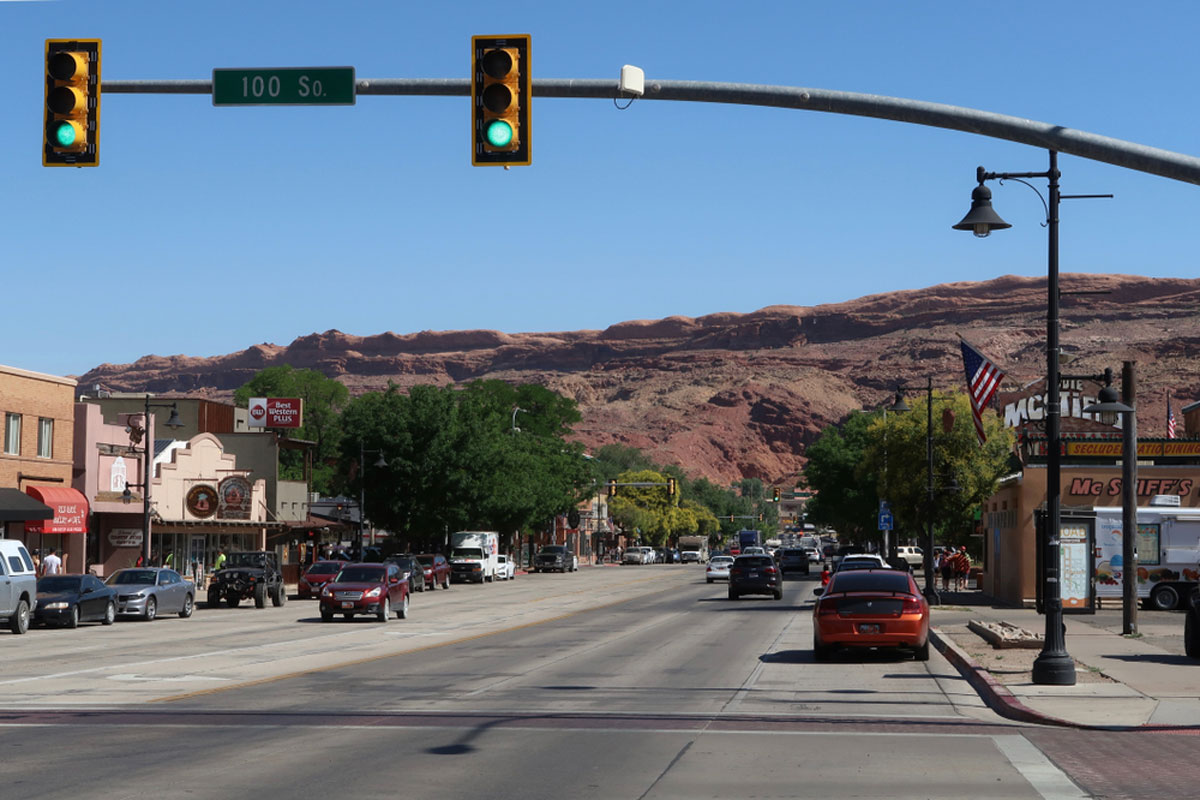 Looking for some real fun? Downtown Moab is filled with restaurants, microbreweries, shops, and galleries.
You deserve to let your hair down in the evening, especially after spending all day exploring the area's natural beauty. You can find cuisine from all over the world, museums, and dozens of tour operators.
While the city is small, with a population that hovers around 5,000, it's a great place to visit in between exploring the parks for a dose of culture.
Downtown Moab Highlights
Moab Giants – This is a dinosaur park featuring life-size models of T. Rex and other prehistoric dinosaurs that used to roam the area. Plenty of fun for adults and children.
Moab Museum – This cultural and natural history museum covers the scope of the area. It features several exhibits with artifacts, antiques, pottery, art, and other objects from history.
Lema's Kokopelli Gallery – This gallery features jewelry and art from Native Americans and has the largest selection in the southwest. It's a fascinating spot to visit.
Suggested Hotels in Downtown Moab
Moab Springs Ranch – One of the best places to stay in Moab, Utah is Moab Springs Ranch. There is a heated swimming pool, a terrace, a garden, and a hot tub. Oh, and there's a coffee house on site.
Hoodoo Moab – Hoodoo Moab is a magical place to stay. The resort features a swimming pool, garden, 24-hour front desk help, a sundeck, and an outdoor fireplace. There is a pool bar, snack bar, and restaurant.
Springhill Suites – Springhill Suites include a pool with a waterfall, a fitness center, a hot tub, and an outdoor fireplace.
Dead Horse Point State Park: Best Place for a Quieter Stay in Moab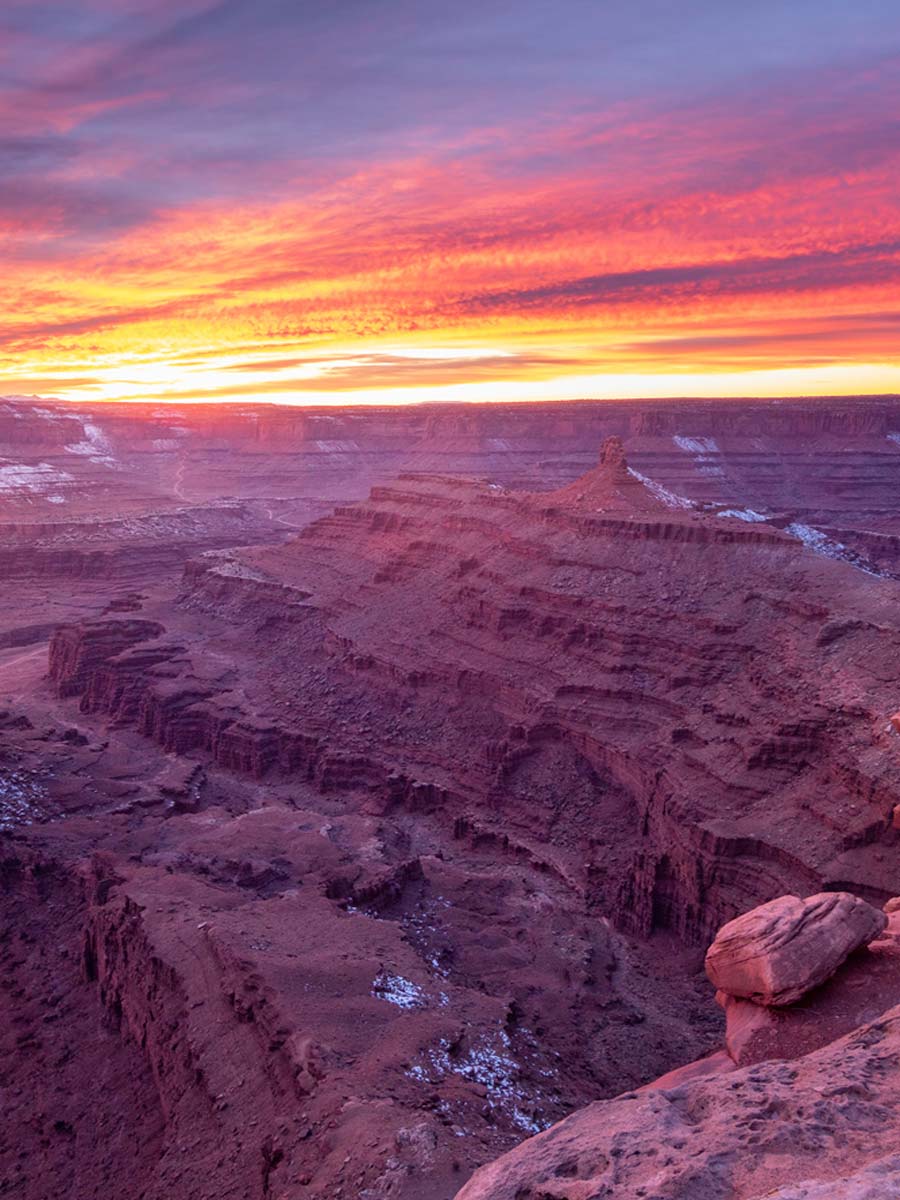 Dead Horse Point State Park is a gorgeous space that is less frequented by tourists, meaning that accommodation is usually cheaper and easier to find.
The park features canyons, high desert woodland, and an overlook of the Colorado River and Canyonlands National Park. It's a popular place to watch the sun rise and set, while the park has hiking and biking trails, and stunning overlooks.
Dead Horse Point State Park Highlights
Stargazing – The park was designated an International Dark Sky Park in 2016. There's no light pollution in the area, allowing for a dazzling nighttime experience.
Mountain Biking – There are various biking trails running throughout the park. The park also offers rentals and equipment.
Hiking – There are 8 miles of hiking trails providing some of the best views in the entire state.
Suggested Hotels in Dead Horse Point State Park
Homewood Suites by Hilton Moab – Homewood Suites is an eco-certified hotel and one of the most popular places to stay in Moab. It's pet friendly and includes indoor and outdoor swimming pools, a spa, a hot tub, and a fitness center.
Basecamp Adventure Lodge – A favorite for low-key adventure seekers. Basecamp Lodge offers experiences like kayaking, hiking, and fossil and mineral hunting.
Camping – Camping is one of the more popular lodging options for people who visit Dead Horse. You can camp all year long and there are restroom facilities with hot water and showers.
Manti-La Sal National Forest: Best Place to Stay for Off-Road Trails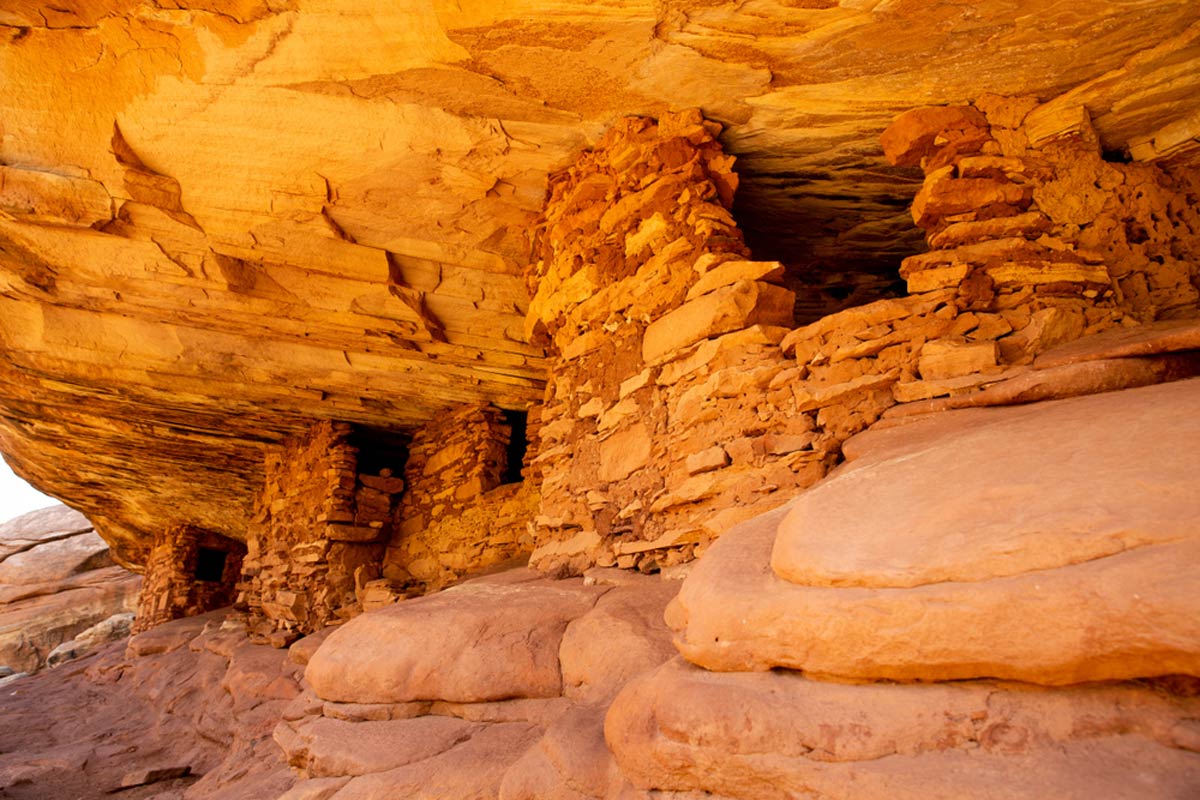 This national forest deserves a whole lotta love if you ask us. It covers central and southeastern Utah and has plenty of opportunities for hiking, mountain climbing, fishing, hunting, camping, off-roading, and scenic drives.
In fact, this is where you can find the legendary Skyline Drive and the Arapeen Off-Highway Vehicle Trail System. It is also home to the discovery site of the famous "Huntington Mammoth."
Manti-La Sal National Forest Highlights
Milky Falls – A very short hike (less than half a mile) will take you to Milky Falls. The falls can be mighty, especially after rain or snowfall. Though the hike is short, it can get quite muddy and slippery.
Wasatch Plateau – Especially popular for rock climbing, mountaineering, ice climbing, mountaineering, and hiking.
Joes Valley Reservoir – Joes Valley offers camping, fishing, boating, hiking, and biking opportunities. Expect a rugged off-grid experience here.
Suggested Hotels in Manti-La Sal National Forest
Temple View Lodge – With clear views of the stunning Manti Temple, this is easily considered one of the coolest places to stay in Moab. The lodge offers comfortable accommodation at affordable prices and, while rooms include a fridge and microwave, your stay also comes with a light breakfast.
The Yardley Inn and Spa – The inn offers gorgeous, spacious rooms with in-suite breakfast. There is a yoga room and library at the hotel, and you can also book spa services like massages and facials.
Warner Campground -The campsite boasts picnic tables and campfire rings. There are vault toilets and water is available seasonally. Better yet, there is also a cabin available by reservation.
Where to Stay in Moab: Frequently Asked Questions
What is the Best Area to Stay in Moab?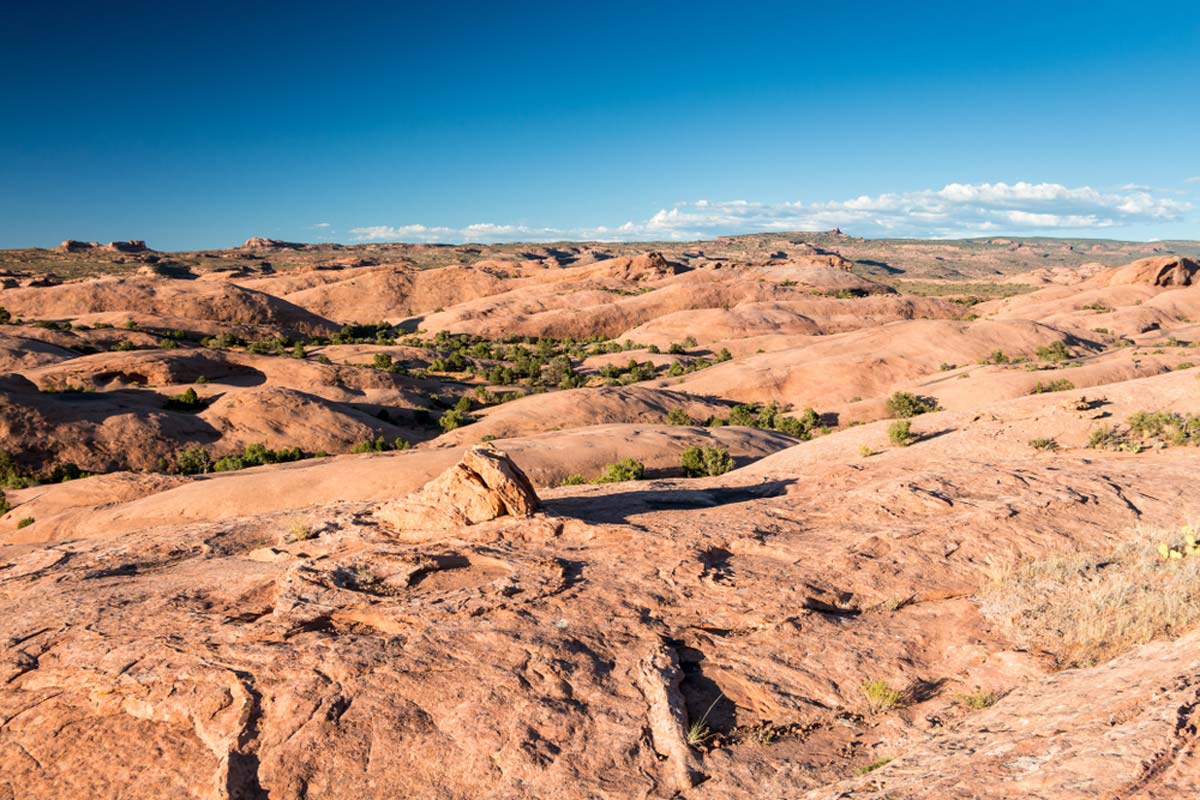 If you ask us, staying in Arches National Park is the best. The park sees over 1.5 million visitors each year, thanks to its opportunities to hike, climb, and stargaze.
Related Searches FAQs
When is the best time to visit Moab?
The weather can get extremely hot during summer (and chilly in the winter). Therefore, March through May is the best time to visit Moab.
Can you visit Moab in Winter?
Yes! During the winter Moab often sees snow and the white against the red rocks create an indescribable view. Winter activities include ice climbing, backcountry skiing, and winter hiking and camping.
How Do You Get Around in Moab?
The vast majority of people visiting Moab travel by car, whether it's a personal car or a rental. Having your own transportation gives you the freedom of going wherever you want, whenever you want.

There are no public transportation options (like buses) in Moab, however, there are tour operators, parks, and hotels that offer shuttle services to trailheads and other adventurous activities.

That said, Downtown Moab is easily walkable and many people make use of bicycles to cruise around and explore.
Practical Tips to Consider Before Booking Your Moab Accommodation
Consider the time of year you are traveling – during the busy season, accommodations book up quickly and can be more expensive. Booking a few months in advance is ideal.
Decide which activities you want to do and what sights you want to see. This should indicate where the best place to stay in Moab is for you.
Many places in Moab will allow you to bring a pet along for the adventure, but it's worth double checking before you make your booking to avoid being disappointed.
Where to Stay in Moab: Read Next