Looking for the best Bryce Canyon hikes? Add these 12 epic trails to your Bryce Canyon itinerary and thank me later.
You don't need me to tell you that Bryce Canyon National Park is well-known for its stunning scenery.
Distinctive hoodoos and lush greenery pepper this small but expansive 36,000-acre park. No one would fault you for wanting to see its red rock formations and Mars-like landscape. But what's the best way to view its staggering beauty?
Answer: Hiking.
Explore these scenic trails and find exhilarating paths for strolls and hikes offering breathtaking vistas. Get ready to discover the best hikes in Bryce Canyon National Park.
The Best Hikes in Bryce Canyon
Rim Trail
Length: 11 Miles
Difficulty: Moderate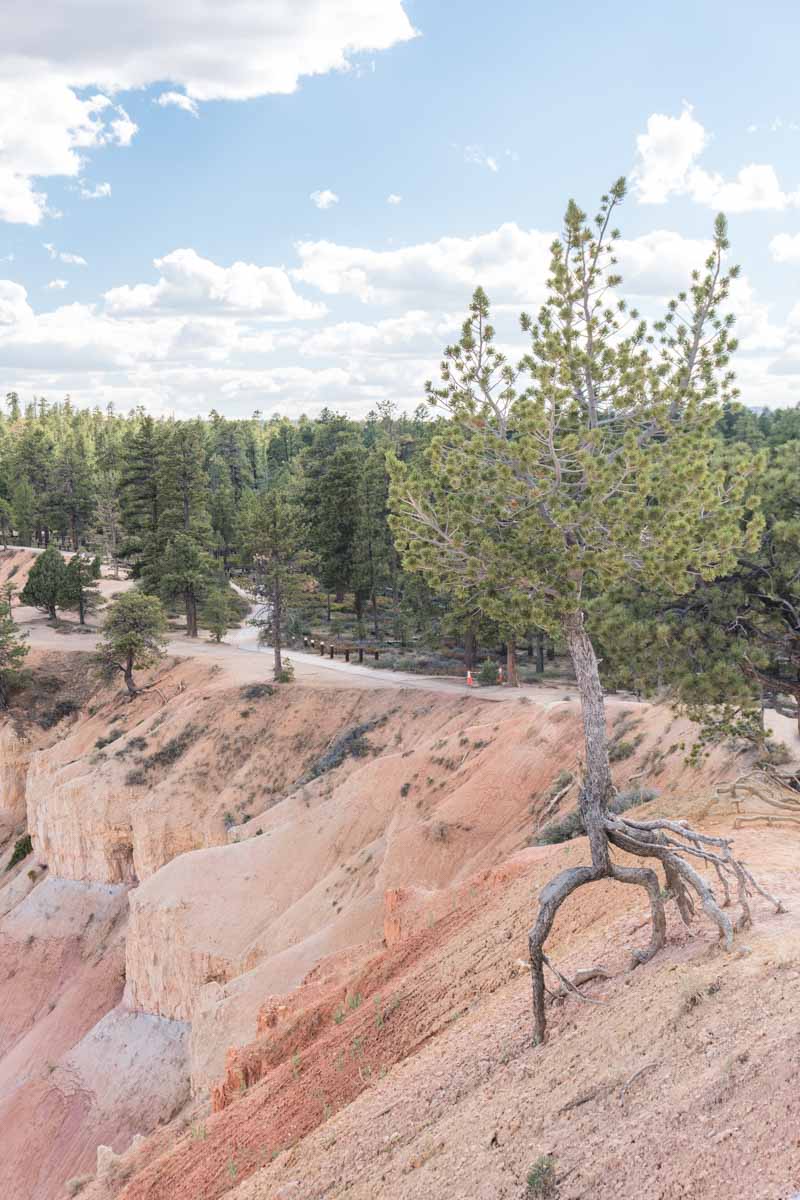 Let's kick off with the classic Rim Trail – in fact, most of Bryce Canyon's trails begin along this rim. The out-and-back hike boasts extensive views of rocky hoodoos and tall pine trees below and, from its highest point, you'll get a view of the Main Amphitheatre.
This iconic trail is also a great opportunity to include any of the loop trails, like the Navajo Loop Trail, in your hike.
I must add that you'll experience your fair share of steep elevation changes on this moderately challenging hike. So keep that in mind, and don't overexert yourself. Maybe (definitely) also bring a bottle of water so that you can keep hydrated.
Don't fancy the entire thing? Consider going one-way for 5.5 miles from Fairyland Point to Bryce Point (or vice versa). The park shuttle can pick you up at Bryce Point's Stop 8 if your legs get weary.
Note: If you start at Bryce Point and end your one-way hike at Fairyland Point, you'll have to trek another 1.9 miles to the park's Visitor Centre (Stop 6) to catch the shuttle.
Navajo Loop
Length: 1.5 Miles
Difficulty: Moderate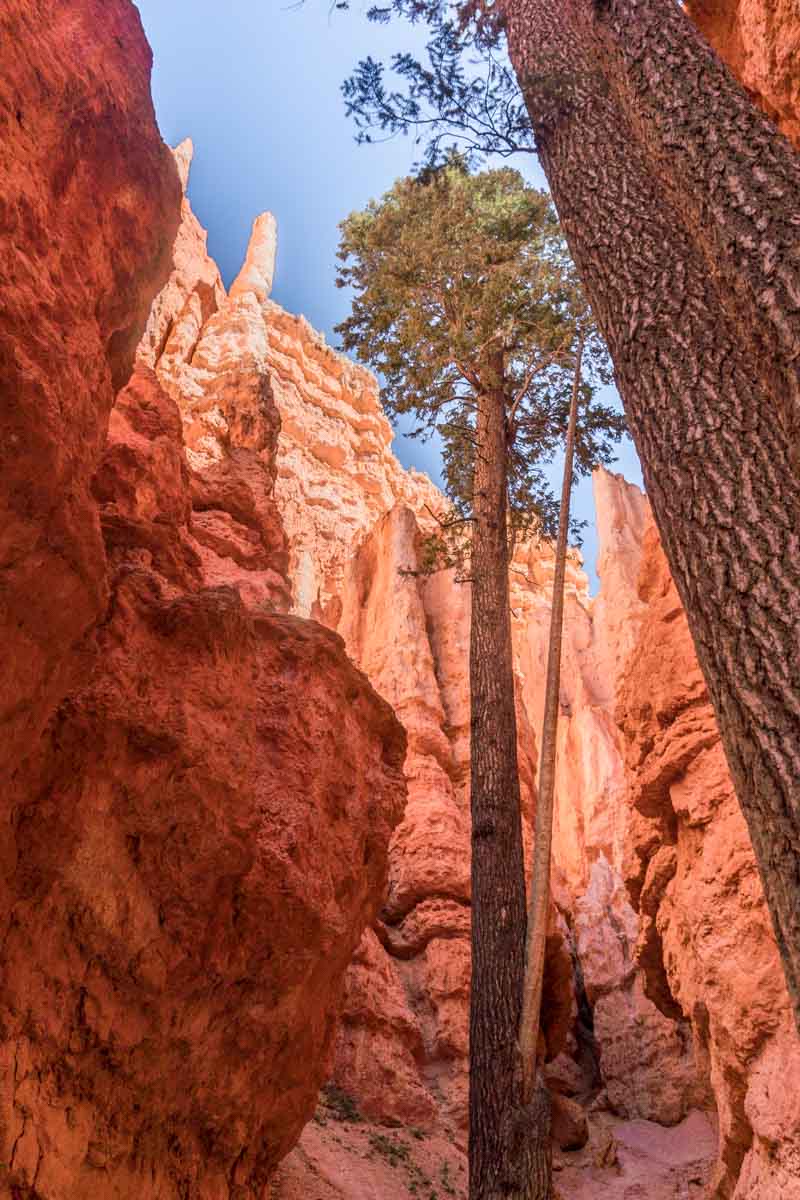 This popular Bryce Canyon hike, the Navajo Loop Trail, is a fan-favourite thanks to its short length and dazzling views.
Beginning at Sunset Point, you'll see the legendary Thor's Hammer hoodoo on your left and view the bewildering switchbacks leading into the eponymous Wall Street on your right. The narrow, rocky walls eclipse you as you descend to the bottom of the "Wall Street" side.
Once there, snap those Instagram-worthy shots of Bryce Canyon's hoodoos, refuel with snacks, and hydrate with H2O before continuing.
Continue hiking up the "Two Bridges" side for about 0.6 miles, where the towering Thor's Hammer greets you near the top.
While one of the heart-pumping hikes at Bryce Canyon, it's a great option to get up close to the hoodoos and appreciate the evergreen Douglas fir trees that dot the terrain.
Queen's Garden Trail
Length: 0.9 Miles
Difficulty: Easy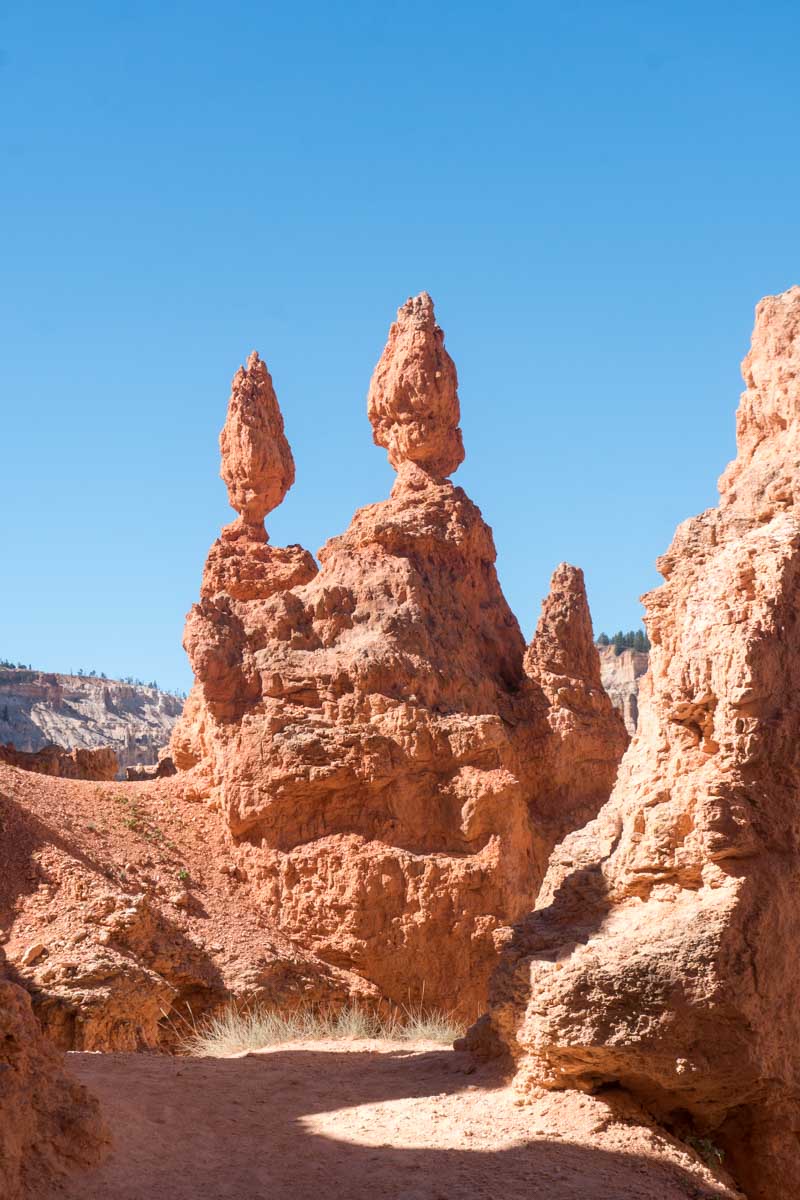 Named after a rock formation resembling Queen Victoria, the short, out-and-back trail takes you down into Bryce Canyon's sandy valley from Sunrise Point.
Don't let this short hike deceive you — its steepness can be challenging. Especially if you aren't fit.
It's a bit steep in a couple of places, and you may need hiking poles if you're really unsteady on your feet. But you'll enjoy the winding trail and spot unique erosion-formed rocks like Gullivers Castle and Queen's Castle. Further, towards the trail's end, you'll spot the iconic Queen Victoria rock formation to the right of the junction.
After seeing the Queen, you'll reach a rocky arch with a sign indicating the trail's end. Then, you can choose to loop towards the Navajo Trail or return to Sunrise Point.
Queen's Garden + Navajo Combo
Length: 3.1 Miles
Difficulty: Moderate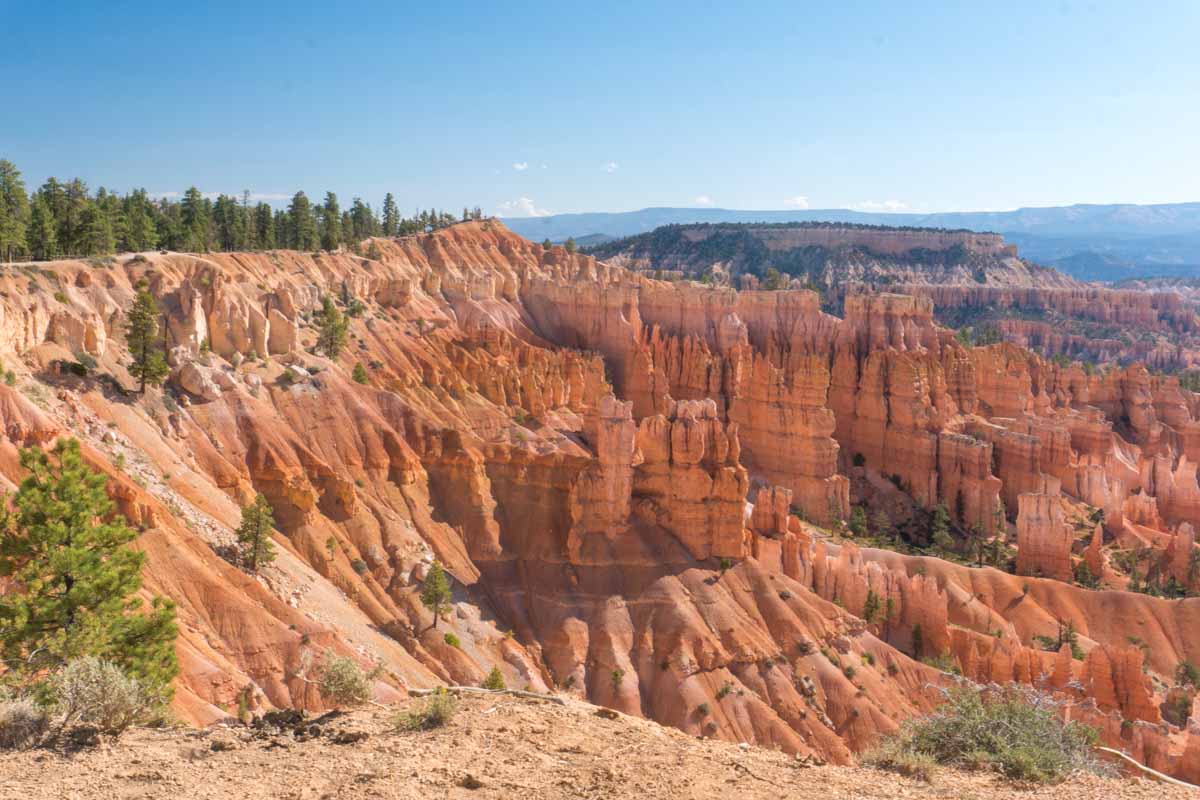 Considered the best hike in Bryce Canyon by many (myself included), this beloved trail offers you a wide variety of landscapes in the park.
If you're only going to do one trail other than the Rim Trail, this should be it. It takes you down into the hoodoos and takes about 1.5–2 hours to complete. Start with the Queen's Garden from Sunrise Point and go clockwise.
This way, you'll enjoy better views of Bryce Amphitheatre. You'll also find Queen's Garden less dangerous to descend than Navajo Loop. Lastly, there won't be a lot of "two-way traffic" because everyone's going in the same direction.
That last incline from the bottom of the Navajo Loop is quite steep, but you'll get to enjoy an easy half-mile between Sunset Point and Sunrise Point afterward as a reward. And what a reward it is.
Fairyland Trail
Length: 8 Miles
Difficulty: Difficult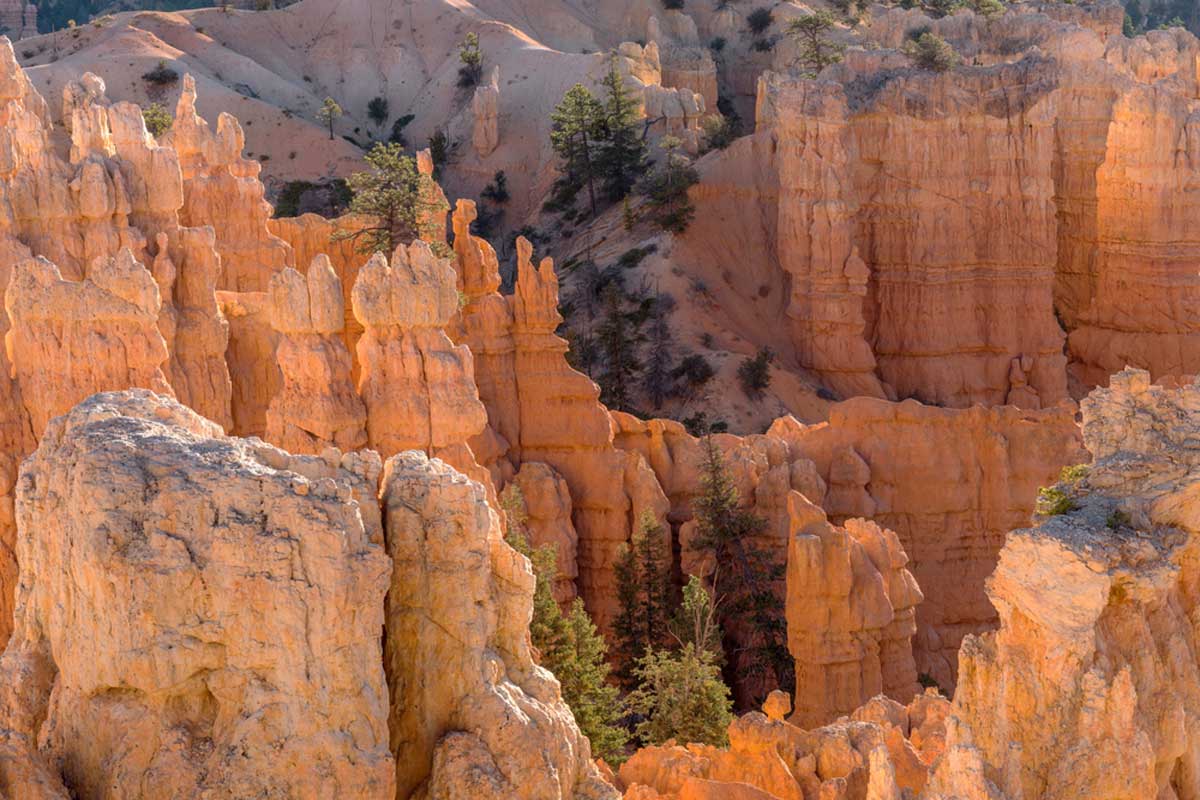 Looking for a path less trodden? The Fairyland Trail is a less crowded, scenic loop trail that provides stunning views of the hoodoos ahead. You'll get to enjoy views of the erosion-sculpted hoodoo landscape from below the rim.
The trail begins at Fairyland Point and descends into the intricate passageways of the amphitheatres. Expect Hoodoos and pine trees to greet you as you hike along.
This long trail takes you to the valley's bottom (no laughing, you), passing through deep, multicoloured canyons. Then, this winding, fairytale trail takes you around Boat Mesa's base before ascending to Sunrise Point and Fairyland Point.
The China Wall hedge of hoodoos and the large Tower Bridge hoodoo are two of the most amazing sights you'll see on this hike.
Under The Rim Trail
Length: ⁓ 22.9 Miles
Difficulty: Difficult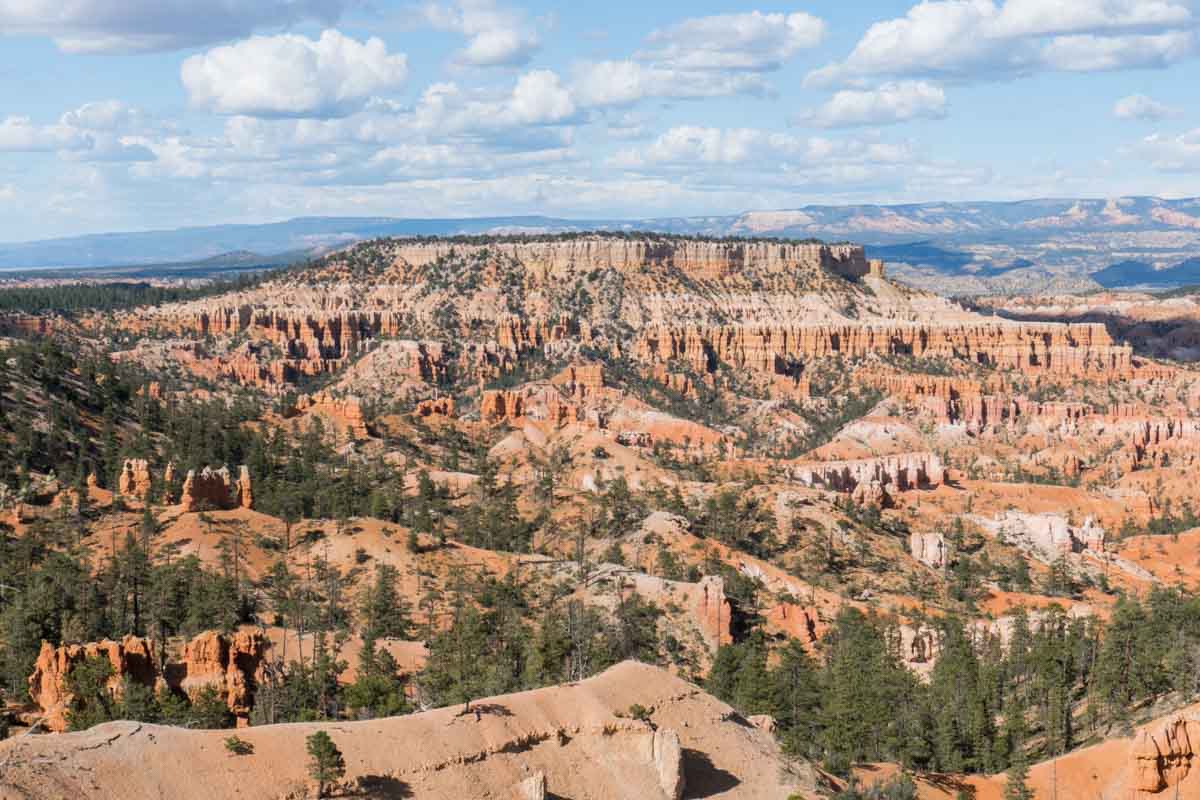 If you're looking for a challenge, here it is. You can start this point-to-point trail at either the Bryce Point or Rainbow Point trailhead, though I recommend hiking from Rainbow Point as it's easier — you'll climb less at the end of your hike.
This long, strenuous hike takes about 12 hours to complete and is best suited for those staying overnight.
The peaceful Under The Rim Trail boasts incredible scenery, offering you close-up views of red hoodoos, green ponderosa, and pinyon pine trees. On this hike, you'll see iconic buttes like Mud, Noon Canyon, and Swamp Canyon.
P.S. You can refill your water bottle at the slightly muddy Iron Spring and the much cleaner Yellow Creek.
Peekaboo Loop Trail
Length: 5.2 Miles
Difficulty: Difficult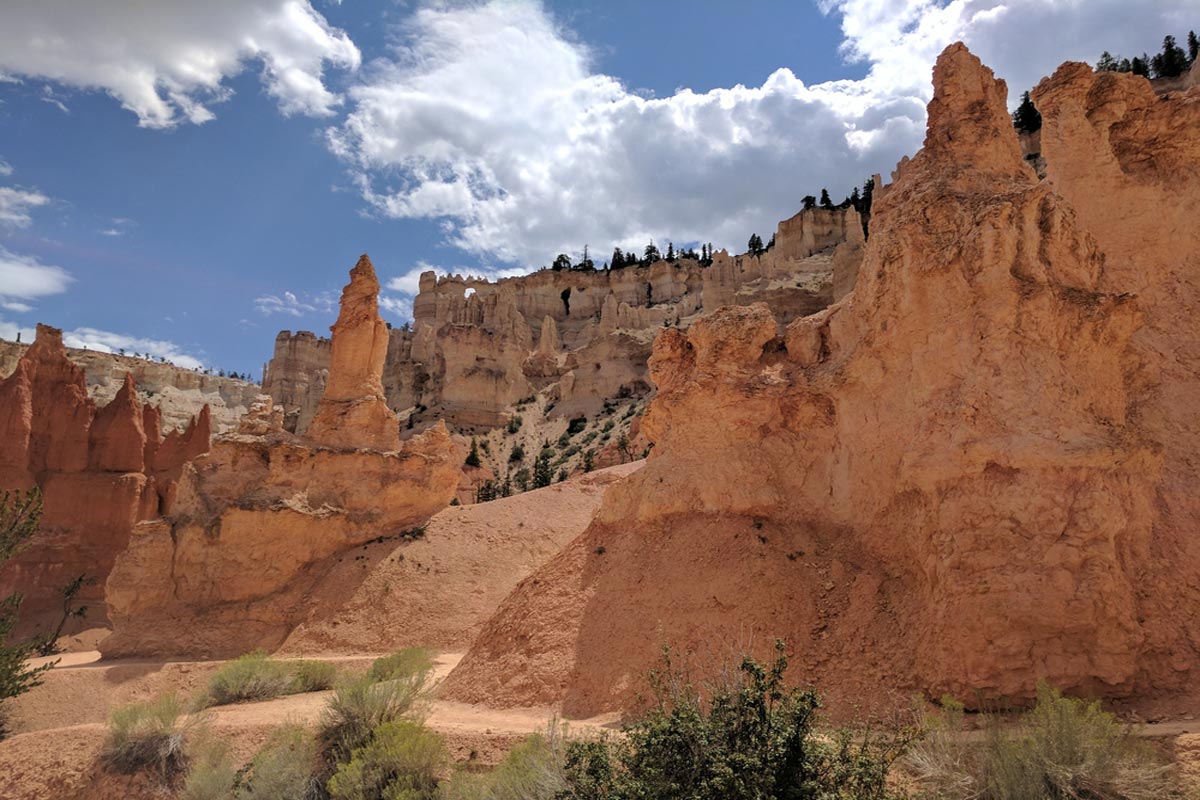 The Peekaboo Loop Trail gets its cute name from its surprising turns and elevation changes (especially dropping 1,000 feet to the canyon floor).
Although many consider it a moderate hike, its rapid elevation changes and length actually make it strenuous. But it's worth it. You'll enjoy top-down views of the hoodoos from the rims here, and you'll see some horses on the trail.
Starting at Bryce Point, you'll descend through winding paths, lush pine trees, and the picture-worthy Peekaboo Arch over this varied terrain.
Note that there are many switchbacks here, and some parts are muddier than others.
Swamp Canyon Loop Trail
Length: 4 Miles
Difficulty: Moderate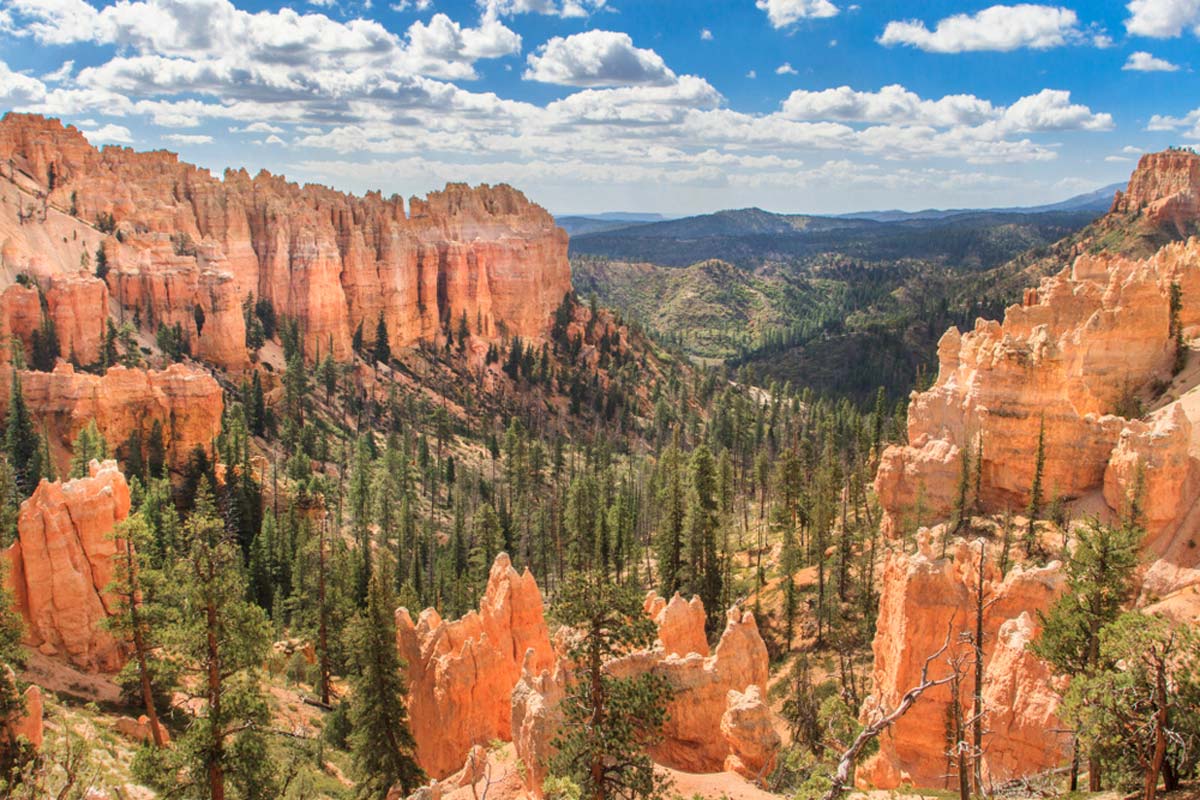 This less popular loop trail offers views of cliffs, hoodoos, and the park's wilderness.
I must say that while this is a moderate hike, your knees and calves may buckle if you haven't trained for it. That's not to say you have to be an expert or seasoned hiker. But it helps to prep your muscles by hiking the area over sloped ground, for example.
From the scenic Swamp Camp Viewpoint, go clockwise through the park's distinctive ponderosa pines to a section of the Under-the-Rim Trail.
Another part of your hike includes walking through a hauntingly beautiful half-burned patch of forest. At Swamp Canyon, you'll see the area below the rim and colourful hills in the distance.
Riggs Spring Loop Trail
Length: 8.6 Miles
Difficulty: Difficult
This is one of the most difficult Bryce Canyon hiking trails, to say the least. Especially since you'll be camping in the wilderness.
You'll start at Yovimpa Point, making your way through forest trees, some of which include spruce and fir. Thanks to crimson cliffs and scattered Quaking Aspen groves, you'll appreciate picturesque views to the east and south.
Advanced hikers may consider this one of the best trails to hike in Bryce Canyon, as its western section really tests you. It's steeper and densely forested, making it a strenuous yet rewarding hike.
Tip: I recommend treating the water from the trail's halfway point's spring before drinking it.
Sunset Point to Sunrise Point
Length: 1.1 Miles
Difficulty: Easy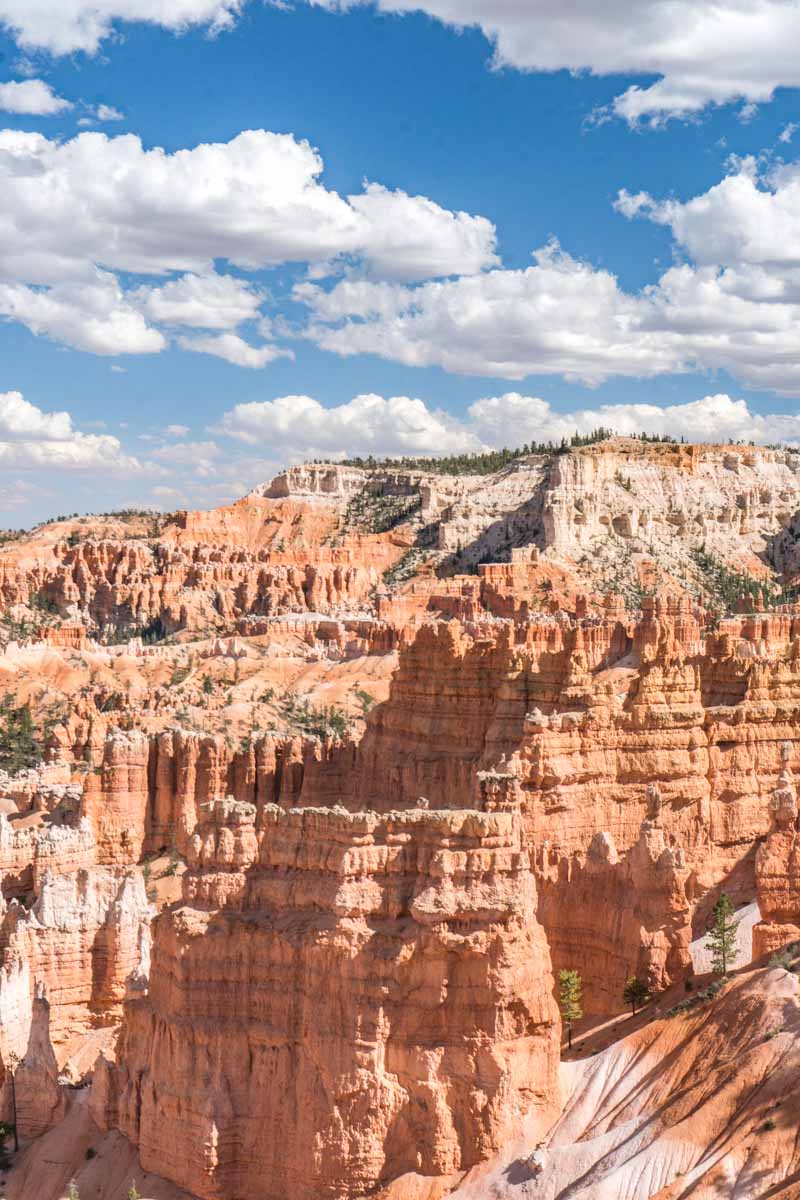 One of the most popular easy hikes in Bryce Canyon, this trek from Sunset to Sunrise Point also offers you breathtaking vistas of the canyon.
Your out-and-back hike starts from Sunset Point before you make your way down to the slot canyon and up to the scenic Sunrise Point.
The short hike is fairly accessible to everyone. Thanks to its mostly level and paved path, some wheelchair users may be able to use it.
This is such an easy, pleasant hike. It's a great introductory hike for first-time hikers, making this one of the top hikes in Bryce Canyon.
Who says you need to break a sweat to enjoy gorgeous views?
Tip: Go before sunset to see the sun illuminating the trees and canyon in beautiful orange hues.
Mossy Cave Trail
Length: 0.9 Miles
Difficulty: Easy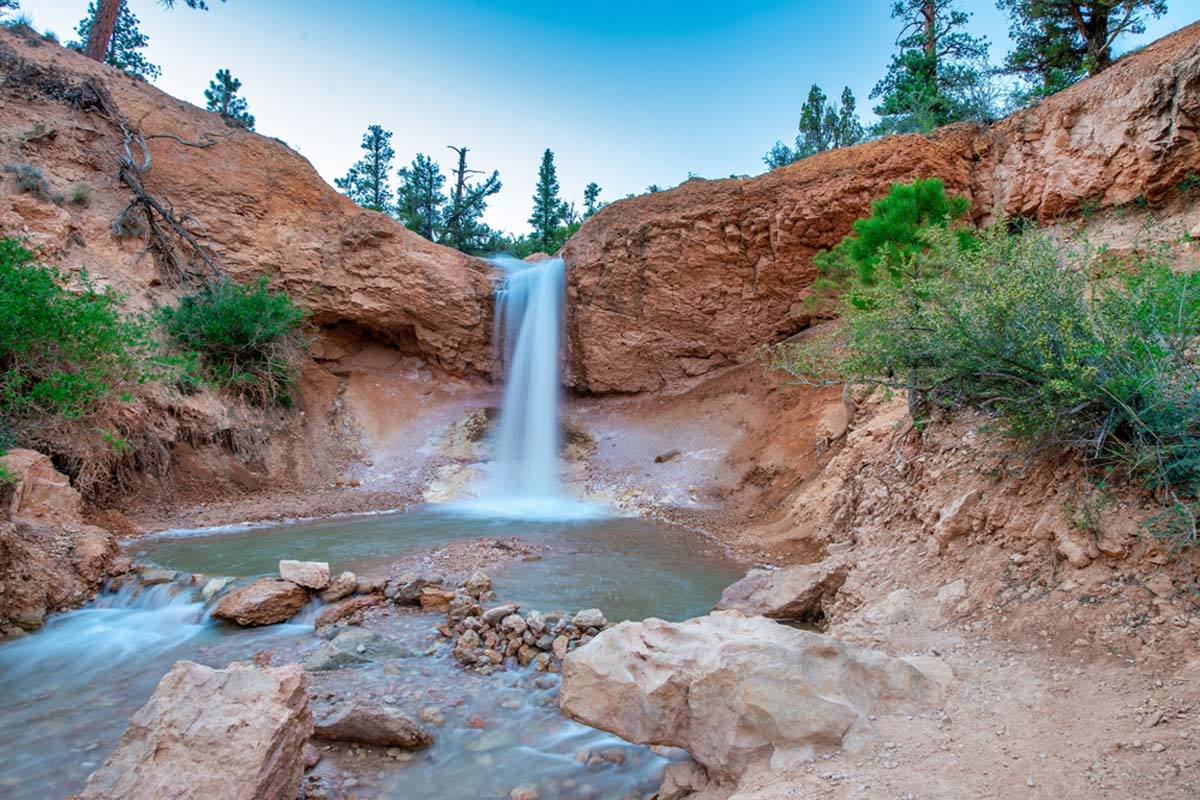 Known for its thick green moss that carpets the rocks in summer and its hanging icicles in winter, the short out-and-back Mossy Cave Trail is one of Bryce Canyon's must-do hikes.
Though technically speaking, it's not inside the park, so it's more correct to say it's one of the best hikes near Bryce Canyon.
You'll start the 23-minute hike near Mossy Cave parking and go down the trail. There's a creek nearby that you can view from across the footbridge.
Close to the footbridge are striking hoodoos above Mossy Cave. Across the second bridge are incredible views of the waterfall, where you can rest in the stillness.
You can turn right onto the Waterfall Trail or complete the Mossy Cave Trail on your left. The final stop is the scenic Mossy Cave.
Bristlecone Loop Trail
Length: 1 Mile
Difficulty: Easy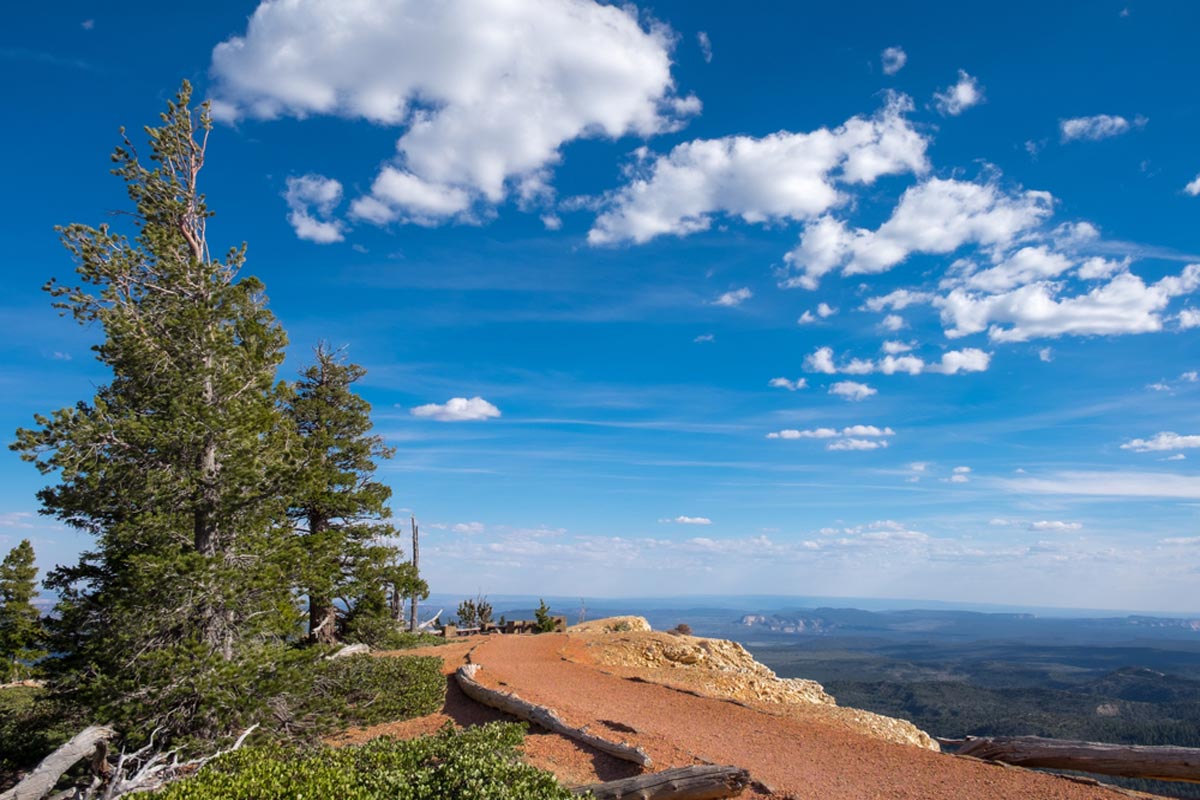 Bristlecone Loop is one of the popular Bryce National Park hikes. It's also short and sweet – a big winner, really.
Your 20-something-minute hike starts from Rainbow Point, with you walking past two-millennia-old (yes, that old) bristlecone pines. Naturally, this is how it got its name. This easy route is mostly flat and has a nice feel, thanks to the soft rustling of the trees.
It also offers you far-reaching vistas as far as the Four Corners area of Colorado, Utah, Arizona, and New Mexico.
The Best Hikes in Bryce Canyon: Practical Tips and Map
Arrive early (before 10 am) to popular trails like Sunset Point to Sunrise Point to avoid crowds.
Come prepared – wear hiking shoes and a cap or wide-brim hat. Protect your skin with SPF 30 sunscreen. Salty snacks and water are essential. Rehydrate and replenish your electrolytes to avoid fainting.
Choose trails suited to your fitness level to avoid difficulty while hiking.
Consider Bryce Canyon's Scenic Drive (with small hikes along the way). It works well for day visitors.
Bryce Canyon Hikes: Read Next