Bryce Canyon National Park is a landscape that's full of visual drama. Towering hoodoos glint orange in the sun in a terrain that wouldn't look out of place on Mars. Discover the best things to do in Bryce Canyon with this in-depth guide.
There's nowhere quite like Bryce.
The red earth and arid landscape that is filled with weird and wonderful hoodoos, feels otherworldly in some ways, but also incredibly grounded in our earth through time – a visual ode to the geological processes that have shaped it.
So yeah – if you're planning a trip to Bryce, prepare to be excited. If you're not – what are you waiting for?
I know you're ready for a deep dive into the best things to do in Bryce Canyon – so let's get to it!
Top Tip: I'll level with you. I didn't love Best Western Plus Ruby's Inn but it is really well-located for the park, which is just a couple of minutes' drive away and the accommodation is fine if a little lacklustre.
Top 5 Things to Do in Bryce Canyon
Hike the Navajo Loop Trail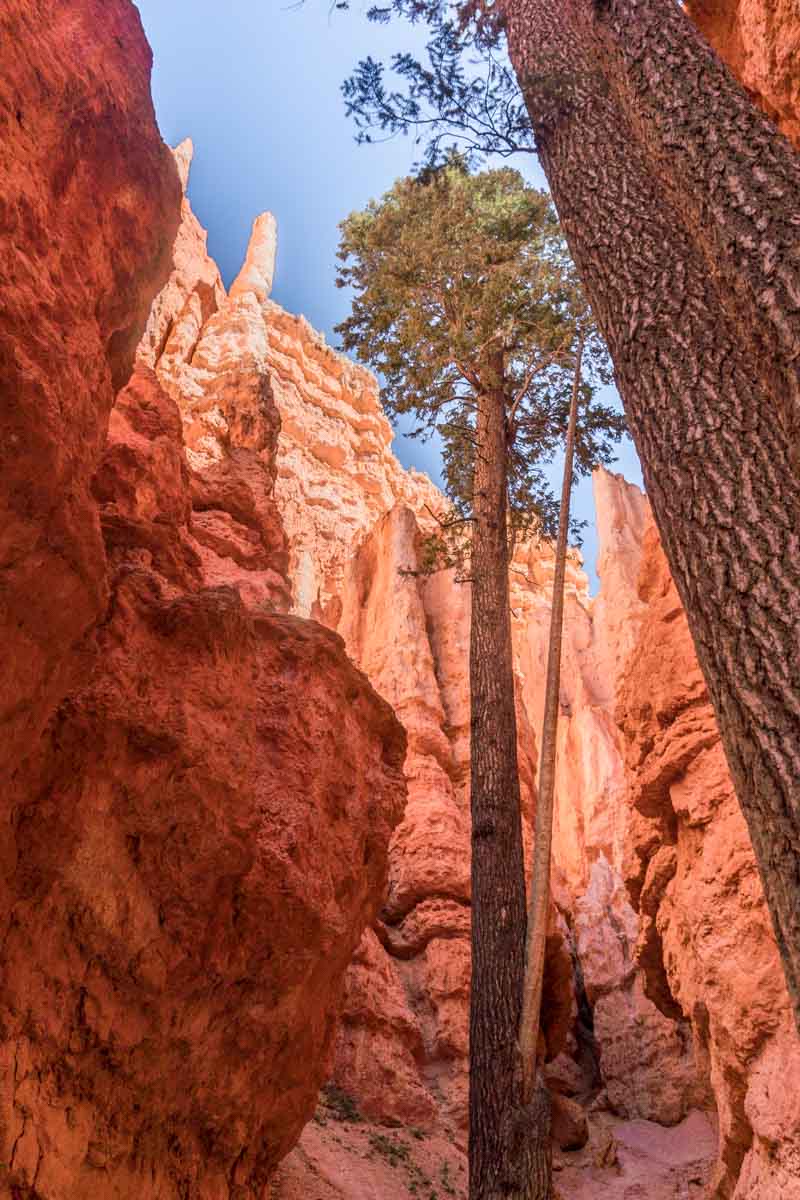 Bryce Canyon's hoodoos (you know – the fairy chimney things all over the park) make hiking in Bryce a one-of-a-kind experience. The Navajo Loop Trail is perfect as one of the best things to do at Bryce Canyon for great bottom-up views of these marvels of nature.
You'll be navigating this moderate 2.2 km trail through the Wall Street slot canyon with crowding, craggy cliff faces and then traverse the winding paths of the Two Bridges side.
You'll also pass by the most famous hoodoo in the park: Thor's Hammer, 45 metres tall and named for its unusual shape.
Top Tip: The Wall Street side closes in winter, but the Two Bridges half of the trail remains open as an out-and-back.
Go Stargazing in One of America's Darkest Night Skies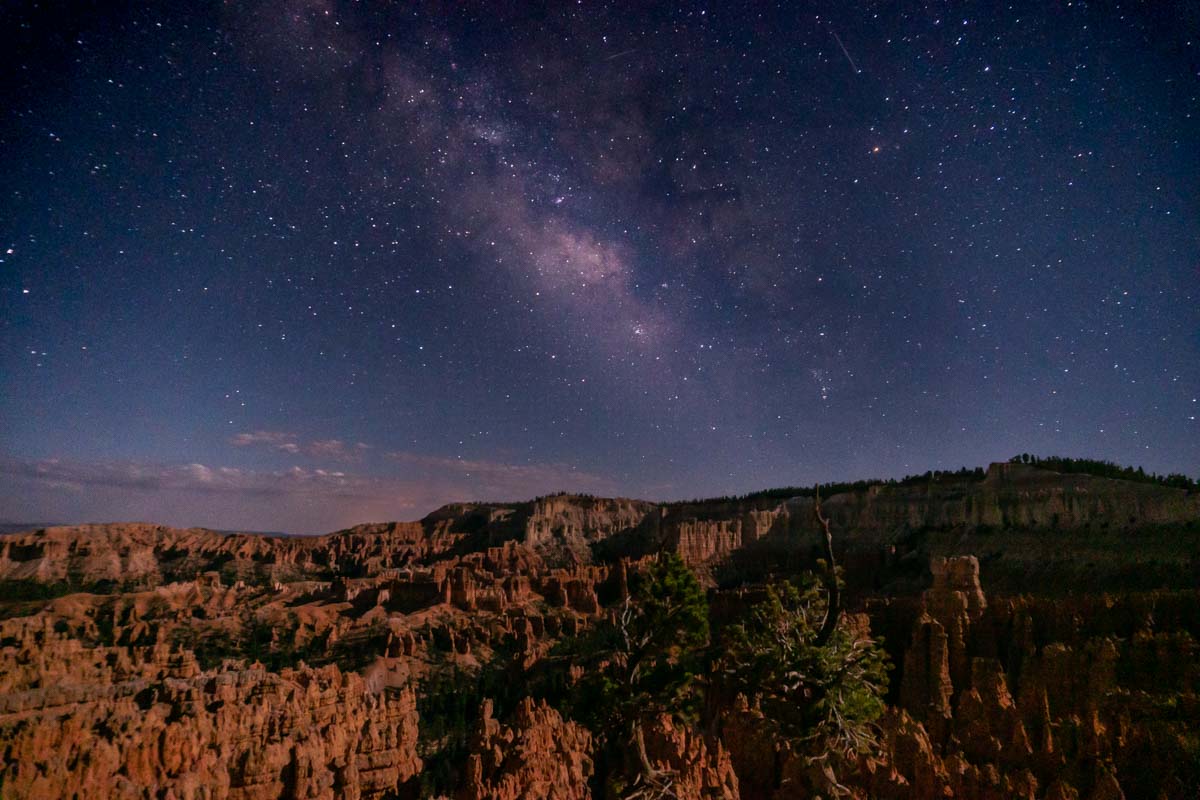 Elevation and a lack of humidity and light pollution make Bryce Canyon one of the best places for stargazing in the United States.
In fact, it's designated as an International Dark Sky Park by the International Dark-Sky Association. On a clear night, you can see all the way to the Andromeda Galaxy.
I am an absolute night-sky geek (although, please don't ask me to identify any constellation other than Orion) and I totally freaked out at how amazing the skies were in Bryce – so much so that I spent a few hours photographing well into the night.
The moon was relatively bright but even that couldn't dim the blaze of the twinkling stars.
Top Tip: The park offers 20-minute ranger tours of the constellations during summer nights from Thursday to Saturday.
Take the Bryce Canyon Scenic Drive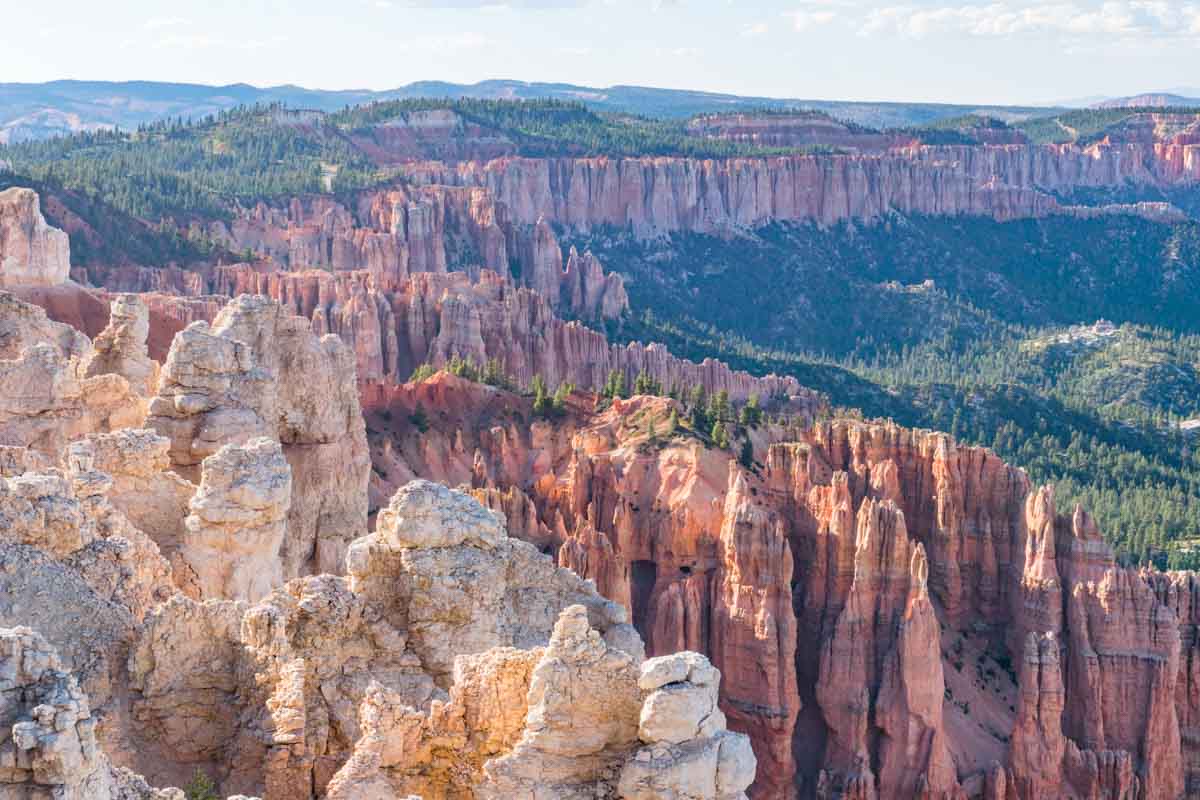 It would take at least a week to hike the trails leading to all of Bryce Canyon's stunning viewpoints – luckily for you, many of them are linked by the stunning Bryce Canyon Scenic Drive.
Stretching over 18 miles, the scenic drive – otherwise known as Highway 63 – packs a punch.
Leave the main canyon amphitheater behind to take a drive to destinations such as Farview Point, the Natural Bridge, Rainbow Point and Yovimba Point (where the road ends).
Top Tip: It's easy enough to follow but if you want more from the experience, grab a self-guided driving tour to help you navigate the marvels on display.
Hike the Queen's Garden Trail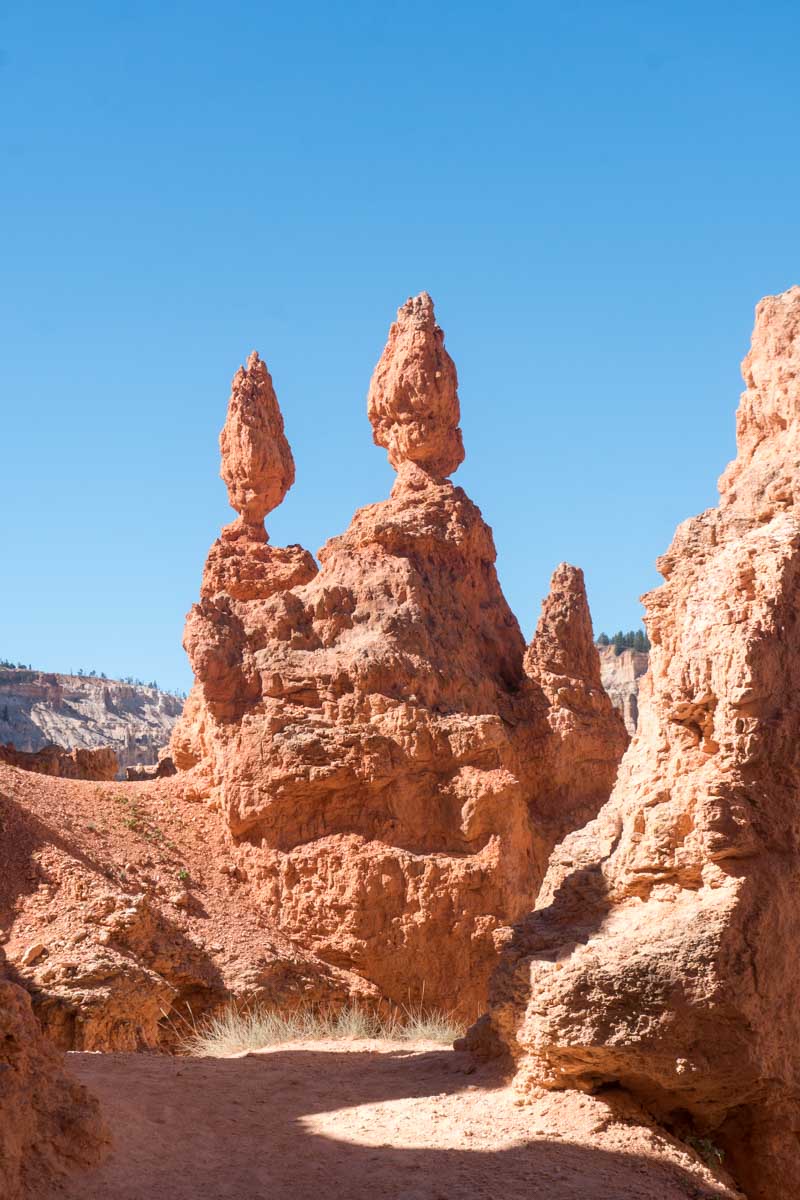 The Queen's Garden Trail sounds like a majestic title, but there's actually a pretty comical reason for the name: one particular hoodoo on this trail strongly resembles Queen Victoria. Yes, really!
Hiking the Queen's Garden Trail is a fairly good option for beginners – not only is it the easiest descent into the Bryce Canyon amphitheater, but it comes with some drop dead gorgeous views along the way.
That said – the 1.6 mile / 2.8 km round-trip has a few steep descents and drop-offs – nothing to worry about but take your time if you're a bit wobbly around heights.
The Queen's Garden Trail starts at Sunrise Point and finishes at the Queen Victoria hoodoo.
Top Tip: I'd highly recommend connecting this trail with part of the Navajo Loop for a cool circular trail. Once you reach the end of the Queen's Garden Trail, carry on on the Navajo Loop trail, opting to do either the Two Bridges or Wall Street sections of the trail. You can also book a guided hiking tour.
Watch the Sunset at Sunset Point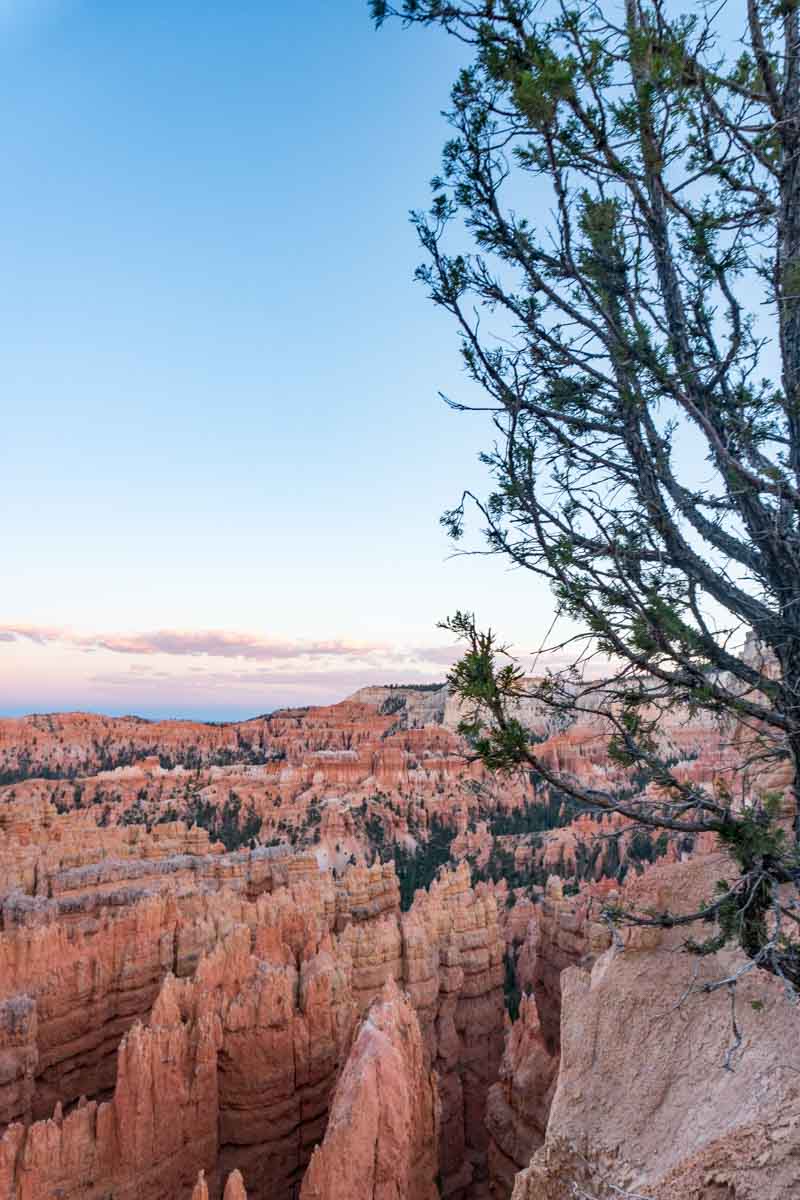 Bryce Canyon's kaleidoscopic colour palette really comes into its own at sunrise and sunset – so much so that there's a viewpoint in the park dedicated to each one!
When it comes to things to do, Bryce Canyon National Park has a bevvy of landscape opportunities to offer, and seeing the sunset at sunset point is the most colourful of them.
Home to the Silent City— a tightly packed maze of hoodoos and fins — Sunset Point also offers views of Thor's Hammer from the northern edge.
I was kind of surprised that you couldn't actually see the sunset from Sunset Point – but given that the changing light set the scenery ablaze in a magnificent show – I can't say I cared much.
Sit back and watch the last fiery rays of the day oversaturate the masses of red hoodoos reaching skyward.
Brilliant Things to See & Do in Bryce Canyon
Hike the Rim Trail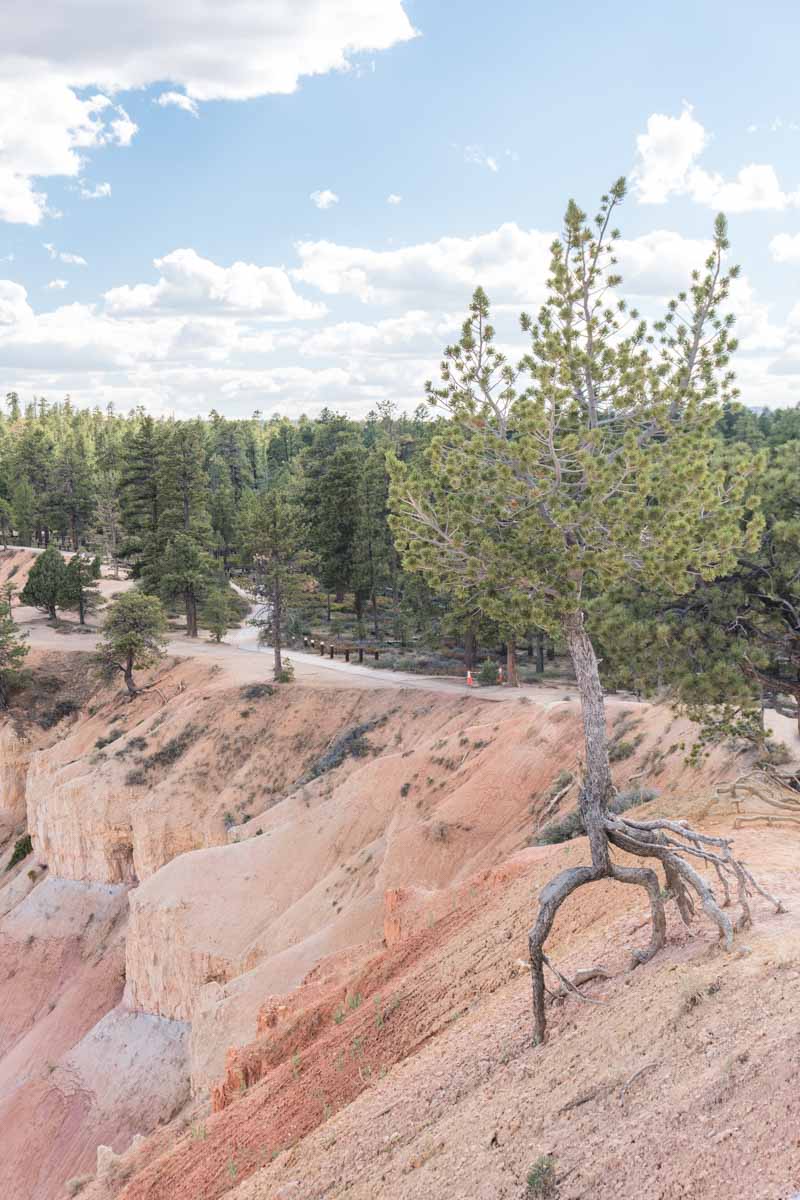 I say "hike" but really the Bryce Canyon Rim Trail is very much on the walk side of things, which will be a relief to those of you looking for Bryce Canyon activities that are a little more on the low-key side of things.
Either way, the Rim Trail should be at the top of your list of things to do in Bryce Canyon as it connects many of the national park's most popular viewing points. It's an 8.8 km trek one-way, passing by Inspiration Point, Sunrise and Sunset Point, and even Fairyland Point if you go the full length.
It's a fairly easy walk along the edge of the amphitheatre with some paved areas, leaving you free to take in the scenery of the hoodoos below (keep an eye out for the edges though!)
Check Out the Sunrise at Sunrise Point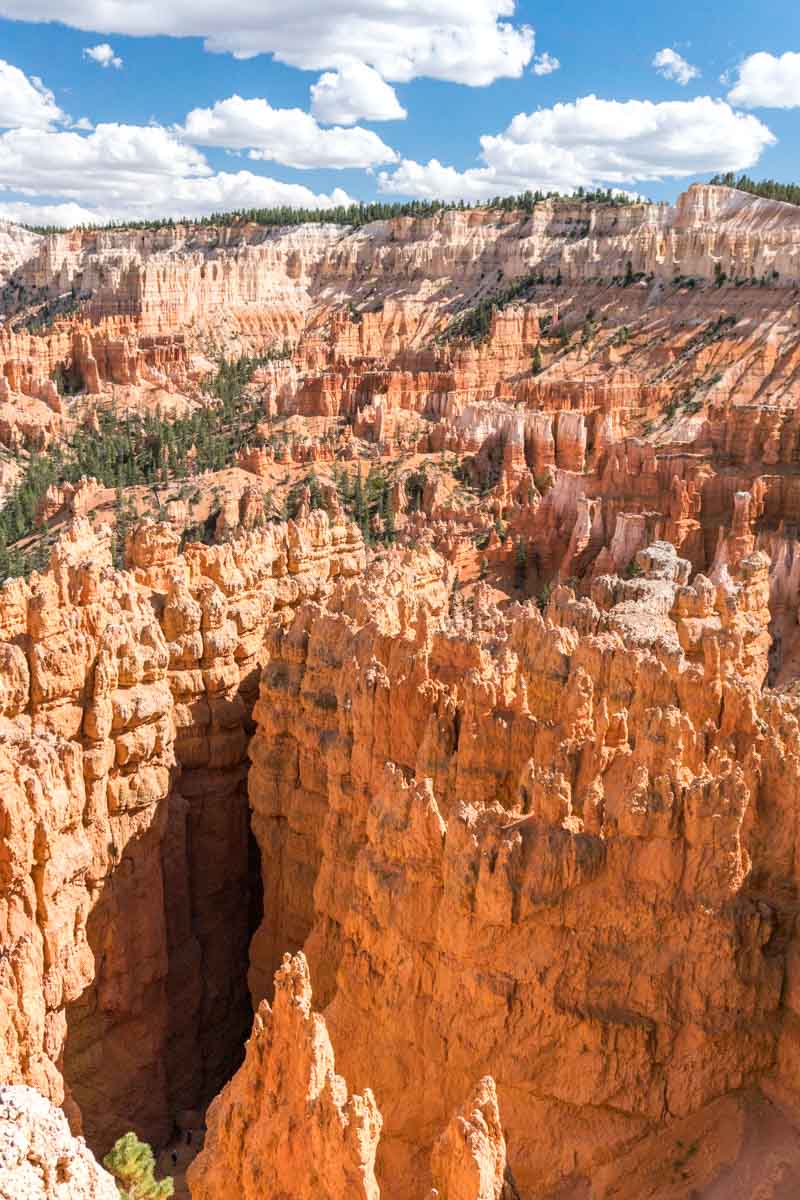 Want to know what to do in Bryce Canyon? Make catching the sunrise at Sunrise Point your top priority.
The hoodoos glow in a kaleidoscope of colours in the emerging sunlight, orange chimneys surrounded by green-flecked dunes – worth pulling yourself out of bed for!
Take the Fairyland Loop Trail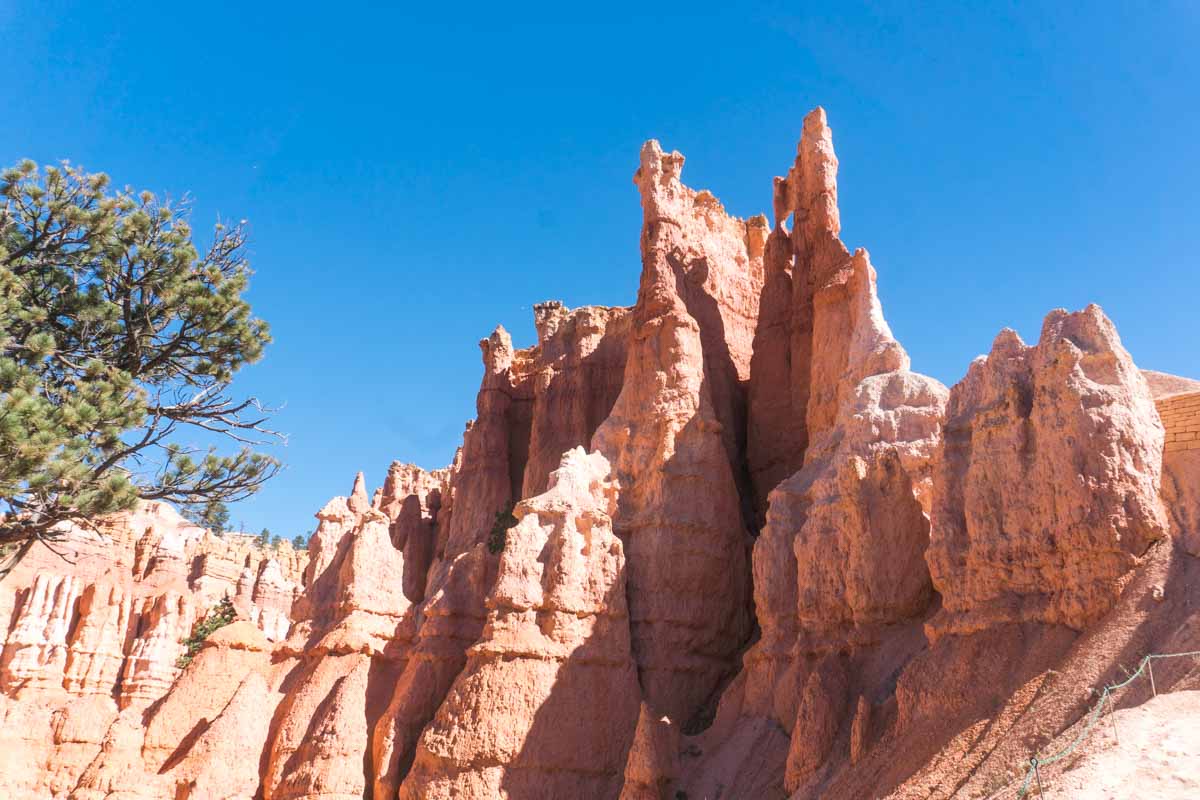 Many visitors come to Bryce, park up in the parking lot, pop out, take a few photos and move on, but a little more effort will give you rich rewards.
In few places is this more true than on the Fairyland Loop Trail. Less popular and much longer than the Queen's Garden and Navajo Loop trail, it's the perfect way to really explore a different (and much quieter) side of Bryce.
So, what should you expect?
A variety of scenes from the canyon floor, from gently undulating hills to towering pine forests and (of course) crowds of chiselled red hoodoos.
This 13.3 km round-trip is more of a strenuous trail, so pack your good hiking shoes.
Top Tip: Catch a photo of the Tower Bridge formation as you pass by on the long hike around the base of Boat Mesa.
Soak up the Views from Inspiration Point
Inspiration Point is one of Bryce Canyon's best viewpoints – if you've been paying attention to anything I've said, you'll know that's no small feat at all.
Row upon row of alternating white, red, and pink striped hoodoos create a warm-hued cascade of limestone descending into the abyss. The viewpoint is spread out over three levels – be sure to explore all three while you're there.
Load Up on Info at the Bryce Canyon National Park Visitor Centre
If it's your first time at Bryce Canyon, things to do may seem endless. The best place to start is the Visitor Centre, where you can find informational documentaries, interactive exhibits, and… a prairie dog maze.
Maps and souvenirs are available to happy consumers, and a ranger program board lists scheduled tours, hikes, and geology talks. It's also a great pitstop for a proper bathroom before you hit the trails.
Tackle the Peek-A-Boo Loop Trail
Not for the faint-hearted, the Peek-A-Boo Loop Trail is a strenuous 8.8 km loop with stellar terrain and scenery.
Its claim to fame is the Wall of Windows, a series of hoodoos and archways. But it's a hard-won scenery prize as many portions of the trail are uphill and in direct sunlight.
Top Tip: Pack plenty of sunscreen, water, and snacks to keep hydrated and energised on this one.
Unique Things to See & Do in Bryce Canyon: Hidden Gems That are Off the Beaten Track
Losee Canyon Horseback Ride
Situated in nearby Losee Canyon, you can still experience the magical hoodoos up close — and on horseback no less.
This tour also takes you the routes used by Butch Cassidy and an old outlaw hideaway, giving you a real taste of the Wild West in its glory days.
No matter which way you look at it, this adventurous outing is one of the most unique things to do near Bryce Canyon.
Book your Losee Canyon Horseback Ride Now
Meander the Mossy Cave Trail
If you want to tackle one of the lesser known things to do at Bryce National Park, I highly suggest including the Mossy Cave Trail in your itinerary.
This short hike isn't as crowded as the others, but it's an easy 1,6 km out-and-back trail that leads to secret delights.
Follow along the sparkling shallow river In the dusty landscape to find the namesake cave that drips water (and icicles in winter). I recommend visiting between May and October, when the show-stopper waterfall at the trail's end is at its best.
See The Canyon from Rainbow Point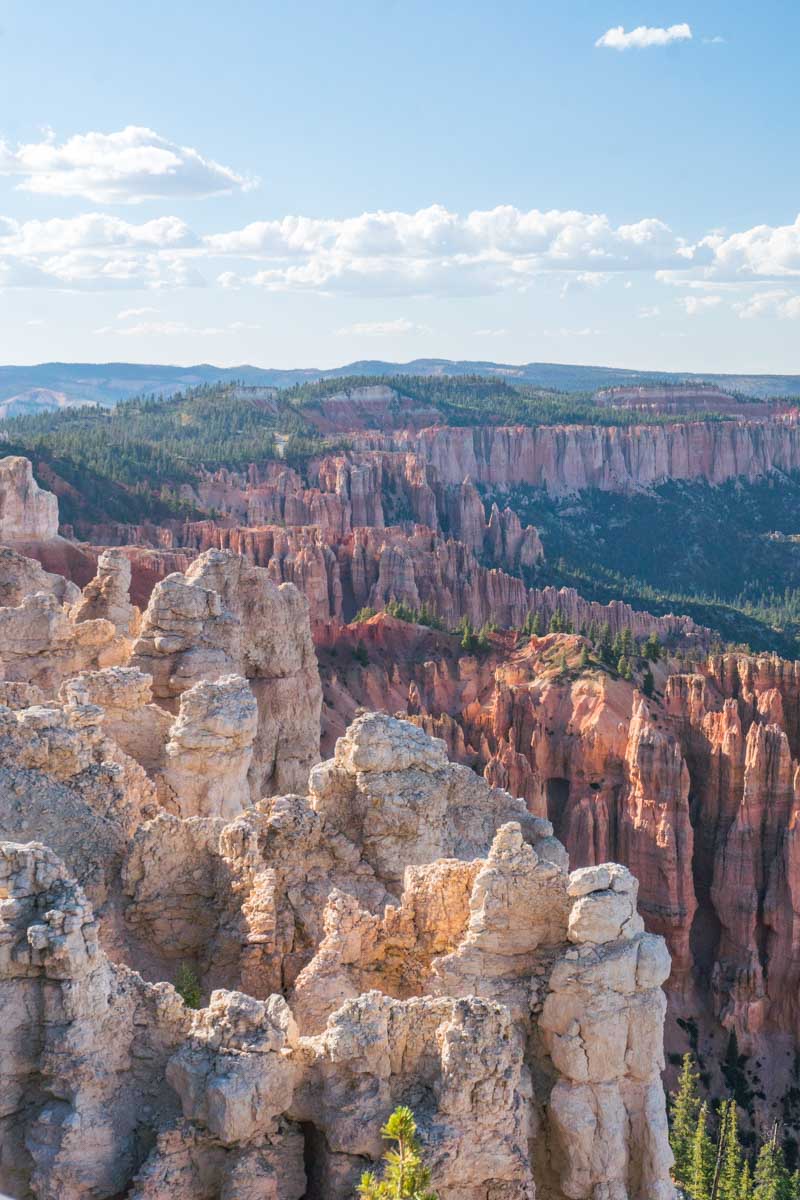 It may be well into the scenic drive I covered above, but the trip to the aptly-named Rainbow Point is worth it.
Rainbow Point offers views of the Grand Staircase with colourful layers of rock, each named for its hue.
Cliffs range from pink to vermillion and chocolate in a gorgeous sight you won't find anywhere else in the park.
Top Tip: This also happens to be the highest elevation in the park, so pack some layers to fight off the variations in climate chill if you plan on hiking.
Things to Do in Bryce Canyon: Practical Tips for Your Trip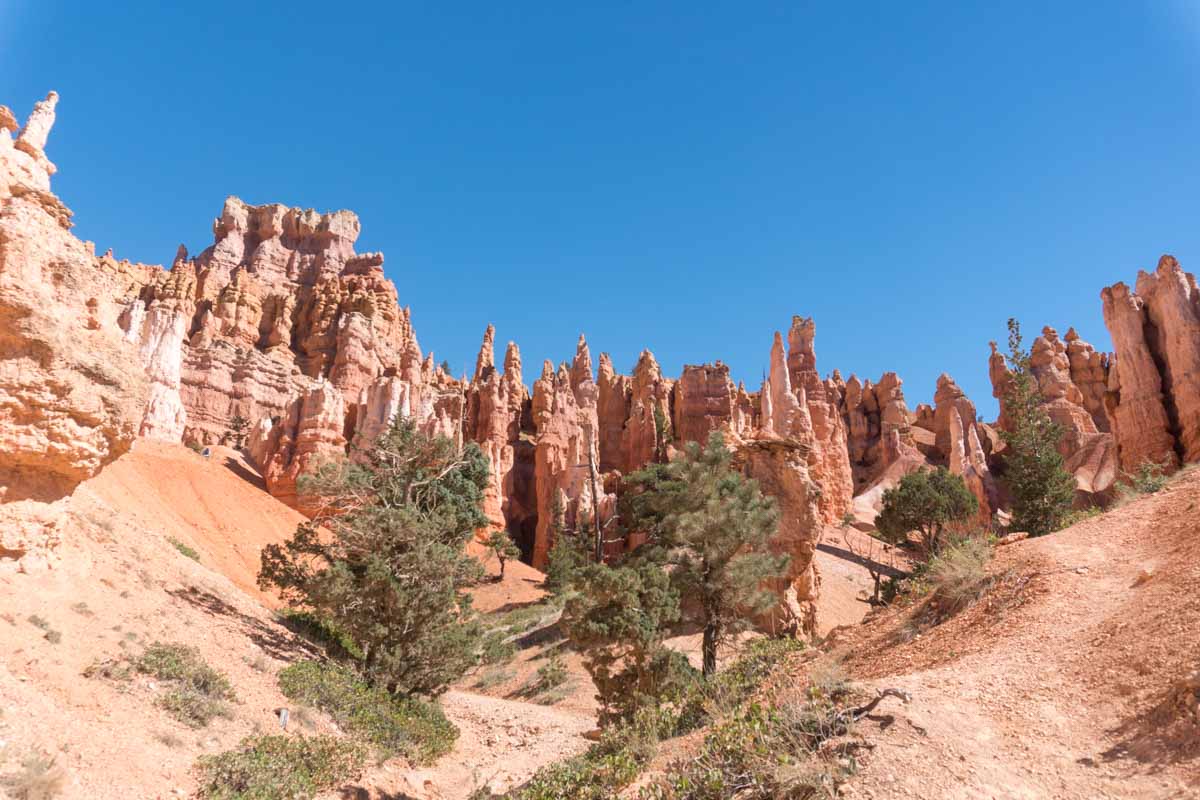 Pack to suit the weather and bring lots (LOTS) of water.
The trails are generally nice and grippy, so there's no need for full hiking boots – I recommend a hiking shoe like the Tropicfeel Canyon shoes, which are perfect for this kind of terrain.
Leave no trace. Not only does this include disposing of litter, but also not disturbing the environment around you by sticking to durable trails and not interacting with wildlife.
Go early to avoid crowds and the hot midday sun during summer.
Bryce Canyon is at a fairly high elevation of over 2,400 m, so don't push yourself too hard during the hikes if you feel a little breathless.
Bring a light jacket as the mornings and evenings can be chilly, even in summer.
How Long Should You Spend at Bryce Canyon?
If you're trying for a speed run, it takes about 3 hours to drive to all 13 viewpoints along the scenic drive. A full day will give you enough time to see the main highlights, while 2 days gives you more time to explore at least a few of the hiking trails.
Is Bryce Canyon Worth the Trip?
Yes! I would absolutely recommend spending a couple of days at Bryce Canyon National Park. The views of the hoodoos are unparalleled and it has some really cool hikes.
What is there to do in Bryce Canyon Without Hiking?
If you don't want to hike in Bryce Canyon, you can still enjoy several of the viewpoints like Sunset Point and Sunrise Point. You should also take the scenic drive along Highway 63 to see some of the viewpoints that are further afield like Rainbow Point and Natural Bridge.
Best Time to Visit Bryce Canyon?
The weather is perfect for hiking from April to October, although the park is bustling with tourists in the summer months. The spring and fall months of April and May, and September and October are better for a less crowded experience.
Where Should I Stay in Bryce Canyon?
Best Western PLUS Bryce Canyon Ruby Inn (Mid-Range)
I was not charmed by the Best Western Ruby Inn – the staff were curt and the rooms were a bit tired but it is the perfect location for staying close to the park's entrance.
Check Rates and Availability for Best Western PLUS Ruby Inn
Bryce Canyon Pines (Luxury)
Only a 5-minute drive from Bryce Canyon, this superb location offers an outdoor pool and hot tub, as well as charmingly rustic air-conditioned rooms. The Wi-Fi is free and the on-site restaurant is superb.
Check Rates and Availability for Bryce Canyon Pines on Booking.com
What to See in Bryce Canyon: Recommended Tours
Things to Do in Bryce Canyon: Map
Things to See at Bryce Canyon: Read Next