Wondering where to stay in Bryce Canyon National Park? These are the top places to bed down in the area. Let's go.
One of Utah's Mighty Five, Bryce Canyon might just be my favourite national park in the US (just don't tell the others).
Boasting plenty of natural amphitheatres, striking slot canyons, and, of course, hundreds of the gorgeous red rock hoodoos towering over you.
But do you choose to stay inside the park? Or do you head to the neighbouring towns to bed down? This guide will help you choose. You're welcome.
Best Places to Stay in Bryce Canyon: At a Glance
Where to Stay in Bryce Canyon, Utah
From luxury hotels to a homey B&B – whatever kind of trip you're looking to take, you'll find plenty of places to stay in one of these popular towns around Bryce Canyon National Park.
Bryce Canyon City: Best Lodging Near Bryce National Park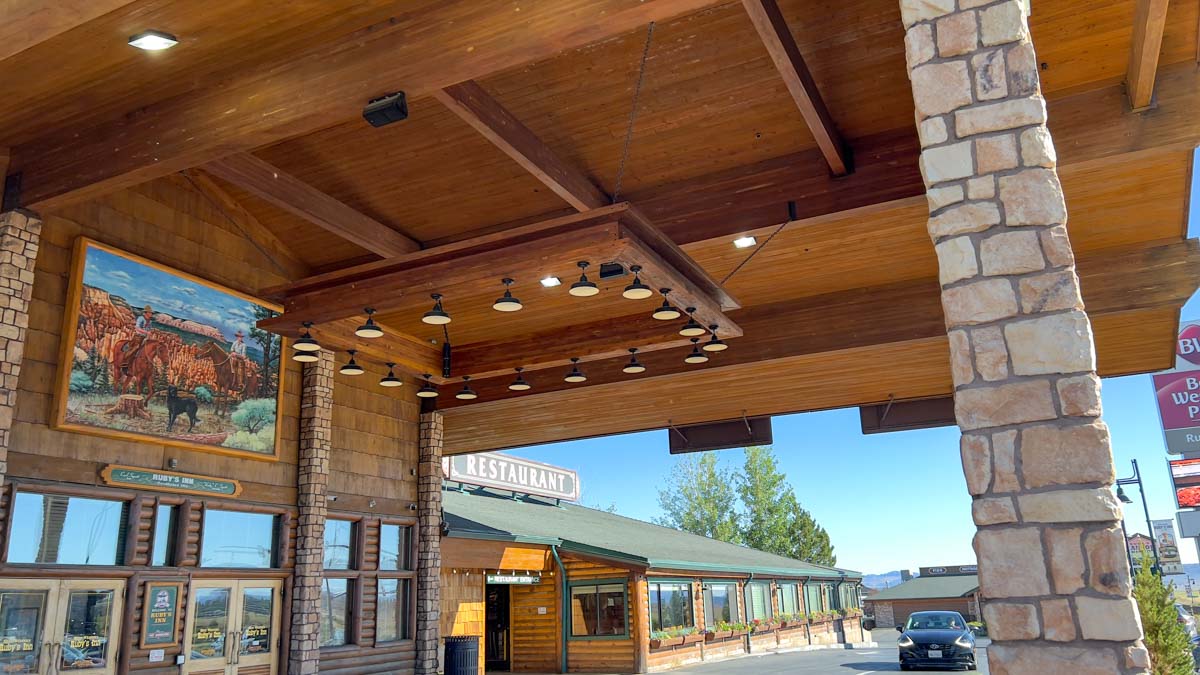 Bryce Canyon City's location is just outside the Bryce Canyon National Park entrance and has wonderful amenities and activities. It may seem a little touristy (that's because it is), however, it is close, affordable, and has a small-town feel.
Since Bryce Canyon City is only about 5 km (3 miles) from the national park, you don't have to drive far to get there. Bryce Canyon City is one of the best areas for staying near Bryce Canyon without having to find accommodation in the park itself.
Bryce Canyon City Highlights
Fun Activities – If you decide to visit during the summer, there are plenty of activities for you to partake in on days you're not spending in Bryce Canyon. Horse riding or driving around on ATVs are my personal faves.
Evening Rodeo – After a day in the park, you might be looking for some more adventure. There are evening rodeos that take place in Bryce Canyon City that should tickle your fancy.
Suggested Bryce Canyon Hotels in Bryce Canyon City
Ruby's Inn – Ruby's Inn has long been famous for people visiting Bryce Canyon City. They offer traditional lodging, camping options, and even tipis. There's also an RV park. I wasn't blown away by Ruby's Inn as it's very average. But, it is excellent in terms of location (it's right next to the entrance to Bryce Canyon National Park) and is very affordable – a big win
Best Western Plus Bryce Canyon Grand Hotel – If you want a luxury experience on your trip, the Bryce Canyon Grand Hotel is one of the best places to stay near Bryce Canyon National Park. It's a bit more expensive than other accommodation in town, but it's worth the extra money if you want a high(er)-end experience.
Tropic: Best Lodging Near Bryce Canyon for Views
Even though Tropic is not super close to Bryce Canyon National Park (about 15 minutes by car), it is close to the Mossy Cave Trail and the Tropic Trail, which leads to the park's main amphitheatre. It's the best place to stay near Bryce Canyon if you want to wake up to outstanding views. Who doesn't?
With many hotels, cabins, and B&Bs, you won't struggle to find an amazing place to stay here. This quaint community is famous for its glorious views and the beautiful nature surrounding the area.
Tropic Highlights
An old pioneer town – Tropic has a history dating back to the 1800s when pioneer families settled in this small town. Today, you can walk through the pioneer village and look at recreations of these families' homes.
Incredible food – Tropic has some of the best restaurants in the area. You can get a hand-tossed pizza at The Pizza Place or try some delectable barbeque options at IDK BBQ (my fave spot). I also recommend Stone Hearth Grille if you're in the mood for juicy steaks.
Suggested Bryce Canyon Hotels in Tropic
Stone Canyon Inn – If you want some peace and quiet during your trip, then Stone Canyon Inn is the place to be. You can find it on the edge of Tropic, and if you drive down the road, you will discover Tropic Trail. They have comfortable cabins and bungalows that offer a gorgeous view of the nature surrounding the town.
Bryce Pioneer Village – This accommodation is only open from April through October but offers a unique experience when it comes to lodging. From motel rooms to cabins rested against the trees, and family suites, something here will suit your needs. It's only minutes away from Bryce Canyon National Park. When you get back to your lodging, after a jam-packed day, you can spend time around the nightly campfire and roast marshmallows. What s'more could you want? I'll see myself out.
Panguitch: Best Affordable Places to Stay Near Bryce Canyon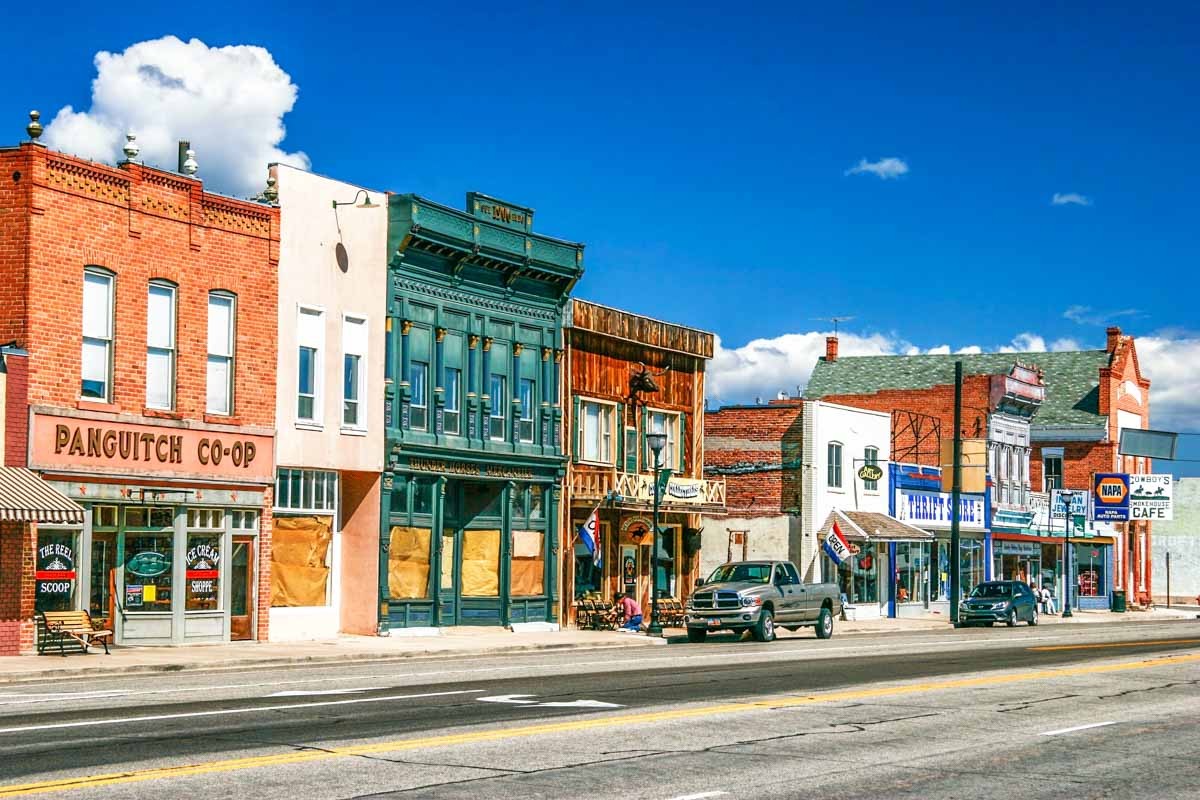 Panguitch is a bit further away from Bryce Canyon National Park than Bryce Canyon City and Tropic, but it's also the most affordable. It also boasts better amenities than both of these towns, including a decent-sized grocery store.
If you happen to visit in June, you might even be able to attend the famous Panguitch Valley Balloon Rally. You could also run a marathon or play bingo while a mass amount of hot air balloons ascend the sky. There's also the renowned Quilt Walk festival in June.
If you're on a budget, don't mind driving the 30 minutes to Bryce Canyon, and want to get away from touristy spots, Panguitch is the town for you.
Panguitch Highlights
Downtown Panguitch – For souvenirs, wonderful eateries, and unique antiques, taking a trip to downtown Panguitch is a must when you're here.
Panguitch Lake – If you want to take a break and go fishing or kayaking, you have to visit Panguitch Lake. You can even go horseback riding or hiking along the beautiful sparkling water.
Suggested Bryce Canyon Hotels in Panguitch
Two Sunsets Hotel – Situated in the heart of downtown Panguitch, Two Sunsets Hotel has recently undergone refurbishing and is now a gorgeous hotel. You'll wake up every morning with a magnificent mountain view. It's a short walk away from amenities in the town, such as the Gem Theatre.
Panguitch House – This lovely bed and breakfast is in an old red brick house. Panguitch House is perfect for you if you want a home away from home with comfortable lodging and a hot breakfast served every morning. It's also less than a mile away from the town centre but 37 km (23 miles) away from Bryce Canyon National Park.
Where to Stay in Bryce Canyon: Frequently Asked Questions
What is the Best Area to Stay in Bryce Canyon?
I would say Bryce Canyon City is the best area to stay in. The accommodation is very close to the park entrance, and there are many fun activities that you can do on days you're not at the park. It's also incredibly affordable.
How Do You Get Around in Bryce Canyon?
The best way to get around Bryce Canyon is by car or shuttle. The parking situation is not great (there's one parking space for every four cars), but luckily Bryce Canyon has a hop-on hop-off shuttle that will take you to the popular trails and viewpoints.
The shuttle is free, and you can decide when to get off and get back on. This gives you more time to explore all the fun things to do in Bryce Canyon.
Practical Tips to Consider Before Booking Your Bryce Canyon Accommodation
Keep in mind the distance from Bryce Canyon National Park. Closer areas usually have shuttles running to the park. Because of the parking issue, you might not want to drive to the park and then be unable to find parking.
If you're going to be spending quite a bit of time at your hotel, more expensive will offer better amenities. However, if you only need a place to sleep, go for the more affordable options. The amenities might only be average, but you won't be there much.
Bryce Canyon Accommodation Guide: Map
Where to Stay in Bryce Canyon: Read Next