Want to conquer the Beehive State on foot, but need help figuring out where to begin? This guide to the best Utah hikes has got you covered.
With thousands of miles of trails, it's hard to narrow down the best hikes in Utah. This is where you need a seasoned hiker to give you the lowdown.
Utah is truly an adventurer's paradise, with much to explore and hidden gems to unearth. It has one-of-a-kind rock formations, ethereal views, and, let's not forget, the Mighty Five.
So grab your backpack and dust off your boots — let's go hiking in Utah.
Best Hikes in Utah
Angel's Landing
Length: 4.4 miles
Time: 3 hours
Difficulty: Hard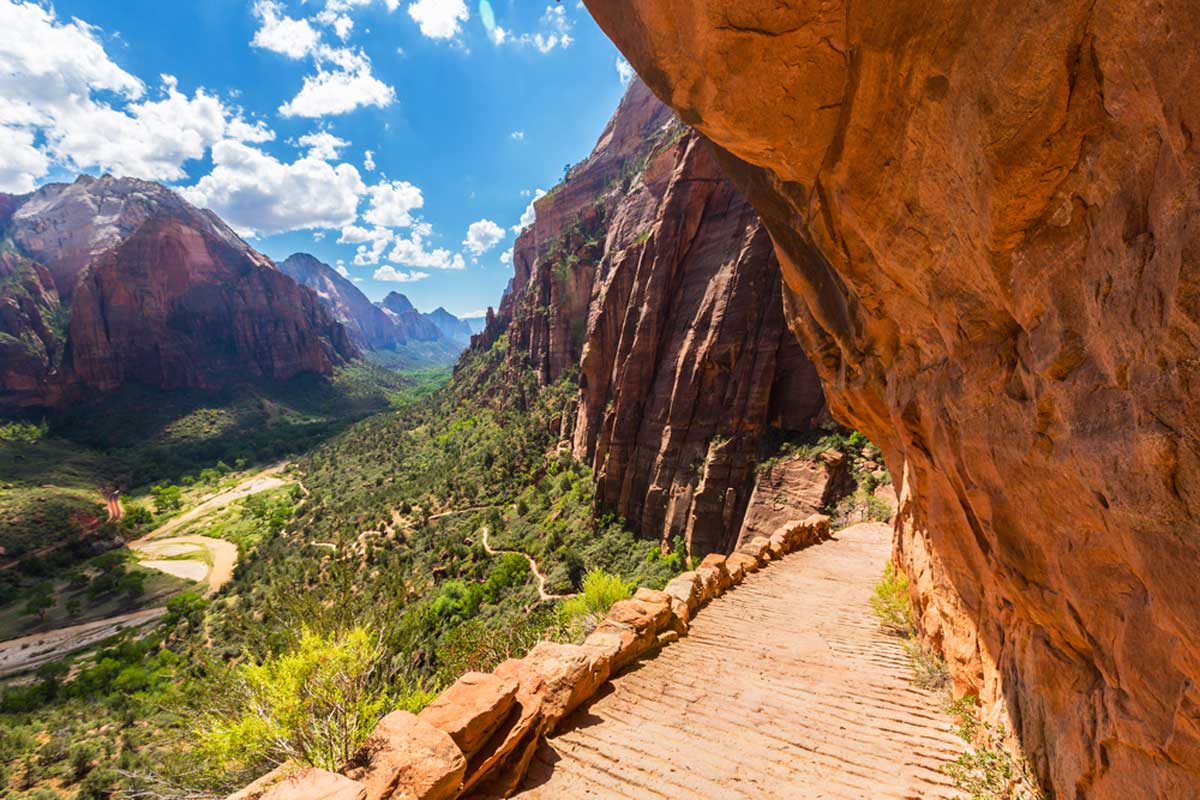 Let's kick things off with one of the hardest hikes in Utah (and one of the most legendary): Angel's Landing. This out-and-back trail in Zion National Park offers a complete workout for those with fitness in mind.
You start with a main trail towards the river, then a few challenging switchback climbs. Head over to Scout Lookout, the Chains section, and finally, Angel's Landing.
Fair warning – the Chains section is relatively high, and the last portion of the hike has extremely narrow trails and steep drop-offs. There's no shame in turning back at Scout Lookout if that sounds a bit hectic.
But, if you think you can push through, Angel's Landing will reward you with breathtaking panoramic views of the valley.
Tip: Before you take on this hike, here are some things to know before traveling to Zion National Park.
Suggested Map
Navajo Loop and Queens Garden Trail
Length: 3.1 miles
Time: 1 h 40 min
Difficulty: Medium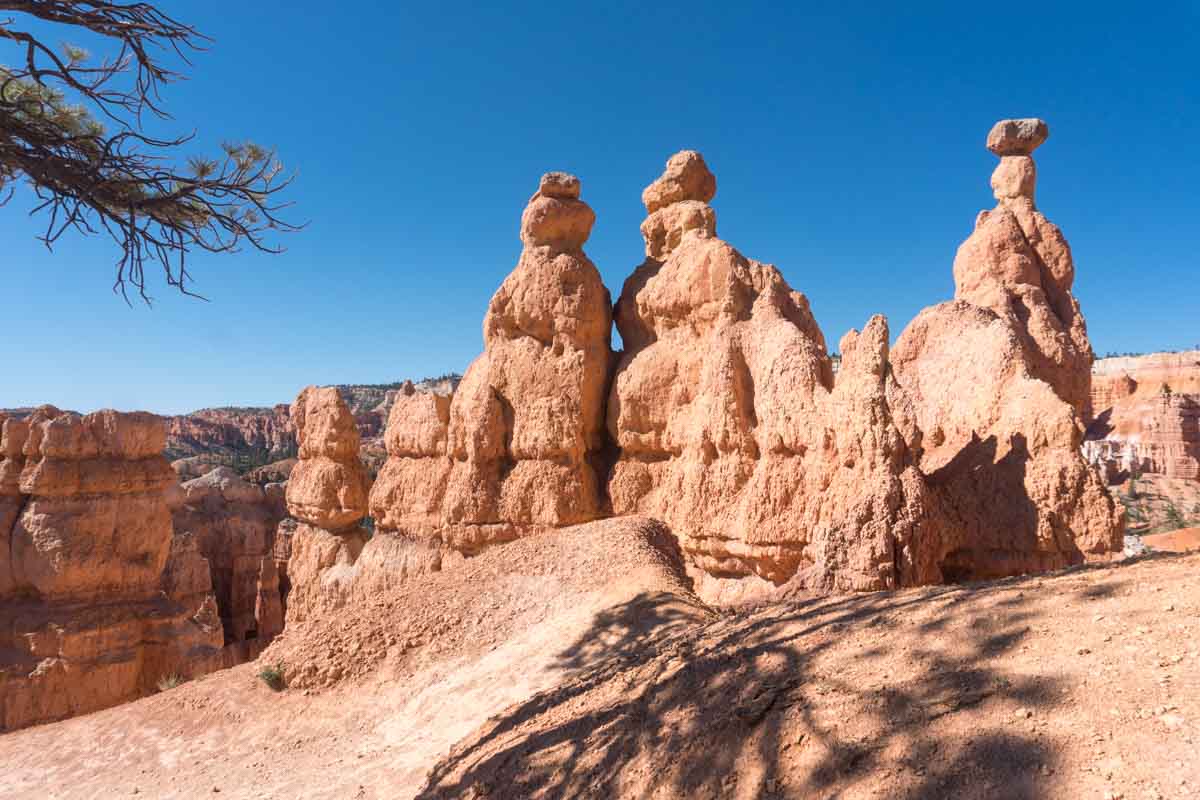 For hikes in Utah that are a bit easier than Angel's Landing but still present a good challenge, look no further than Navajo Loop. You'll find that this trail showcases the best of Bryce Canyon National Park, with wide-sweeping views over the canyon.
The trek starts at the parking lot near Sunset Point, featuring restrooms and water fountains. You can stop by various attractions along the way, including Sunset Point overlooking the famous enchanting hoodoos with mesmerizing sunsets and sunrises of Bryce Canyon.
Your camera will work overtime at Thor's Hammer, the lonely hoodoo defying gravity. With so much natural beauty, it's easy to see how this is one of the best hikes in southern Utah.
The Zion Narrows Riverside Walk
Length: 1.9 miles
Time: 45 minutes
Difficulty: Easy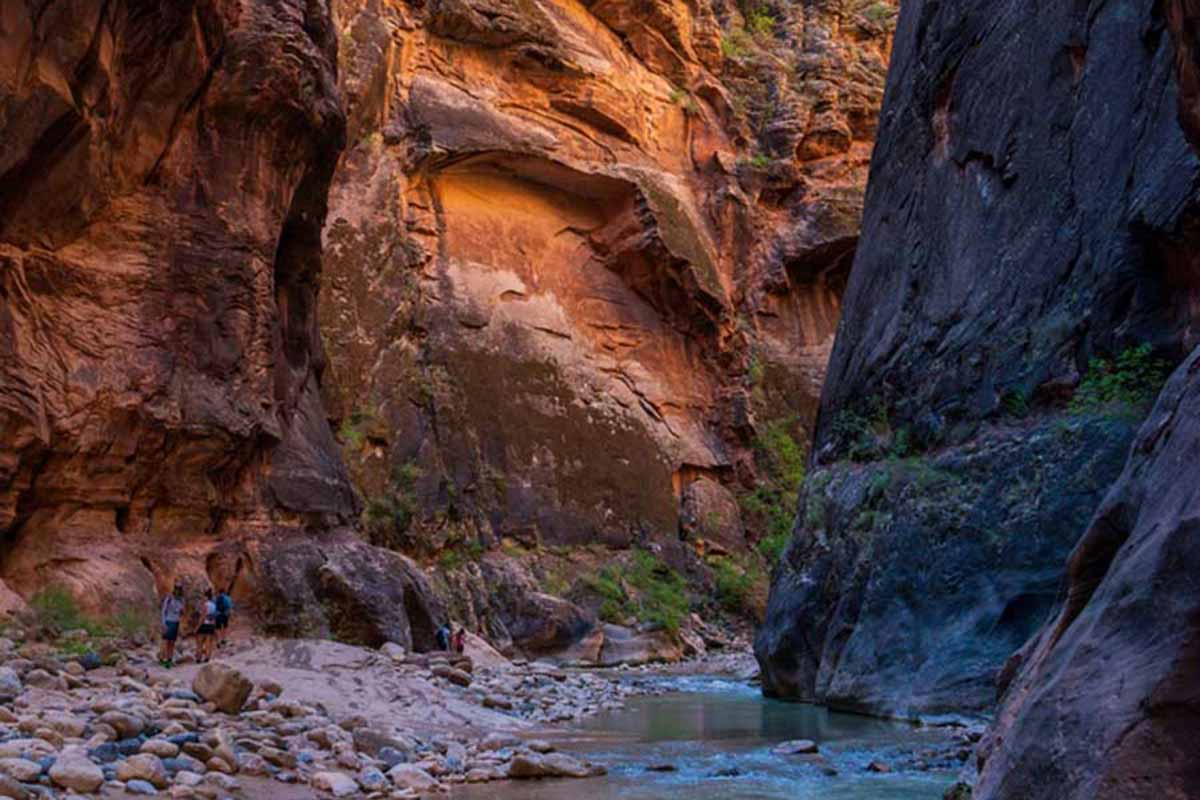 To take things easy, try one of the prettiest hikes in Utah, the Zion Narrows Riverside Walk. Whether you're looking for a quick run or a serene walk through the park, this out-and-back trail is an excellent choice. It's relatively flat, short, and easy to follow, which suits most people.
Start at the Stairway to Narrows, then follow the well-marked, partially paved trail along the river. Relish the tranquility of this short exploration and capture much of the stunning scenery around you.
This short and sweet trek offers a taste of the famous Narrows Trail in Zion Park.
Lake Blanche Trail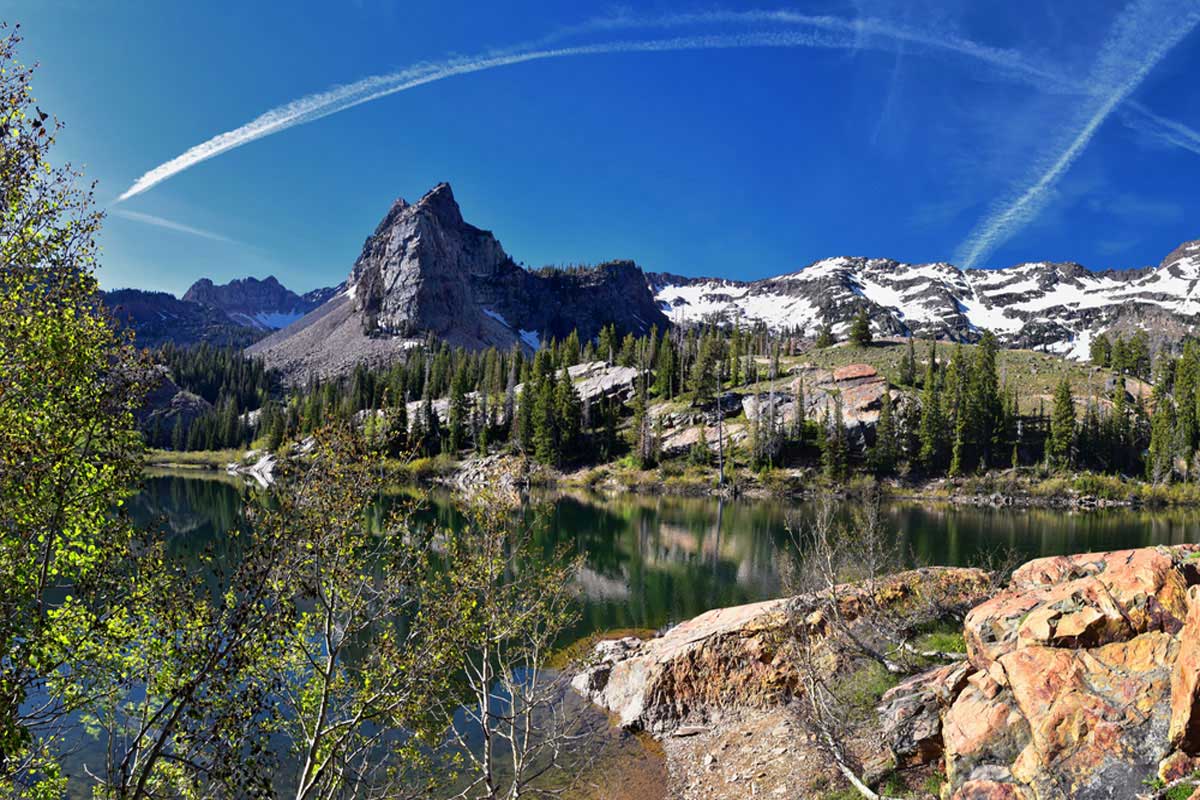 Length: 6.7 miles
Time: 4 hours 45 mins
Difficulty: Hard
The Lake Blanche Trail is no joke and is hands down one of the most demanding hikes in Utah. Visitors can test their stamina and willpower, so come here with your strongest hiking boots (and mindset).
You start at the Mill B South Fork trailhead, where you'll walk a short distance to the Lake Blanche Trail – this is where you enter the wilderness, and your hike officially begins.
Shortly after, you'll embark on a demanding climb up a canyon with stunning overlooks of Sundial Peak and Great Salt Lake Valley. You'll also find Lake Blanche, Florence, and Lillian resting at the top – the most epic reward for all your effort.
Zion Canyon Overlook Trail
Length: 0.9 miles
Time: 20 minutes
Difficulty: Easy
As it's one of the easy hikes in Utah, you're probably not expecting much from this trail. However, the Zion Canyon Overlook is ready to amaze you with its awe-inspiring scenery.
The journey starts with an uphill climb from the trailhead before you veer slightly to the right until you come across a natural cave. You can join the little critters, such as lizards, in the cave to cool off from the blazing sun.
Continue to the end of this hike for stunning views over Zion Canyon.
Devils Garden
Length: 7.8 miles
Time: 3h 30 mins
Difficulty: Hard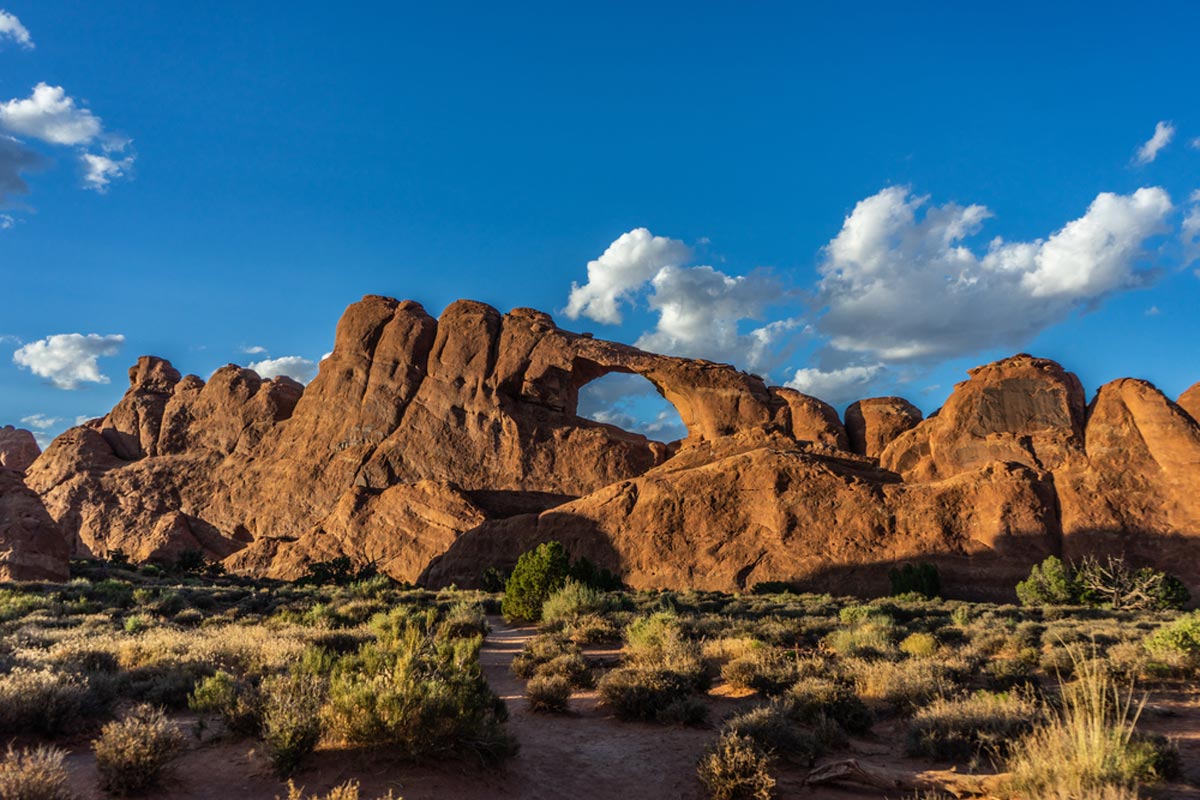 Get your sturdiest shoes ready for this insane Utah hiking trail. As if its name isn't haunting enough, the Devil's Garden has many challenges awaiting any moderate hiker. Prepare for a scramble, daunting heat, and some rock climbing thrown in for good measure.
Starting at the trailhead, follow along the paved path that takes you to the end at Landscape Arch. You'll have much to admire along the way, including multiple natural arches such as the Tunnel, Pine Tree, and Dark Angel Arches.
You need a good dose of motivation on this hike, considering that you must climb up 6-8 ft rocks.
The Watchman Trail
Length: 3.1 miles
Time: 1h 30 mins
Difficulty: Medium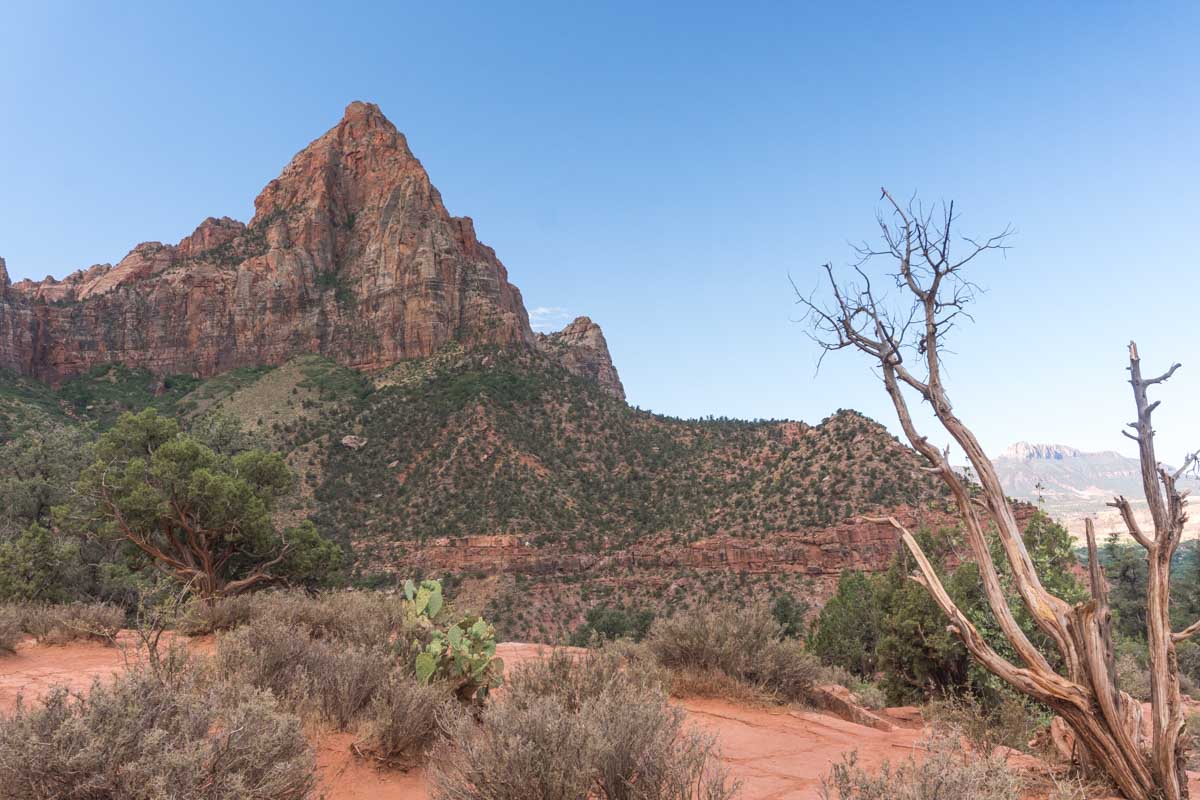 Hike Utah's criminally underrated path, the Watchman Trail. Take on this serene trail if you want to feel refreshed. And, as a bonus, the Watchman Trail offers beautiful sweeping views over the park and a chance to spot some big horn sheep.
You'll need sun protection in the summer as there's no shade, and pack your snowshoes and waterproof clothing for winter. This out-and-back trail is easy to follow, starting near the Watchman Campground.
Corona and Bowtie Arch Trail
Length: 2.4 miles
Time: 1h 15 mins
Difficulty: Medium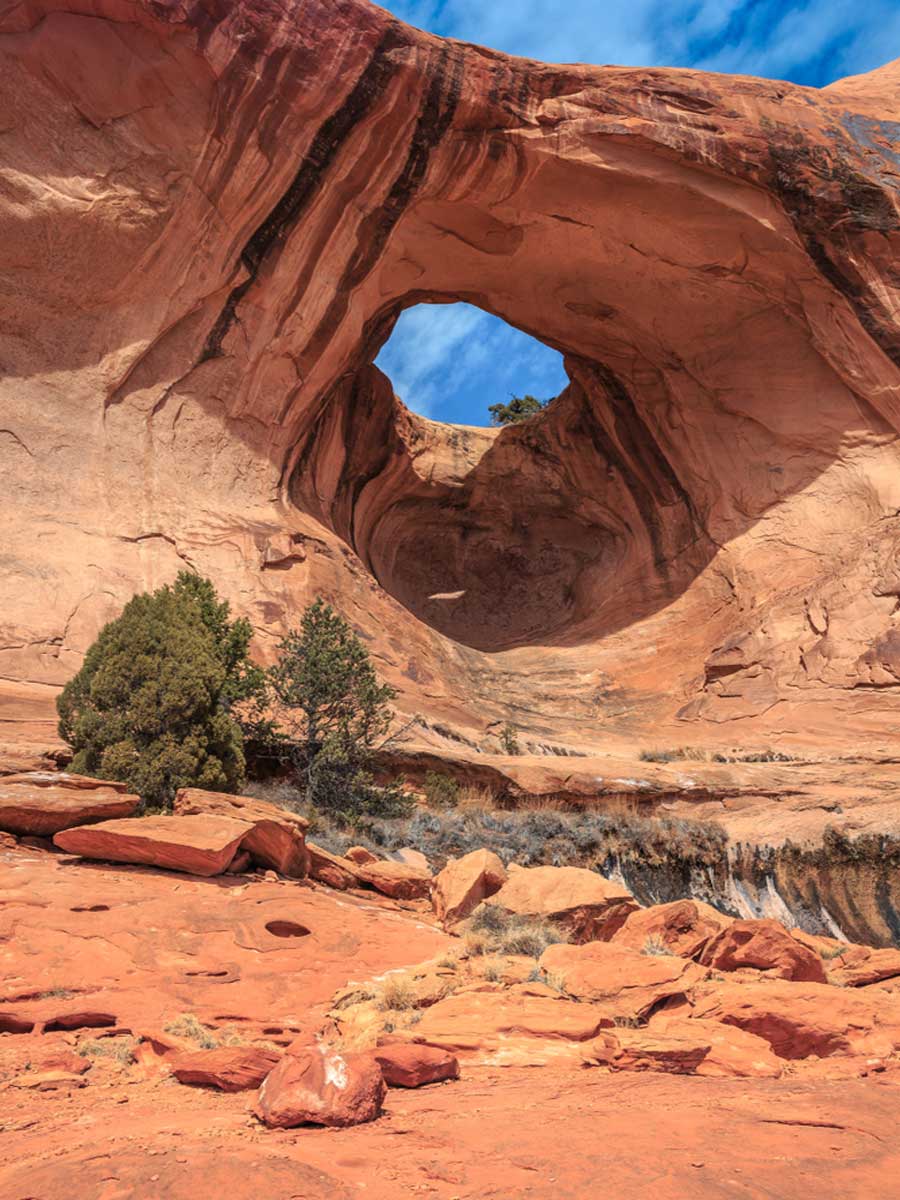 Not only do you experience some of the best hiking in Utah on the Corona and Bowtie Arch Trail, but it's one of the few dog-friendly hikes in Utah. Finally, a hike where you can bring your furry companion along, but (big but) they should be on a leash.
You can follow this easy and well-marked trail starting at the Gold Bar camping area. Then the trail weaves its way over railroad tracks and to the top of Bootlegger Canyon — where you can take in the mesmerizing desert landscapes and colorful rock formations.
Donut Falls Trail
Length: 3.2 miles
Time: 1h 30 mins
Difficulty: Easy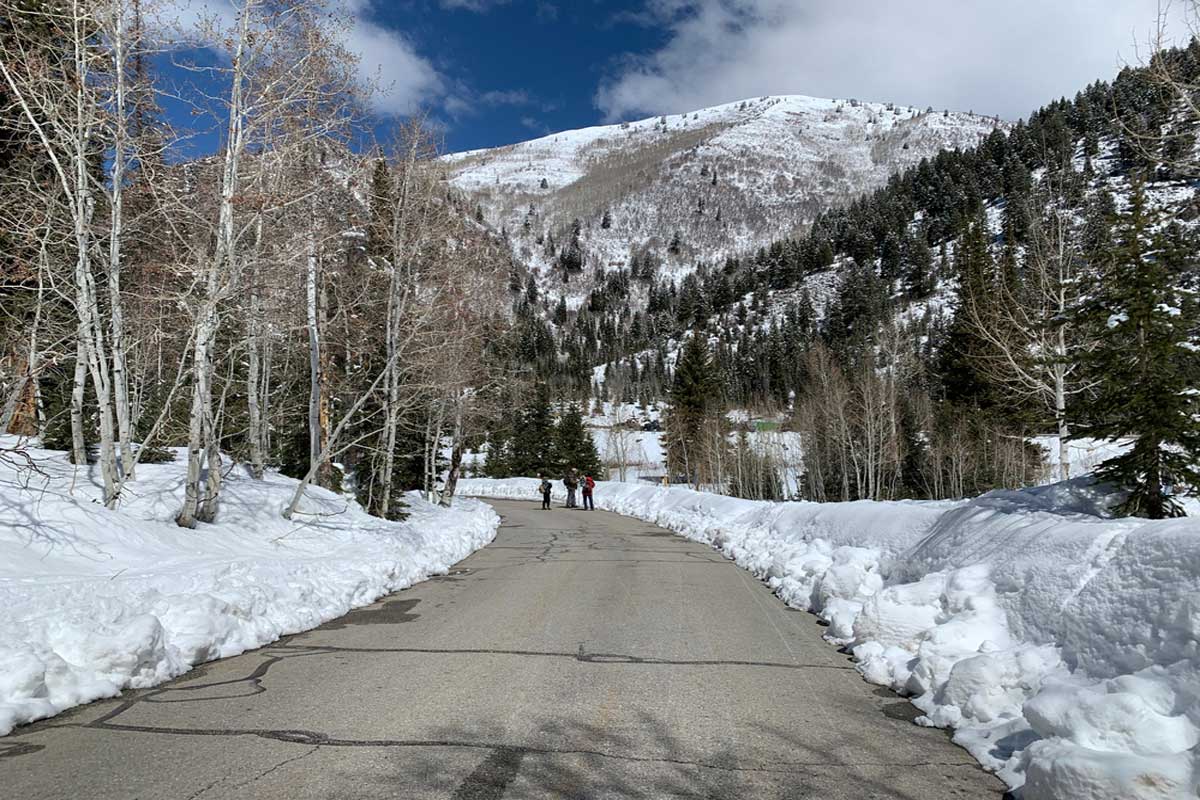 While we wish donuts could fall from the sky, you'll have to settle with forests, caves, waterfalls, and wildlife. Not a bad deal, though, right? We think you'll fall in love with this easy, scenic hike known as the Donut Falls Trail.
It won't take up much of your time, is easy to follow, and rewards you with beautiful scenery. The lush green forests with pops of wildflowers make you want to whip out your camera.
Come prepared for this hike, though, as it can get icy and slippery during winter.
Stewart Cascade Trail
Length: 3.6 miles
Time: 1h 45 mins
Difficulty: Medium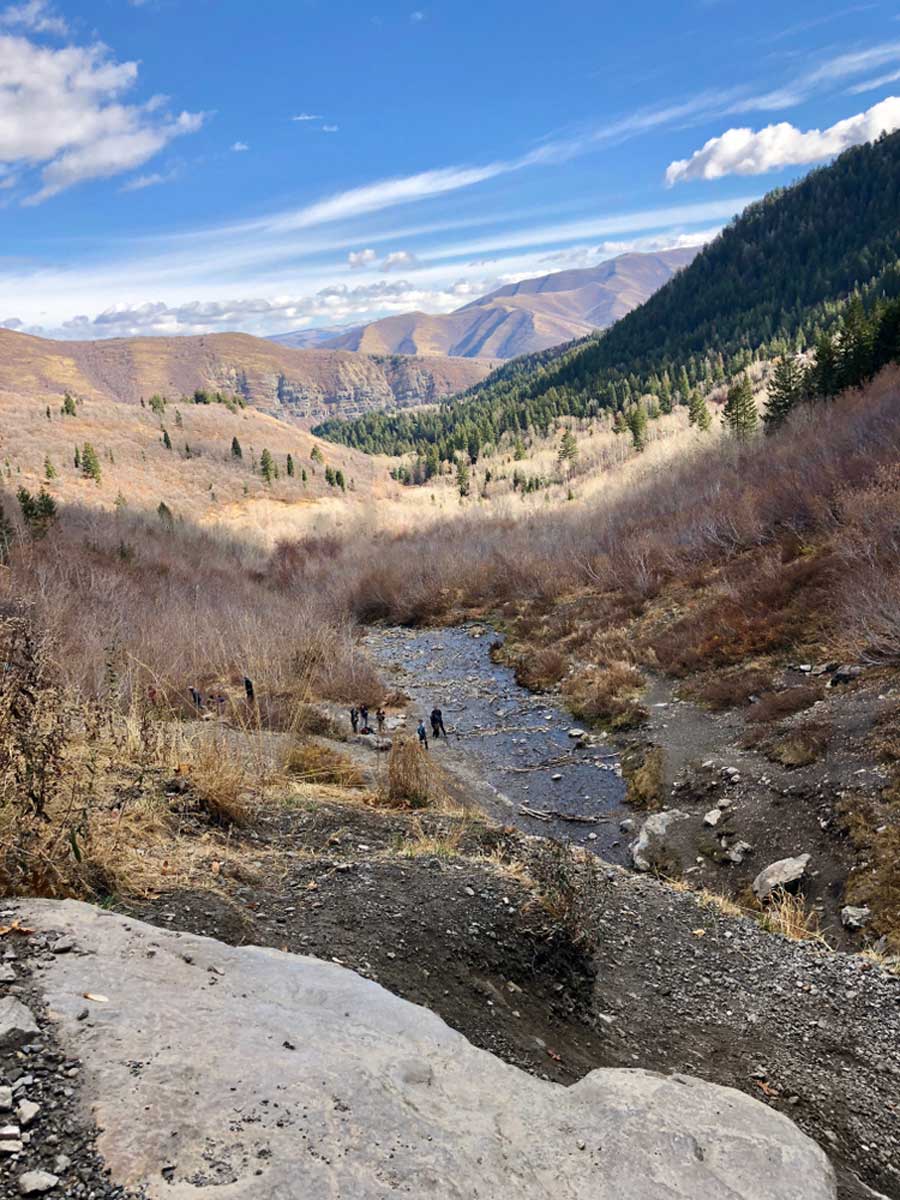 We won't make you wait any longer for a gorgeous waterfall hike in Utah. The Stewart Cascade Trail comes out on top for its charming cascades and dog-friendly atmosphere. Visitors can take up many fun activities on this trail, such as snowshoeing, birdwatching, and wildlife spotting.
Enjoy a quick run, or take a relaxing stroll, as you'll find plenty of shade on this out-and-back trail near Aspen Grove. While this is one of the best hikes in northern Utah, it passes through potential avalanche terrain, which you can watch out for on this site.
Note: You need a three-day pass to park at Aspen Grove, which you can purchase at the Alpine Scenic Loop tollbooth.
Delicate Arch Trail
Length: 3.1 miles
Time: 1h 40 min
Difficulty: Medium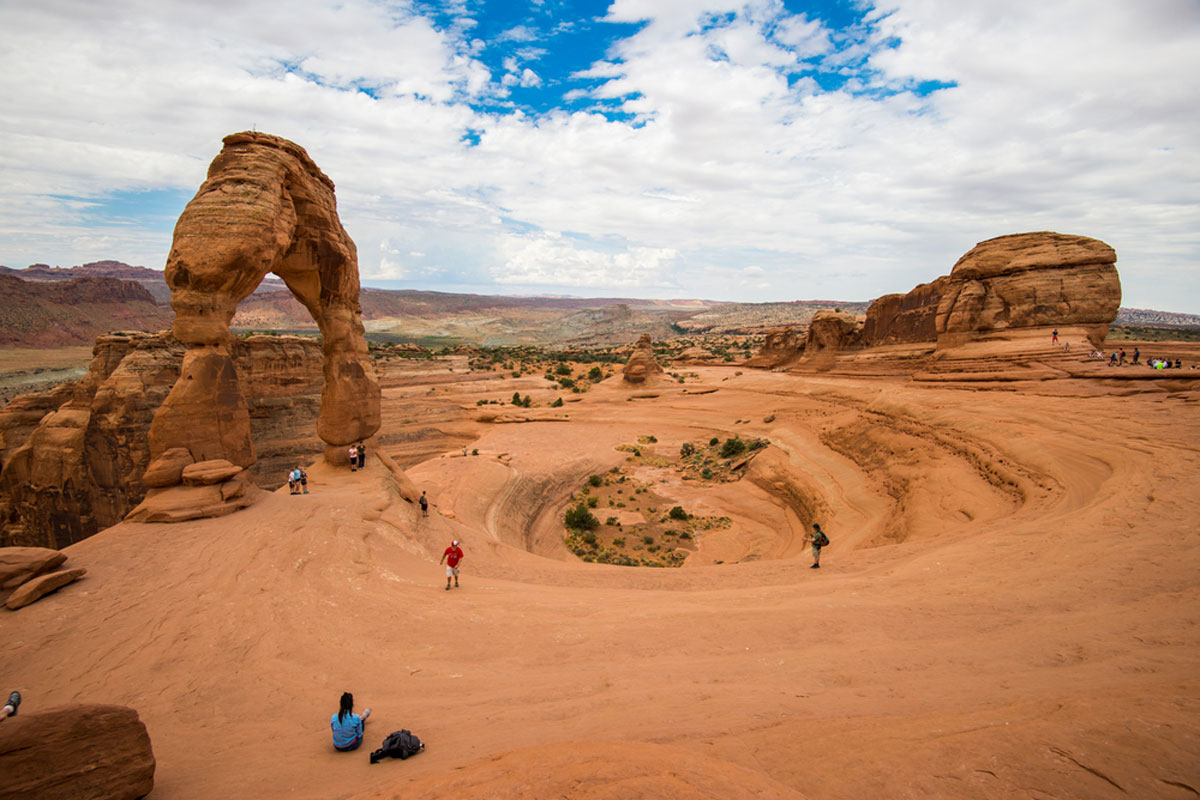 Trekking the Delicate Arch Trail is one of the most exciting things to do in Arches National Park. This partially paved trail starts at the parking/trailhead and continues with a slight elevation until you reach Slickrock Slab.
Then you can climb up Slickrock for the most expansive desert views and the snow-capped La Sal Mountains. After snapping gorgeous pictures of the mountainous scenery, head to Delicate Arch, a natural arch towering at 52ft.
You can expect to see vibrant wildflowers dotting the landscape along this rocky trail.
Emerald Pools Trail
Length: 2.9 miles
Time: 1h 30 mins
Difficulty: Medium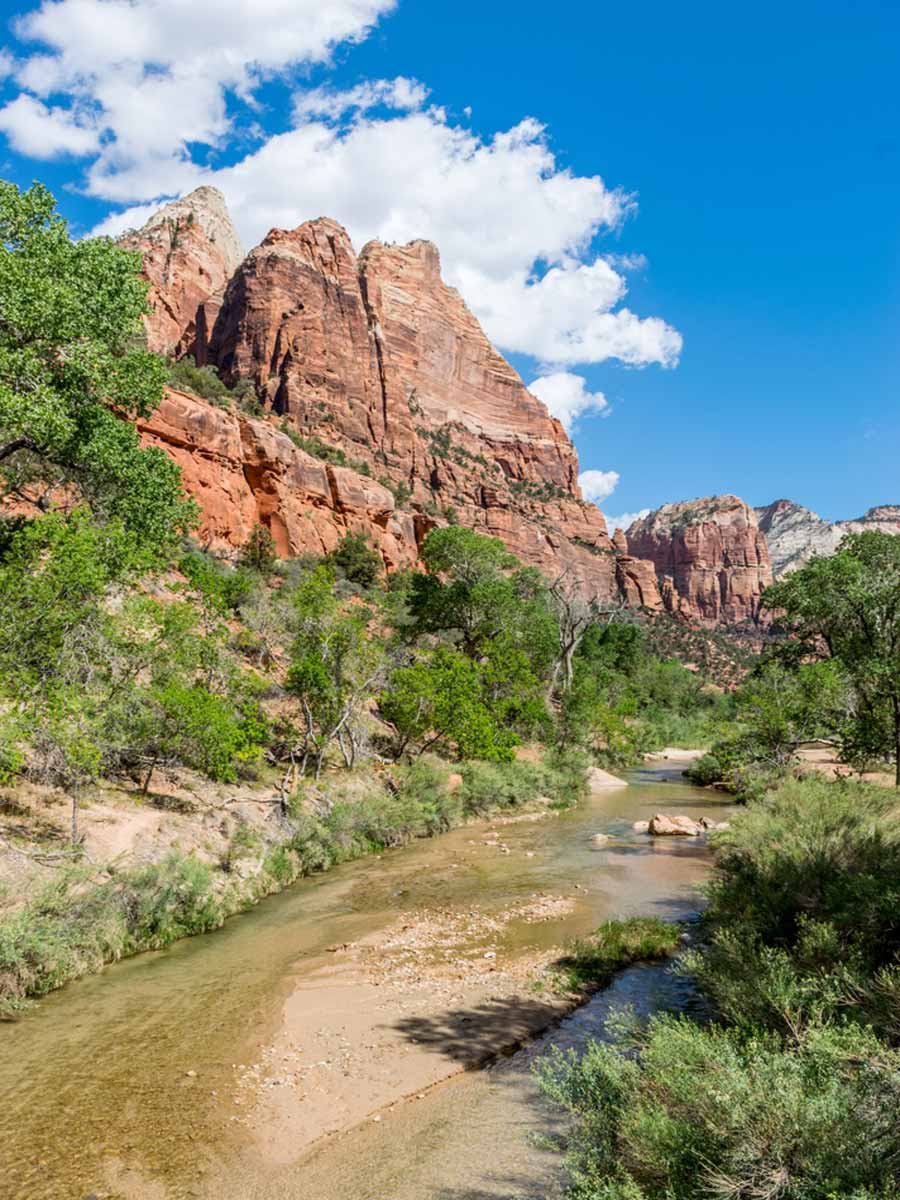 With its pristine pools and rugged landscape, it's no wonder that the Emerald Pools Trail in Zion National Park is one of the best hikes Utah boasts.
This paved trail starts at the trailhead south of Zion Lodge, then makes its way to Lower Emerald Pool. Follow the rocky path to the Upper Emerald Pool at the base of the cliff to reach the end of this hike.
You can bring a picnic basket and blankets to soak up the sun next to one of the pools. And if you're the nosy type, you'll have a variety of fauna and flora to seek out.
Bell Canyon Trail to Lower Falls
Length: 4.5 miles
Time: 3 hours
Difficulty: Medium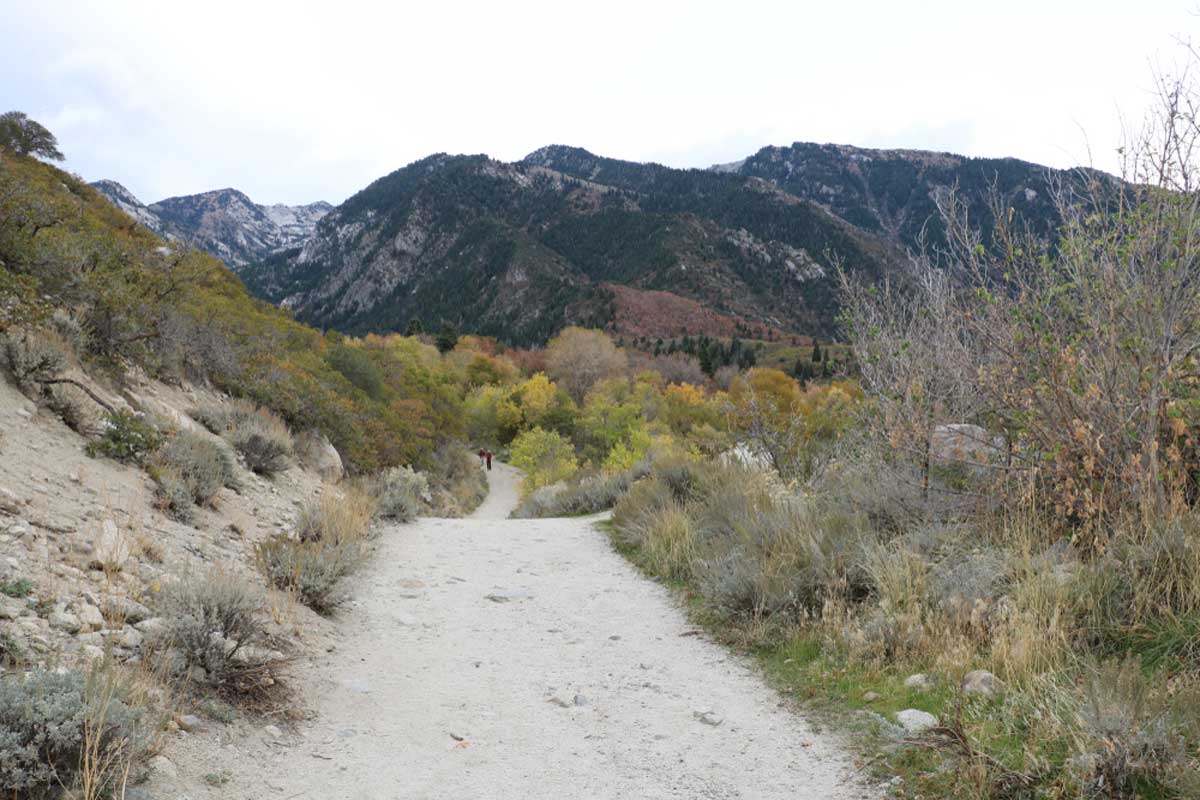 The Wasatch Mountains provide some of the best places to hike in Utah. And this time, it's no different with the moderate and rocky Bell Canyon Trail.
Prepare for a steep ascent starting from the parking lot, which is the initial 25-minute hike to the lower watershed. After that, you'll reach a small bridge crossing and continue left to the Lone Peak Wilderness Area.
Your last waypoint will be the Lower Falls, which offer fantastic views of the surroundings.
Fairyland Loop Trail
Length: 7.8 miles
Time: 4 hours
Difficulty: Medium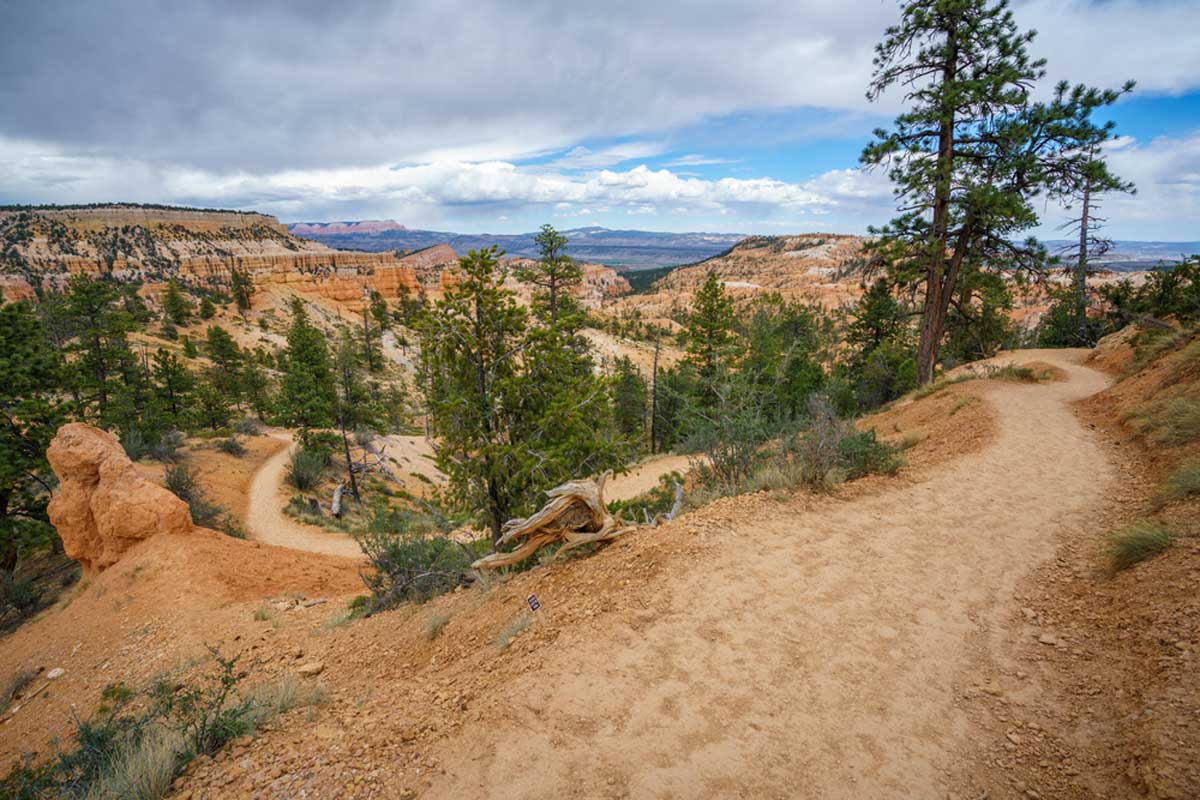 Fancy a hike through magical hoodoos and ethereal scenery along the rim and into the canyon? Thought so, which is why we suggest taking on the Fairyland Loop Trail.
You don't need to be super fit as it's not a strenuous hike, but it does take a while to complete. You will be making up for all the times you skipped leg day.
But the spectacular sights and sunrise/sunset views keep your mind occupied on this long trek. The trail starts at Fairyland Point and continues along the rim to Sunrise Point and into northern Bryce Canyon.
Mesa Arch Trail
Length: 0.6 miles
Time: 15 minutes
Difficulty: Easy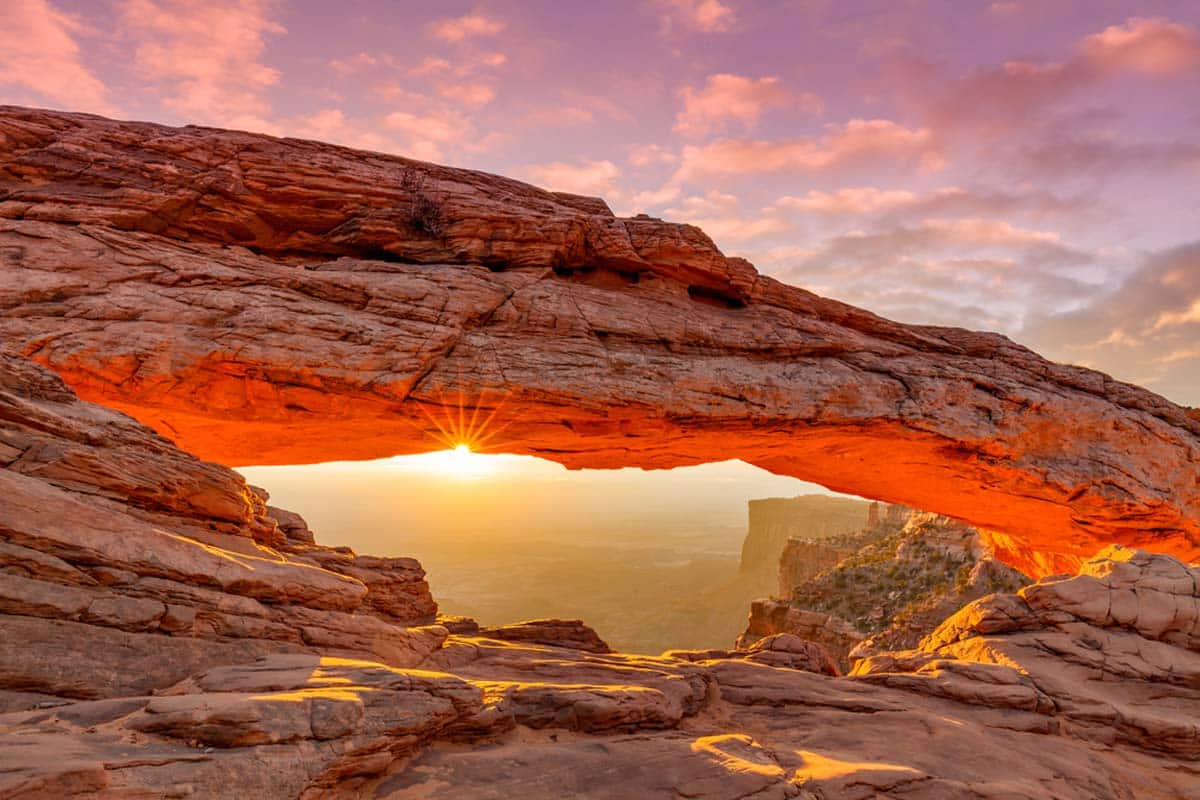 Mesa Arch Trail is another hidden gem that doesn't require much of your time, only all your attention. You may be wondering, what needs your attention? How about the unmissable view from the arch?
Earn your moment to splendor a gorgeous sunrise after a quick walk, or run through Canyonlands National Park with this trail. You can also spot some small animals and pretty wildflowers in the area.
Living Room Lookout Trail
Length: 2.4 miles
Time: 1h 30 mins
Difficulty: Easy
This out-and-back trail near Salt Lake City is one of the best easy hikes in Utah.
But don't let that put you off – you don't want to miss out because of its natural beauty and epic sunset-watching opportunities. It's also dog-friendly and a relatively easy trail to follow, but it can get muddy or icy depending on the season.
Craving a peaceful afternoon stroll? This is an excellent choice. But let's not forget the main reason you should come here: the Lookout. There you'll find rocks arranged to appear like couches and chairs overlooking Salt Lake Valley.
Gloria Falls
Length: 2.1 miles
Time: 1 hour
Difficulty: Easy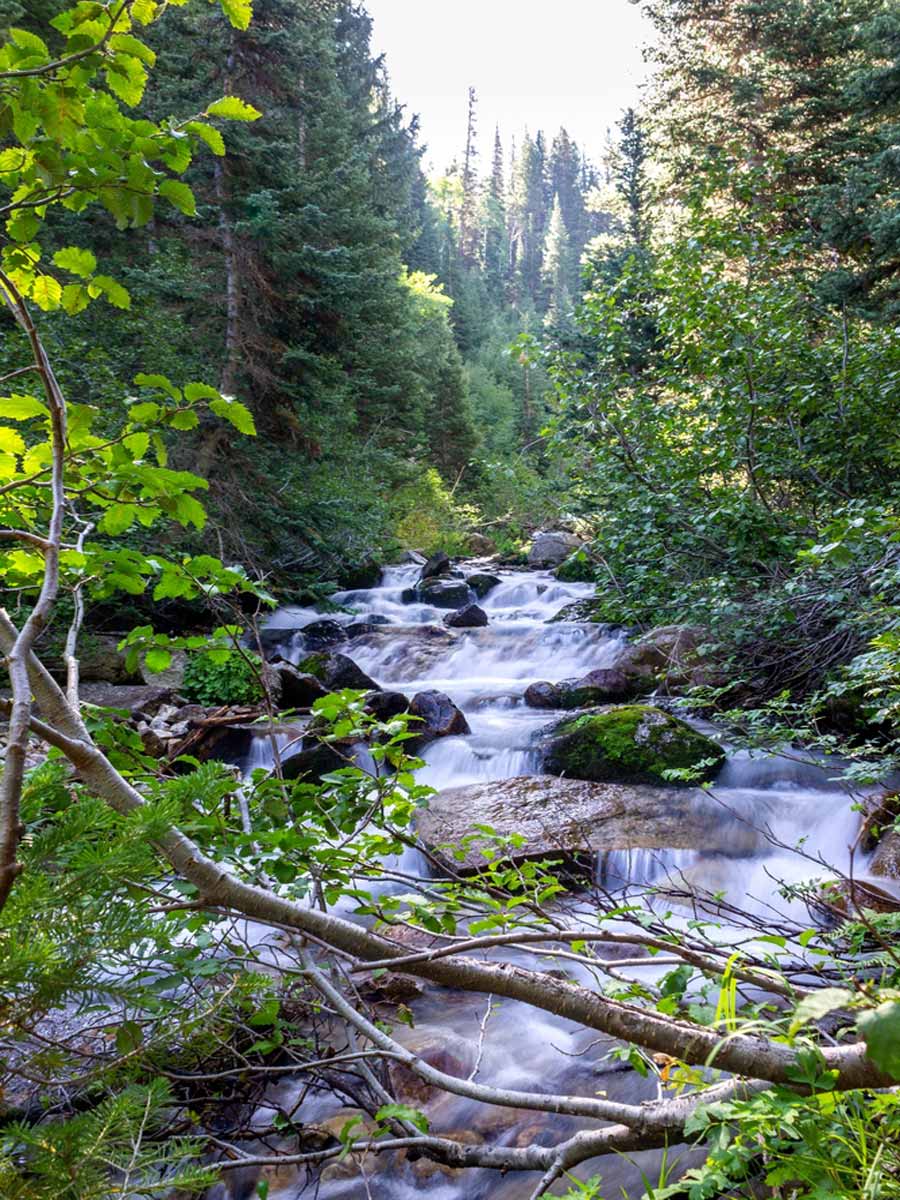 Prepare to fall head-over-heels for Gloria Falls and its trickling cascades. And to make your way to these refreshing sites, you first need to get on the out-and-back trail near Mounthaven. We suggest looking at the map below to pin down all the waterfalls on this trail.
Also, come in spring when the waterfalls are at their fullest, whereas winter time sees to it that everything freezes over. You'll take in river views and lush forests and even catch a glimpse of a moose (just don't get too close).
Utah Hikes: Practical Tips
Preparation is key: Take enough snacks and stay hydrated with a good water bottle. Wear comfortable hiking shoes and protect your skin with a wide-brimmed hat and quality sunblock. And make sure you're carrying mosquito repellent.
Stay updated with the latest weather reports, especially for winter hikes in Utah, to plan your trip accordingly. Check out our post about the best time to visit Utah for more insights.
Bear safety is no joke. While it's unlikely you'll run into a bear in Utah, there are around 4,000 black bears in the state. If one approaches you, make yourself look as big as possible and yell loudly. You can also buy a bear spray or whistle for extra protection.
Best Utah Hikes: Map
Utah Hikes: Read Next