Planning a weekend trip to Zion National Park but don't know where to begin? I've written a bangin' Zion National Park itinerary to help plan your perfect visit. No need to thank me.
Trying to squeeze everything Zion National Park into a short trip can be intimidating (read: Near impossible).
But… I've only gone and done it. I've come up with a brilliant 2 day itinerary that covers the best attractions, without it being a total rush. *Takes a bow*.
Those incredible canyon views and red sandstone mountains are beckoning you—answer the call.
Ready? Get ready for a stellar 2 day Zion National Park Itinerary.
Are you planning a road trip to visit all of Utah's best national parks? Check out this itinerary for the best National Parks Utah road trip ever. It's a game-changer!
Handy Tips for Planning Your Zion National Park Itinerary
What to Pack for your Zion Itinerary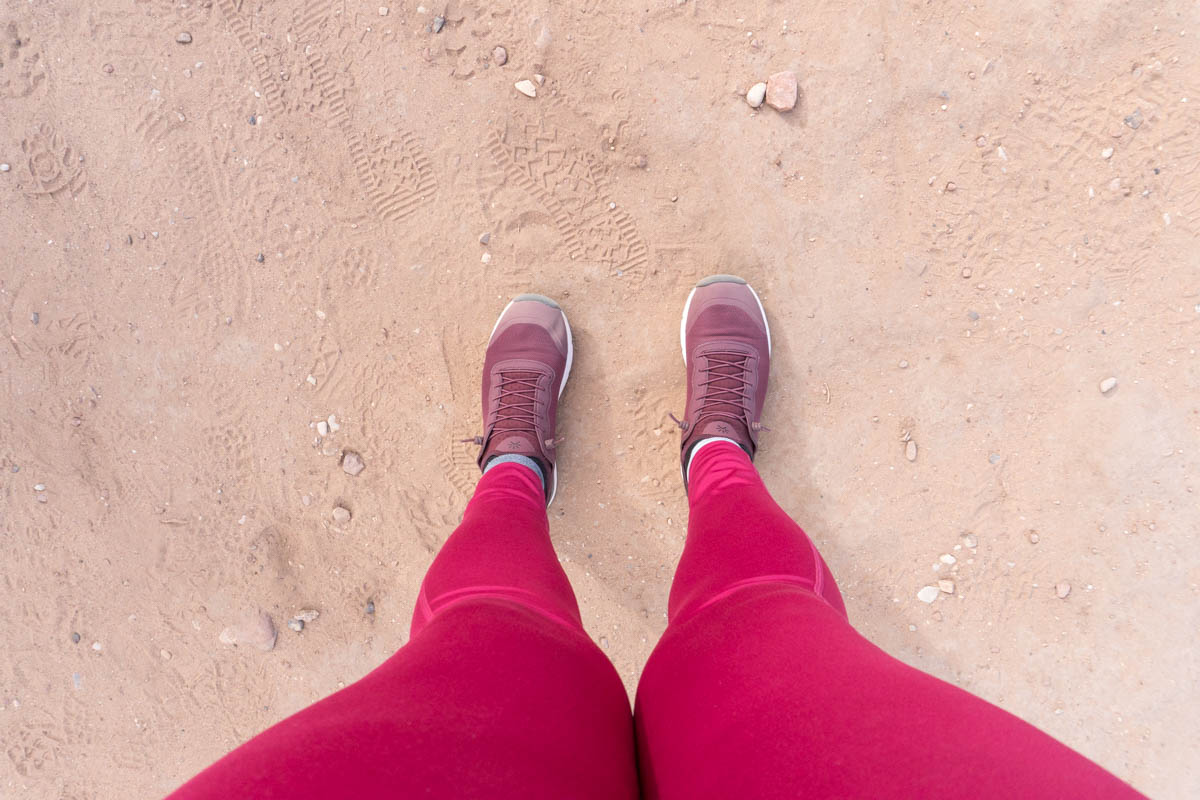 Before you throw your clothes into your suitcase and be done with it, there are a few things you want to make sure you have on hand.
Where to Stay in Zion
If you want to stay in Zion itself, there's the well-respected Zion Lodge as a first choice. Otherwise, Springdale has many great options outside the gates to Zion.
Cable Mountain Lodge (Luxury)
Located adjacent to Zion's Visitor Centre, you couldn't get closer to the park. A seasonal heated pool and hot tub with canyon views are available, and each suite comes with a seating area, satellite TV and air-conditioning.
This hotel has a private beach, where guests can organise a picnic when they're not hiking. A convenience store and gift shop are on the premises, so really they have everything you could want (and need).
Holiday Inn Express Springdale (Mid-Range)
Conveniently located only 2.5 km from Zion, this 3-star hotel gives a 5-star impression. With exquisite decor and red-brick façades, you'll find a gym, seasonal swimming pool, free Wi-Fi, stylish rooms, and air-conditioning to make your stay comfortable.
There's even a hot tub on the sun terrace.
Useful Resources for Your Perfect 2-Day Trip to Zion
Is this your first time going to Zion? Before you embark on the trip of a lifetime, check out these 17 things to know before you go.
How to Get Around During your 2 Days in Zion National Park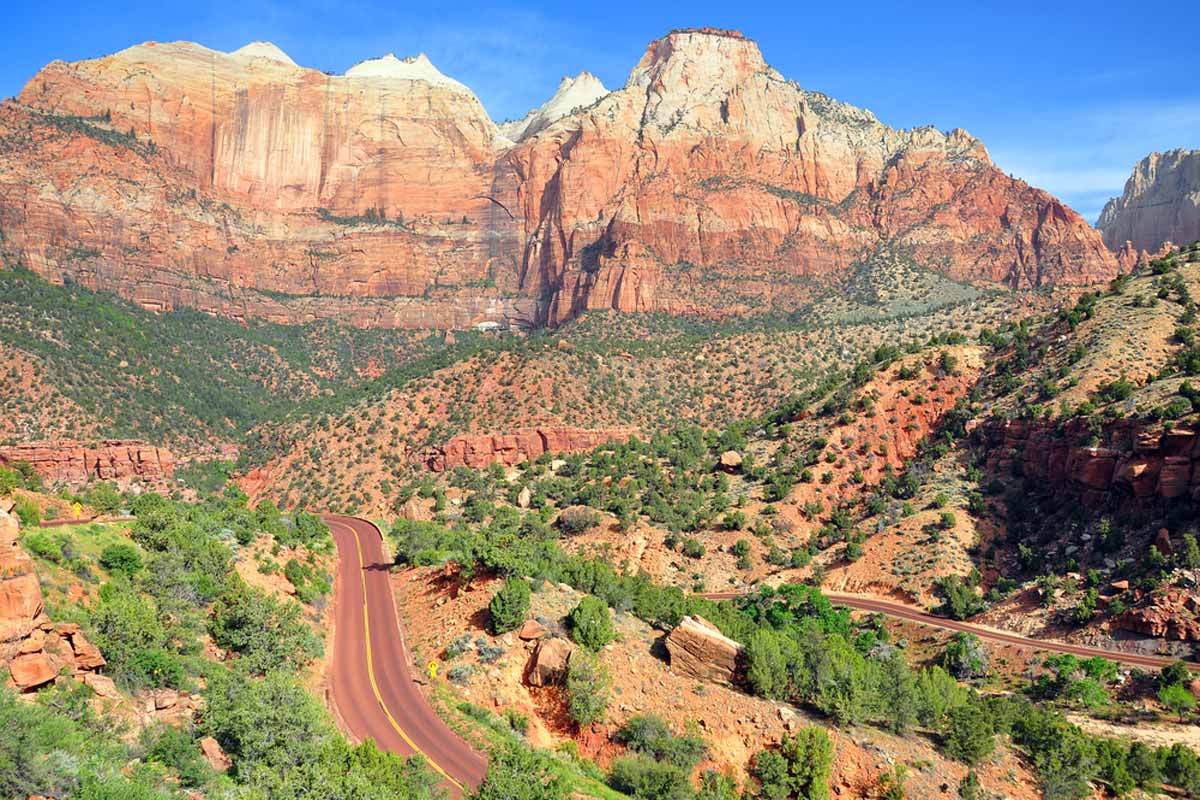 While you can travel around the park using the Zion Canyon Shuttle System, driving yourself around some of the time is the best way to fulfil this itinerary—when you aren't hiking or indulging in a once-in-a-lifetime tour experience, that is.
Parking is available in Zion, but get there early, and I mean crack-of-dawn early. Unless you want to waste half your day cruising the lots at 5 kmph waiting for a bay to open up. If you want to avoid the stress, park in nearby Springdale instead and catch the Zion shuttle from one of their nine stops.
Remember, though, that you can easily lose an hour to those queues if you don't start early enough. The tourist density will depend on what season you plan on visiting, with summer being the most crowded with the longest queues.
2 Days in Zion Itinerary
Ready for the start of your epic adventure? You better be. Day one is a killer (if I do say so myself). Let's go.
Zion Itinerary Day 1
Watchman Trail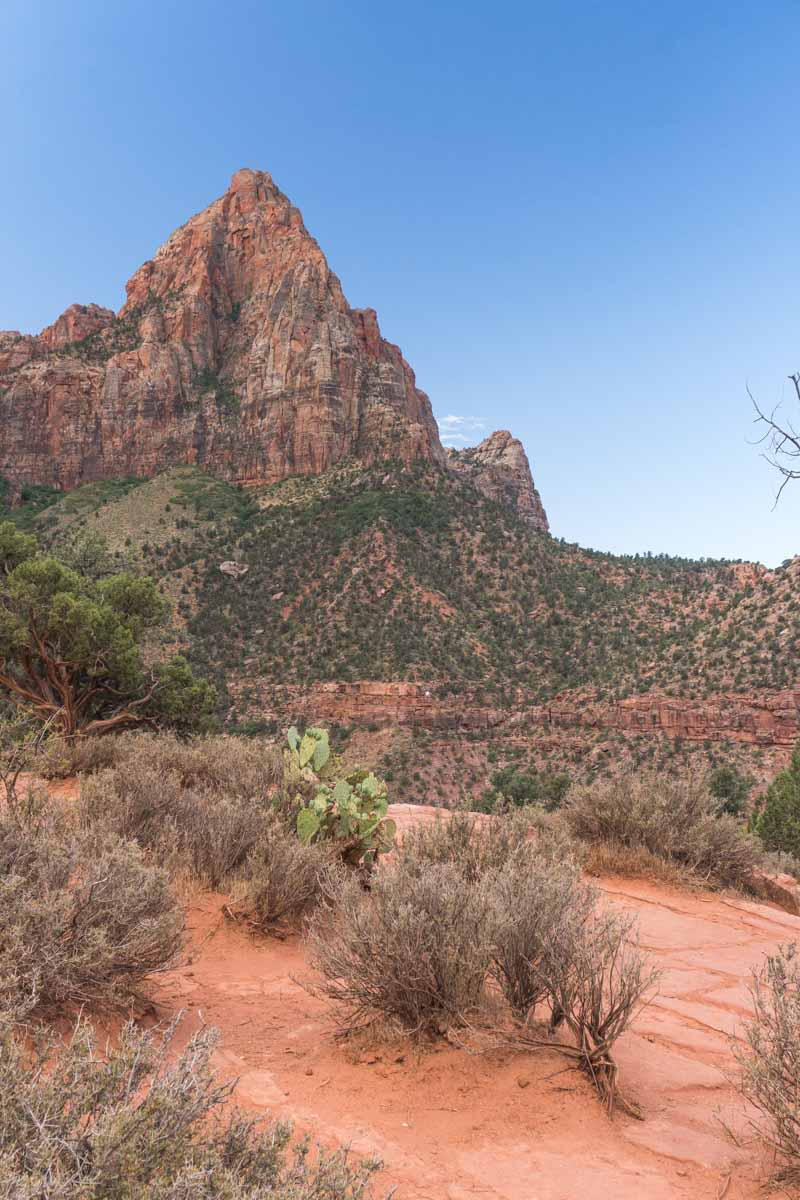 This easy to moderate hike is the best way to start your two days in Zion National Park, as the starting point is handily located at the Visitor Centre. It's only a 4.8 km roundtrip with a slight elevation and gives you a breathtaking view of Watchman Mountain. Welcome to Zion, folks!
Start early and bring your breakfast on the go for a makeshift picnic on the dusty red rocks when you reach the viewpoint. All in all, you shouldn't be hiking for longer than 1-2 hours.
Top Tip for Visiting: This trail is in full sun most of the day, especially in summer. It's best early in the morning (as we're doing here) or during the shoulder seasons.
Pa'rus Trail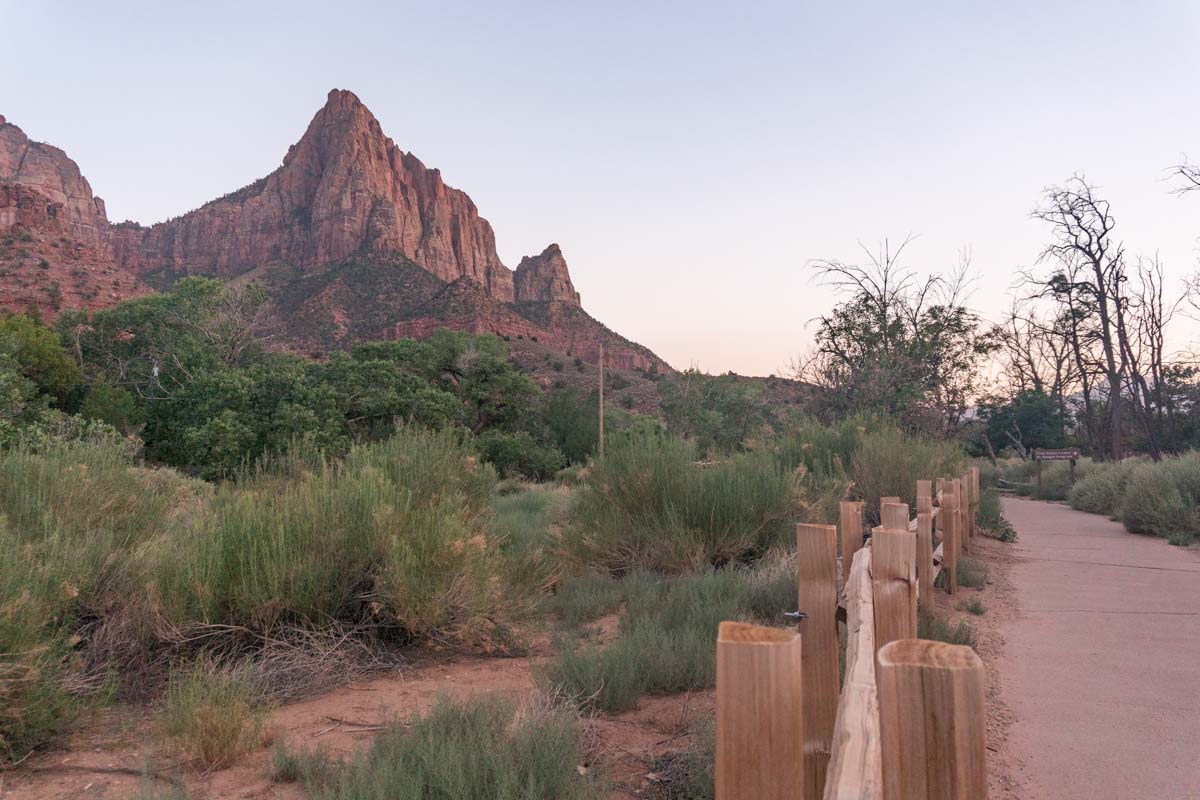 Next up is the nearby Pa'rus Trail. It's also a relatively short out and back trail that's 5.4 km in total, and it's a breezy stroll for the most part beside a bubbling stream.
Don't let this laidback Zion hike fool you, though—the scenery is something from a Hobbit film, with abundant wildflowers and even the possibility of spotting mule deer along the way.
Lush greenery starkly contrasts the bright red rocks of the mountains towering around you. Walking alongside the Virgin River towards Canyon Junction and back, this pleasant hike should take about 1-2 hours.
Top Tip for Visiting: This trail is bike-friendly, just in case you fancy a change-up in your daily hiking routine.
Emerald Pools Trail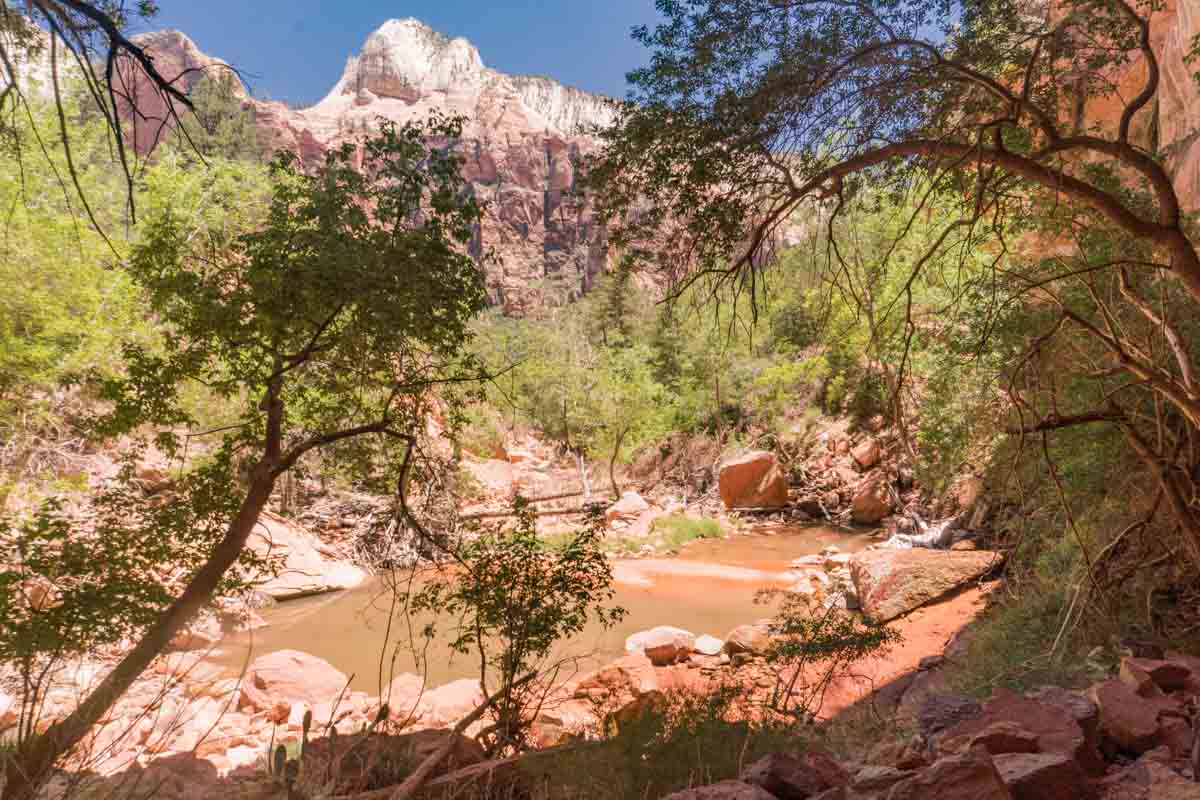 Dare I say there is nothing more ethereal than wandering a trail beneath and past dozens of small waterfalls that culminate in several shimmering pools? This hike is hardly strenuous, only requiring you to gape at the beauty around you. It starts near Zion Lodge, and the trail has three sections.
Lower Emerald Pools soon invites you to walk along an alcove beneath two established waterfalls, pounding away into the pool below.
After you reach this alcove, you'll begin the slightly more challenging Middle Emerald Pools section. You'll climb onto the top of the alcove you just walked under, but the views are quite spectacular.
The last section, Upper Emerald Pools, is a sandy stretch you'll have to navigate to reach the last pool at the base of the cliffs above. It's the perfect place to stop and have a snack or a packed lunch before retracing your steps.
Or, take the optional loop that leads back to the Lodge. Depending on your pace, this hike can take 3-4 hours.
Top Tip For Visiting: Depending on the time of year, Emerald Pools Trail can pose a risk of flash flooding. If heavy rains are forecast, best avoid this trail.
Optional Alternative: Angel's Landing Trail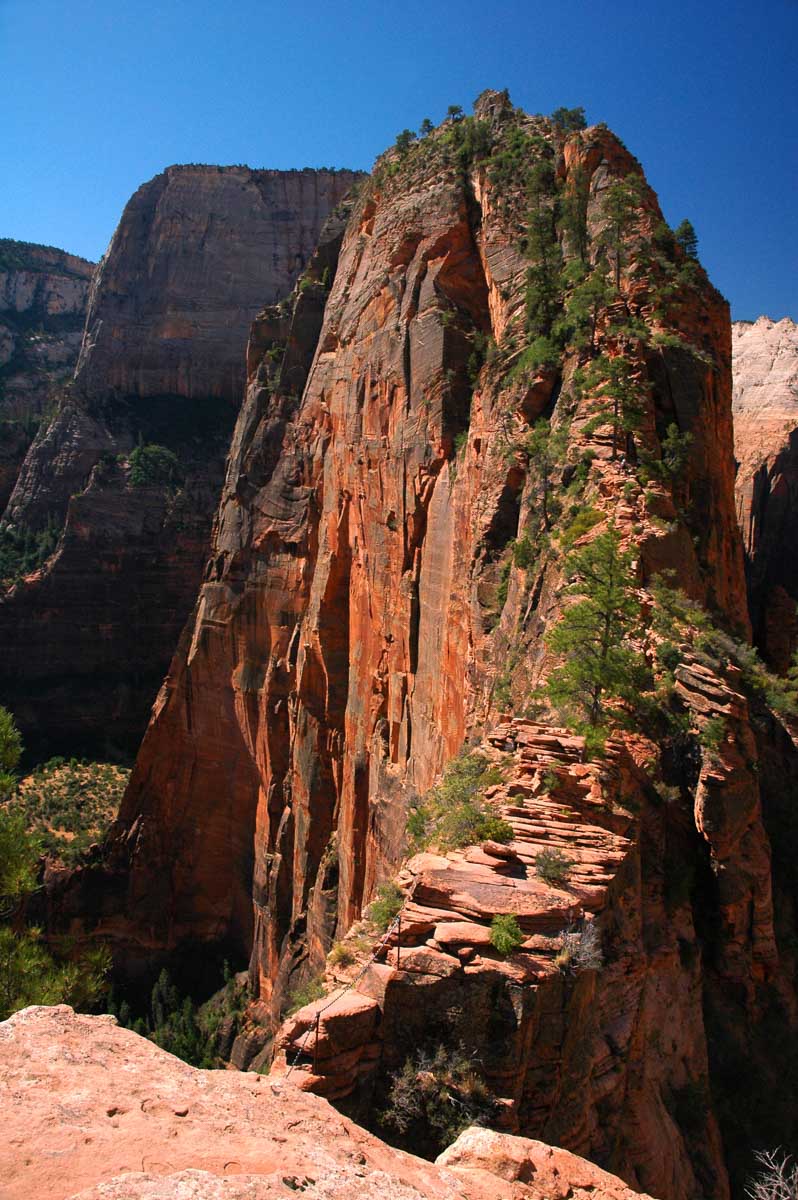 If you're not all hiked out yet, how about one more? It's one of the most classic hikes to include in an itinerary for Zion National Park, but this trek that follows the West Rim Trail is not for the faint-hearted.
It's pretty strenuous and exposed – and, if you fear heights, this is not the trail for you! And if you don't have the calves to carry you up 460 m of steep elevation, forgo this trail in preference to the other three beginner-level ones.
If you're a somewhat experienced hiker, though, tackle the challenge of Angel's Landing head-on instead of the previously mentioned three hikes. It's a decent 9.3 km to the viewpoint and back. The elevation gain might make it feel longer, so it's a marathon more than a sprint.
You may have shaky legs and wobbly knees by the time you reach the turning point, but you'll forget it all when you see that view. Depending on your fitness level and how long you stop to "oo" and "ah" over the fabulous vistas, this hike can take anywhere from 3-6 hours.
Top Tip For Visiting: As of April 2022, this trail requires a permit. You can find more information here.
Stop for Lunch
You can grab something from the lunch menu at Zion Lodge if you fancy, though it gets quite crowded, so it can eat (pun intended) into your afternoon. It's the only place to buy food in the park, so a packed lunch might be a better alternative to bring along and enjoy without the hassle of queues.
The bonus is you get to enjoy it wherever you want—any of the viewpoints you end up with close to lunchtime will suffice. Remember the "leave no trace" policy and throw your trash away or take it with you.
Zion-Mt Carmel Scenic Drive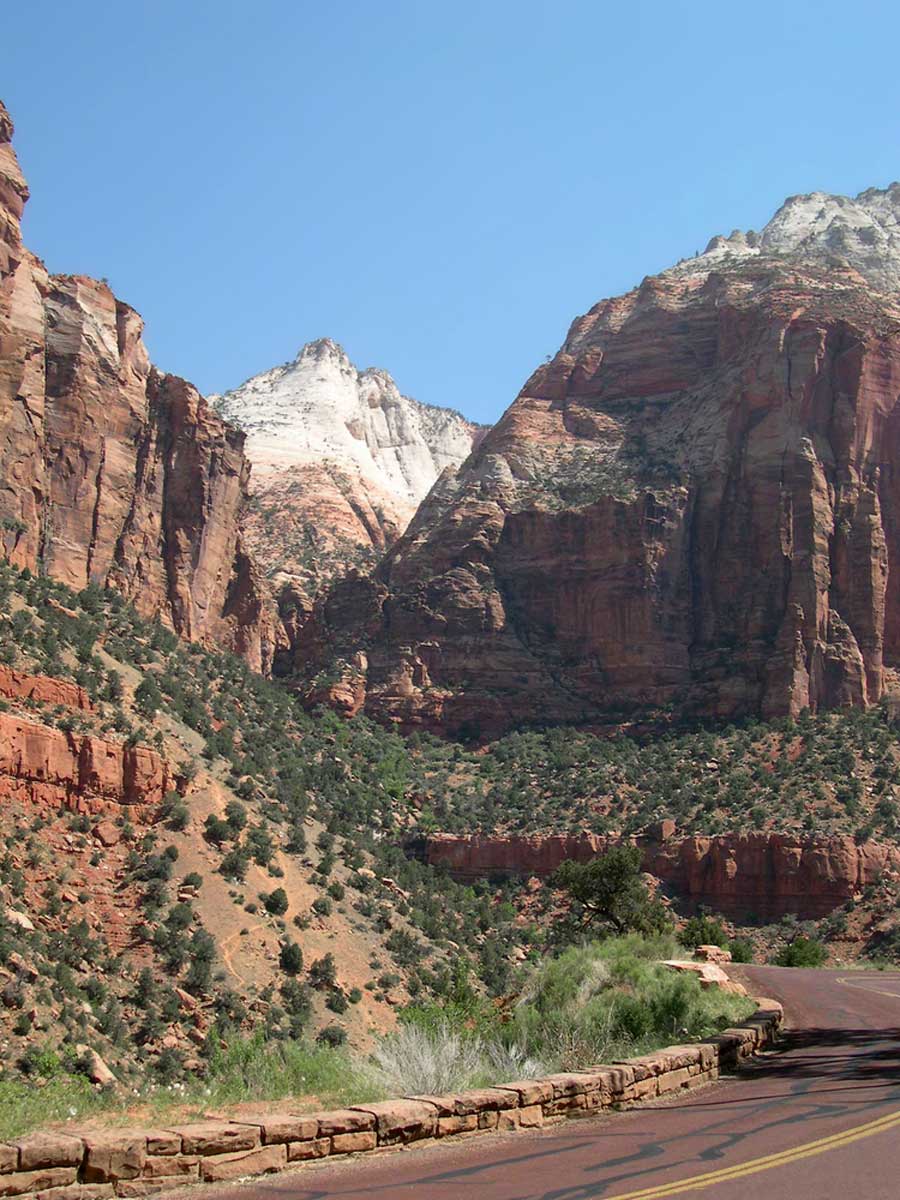 Now it's time to hop in the car and spend your afternoon resting those gams and letting the wheels do all the work while you enjoy the splendid vistas.
There are plenty of places to stop along this wondrous scenic drive, stare in wonder, and grab some epic photos in the golden-hour sunlight of late afternoon.
This self-guided audio tour is perfect for pointing out everything worth seeing on the drive, including the landmark Zion-Mt Carmel Tunnel, carved through red sandstone cliffs. And let's not forget the magnificent Checkerboard Mesa and Weeping Rock.
Besides these natural wonders, you'll see incredible rock formations, towers, hoodoos, and hilltops in all colours, from red and orange to cream and brown. All of them flecked with the green of sagebrush, desert pines, and wildflowers.
The only better way to end this day could be to experience a two-hour sunset jeep tour taking you off-road and into the wilderness. Vroom, vroom.
Zion Itinerary Day 2
Day two! I hope you slept well because you better be ready for more hikes today.
The Narrows Trail
Get those hiking shoes laced up and ready to tackle The Narrows, one of the most gorgeous river hikes to grace a Zion National Park trip itinerary.
The hike begins casually with the Riverside Walk from the Temple of Sinawava, but after 1.6 km, you'll hop into the water and get to the good part of this trek.
For most of the hike, you'll go through water that oscillates between knee-deep and waist-deep. There are deeper pockets that can reach chest height, so if you thought you would get out of this without getting your pants wet, think again.
The riverbed varies from loose sand to slippery boulders, giving your thighs and calves a good workout. You might feel the burn in your core muscles, too—while the current might be generally mild, it can be strong enough in narrow spaces to challenge how fit you thought you were.
Don't let this make you think twice, though—I promise, the scenic yields of this hike are more than worth it. You'll pass gorgeous spots like Mystery Falls and Wall Street, with seemingly sky-high cliffs crowding in on you.
Big Springs is the turn-around spot, a magical place where springs and small waterfalls emerge from the canyon walls. If ever a place looked like a real-life fairy glade, it's here.
From here, you'll take your soggy bottoms and irreplaceable memories and retrace your steps back the way you came. This 7.2 km round trip will take six hours of your day, so set aside the entire morning for it.
Top Tip For Visiting: This trail is generally open during summer and fall as it has serious flash flood dangers, especially in spring. If thunderstorms hamper your trip, don't risk it.
Lunch in Springdale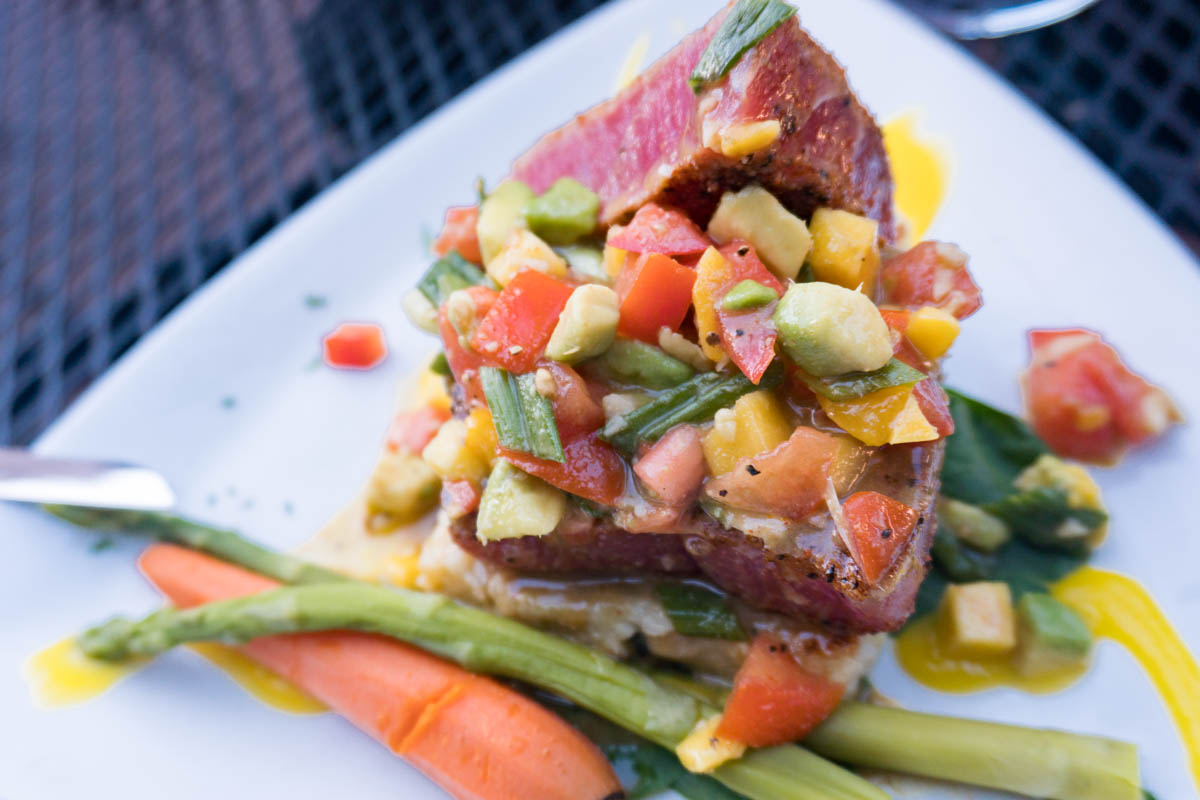 After your heart-pumping hike in The Narrows, take a trip on the shuttle or jump in your car and head to Springdale for a delightful lunch that wasn't packed in a bag. This conveniently located place benefits from gorgeous panoramic vistas courtesy of its proximity to Zion, but it's a tiny town with only 500 permanent residents.
Even so, it garners several million visitors annually from across the globe as the entryway to the national park. It has some top-notch places to satisfy the taste buds of even the most fastidious traveller.
If your lunch happens to be more of an early dinner, I can vouch for Spotted Dog. It was my favourite, with seasonal meats, salads, and pasta dishes served with exquisite flare. It's pretty popular with the locals and tourists, so book a table in advance, or you might end up waiting.
Horse Riding on the Sand Bench Trail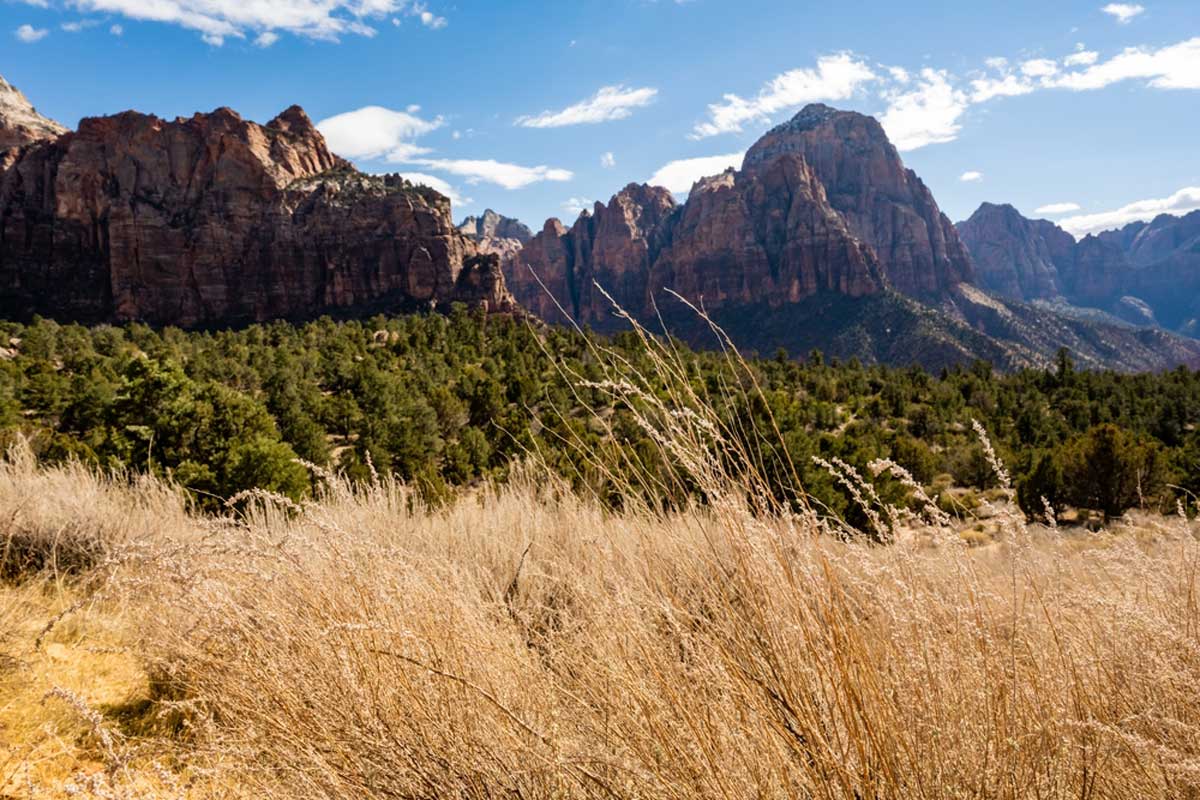 After a tantalising meal in Springdale, go back to the park for an afternoon trot across the red desert landscape with scattered pines. It's a 9 km loop that starts from the Court of the Patriarchs shuttle stop in Zion.
Kick back and let your horse do the walking while you enjoy the stunning scenery. You'll catch glimpses of the Left Fork of the Virgin River, plus sections of the Pa'rus Trail you traversed the day before. Set aside 1-2 hours for this adventure and revel in every minute.
Top Tip For Visiting: If you'd rather book a tour, this 2-hour horseback tour along Pine Knoll is perfect.
Optional Alternative: Canyoneering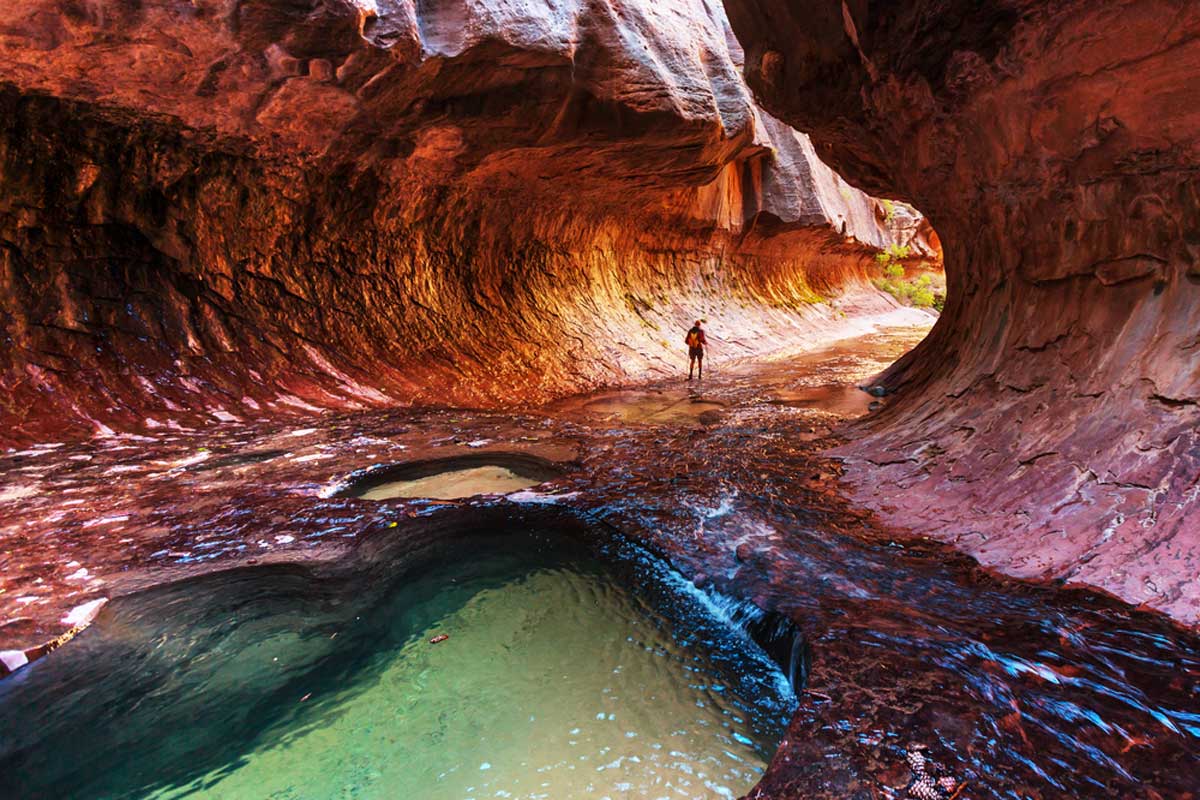 Have you got what it takes to rappel down slot canyons dangling from a small rope? I think you do. Grab your helmet and tighten your britches for a real memory-maker of an experience.
Climbing about the slim striped canyons with nothing but a rope between you and oblivion seems challenging, but even beginners can do it on a guided tour.
Be prepared to set aside about four hours for this activity because if there's one thing you don't want to rush, it's this. If canyoneering doesn't fall into your Zion trip itinerary, I can't blame you, but I can say you'd be missing out.
Sunset at Canyon Overlook Trail
Yes, more hiking! As if that isn't what you came here to do, after all. Trust me, you'll be glad you did it. After driving through the Zion-Mt Carmel Tunnel, you'll find Canyon Overlook in the upper East canyon.
It's a short-but-sweet 1.6 km hike that's easy to finish in 30 minutes, and its viewpoint is one of the best. As the sun sinks below the horizon, the red rocks of Zion catch fire and blaze in all of the pyrotechnic hues.
It's a marvellous sight and one I highly recommend for any Zion National Park suggested itinerary.
Top Tip For Visiting: The parking lot here is a little small, and it's a popular trail, so better to arrive a bit earlier to avoid crowds and lack of parking space.
Stargazing in Zion National Park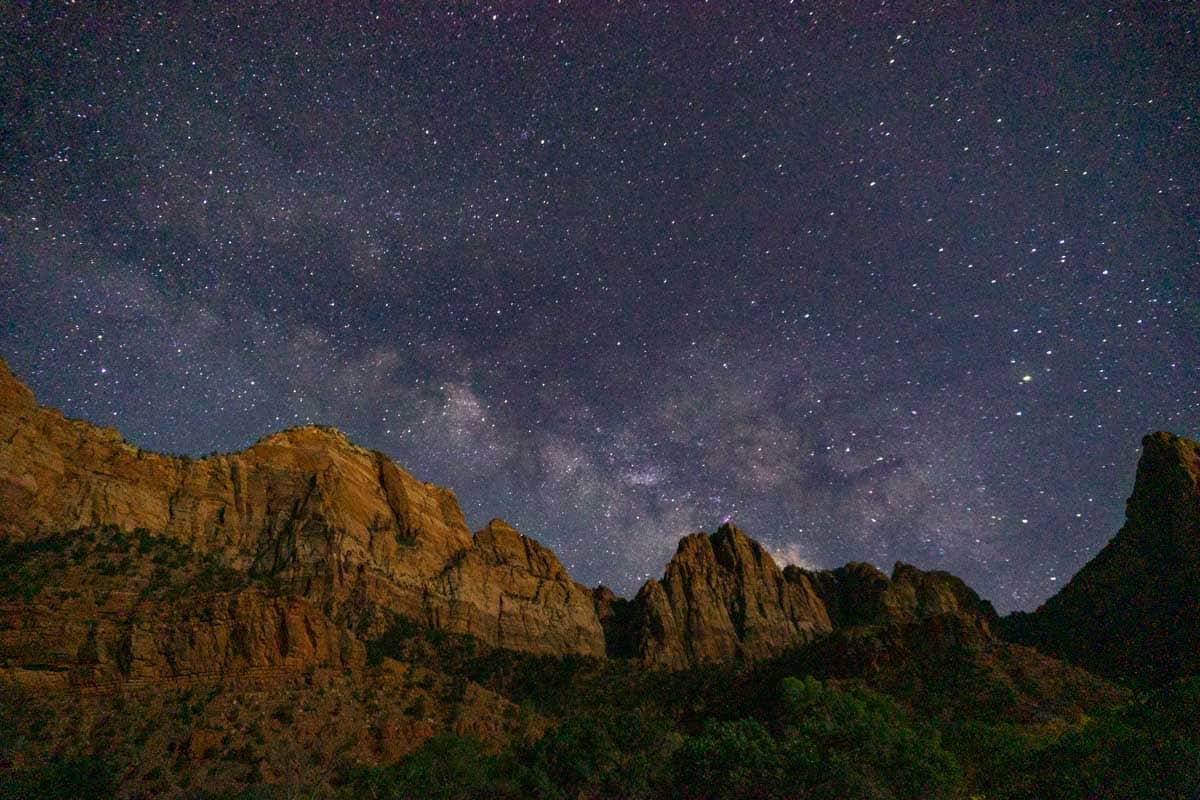 Drink an espresso if you must, but keep your peepers open for one of the most stellar (pardon the pun) views you can delight in. As recently as 2021, Zion became officially accredited as an International Dark Sky Path by the International Dark-Sky Association.
Not sticking around to view the heavenly bodies here is practically criminal. After all, sunlight has vanished, you'll witness the dazzling nebulae of the Milky Way as you've never seen them before. You can even do a 1-hour tour with a guide to point out the constellations and a hot chocolate bar to keep you toasty.
Just watch out for dive-bombing bats—no jokes! I got bitten by one while I gazed at starry visions, and midnight trips to the ER for rabies shots aren't much fun. But still, it's a view worth risking a bat (or two) to witness.
Top Tip For Visiting: Use a red light torch to navigate. This is because a regular torch will affect your night vision for up to 20 minutes, while the red light won't affect it as much.
Zion Itinerary: If You Have More Time
Visit the Human History Museum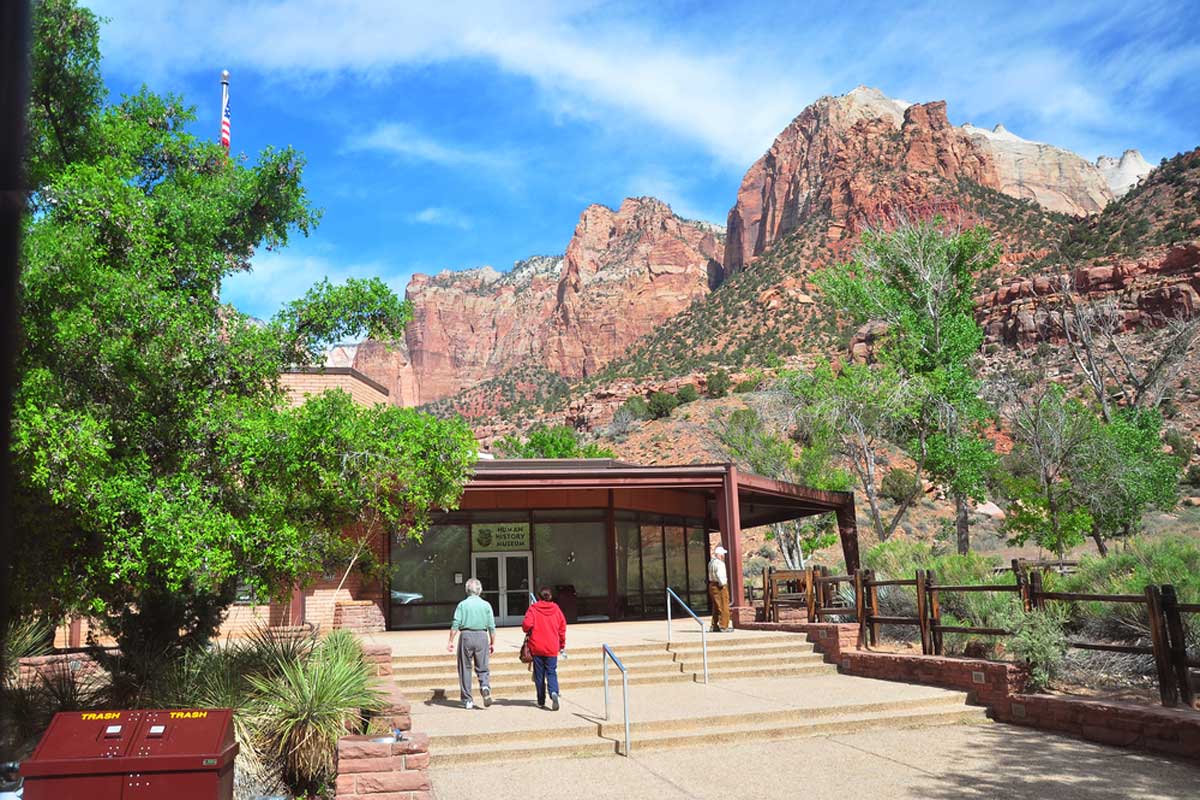 The Human History Museum is a welcome addition to your Zion National Park recommended itinerary if you have extra time to kill. You'll discover incredible things in the permanent exhibits about the history of Zion, including the Pioneer settlements and Native American culture.
Temporary exhibits pop up to add flavour to the changing topics and displays, and rangers are on standby to answer your questions.
Zion National Park Itinerary: Map
Zion National Park Itinerary: Read Next