Looking for the best hikes in Arches National Park? Here are 9 brilliant options to add to your itinerary.

If you're a hiking lover in search of the best hikes, Arches National Park has a few that may just satiate that passion of yours. After all, it has something pretty unique to offer the experienced hiker: a whole heaping ton of natural arches just begging to be explored.
It's one of Utah's Mighty Five National Parks for a reason, so don't doubt it's worth your time. Especially if you're a "gotta-catch-them-all" kind of hiker!
Excited? You should be. Grab your hiking boots and get ready to enjoy the spectacle of over 2,000 natural arches along some of the best Arches National Park hikes on offer.
Best Hikes in Arches National Park
Delicate Arch Trail
Length: 3 Miles
Time: 2 Hours
Difficulty: Medium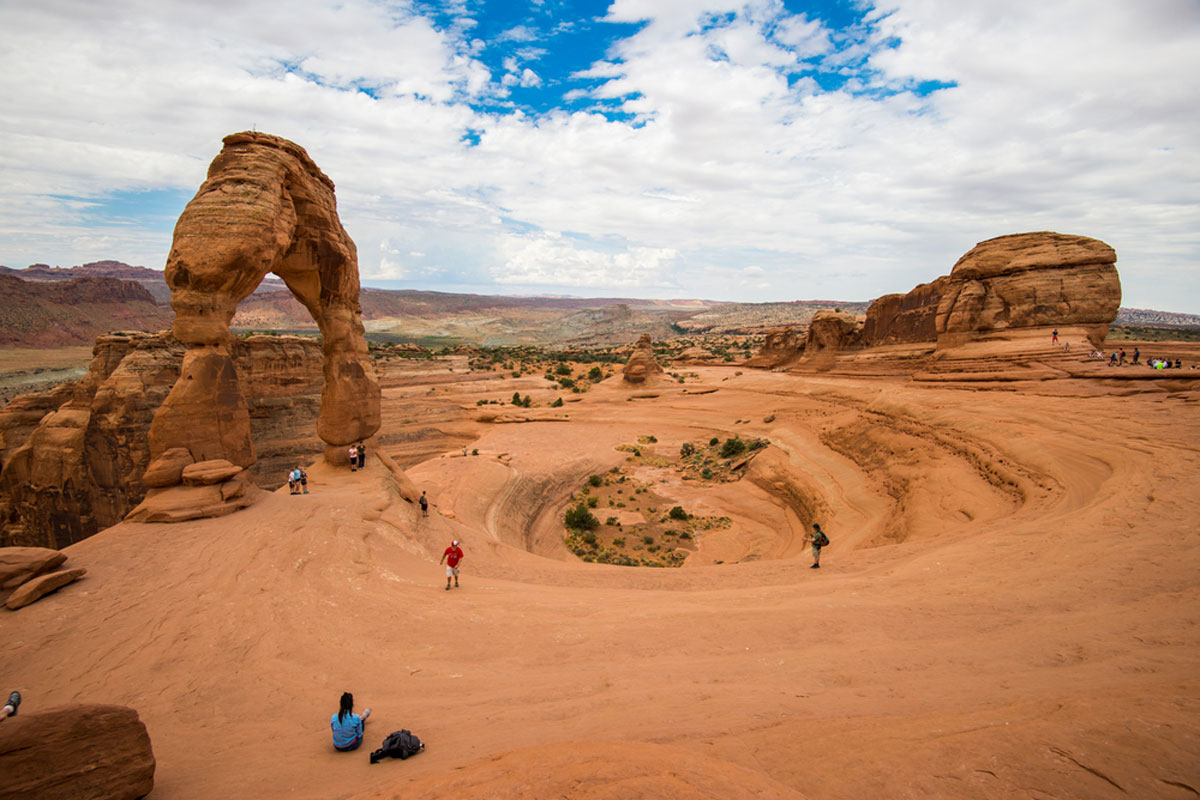 This out-and-back trail showcases one of the most iconic arches in the park, namely the Delicate Arch. It honestly looks like a pair of giant lopsided legs, one big and bulbous and the other slim and (you guessed it) delicate.
As far as Arches hikes go, this one gives you a great variation in terrain, so it feels like a real adventure, even though the trail is easy to follow. There's an elevation gain of 632 feet on a slickrock incline, occasionally skirting some steep drop-offs, hence the medium difficulty.
But it's all worth it for the astounding views of this 46-foot arch at sunrise (yes, that is the best time to see it).
Top Tip: This is one of the most popular arches in the park, so start very early to avoid the crowds and grab that ultimate selfie.
Devils Garden Trail
Length: 7.8 Miles
Time: 3 hours
Difficulty: Medium/hard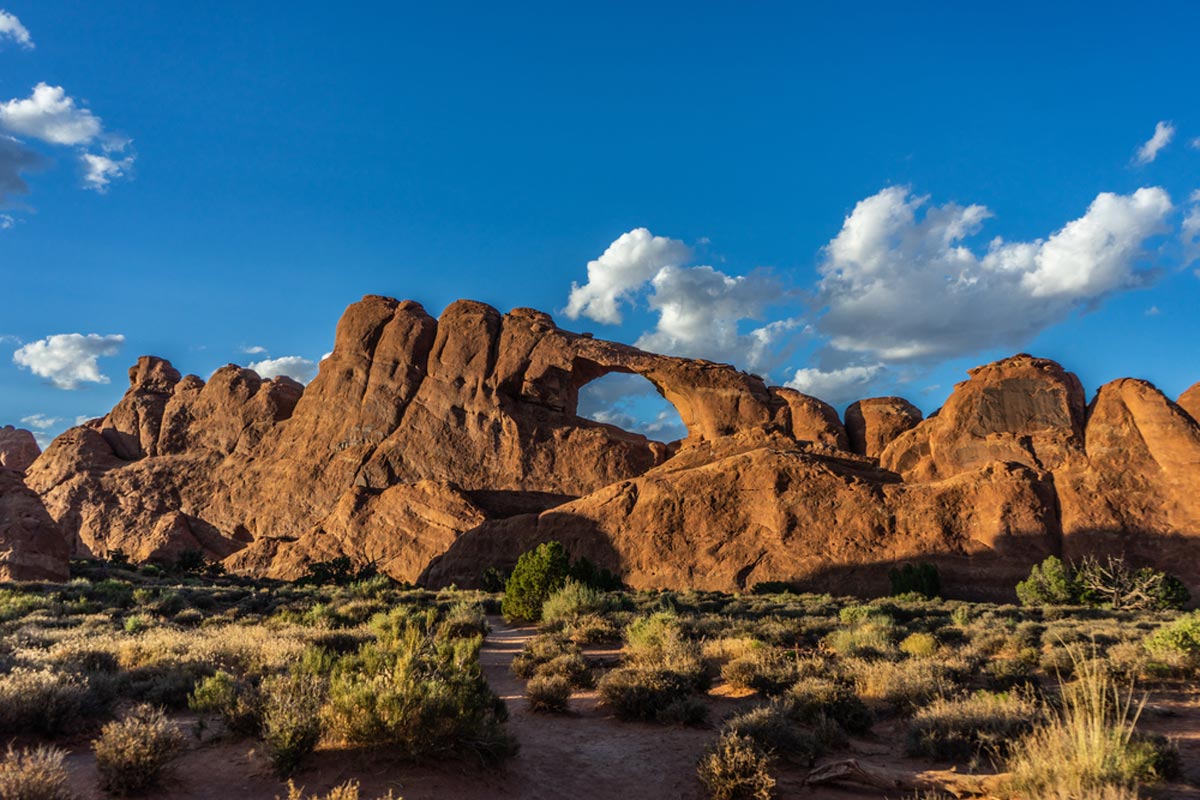 The Devils Garden loop trail is one of the best hikes at Arches National Park for you if you like your treks on the longer side. It offers some excitement, too — not only in the scenic red stone formations and green desert brush.
You'll pass by Landscape Arch, Dark Angel Arch, Double O Arch, Pine Tree Arch, and the primitive trail. This is a section of the trail where you'll have to scramble over rocks and pass along narrow ledges, with steep drop-offs close at hand and few markers to guide you.
It makes for a thrilling adventure to test your hiking mettle. Many people forgo these sections by turning back at Landscape Arch. But, if you're like us, you'll attempt the entire hike with gusto.
Landscape Arch Trail
Length: 1.8 Miles
Time: 30 – 45 Minutes
Difficulty: Easy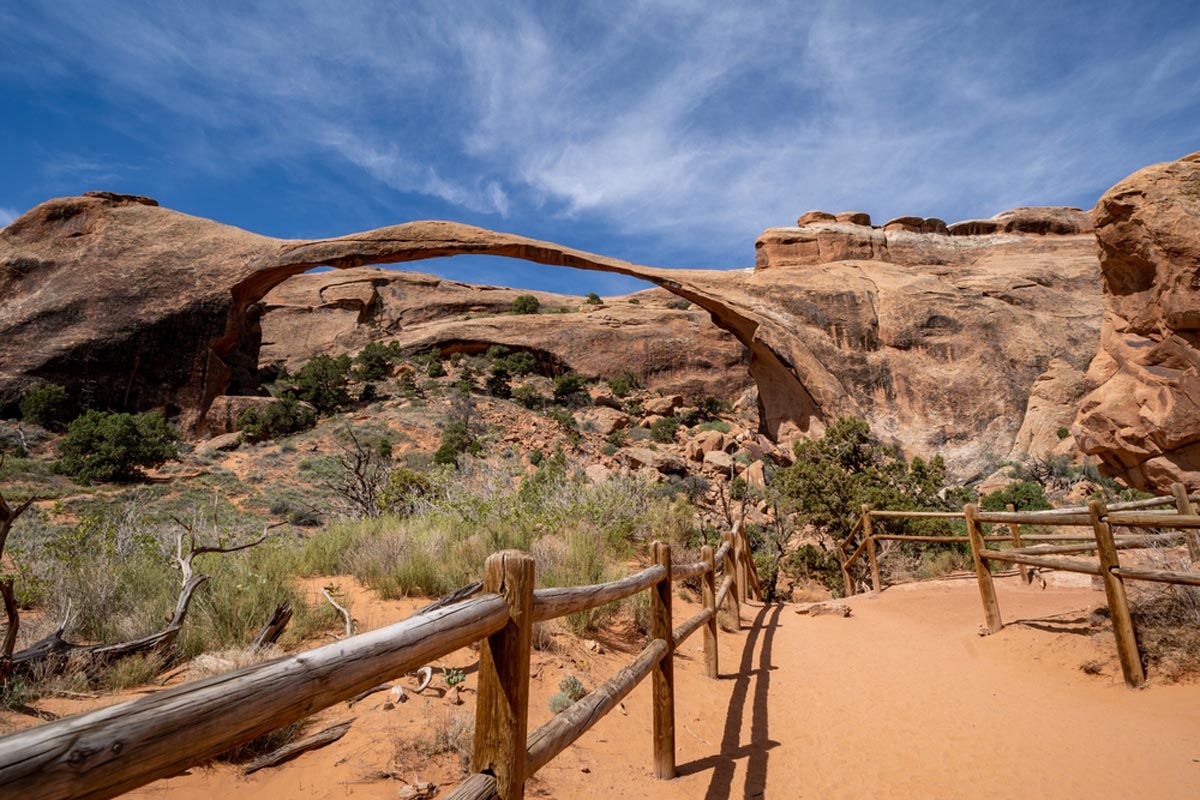 If you're looking for Arches National Park easy hikes with gorgeous pay-offs, this is it. With a slight elevation gain of 260 feet, you'll rock up (pardon the pun) to one of the longest stone arches in the world.
It resembles a thin rainbow made of rock, stretching from one formation to the other, and is downright mesmerizing to see.
Given that a 60-foot slab of stone fell from the arch back in 1991, permanently rerouting the trail, it's evident this slender beauty won't be around forever. So mark it a must-see on your Arches National Park hiking map.
Park Avenue Trail
Length: 2 Miles
Time: 40 Minutes – 1 hour
Difficulty: Easy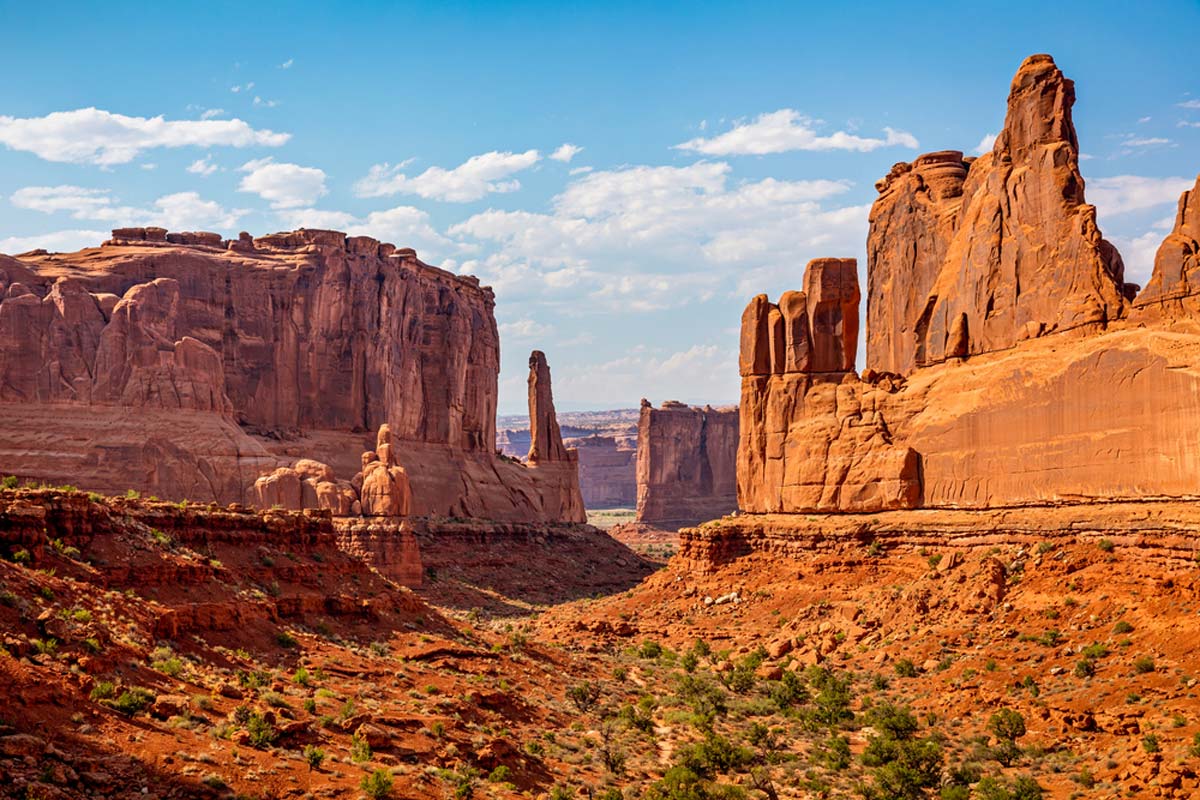 The Park Avenue Trail is the first you'll encounter at Arches, and it makes for a jaw-dropping introduction to the Wild West landscape of towering red rocks.
It's a pleasant, flat Arches National Park hike with a gradual elevation gain of 300 feet as you go along, and many skip it in favor of trails that lead to the famous arches.
Trust us: this is a mistake. Taking this short hike and delighting in the rugged scenery with its spectacular 360-degree views sets the tone for the rest of your day in the park.
Balanced Rock Trail
Length: 0.3 Miles
Time: 15 Minutes
Difficulty: Easy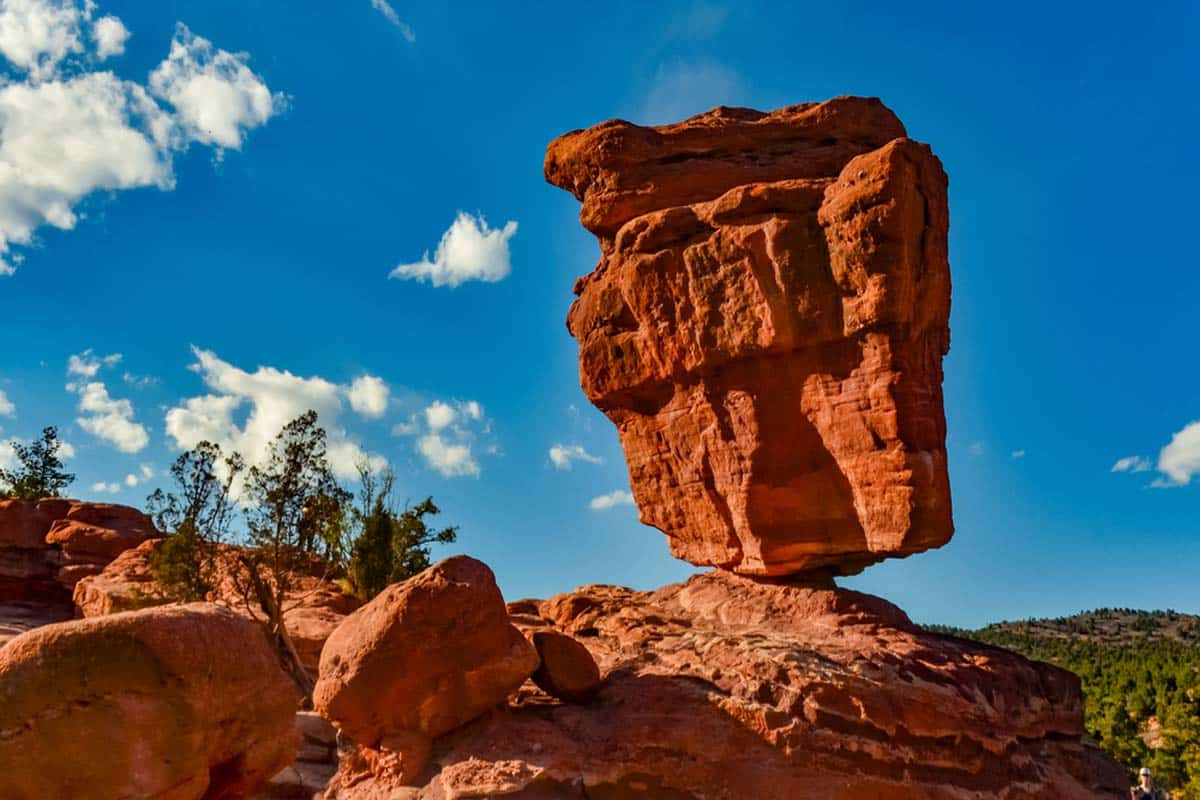 If it's an easy hike in Arches National Park you're looking for, this quick 15-minute jaunt along a flat paved pathway is ready and waiting just for you.
The most notable point of interest is the giant egg-shaped rock that seems as though it's about to tumble down any minute from its high, spindly perch. You can see this defiance of gravity from the parking lot, so many folks opt to snap their pictures and move on.
But the walk is short and pleasant, so why not get a bit closer to this wonder and admire it from a different vantage point?
Tower Arch Trail
Length: 2.4 Miles
Time: 2 Hours
Difficulty: Easy/Medium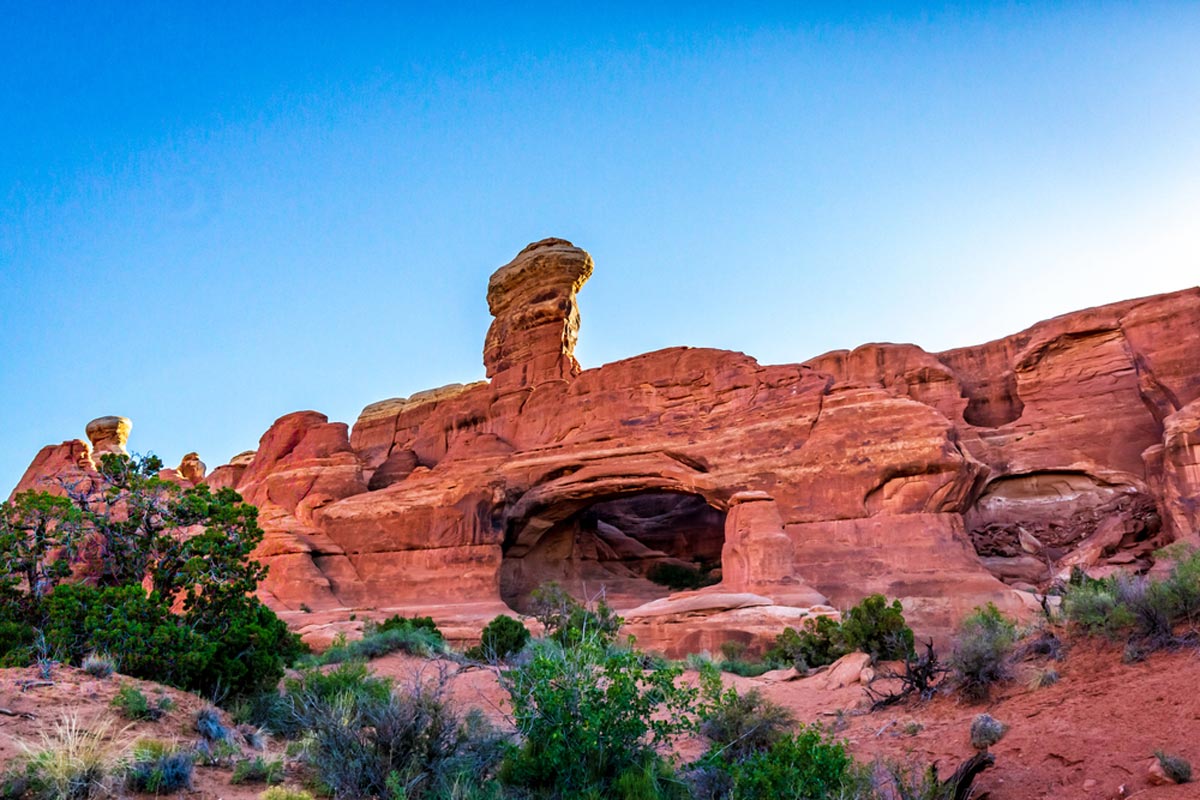 You could call this one of Arches National Park's best hikes simply because it's a little more remote, so there are fewer people to crowd your Instagram masterpieces.
The first portion of the hike has an elevation gain of 600 feet, meaning your calves may complain a bit, and if you're a total hiking newbie, curse the moment you decide to take up this trek.
But even mildly-experienced hikers shouldn't find it too difficult. Once you conquer the slope upwards, cairns will mark your way to Tower Arch, which offers one of the best views in the park.
Bring your camera for this one because the panoramic views are to die for — a stellar Martian landscape pockmarked with green desert scrub lies before you. Snapping a pic of it through the eye of the arch makes it that much more special.
Sand Dune Arch Trail
Length: 0.3 Miles
Time: 15 Minutes
Difficulty: Easy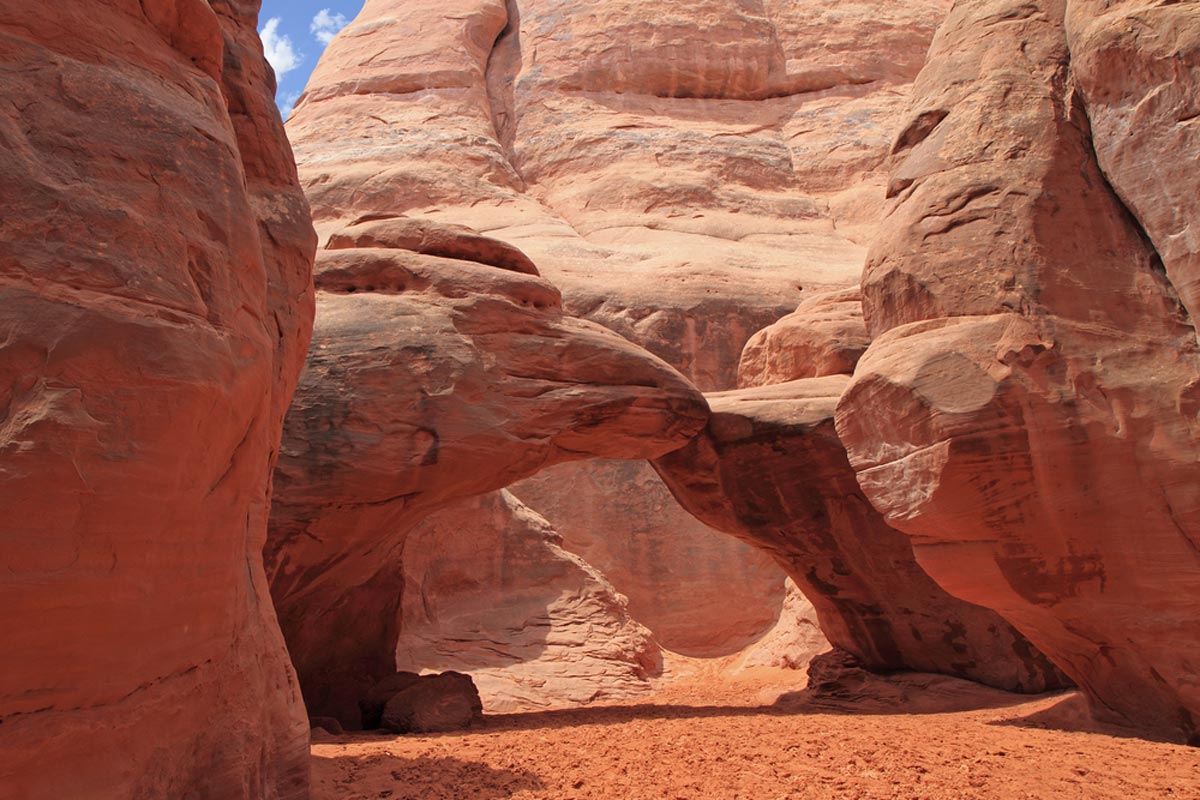 Sand Dune Arch Trail is one of the few trails you can tackle in the heat of noon, thanks to the many shady nooks and crannies it offers. It's also very short with a tiny 100-foot elevation gain, so you won't be sweating buckets attempting to hike it.
It's a short and fascinating trail with soft sand beneath your feet and a slot-canyon feel, thanks to the closed-in sandstone fins. It's an out-and-back trail that leads to Sand Dune Arch, a secluded and pretty arch that's generally underappreciated.
You won't regret taking the time to enjoy this short trek that offers a different perspective of Arches National Park and a reprieve from the heat.
Windows Loop and Turret Arch Trail
Length: 1 Mile
Time: 30 Minutes
Difficulty: Easy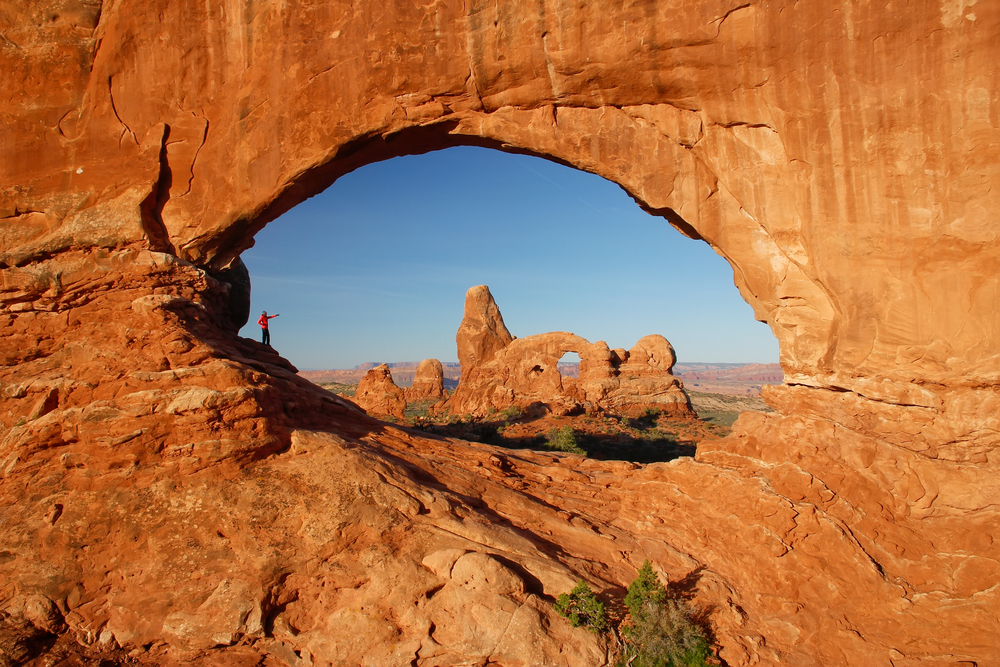 The Windows Loop Trail may be on the easy side, but the scenic vistas and formations it offers are stunning. So gorgeous that, in fact, it often takes longer to complete this hike just because you keep stopping to snap photos and take in the views.
There's a slight elevation gain of 154 feet and a couple of steps leading up to Turret Arch, which is vast and simply beautiful. There are also shady spots and red rock formations to marvel at, and the trail is easy on the legs, so you won't suffer any calf cramps.
This little trek might even be the best sunrise hike in Arches National Park — imagine seeing the first warm shafts of sunlight peeking through the magnificent Turret Arch!
Double Arch Trail
Length: 0.5 Miles
Time: 15 Minutes
Difficulty: Easy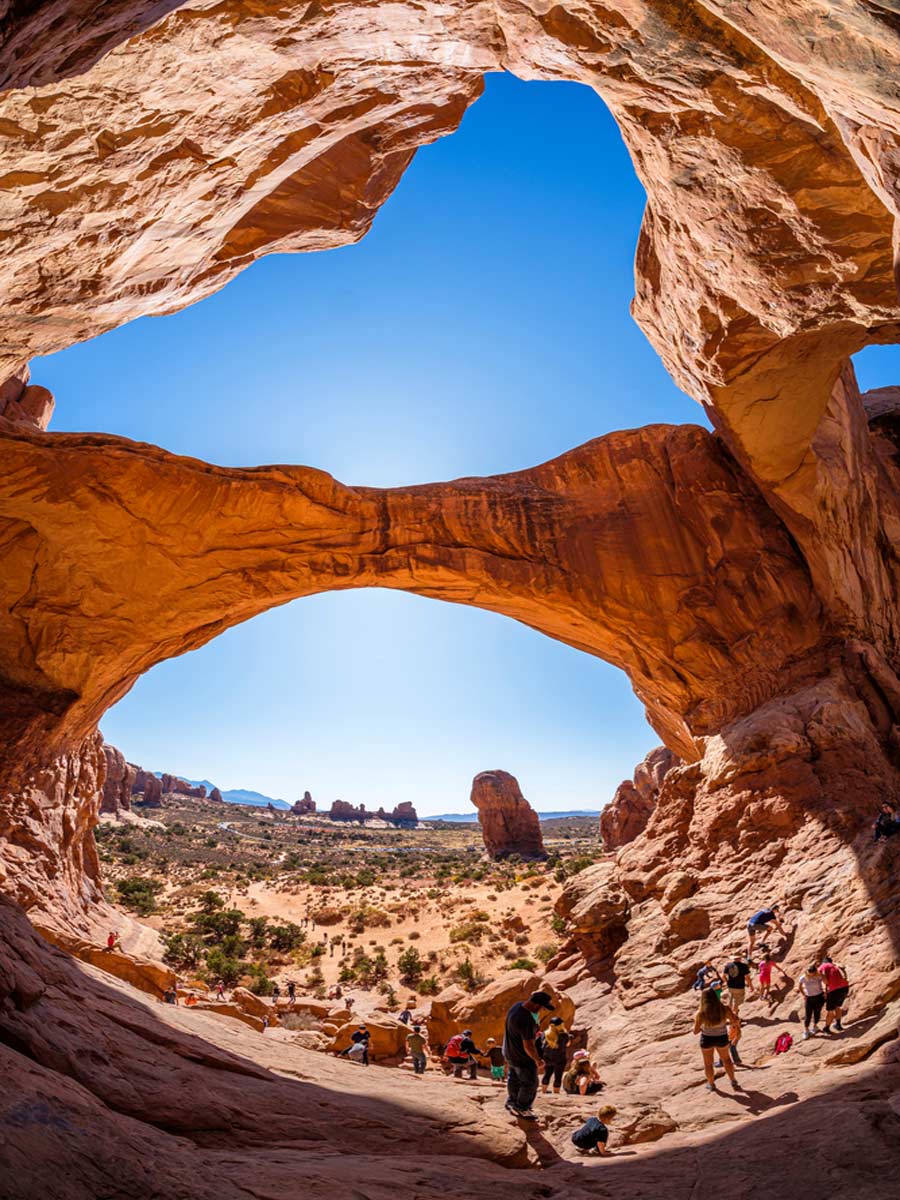 As you can tell by now, many of the hikes at Arches National Park are short and sweet, and the Double Arch Trail is another. A quick out-and-back trek, you'll soon come upon a set of huge natural arches that seem to share a common rock formation.
You can walk directly beneath this behemoth, which is right next to Turret Arch on the Windows Loop Trail, meaning you can work all three arches into your itinerary in one easy go. Technically you can see Double Arch from the parking lot, but where's the fun in that?
Arches National Park Hikes: Practical Tips
Bring water. And if you think you have enough, bring more. One gallon per person is a good rule of thumb, but there are water stations where you can fill up at Arches Visitor Center and the Devil's Garden trailhead.
You'll need to bring a couple of items for the best experience of the Arches National Park trails. A wide-brim hat is ideal for keeping the sun from your face, but a high SPF sunscreen is good. A water bladder is also an essential part of the desert hiking kit, including good hiking shoes to negotiate the terrain. Taking a pair of sunglasses will serve you well too.
Don't carve or otherwise deface the stone. Not with your name, or a cute heart — nothing. It's eco-vandalism and illegal, not to mention it ruins the natural beauty vibe. The Native Americans consider Arches a sacred place, so be respectful of the land.
There are no dog-friendly hikes in Arches National Park, so leave the pups at home.
Black bears sometimes visit Arches, so it's best to be bear safety-savvy before embarking on your hike just in case you run into one. Don't worry, it's very rare but it's better to be safe than sorry.
Arches is popular, with over a million visitors each year, so expect to start your day early to try and avoid the crowds. Besides, sunrise in the park is a gorgeous sight.
Looking for the best campsites? Here are some of the best Arches National Park campgrounds.
Best Arches National Park Hikes: Map
Arches Hikes: Read Next