So you're thinking of taking on the Bryce Canyon Scenic Drive? Here's what you need to know before you go.
Believe it or not, you don't need a pair of hiking boots to see some of the most stunning scenery in Bryce Canyon: all you need is a set of wheels.
Ok, so that was a little cheesy. But it's true.
There are plenty of incredible things to do in Bryce, but not everyone has the time or the physical fitness to experience it from the ground up. Thats where the stunning scenic drive comes in.
What are you waiting for? Grab a map and get comfy in your car seat as you prepare to experience the Bryce Canyon Scenic Drive and all it has to offer.
Why Take on the Bryce Canyon Scenic Drive… And What to Expect When You Do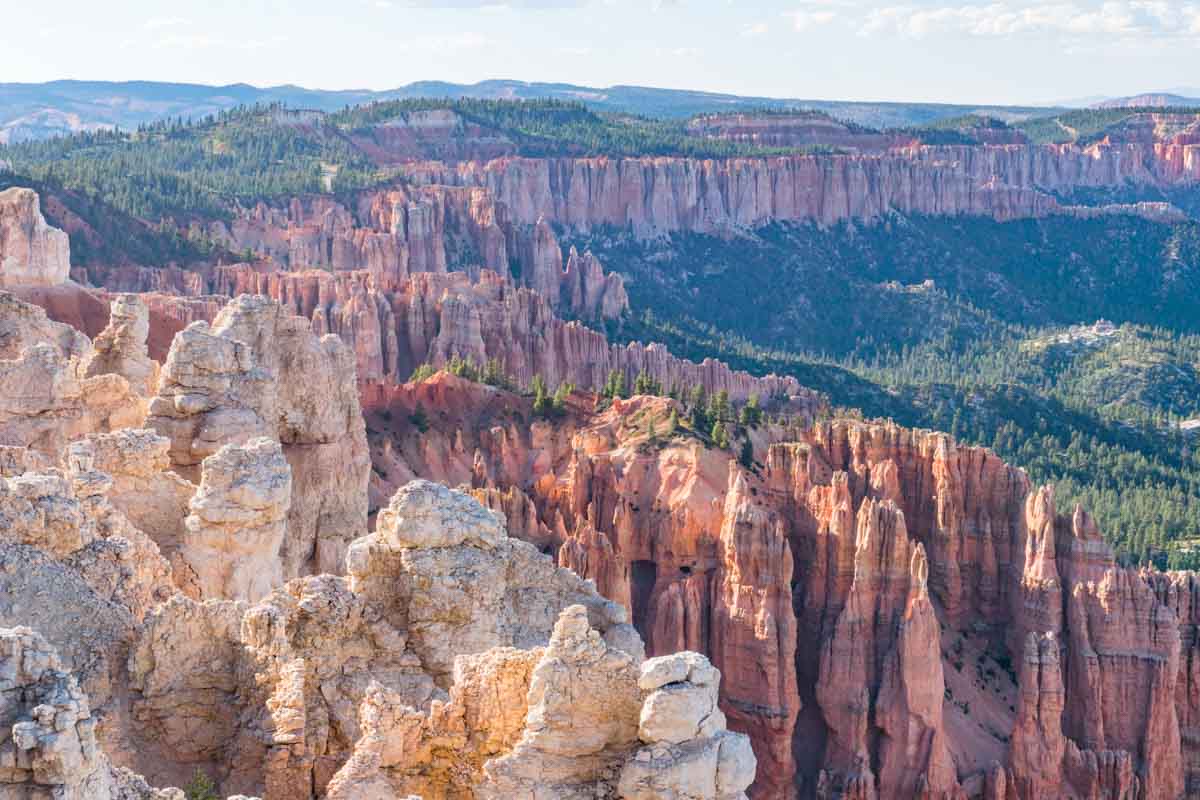 When I tell you that you're not ready for the views… I mean it. I was awestruck for the entirety of the Bryce Canyon Scenic Drive.
Experiencing Bryce by car is perfect for those with limited time – it's also ideal for less athletically-inclined people who would rather not spend their Sunday with aching muscles complaining at them.
The drive takes approximately three hours, including time to step out and enjoy the jaw-dropping scenery. It's a 61 km round trip with 13 viewpoints along the way. This is the way to go if you want to see the best that Bryce Canyon offers in one day.
You'll head out on Utah's Highway 12 as it cuts across the northern section of Bryce and dip south onto Highway 63. Driving through Bryce Canyon, you'll head to the end of the scenic drive to begin at the southern end for the best experience of the viewpoints.
Ready? Let's get into it.
Bryce Canyon Scenic Drive Viewpoints
Rainbow Point and Yovimpa Point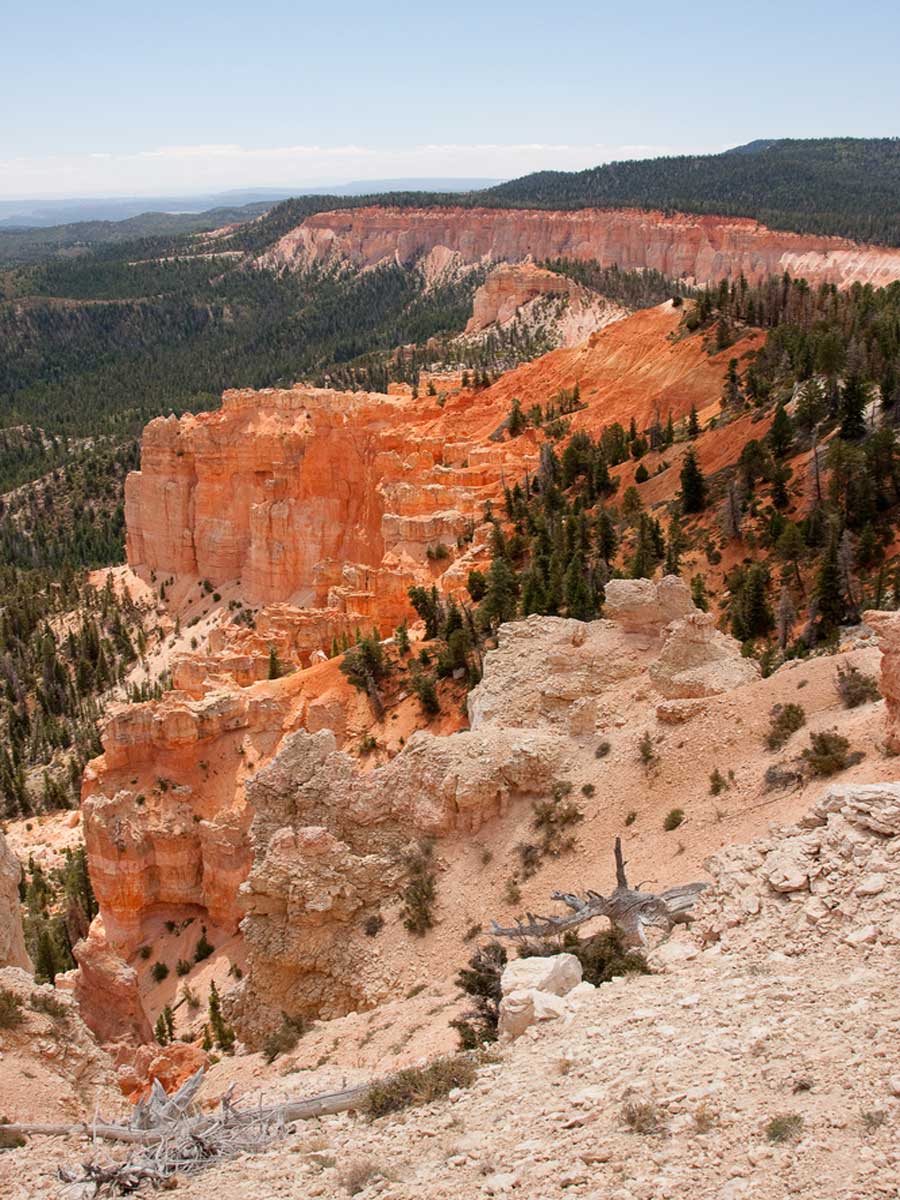 Look, in my (not so) humble opinion, no scenic drive through Bryce Canyon is complete without a stop at Rainbow Point. Looking northward towards the multicoloured pink, orange, red, and cream hoodoo stripes is majestic.
It's a unique perspective on the sandstone strata compared to the rest of the park. Yovimpa Point is the southern outlook, where you'll get a good view of the Grand Staircases.
Black Birch Canyon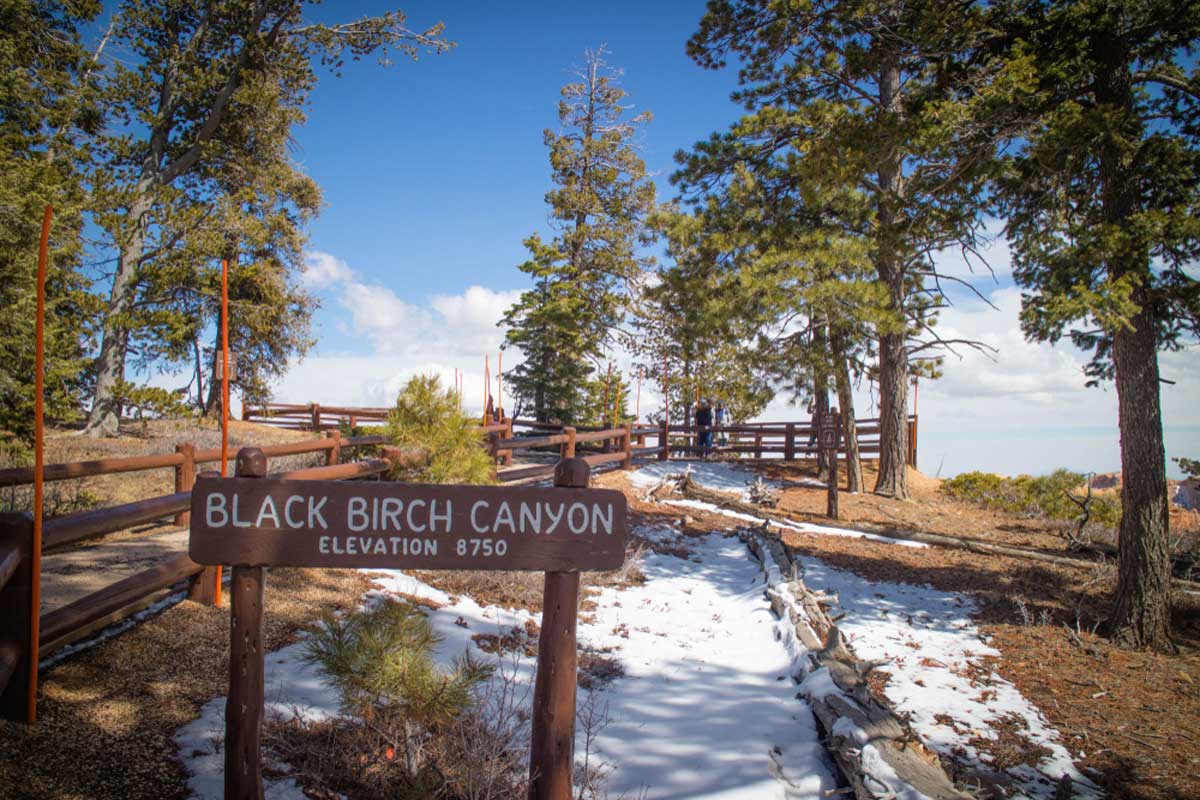 You might be tempted to skip out on Black Birch Canyon… But you would be mistaken. In the distance, you can see hints of your end destination, and there are orange and pink cream-topped cliffs and hoodoos to view.
Ponderosa Canyon
This is, quite lterally, a canyon filled with huge Ponderosa Pines, some of which are over 100 years old.
Ancient trees are always a magical sight, but it's not what people come to Bryce to see. Most visitors skip this one, so I get it if you'd rather hurry on to the next hoodoo collection. Do stop here if you have time, though.
Agua Canyon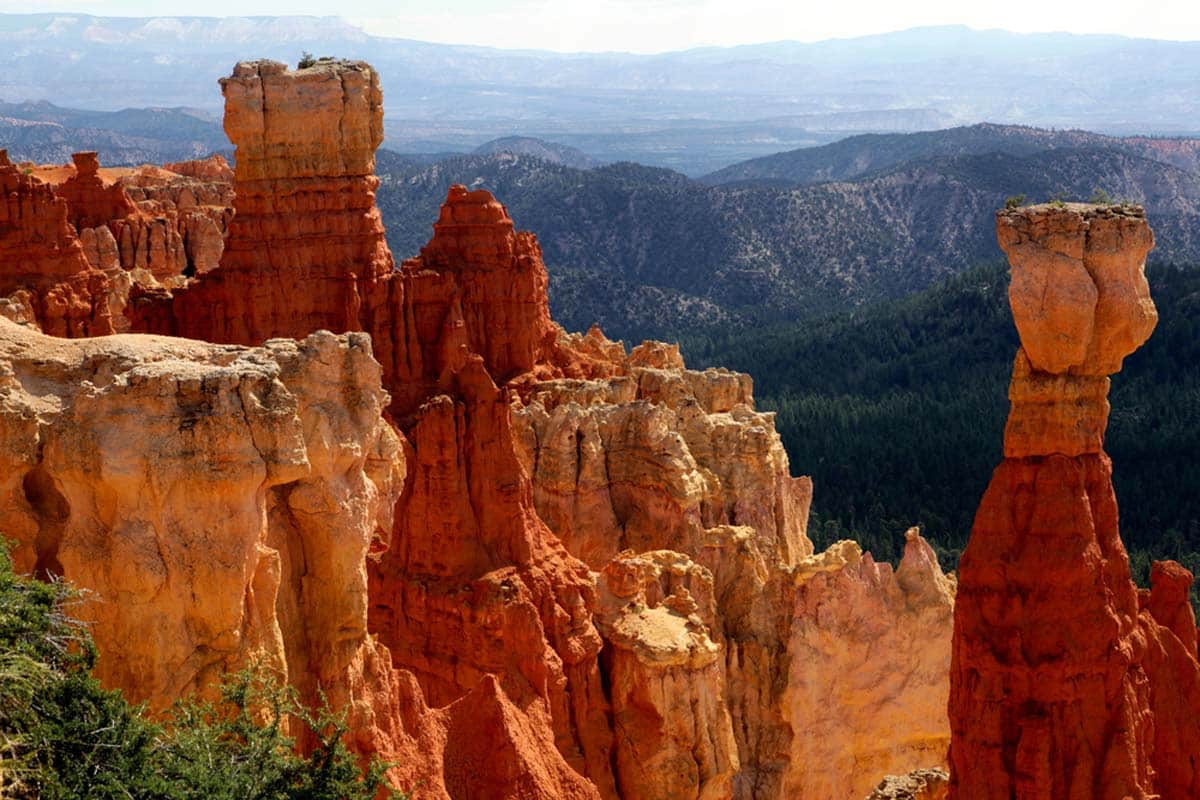 This is a fun stop on your Bryce Canyon itinerary with the famous hoodoos of "The Hunter" and "The Prey" to capture (pun intended) for your Instagram.
The Hunter is larger and wears a tophat of evergreen pines, while the smaller Prey hoodoo—also referred to as "The Rabbit"— is to the right.
Natural Bridge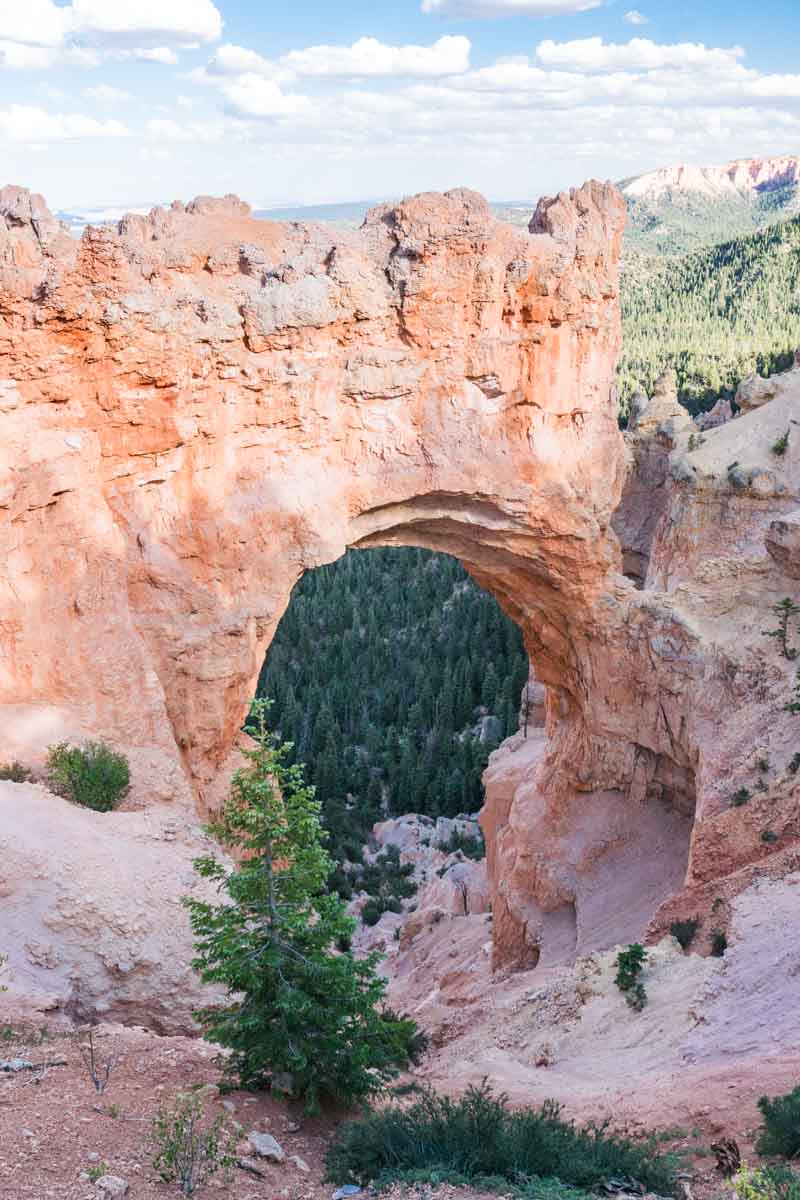 Another popular stop amongst the Bryce Canyon Scenic Drive viewpoints, this monster is technically not a bridge but an arch that began as a window. Talk about a geological identity crisis! Now the opening is a mighty 38 metres high.
Fairview Point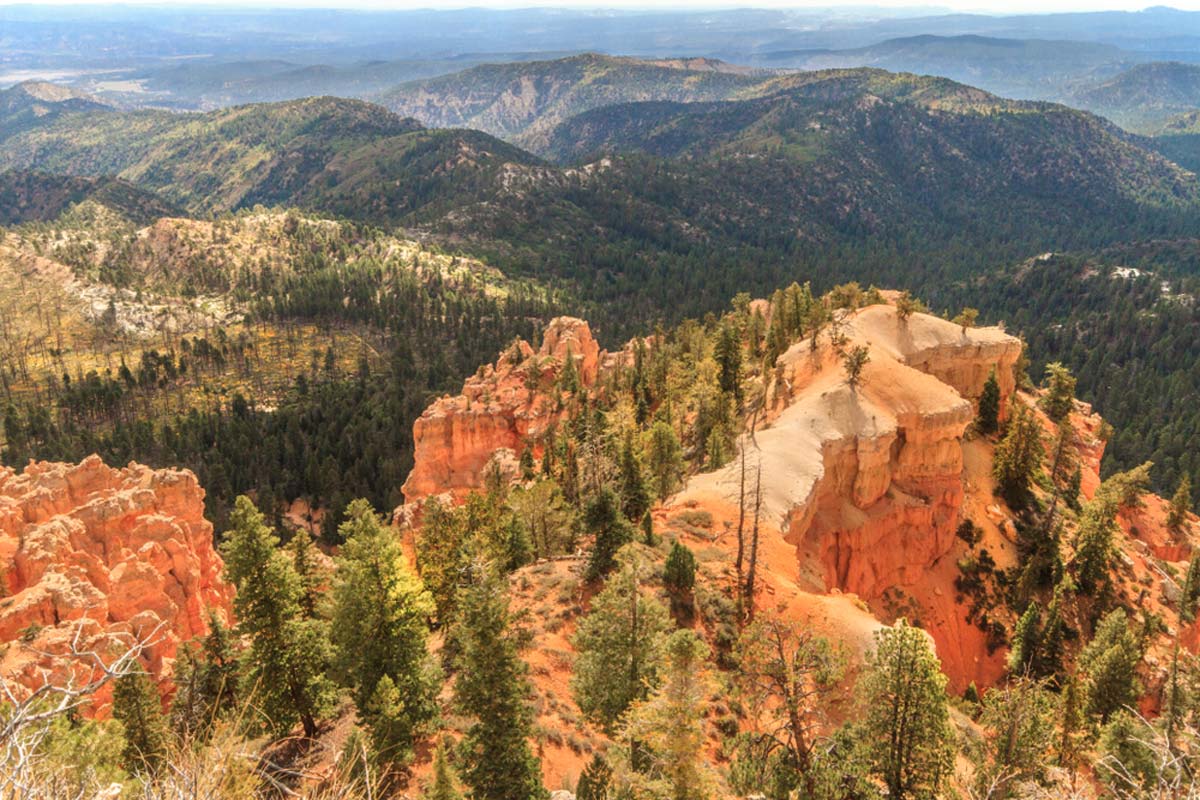 At this stop on the Bryce Canyon drive, you'll see beautiful contrasts of the vibrant hoodoos against the blue and green-hued mesas and plateaus in the distance.
The contrast is even more striking when the sun is at an angle, encouraging dramatic shadows across the red sandstone.
Swamp Canyon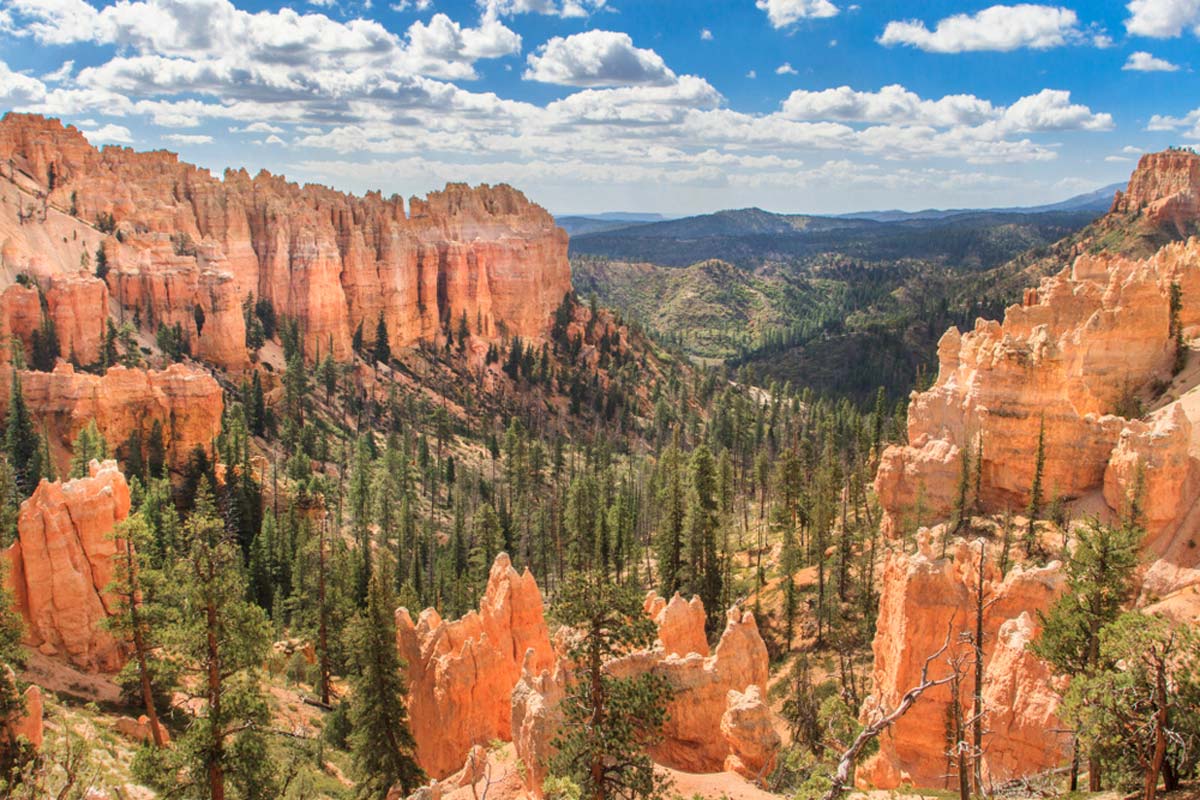 Technically, more like "Two Tiny Creeks And A Spring" Canyon, though that name isn't quite as catchy. It's an oasis compared to the rest of Bryce. It's one of the less impressive stops on the Bryce scenic drive, although the pink and red cliffs corralling a forest of lush pines is quite lovely.
Paria View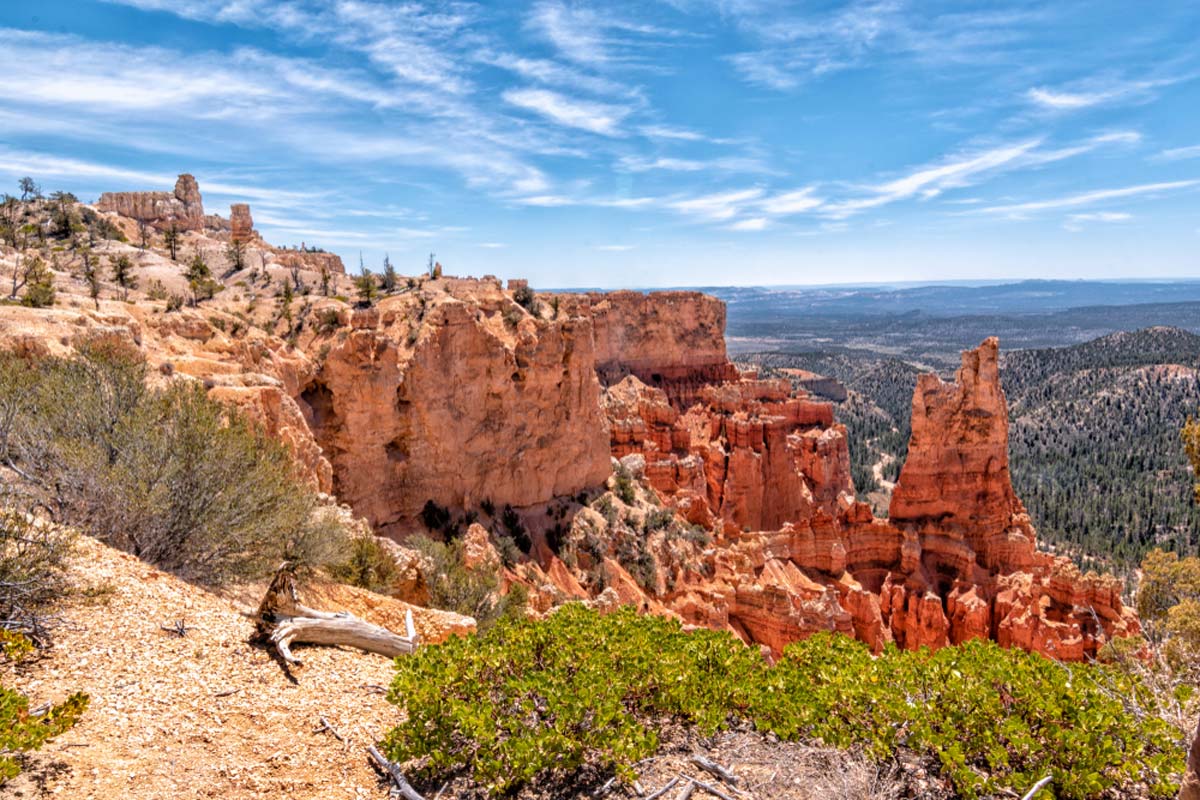 The hoodoos here face west, unlike in the rest of the canyon. This makes Paria View the best shot at sunset hoodoo photography you're going to get. The cream-coloured sandstone makes a fine contrast here.
Bryce Point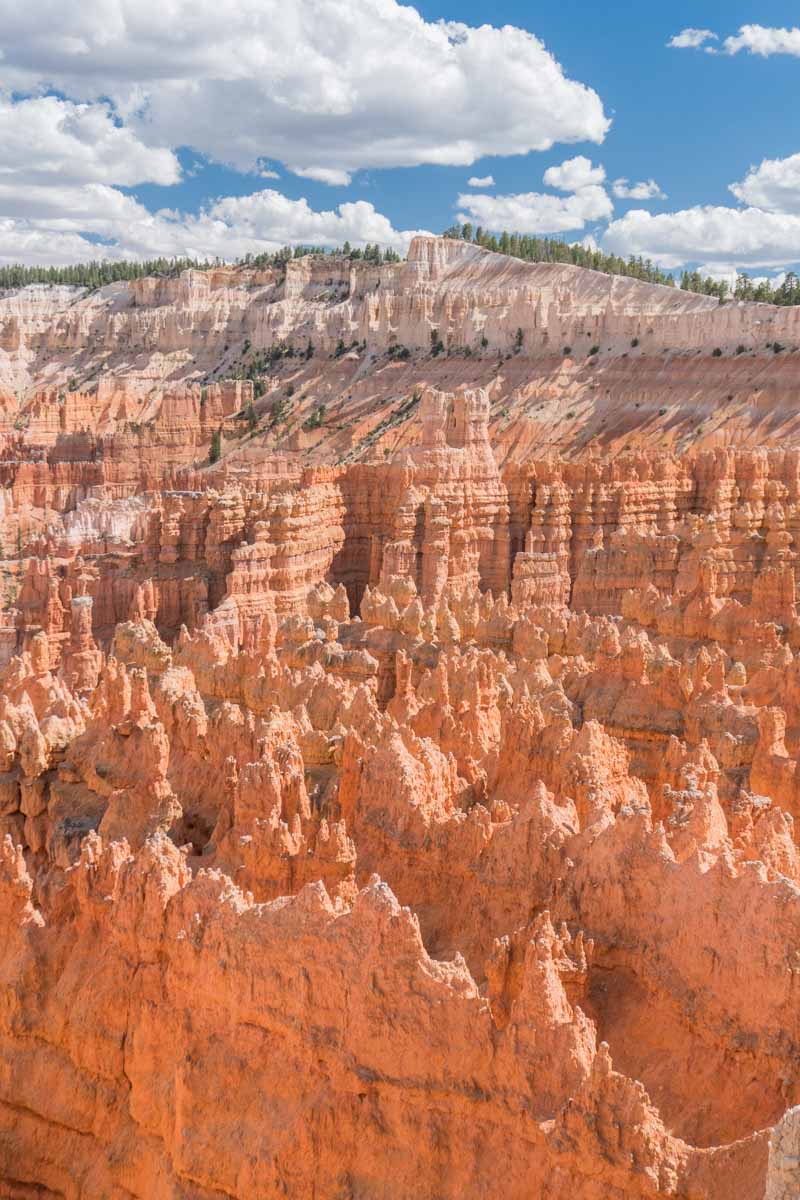 Pick your jaw up off the floor—or leave it there, because honestly, this is hands down one of the most incredible vistas of the Bryce Canyon viewpoints.
It's most magical in the early morning when the sun creeps across the rows of hoodoos sticking out of the whole amphitheatre before you like shark's teeth.
Inspiration Point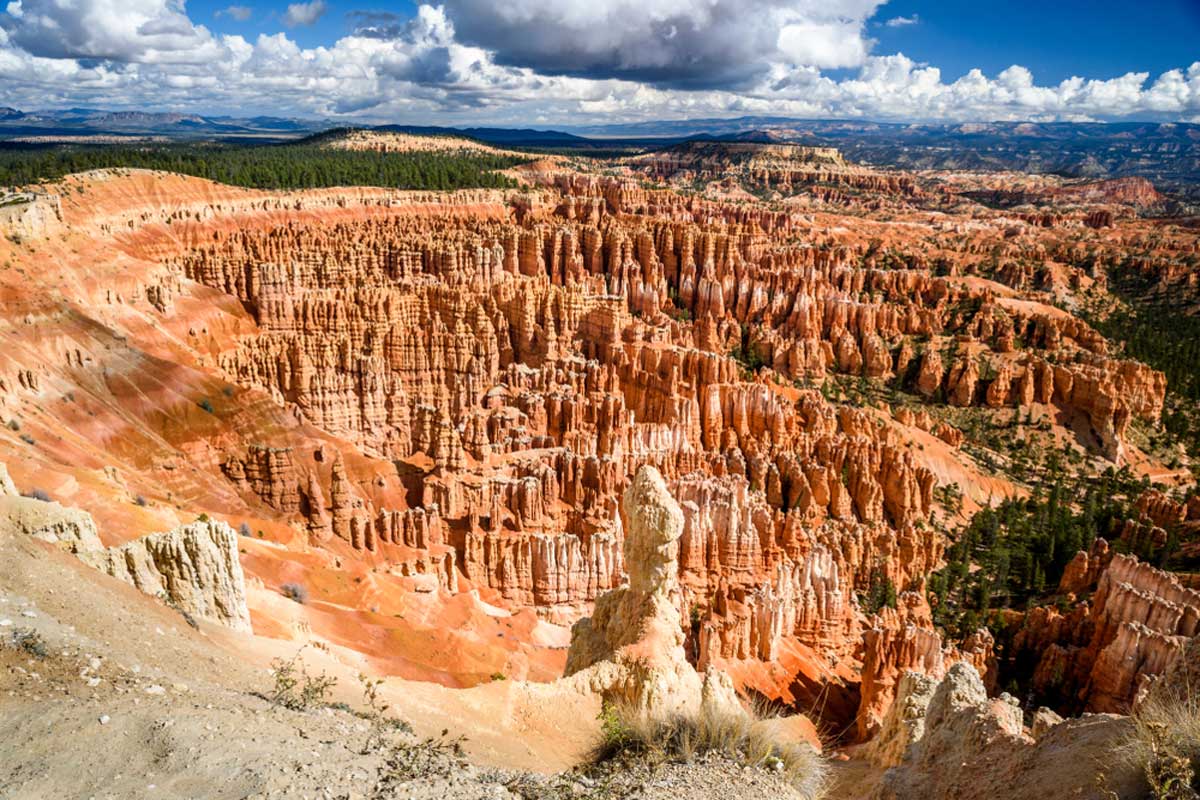 Another classic Bryce vista, this viewpoint has three levels from which to enjoy the orange-hued hoodoos. Watch out, though—the cliffs are sheer drop-offs in places, and the edges are crumbly, so stick to the trails behind the railings.
Sunset Point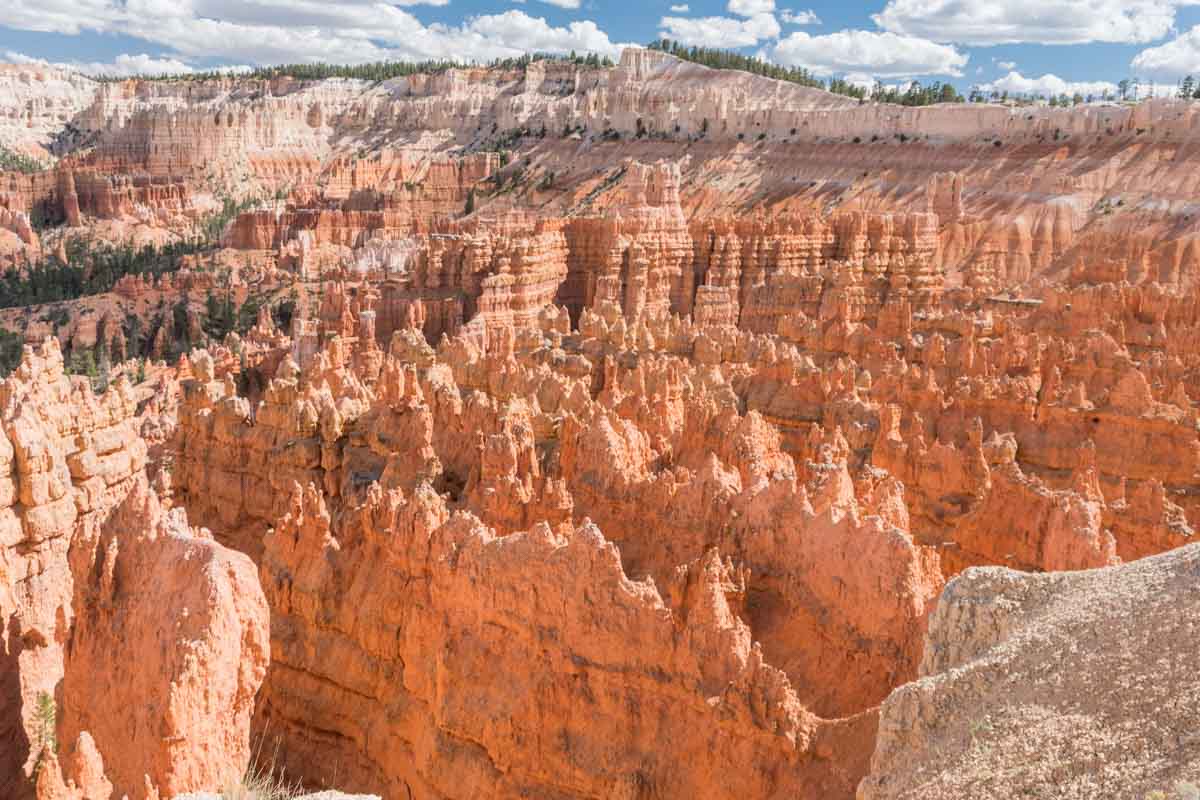 Ironically, not a good spot for sunset photography. But no drive to Bryce Canyon would be complete without a stop here. This viewpoint is home to Thor's Hammer and Silent City, two of the most popular attractions in Bryce.
Sunrise Point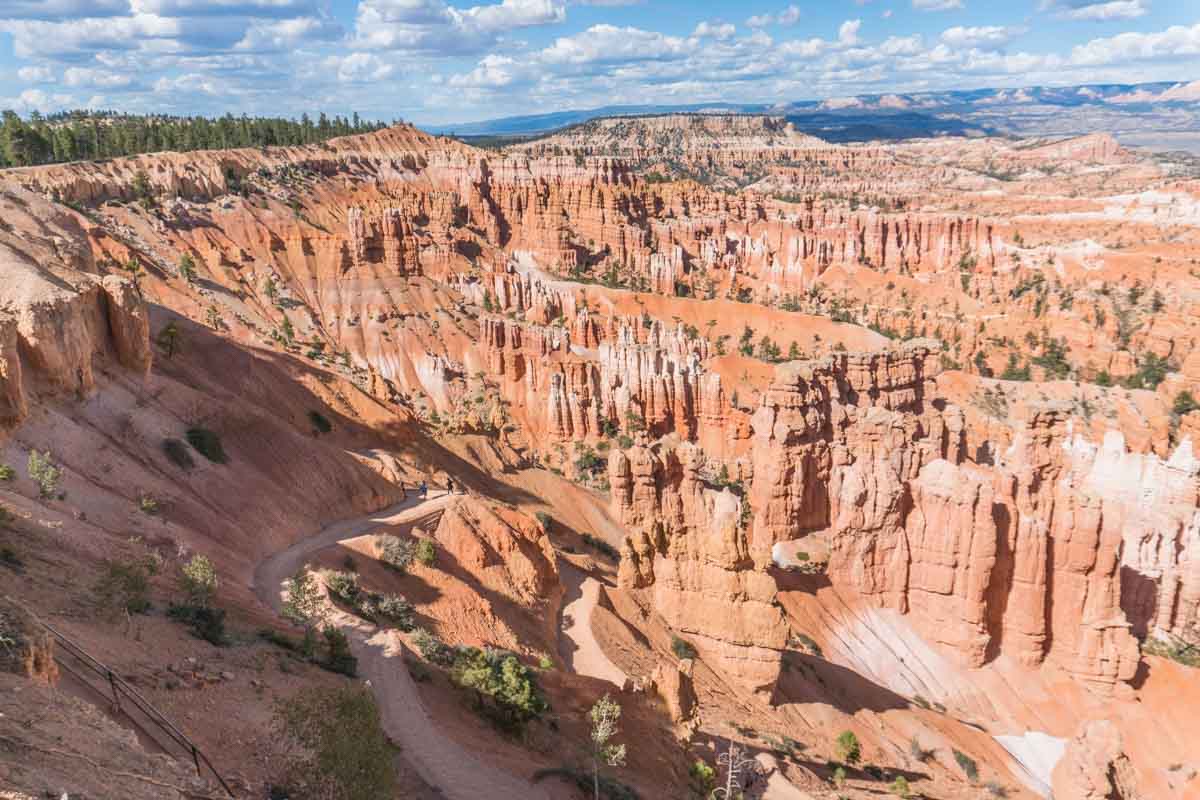 This is an incredibly famous stop at dawn when the early light hits the Aquarius Plateau and the Sinking Ship, and the rocks glow fiery orange amongst the dark pines. It may not be as dramatic as other viewpoints, but it has its unique beauty to offer.
Fairyland Point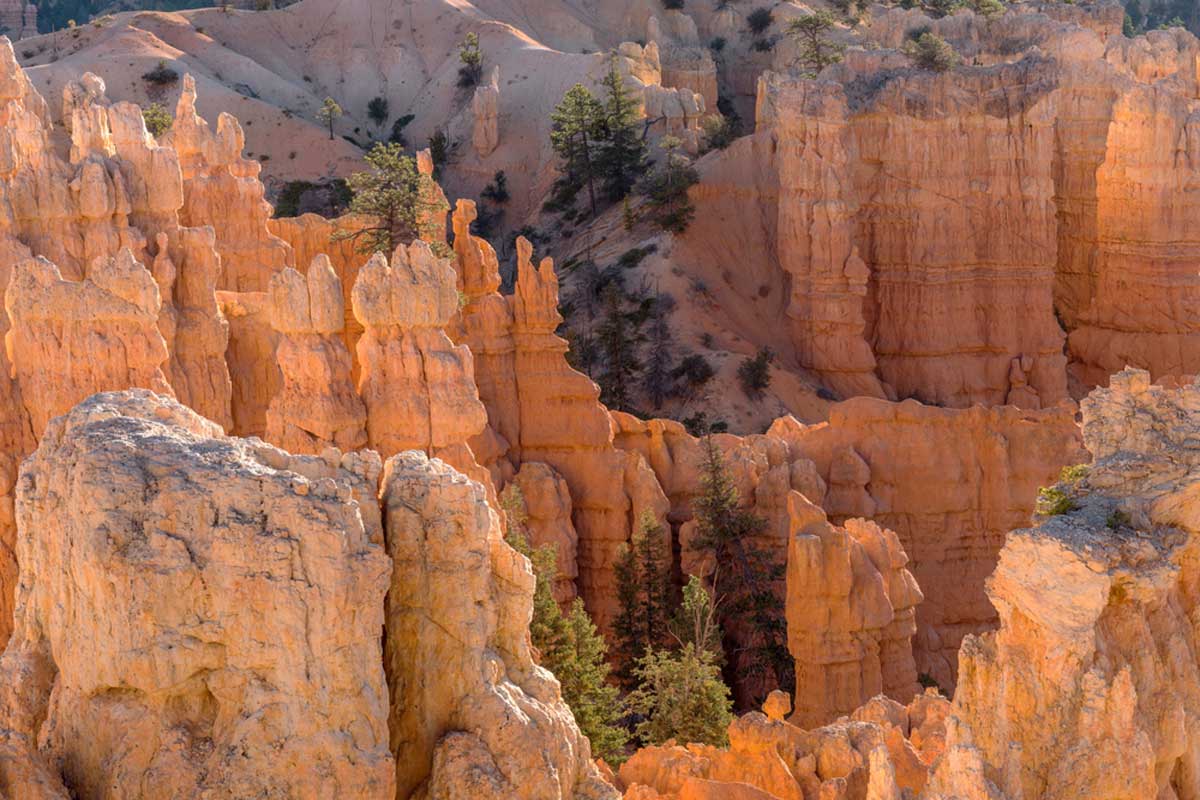 Blink, and you'll miss it (which would be a shame). The hoodoos closer to you glow in the morning sunshine, making them stand out from a dark background of trees and shadows.
Planning Your Bryce Canyon Driving Tour
Bryce Canyon Scenic Drive Tours
Get a self-guided driving tour if you need a little help orienting yourself to their locations (you wouldn't want to drive past one accidentally, now would you?). The audio guide will highlight interesting details you might not know about the place.
You can also go on a small group tour in an air-conditioned vehicle – admire the views from the window and soak in all Bryce has to offer between viewpoints. Touring as a group might be more fun for some, or you might just want to up the ante on your family trip.
Tackling the Bryce Canyon Scenic Drive Independently
Sometimes it's better to do it the old-fashioned way. Plus, you get to go at your own pace and enjoy the viewpoints that grab your fancy for as long as you like.
Get a copy of the Bryce Canyon Scenic Crive park map or a detailed guidebook that'll tell you everything you need to know about the Bryce Canyon Scenic Crive route (or use the tech at your fingertips).
Make sure you bring along some water and snacks for the ride, but you can always restock at Zion Lodge on the way.
Bryce Canyon Scenic Drive: Map
Bryce Canyon Scenic Drive: Read Next