Discover all you need to know about free things to do in Utah with this budget-savvy guide.
Looking for fun free things to do in Utah? You're in luck; the Beehive State is filled with incredible activities and landmarks, many of which you can experience without spending a dime.

So what are the best ways to pass the time without opening your pocketbook? We'll lay out the best things to do and places to see that you can do on the cheap.

Ready to learn more? Let's take a look.
Top 5 Things to Do in Utah
Hiking Trails at Red Canyon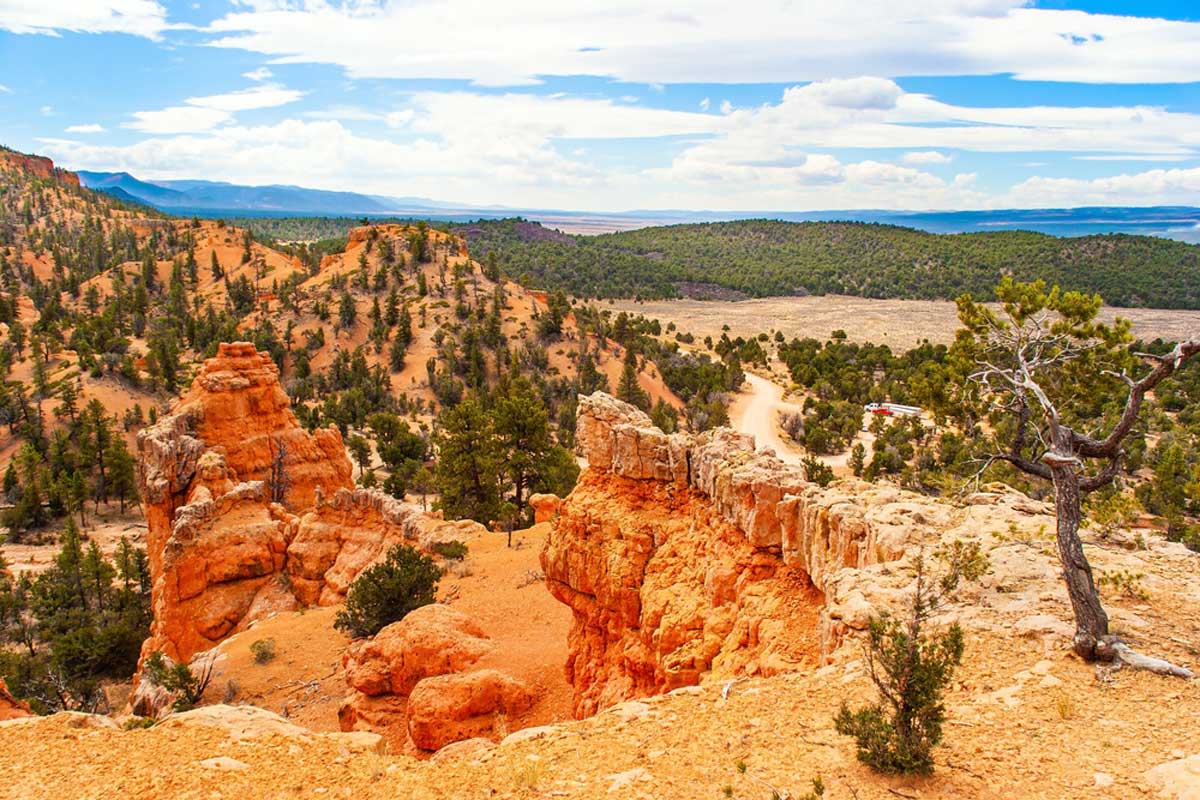 If you're heading to Zion, stop by Red Canyon and enjoy some of the best hiking in Utah without spending a dollar (besides gas money).

It's a pretty well-kept secret, with many visitors just driving right by, but the hoodoos and red rock formations here are nothing short of spectacular.

For starters, the drive through the park is free and offers the chance to drive through two arching tunnels along Highway 12. But you can also hike and bike along the trails for a complete afternoon of adventure.

You'll need to pay if you plan to use the campground, but enjoying the park on foot is free of charge. Have fun.
Strolling Park City Main Street Historic District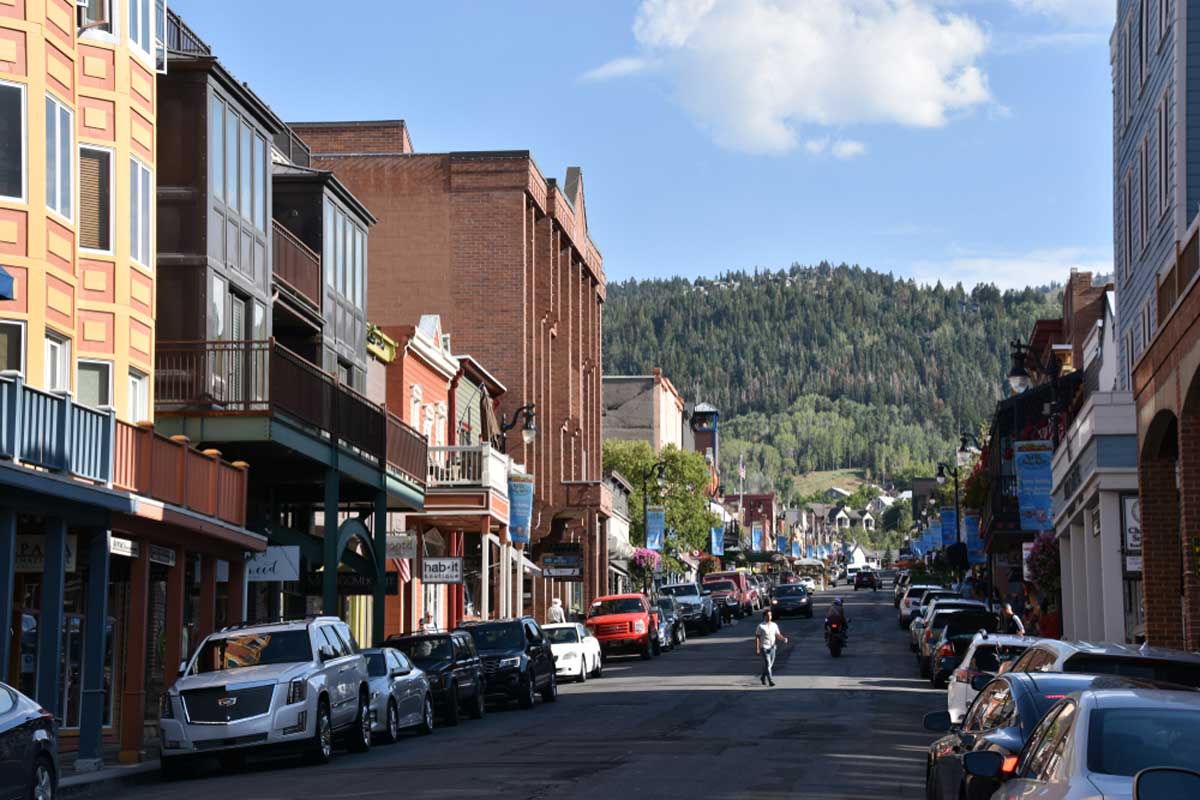 Visiting Park City is a fun time whenever you visit. The snow skiing in the winter, hiking in the summer, and delicious restaurants and cocktail bars always keep us wanting to come back.

But if you're looking for a way to spend some time in Park City without breaking the bank, simply take a walk around Park City Main Street Historic District. Granted, you'll need to spend money if you shop, dine, or drink – but there's a lot to take in that doesn't cost a penny.

On Sundays, you'll find a bustling marketplace that takes over Main Street, where vendors sell unique products you can stroll past and admire.

But the free concert series in the summer (on Saturdays) at Miner's Park Stage is an added treat when you're roaming Main Street free of charge.
Tour Temple Square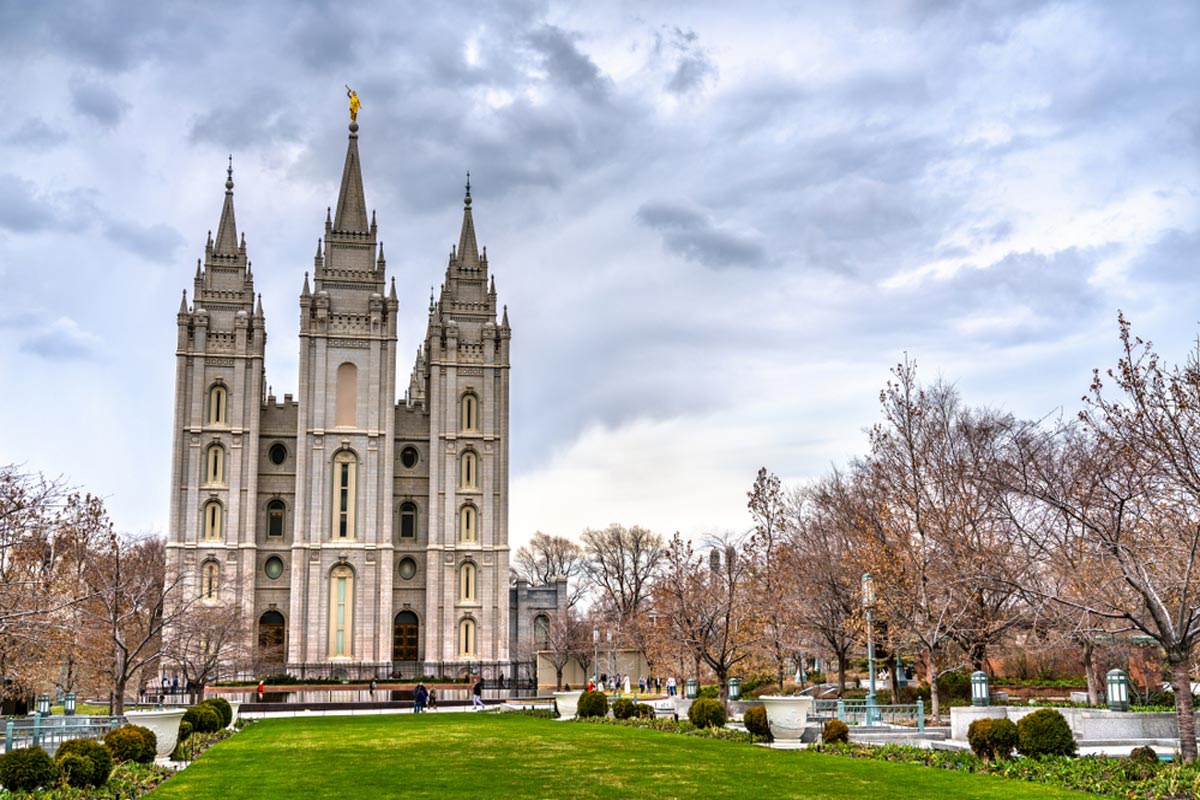 If you're in downtown Salt Lake City, you'll probably see the towering spires that look especially marvelous when they're lit up against the backdrop of a setting sun over the SLC skyline.

The Salt Lake Temple of The Church of Jesus Christ of Latter-day Saints is the most famous Mormon church downtown. Temple Square has plenty to offer, with great sightseeing and unique landmarks around it.
While it's beautiful to see even just passing by, the tours are especially interesting and, best of all… free.
Book your tour ahead to ensure a spot to tour outside the temple and square and learn about the history and culture.
Hike Corona and Bowtie Arch Trail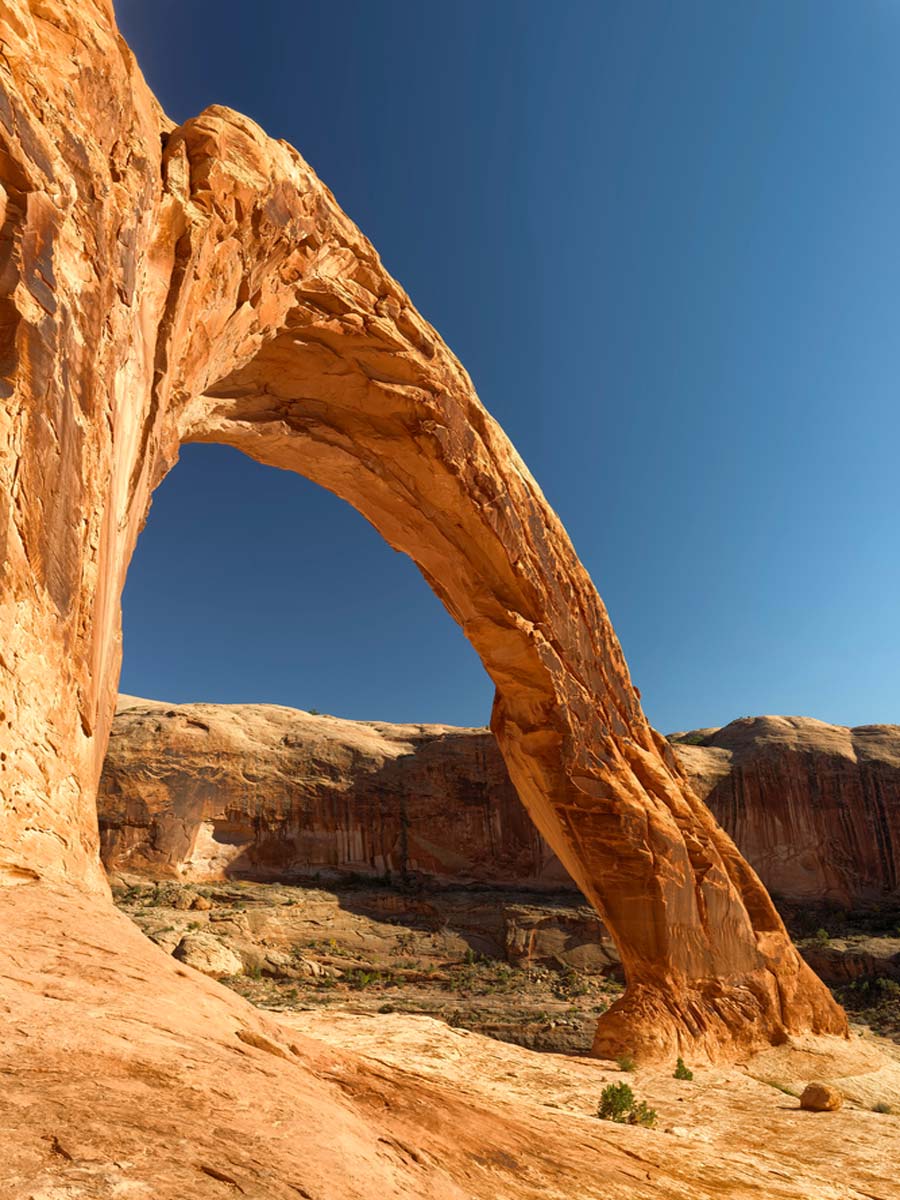 Heading to Arches National Park? Lucky you.

While you're there, be sure not to miss one of our favorite things to do in Moab, hiking Corona and Bowtie Arch Trail.
For outdoor enthusiasts searching for free stuff in Utah to do, look no further.

It's an easy 2.4-mile hike, where the reward far outweighs the effort. Bring your camera (and your drone, since it's public land) and prepare for some breathtaking photos, especially earlier (or later) in the day.
Photograph One of the Largest Living Creatures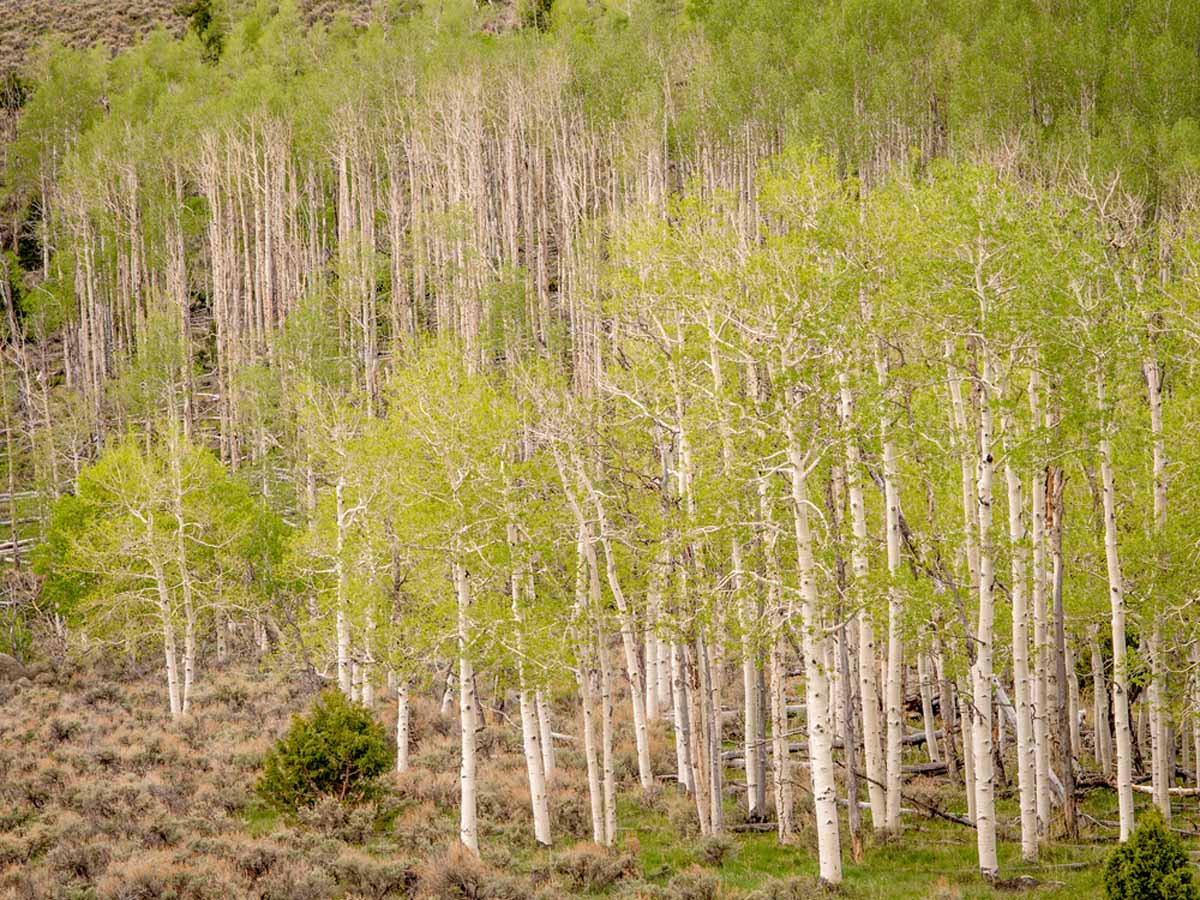 Ok, no need to panic. You're here to see some trees, not some large mountain-dwelling mammal. Technically one organism, the massive network of 40,000 aspens are all tied to the same root system – making them officially one tree.

If you visit Fishlake National Forest, pull off Highway 25, where you can near the Fishlake National Forest sign, and you'll be immersed in the large quaking aspen forest (that's technically the heaviest single organism in the world.

Be sure to take photos and walk the unofficial hiking trails in the public areas (the ones not fenced off). It's a beautiful place to spend an hour or two.

There's a rumor that this ancient (and massive) landmark is slowly declining from deer eating the roots, so visit sooner than later.
Brilliant Things to See & Do in Utah
Hiking Lake Blanche Trail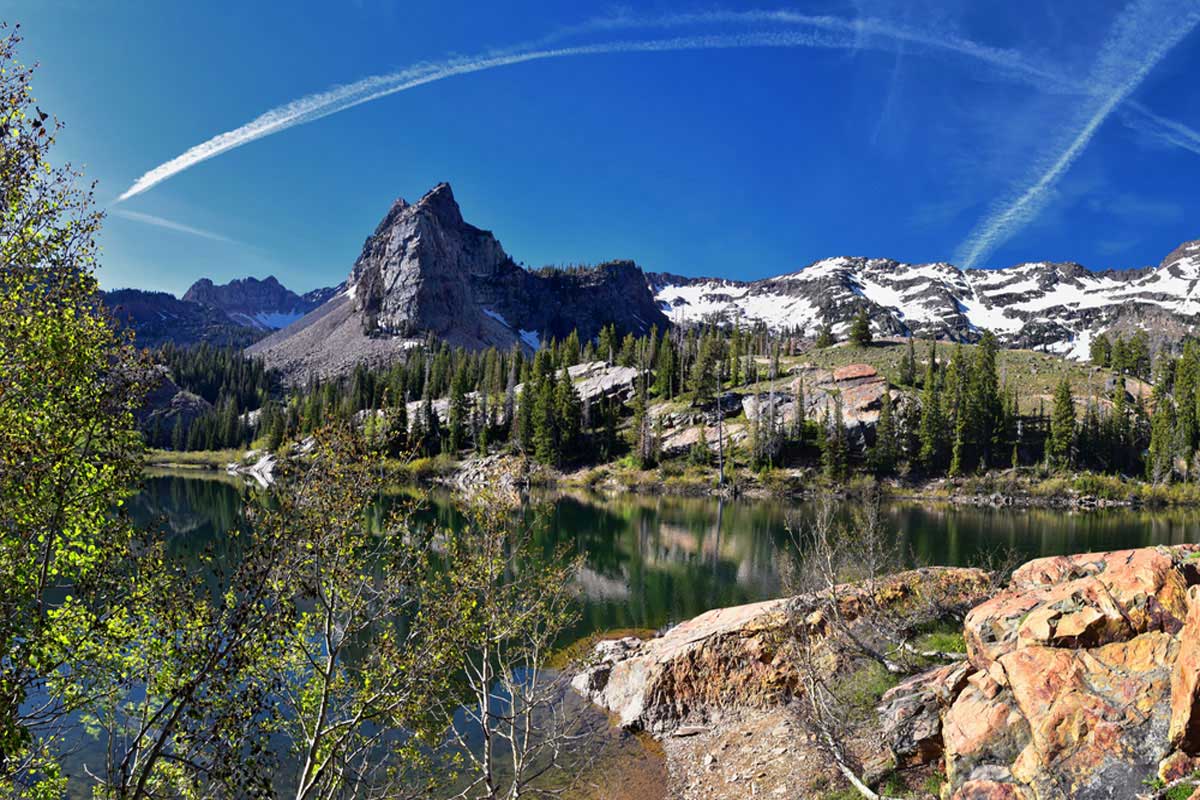 Trying to find one of the more challenging hikes in Utah free of charge? You're in luck.
Lake Blanche Trail is a demanding 7-mile out & back trail in the Twin Peaks Wilderness Area near Snowbird and Solitude's popular ski resorts.

The alpine lake is gorgeous and a highlight of the hike alongside jaw-dropping views of the Great Salt Lake Valley Below.

Bring lots of water and head out as early as possible to secure a parking spot and avoid peak heat in the summer months.
Cast a Line at Fish Lake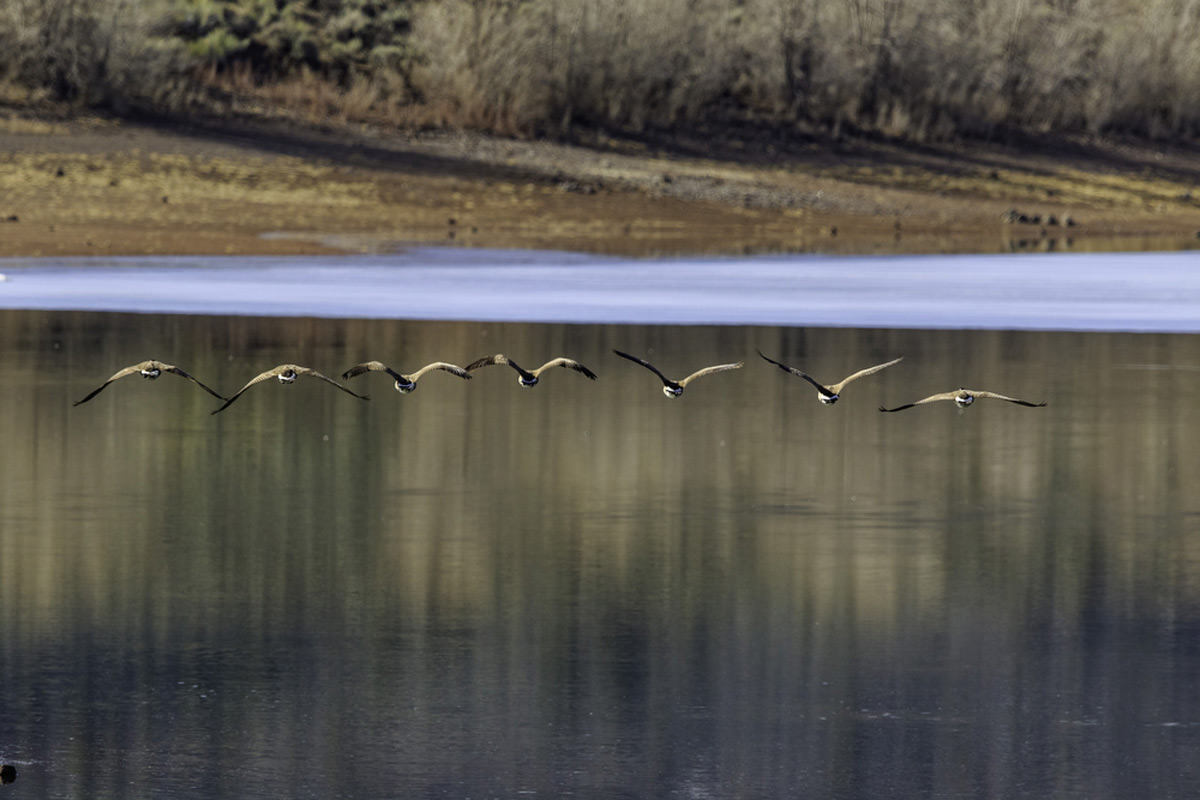 Looking for cheap things to do in Utah? How about heading out for some outdoor adventure at Fish Lake, where you'll enjoy a pristine Utah freshwater fishing experience that tops most lists? We thought so.

It's one of the best lakes in Utah, and best of all, access to fish lakes is free. From parking to boat launching, you can enjoy the great outdoors without spending a dime.

You'll need your own boat, fuel, and fishing gear – but aside from that, outdoor adventure awaits you in Central Utah.
Tour the Utah State Capitol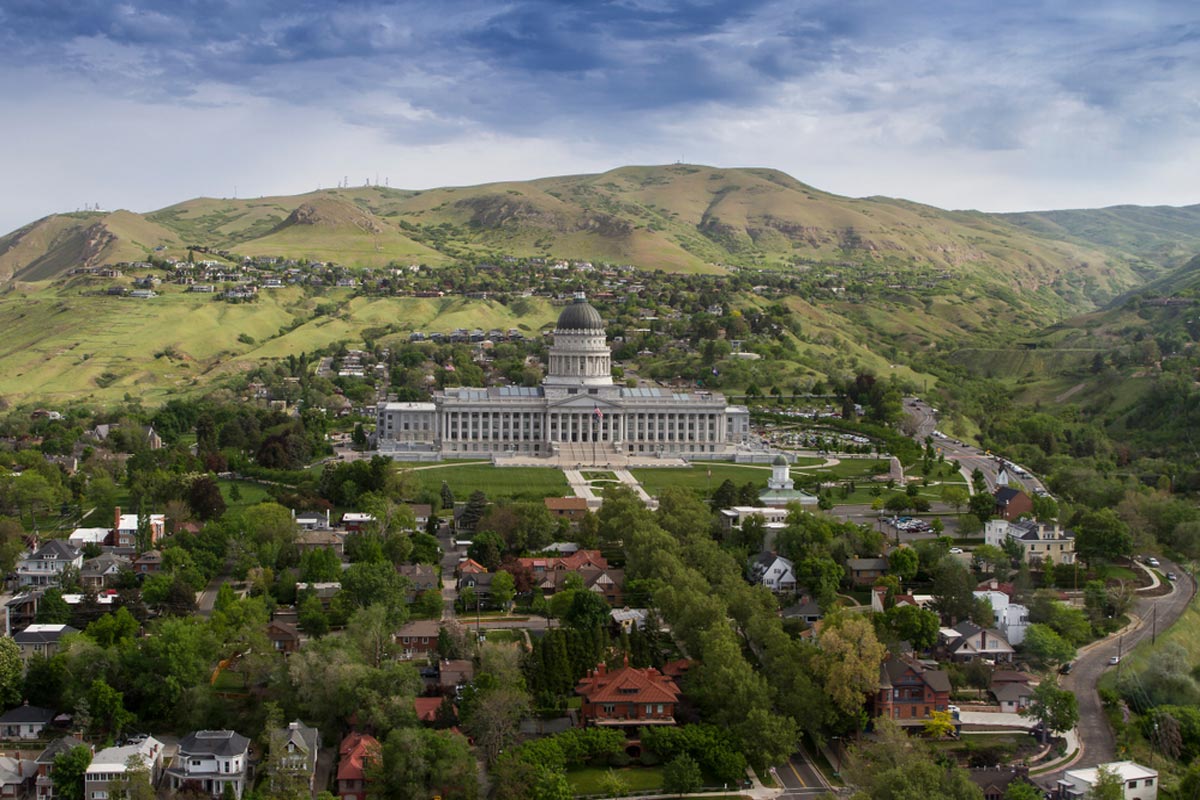 Fancy a look into the politics and history of Utah on your trip to Salt Lake City? Utah State Capitol is a perfect place to learn a little more at your own pace or with a guided tour.

You can choose from a docent-led, self-guided, or virtual tour. And the best news? Any option you choose is completely free of charge.

Schedule your visit beforehand to take a walk through the iconic building built from locally sourced granite.

But be sure to explore around the property outside to enjoy the beautiful walking paths and green spaces nearby.
Unique Things to See & Do in Utah: Hidden Gems That Are Off the Beaten Track
Visit Coyote Gulch Art Village
St. George, Utah, is filled with fun free things to do, but one of our favorite hidden gems is Coyote Gulch Art Village.
While you'll need to spend big money to take a piece home, it's a pleasure to walk through the gallery learning about the artwork and artists. It's also completely free to visit.
Several galleries here include the Desert Rose Labyrinth, Mystic Canyon Light Gallery, and others.
It's a growing and vibrant community, so each visit may surprise you with new openings and scenery.
Learn About Your Ancestors at FamilySearch Library
One of Utah's more unusual but exciting and free activities is visiting the FamilySearch Library. And though it's run by the Church of Jesus Christ of Latter-Day Saints, you don't need to be a member of the Mormon church to enter.

So what makes it worth a visit (besides no fee for admission)? It's the most extensive library of its kind in the world.

The genealogical library is home to a wealth of resources to help you look back at your family history and even has classes you can join to hone your skills, free of charge.

Check for a webinar schedule here, or stop by the Salt Lake City location to learn more for yourself and chat with the friendly staff.
Discover a Secret Sculpture Garden
Though not technically a secret, the 12 sculptures in an off-the-radar public park at Gilgal Sculpture Garden remain a secret even amongst Salt Lake City residents.

The charming park is open nearly every day of the year for visitors to walk around and take in the unique and sometimes unusual sculptures in the former garden of Thomas Battersby Child.

After working with stones for years as a masonry contractor, he slowly began creating sculptures with the goal of people exploring the unexplainable through artwork created by his hands.

Not only are the works impressive, but the backstory of how he traveled around Utah seeking specific (and often massive) stones for his works adds to the intrigue.

It's a one-of-a-kind experience and, in our opinion, a must-visit on your trip to SLC, Utah.
Things to do in Utah: Practical Tips for Your Trip
How Long to Visit in Utah?
You can find plenty of free or cheap things to do in Utah to keep you busy for a few days or longer. We recommend an entire week in Utah to experience many of our favorite outdoor activities, along with some great restaurants and resorts.
Best Time to Visit Utah
When is the best time to visit Utah? We're glad you asked.
Any time of year offers some fun and free activities, but we like to hit up free things to do in Utah during the shoulder seasons when the prices drop a bit for Utah hotels and vacation rentals, making it even more affordable.
Where Should I Stay in Utah?
evo Hotel (Mid-Range)
Fun, funky, and relatively easy on the wallet, evo Hotel in Salt Lake City is a perfect pick when checking out free things to do in Utah.
Rooms are modern and stylish, each with personality and charisma. But guests really love the outdoorsy motif in the artwork, specialized packages, and, best of all, they have a skateboard park and bouldering gym on-site.
Check Rates and Availability for evo Hotel on Booking.com
Grand America Hotel (Luxury)
Grand America Hotel is a wonderful luxury property near many of Salt Lake City's best attractions.
Use some of the money you're saving by visiting some of the top Utah landmarks for free and splurge on a room or suite at this luxurious property.
You'll enjoy indoor and outdoor swimming pools, an elegant lobby lounge, and European-inspired comfort food at Laurel Brasserie & Bar.
Check Rates and Availability for Grand America Hotel on Booking.com
Recommended Free Tours in Utah
Free Things to Do in Utah: Map
Free Things to do in Utah: Read Next