Planning a trip to Bryce Canyon City? Discover everything you need to know about this unique city with this handy guide – what to do and where to stay.
We might be biased, but Bryce Canyon City is one of our favorite places to visit in Utah. Red Hoodoos dot the rugged landscape which, by the way, is filled with excellent hikes and iconic landmarks.
Despite BCC's small size, it's teeming with character. Fun activities are everywhere you look, from scenic drives to admiring the stars above. Not to mention that the city is situated just outside of Bryce Canyon National Park, offering an abundance of activities to get involved with.
Ready to explore? Let's add some fantastic activities to your Bryce Canyon itinerary.
Top 5 Things to Do in Bryce Canyon City
Take a Scenic Drive on Highway 63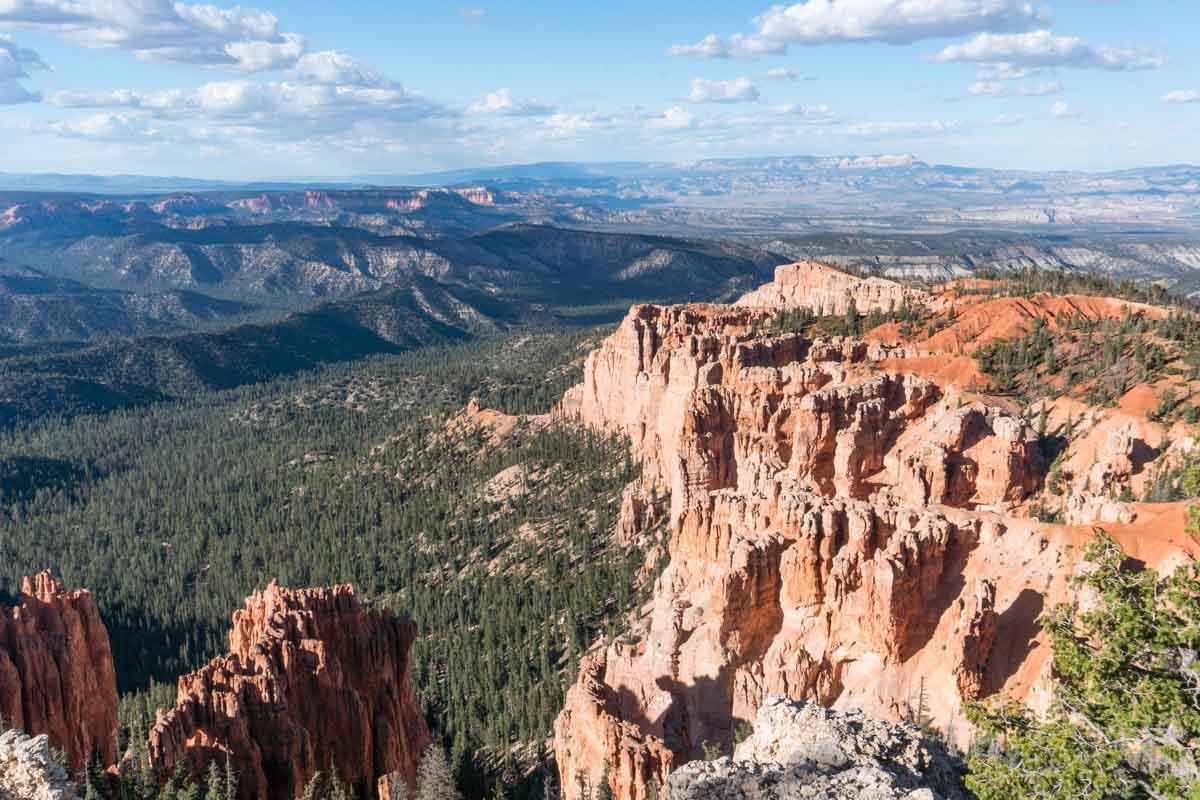 Spreading across 35.835 acres of majestic badlands, Bryce Canyon Park oozes with dramatic vistas and impressive views. And, due to its massive size, one of the best ways to explore the park is on a scenic drive along Highway 63.
To take this scenic drive through Bryce Canyon, you'll travel along Highway 63 and admire the park from 13 fantastic viewpoints. Across 37 miles of the open road, you'll see some of the top spots like Rainbow Point, Bryce Point (our favorite), and Natural Bridge.
A scenic drive allows you to see just about everything, from the natural amphitheaters to breathtaking rock formations.
Top Tip: Discover Bryce Canyon National Park, Utah, on this self-guided driving tour.
Hike the Queens Garden and Navajo Trail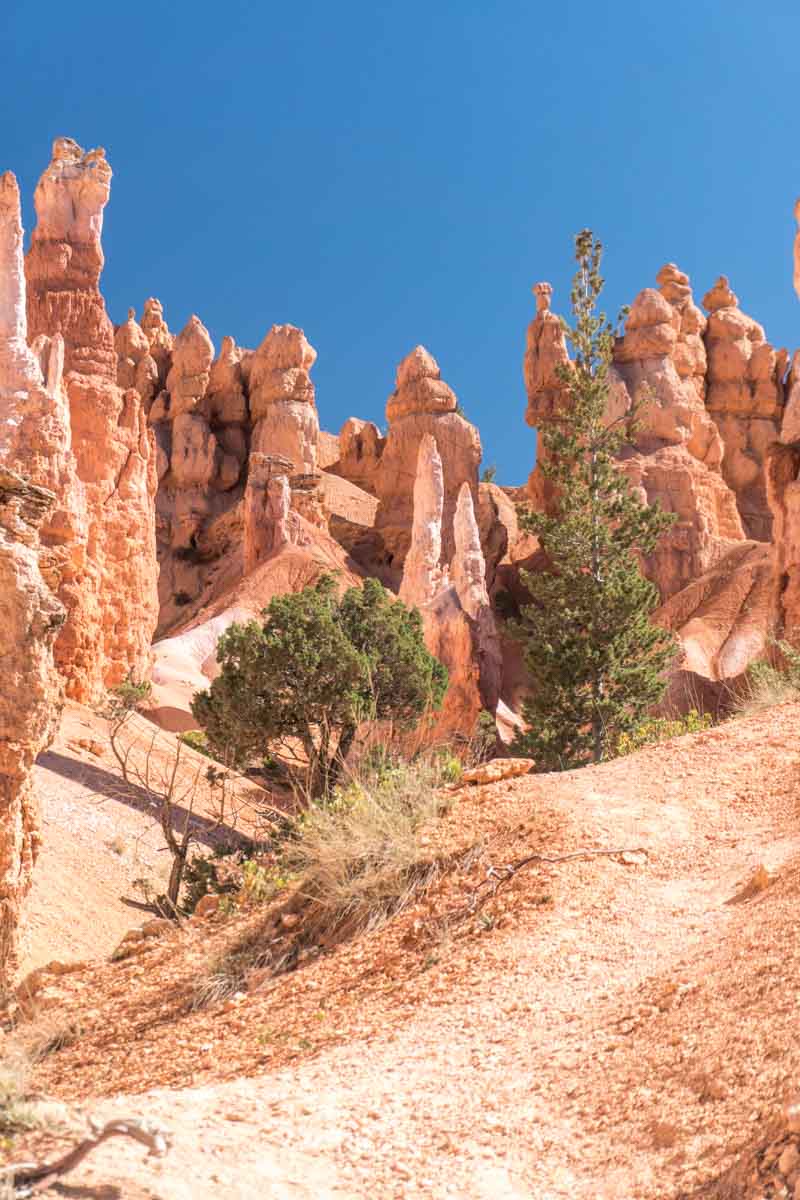 If you're anything like us, you'll be pinching yourself to see if it's a dream during this 3.1-mile loop trail hike. Make sure you pack water and snacks, as you'll need them during this two-hour trek.
Start at Queens Garden – yes, there's a rock that looks like Queen Victoria – and traverse through the stunning landscape. You'll pass some iconic sights in the park, from Thor's Hammer (not the actual one, sadly) to the ever-impressive Bryce Amphitheater.
Of all the incredible hikes in Bryce Canyon, this is possibly the most manageable but still offers that perfect photo opportunity.
Top Tip: Enjoy this trail and more on this guided Bryce Canyon hiking experience.
Explore the Bryce Canyon Hoodoos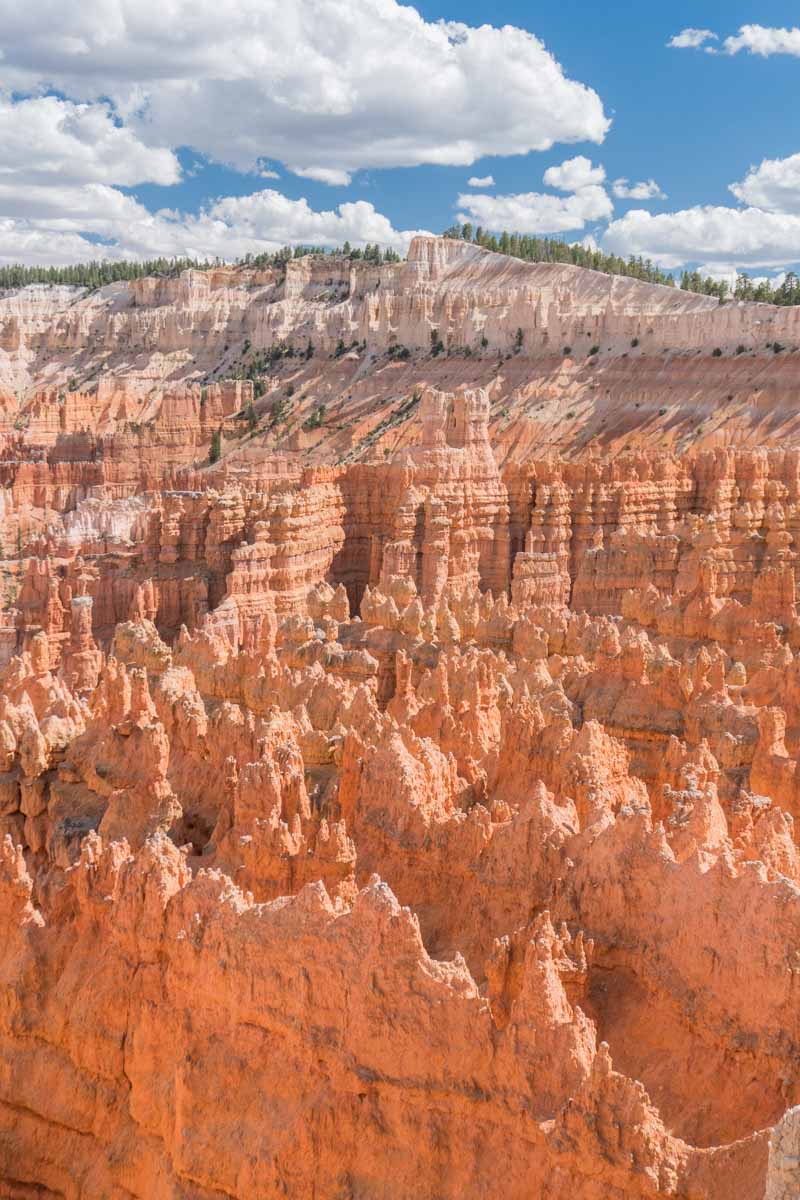 The Hoodoos of Bryce Canyon are the area's most identifiable landmarks, and it's not hard to see why: These are pretty rare rock formations. But you might think differently after visiting Bryce Canyon, as the park has the highest concentration of Hoodoos worldwide.
There are twelve Hoodoo amphitheaters to explore, each looking more like an alien world than the last. But if you want the best views of the entire canyon, head to Inspiration Point.
It's also one of the best places to see a sunrise and sunset in Bryce Canyon – grab a picnic and set up for the evening to watch the canyon come alive with orange and red hues.
Top Tip: Admire the Hoodoos and other park attractions on this Bryce Canyon sightseeing tour.
Join an ATV Tour
Rev your engines and explore the beauty of Bryce Canyon on an ATV tour. You'll be able to visit places that are usually unreachable – unless you're an extreme hiker.
The adventure begins by zigzagging through the fragrant Ponderosa Pine Forest. The canopy then resides as you make your way to the Bryce Canyon Rim, where the picture-perfect landscape awaits.
This is an adrenaline-pumping experience that – in our humble opinion – is unmissable.
Top Tip: Save time browsing online and join this Bryce Canyon ATV tour.
Take a Horseback Canyon Trail Ride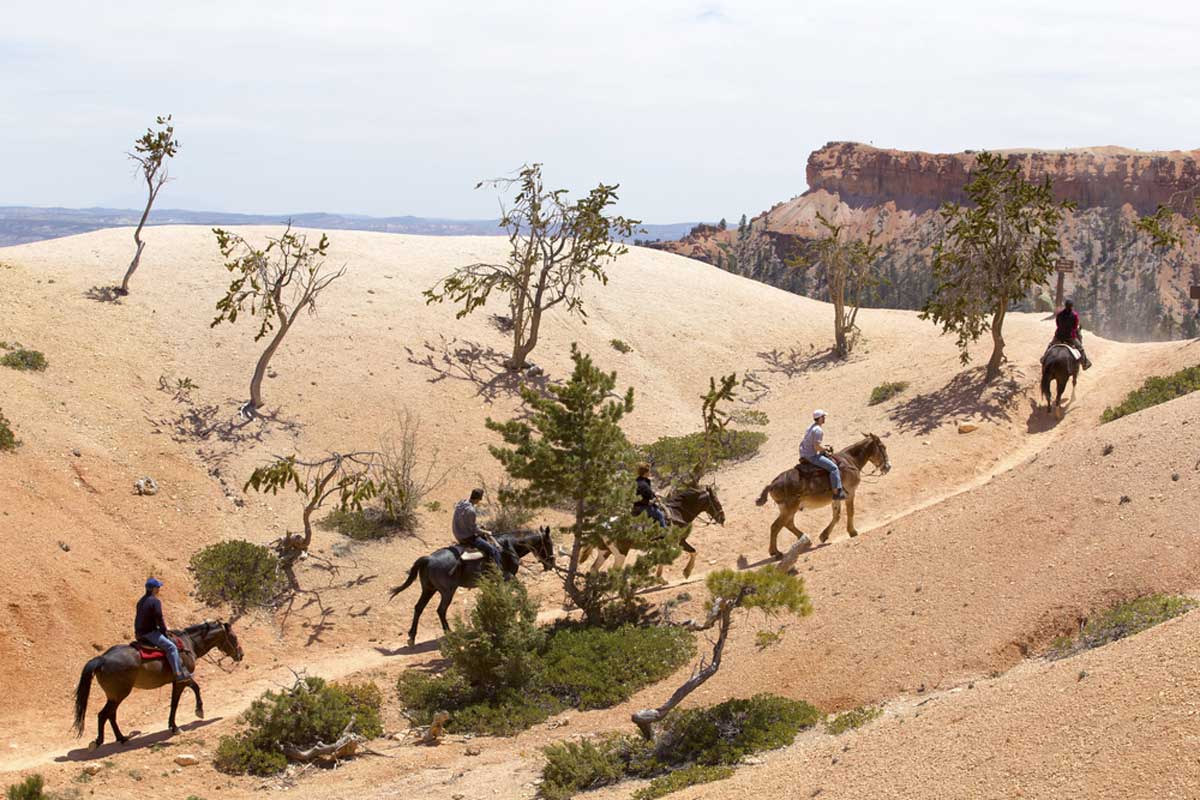 For a more laid-back – but equally thrilling – experience, jump on the back of a horse and explore Bryce Canyons' beauty with a noble steed as your guide.
Don't panic if you're not sure how to ride a horse; Bryce Canyon will feel like your playground thanks to the standard horse maneuvering lessons you'll undergo before you set off.
You'll get a true sense of the Wild West as you ride through an old outlaw hideout in the Dixie National Forest. The vivid reds of the Hoodoos become even more noticeable as you ride around them in Red Canyon.
Top Tip: We recommend adding this Red Canyon horseback ride to your itinerary.
Brilliant Things to See & Do in Bryce Canyon City
Join a Dark Ranger Telescope Tour
There are plenty of epic things to do in Bryce Canyon City during the day… But how about once the sun sets?
We present to you: Stargazing at the sky above on a Dark Ranger telescope tour. D-R-E-A-M-Y.
In case you didn't know, Bryce Canyon is one of the best places to view the Milky Way – the nights are so dark that the silver river of stars glows brighter in most places in America.
The ranger will teach you how to adjust your giant telescope for clear viewing. After this, you'll see things in a couple of hours that you'll never see again, such as craters on the moon and Mars.
Hike the Mossy Cave Trail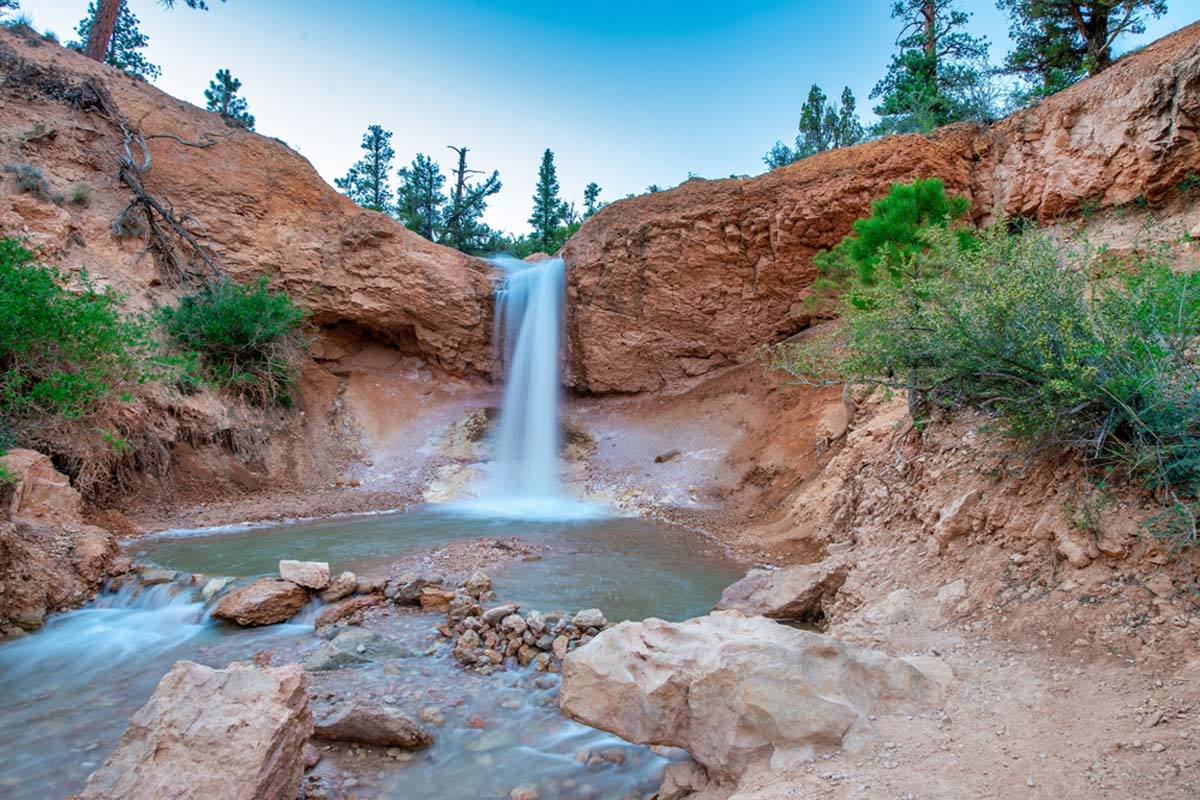 If you want to explore one of the lesser-known parts of Bryce Canyon (who are we kidding? Of course you do), hike the 0.9-mile Mossy Cave Trail. During this short 30-minute hike, you'll discover Hoodoos overhead and a sparkling waterfall.
It almost feels like you're in an oasis as the crystal-clear water meanders down the orange and red rocks. Although short, it's one of the brilliant things to do in Bryce Canyon.
Must-Try Bars & Restaurants in Bryce Canyon City
Ruby's Inn Cowboy Buffet and Steak Room
Smack dab in the center of the city – and situated inside the Best Western Hotel – is Ruby's Inn.
Put all your preconceived notions of sub-par hotel restaurants to the side, as they serve authentic American southwest cuisine here. Chow down on the likes of tender rib-eye steaks and delicious buffalo wings.
Bryce Canyon Pines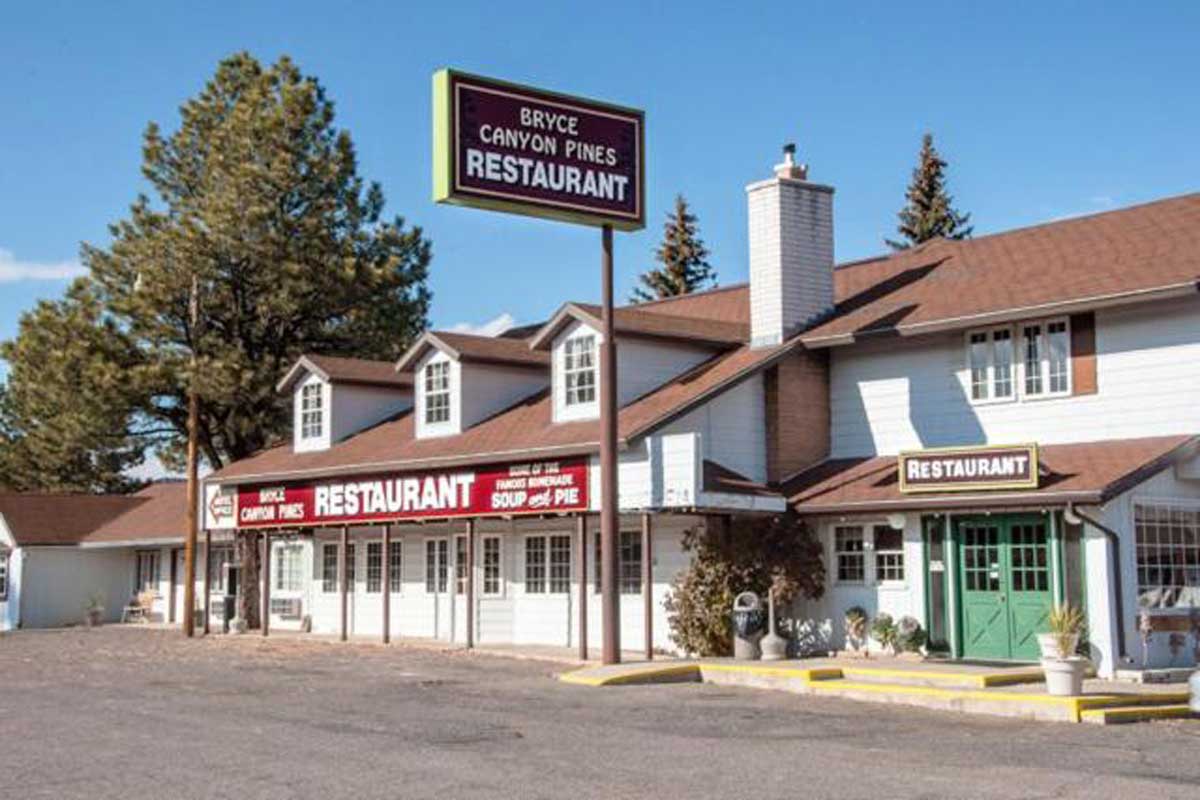 For a more rustic experience, head 8.5 miles out of town to the popular Bryce Canyon Pines restaurant.
This homestyle spot serves all the classic meals you might expect at an American diner, but you must try its specialty pies. The Boysenberry is a particular favorite, served piping hot with a generous dollop of ice cream. Delish.
And, if the soup of the day just so happens to be chicken, you'll want to scoff a bowl of that, too.
Best Hotels in Bryce Canyon City
We go into a lot more detail in our guide to Bryce Canyon's best hotels, but here are our top picks.
Best Western PLUS Ruby's Inn
$$
Need somewhere great to bed down near the national park? Ruby's Inn is the closest accommodation to Bryce Canyon National Park and offers a comfortable stay.
The spacious rooms are decorated in terracotta hues akin to the Utah landscape, while the indoor pool and hot tub make it a relaxing space for everyone. And, as you already know, the on-site restaurant serves divine meals.
Best Western PLUS Bryce Canyon Grand Hotel
$$$
Of all the Bryce Canyon City hotels, the Best Western PLUS Grand Hotel offers the most luxurious stay in the area. Rooms are simple but equipped with everything you need, from coffee-making facilities to the coziest beds you'll ever rest your head on.
You can relax after a long day of hiking at one of the two pristine outdoor pools. And, if you want to work out after your complimentary breakfast, you can visit the fantastic on-site fitness center.
Bryce Canyon City: Practical Tips for Your Trip
How Long to Visit Bryce Canyon City?
We reckon that two days is perfect to see everything at Bryce Canyon City, Utah. If you're seriously into hiking – or want to explore in-depth – add a day or two onto your visit.
Best Time to Visit Bryce Canyon City
Though the area is lovely all year round, May until September is the best time to visit, as you'll have lovely warm weather and plenty of activities to enjoy.
How to Get to Bryce Canyon City?
The nearest airport you can fly to is St. George Regional Airport. From there, it's a 79-mile drive along Highways 14, 89, and 12 to reach BCC.
Things to Do in Bryce Canyon City: Map
Bryce Canyon City Guide: Read Next