Plan the ultimate adventure with this guide to camping in Utah. Discover 8 brilliant places to set up camp in the state.
Utah is famous for many things, but we think it's best known for its stunning and staggering landscape. The terrain comprises mountains, plateaus, mesas, geysers, river-eroded canyons, thick forests, and basins.
People gather from all across the world to enjoy the spellbinding natural beauty of Utah; made up of 43 state parks and 5 national parks referred to as "the Mighty Five".
And, we'll level with you, one of the best ways to experience the raw environment is to camp. It's popular all year long with options including tent camping, RV camping, car camping, and even glamping.
Ready to plan your ultimate Utah camping trip? You'll need this handy guide to the best places to camp in Utah.
Best Spots for Camping in Utah
Zion National Park
Best For Rock Climbing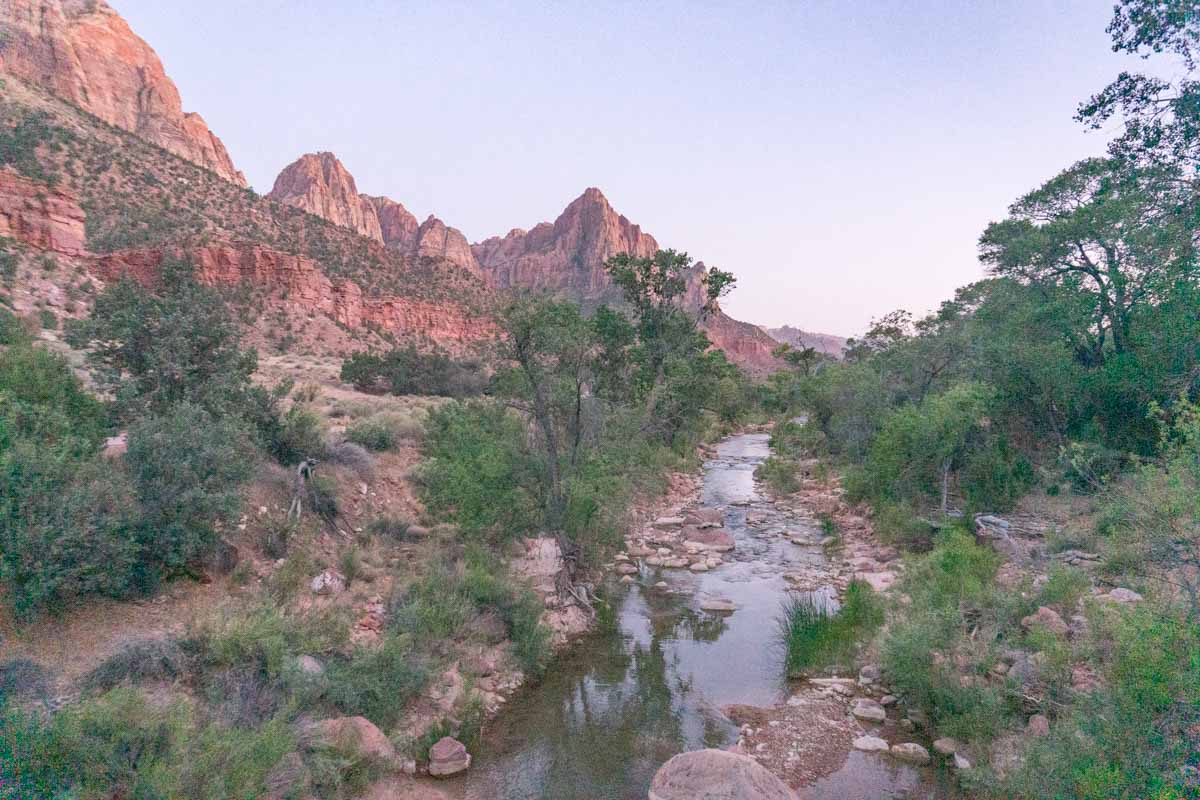 We don't like to play favorites, but Zion National Park is arguably one of the most popular national parks in the US and one of the top Utah camping spots. And we can see why.
Located in Southern Utah, it's known for its steep red-walled cliffs and is a hotspot for rock climbers of all levels. Not to mention that it's also one of the top destinations for hikers, those who enjoy canyoning, and stargazers.
Lucky for you, there are three campgrounds within Zion National Park: Watchman Campground, South Campground, and Lava Point Campground. Watchman Campground is open year-round and accepts reservations, while the other two close for winter.
Each of the campsites are drive-up style and includes a picnic table and a fire pit with an attached grill – rustling something tasty up on the move has never been easier. Better yet, there are comfort stations with flush toilets, drinkable water, and trash containers available – however, there are no showers or electrical outlets.
Word of warning: The campgrounds within the park tend to fill up quickly but there are various campgrounds around the park as well.
Read Next: Zion National Park Camping Guide
Canyonlands National Park
Best For Back-Country Camping and Mountain Biking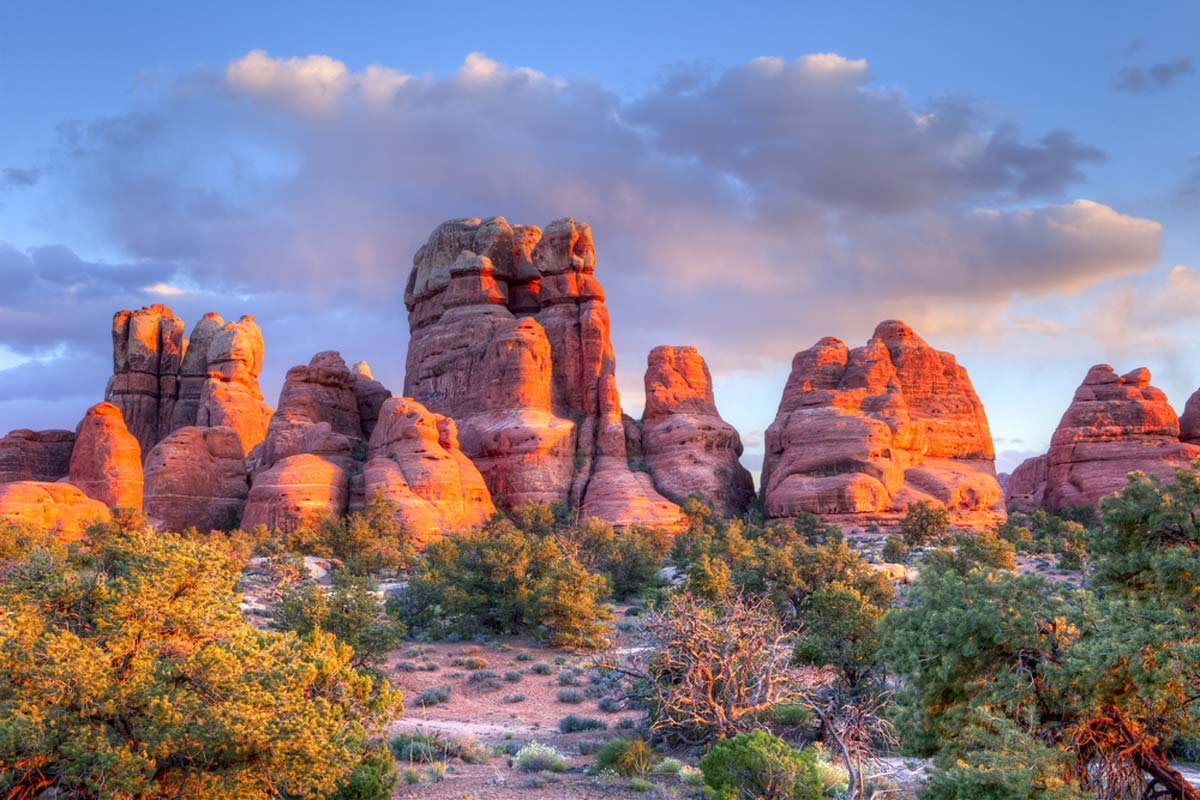 Looking for backcountry camping in Utah? Canyonlands National Park is one of our go-to spots.
The park was carved out by the Colorado River over thousands of years creating an otherworldly landscape. Drawing nearly 500,000 people per year, the park is popular with campers, mountain bikers, and hikers, just to name a few.
While you will need a permit for camping in the backcountry, you can easily obtain it for a $30 fee. There are also two designated campgrounds within the park – Island in the Sky, aka Willow Flat, and The Needles Campground.
Willow Flat is open year-round and subject to availability. There are toilets, picnic tables, and fire rings but no water. While The Needles (our favorite of the two, FYI) offers reservations for certain sites and has toilets, picnic tables, and fire rings, and is also open all year with reservations taken spring through fall.
Canyonlands is popular with mountain bikers because of the 100-mile road that follows the rim of the canyon along with other more challenging terrains. Visitors also come to the park to go hiking, horseback riding, rock climbing and so much more.
If you're camping in southern Utah, Canyonlands National Park should be at the top of your list.
Arches National Park
Best For Viewing Stone Arches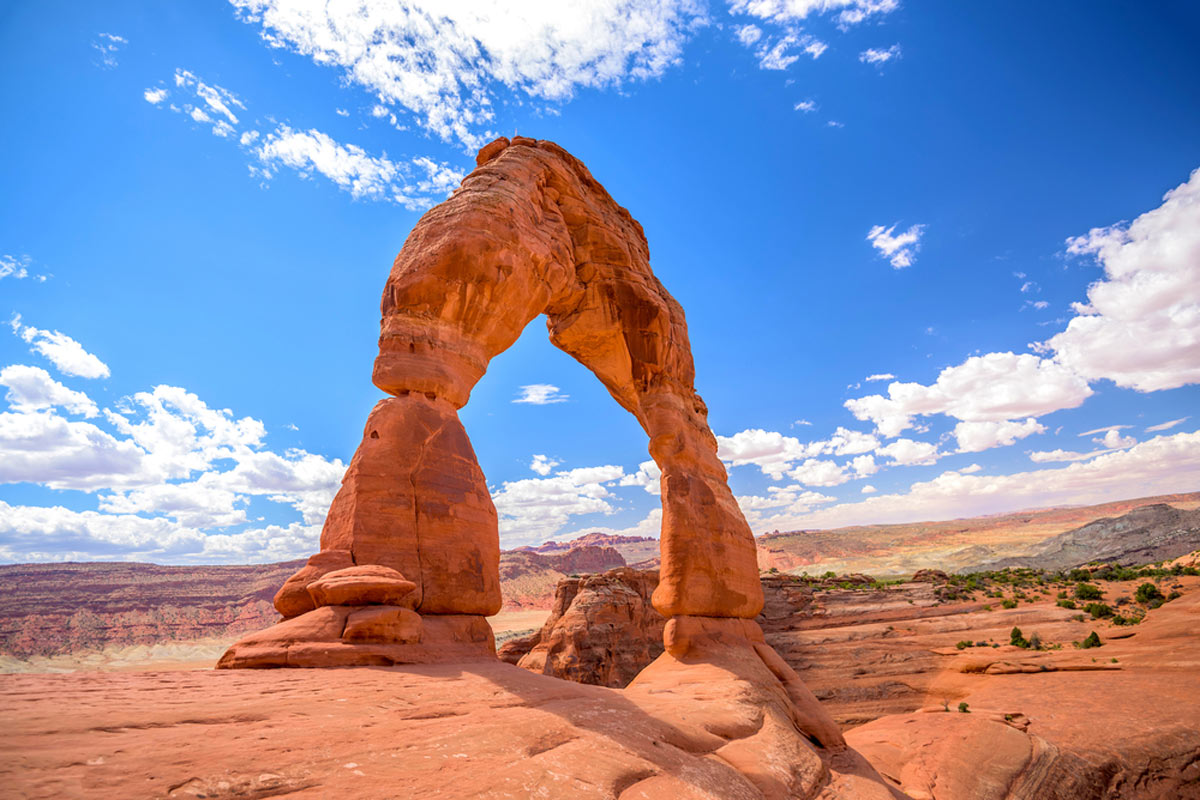 Just north of Moab lies Arches National Park, made famous for its 2,000 documented stone arches. In fact, it boasts the most extensively known collection of stone arches in the world and also contains other geological features like pinnacles, rock fins, and balanced rocks that all emit a reddish hue.
More than a million people a year visit the park to enjoy the vast, mystical atmosphere – and to take part in an 18-mile scenic drive, hiking, biking, horseback riding, canyoneering, rock climbing, and stargazing. Points of interest in the park include Delicate Arch, Fiery Furnace, Landscape Arch, Double O Arch, Tunnel Arch, and Balanced Rock.
There is only one campground IN Arches National Park and that is Devil's Garden Campground. That said, the campground takes reservations for nights from March 1 and October 31 and is almost always full. Plan well in advance if you want to snag a reservation here.
From November through February, campsites are first-come, first-served. The campsite amenities include drinking water, picnic tables, grills, and pit-style and flush toilets.
Don't worry if you don't manage to get a reservation; there are numerous campgrounds around the park if you're looking to camp in Moab, Utah.
Capitol Reef National Park
Best For Seeing a Wrinkle in the Earth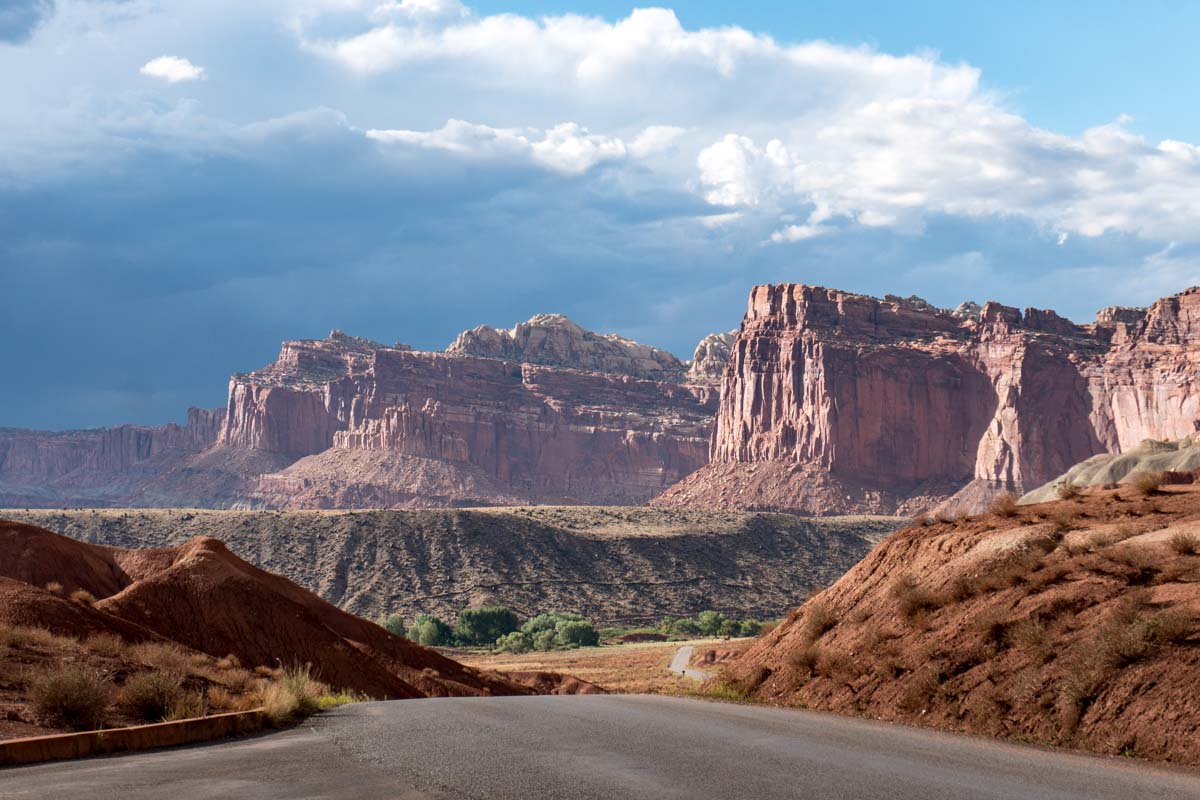 It's no wonder that camping in Capitol Reef is so popular – the park is home to a geological feature known as a monocline, more commonly referred to as a wrinkle in the Earth. The one in Capitol Reef is named The Waterpocket Fold and covers nearly 100 miles of land.
But that's not the only reason to visit Capitol Reef – you can also find cliffs, canyons, domes, and natural bridges peppered around the park.
Capitol Reef has one developed spot called Fruita Campground. It has 71 sites – including several larger sites if you're traveling with a group. Reservations are recommended from March 1 – October 31 as they fill up months in advance.
Don't worry if you can't grab a reservation as there are primitive campsites available, as well as free permits for backpacking. Alternative camping options include other campgrounds in the area, or you can camp on public lands just outside the park.
People explore the park by hiking, biking, horseback riding, canyoneering, rock climbing, bouldering, and backpacking. When in the area, make sure you check out the petroglyph panel depicting life over 1,000 years ago, the Gifford Homestead, the Fruita Schoolhouse, the Waterpocket Fold, and Cathedral Valley.
Bryce Canyon National Park
Best For Viewing Hoodoos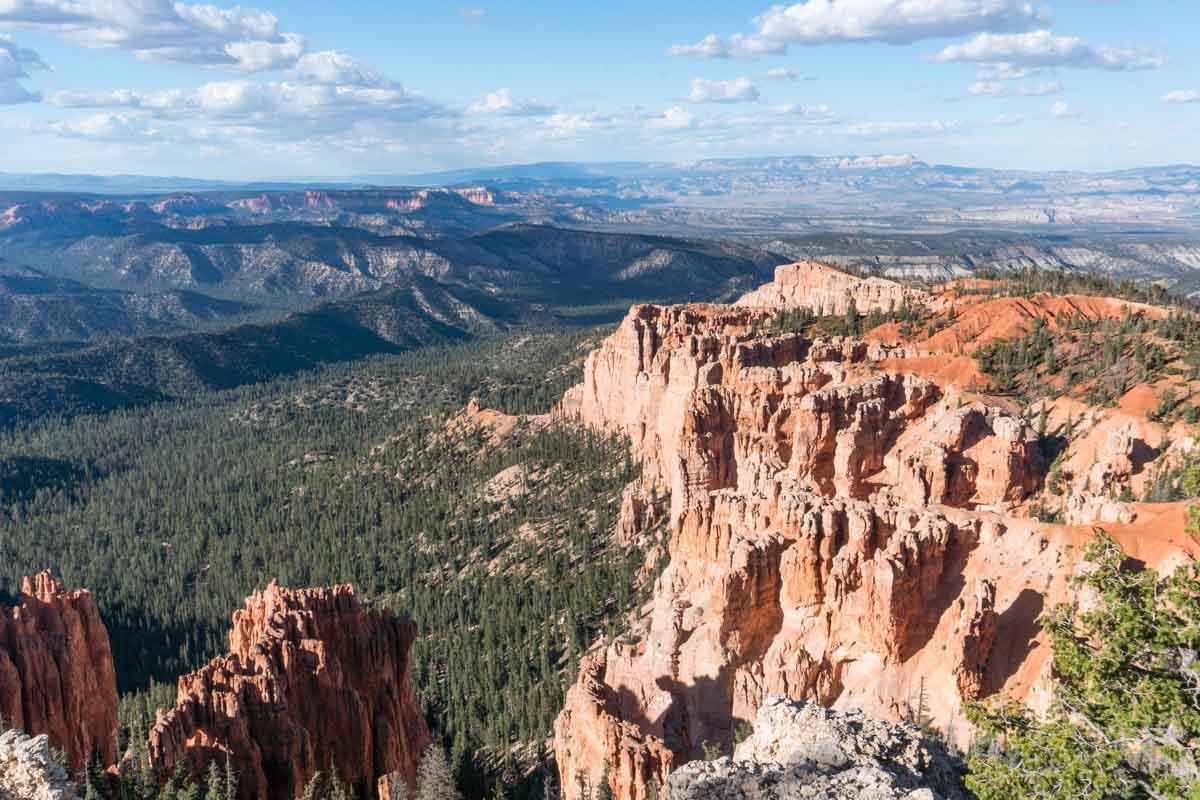 Bryce Canyon National Park is famous for its hoodoos – these are a good enough reason to camp here alone. Hoodoos are irregular rock columns and Bryce Canyon is home to the largest cluster of hoodoos on Earth. And, in case that hasn't quite tempted you, the park is also a certified International Dark Sky area.
Millions of people a year visit the park to enjoy the geological formations, night skies, hiking trails, horseback riding, and backpacking. Points of interest in the park include Inspiration Point, Bryce Point, Sunset Point, Sunrise Point, and the Natural Bridge.
This park boasts 2 campgrounds, opportunities for backcountry camping, and a lodge. North Campground is open all year long and accepts reservations for dates between May 19th – October 7th. You'll be happy to hear that there are flush toilets, fire grates, and potable water available.
Sunset Campground is open from April through May and accepts reservations. While open, facilities include water, portable toilets, and fire grates.
Coral Pink Sand Dunes State Park
Best For Sunrises, Sunsets, and Sandboarding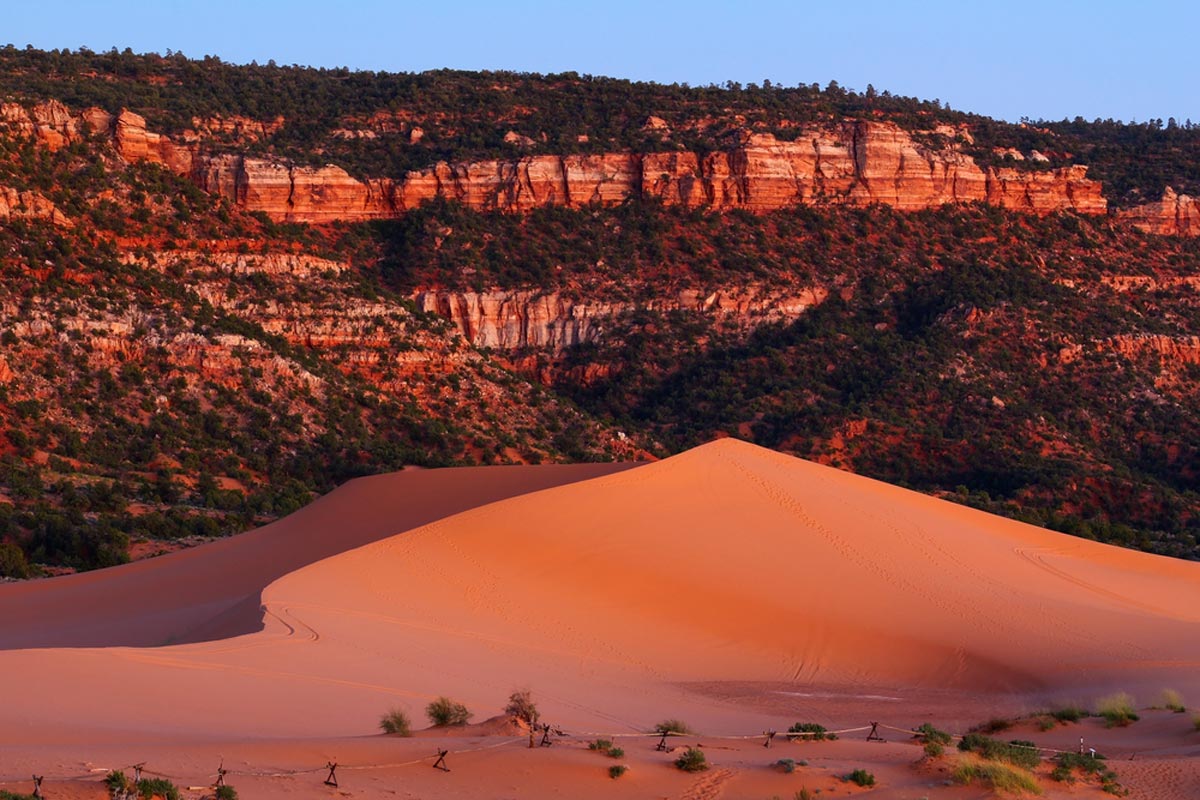 Located in southwestern Utah, Coral Pink Sand Dunes State Park offers visitors a unique opportunity that you can only experience in a handful of other places around the world: Sandboarding.
The red sands are constantly being shifted by the winds creating massive sand dunes, perfect for playing on. It's considered one of the best places to camp in Utah to watch the sunrise or set because of the sun reflecting off the red hues of the sands.
The park is always open and there is only one road in and out named Hancock Road. Other than sandboarding, a big draw is off-roading with ATVs or dune buggies, hiking, scenic drives, and more. There are even places to rent equipment in the park.
Compared to other parks, Coral Pink Sand Dunes State Park is small but has two campground loops within the park, Loop A and Loop B. Park facilities include restrooms, hot showers, a sewage disposal station, picnic tables, and fire pits.
Campsites are open for reservation and tend to fill up quickly, so you'll want to be quick.
Dead Horse Point State Park
Best For Overlooking the Colorado River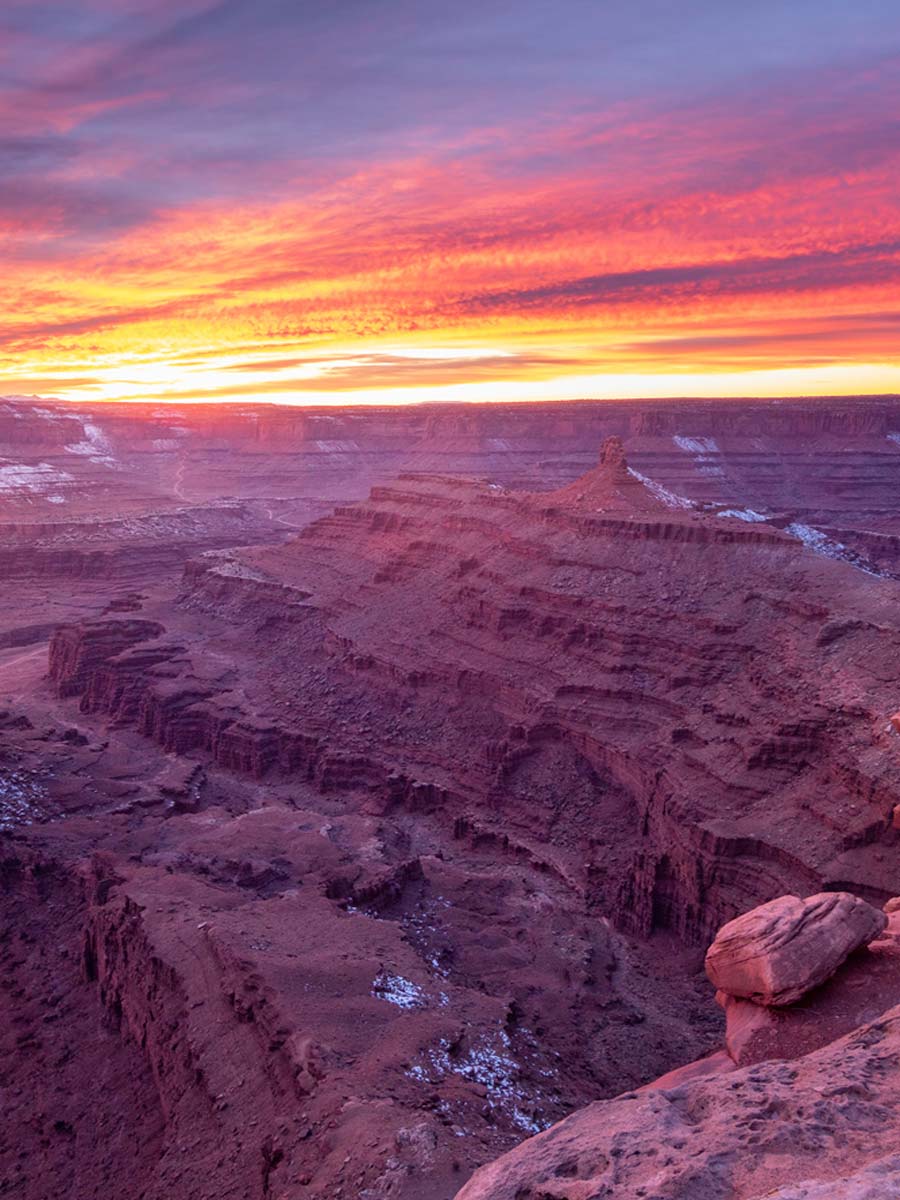 Dead Horse Point State Park contains canyons, high desert woodland, and a desert landscape that overlooks the Colorado River. So camping here is a no-brainer.
The layers of the canyons you see have been created by sediments left behind by ancient oceans, freshwater lakes, and streams.
If you're looking for Moab, Utah camping spots and want to avoid the bigger tourist attractions, this park is ideal. Kayenta Campground offers 21 campsites that contain lighted shady structures, picnic tables, fire rings, and tent pads. All sites also offer RV hookups.
The campground is small and remote which offers peace and quiet. But, if you're looking for more unique lodging options, you can stay in a yurt.
Mountain biking is a popular pastime here, along with hiking and stargazing opportunities. Popular overlooks include Dead Horse Point, Shafer Canyon, Big Horn, The Rim, and Meander Overlook, while popular hiking trails are the West Rim Trail and East Rim Trail.
Great Salt Lake State Marina
Best For Water Sports and Visiting The Great Salt Lake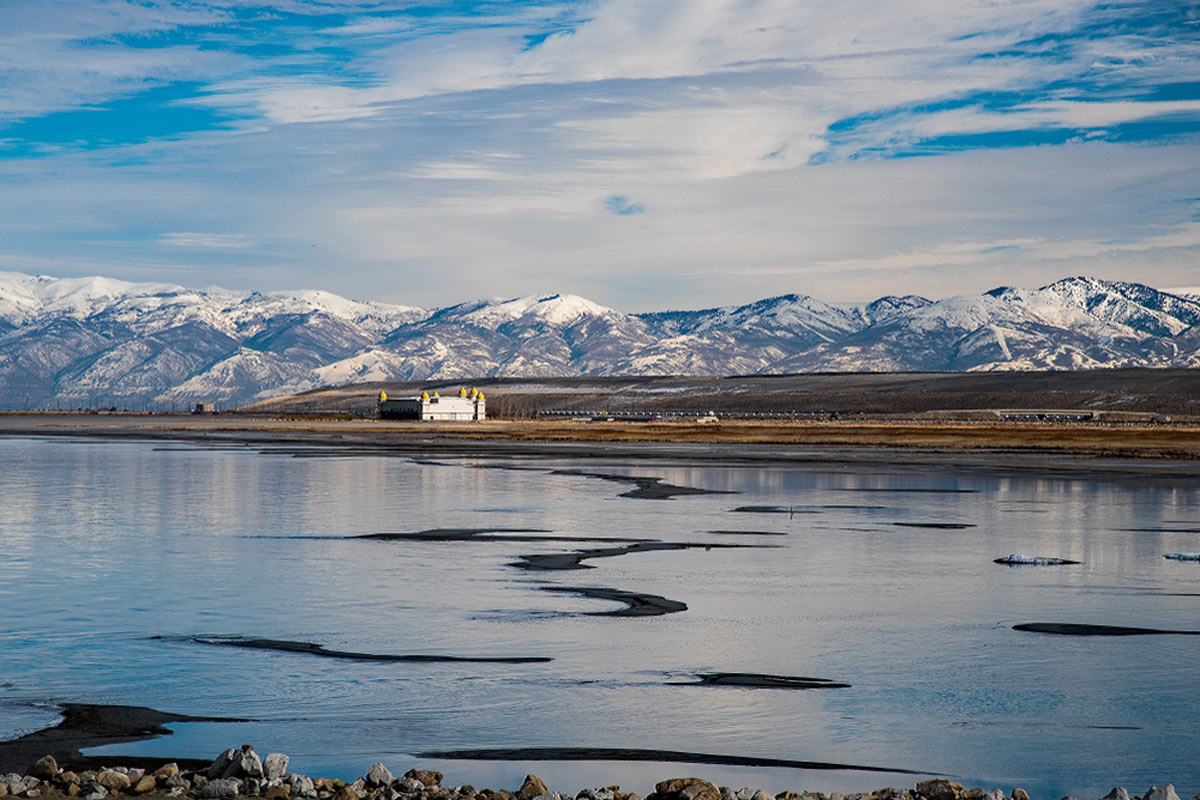 The Great Salt Lake is one of the biggest attractions in Utah. It covers more than 2,000 square miles and is saltier than the oceans, making it impossible for most fish and other marine life to survive.
While visiting the park, you can go sailing, kayaking, swimming (and floating!), birdwatching, hiking, and biking. The lake is also famous for its sunsets and tour operators that provide epic sunset cruises. But, if you ask us, the best place to swim and float is Antelope Island.
It's a great park if you're looking for camping in northern Utah, Great Salt Lake State Park and Marina offer a boat ramp, comfort station, and dump station. Modern toilets, sewage disposal, a visitor center, and drinking water are also available.
Practical Tips for Exploring the Best Camping in Utah
Whether you're an experienced camper or just starting out, there are some practical and useful things to know, pack and prepare for.
Utah has a lot of public lands that are available for dispersed camping, which is a fancy way of saying camping outside of a campground.
That said, there are a few rules to keep in mind if you plan on camping in this style: Some lands are subjected to a time limit, typically 14-16 days before you have to relocate, campsites have to be at least 100 feet from any stream or other water source and, as always, you can't leave anything behind.
Safety Tips
Make sure you have a map of where you will be visiting as you can't always rely on cell service and/or GPS. It's also a good idea to let someone outside of your party know your travel itinerary.
Stay on top of weather conditions and don't interact with wildlife.
If you're tent camping throughout winter, pick a spot that is sheltered from the wind and gets sunshine during the day. You'll also want to be aware of possible avalanche dangers.
In summer, it's important to pick a spot that is shaded and to make sure you stay hydrated.
What to Pack and Gear Tips
Check all your travel gear for tears, holes, and/or defects prior to departure. It's also vital that you ensure you know how to properly use all gear and equipment.
Bring plenty of light layers in summer and heavier layers in winter – the last thing you want is to be freezing throughout the night.
Other important things to pack include bug spray, hats/sunglasses, sensible hiking shoes, and SPF.
Camping in Utah: Map
Utah Camping: Read Next