Looking to discover the best hostels in Park City? Here's your guide.
Park City is an outdoor lover's dream destination. From the incredible ski resorts to gorgeous hiking trails – there's no getting around the pristine beauty that draws travelers worldwide.

Because this charming resort town in Utah draws people of all ages and lifestyles, there are accommodations for every budget. If the best hotels or Airbnbs in Park City aren't within your budget, you may be looking for a cost-friendly alternative.

Enter the famous (or, in some cases, infamous) hostel experience. But hostels in 2023 aren't exactly the same as those your parents or grandparents may have told you stories about in the past.

Now, hostels can take on numerous personalities, and many times, they give you a chance to make friends along your journey.

Ready to learn about the best hostels or hostel-adjacent rentals in Park City? Let's go.
Best Hostels in Park City: At a Glance
Best Hostels in Park City
Park City Hostel
£
Prospector Square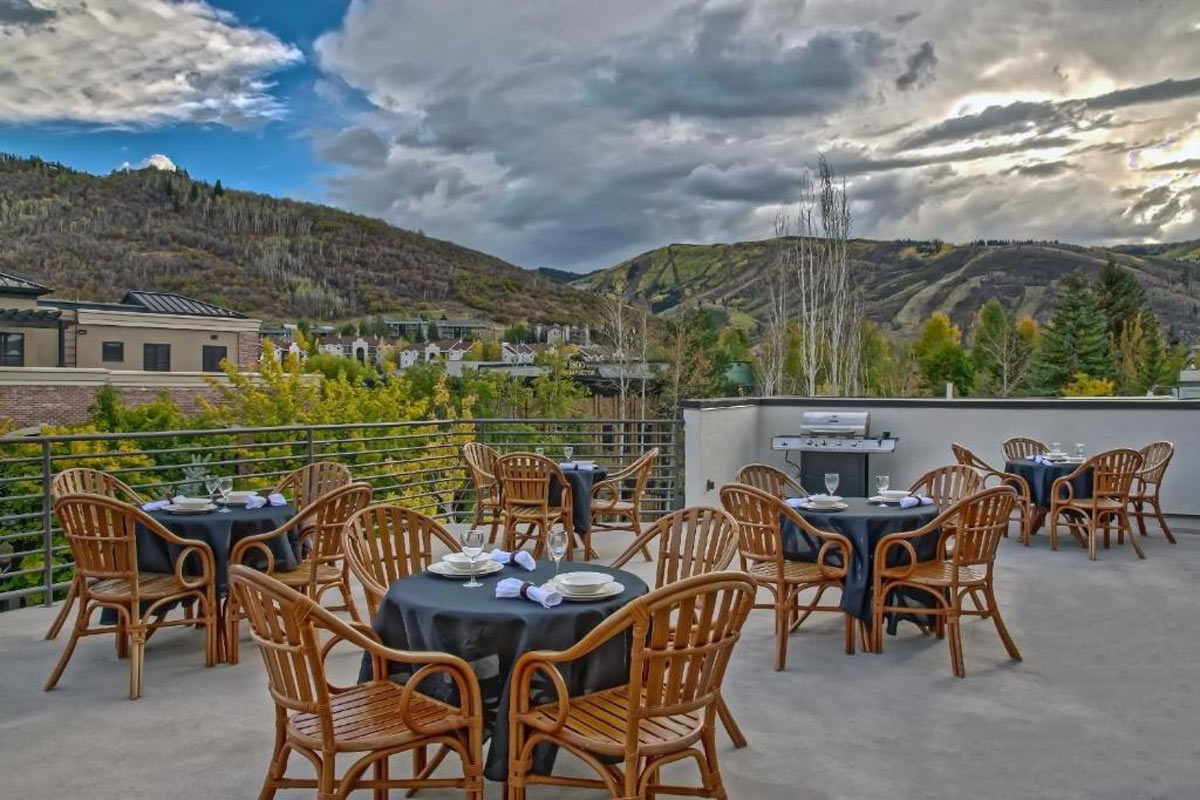 Pressed to choose our favorite overall park city hostel, Park City Hostel (yes, that's the name) is a clear winner.

Why? It's clean, comfortable, and ideal for singles or couples.

Choose between dormitory-style accommodations for a value you can't beat, or opt for a still affordable queen room with a shared bathroom.

Regardless of which room you pick, you'll have a kitchen, balcony, and lively social spaces where you can barbeque, watch a movie, or play a board game by the fireplace.
Of course, it wouldn't be the best Park City Utah Hostel without skiing in mind, and this budget-friendly accommodation allows you to buy a lift ticket or rent ski equipment right on-site.
Treasure Mountain Inn
££
Downtown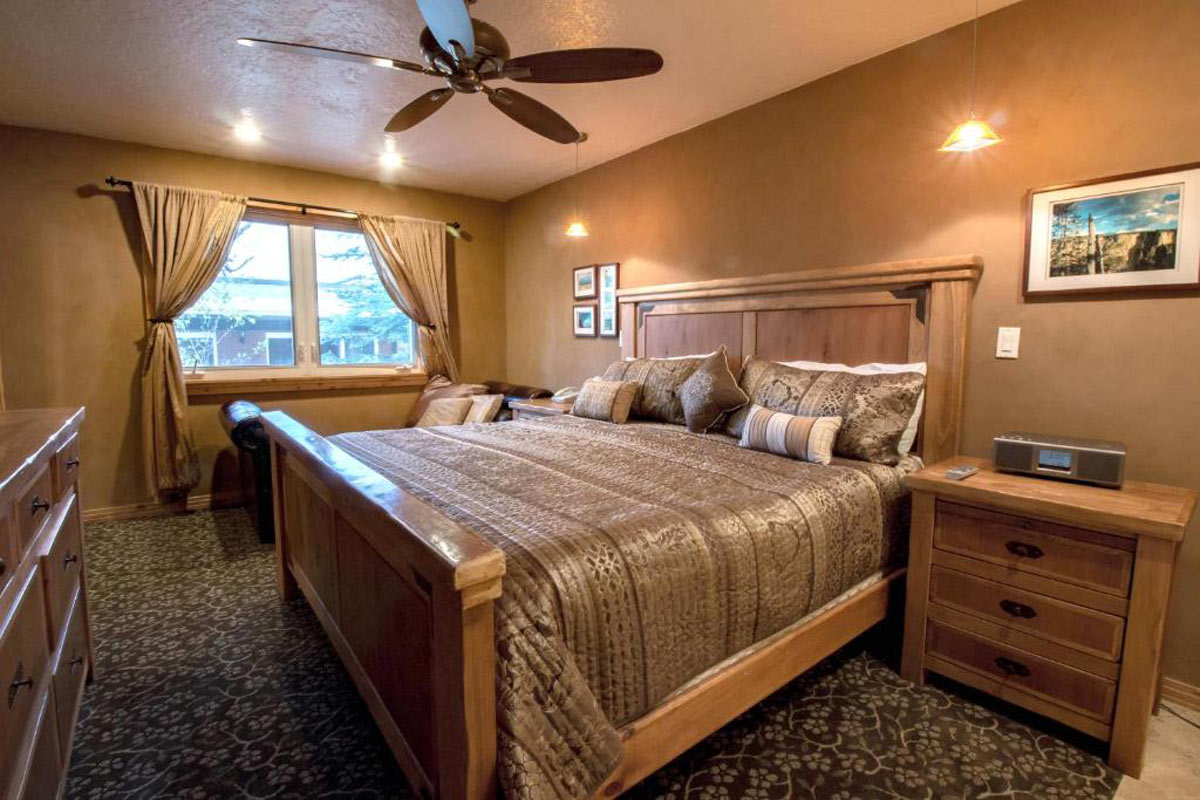 Park City is full of high-end hotels, pristine ski slopes, and a reputation for being a bit expensive.

While there's only one true hostel (by conventional wisdom), plenty of budget accommodations walk the line between hotel and hostel.

Treasure Mountain Inn is a budget-friendly accommodation located in the heart of the bustling main street near the best restaurants and bars in Park City.

The rooms feel like private apartments with kitchens, balconies, and private bathrooms. The outdoor swimming pool and courtyard are great places to chat with other travelers staying here, giving it a similarly convivial vibe to traditional hostels.
Free WiFi and a business center are two other features guests can use during longer stays.
Best Western Landmark Inn
££
Kimball Junction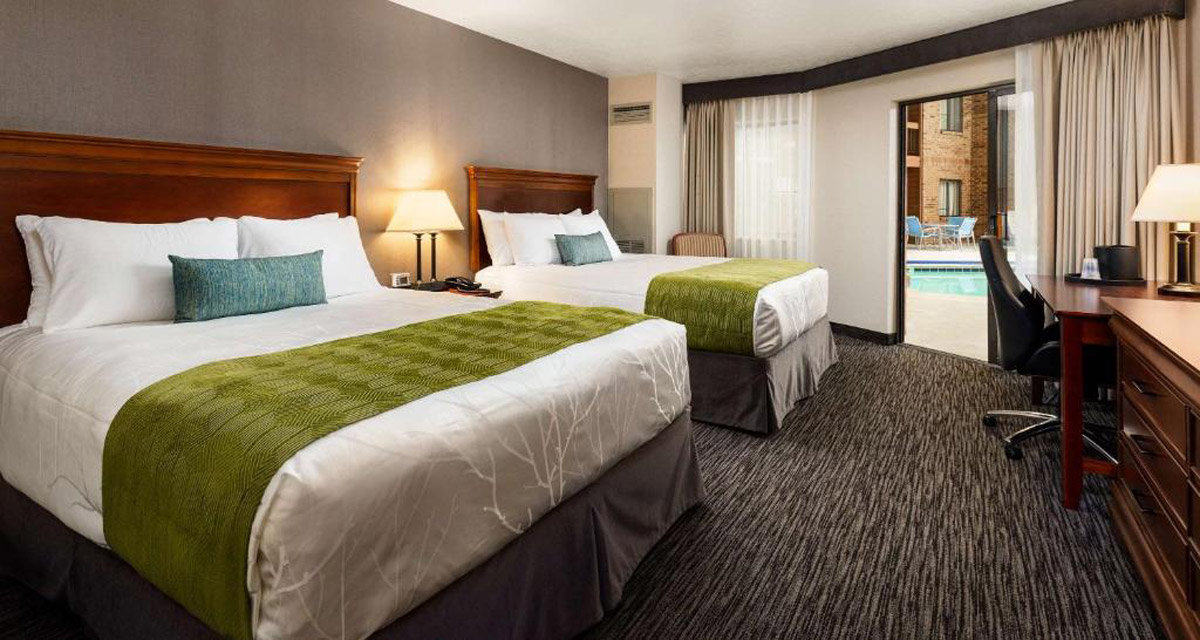 Ok, we know this one is technically a hotel. But Best Western Landmark Inn has all the makings of the perfect meeting place for laid-back skiers and snowboarders when visiting Park City.

From the inviting fireplace lounge next to the indoor pool to the steam room, you can enjoy plenty of social spaces with your friends or complete strangers.

Breakfast is extremely popular before a day on the slopes, and the refrigerator stocked full of refreshments is a convenient place to purchase a snack or drink before heading out to the slopes.

Rooms here are spacious and cozy, with a working area, flat-screen tv, and large private bathrooms providing many of the comforts of home.
If you're looking for a hostel Park City-style, check out this budget-friendly hotel in Kimball Junction.
Canyons Village at Park City
££
Canyons Village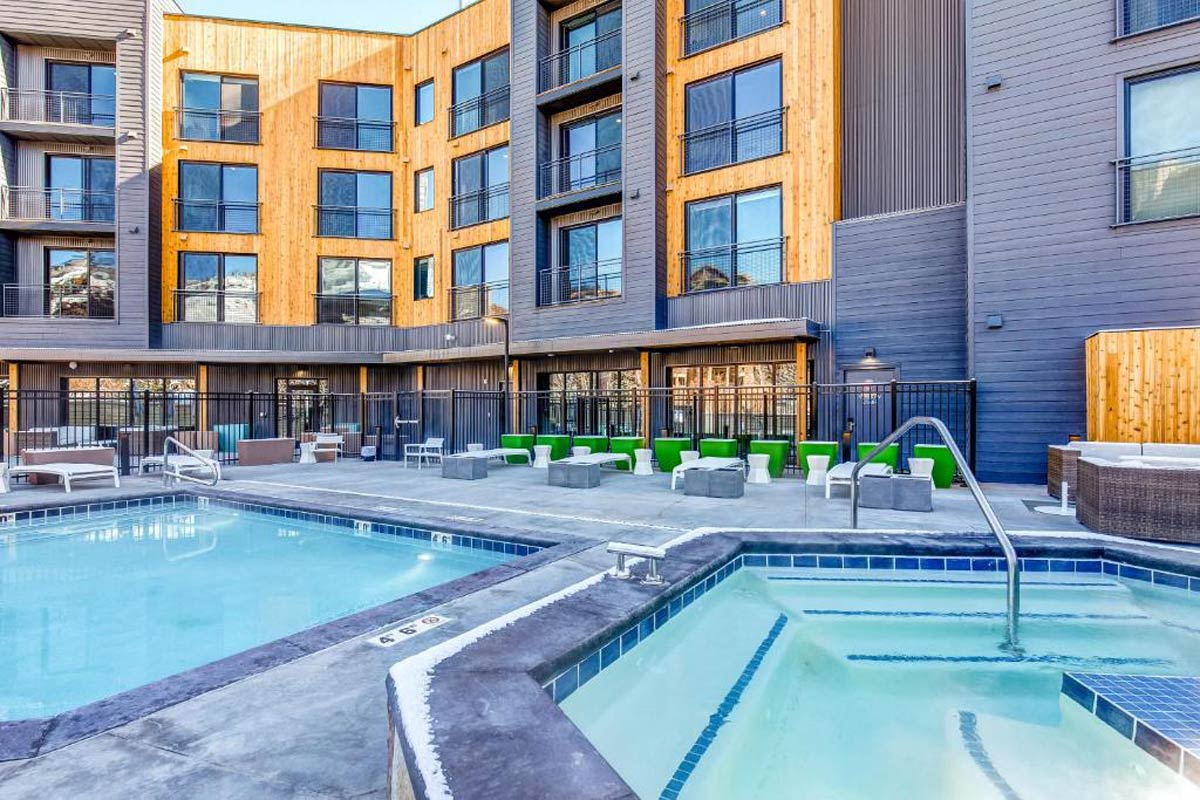 If you and a couple of friends are visiting Park City for the weekend (or longer), this budget-friendly lodge at the base of Canyons Village is only steps away from the most popular lifts, gondolas, and runs in the area.
Studios offer two single beds and a large double, which is perfect for group travel and gives an authentic old-school hostel feel to the rooms. Rooms are modest but well-designed, making great use of the space and offering gorgeous mountain views.

When you head downstairs, you'll find an outdoor pool, social lounge, and 24-hour front desk so you can ask questions about where to go the following day, no matter the hour.
YOTELPAD Park City
££
Canyons Village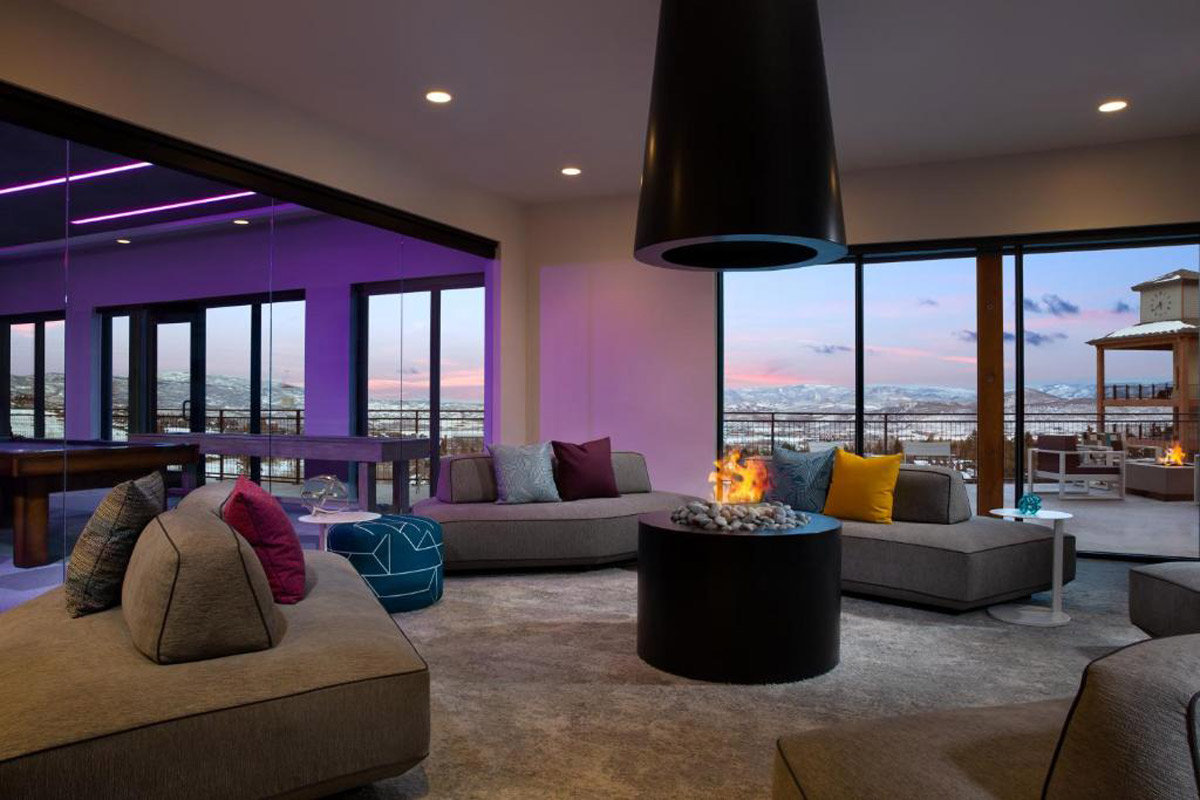 Is it a hostel, a hotel, or an apartment? Can we just say all of the above? Yes.
Designed for longer stays but perfect for a weekend away, YOTELPAD Park City offers affordable rooms that don't hold back on comfort or a fun time.
Murphy beds are a thing again, and we're here for it. The hide-away beds give you more room to invite some friends up for game night or cocktails after the slopes.
Full kitchens have everything you need for meal prep, or you can swoop a grab-and-go meal for a quick bite.
Want to make a few friends? Head down to the backyard terrace, swimming pool, or game room and keep the party going.
This is the place for thrill seekers who want affordable, social accommodations – with access to nearby Park City and Canyon Village right outside your door.
Prospector Lodge
£
Prospector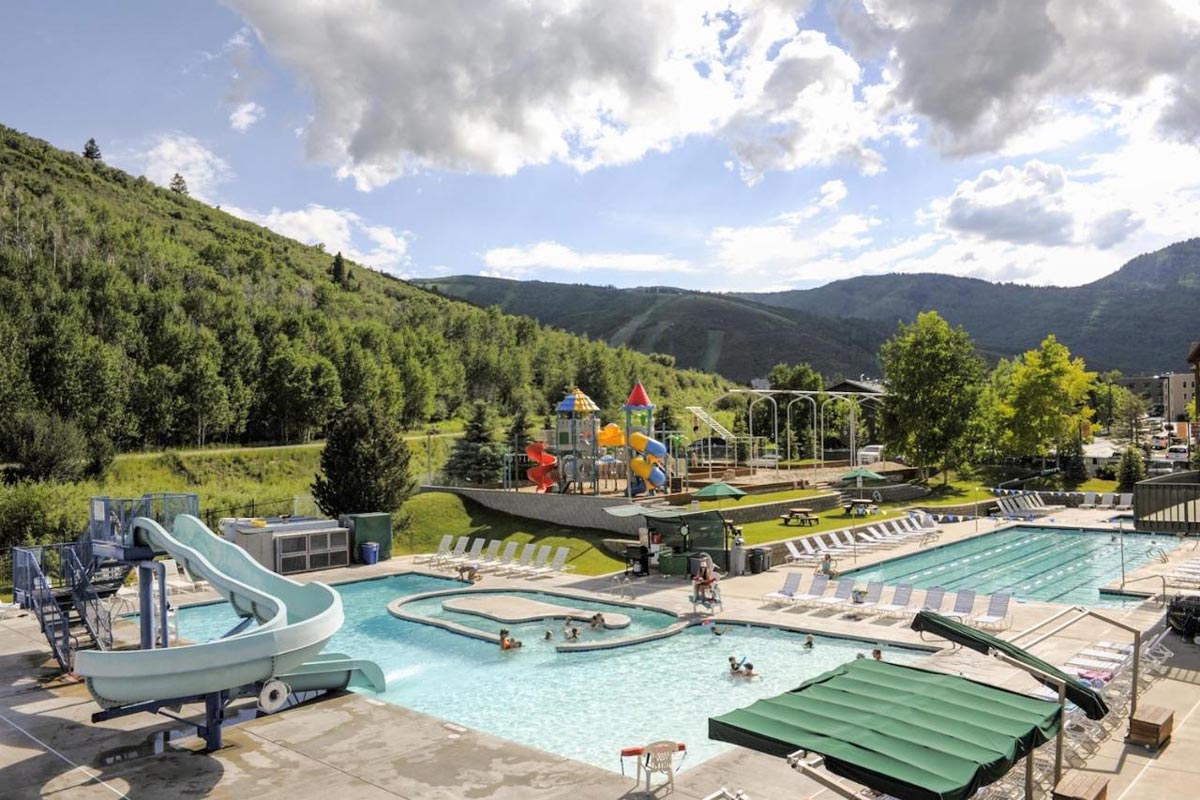 Prospector is known to be one of the oldest and most accommodating neighborhoods in Park City. The convenient location is just a short drive from the ski resorts and features numerous small and large businesses for residents and tourists.
Prospector Lodge is a vacation rental for travelers who just need a room with basic amenities and affordable rates on their stay in Park City.

Two Queen beds, a private split-style bathroom, and a small table for meals make this an excellent stay for a couple of friends who want to share a room between skiing or hiking in the nearby mountains.
The Chateaux Deer Valley
£££
Deer Valley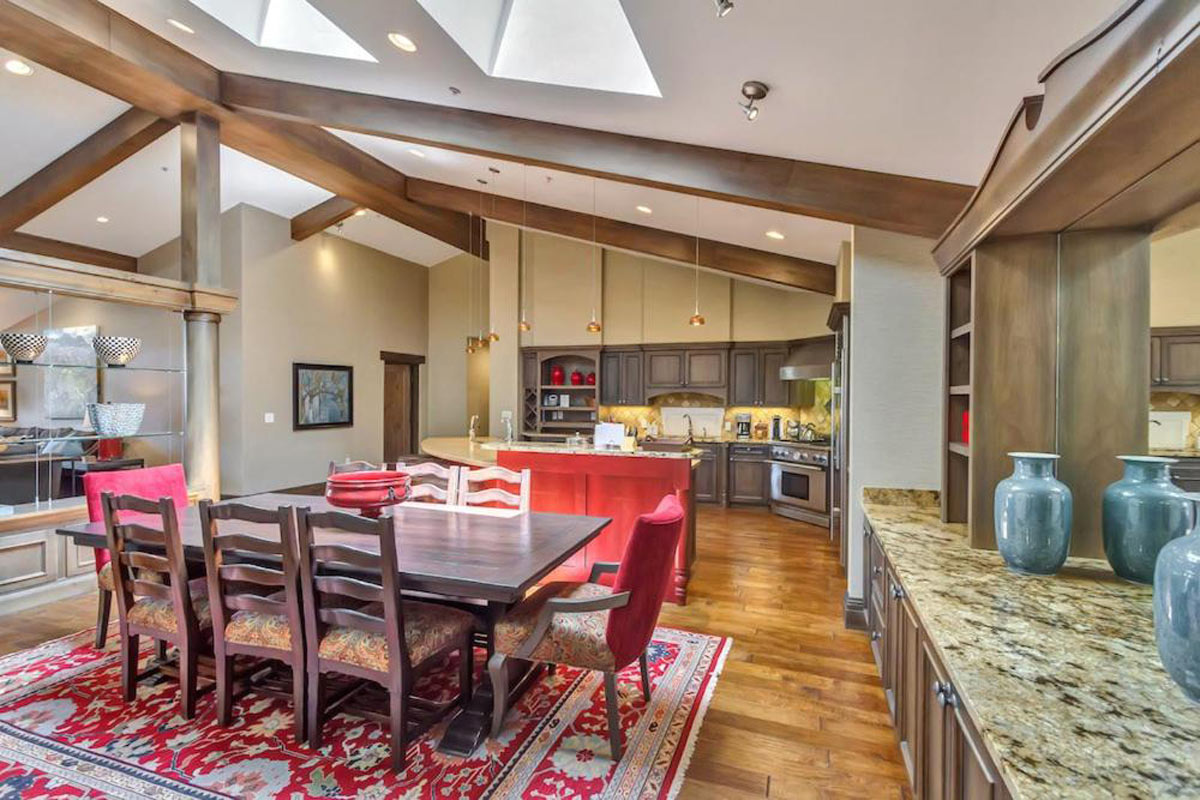 Putting a four-star resort on our list of best hostels in Park City might raise some eyebrows, but hear us out. The Chateaux Deer Valley offers many of the communal aspects we love about a hostel in Park City but with an elegant and luxurious touch.

Let's start with the newly renovated courtyard and pool, giving vacationers the perfect meet-up spot during the warmer months. Now there are numerous fire pits, two hot tubs, and a water fountain to complement the mountain scenery around you.

Inside, there's a 24-hour front desk, places to store your skis, and even an area to rent ski equipment or buy a lift ticket. The on-site restaurant, Cena Ristorante, dishes up Italian-American plates that will give you the fuel you need for the challenges outside.

You can choose from several studios with a luxury cabin feel, but the suites with private kitchens are ideal for travelers who want to cook their own meals and entertain new friends at this elegant social resort in Deer Valley.
Avenues Hostel
£
Salt Lake City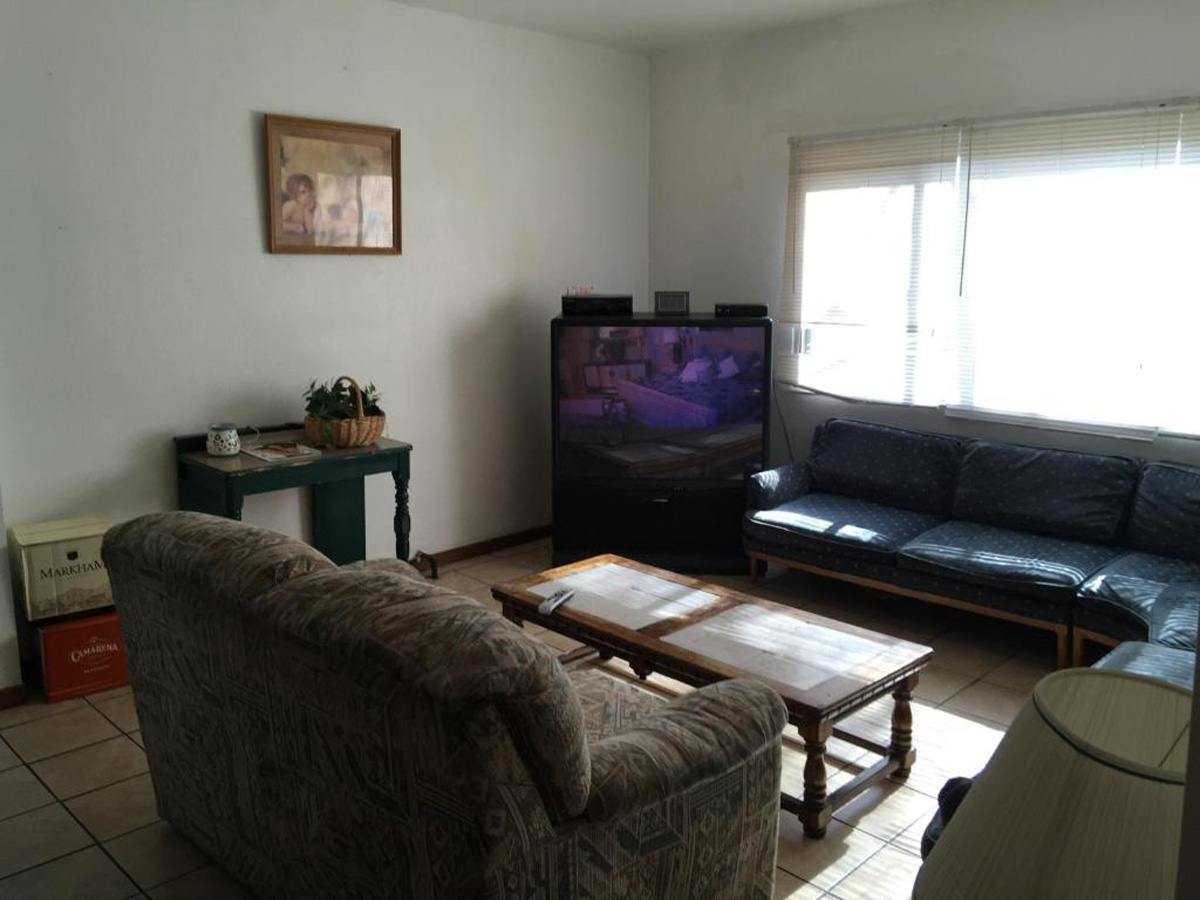 There are dorm-style accommodations for both males and females (separately) at the Avenues Hostel. Rooms are very affordable and provide shared spaces with bunk beds, showers, and a washer and dryer.
You'll need to be ok with up to six people in a small room, and the Salt Lake City location means it'll take you some time to get into Park City, even by car (45 minutes+).

But if budget is your top priority, consider this Salt Lake City hostel.
Best Hostels in Park City: Frequently Asked Questions
What is the Best Area to Stay in Park City?
Prospector Square is the best area to stay when choosing a Park City hostel. But Canyons Village also offers some excellent hostel-influenced hotels and vacation rentals.
Is it Better to Stay in Park City or Salt Lake City
Both Salt Lake City and Park City are wonderful places to visit. But if you're looking for hostels, Park City Hostel is the best overall choice in the area.
Is Park City Walkable
Old Town Park City is extremely walkable.
If you're staying in other areas like Deer Valley, Prospector Square, or Canyon Village, you'll need a car to get to Old Town or other ski resorts. But many Park City hostels and hotels have parking on-site.
Practical Tips to Consider Before Booking Your Park City Hostel
There is only one traditional hostel in Park City, Utah, and it's called Park City Hostel. But plenty of social hotels and hybrid accommodations will give you similar experiences.
You can stay at a hostel in Salt Lake City and take the PC-SLC Connect into Park City if you want to choose a hostel outside of the resort town.
Park City hostels and social hotels are generally cheaper than ski resorts -so you can save money for an extra day on the slopes by booking a hostel in Park City.
Park City Hostels Guide: Read Next