Want to see Arches National Park in winter and explore before the large crowds and the highest hotel rates hit? Visit Arches from December to February and experience a winter wonderland in Utah.
If you're wondering when the best time to visit Arches National Park is, it depends on who you're asking. Many people prefer the warm temperatures and longer days of the summer – and there's a reason why spring and fall are packed.

But this iconic stretch of wilderness near the border of Colorado is equally amazing no matter when you visit.

Looking to book a trip to Arches National Park during the offseason? Don't sleep on a winter vacation to Arches.
Why You Should Visit Arches National Park in the Winter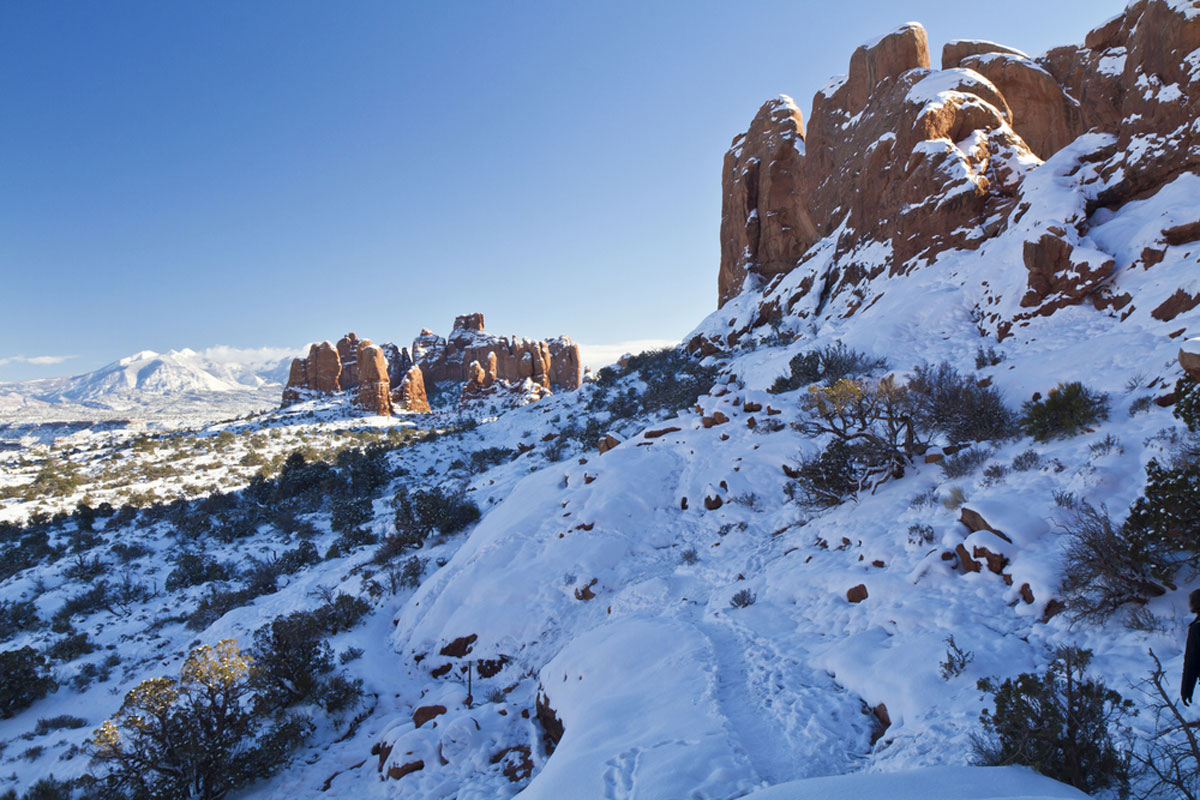 Visiting Arches in winter months gives you a chance to see the red rock formations, natural bridges, and diverse wildlife in a snowy setting that just adds to the allure of a trip to one of Utah's Mighty Five.
Why else do we love a winter trip to Arches? Many of the 75,000 acres and 2,000 arches in Arches National Park are still open to visit year-round, and it's easier to get hotels and restaurant reservations in nearby Moab.
Arches National Park in December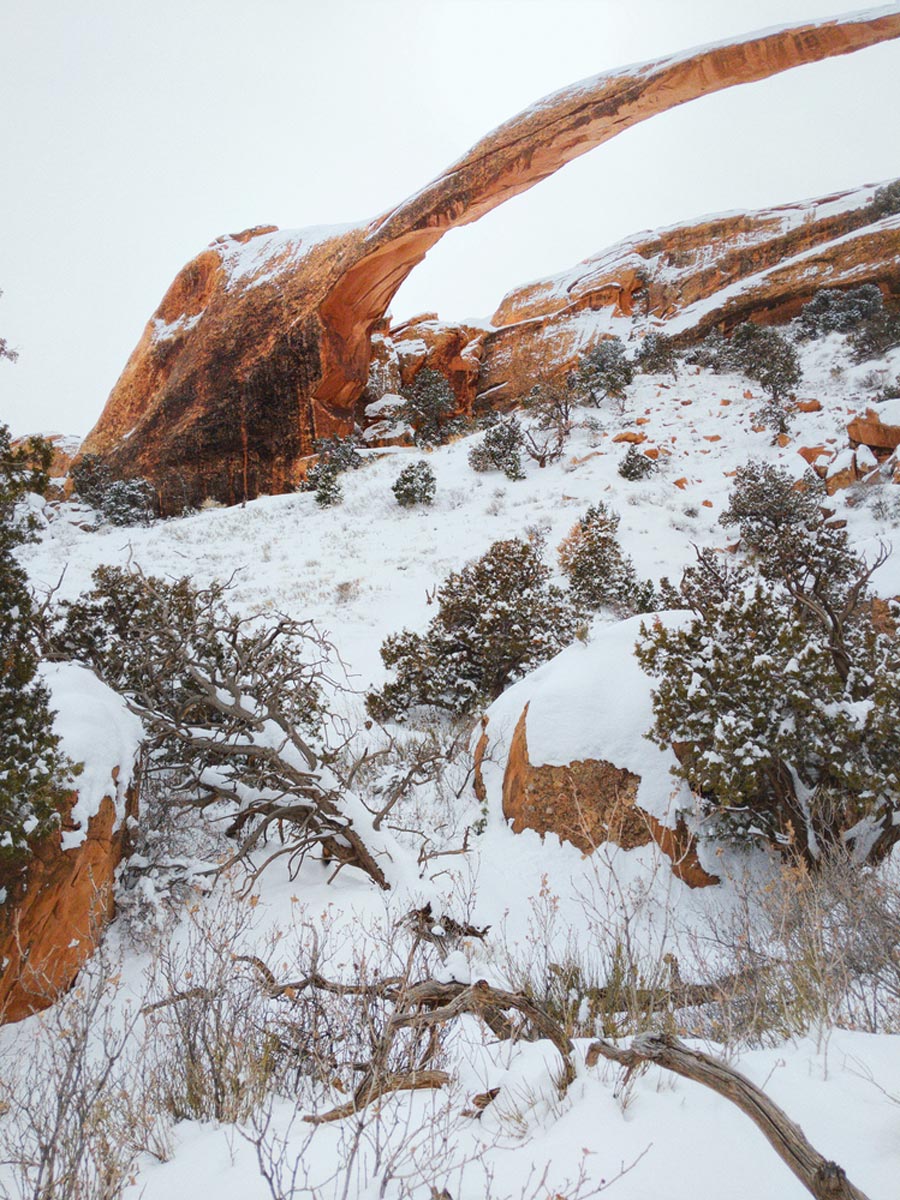 One of our favourite times to hike in Arches National Park is December. Why? You won't need to arrive as early in the day to beat the crowds or enjoy an epic sunset (as the sun starts setting before 5 PM).
Temperatures are colder, but you'll typically get highs around 40°F (4.4°C), which is perfect when you're moving around.
Arches National Park in January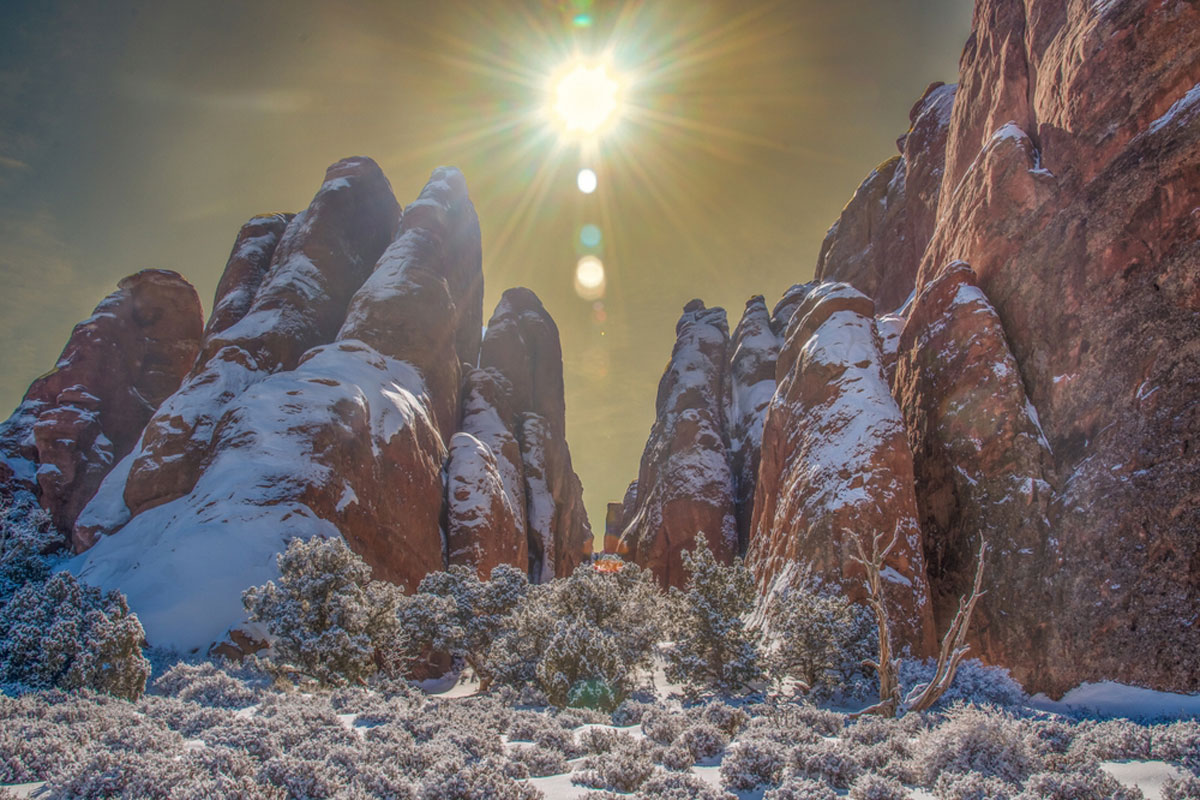 January is the coldest month in Arches National Park. High temperatures are typically around 40°F (4.4°C) and can get much colder. The average low temperature in January is around 18°F (-7.77°C)

But the colder weather doesn't mean you should avoid a trip to Arches. We love the idea of an epic Utah road trip in January, where you can catch some of the most iconic views from your car or head out on the hiking trails with fewer crowds.
Arches National Park in February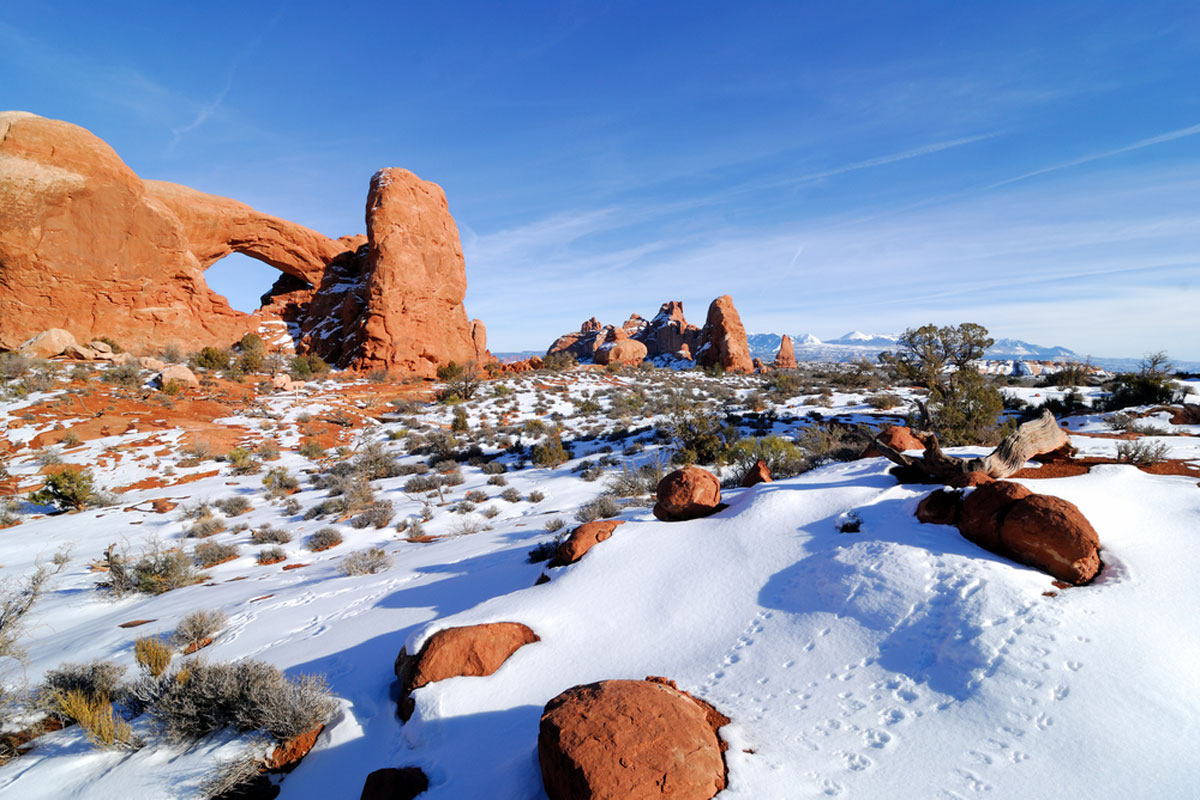 Temperatures start to warm up, with highs averaging around 52°F (11°C) in February, making it a great month to visit for hiking, cycling, and outdoor adventure.

February is the perfect time to visit Arches in the winter when there are fewer crowds but slightly warmer weather and access to most of what makes it so popular in the spring, summer, and fall.
Top Things to Do in Arches National Park in the Winter
Arches Scenic Drive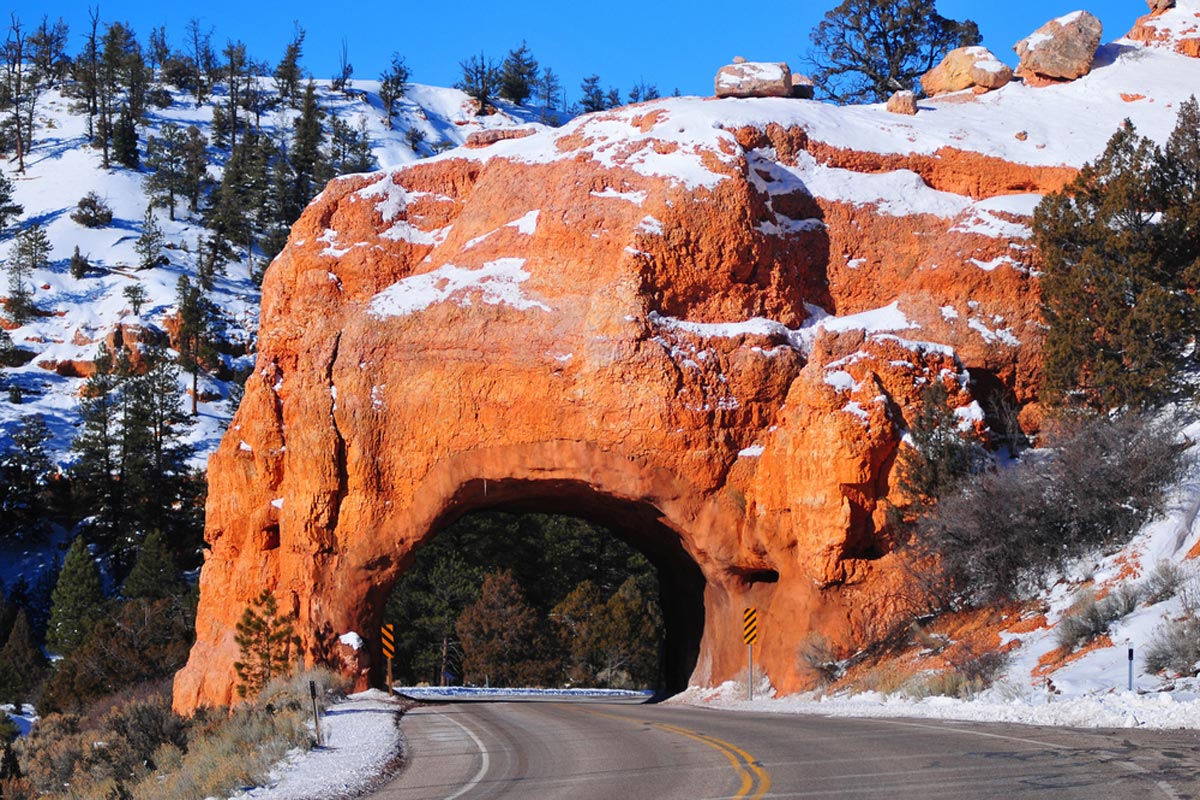 Rolling around the 36-mile stretch of scenic views along this Wild West roadway is a lot more enjoyable when you're not sitting in bumper-to-bumper traffic.

Visiting Arches National Park in winter months is typically a lot less busy. So, as long as there hasn't been a recent snowfall, your chances of experiencing this drive at its best are much better.
Driving Down Highway 191, you can't help but take in the beauty of the Windows District, Double Arch, and Balanced Rock (more on that in a bit).
Top Tip: You'll want 4WD or tire chains when driving through Arches in the winter.
Camping in Devil's Garden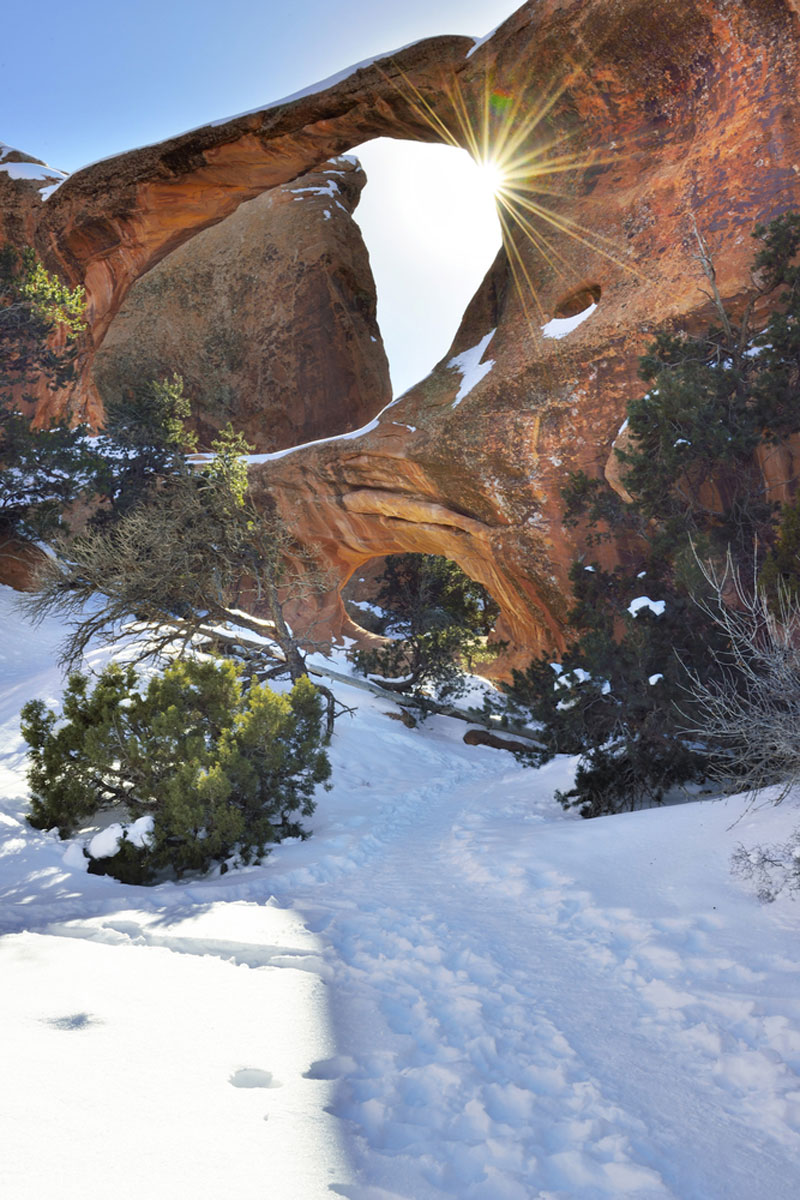 One of the best hikes in Arches is Devil's Garden. You can access the trailhead and plan an epic winter camping adventure when you pull up to the first-come, first-serve campsites at Devil's Garden Campground.

Explore the miles of hiking trails and stunning red rock formations with fewer crowds when you visit Devil's Garden in the winter.
Top Tip: Head to Devil's Garden in February if you want to avoid the coldest months of the year, especially if you plan on camping.
Hike the Windows Loop Trail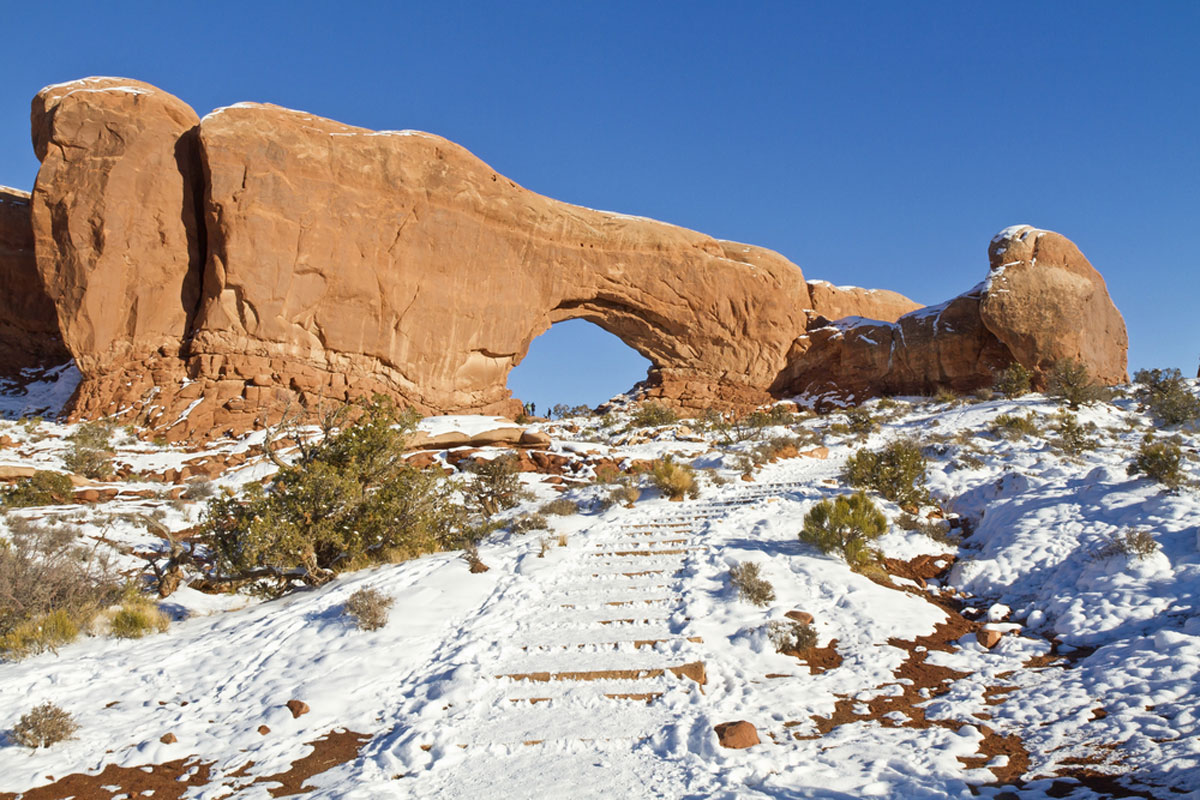 The Windows Loop and Turret Arch trail is one of the most iconic (and wildly popular) hikes in Arches. Luckily, you can see this trail with smaller crowds (and, if you're lucky, a healthy layer of snow) in the winter months.
It's a moderate hiking trail with some of the most gorgeous views in the park and only about 1 mile round trip.
Top Tip: The steep climb up to the North Window gets icy, so check trail conditions ahead of time.
Take Incredible Photographs Along the Trails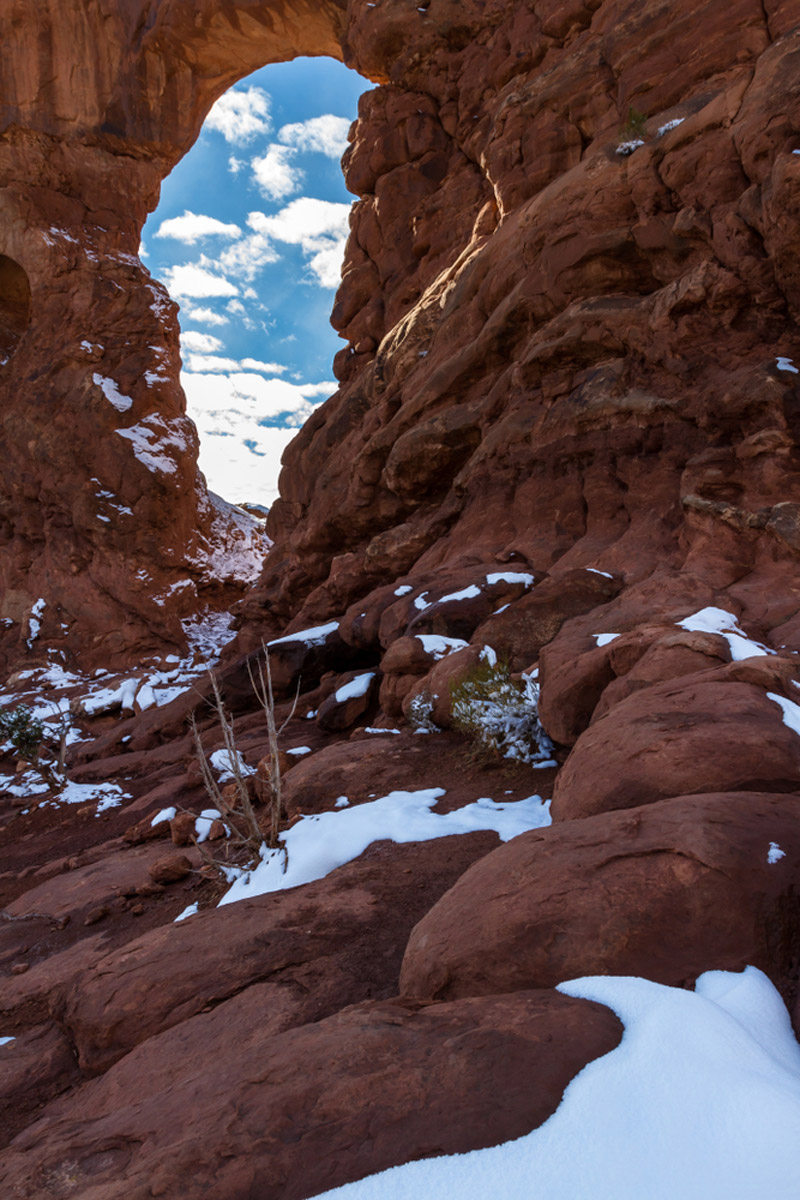 You won't find many more photogenic spots than visiting Arches National Park winter-style.

Just imagine the towering natural red rock bridges in places like The Windows, Turret Arch, and Garden of Eden, with a light (and sometimes heavy) coat of snow that perfectly contrasts against bright blue skies. Magic.
Top Tip: Sunsets are much earlier in the winter, so you can take some incredible shots if you arrive around 3 – 4 PM, as the day begins to wind down for those "golden hour" shots.
Stargazing in Arches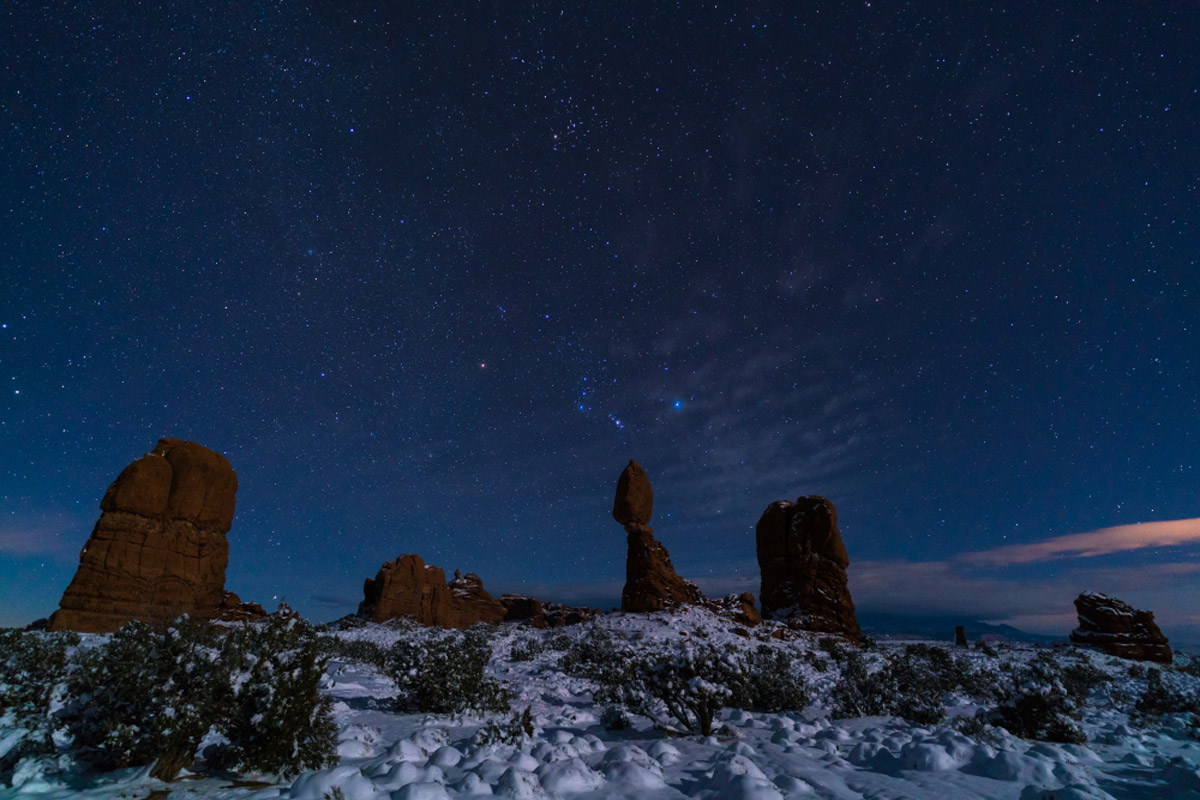 Stargazing is a blast any time of year, but winter in Arches National Park is one of our favorite times. Amateur astronomers can grab their camping gear and spend some time in the quiet wilderness away from peak tourist season.
Another bonus? The International Dark Sky Park is a perfect place to catch first-rate glimpses of the Milky Way, constellations, and distant stars long before bedtime.
Top Tip: Many of the popular Arches camping sites aren't open in the winter, but it gets dark much earlier in the evening (between 4:30 pm and 6:00 pm).
Because Arches National Park winter hours are still 24/7, you can enjoy stargazing from a number of locations off the scenic drive before heading back to the best Arches hotels.
Grab a Pint of Craft Beer
If you ask us, the best way to warm up after a brisk hike or chilly evening stargazing is to have an IPA and a warm plate of pub grub to go with it.
Luckily for you, Moab Brewing has been serving up suds since 1996 and has a reliable beer list highlighted by mainstays like Johnny's American IPA and Deadhorse Amber.
Top Tip: Choose one of the popular burgers, including a vegetarian option made with black beans, brown rice, and mango salsa. Bon appétit.
Unique Things to See & Do in Arches National Park: Hidden Gems That Are Off the Beaten Track
Stop by to See Balanced Rock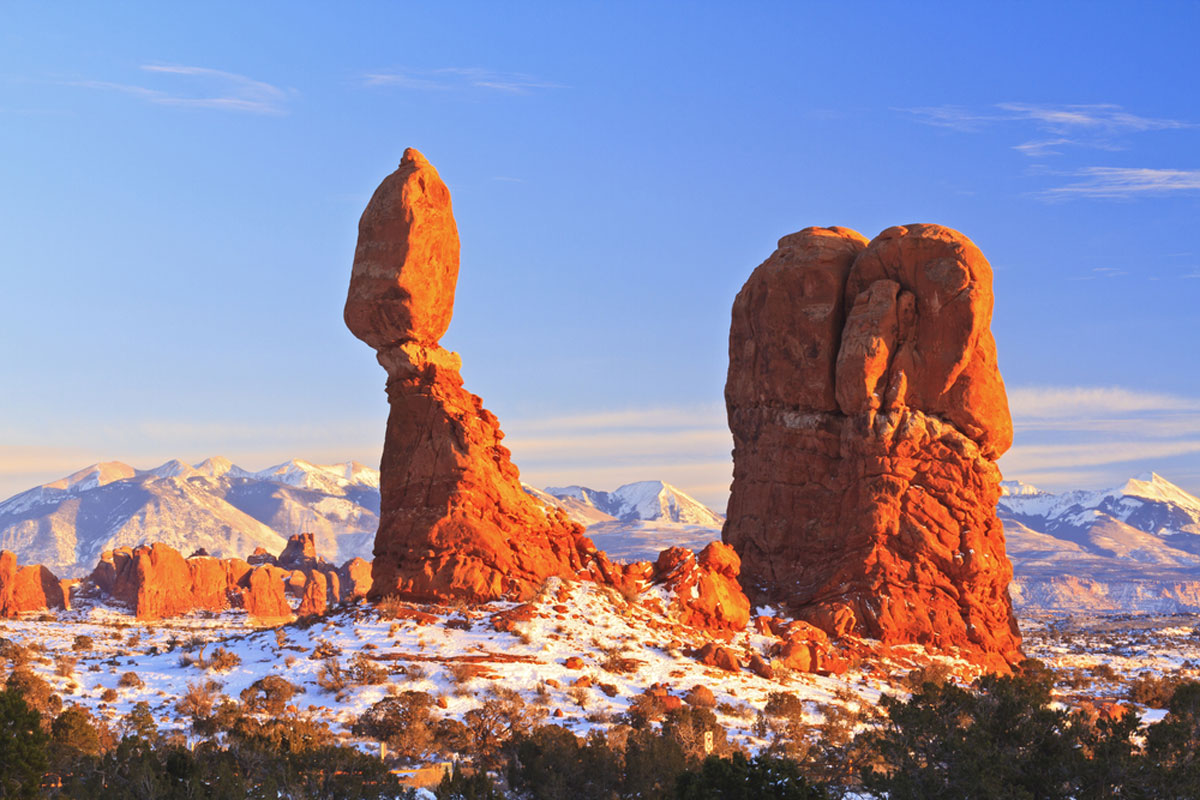 Balanced Rock is one of the most iconic sights to see in Arches National Park during winter in Utah. It's only about 9 miles from the visitor center, and you don't need to stray far from the road to see it.
It's not a true hidden gem, but we think seeing it in the winter offers a unique perspective. Snapping photos of this iconic boulder teetering on the edge of the jagged red rocks is amazing any time of year. But capturing it with the snowy La Sal Mountains in the background adds to the experience.
Get into the Holiday Spirit in Moab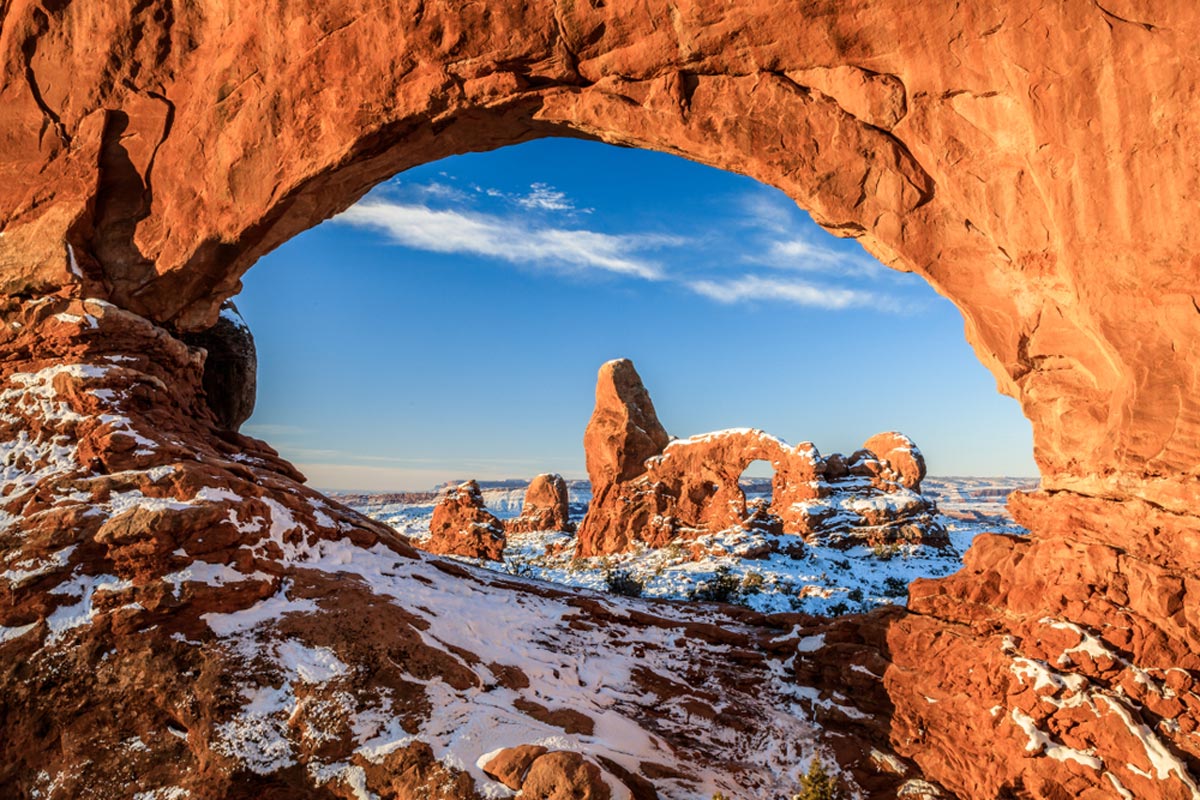 One of our favourite things to do in Arches National Park in winter is to spend the day hiking before heading back to Moab to see the winter holiday festivities in full effect.

Craft fairs, the Electric Lights Parade, and overall holiday cheer are all reasons to visit downtown Moab. December is the perfect time to warm up from the chilly Arches National Park winter weather.

Top Tip: If you time your trip right, you can see the Christmas tree lighting on December 1st in Swanny Park.
Hike to Delicate Arch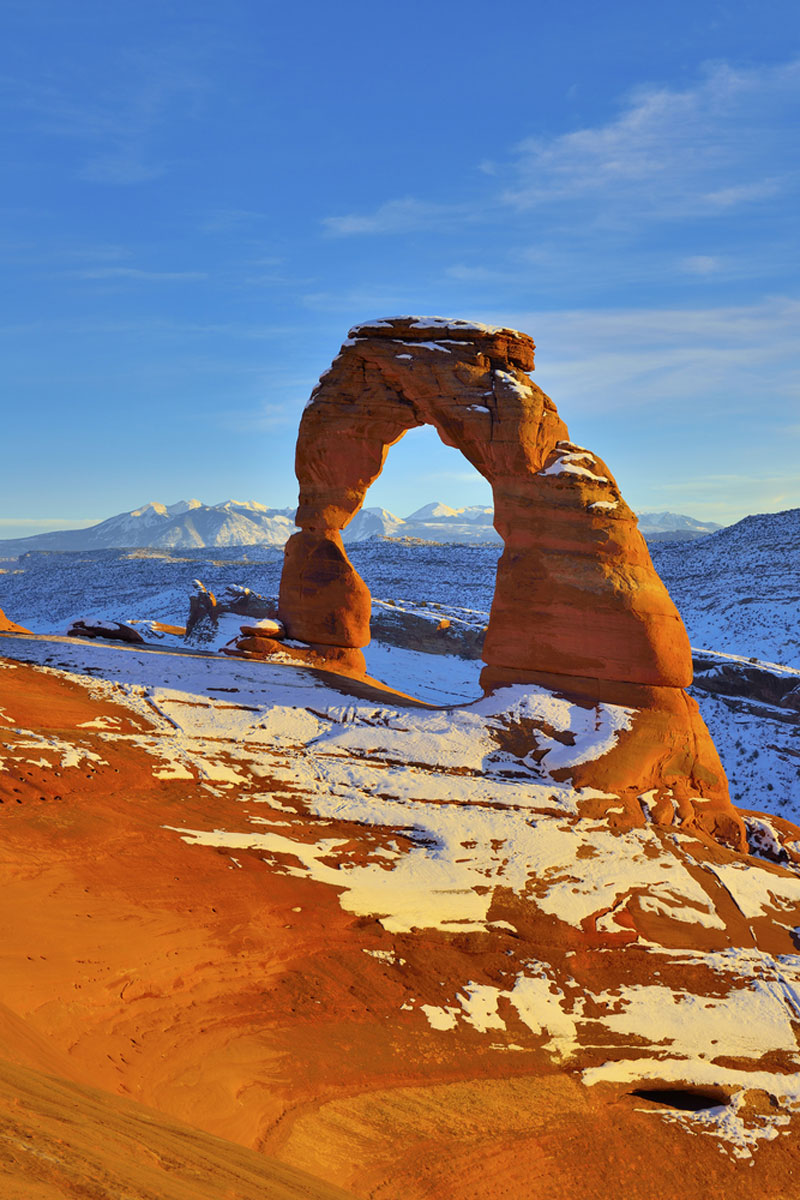 One of our favourite ideas for Arches National Park winter hikes is to set off on the 3-mile out-and-back to one of the must-see attractions – Delicate Arch.
The towering arch (the biggest freestanding natural bridge in the park) is one you'll need to trek to see, making it one of our favourite sites off the beaten path of Arches Scenic Drive.
Top Tip: Hikes around Arches National Park in the winter are quite a bit more challenging. Pack a good pair of hiking poles and a compass, and download maps for any hiking trails.
Skiing in the La Sal Mountains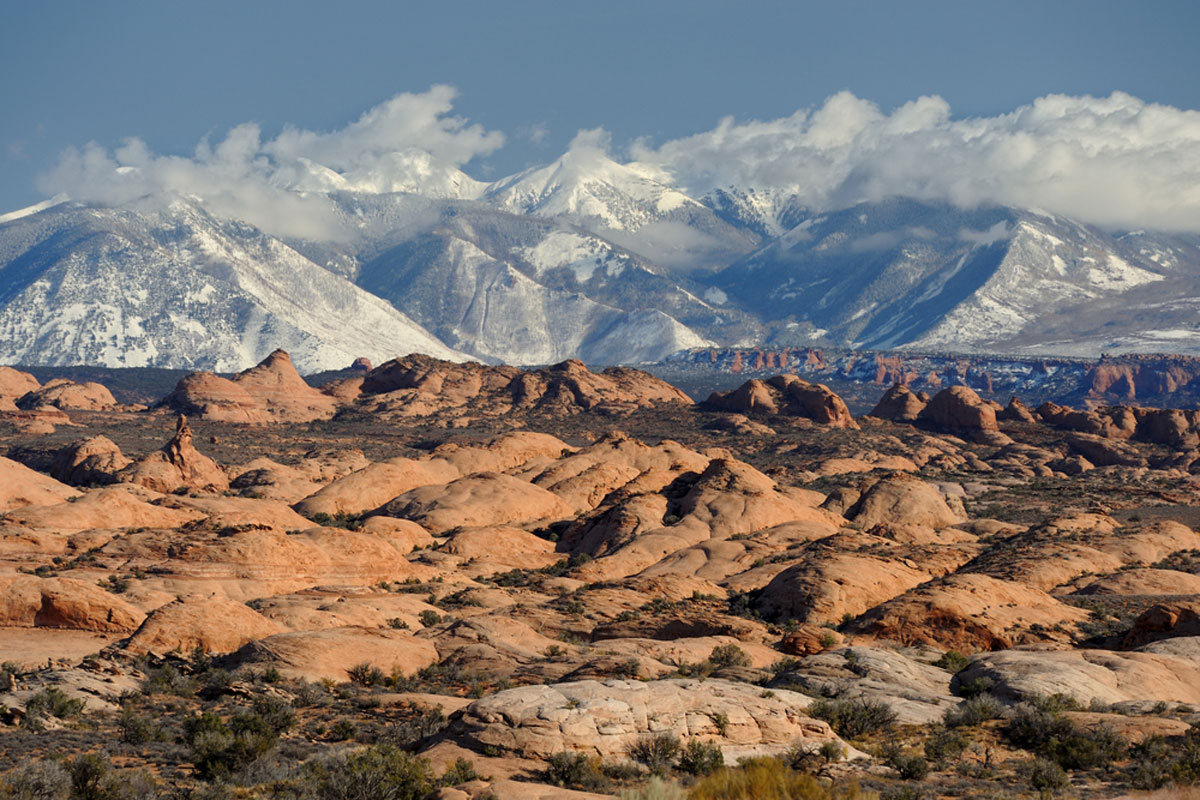 Ok, this one is really off the beaten path – but the most intrepid travelers will want to venture out to the nearby La Sal Mountains for some of the best backcountry skiing in Utah.
You need to know what you're doing and have the right backcountry gear, but if you're an expert skier or snowboarder, this one's for you.
Top Tip: If you're not quite as proficient on the slopes, don't worry. Geyser Pass Winter Recreation Area is popular for snowshoeing and cross-country skiing.
Practical Tips for Exploring Arches National Park in the Winter
Where to Stay in Arches in Winter
Arches National Park winter camping is a blast, and we're all for it. But you'll need to be up for some potentially harsh weather to experience the quiet winter evenings and epic stargazing from your tent.
But you can also find some of the best hotels in Moab if you want to take day trips to Arches National Park while enjoying the excellent breweries and restaurants in town.
Check With Park Rangers About Trail Conditions
Some of the best winter hikes in Arches National Park are quite dangerous during winter storms. Trails and roads will temporarily close during extreme weather, and it's always best to double-check with a park ranger before setting out on long hikes in the coldest months.
Pack Your Warmest Clothes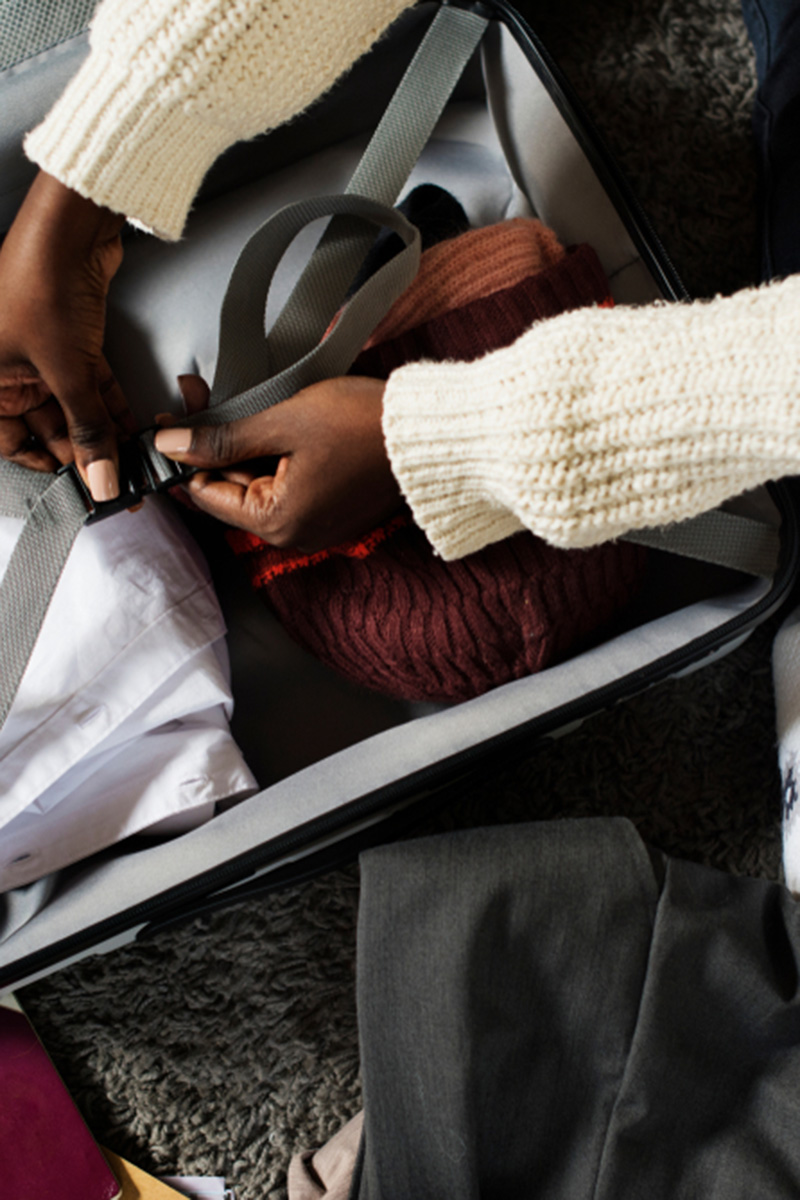 Can you visit Arches National Park in the winter? Absolutely. But be sure to dress the part.
I recommend bringing lots of layers, including thermal leggings, a warm winter coat, gloves, hats, sweaters – you name it, you might need it when visiting Arches National Park in the winter.
Top Things to Do in Arches National Park in the Winter: Map
More Ideas for Your Arches National Park Winter Visit