Wondering when's the best time to visit Zion National Park? This guide is jam-packed with everything you need to know to plan a trip to one of the best national parks in southwest Utah.
We're not surprised that Zion National Park's rugged landscape and slot canyons attract over three million visitors yearly. It's one of the most visited national parks in the USA.
But with so many visitors, it can get busy. Elbowing-your-way-through-crowds kinda busy.
That's why knowing when is the best time to go to Zion National Park is one of the crucial things you should check out before you visit.
This is why we've written this extremely helpful guide that breaks it down for you, season by season and region by region. You're welcome.
When's the Best Time to Visit Zion National Park?: At A Glance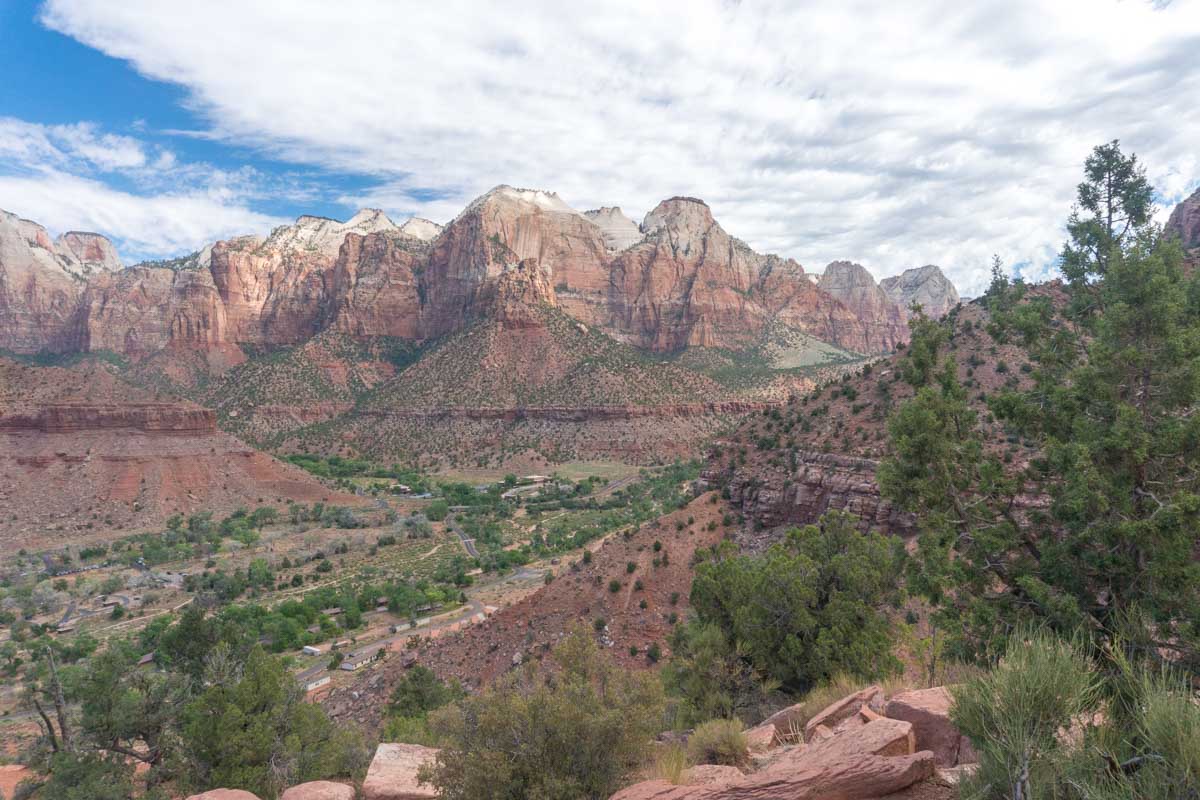 Zion's climate is sporadic – and that's us putting it lightly. Daytime temperatures vary according to changes in elevation, while the jump between day and nighttime temperatures could have over a 30°F difference.
Generally, Zion National Park experiences sweltering summers and dry, cold winters. The shoulder seasons, spring and autumn, bring cooler weather conditions and a change in scenery from blooming wildflowers to colorful fall foliage.
And, if you ask us, these seasons are also the best time to visit Zion National Park to avoid crowds.
The Best Time to Visit Zion National Park
What is the Best Month to Travel to Zion National Park?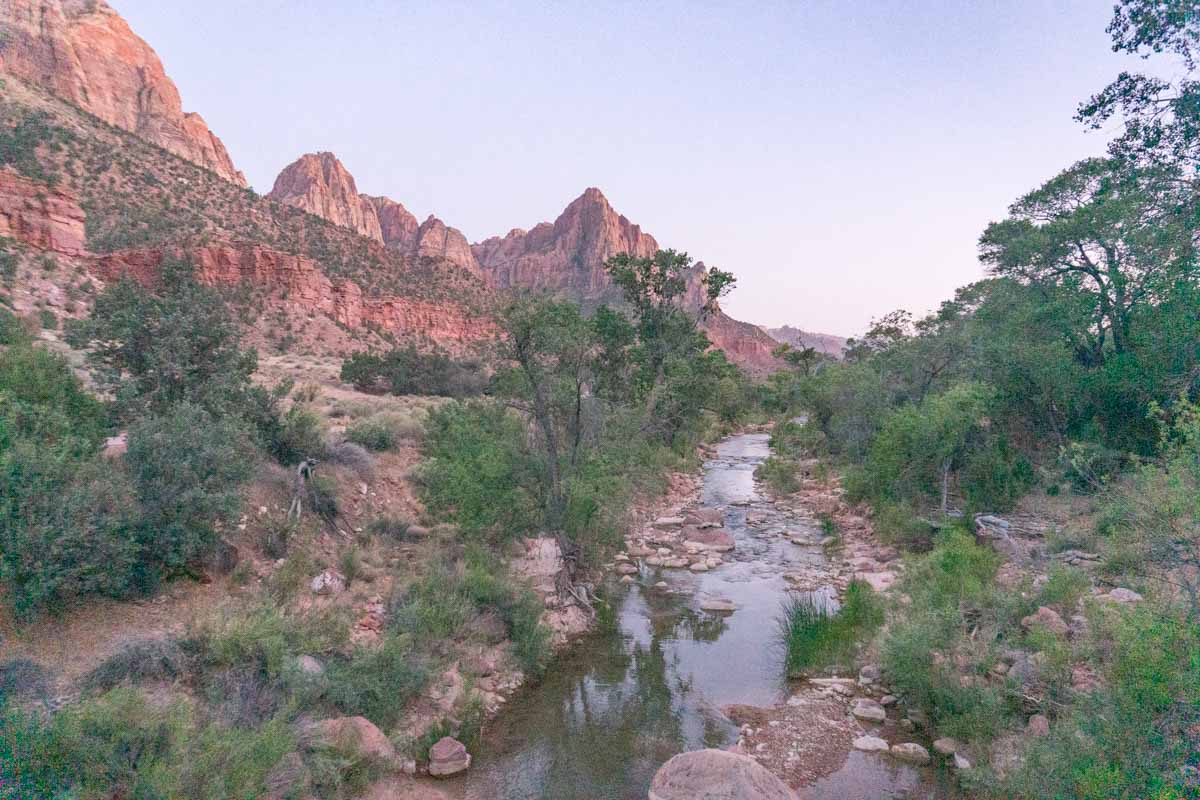 The best time of year to go to Zion National Park depends heavily on which section of the park you'll be visiting.
It's an impossible task to give you a straight answer – we'll need to dive into the weather conditions, elevations, and things to do in Zion National Park's different regions.
Best Month to Visit the Main Canyon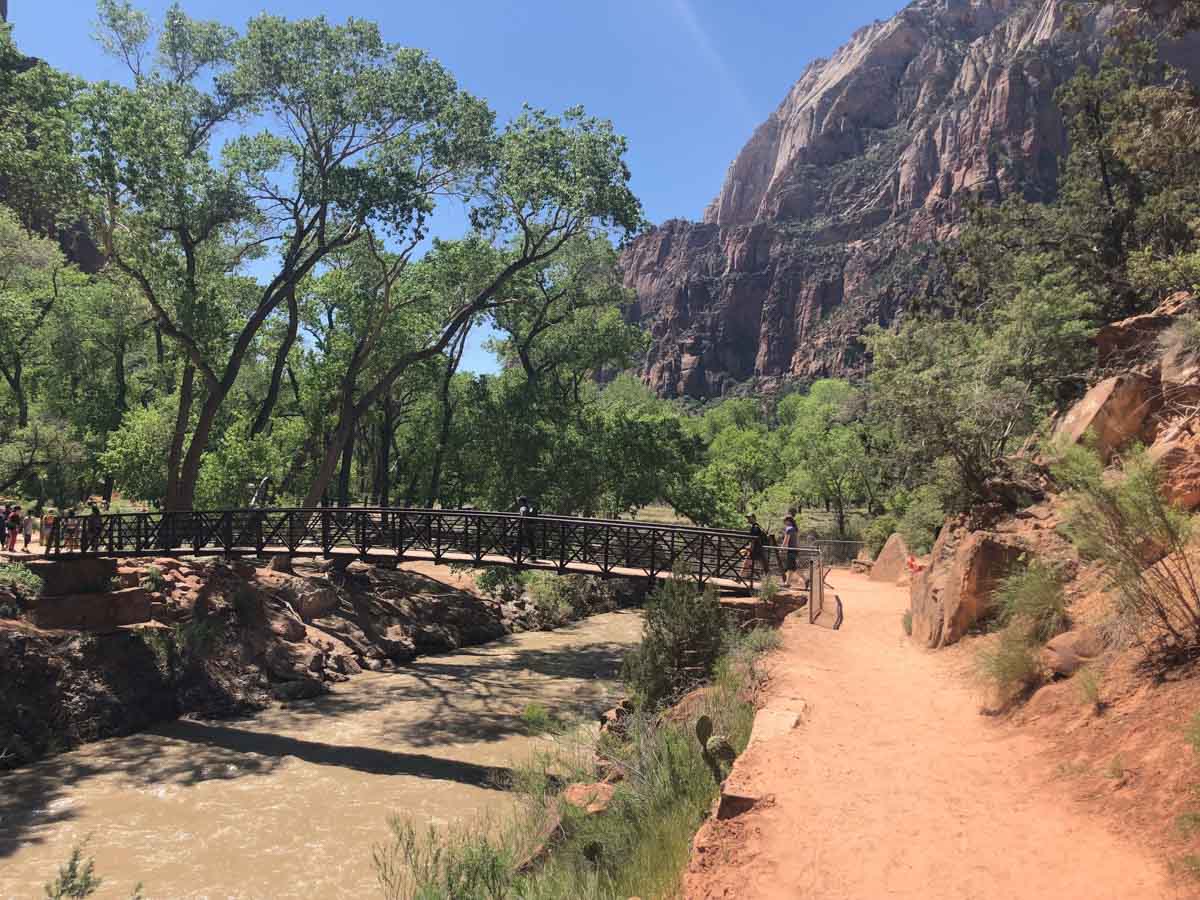 The Main Canyon is Zion's most popular region. This is where you'll find some of the park's most notable attractions, like Angel's Landing, Weeping Rock, and the Visitor Center.
If you're looking to visit the park in warm weather, April and May are the best months. This is when the season changes from spring to summer; daytime temperatures are not scorching hot, and the visitors are yet to start flocking in.
Best Month to Visit the Upper East Canyon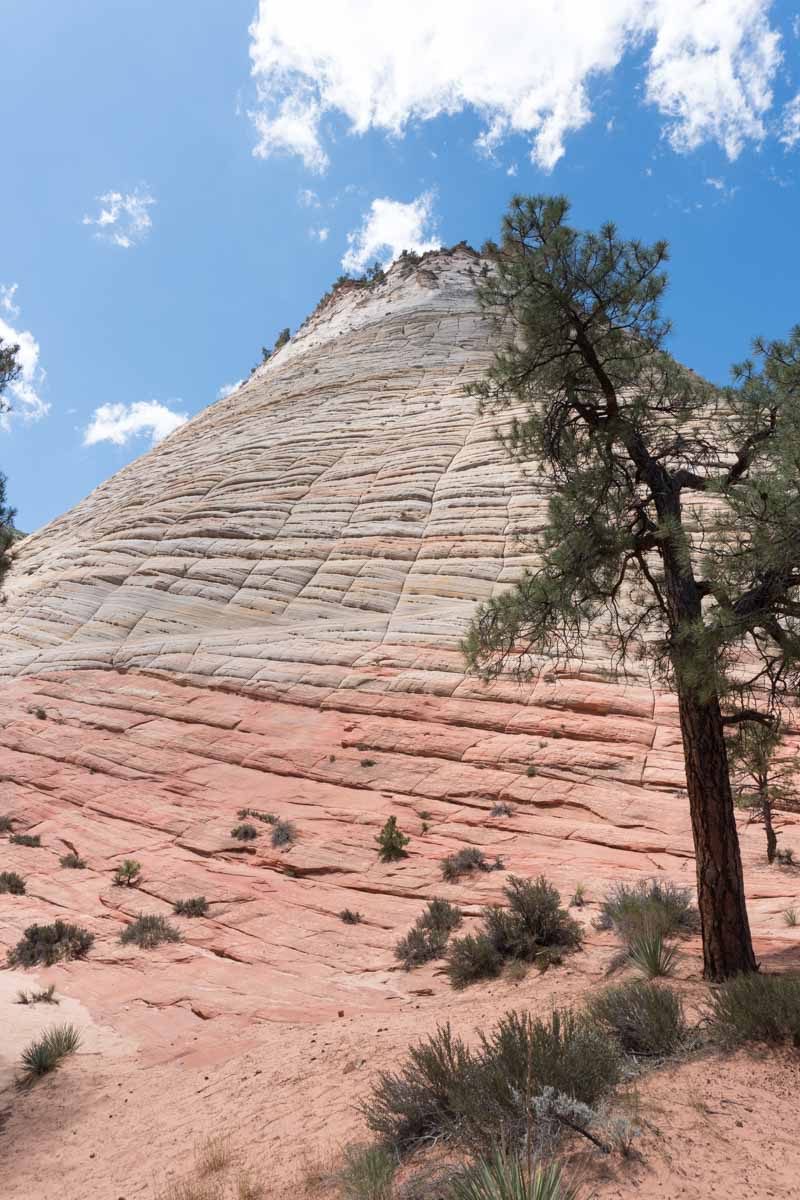 We'll make a bold statement: Zion's Upper East Canyon offers the best scenic drives in the park. Route 9 takes you through amazing drainages and slick rocks. You'll also see the Checkerboard Mesa and drive through the Zion-Mt Carmel Tunnel.
Since the Upper East Canyon is explorable mainly via driving (and a little bit of walking if you're keen), you can visit this section of the park all year round. This section of the park is picturesque, making spring, autumn, and winter the best times to visit.
Best Month to Visit The Narrows
May to September is the best time to trek through the Narrows — one of Zion's best hikes. This section features miles of closed-in canyon walls carved by the Virgin River over the years.
While hiking the Narrows in Zion, you'll discover a labyrinth of oddly-shaped sandstone walls and tributaries. Parts of this trek feature knee-deep paths, so you must be a competent swimmer.
Best Month to Visit Kolob Terrace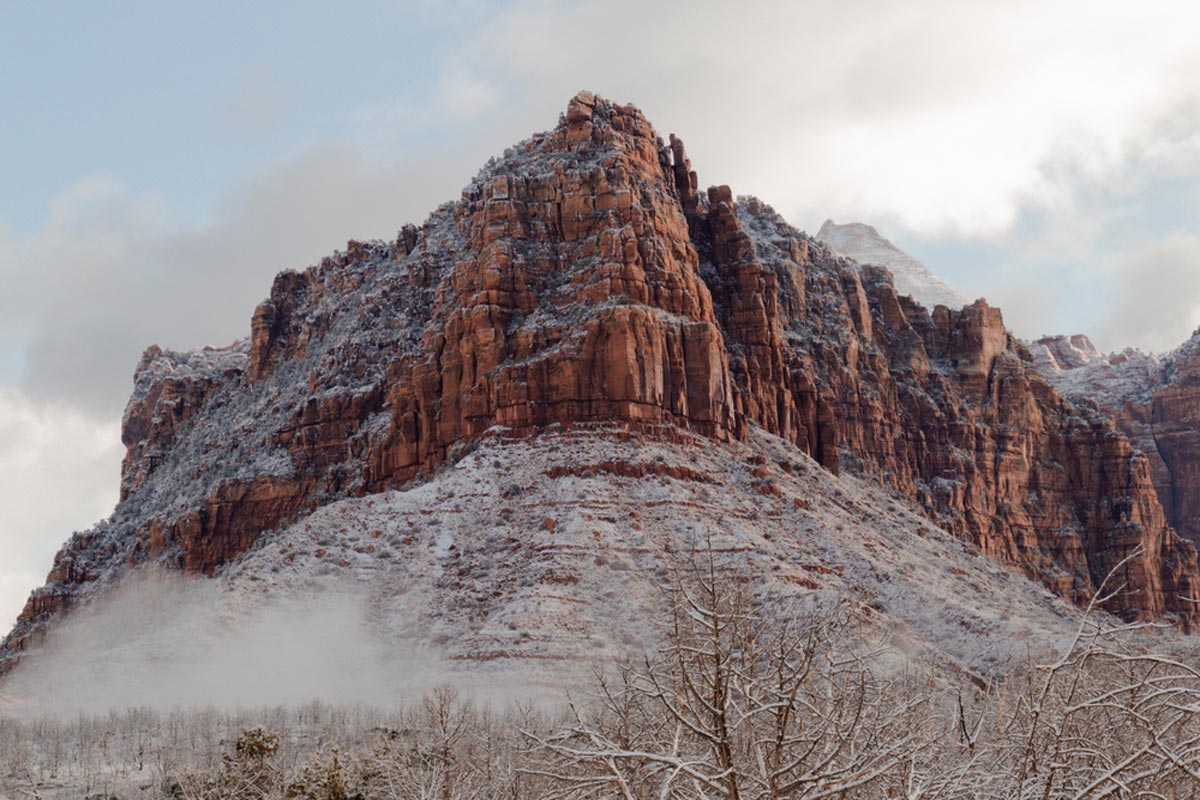 Kolob Terrace is where you'll find "The Subway" — a uniquely-shaped and mesmerizing slot canyon with gorgeous emerald pools. This region is also popular for its primitive camping grounds, scenic drives, and one of the highest points in Zion National Park, Lava Point.
Due to the high elevation this part of the park has, winter visitations are strictly off-limits. So the best time to visit Kolob Terrace would be any time of the year, except between December and February.
Best Month to Visit the Kolob Canyons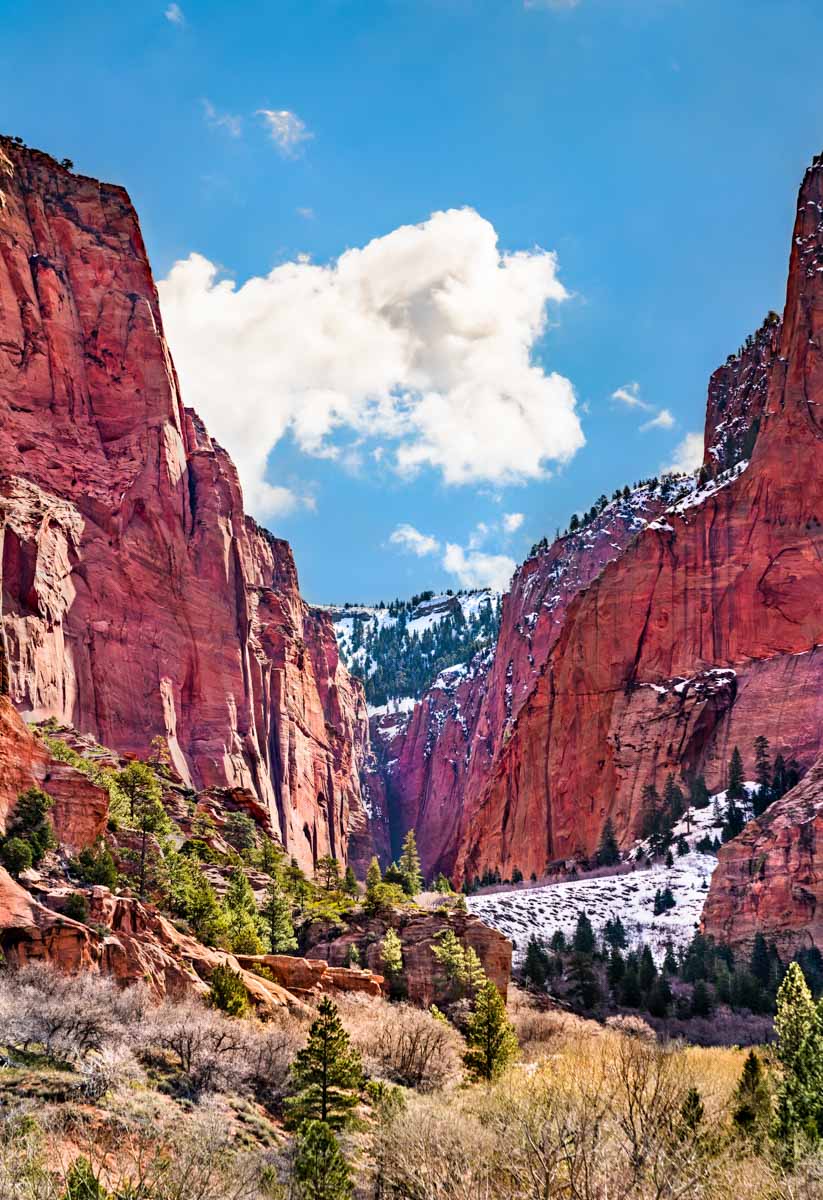 The Kolob Canyons are Zion's most subdued and isolated region. It's situated about 40 miles from Springdale and even has its own visitor center and ranger station. This region of the park has characteristics of Navajo sandstones with kaleidoscopic hues of oranges, reds, and pinks.
Kolob Canyon has a higher elevation than Zion Canyon, which means that it's much cooler than the rest of the park, and you'll find greener, thicker vegetation up here – not to mention an abundance of juniper trees.
Like Kolob Terrace, this part of the park is a great place to visit all year round, except for winter, as temperatures at this elevation are freezing.
Best Month to Visit the Desert Lowlands
As expected from the name, the Desert Lowlands are Zion's driest and hottest region. Due to this, the section is the lesser-visited part of the park but should be included in every Zion itinerary.
This region's low elevation and dry landscape make the off-season of winter and autumn, the best time to visit. In other words, head there from October to February.
The best thing about the Desert Lowlands is the solitude and subtle beauty this part of the park gives you, making it perfect for quiet hikes and backpacking.
When's High Season in Zion National Park?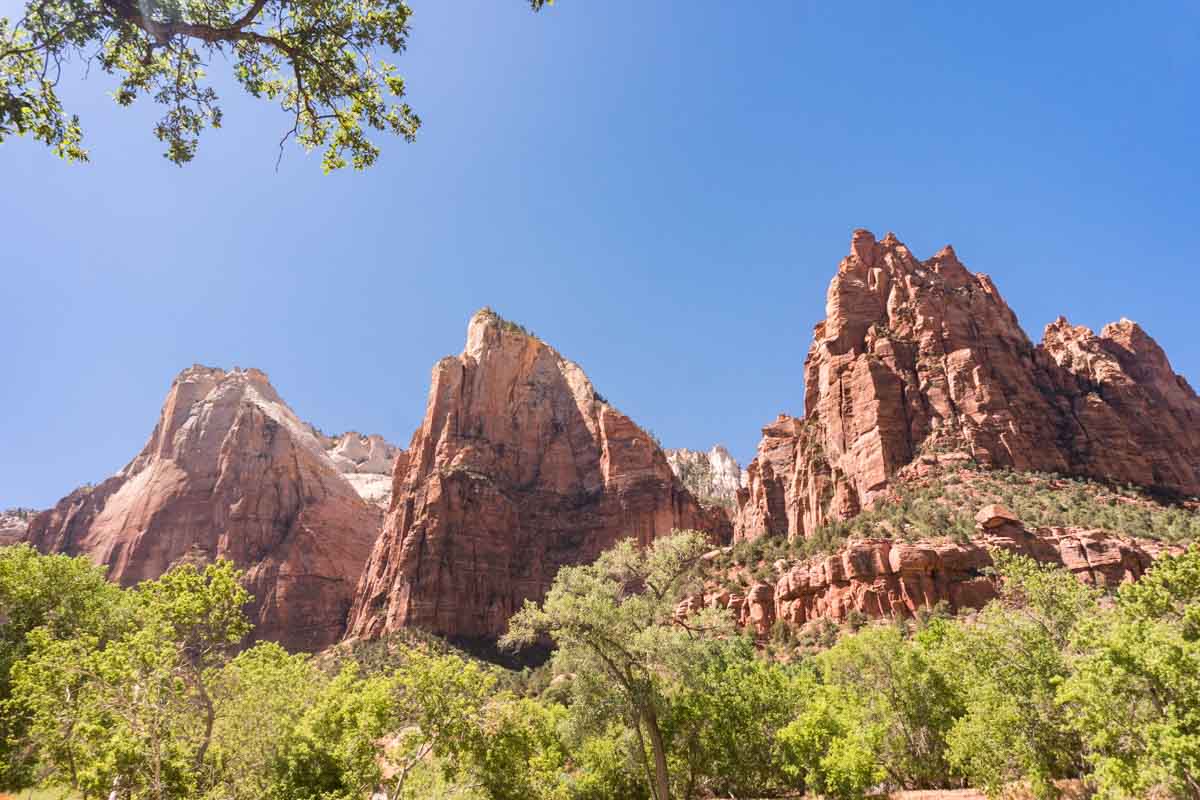 Summer is, without a doubt, the peak visitation season in Zion National Park. According to the park's visitation statistics, 70% of visitors flock to Zion within the busiest six months, from April to September.
But this is also when temperatures in the park are at an all-time high. If you visit the park during summer, avoid heat stroke and dehydration by drinking lots of water and stocking up on high-quality sunblock.
The Cheapest Time to Visit Zion National Park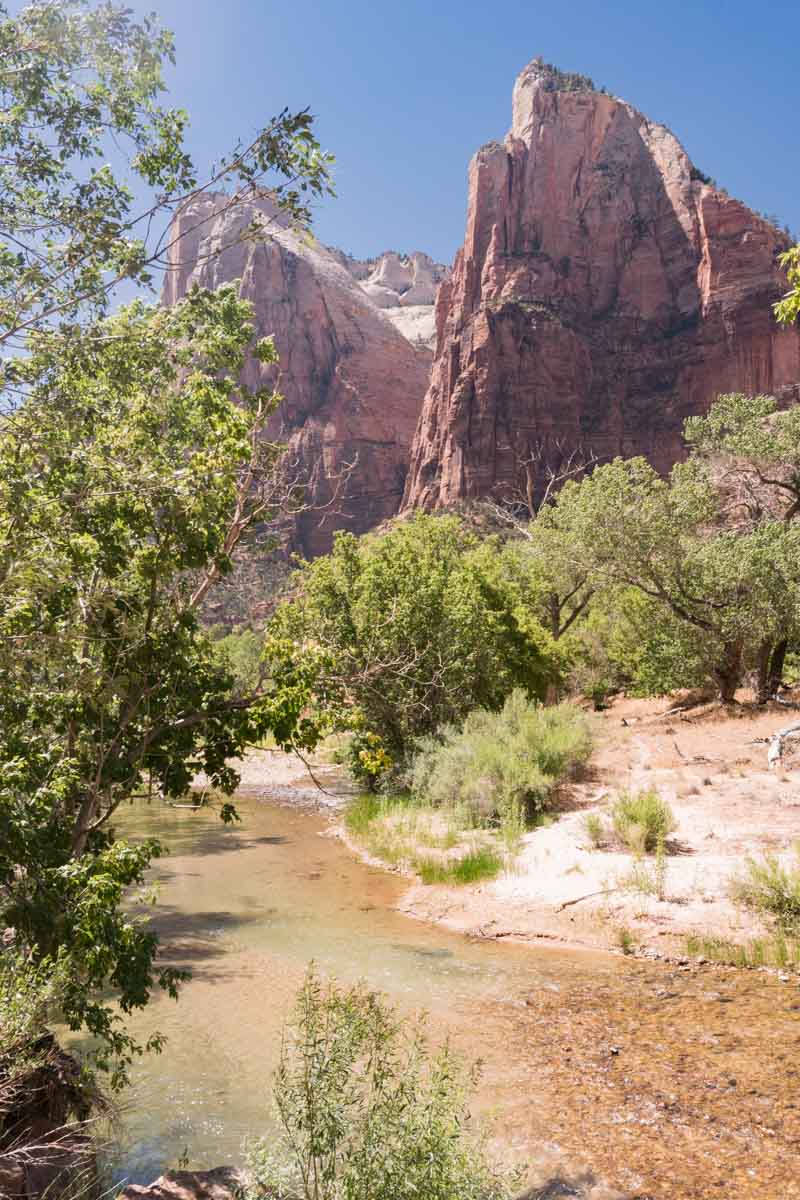 If you're looking to save money and avoid crowds, winter, from December to February, would be the best time of year to visit Zion National Park. Just make sure to prepare for cold and wet conditions.
Due to the freezing temperatures Zion experiences during the wintertime, several hotels in Zion National Park subsequently drop their rates due to the low demand. A real bonus for those looking to save some cash.
To See Zion's Wildlife
Spring is the best time to visit for wildlife spotting in Zion National Park. Most animals will be shaking off the cold of winter by basking in the sun. Bighorn sheep usually give birth between late winter and early spring, while mule deer fawns pop up in late spring.
During this time, reptiles and small mammals come out of hibernation while larger animals start moving to higher elevations as the snow starts melting.
Winter is also an excellent time for wildlife viewings, primarily due to the fewer crowds. You can spot wildlife on summer evenings when the animals come out to enjoy the cooler temperature after a scorching day.
To See The Narrows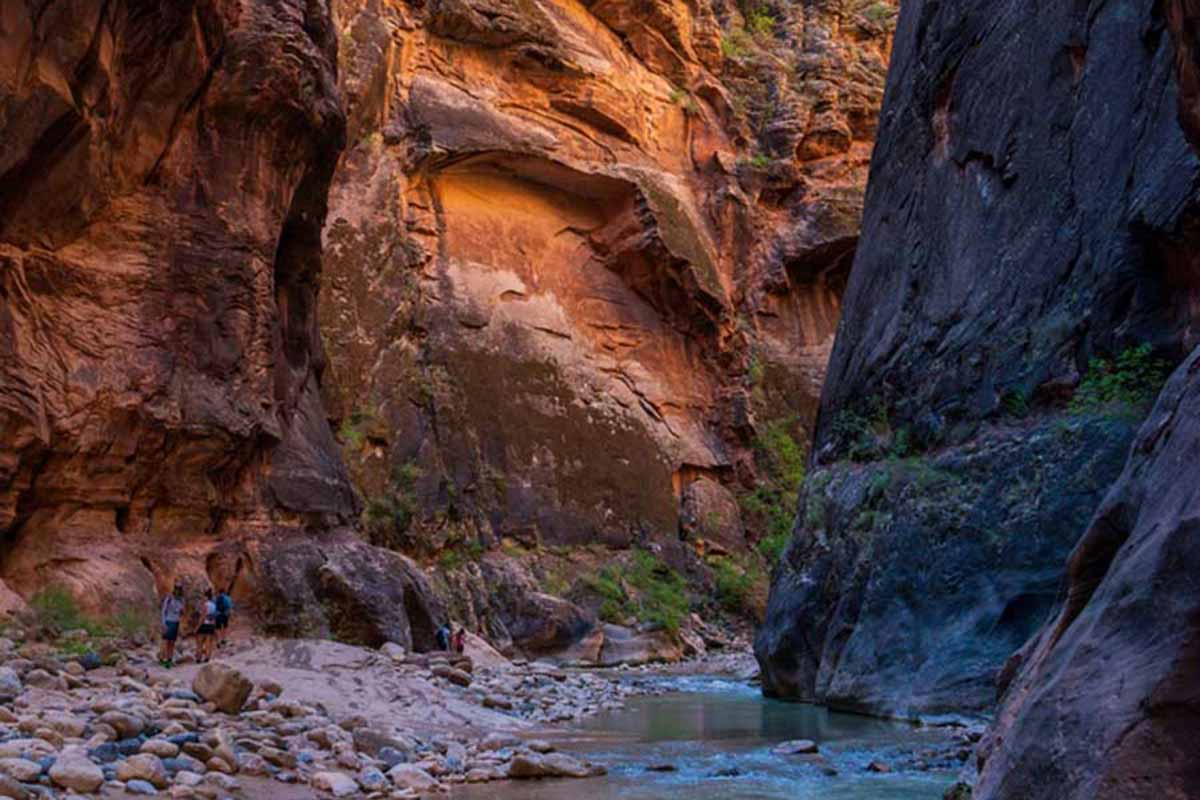 Summer is the best time to hike the Narrows, but there are some drawbacks you should consider. As one of the best Zion National Park hikes, the trailhead often gets crowded, so consider hiking the Narrows during other seasons.
Hiking the Narrow involves wading upstream through the Virgin River. Sometimes, the trek involves more swimming than walking due to increased rainfall, which is less than ideal, we'll admit.
From late July to September, the monsoon season begins, so always heed any warnings of flash floods.
To See The Best Hiking Views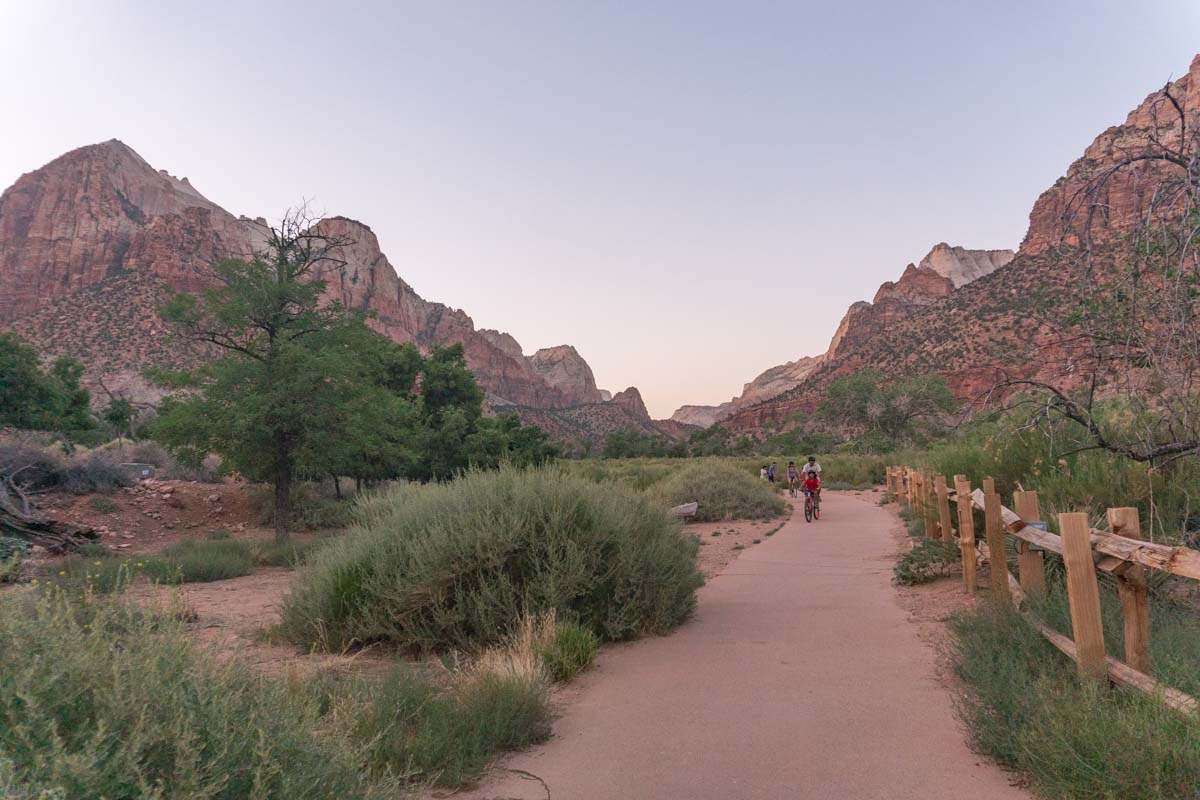 Hiking is one of the things you can enjoy in Zion National Park all year round (and we think you should). There's something special about seeing the park through the different seasons, but spring and autumn bring incredible scenery.
But, because of the occasional flooding of the Virgin River between late summer and spring, autumn is undeniably the best time to hike in Zion. You'll have access to most of the park's scenic trails decorated by fall foliage and cooler temperatures.
To See The Best Sights of Zion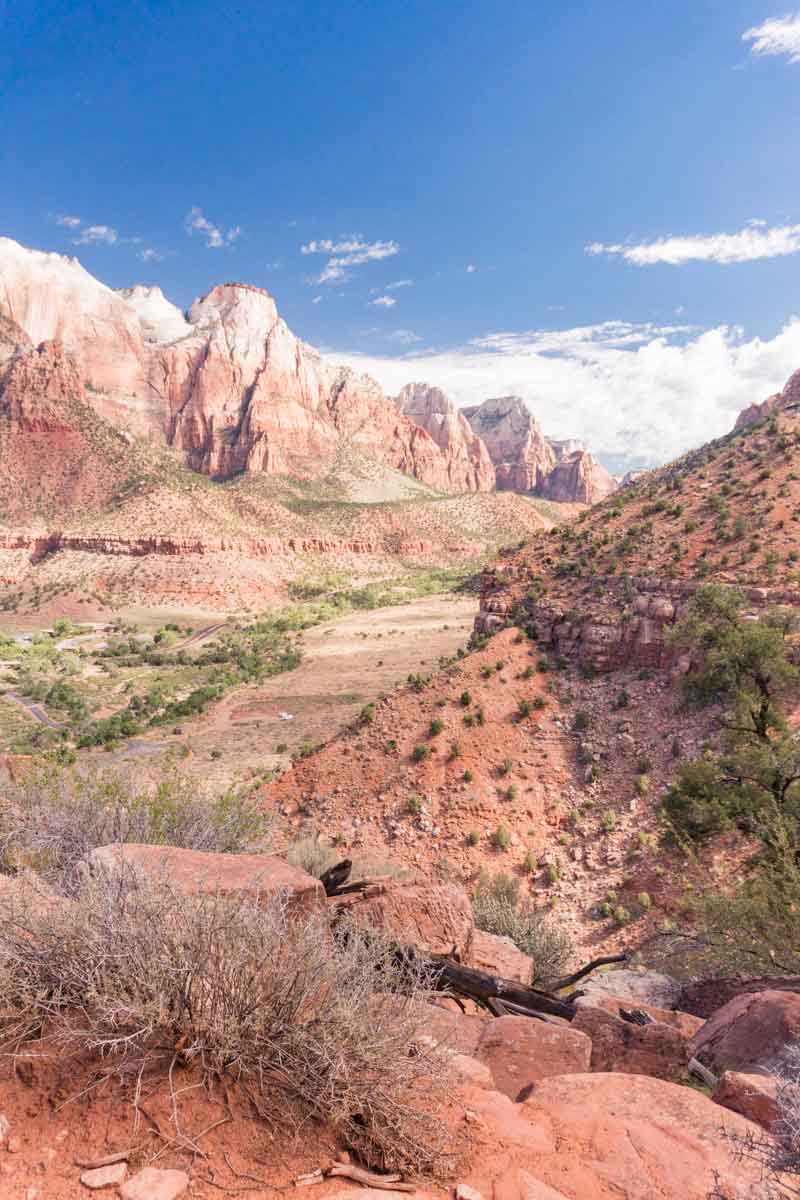 Zion is one of the best Utah national parks, and it's easy to see why. The park's scenic red cliffs, slot canyons, emerald lagoon, and scenic routes are just a few reasons we are this national park.
If you'd like a front-row seat to the best Zion sights, spring and autumn would be the best times to visit. Spring brings a verdant landscape with blooming wildflowers and gently cascading waterfalls.
And nothing beats the colorful fall foliage that comes with autumn. These seasons essentially offer you a sweet spot: a combination of cooler conditions than summer, warmer conditions than winter, and fewer crowds.
But allow us to play devil's advocate – sightseeing in winter also has its advantages. In winter, you can drive through the park in your vehicle instead of the shuttle. This gives you more freedom to cater your itinerary.
Zion National Park by Season
Spring in Zion National Park
March – May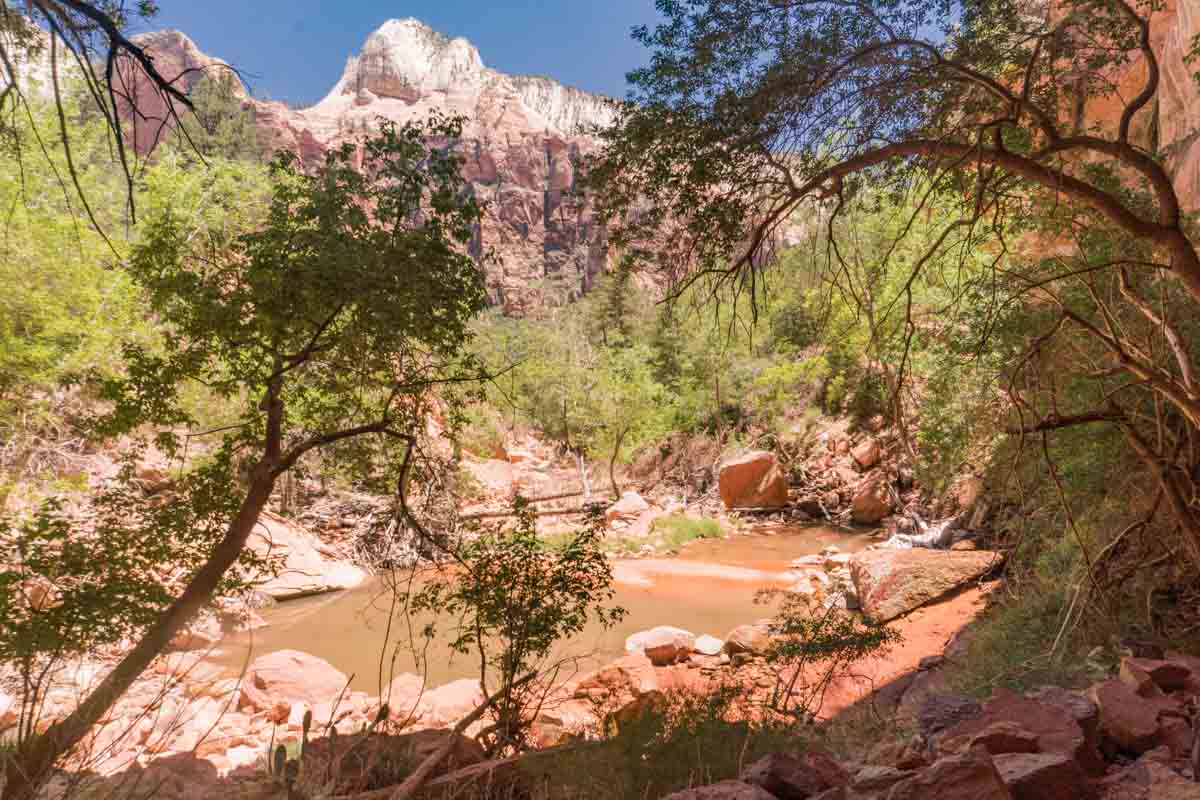 Spring is one of the best times to visit Zion National Park. As the snow melts, the wildlife moves to higher elevations, the wildflowers bloom, and temperatures gradually increase.
Key Events and Things to Do in Zion National Park in Spring
Tulip Festival — Admire Utah's colorful burst of spring flora during the Tulip Festival at Thanksgiving Point.
Waterfall & Emerald Pools — Thanks to snowmelt and rainfall, Zion's waterfalls and emerald pools are at their fullest and most impressive.
Wildlife Sightings — Animals like reptiles and small mammals come out from winter hibernation. Others give birth to their young, and the rest move to higher elevations. This increases your chances of seeing Zion's wildlife.
Pros to Traveling to Zion National Park in Spring
Excellent daytime temperatures for hiking
Park facilities like visitor centers and campgrounds are fully operational
Fewer crowds than in the peak season (summer)
Excellent time for nature photography
Cons to Traveling to Zion National Park in Spring
Snowmelt and rainfall may cause occasional flash floods (i.e., closure of hiking trails like the Narrows trailhead)
Crowds begin to increase due to spring break
Visitors must use the park shuttle to get around
Nighttime temperatures can be too cold for overnight camping
Summer in Zion National Park
June – September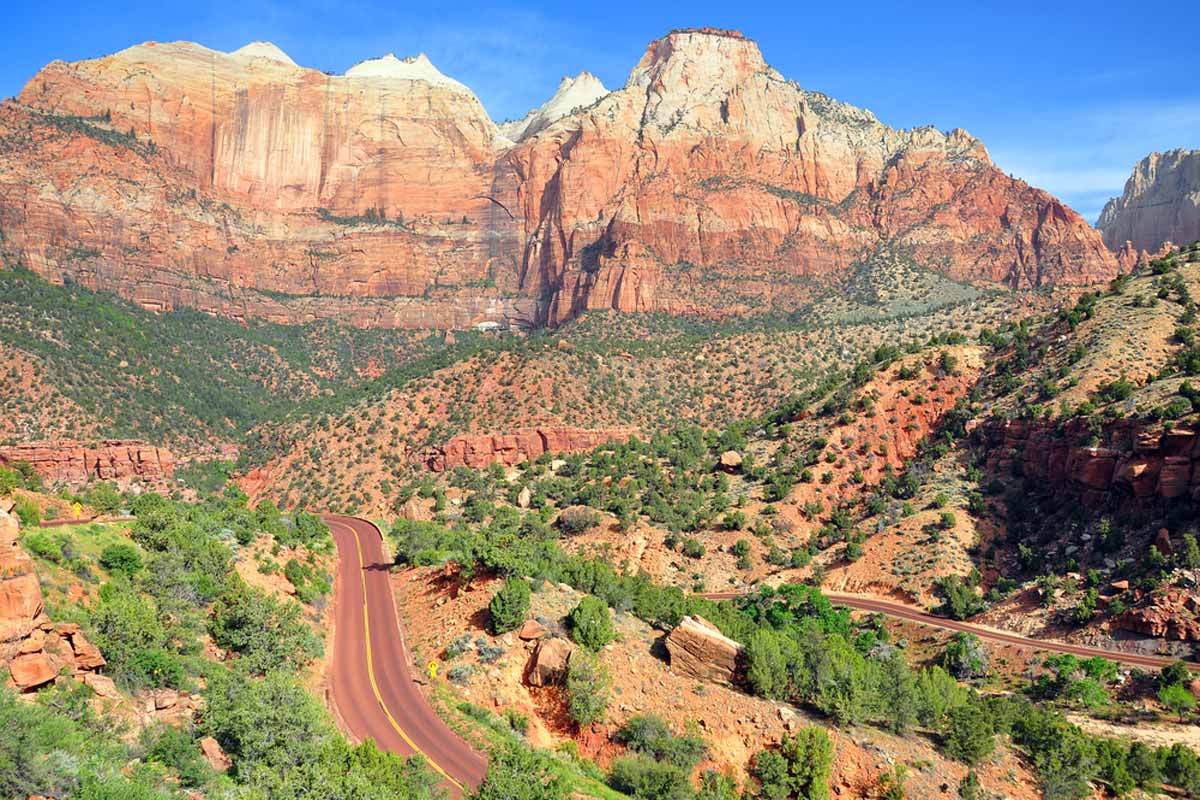 Summer is Zion National Park's busiest season. This is when ranger-led activities are abundant, the weather is warm, and most hiking trails and other park services are fully functional.
Key Events and Things to Do in Zion National Park in Summer
Park Programs — Enjoy patio talks and daily ranger-led walks along the Pa'rus Trail at 1:30 pm. If you're traveling with kids, there are geology talks at the interactive children's museum.
The Narrows Hike — By June, the Virgin River's waters will be calmer, making this time the perfect opportunity to explore this hiking opportunity, which is one of the park's most spectacular attractions.
Zion Canyon Scenic Drive — See the park's best sights along the scenic byway from the comfort of a shuttle.
Pros to Traveling to Zion National Park in Summer
Daytime and night temperatures are warm, making it possible for overnight camping
Longer daylight hours — so you can tick off everything in your itinerary
All park services and facilities are fully-functional
Using the park shuttle eliminates traffic and the need for parking
Cons to Traveling to Zion National Park in Summer
The park is crowded
Accommodation rates shoot up
Midday temperature may rise to over 100°F
Frequent thunderstorms may lead to flash floods (especially during monsoon season)
Autumn / Fall in Zion National Park
October – November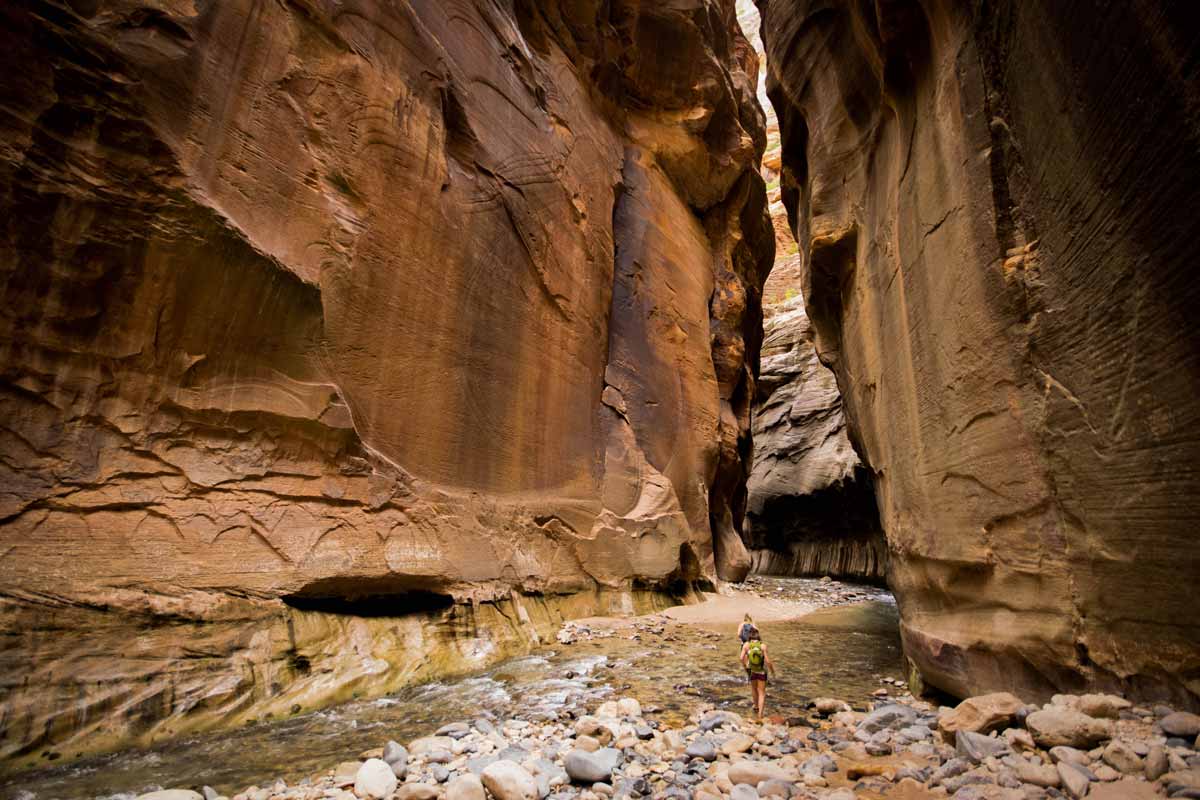 Autumn is one of the best times to visit Zion National Park. The park has fewer crowds during this time; the daytime temperatures are cooler than in summer and warmer than in winter. And to top it all off, autumn brings stunning fall foliage scenery.
Key Events and Things to Do in Zion National Park in Autumn
Desert Lowlands — Autumn allows exploring Zion's lesser-visited areas, particularly those at low elevations.
Fall Photography — Nature photography in Zion is popular in autumn; bring your camera to capture the incredible scenery of vibrant Cottonwoods and Aspen trees.
Pros to Traveling to Zion National Park in Autumn
The Narrows trailhead is still open and less crowded
Fewer crowds in the park than in the summer
Vibrant fall colors against red canyon walls
The park shuttle is operational
Cons to Traveling to Zion National Park in Autumn
Nighttime and early mornings temperatures can get a bit chilly
Monsoon season ends in September, increasing rainfall and chances of flash floods
Early snowfall can lead to the closure of some hiking trails
Holiday weekends attract summer-level crowds
Winter in Zion National Park
December – February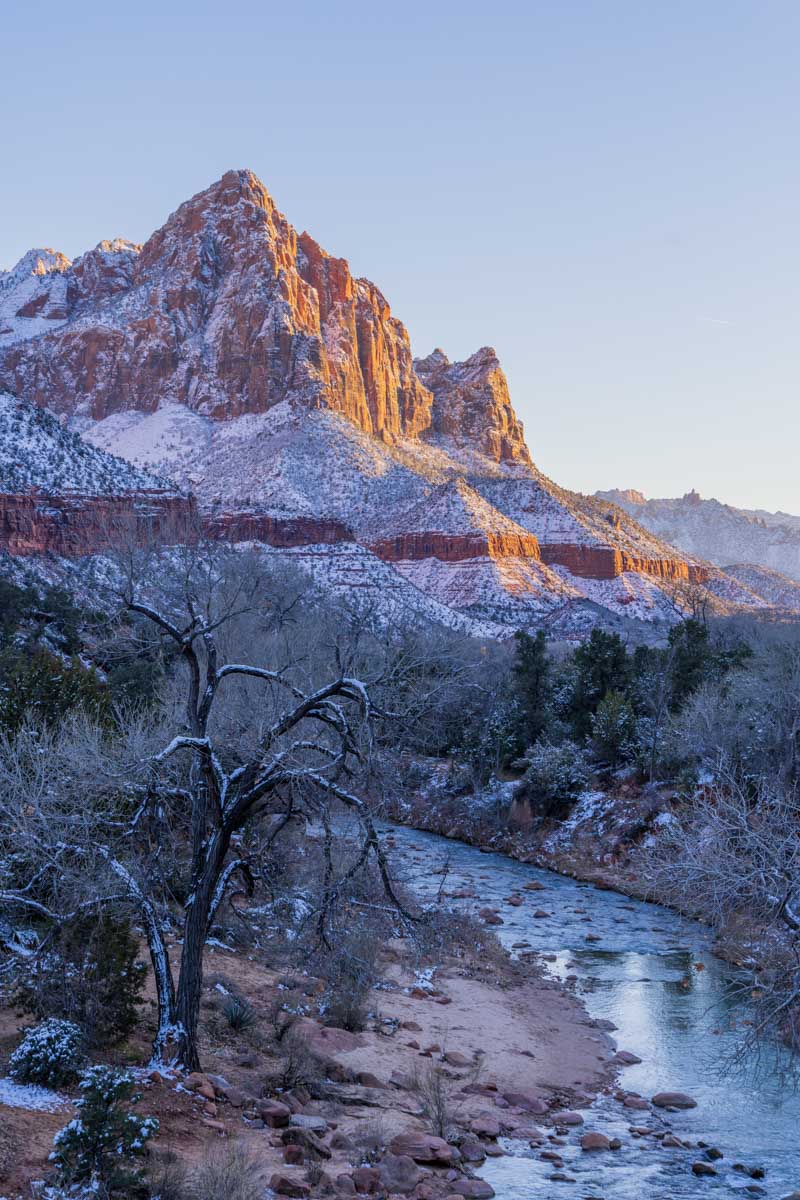 Winters in Zion National Park are typically cold and wet. Daytime temperatures range between 50°F and 60°F and drop to below freezing overnight. This makes winter the quietest time of the year and also the cheapest time to visit.
Key Events and Things to Do in Zion National Park in Winter
High Snowfall — The increased precipitation brings opportunities for winter activities like snowshoeing and cross-country skiing.
Self-Drive — Winter is the only time you can use a vehicle to explore the park, as the park shuttle won't always be available.
Pros to Traveling to Zion National Park in Winter
Crowds are pretty much nonexistent; you'll enjoy hiking in solitude
Wildlife viewings are more common at lower elevations
Hotels rates are cheaper
You can use your vehicle to explore the park
Cons to Traveling to Zion National Park in Winter
Below-freezing overnight temperatures
The shuttle only runs on holiday weekends
Limited operational hours, as the daylight periods are shorter
Trails to attractions like Angel's Landing and the Narrow are often closed or too cold to explore in winter
When to Travel to Zion National Park: Practical Tips + Tricks
Utah's national parks are relatively close together, meaning the best time of year to visit Zion and Bryce Canyon are essentially the same. Hit up both on your trip and thank us later.
If you're planning to visit Zion in the summertime, book your accommodation months in advance to get the best deals.
Springdale, Utah, is the closest city to Zion National Park, so if you miss out on accommodation within the park, this is the next best place to stay.
Read More Zion National Park Guides