Heading to Utah? Here are some great places to stay for your upcoming vacation.
Getting your flights booked and travel plans ready to visit the Beehive State? You'll want to take a look at this list of the most popular, convenient, and unique places to stay in Utah.
You'll want the very best accommodations to lay your head after a day of climbing, skiing, or swimming in Utah's lakes. The same rings true when you visit national parks and hidden gems.
Ready to learn where you should book your vacation? Here are the most beautiful places to stay in Utah.
Best Places to Stay in Utah: At a Glance
Where to Stay in Utah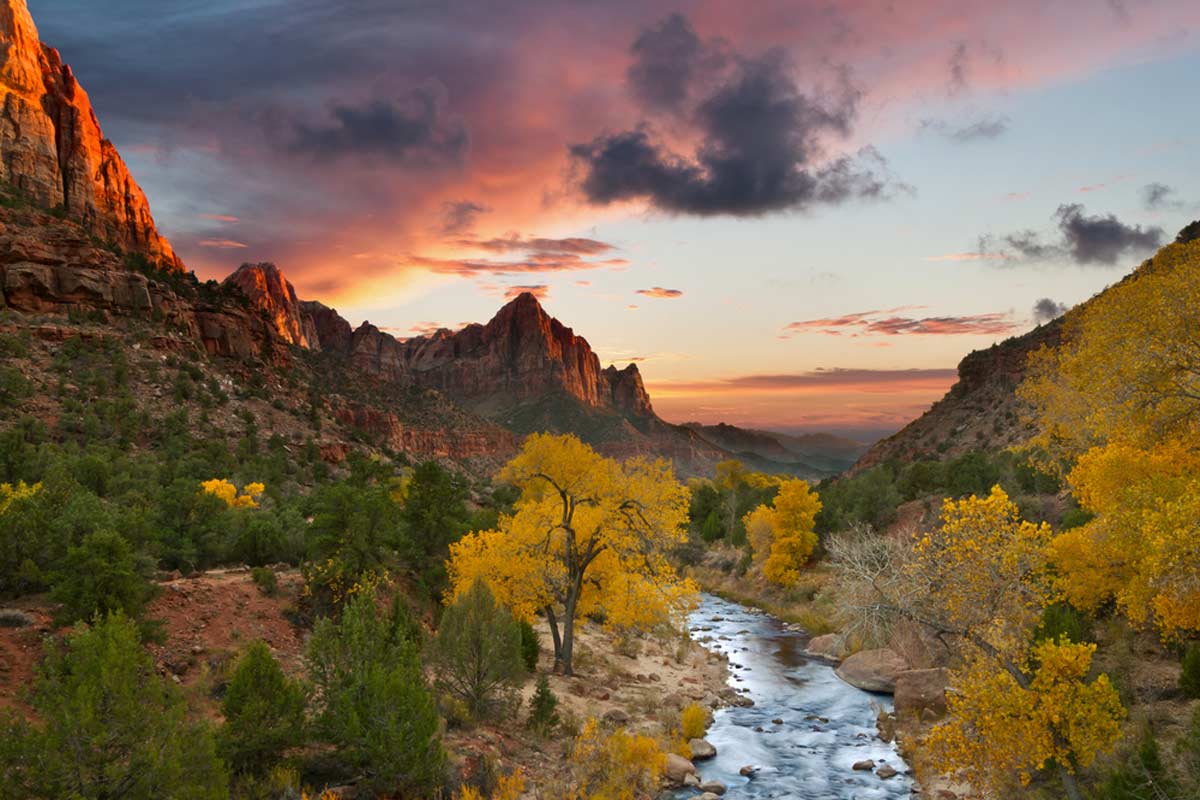 With so much to see and do in Utah, you might wonder where exactly to stay. Here's a look at some of the best locations to stay when you visit.
Moab: Where to Stay in Utah for National Parks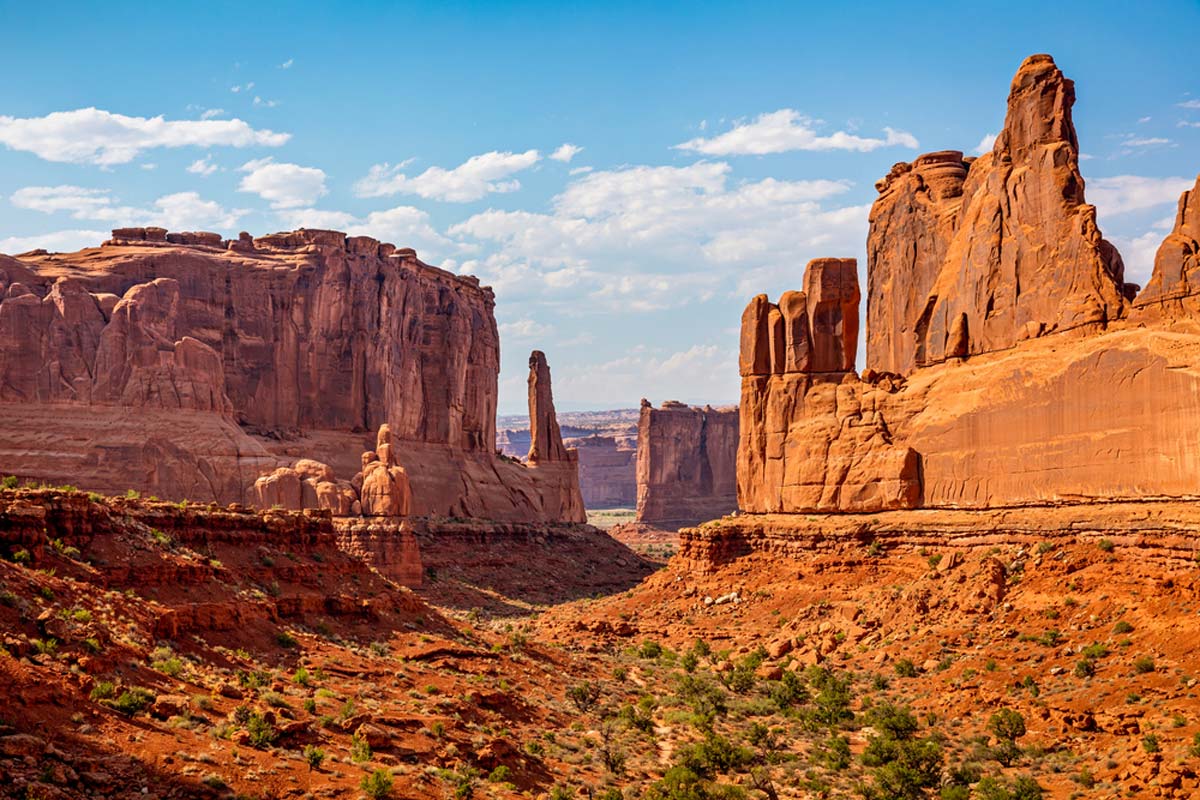 Moab is a lively town full of fun things to do. There is a vibrant dining and craft beer scene plenty of outdoor adventure, and enough natural beauty to make any budding photographer more than happy.
But it is also at the top of our list of where to stay in Utah to visit national parks — as you can access to two of Utah's Mighty Five, just a short drive away.
Moab Highlights
Arches National Park — A hiker's paradise, you won't want to miss the stunning scenery and challenging trails like Balanced Rock Trail and The Window's Trail at this popular landmark.
Float down the Colorado River — Head to the Colorado River to enjoy some of the best whitewater rafting in Utah. This guided tour is perfect for beginners.
Canyonlands National Park — Only about 30 minutes from most Moab hotels, this massive national park offers stunning vistas and popular hiking and biking trails along its 527 square miles.
Suggested Outdoorsy Hotels in Moab
Hampton Inn Moab — Affordable rooms in a prime location near some of the best outdoor adventures in Utah make this hotel a perfect choice for outdoorsy travelers.
Moab Springs Ranch — If you're looking for a place to stay in Utah with an Old West charm, the cabins at this resort along the Colorado River give you easy access to the great outdoors while providing comfortable amenities like hot tubs, air conditioning, and a restaurant on site.
Hoodoo Moab, Curio Collection by Hilton — Visitors who want upscale accommodations a short drive from Arches, Canyonlands, and Castle Valley will love the central location and luxury rooms featuring contemporary design and a picturesque backdrop of the red rock landscape nearby.
Springdale: Where to Stay in Utah for Zion National Park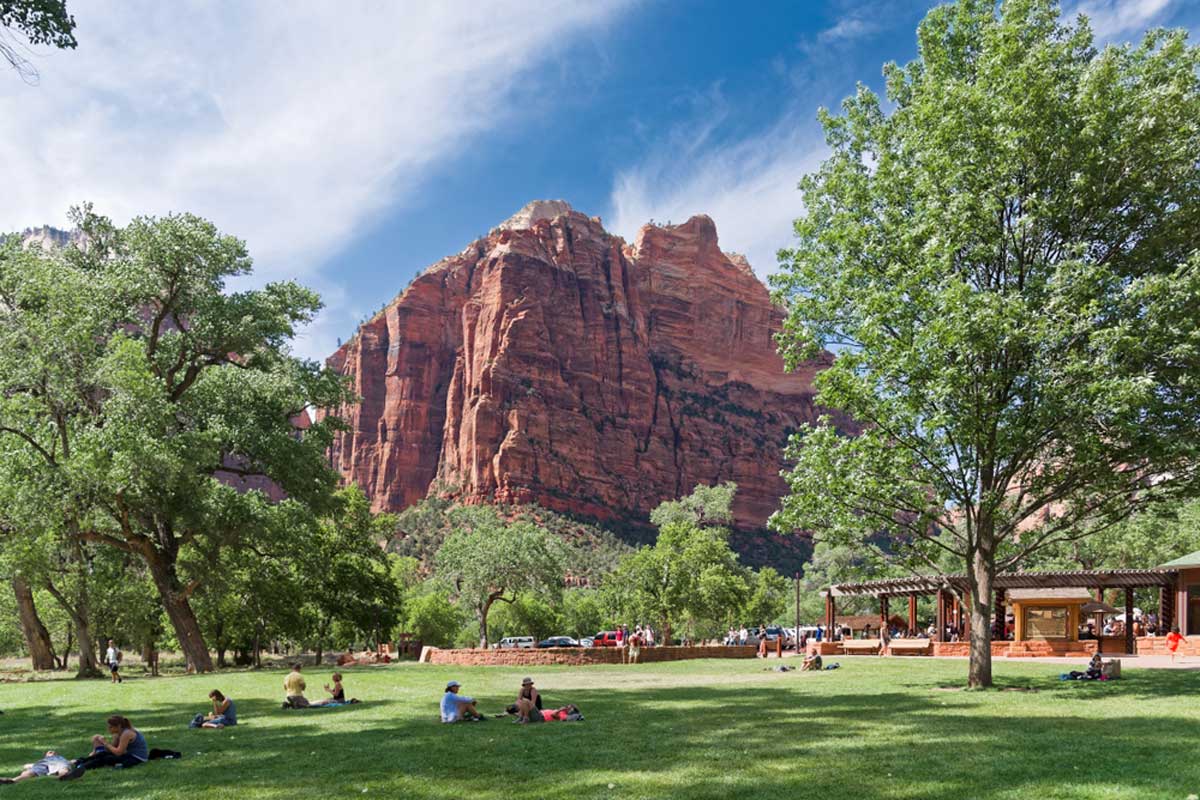 Heading to Zion on your trip to Utah? You're in for a treat. This massively popular national park draws well over 4 million guests annually – and it's no wonder why.
While there are some places to stay in Zion in the heart of the park, many of the best accommodations are nearby. Springdale is the most popular destination for many travelers due to its location just minutes from the park, alongside plenty to see and do in town.
Springdale Highlights
Visit Zion National Park – The endless red rocks, beautiful slot canyons, and extensive network of hiking trails make Zion the focal point of any trip to Springdale.
Tube down the Virgin River – You can no longer rent tubes at Zion Outfitter, but if you're taking a road trip to Utah, it may well be worth purchasing one from the retailer to take in the beauty (and adrenaline rush) of the nearly 2-hour float down the river.
Check out the views at George Barker River Park – If you want to admire the beauty of Zion without paying the entrance fee, head to George Barker River Park and have lunch at the idyllic open space with perfect views of the national park in the background.
Suggested Hotels in Springdale
Cable Mountain Lodge –Located just outside Zion near Springdale, this luxury accommodation offers an outdoor pool, hot tub, and up-close views of the national park.
Cliffrose Springdale, Curio Collection By Hilton – One of the cool places to stay in Utah near Zion, this resort has gorgeous red rock vistas outside your comfortable living quarters, featuring a full kitchen and private balcony.
Flanigan`s Resort and Spa – This eco-friendly resort is known for quality rooms, affordable prices, and the well-liked Spotted Dog restaurant.
Park City: Best Place to Stay in Utah for Skiing
Utah boasts many amazing ski resorts, so it's hard to pick just one. Nonetheless, we think the sprawling 7,300 acres of incredible trails ideal for skiers and snowboarders make this an easy choice.
The largest ski resort in the world is also one of the best places to stay in Utah for hiking, with endless trails offering rewarding views for anyone up to the challenge.
But let's also not forget that it's one of the cultural capitals of Utah, with amazing restaurants, great bars and nightlife, and (oh yeah) Sundance Film Festival.
Park City Highlights
Hiking in Park City – Looking for the best Park City Hikes? There are many excellent choices to consider, but Wasatch Crest Trail is the best for serious trekkers, while Armstrong and Spiro Loop Trail offers a casual (yet plenty challenging) stroll.
Sundance Film Festival – Serious film enthusiasts will love the chance to preview some of the best independent movies before release.
Park City Mountain Resort – An absolute must for serious skiers and snowboarders visiting Utah, there are hundreds of trails you can bomb down (or take your time) before heading down for some lively nightlife along Main Street.
Suggested Luxury Hotels in Park City
The Chateaux Deer Valley – A stunning luxury property in Deer Valley Ski Resort (just down the road from Park City) that offers luxury villas in a superb location.
Hotel Park City – Up close views of the nearby mountains, convenient ski lockers, and gorgeous suites with built-in fireplaces make this the perfect home base for a day on the slopes.
Treasure Mountain Inn – Affordable hotel situated on the always-exciting Main Street near the best activities day or night in Park City.
Salt Lake City: Best for a City Break in Utah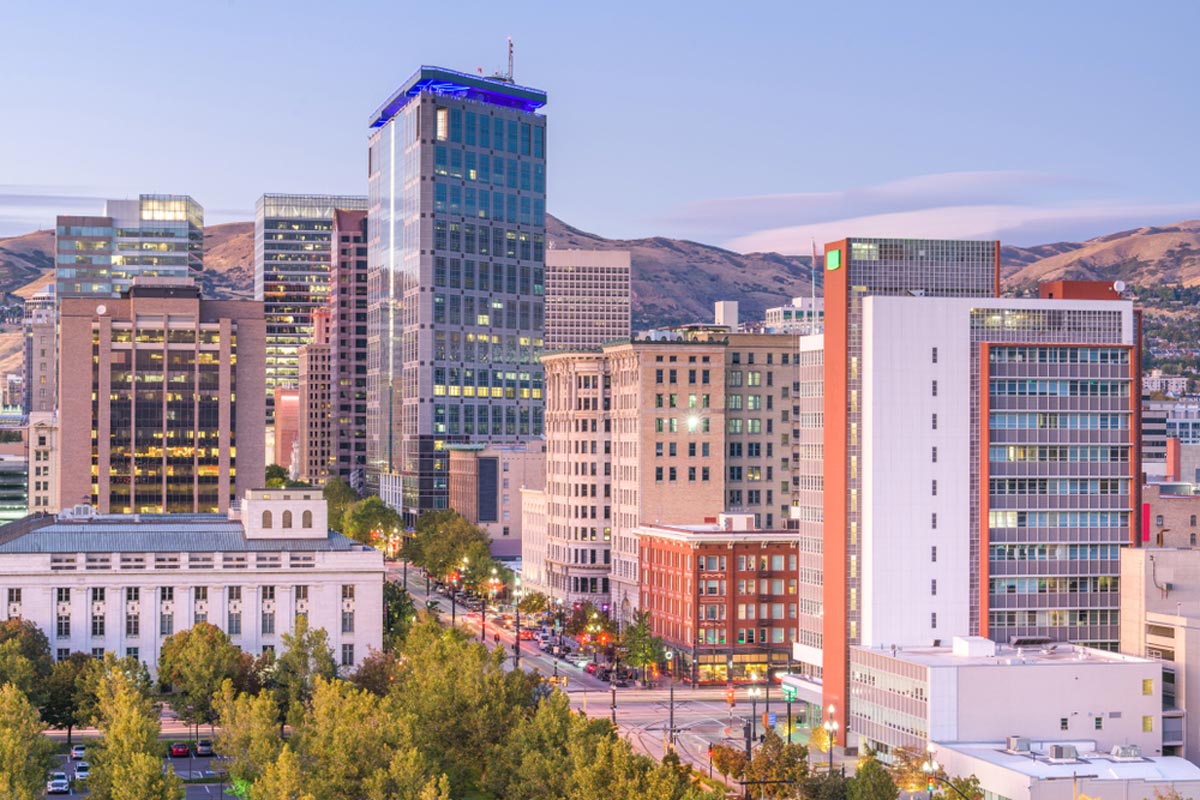 Salt Lake City is a perfect place to spend a few nights away from home, and it's also one of the best places to stay in Utah in the summer.
Not only is it a convenient place to fly into to reach many of the great national parks, ski resorts, and other attractions in Utah – there is a ton to do within city limits.
Salt Lake City Highlights
Great Salt Lake — If you want to experience what the locals do in the summer, head to the Great Salt Lake, where you can spend an afternoon by the water kayaking, walking, or taking a tour of nearby Antelope Island.
Walk around Temple Square — Check out the Church of Jesus Christ of Latter-Day Saints from outside and walk around the gorgeous downtown area to see the most impressive architecture in the city.
Salt Lake City Public Library — Speaking of architecture, this gorgeous building designed by Moshe Safdie is also home to over half a million books. Seriously.
Suggested Downtown Hotels in Salt Lake City
St. George: Best Place to Stay in Southern Utah
Looking for where to stay in Southern Utah? St. George is a sure winner, with lots to do both indoors and outdoors in the immediate and surrounding areas.

Fancy a road trip to the Grand Canyon? No worries. It's about 6 hours from St. George to the Grand Canyon and worth every minute of the drive. But if you want to stay a little closer to your home base, Zion is only about 30 minutes away.

Or just stay local and discover the culture, history, and food scene that make St. George one of the most popular destinations in Utah.
St. George Highlights
St. George Downtown — Take a break between outdoor adventure and explore cultural and historical sites like Brigham Young Winter Home Historical Site and Town Square Park.
Red Hills Desert Garden — Visit this well-manicured garden in the gorgeous red rocks of St. George, which features succulents, cacti, and other native plants.
St. George Dinosaur Discovery Site at Johnson Farm — Check out some rare fossils at this impressive landmark dedicated to dinosaurs and prehistoric discoveries in St. George.
Red Reef Trail — A popular (and relatively moderate) hiking trail that's perfect during the spring when temperatures are cooler and the stream is flowing with water.
Suggested Hotels in St. George
Red Mountain Resort — One of the many great places to stay in Utah, this hotel offers an outdoor pool, spa, and popular restaurant serving up breakfast, lunch, and dinner before and after your days of exploring St. George.
Comfort Inn at Convention Center Saint George — Comfortable, affordable rooms with friendly service and a reliable breakfast buffet.
Tru By Hilton St. George — Features large rooms and bathrooms, an outdoor pool and fitness center, and complimentary AC and WiFi.
Garden City: Where to Stay On a Lake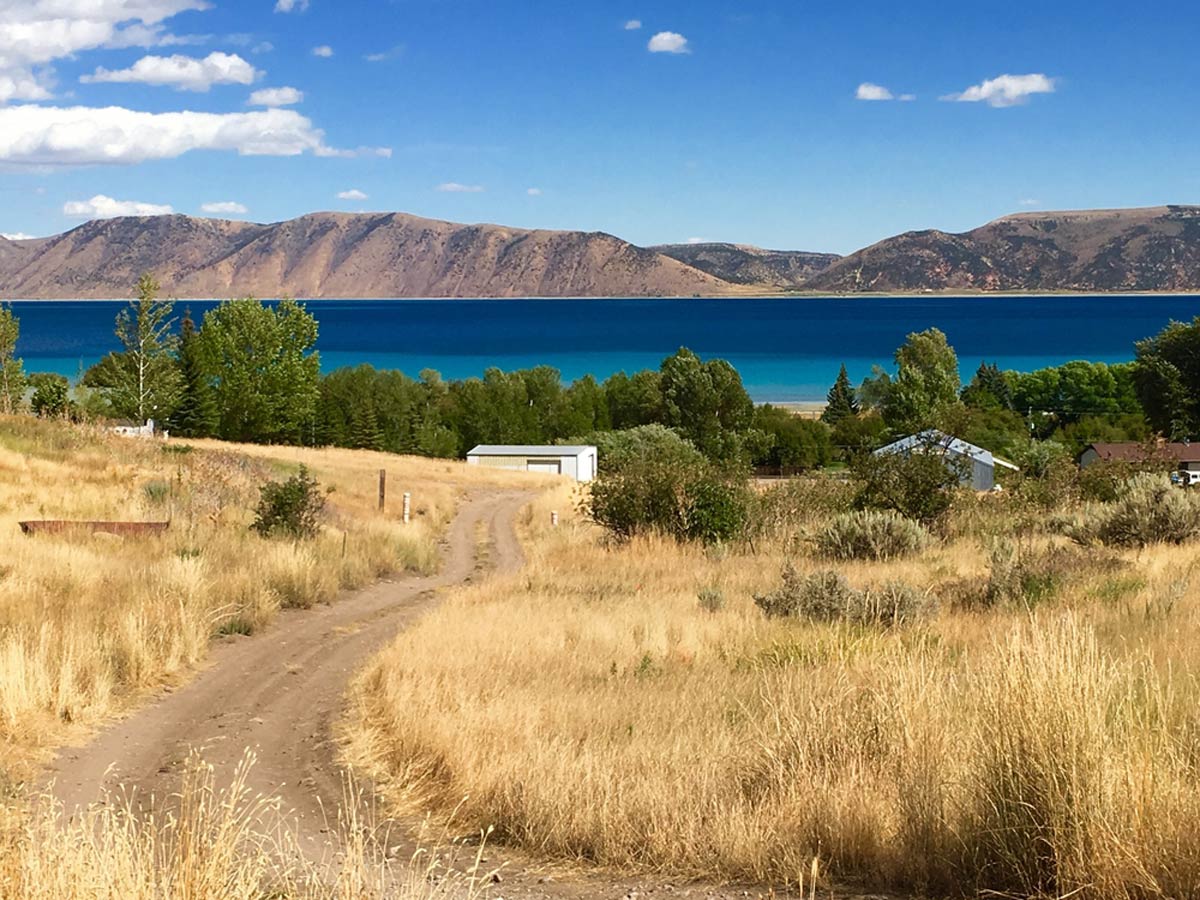 Bear Lake is one of the most exciting locations for Utah residents and visitors alike in the warmer months of the year.
The Caribbean of the Rockies earned the fitting title for the cyan waters that glisten under the Northern Utah sun, thanks to the high levels of natural calcium carbonate in the sand.
Garden City is one of the best places to stay in Utah for convenient access to all the water sports, hiking, and sightseeing in this great vacation destination.
Garden City Highlights
Bear Lake — For many people, hanging out on the lake is the reason for visiting Garden City in the first place. Whether you're taking a swim in the crystal blue waters or seeking thrills on a boat ride, Bear Lake is a must-visit when in Garden City.
Bridgerland Adventure Park — Another reason to visit Garden City is to experience some fun in the sun at this outdoor adventure park. It's home to zip lining, climbing walls, and other adrenaline-inducing fun.
Bear Lake Raspberry Days — Plan a summer vacation in Garden City to experience one of the most popular festivals in the state, where you can taste the famous raspberries shortly after harvest in pies, ice cream, and even salsas.
Suggested Lakeside Hotels in Garden City
Conestoga Ranch Glamping Resort — For something different (and lots of fun), book a luxury tent at this upscale accommodation near Bear Lake.
Multi Resorts at Bear Lake — Budget-friendly accommodations with full kitchens, comfortable living space, and close access to outdoor activities year-round.
WorldMark Bear Lake — Indoor and outdoor pools (and hot tubs), tennis courts, and volleyball nets are a few of the many amenities at this popular resort just off the shores of Bear Lake.
Where to Stay in Utah: Frequently Asked Questions (no more than 1/6th of article)
What is the Best Area to Stay in Utah?
Overall, the best area to stay in Utah is Salt Lake City. You'll have access to many of the outdoor adventures around the state while enjoying restaurants, bars, and entertainment that rival most mid-sized cities in the country
What is the Top Attraction in Utah?
Zion National Park is the highlight for many people when visiting Utah. Staying in St. George or Springdale is your best option when visiting Zion.
Related Searches FAQs
How Do You Get Around in Utah?
You'll want to rent a car when visiting Utah.
While public transportation is available in many areas, and you can shuttle between national parks or ski resorts to your hotel, you'll save considerable time driving from place to place if it's within your budget.
Practical Tips to Consider Before Booking Your Utah Accommodation
Consider staying for a week or longer if you plan to visit more than one place to stay in Utah. Many of the locations on this list deserve at least 3-4 days.
Reserve your hotel in advance. Many of the best places to stay in Utah are busy year-round.
Make sure your accommodation has parking if you plan to drive. Parking can be difficult in the most popular locations.
Best Places to Stay in Utah: Read Next